Looking for a heavy-duty elliptical machine that can handle larger users? Here is a look at the best ellipticals for heavy people, a full list of ellipticals by user capacity, and more.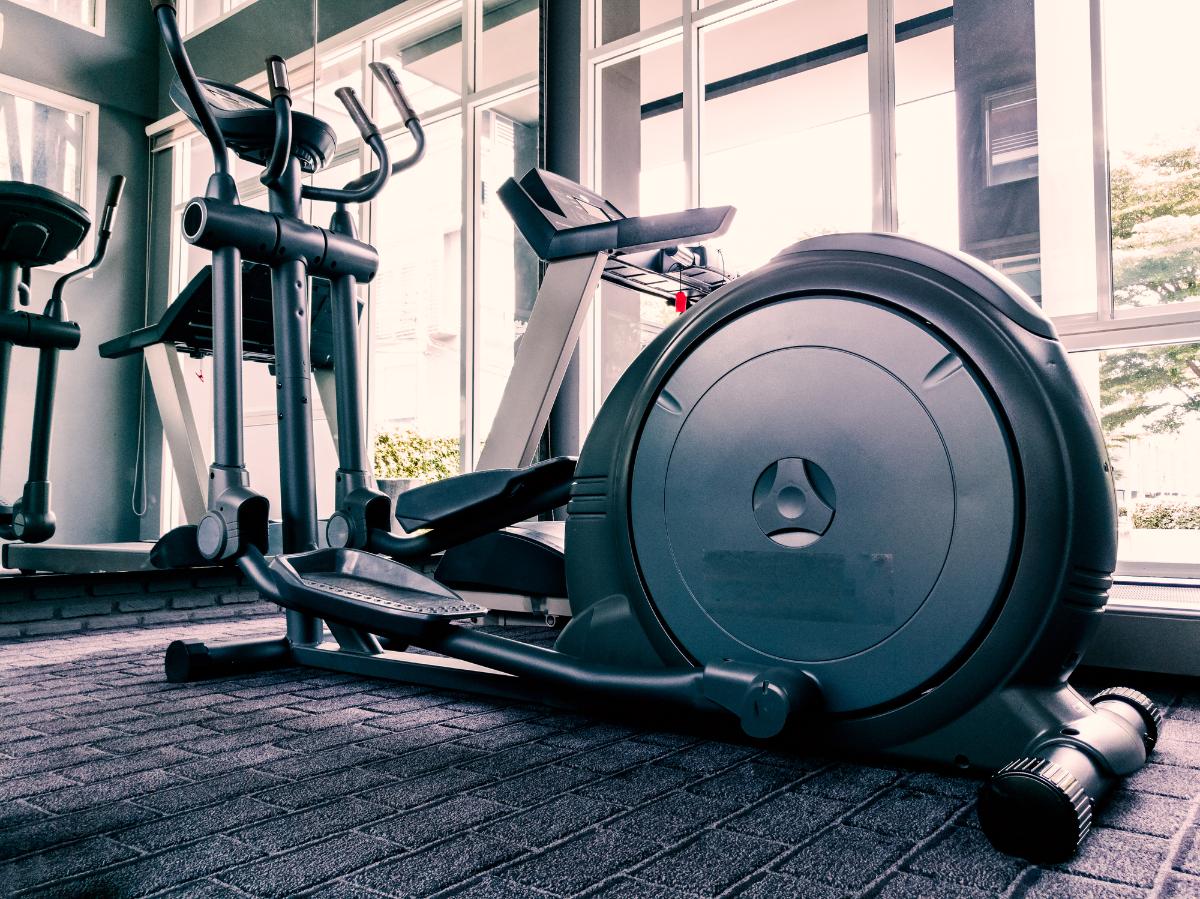 The elliptical machine is one of the best cardio machines on the planet for weight loss.
The elliptical machine is low-impact, highly versatile, and is a full-body workout.
All perfect characteristics for heavier people who want to shed some weight or simply want to do cardio without the bone-jarring impact of using a treadmill.
For us heavier folks (I'm flirting with 290lb as I write this), it's crucial to find an elliptical capable of supporting our weight and movement.
In this guide, we will look at some of the best elliptical machines for heavy people.
We'll highlight the respective weight limit and flywheel of each, look at the key features to focus on when choosing an elliptical, and list our favorite ellipticals by weight capacity.
By the end, you will have a clear idea of which elliptical will stand by you during your fitness journey.
Let's jump in and get to striding!
Top Picks for the Best Ellipticals for Heavy People
Sole Fitness E95
⭐ Best standard elliptical machine for heavy people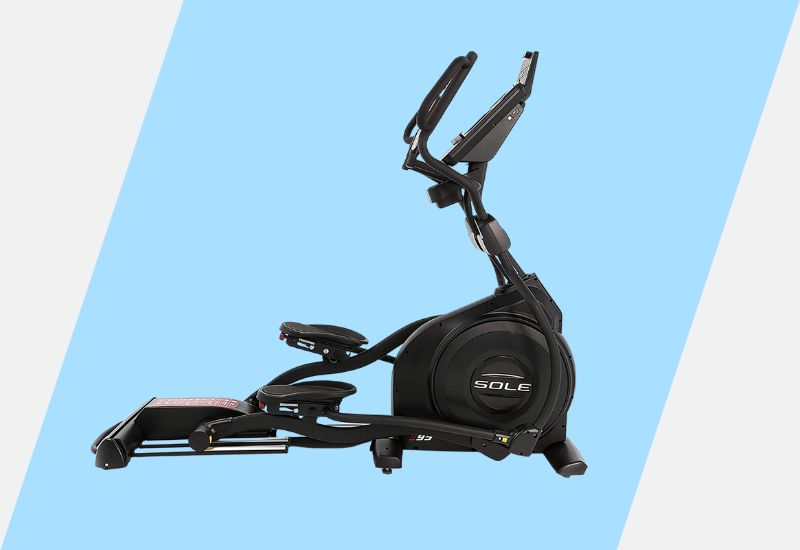 Key features:
Price: $1,699
400lb user weight max
27lb flywheel
20" stride length
The Sole Fitness E95 is my all-time favorite trainer, and it's not even really all that close. Forgive the gushing, but I love just about everything about the E95, from how it rides to the black-on-black aesthetics.
The Sole E95 has a maximum user weight recommendation of 400lbs, ergonomic foot pedals to keep you comfortable during extended workouts, resistance and incline controls on the handles, and the most stable ride of any residential elliptical on the market.
I'm a bigger guy, as mentioned earlier, and I've put months of work into my E95 and all it does is smile and tell me good workout, bud. No wobble or teetering when hammering away at full incline and full resistance.
The Sole E95 has all the basic features you expect from a quality elliptical, including heart rate monitoring, tons of preloaded workout programs, a 20" stride length that will suit most users, and a 27lb flywheel for that smooth-as-not-crunchy-peanut-butter ride.
The only bone I'd have to pick with the E95 is that the screen on the console is LCD (10.1").
I expect that Sole will level up the screens to HD touchscreens in the future to compete with other ellipticals that feature vivid and bright HD screens for streaming and online classes.
| | |
| --- | --- |
| ✅ PROS | ❌ CONS |
| My favorite elliptical trainer of all time | 10.1″ LCD screen; would love to see an HD screen for classes in the future |
| 27lb flywheel | |
| Adjustable foot pedals | |
| 20" stride length | |
| Max user weight of 400lb | |
| Looks badass! | |
Best Overall Elliptical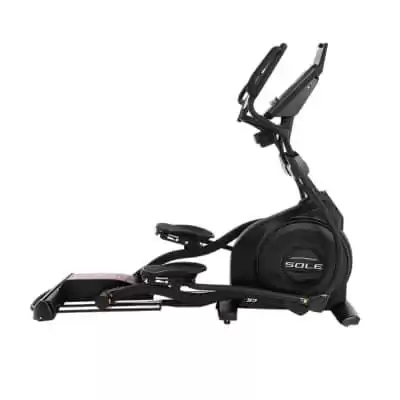 Sole Fitness E95s
⭐ Best heavy-duty elliptical with adjustable stride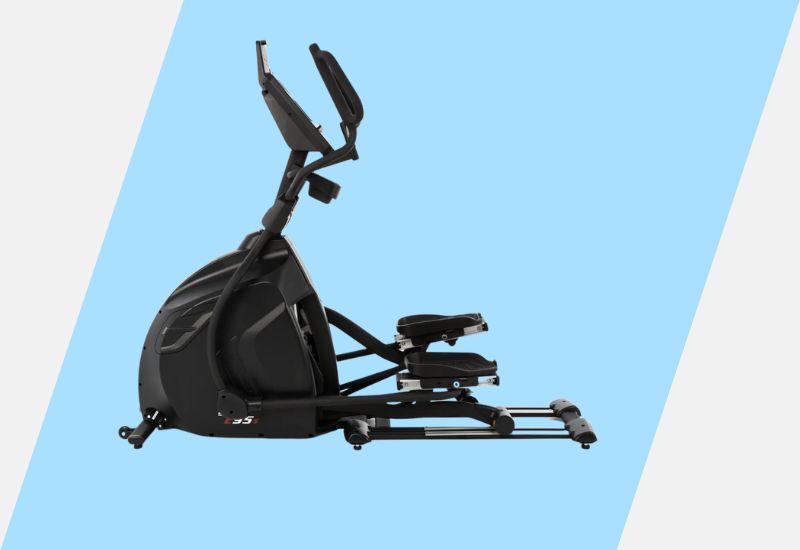 Key features:
Price: $2,199
400lb max user weight
30lb flywheel
18" to 24" adjustable stride length
The Sole Fitness E95s takes most of the features of the Sole E95 (except for the power incline) and adds an adjustable stride length (18-24") and heavier flywheel (30lb vs 27lb).
The result is an elliptical trainer that is perfect for tall people (24" is about as long as it gets for ellipticals), homes with multiple users and variable heights, and heavier users with that 30lb flywheel.
The Sole E95s's adjustable stride can be adjusted from the controls on the left handle as well as from the console, which means you can switch up stride length on the fly during your workouts.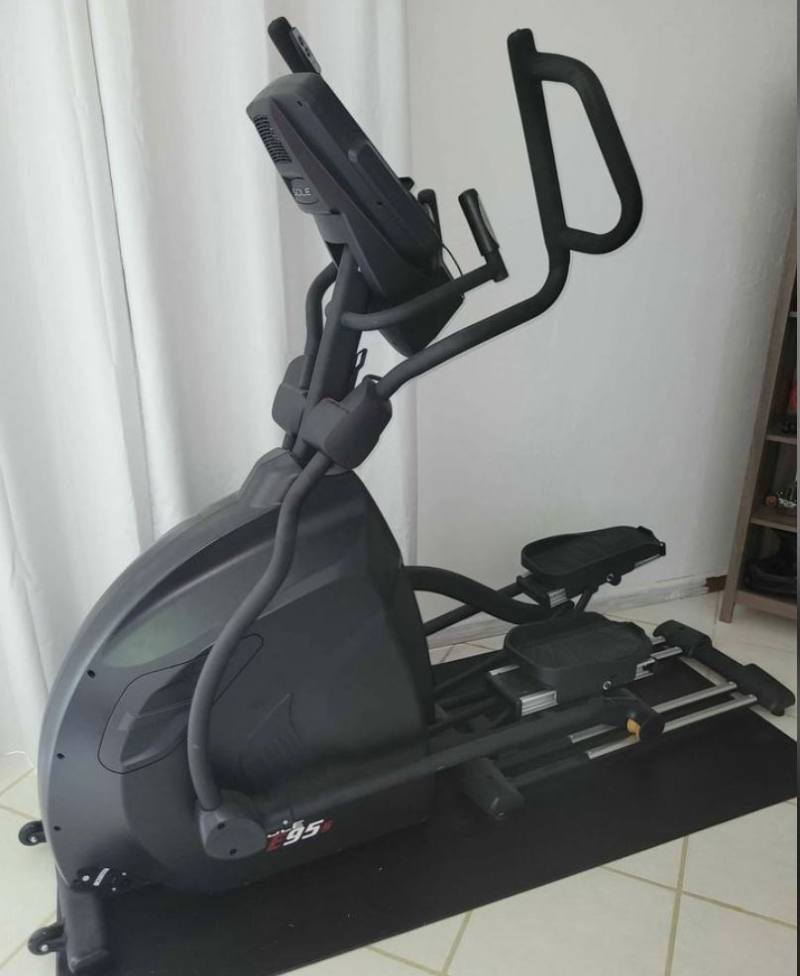 Like the Sole E95, the E95s has ergonomic foot pedals that are specifically titled 2-degrees inward for a biomechanically superior foot position that cuts down on a lot of the bad posture that creates ankle and knee pain.
The main drawback is that the E95s is a heavy machine—nearly 300lbs, making it difficult to move for smaller people.
That said, when you combine the max user weight rating (400lbs), heavy flywheel (only one other residential elliptical has a heavier flywheel), and adjustable stride length, the E95s is an absolute monster.
| | |
| --- | --- |
| ✅ PROS | ❌ CONS |
| Power adjustable stride length; up to 24" in length | Hard to move |
| 400lb max user weight | |
| 30lb flywheel; hilariously smooth stride | |
| Ergonomic foot pedals | |
Niceday Elliptical Trainer
⭐ Best budget-friendly elliptical for short and heavy people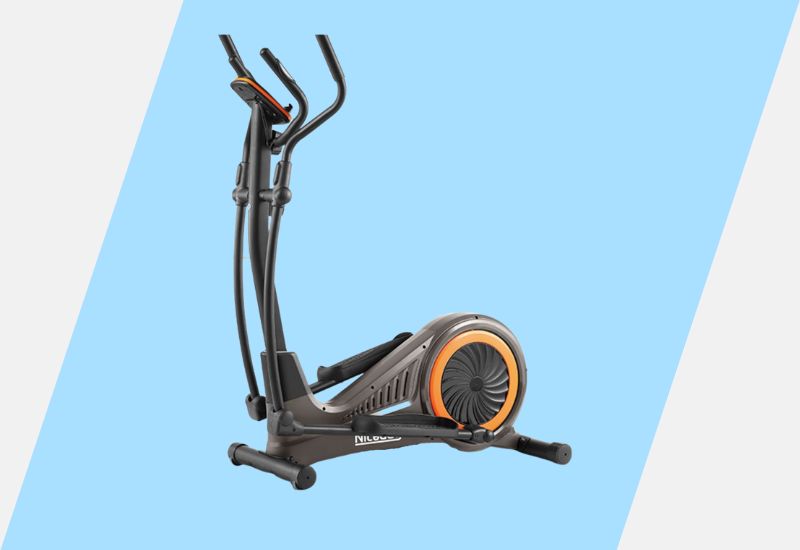 Key features:
Price: $599
400lb max user weight
14lb flywheel
15.5" stride length
The first time I came across the Niceday Elliptical and saw the 400lb weight capacity, I thought it was a typo.
You simply don't see ellipticals that cost less than $600 with a maximum user weight this high.
But after using and testing the elliptical for a few weeks in my garage, I was pleasantly surprised (and left me wondering why more budget ellipticals aren't built to this level…).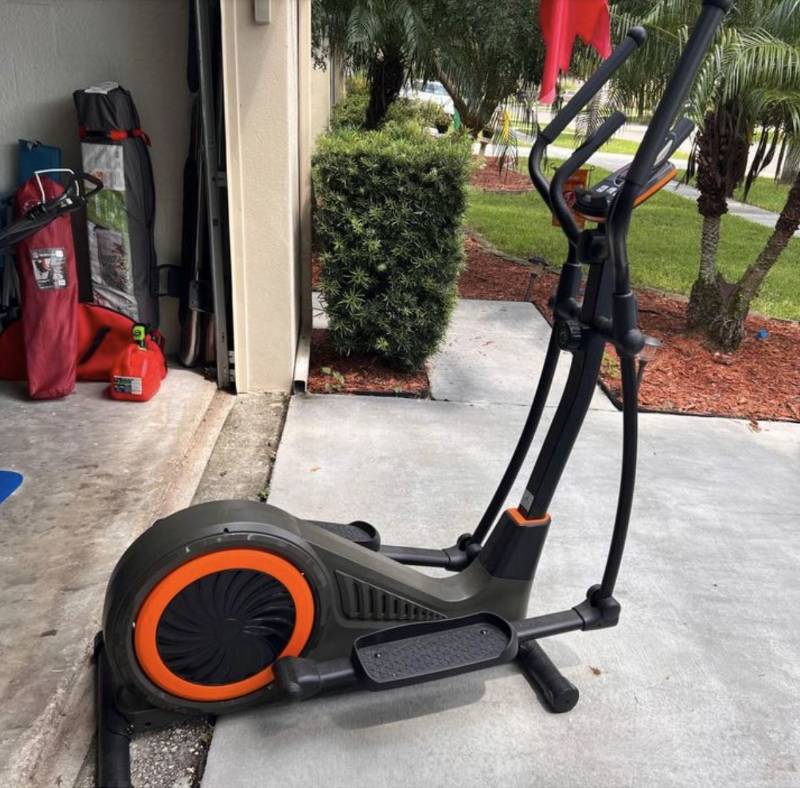 The Niceday Elliptical also made it on our list of the best compact ellipticals thanks to its small footprint of just 48" x 24." (A standard elliptical trainer is typically 70 to 85" in length.)
The stride length on the elliptical is just 15.5", which is going to feel cramped for taller people. I'm 6'5", and using the Niceday Elliptical, while stable, felt like I was half-stepping my stride.
Additionally, the flywheel on the Niceday Elliptical is 16lb, which is a bit shy of what I recommend for residential elliptical trainers. It's just not as smooth as (albeit more expensive) ellipticals on this list.
Ultimately, the price is awesome, and for shorter users that don't need a longer stride, that's what is going to matter most.
| | |
| --- | --- |
| ✅ PROS | ❌ CONS |
| Compact footprint | Stride length not ideal for taller users |
| Best budget-friendly elliptical for heavy people | Flywheel could be a bit heavier |
| Lightweight frame (106lb); easy to move | |
| 16 levels of resistance | |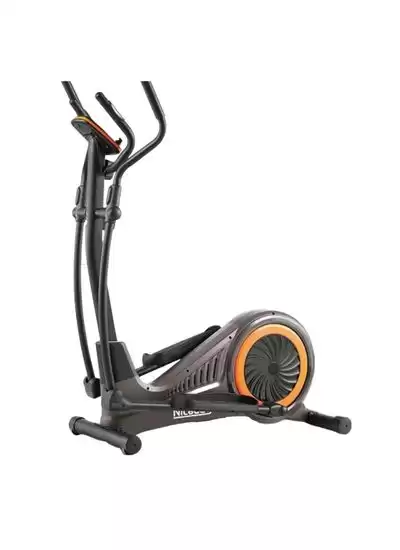 NordicTrack FS14i Elliptical Trainer
⭐ Best cross-trainer for heavier users who like doing classes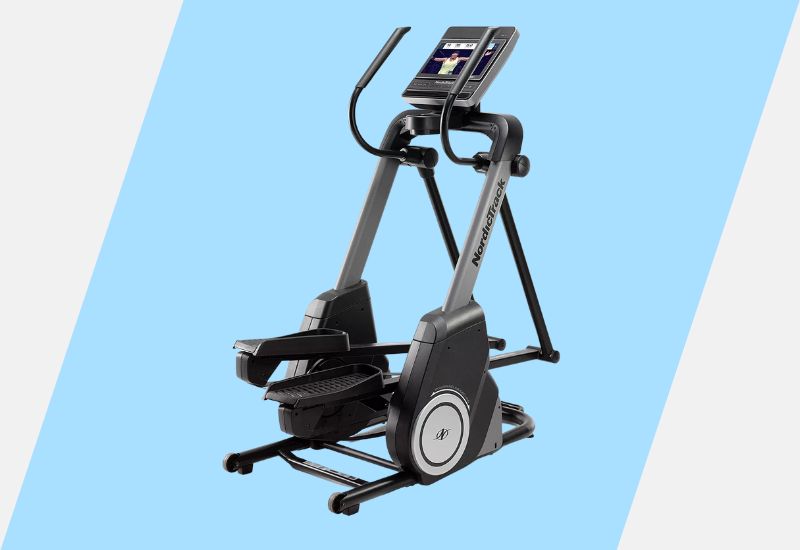 Key features:
Price: $2,299
375lb max user weight
20lb flywheel
Stride length: Up to 32"
14" HD touchscreen
Power incline and decline
The NordicTrack FS14i is a special machine: it's not just an elliptical, but its adjustable stride path means it can be used as a stepper and a low-impact treadmill.
For heavier people who prefer lots of variety over the typical elliptical stride path, the FS14i is gonna be your ticket to your weight-loss goals.
The NordicTrack FS14i has the edge on the other elliptical machines in this list with its big and shiny 14" HD touchscreen that is perfect for using iFit's massive library of online classes and workouts.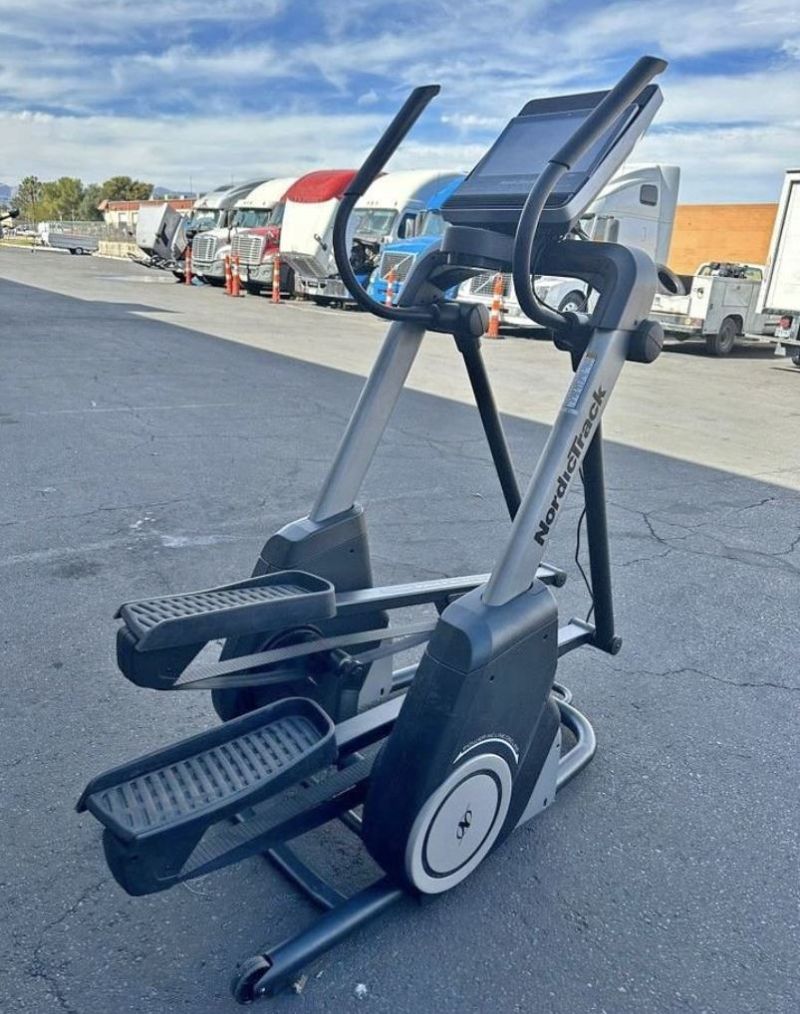 The center-drive design also tends to promote a more upright body position. If you find that you are leaning forward too much with a front-drive or rear-drive elliptical, the center-drive elliptical design on the FS14i is a great way to encourage better posture.
The FS14i also has one feature that makes it stand apart not only from the machines on this list, but of any elliptical I've ever tested…
It has a power decline setting on the stride path.
Yup, you read that right—the machine's stride can be titled downwards, simulating the sensation of running downhill. Doing this helps train those stabilizer muscles around your knees and ankles and is a fun way to break up workout boredom.
The FS14i's big screen is built specifically to be used with iFit. The machine only comes with a 30-day trial for iFit, after which you will have to pony up for monthly membership fees to continue accessing the library of content.
The flywheel on the FS14i is also just 20lb, which is a bit light for such a pricey piece of equipment.
| | |
| --- | --- |
| ✅ PROS | ❌ CONS |
| 3-in-1 combo elliptical machine | Just a 30-day trial for iFit with the machine |
| Up to 32" in stride length | 20lb flywheel |
| 14" HD touchscreen for classes and online workouts | |
| Power incline and decline setting | |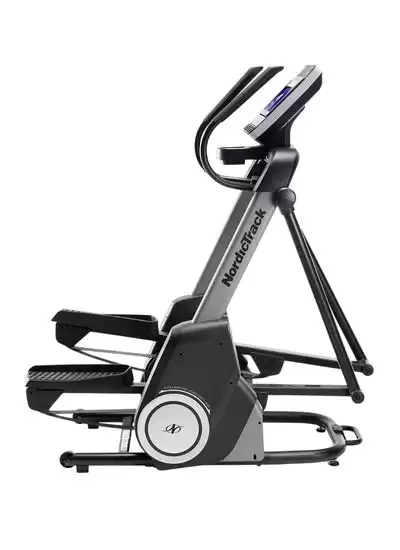 Ellipticals by Weight Capacity
We've tested and reviewed a lot of ellipticals over the years.
Below is a list of the machines with a 250lb+ weight capacity that we've used and happily recommend.
For each elliptical, we've included the weight of the flywheel (where possible—some machines like stepper and elliptical combo machines don't list a flywheel weight), the stride length of the machine, and the price (which may have changed since publishing this post).
Within each table, you can read a comprehensive review of the elliptical by clicking on the model name.
You can also shop for the specific elliptical by clicking on the price.
Ellipticals with 250lb Capacity
Ellipticals with 275lb Capacity
Ellipticals with 300lb Weight Capacity
Ellipticals with 325lb Weight Capacity
Ellipticals with 350lb Weight Capacity
Ellipticals with 375lb Weight Capacity
Ellipticals with 400lb Weight Capacity
Elliptical for Heavy People – FAQs
What should I consider when looking for an elliptical machine for heavy people?
The main things to look for when considering which elliptical is for you include the maximum recommended user weight, the construction materials of the trainer, and the weight of the flywheel.
A solid elliptical trainer for heavy-duty use will have a max user weight of 300-400lbs, steel frame construction, and a flywheel weight of at least 20 pounds.
Two of my favorite ellipticals have exceptionally heavy flywheels.
The NordicTrack Commercial 14.9 leads the pack with a 32lb flywheel (!!) and the Sole Fitness E95 has a flywheel of 27lb.
Both are excellent for larger users and aggressive workouts.
What features should I look for in an elliptical for heavier people?
Beyond the weight capacity and flywheel weight, the key things to look for include stride length, adjustable foot pedals, and lots of resistance options are key.
Heavier users are more likely to experience joint issues from poor biomechanics on an elliptical, so it's crucial that you get your foot and knee positioning right when exercising.
Ellipticals like the Sole Fitness E95s have an adjustable stride length for getting that perfect stride length, the Sole Fitness E95 has adjustable foot pedals for a comfortable foot and ankle position (and a long 20" stride length), and the NordicTrack Commercial 14.9 has padded foot pedals that are the most comfortable I've ever tested.
Are there any elliptical brands that are particularly known for being good for heavy people?
Sole Fitness, Life Fitness, and Nordic Track are the three best elliptical brands when it comes to making residential elliptical trainers for heavier users.
Sole Fitness and NordicTrack are much more budget-friendly compared to Life Fitness and both offer a wide range of ellipticals that match a variety of goals and needs.
How much should I expect to pay for a good elliptical trainer for heavy people?
Ellipticals for heavier users range in price from $1,200 to $2,000.
The Sole Fitness E95, my top pick for heavier users thanks to its heavy flywheel and bombproof construction, retails for around $1,700.
The lone super budget-friendly option for heavier users is the Niceday Elliptical Trainer, which retails for around $600 and has a weight capacity of 400lbs, which is 25-30% higher than other ellipticals at that price range.
It's a reality that heavier users will have to pay more for a sturdier build of elliptical machine. Most budget-friendly ellipticals have a lower weight capacity.
What are the best ellipticals for _____?
We've published a lot of roundups and reviews on elliptical machines over the years.
Here's a look at our other "round-ups" to help you find the perfect elliptical machine for you:
The Best 8 Elliptical Machines for Full-Body Workouts at Home. Ready to take your health and fitness to the next level? An elliptical machine is just the ticket. We've done the research and tested countless ellipticals to bring you the best ellipticals on the market right now.
7 Best Compact Elliptical Machines for Maximum Results with Minimal Space. You don't need to sacrifice a ton of space to get a big workout with an elliptical. Here is a look at the best compact elliptical machines for every budget and workout space.
The Best Ellipticals with Adjustable Stride for Home Gyms. Looking for an elliptical with an adjustable stride length? Here is a look at the best ellipticals with adjustable stride for home gyms.
The Best Ellipticals Under $800: Studio-Grade Ellipticals on a Budget. Elliptical trainers don't have to cost a fortune to give an awesome workout. In this guide to the best elliptical trainers under $800, we list the top options on the market right now so you can buy with confidence.
6 Best Center Drive Ellipticals for Home Gyms: Pros, Cons, and Key Features. Looking for the best center-drive elliptical for your home gym? We've put together a compilation of the best options on the market right now.
The Bottom Line
The elliptical trainer is one of the best cardio machines for heaver users.
It allows us big-boned folk to get a sweat without placing undue stress on our joints, is versatile enough to progress with us on our journey with incline settings and lots of resistance levels, and offers tons of different workouts to keep the journey fresh and motivating.
It's important to find an elliptical trainer that will handle the weight, be comfortable to use, and has the workout functionality to keep us on track with our goals.
To recap our top choices for the best elliptical trainer for heavy people:
The Sole E95 Elliptical is our number one choice for a high weight capacity elliptical. It's built like a tank, has a smooth-as-butter ride, adjustable foot pedals and a 20" stride length.
The Sole E95s Elliptical is the best heavy-duty elliptical for homes with multiple users and for really tall people with an adjustable stride length that extends up to 24".
And the NordicTrack FS14i is the best elliptical for heavier people that love doing online classes and want the versatility of a 3-in-1 combo machine.
Choose the elliptical machine that matches your goals and needs, and get to work on crushing your health and fitness goals!
More Elliptical Guides and Reviews
How Much Do Ellipticals Cost? (44 Different Models Compared). Ellipticals can be a costly investment in your workout goals. Here is a look at how much each type of elliptical costs and how much to spend on one.
Elliptical Buying Guide – Everything You Need to Know to Buy with Confidence. Want to buy an elliptical but don't know where to start? Arm yourself with the knowledge to choose the perfect elliptical for you and your workout goals.