The Bowflex Max Trainer M9 is a killer elliptical-stepper combo that is perfect for small spaces, high-intensity workouts, and enjoying online classes. Here's a full review of the M9, including pros, cons, and how it compares to other ellipticals.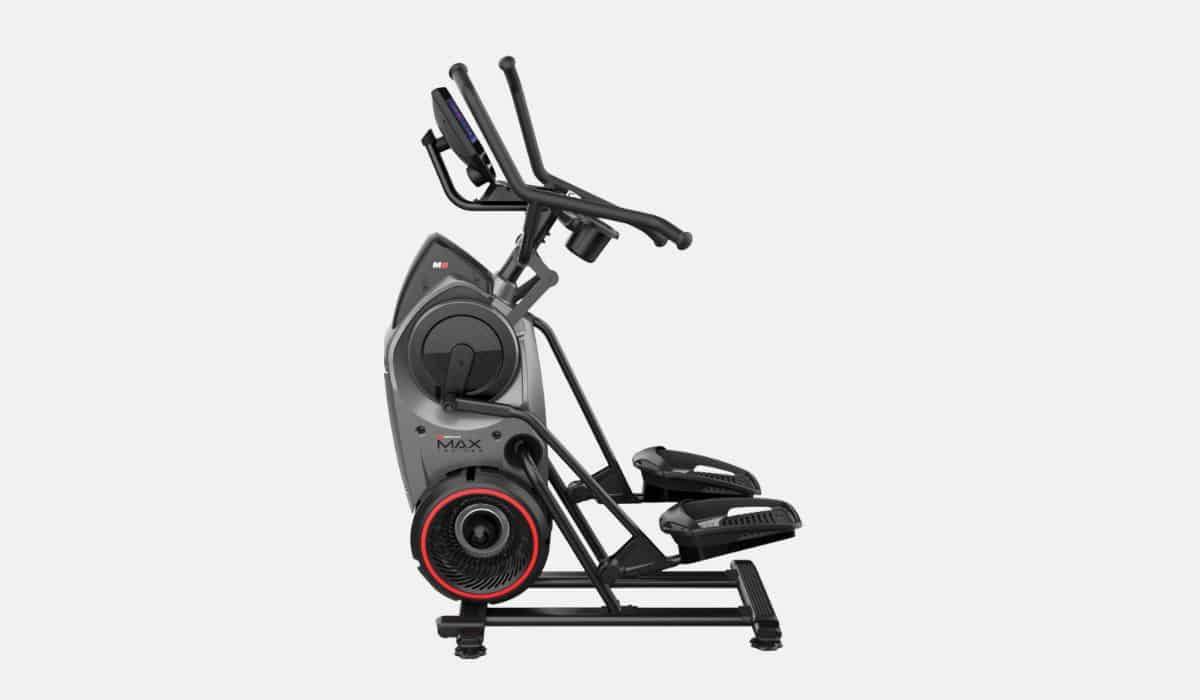 The Bowflex Max Trainer M9 is the latest in the Max Trainer line of elliptical machines from one of the leading names in the cardio equipment game, Bowflex.
The Max Trainer M9 isn't technically an elliptical, but rather, a hybrid elliptical/stepper machine that cranks up the incline and the difficulty.
It comes with a gorgeous HD 10" screen, from which you can take classes or do your own programmed workouts.
The Bowflex Max Trainer M9 also doesn't take up a lot of room, making it an ideal cardio machine for smaller workout areas or people who simply don't want the full-size ellipticals cluttering up their home.
The Bowflex Max Trainer M9 is perfect for people who:
✅ Like doing online classes
✅ Enjoy the added challenge of a stepper/elliptical combo
✅ Want an elliptical that doesn't take up a ton of room
Where to Buy: Official Bowflex Website — $1,999
In this review, we will do a complete deep dive on the Bowflex Max Trainer M9, including the stand-out features, a couple things that can be improved, and a full look at the specs and performance of the M9.
By the end, you will have a crystal-clear idea if the M9 is for you and your workout goals.
Let's jump right in.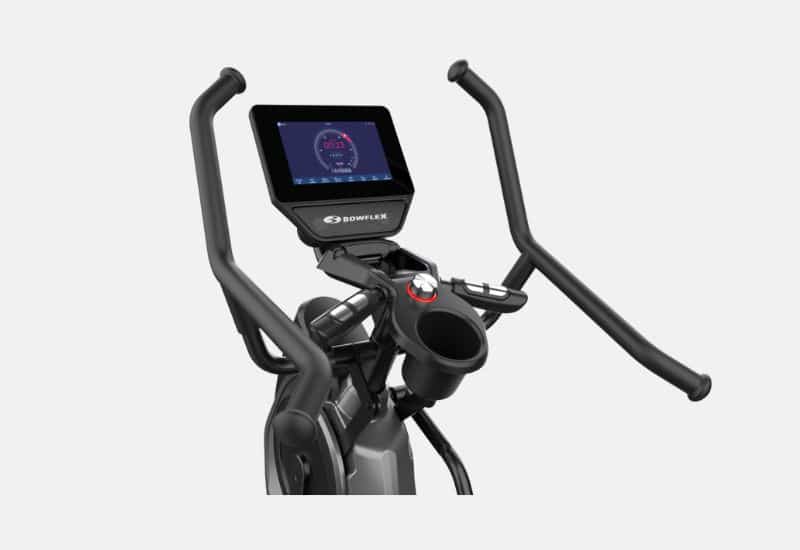 Bowflex Max Trainer M9 – Key Specs
Price: $1,999
Dimensions: 46" L, 31" W,
Unit weight: 150lb
Max user weight: 300lb
Recommended ceiling height: 15" above your height
Harder workout compared to regular elliptical machines
Can stream Netflix, Prime, YouTube, Disney+ and more on the screen
10" HD touchscreen console
12-month access to JRNY (online studio classes)
20 levels of resistance
Multi-grip handles
Heart rate band included
Forward and backward striding
Option to have it professionally assembled ($199)
Lots of videos on YouTube demonstrating assembly
Bowflex Max Trainer M9 Elliptical – The Pros
There are some features of this elliptical machine that make it stand out significantly when compared to other ellipticals on the market.
They include:
? Best elliptical/stepper combo in the market
While there are a few similar machines on the market that combine the low-impact benefits of an elliptical with the difficulty of a stepper, the Max Trainer M9 is the best elliptical/stepper combo by a country mile.
This blend of the two exercise formats gives you added calorie burn and is a great way to go above and beyond the already considerable benefits of elliptical machines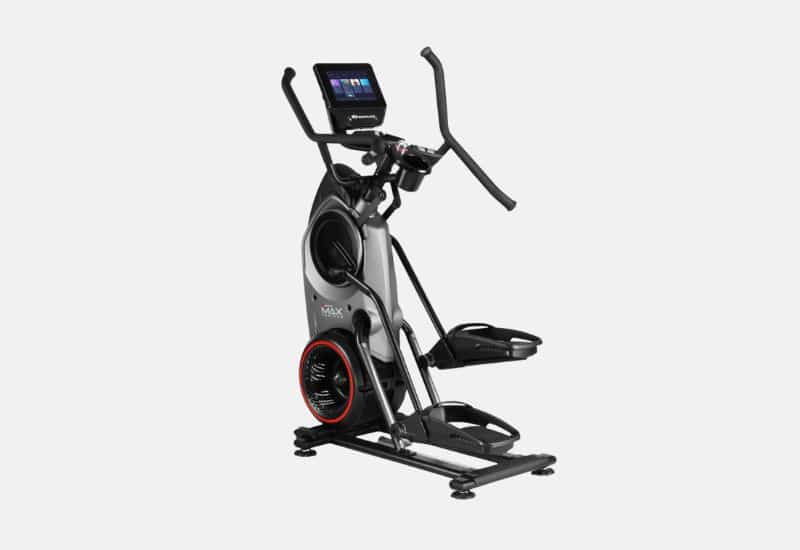 The M9 weighs a solid 150lb and does not wobble or teeter, even when going HAM on it. I'm a bigger dude—6'4" and 285lbs—and I've gone to town on the M9 and never had the machine wobble or tilt.
Bowflex is one of the best when it comes to making quality and durable cardio equipment, and the M9 is nearly overbuilt in terms of durability and strength.
? Provides a more challenging workout compared to ellipticals
The unique design of the Max Trainer M9 creates more vertical resistance thanks to the incline of the foot pedals.
Raising your knees a little more ends up making a significant difference versus the traditional flat and horizontal path of elliptical striding.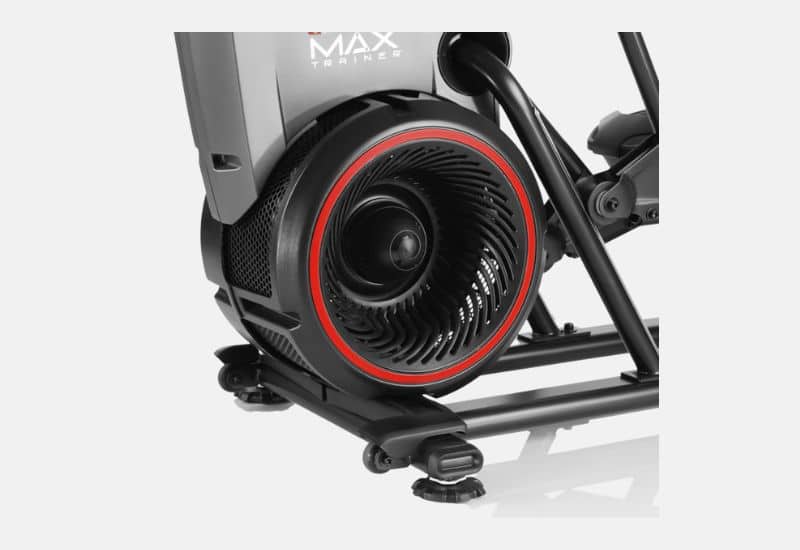 While beginners might be a little surprised by how much more challenging the M9 is compared to the standard elliptical, you reap the benefits of getting more fat burn and weight loss out of your time on the machine.
The Bowflex M9 is a perfect machine for people who like doing elliptical HIIT workouts or who like to crank up the intensity in their workouts.
? Awesome media screen (and online classes)
The displays on cardio machines at the gym, whether we are talking about air bikes, stationary bikes, or treadmills have always been extraordinarily plain.
That changed big time with the explosion in popularity of the Peloton, which raised the bar when it comes to consoles.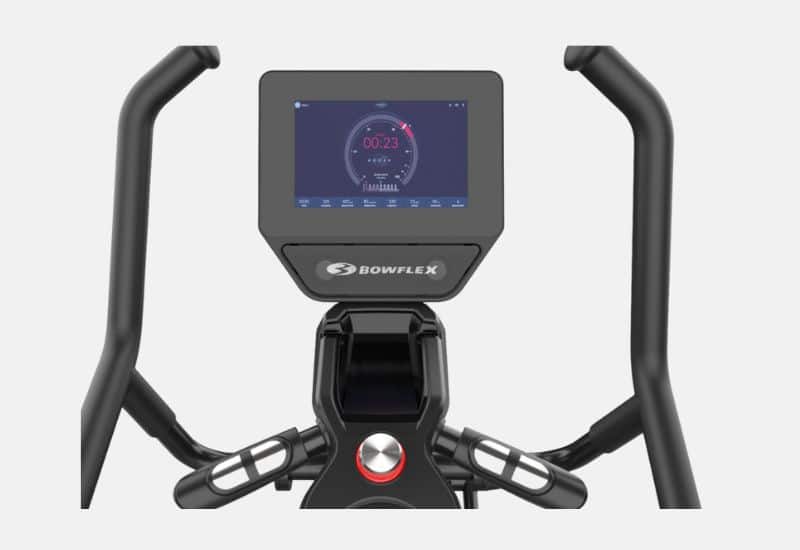 Bowflex jumped on this particular bandwagon, and the M9 features a gorgeous 10.1" LCD touchscreen that broadcasts trainer-led online classes, streams your favorite media (Netflix, Hulu, etc), "Explore the World" (scenic backgrounds that sync with your pace on the machine), and much more.
The layout and program features is very similar to what you will find with a Peloton.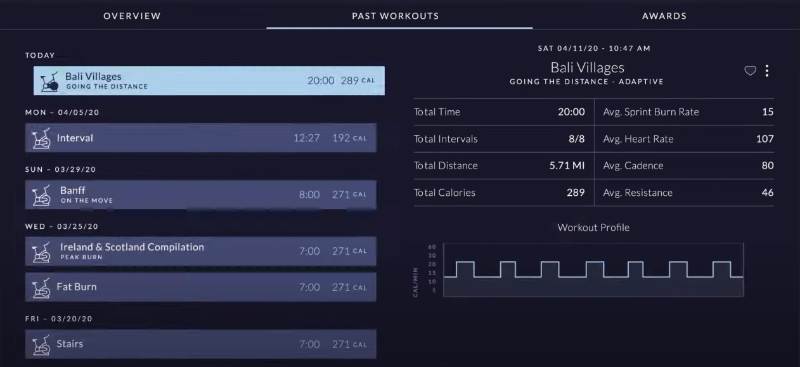 Features include:
Unlimited profiles for multiple users.
Watch popular streaming services like Netflix, Hulu and so on.
Trainer-led classes (in various workout formats; HIIT, steady-state recovery, etc).
"Explore the World" scenic backgrounds that match your speed
Tons of workout data, including heart rate, distance, power output, distance, and so on.
Record of all your workouts for easy comparison and tracking.
And much more.
All of the online classes are featured with the JRNY Membership.
For the first 12 months after purchase, the JRNY membership is free, and then $199 per year afterward.
? Very compact footprint
Cardio machine—as anyone who has invested in one for their home gym—takes up a lot of space.
Especially elliptical machines, which can be as long as 84".
The Bowflex Max Trainer M9 is perfect for home gyms that are on a space crunch (which, let's be honest, is most of them!).
The footprint of the machine is just 49" x 30".
Compare that to other elliptical machines that are best-in-class:
As you can see, it's not even close, with the Schwinn 411 (a decent budget entry-level elliptical trainer in its own right) a full eight inches longer.
The Bowflex Max Trainer M9 is the best compact elliptical machine for home gyms, and it's not even a competition.
Bowflex Max Trainer M9 Elliptical – The Cons
The classes (JRNY) are paid after the first year ($199/year)
When you purchase the M9, Bowflex throws in a year-long subscription to JRNY, their online class portal that includes the "Explore the World" feature and some other online perks.
The subscription becomes paid after the first 12 months for $199.
While this is by no means unique to Bowflex—other cardio machine companies charge subscription fees, including Peloton, Schwinn, and Sole Fitness—that $199 bill has some sticker shock.
More of a stepper than an elliptical
People who specifically want to do striding and not stepping will likely not enjoy this machine.
The added difficulty of the stepping makes it harder and less relaxing than horizontal striding.
Elliptical stride purists will want to consider something by Sole Fitness or a NordicTrack elliptical for a "flat" striding experience.
No integrated fan
And finally, I was a little surprised that this machine didn't have an integrated fan when I tested it out.
Most cardio machines have fans, even if they are little low-powered fans blowing little more than dust off the console of your machine, but something is better than nothing.
Not a huge concern, but something to be aware of if this is a feature that you are used to and you sweat up a storm like I do when doing cardio workouts.
How does the Bowflex Max Trainer 9 Compare to Other Max Trainers?
The Bowflex Trainers have been around for a while and are now in second-generation mode.
Currently, there are three "new" versions of the Max Trainers available, with first-generation ellipticals holding their value in second-hand marketplaces (the M3, for example, is frequently found on FB Marketplace locally retailing for nearly a thousand dollars!).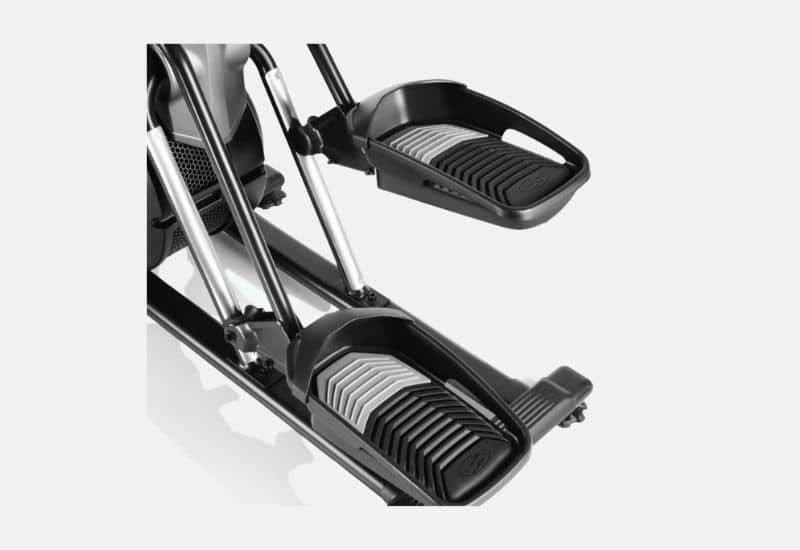 The M9 is the mid-range option, with the main differences being streaming capabilities and the screen size.
The entry-level Max Trainer, the M6, has a backlit LCD screen, while the M9 and the Bowflex Max Total M16 have vivid HD touchscreens and streaming capabilities.
The latter means you can stream most of your favorite services and shows while working out (Netflix, Prime Video, etc.).
Here's a more detailed look at the current Max Trainers and how they compare to the M9:
| | | | |
| --- | --- | --- | --- |
| | M6 | M9 | M16 |
| Price (USD) | $1,499 | $1,999 | $2,499 |
| Screen | Backlit LCD | 10" HD touchscreen | 16" HD touchscreen |
| Resistance levels | 16 | 20 | 20 |
| Unit weight | 148lb | 148lb | 155lb |
| Max capacity | 300lb | 300lb | 300lb |
| Dimensions | 46" L, 26" W, 64" H | 49" L, 30" W, 65" H | 49" L, 30" W, 65" H |
The Bottom Line
There is a lot to really like about the M9.
The key benefit for most people will be the extra difficulty of the elliptical/stepper design of the machine, which helps cut down the amount of time spent to hit your workout goals.
The Bowflex Max Trainer M9 is an awesome elliptical for people short on space at home, who want the versatility of a combo stepper and elliptical, and who thrive with online classes (or who want to stream their favorite show when working out).
No matter what your workout goals are, the Max Trainer M9 is an efficient, space-saving, and proven machine to help you achieve them.
Best Elliptical-Stepper Combo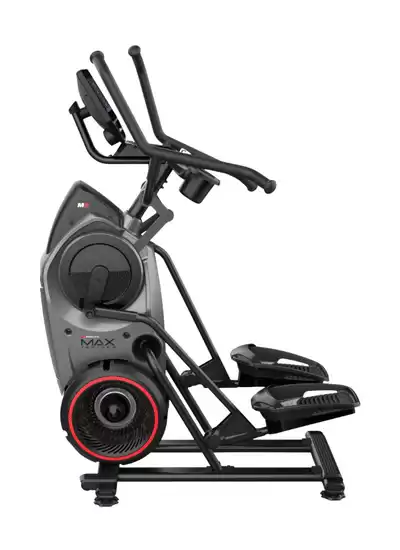 More Guides and Articles Like This
Sole E55 Elliptical Review | Pros, Cons, and Hands-on Experience. The Sole Fitness E55 Elliptical is an industrial-grade elliptical machine for home gyms. Here is a full review of this tank of an elliptical, including its pros, cons, and how it compares to other elliptical trainers.
How Much Do Ellipticals Cost? (44 Different Models Compared). Ellipticals can be a costly investment in your workout goals. Here is a look at how much each type of elliptical costs and how much to spend on one.