The Sole Fitness E25 is a budget-friendly elliptical built as if it belongs in a commercial gym. Here's a full review of this elliptical, including pros, cons, and comparable alternatives.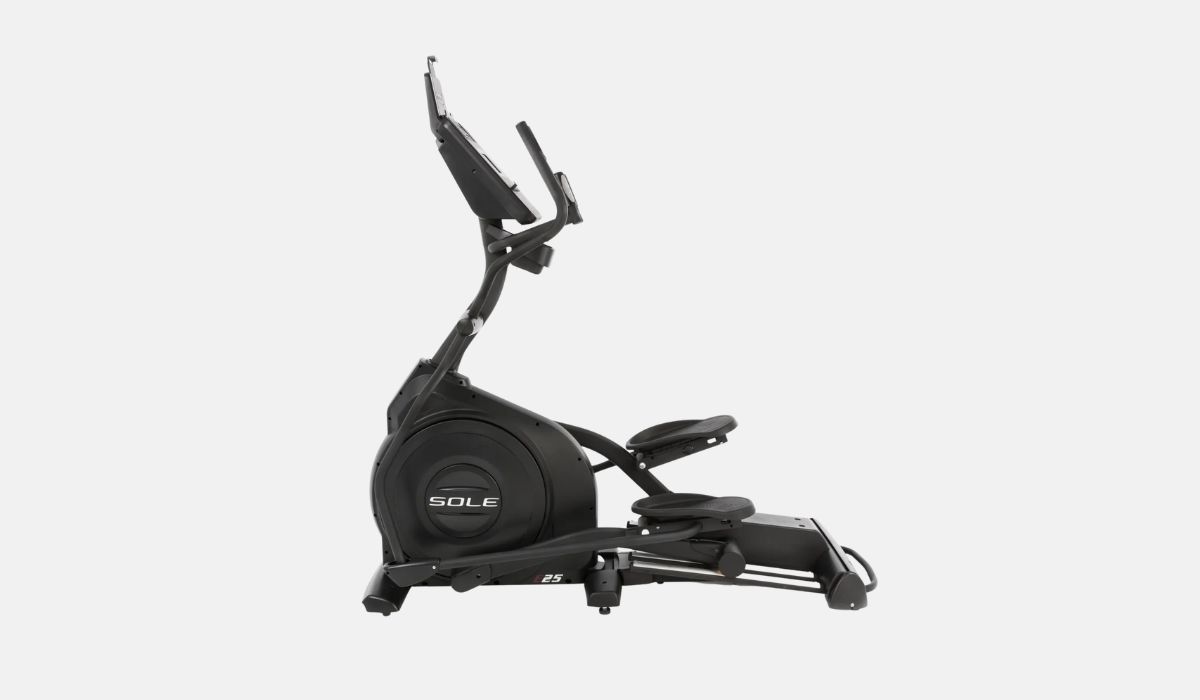 Sole Fitness is a brand known for making high-quality elliptical machines found in both commercial and home gyms around the world.
Their E25 model is one of their most budget-friendly options, offering multiple adjustments that allow for a more natural stride, and integrated workout programs that will push your fitness to the max.
In this review, we'll look at what makes the E25 a model worth owning, what "cons" it may have, how it stacks up against other ellipticals and more.
By the time you finish this post, you'll have a much better idea of whether or not the Sole E25 is an elliptical worth using in your home or not.
Let's jump right in.
Sole E25 Elliptical — The Key Specs
Price: $1,099
20" stride length
217lb unit weight
350lb max user weight
Power incline to adjust for greater incline/difficulty
66.5" long, 23" wide, 35" high
Integrated hand pulse grips, chest strap compatible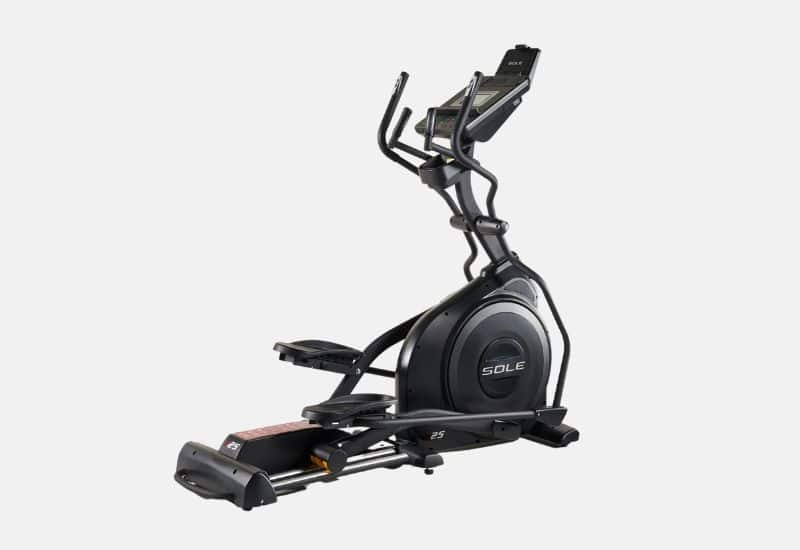 Sole Fitness E25 Elliptical – The Pros
Here are a few things that make the Sole E25 Elliptical one of my favorite options for a budget-friendly, durable elliptical trainer:
✅ Price
I'll admit: paying upwards of $1,000 for an elliptical machine isn't always an easy pill to swallow.
After all, there are plenty of "budget" models on the market for anywhere from $500 to $800 (the Schwinn 411 Elliptical Trainer is an example of a quality, yet budget-friendly, elliptical).
But anyone who's used one of these budget models will know they just can't offer as many features as the mid- to upper-range models. The build is also less sturdy, and they tend to be less reliable overall.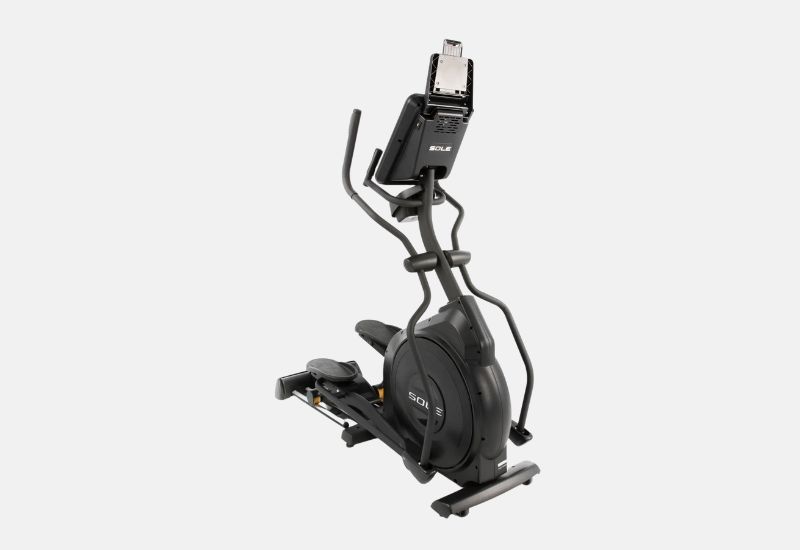 If you want to equip your home gym with a machine that will last for years to come, it's a good idea to shop in the above-$1,000 price range.
The Sole E25 is just within that price range—retailing at $1,099—but despite its low price tag, it's as reliable as an elliptical machine worth more.
In fact, compared to many of its competitors' higher-priced options, it's a winner.
For the price, you won't find many better, more durable machines than the E25.
✅ Comfortable Design
Part of what makes the E25 (and all Sole Fitness ellipticals) among the best elliptical machines is its custom-designed foot pedals.
The pedals have a slight slope (2 degrees inward) that gives you a more natural-feeling foot placement, which will actually reduce the strain on your ankles, knees, hips, and lower back.
The design will also reduce toe pain and numbness, prevent wear on your Achilles tendon, and just make the workout feel more comfortable with every step.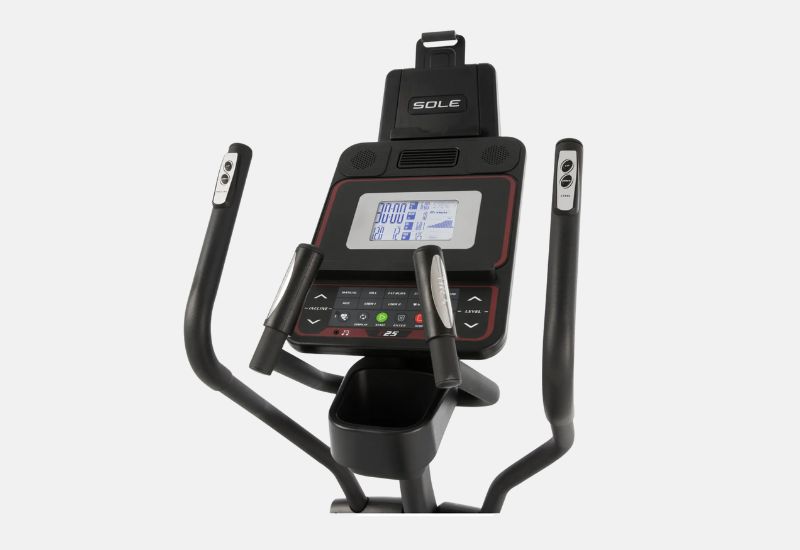 For those who spend just a few minutes on the elliptical to warm up, this may not sound like a big deal. But by the end of a 60-minute workout or a 20-minute HIIT session, even tiny discomforts can become big pains.
A machine designed to combat these problems makes for a much more comfortable workout.
But wait, there's more…
The handles are built with a special articulated design that allows you to grip them at the spot that feels most comfortable for your shoulders and elbows.
This makes it not only more comfortable for your lower body, but your upper body as well!
✅ Feature-Rich
The E25, like all Sole Fitness models, comes packed with a lot of pretty epic features:
Bluetooth connection with your smartphone so you can play music directly from the speakers
Direct connection between the elliptical machine and whatever sport or fitness tracking app you use (including Kinomap, MyFitnessPal, iHealth, FitBit, and more)
An adjustable console that lets you set the right angle for maximum visibility based on your height
A 6.5-inch backlit LCD that displays all the workout data (including speed, incline, resistance, calories burned, distance traveled, and more) in large, easily visible numbers
Integrated USB charging port so you can keep your smartphone or tablet topped up while you work out
Integrated adjustable tablet holder to allow you to watch TV or movies while training
Power incline to change the motion and resistance in order to target multiple muscles
Pre-programmed workouts that let you change the way you train
Talk about a machine that's built to make your workouts so much easier!
✅ Highly Versatile Workout Options
I already mentioned the workout options above, but I want to dive a bit deeper into this particular "pro" because it's incredibly important.
First off, the Power Incline feature is amazing. The built-in motors will adapt the angle of incline and raise the resistance as desired, making it easy to target specific muscles or increase the challenge of your workout. All of this at just the press of a button.
But for those who are new to elliptical training, it's the integrated workout programs that can be a real game-changer.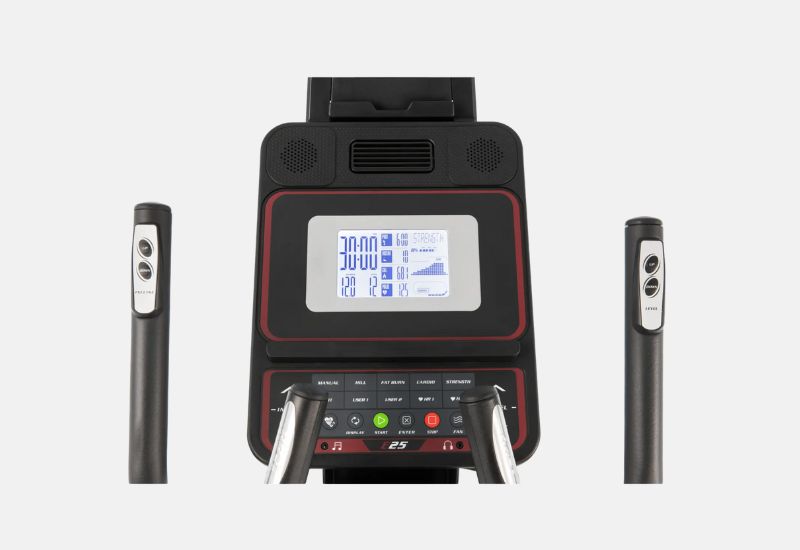 Instead of just getting on the elliptical and "winging it" with no real plan of attack, newbies (or even experienced trainees) can choose from among the workout presets integrated into the machine.
The LCD screen makes it easy to cycle through your options—from HIIT to fat-burning to muscle-building to cardio training—and choose the difficulty level, workout duration, or even a target calorie burn.
Once you've set your desired program and get started, you can focus entirely on the workout and let the machine handle the adjustments on its own.
It will raise or lower the incline and increase or decrease the resistance automatically, challenging your body in different ways throughout the training session.
By the end, you'll be sweating buckets and feeling like a million bucks. You can step off the trainer knowing you did a great workout.
Sole Fitness E25 Elliptical Trainer — The Cons
Of course, no machine is "perfect".
Every machine in the gym (or your home gym) has the occasional flaw or minor detail that could be better—and yes, that includes the top-of-the-line models, too.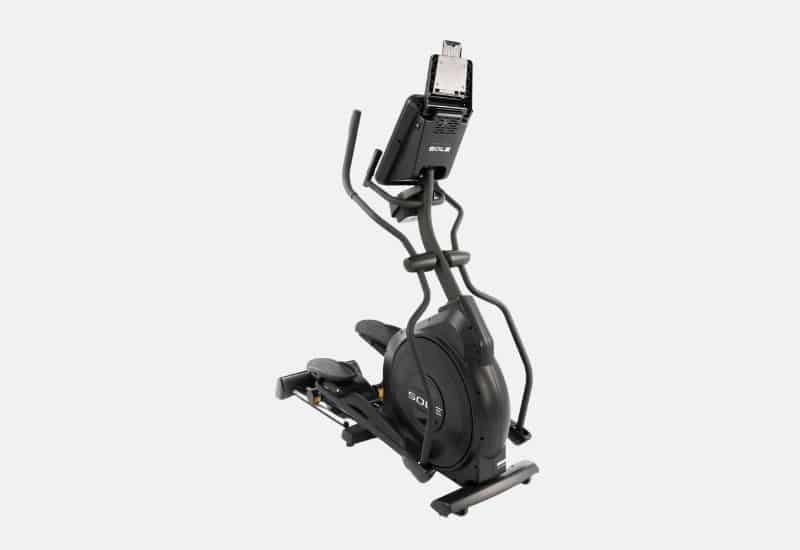 With the Sole E25, there are really only two complaints I think are worth mentioning:
Light Flywheel
As a bigger, heavier guy, the 20-pound flywheel just isn't able to provide the resistance I need to push myself.
Yes, the incline makes for a great stair-climbing workout, and because I'm combatting both the resistance provided by the flywheel and my own bodyweight, it's challenge enough.
But if I'm walking at the standard "0" setting, even if I raise the resistance to maximum, it feels just a little bit on the inefficient side.
That being said, this is a problem unique to heavier trainees. For the average person, it won't be a huge issue.
Warranty Could Be Better
As one of Sole Fitness' lower-end models, the warranty on the E25 isn't quite up to par with the warranty on some of its other models (full comparison of all of Sole's Ellipticals can be read here).
For example, with the E35, there is a 2-year warranty on labor and a 5-year warranty on parts and electronics.
With the E25, the labor warranty is only 1 year, and the parts and electronics warranty is only 3 years.
However, the frame is backed by a lifetime warranty on all Sole Fitness models, including the E25.
Sole Fitness E25 Elliptical Trainer – FAQs
Does the Sole E25 fold up?
No, it does not. There are wheels on the front that allow you to lift the back (gripping the steel bar built into it for specifically that purpose) so you can move it around. However, it is not designed to fold.
How much does the Sole E25 weigh?
I'll be honest, it's not the lightest of the elliptical machines I've ever used. It clocks in at a solid 217 pounds. Trying to move it around can be an entire workout in itself.
Like most ellipticals, it's built tough and heavy. Better to leave it in one place than trying to shift it around too much!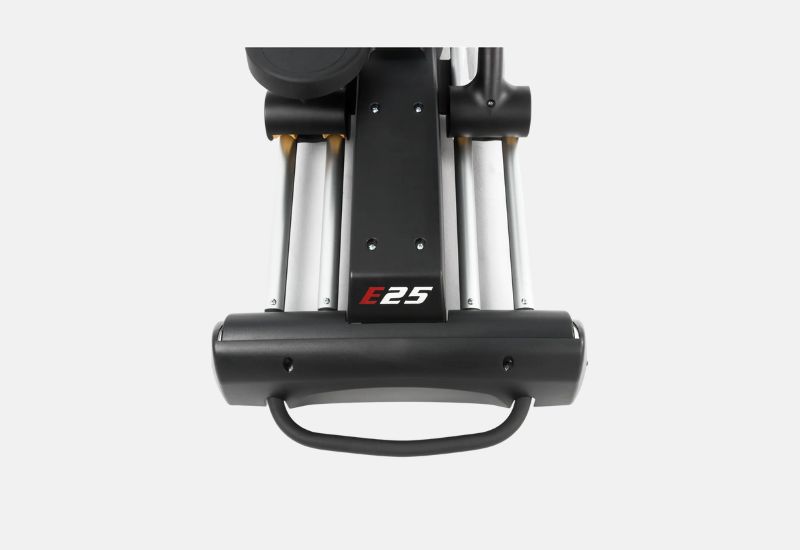 What other ellipticals are similar to the Sole E25?
A few other ellipticals that offer similar features to the Sole E25 are:
Schwinn 470 – The Schwinn 470 offers an identical 20" stride length, is roughly the same shape and size, and has a 20-pound flywheel like the E25. Its user weight capacity is 50 pounds lower (300 pounds), but it offers 25 levels of resistance (instead of the E25's 20) and has significantly more pre-programmed workouts. The price is also about 20% lower than the E25.
Sole E35 – Sole's next-model-up E35 offers all the features that make the E25 worth your money, but with a 25-pound flywheel that is better suited for larger and heavier users. Plus, there's that longer warranty we discussed in the "cons" section! However, get ready to pay a notably higher price (a more detailed review of the Sole E35 Elliptical can be found here).
What's the difference between the E25 and other Sole ellipticals?
The E25 is Sole's is one of Sole's "entry-level" models.
(The Sole Fitness E25, reviewed here, is Sole's most budget-friendly option.)
Here is how it compares to Sole's other ellipticals:
| | | | | | |
| --- | --- | --- | --- | --- | --- |
| | E95S | E95 | E55 | E35 | E25 |
| Price | $2,199 | $1,699 | $1,499 | $1,399 | $1,099 |
| Flywheel | 30lb | 27lb | 20lb | 25lb | 20lb |
| Stride length | 18-24" | 20" | 20" | 20" | 20" |
| Display | 10.1" LCD | 10.1" LCD | 9.0" LCD | 7.5" LCD | 6.5" LCD |
| Unit Weight | 265lb | 236lb | 214lb | 231lb | 212lb |
| Adjustable Foot Pedals | Yes | Yes | Yes | No | No |
We have tested and reviewed Sole Fitness ellipticals extensively.
For detailed looks, check out these reviews of the Sole Fitness E55 (best elliptical under $1,500) and the Sole Fitness E95, our top pick (again) for best overall elliptical for home gyms.
The Bottom Line
For those looking for a truly high-quality elliptical machine but don't want to splurge on a top-of-the-line model, the Sole E25 may be exactly what you're looking for.
It's a cut above the usual "bargain" or "budget models", but it's priced at the low end of the mid-range price spectrum so it won't break the bank.
It's not quite as advanced as some of Sole's upper-level models, but it's got all the design and functionality features to make it a suitable choice for your workouts.
If you're looking to save a bit of money but still buy a quality elliptical machine for use in your home gym, the Sole E25 is an excellent choice.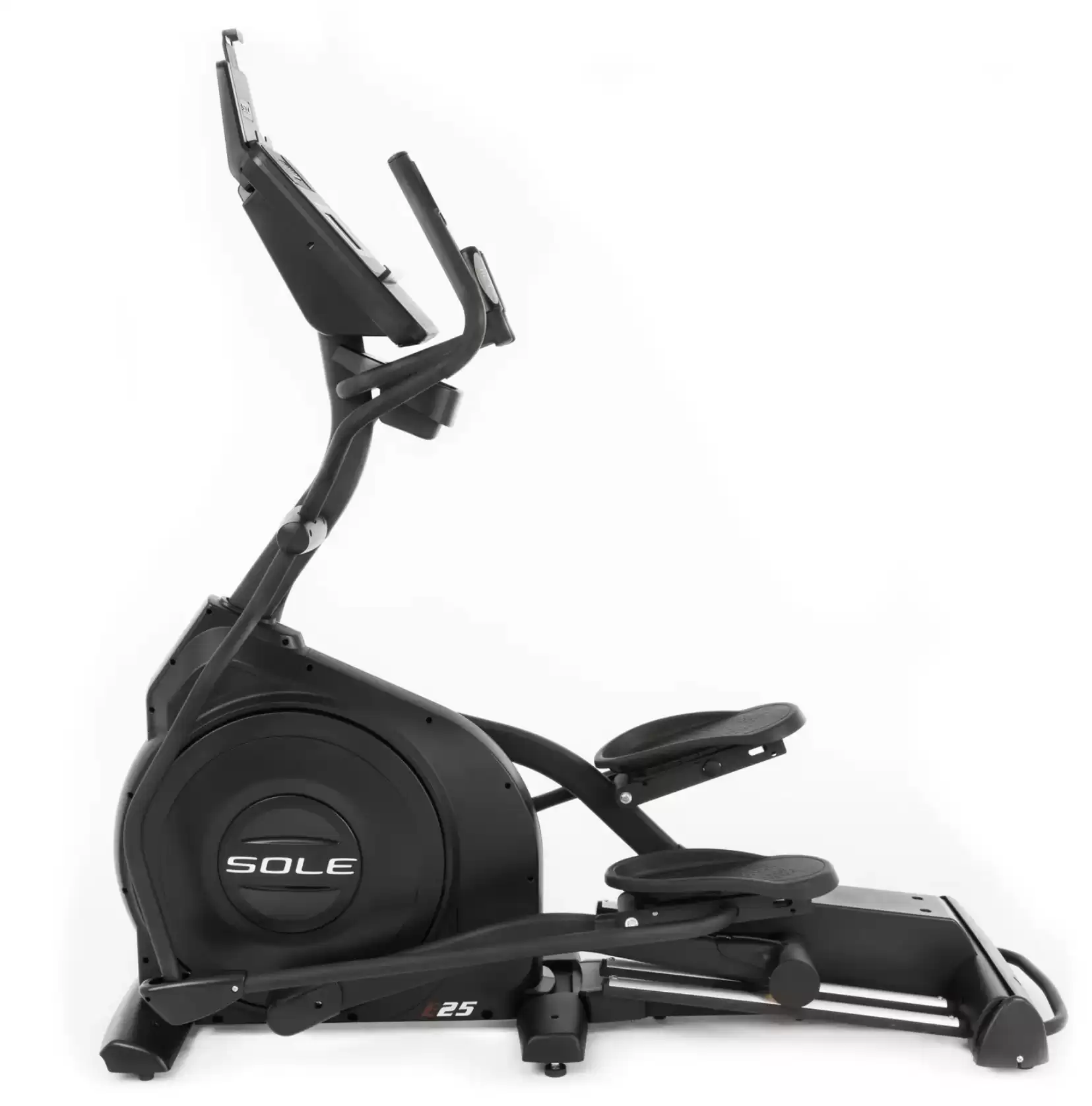 ---
More Elliptical Guides and Reviews
Sole E95 vs Sole E35: Which One is Best for You and Your Workout Goals? Wondering what separates the Sole E95 and the Sole E35? Here's a detailed look at the differences and similarities between these two popular ellipticals.
How Much Do Ellipticals Cost? (44 Different Models Compared). Ellipticals can be a costly investment in your workout goals. Here is a look at how much each type of elliptical costs and how much to spend on one.