The Sole E35 Elliptical Trainer is one of the best ellipticals for home gyms. Here's a full review of this elliptical, including pros, cons, and whether it's the right elliptical for you and your home gym.
The Sole E35 is a mid-tier elliptical trainer made by Sole Fitness, the best in the game when it comes to making durable ellipticals that don't crush your bank account like an empty beer can at a football game tailgate.
Priced at $1,399, it's significantly less expensive than comparable ellipticals in terms of features and the E35 is wildly stable (the frame weighs 231lb!) almost to the point of being overbuilt.
If you want a commercial-grade elliptical for your home, but don't want to get kicked in the purse strings, then the E35 is the right elliptical for you and your home gym.
In this detailed review of the Sole E35, we do a deep dive on the pros and cons of this particular machine, as well as compare to similar ellipticals on the market.
By the end, you will have a crystal-clear idea if the Sole Fitness E35 Elliptical is worth the money.
Let's jump right in.
Sole E35 Elliptical – Key Features
Here are the key specs on the E35:
Price: $1,399 (shipping included)
Handles: Multi-grip with resistance controls
Stride length: 20"
Display: 7.5" LCD
Flywheel: 25lb
Built-in fan: Yes
Dimensions: 71" H, 82" L, 31" W
Pedal height: 14"
Unit weight: 231lb
Incline: Yes (power adjustable)
Pedals: adjustable
Assembly: optional for $299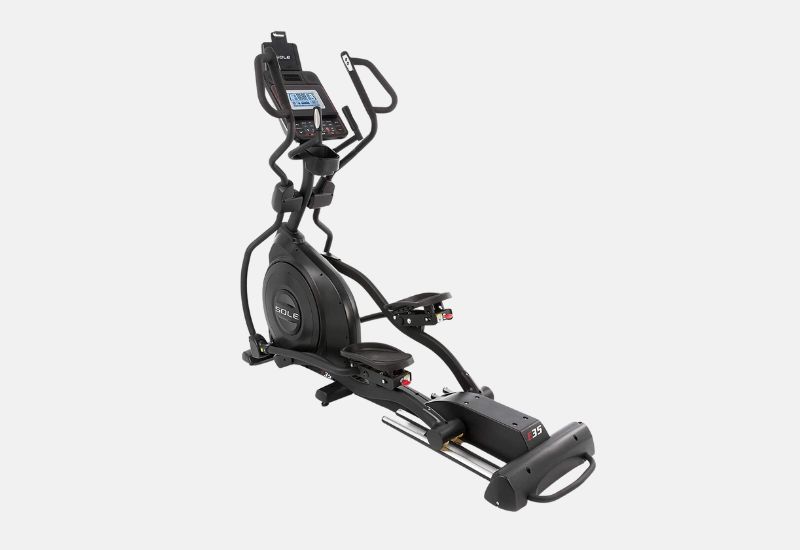 Pros of the Sole E35 Elliptical Trainer
There is a lot to really like about the Sole E35. Here are the key things that make it stand out:
Gym quality elliptical (at a home gym price)
We gotta start off with the price.
The Sole E35 is $1,399, which may be a lot when you first look at it, especially compared to some of the cheaper options available on Amazon, but when you consider that the E35 is a comparable—if not superior—machine to the ones you see in the gym, it's actually an excellent value pick.
When you combine the features, including whisper-quiet dual-rail drive and an extremely stable base, you've got the best elliptical machine on the market for under $1,500.
Here is how much this elliptical costs compared to other gym quality elliptical machines:
| | |
| --- | --- |
| MODEL | PRICE |
| Schwinn 470 Elliptical | $1,099 |
| Sole Fitness E25 | $1,099 |
| Sole Fitness E35 | $1,399 |
| Sole Fitness E55 | $1,499 |
| Pro-Form Carbon E7 Elliptical | $1,499 |
| NordicTrack SpaceSaver SE7i | $1,799 |
| Life Fitness E1 Elliptical Cross-Trainer | $2,729 |
| Life Fitness E3 Elliptical Cross-Trainer | $3,719 |
The E35 rides exceptionally smoothly
One of the most irritating fails on an elliptical is the dreaded "clunking" when the drive chain or belt comes loose.
You can feel it with each stride. I've encountered this more than a few times on machines at the gym.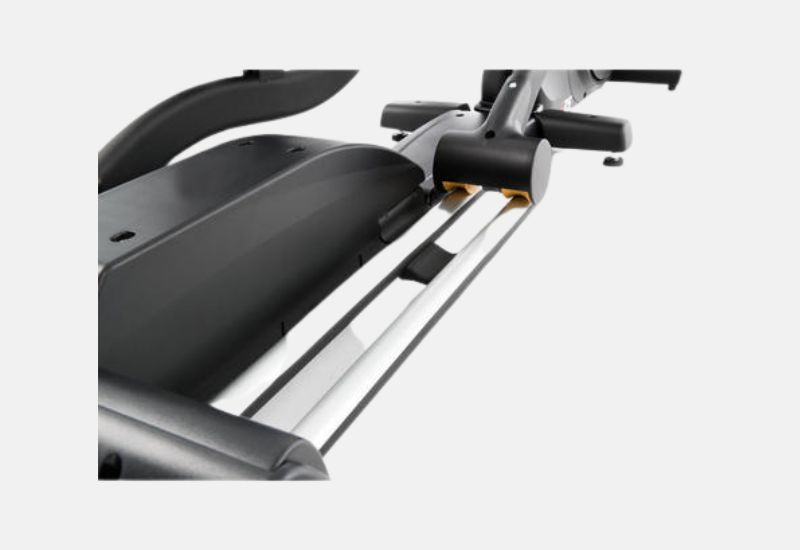 The E35 has a smooth drive and ride that eliminates this hugely annoying clunking via high gear ration and 25lb flywheel working on two separate rails.
The result is an exceptionally smooth and quiet striding experience.
Adjustable foot pedals
The E35 has adjustable foot pedals that allow you to set the incline of the pedals up to 10-degrees.
This is great news for people who often find that their toes go numb or fall asleep while using an elliptical trainer.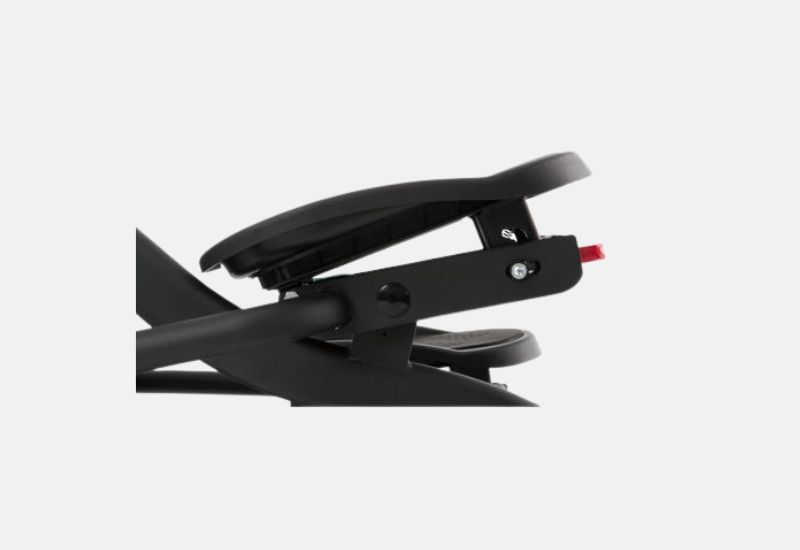 The pedals are adjusted manually with a red quick release knob at the back of the foot pads.
Multi-grip handles (with resistance controls)
The E35 has a multi-grip handle on the arms of the elliptical, which give you tons of options on where you want to place your hands when going to town on your fitness goals.
Two stationary handles are available at the base of the console for when you want to focus on the lower body.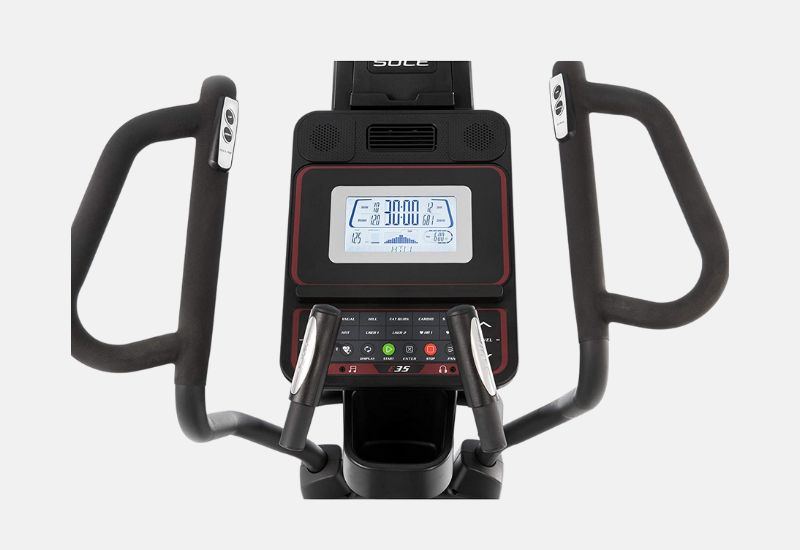 The thing I love most about the handles is that the arms have controls for adjusting workout resistance.
I much prefer this than having to manually adjust resistance on the console when in the midst of a challenging HIIT workout as you can make adjustments immediately and without having to let go of the handles.
Cons of the Sole E35 Elliptical Trainer
While there is a TON of things to really like about the E35, that doesn't mean there aren't some things that could be improved.
They include:
Display is kind of basic.
Thanks to companies like Peloton, with their HD touchscreens and online classes, we've gotten pretty spoiled in recent years with the displays on cardio machines.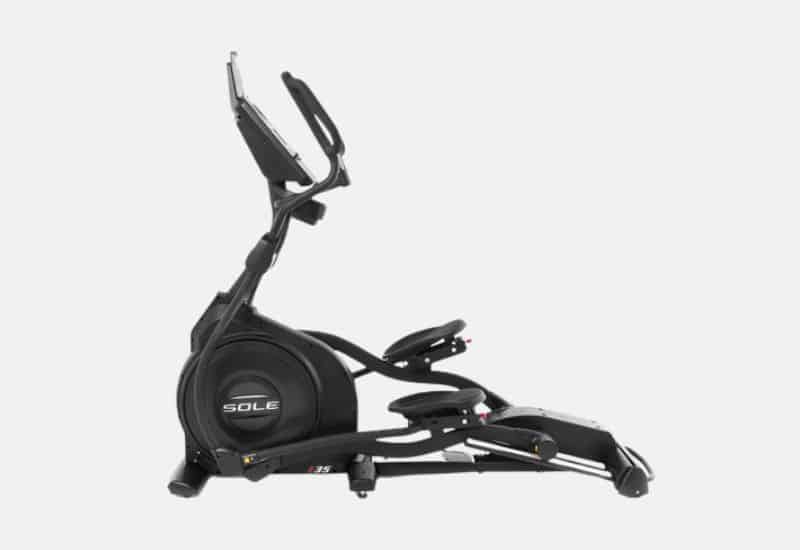 The display on the Sole Fitness E35 is a run-of-the-mill LCD screen that displays basic information for your workout. If you want to take advantage of the online classes Sole does through their STUDIO portal, you are going to need to fire up a tablet or smartphone and sync it with the elliptical via Bluetooth.
The fan doesn't do much.
The Sole E35 Elliptical has a built-in fan on the console.
It doesn't do very much; barely a light breeze.
For heavy-duty sweating sessions, you are going to want to fire up a gym fan of some sort to help you keep cool when using the machine.
FAQs – Sole Fitness E35 Elliptical
What's the difference between the Sole Fitness E35 and Other Sole Ellipticals?
The Sole E35 is square in the middle of Sole's range of ellipticals in terms of functions and price.
Compared to the E25, it has a significantly heavier flywheel (25lb vs 20lb) and overall unit weight (231lb vs 212lb). The screen is a little bigger (1" larger) and the E35 costs $300 more than the E25.
Ultimately, the Sole E35 is a sturdier version of the E25.
Compared to the E55, which is a paired-down version of the top-of-the-line Sole E95 Elliptical, the E35 actually retains the "sturdy" title, with a heavier flywheel (25lb vs 20lb) and overall machine weight (231lb vs 241lb).
Where the E55 steps ahead is a much larger screen (9.0" vs 7.5"). It's also $100 more expensive than the E35.
Here's a more detailed look at how the Sole ellipticals compare:
| | | | |
| --- | --- | --- | --- |
| | Sole E25 | Sole E35 | Sole E55 |
| Price | $1,099 | $1,399 | $1,499 |
| LCD Display | 6.5" | 7.5" | 9.0" |
| Stride Length | 20" | 20" | 20" |
| Flywheel | 20lb | 25lb | 20lb |
| Unit Weight | 212lb | 231lb | 214lb |
| Dimensions (H, L, W) | 71", 70", 24" | 71", 82", 31" | 71", 71", 27" |
The Bottom Line
The benefits of elliptical trainers are long and legit; increased calorie burn, reduced injuries from low load-bearing on joints, and they are an excellent way to do fat-torching HIIT workouts.
The Sole Fitness E35 is a killer when it comes to build quality, price, and foot positioning versatility.
It features Sole's whisper-quiet drive system that is significantly better than more expensive ellipticals you find in commercial gyms.
Priced to win, the E35 is the best elliptical for home gyms under $1,500 and is available exclusively through Sole's official website.
Best Elliptical Under $1,400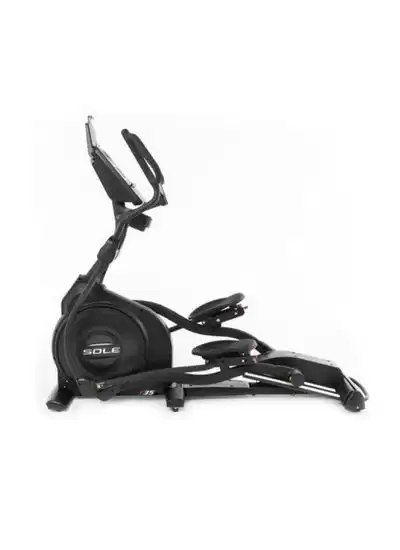 ---
More Elliptical Guides and Articles
What Muscles Do Elliptical Trainers Work? (and How to Build Muscle on an Elliptical). The elliptical trainer is an excellent machine for building cardio and muscle. Here's a look at all of the muscles worked on the elliptical, tricks for changing muscle groups, and how to build muscle on the elliptical.
3 Elliptical HIIT Workouts (Plus Benefits and How to Do Them Like a Champ). Ready to crank up the fat-burning and cardio on your workouts? Here are three HIIT workouts you can do on an elliptical, for beginners, intermediates, and experienced trainees.