The Sole Fitness E55 Elliptical is an industrial-grade elliptical machine for home gyms. Here is a full review of this tank of an elliptical, including its pros, cons, and how it compares to other elliptical trainers.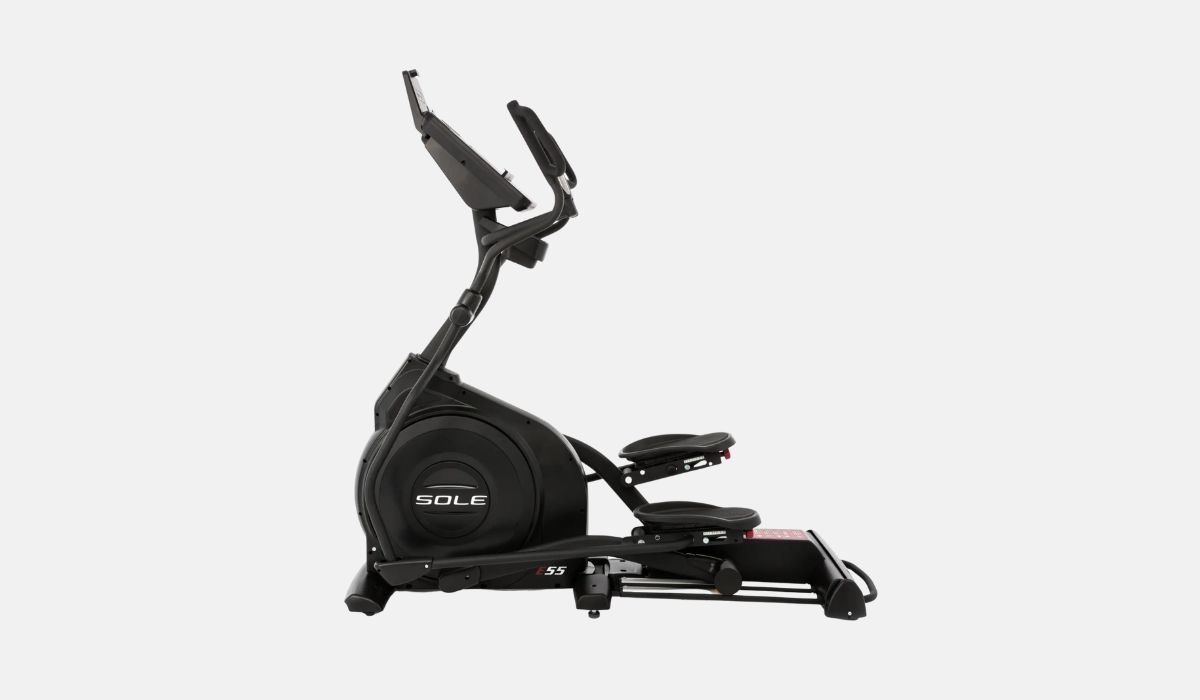 The Sole Fitness E55 Elliptical is a commercial-grade elliptical machine made for home use.
It combines heavy-duty parts with the compact size and design of its more affordable machines that are sized just right to fit in your apartment, garage, or basement gym.
The unique design of the E55 also delivers a smoother, more joint-friendly ride, with a stable structure that will never tip or wobble no matter how hard you pedal.
Though it's not the most budget-friendly elliptical trainer on the market, it's a machine you can trust will last you years of daily use.
In this review of the Sole Fitness E55 Elliptical Trainer, we'll take a look at all the important pros and cons, compare it to other Sole Fitness elliptical machines, and share some useful tips to help you get the most out of this elliptical machine.
Let's jump right in.
Sole Fitness E55 Elliptical – The Specs
Here are the key features of the E55:
20" stride length
227lb unit weight
375lb max user weight
Integrated Bluetooth capability lets you pair with any smartphone (Apple or Android) and a wide range of fitness tracker apps
70" long, 31" wide, 69" high
Upgraded handlebars offer ergonomic comfort in multiple grip positions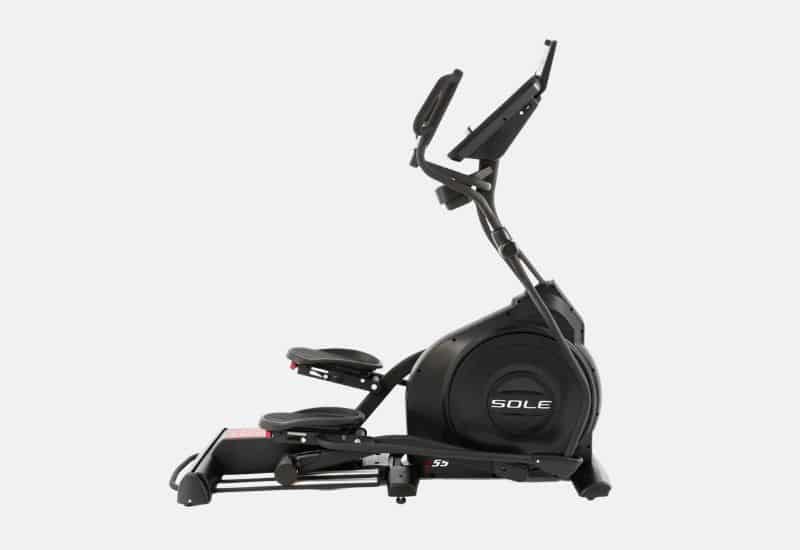 Sole E55 Elliptical – The Pros
Time to talk about some of the reasons that the E55 is one of the better options on the market, and an elliptical machine worth considering for installation in your home gym.
✅ Maximum Comfort
With any machine where you're going to spend up to an hour a day, 7 days a week in hardcore training mode, comfort is a BIG factor to consider.
Think about it: if the stride is too short, the pedals feel wrong, the glide is jerky or not quite smooth, and it doesn't give you a proper ride, you'll quickly grow annoyed with the machine and just stop using it altogether.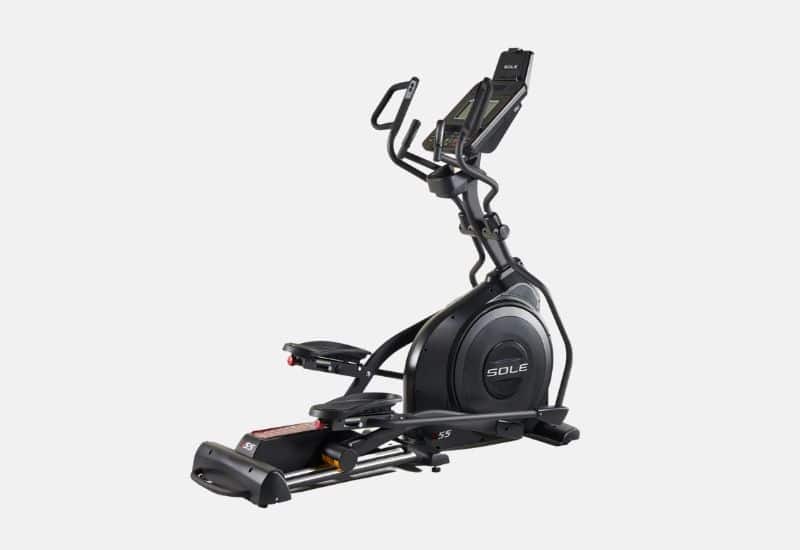 One of the things that makes the E55 such a great elliptical machine is that it's built for user comfort.
A few of the comfort-oriented features include:
A heavy 20-pound flywheel and high gear ratio that makes for a very smooth feel as you pedal, but also offers excellent resistance (see the next section for more details).
Built-in cooling fans that keep you from overheating as you work out.
Fluid natural motion with every step.
Whisper-quiet operation, so you can work out even with a sleeping child or spouse in the next room.
Multi-grip, multi-position handles, which are not only ergonomic, but designed to let you find the grip position most comfortable for your use.
Custom articulating foot pedals, which were designed in collaboration with a leading physical therapist, are intended to reduce pain and joint strain as you work out.
All of these things combine to make for a very comfortable workout, whether you're just getting in a 20-minute HIIT sprint or a full hour-long sweat session.
✅ Advanced Workout Adjustment Options
One thing I always look for in my gym equipment is multi-functionality and versatility.
I don't want a machine that can just do "one thing"; I need a machine that will be adaptable to all of the various workouts I'm trying to do so that I can both mix up training modalities but so that my wife and visiting clients can use it as well.
The Sole Fitness E55 is designed to be a fully advanced workout machine. It includes 20 resistance levels and 20 ramp angles, allowing for total customization of your workout difficulty.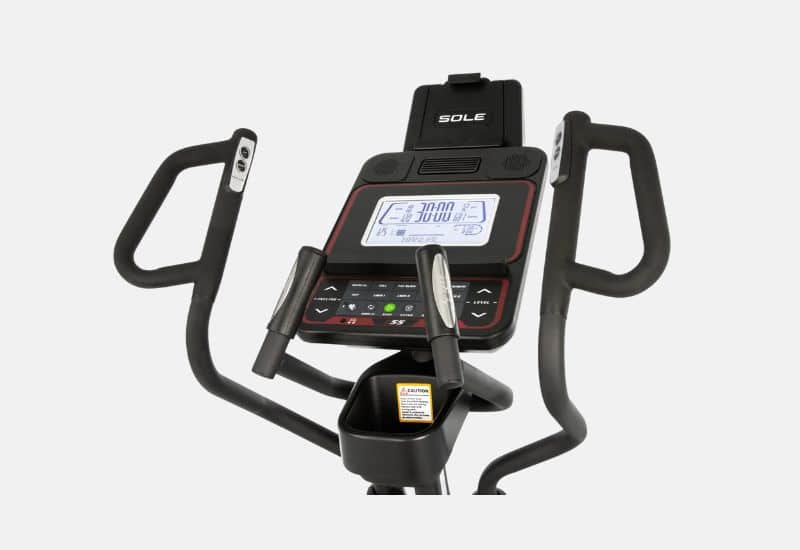 The machine also comes pre-programmed with 6 training programs, 2 heart rate programs, and 2 user programs. This allows you to adapt the machine to your workout easily.
When switching between resistance and ramp angles, the machine's power incline will adapt it to your specs with just the press of a button.
It makes it easy to get your elliptical-based HIIT session in without constantly having to fiddle with the controls, or you can set a specific program (fat-burning, cardio, HR training, etc.) and let the machine automatically cycle through the presets on its own.
✅ High-Tech Functionality
The E55 is one of the higher-tech elliptical machines I've ever tried, with a lot of awesome smart features that will help you take your workout to the next level.
First off, it's Bluetooth-enabled, so you can pair it with your smartphone (compatible with both Apple and Android).
Once it's connected, you'll be able to play music from your phone through the machine's built-in speakers, making it easy to listen to podcasts, crank up your workout jam, or (as I love to do), blast that audiobook on full volume to keep you motivated through your training session.
But the Bluetooth connection also lets the elliptical machine relay your workout data directly to your preferred fitness or health-tracking app.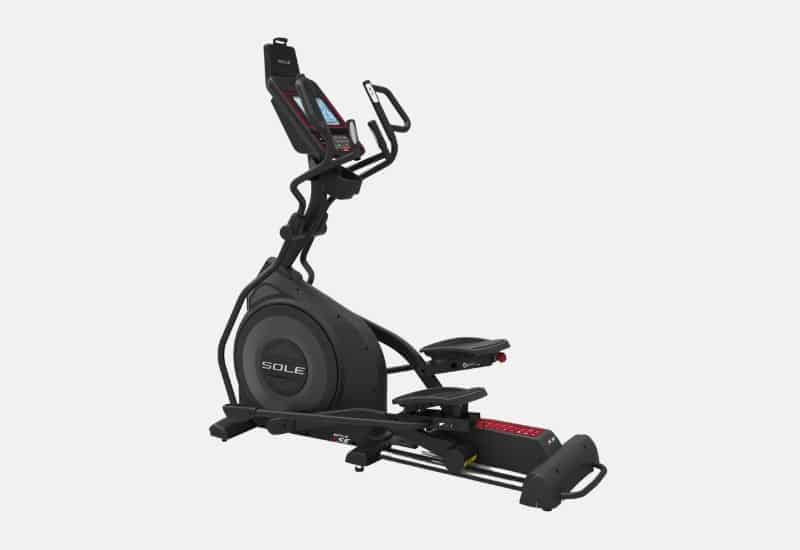 That way, you can easily track your workout performance day after day, and see how many calories you burned, how fast you pedaled, how much time you spent in fat-burning heart rate zone, etc.
The machine comes with its own built-in heart rate sensors in the handlebars, but it also includes a chest strap that's paired with the console so you can have a more accurate measure of your heart rate even if you work out hands-free.
Add to that an integrated tablet or phone holder to support your device as you work out and a USB charger you can plug into to keep your devices charged, and you can see why it's considered a "high-tech" elliptical!
(Sole Fitness has also recently jumped on the bandwagon with online classes that can be streamed to your tablet or smartphone, so if you are the kind of person that likes this kind of training, there is that option, too.)
✅ Great for Taller Users
As a guy well over 6' tall, this is a huge factor for me to consider when looking at any workout machine.
The more compact, home gym-friendly machines tend to be a bit too small for my long legs and tall frame, so it's tough to find an elliptical that suits my needs.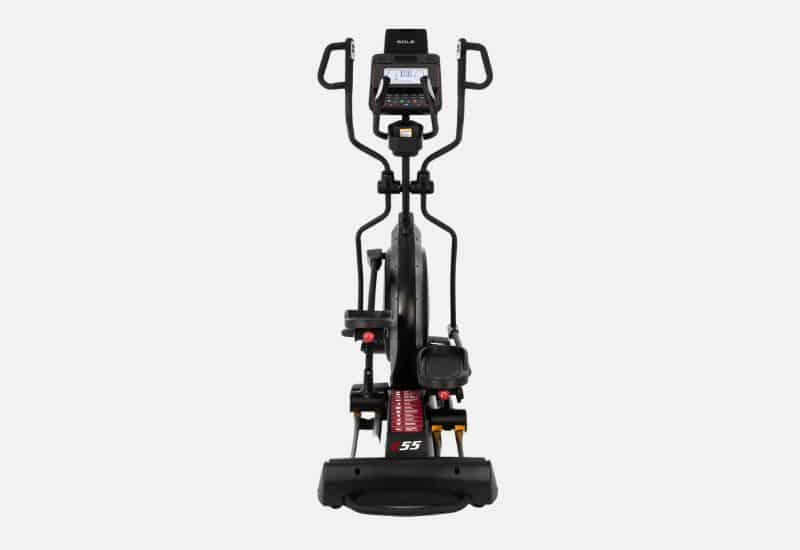 Which is why I was excited to find that the E55 had a slightly-longer-than-average stride length of 20".
From the moment I stepped onto it and started working out, I was comfortable in my stride and had no trouble pedaling for the full hour-long training session.
Sole E55 Elliptical – The Cons
Though I liked the E55 overall, there were a few "cons" that stopped it from being the perfect machine for my at-home training:
The flywheel could have been heavier
I'm a tall guy, but also a heavy guy. That means I need a machine that's sturdy enough to support my large frame as well as a flywheel that provides ample counterweight to create resistance as I pedal.
On the former, the E55 was more than adequate. The frame was solid and stable. I never wobbled once as I worked out, even when I really started pushing it to high-intensity speeds.
But the flywheel turned out to be a bit too light for someone of my size. 20 pounds is fairly standard for the light-duty ellipticals, but I would prefer something in the 25 to 30-pound range. I just need a bit more heft to provide ample resistance.
Assembly was tricky
I've put together more than a few elliptical machines in my time. The process can range from simple (assembling a few components) to arduous (building the whole thing basically from small pieces), but it's all about following the instructions step by step to get it right.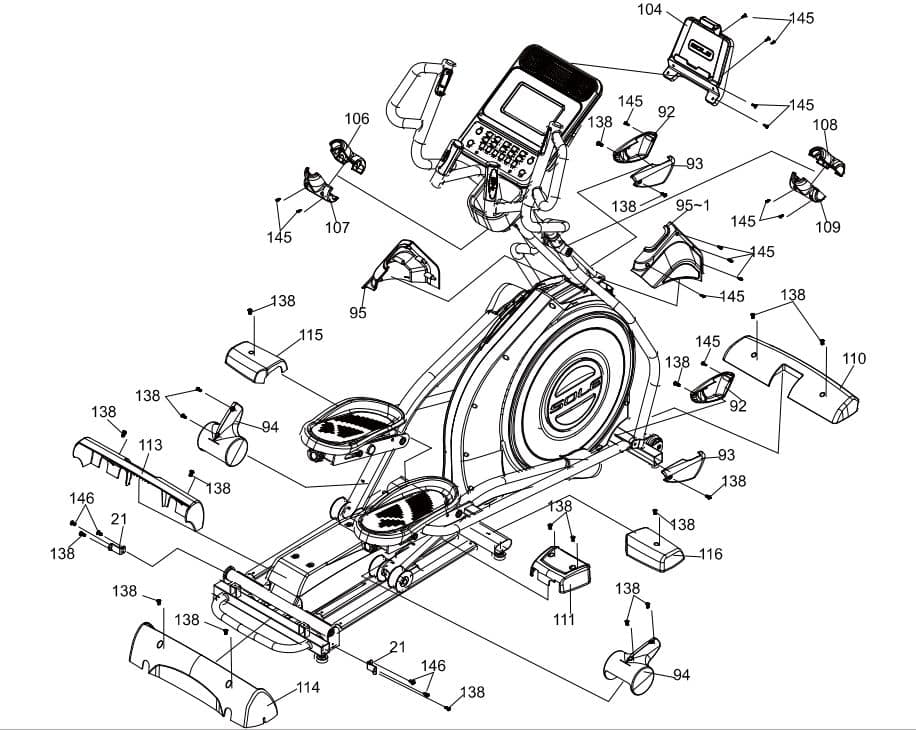 With the E55, the manual is what let me down. It's divided only into a few steps, but those steps should actually be further divided because there are multiple pieces being assembled in each one.
I would have preferred a much longer manual that walked through each step at a time, because that would have been easier to follow.
Ultimately, it took me about twice as long to assemble the E55 as it did to assemble the Schwinn 411. It's far from the more complex machine I've ever had to put together, but the lack of clear instructions proved a bit of a headache.
(Note: Sole offers an optional delivery upgrade that includes assembly in your room of choice for an additional $299. If you want to bypass the time and potential headaches of assembly, I highly recommend choosing this option when ordering the elliptical.)
Sole E55 Elliptical – FAQs
Does the Sole E55 have an adjustable stride?
The Sole E55 doesn't have an adjustable stride, but it does have adjustable pedals. Each pedal comes with a dial that lets you adapt the angle of the pedal, so it can place more pressure toward your heel or toward your toe.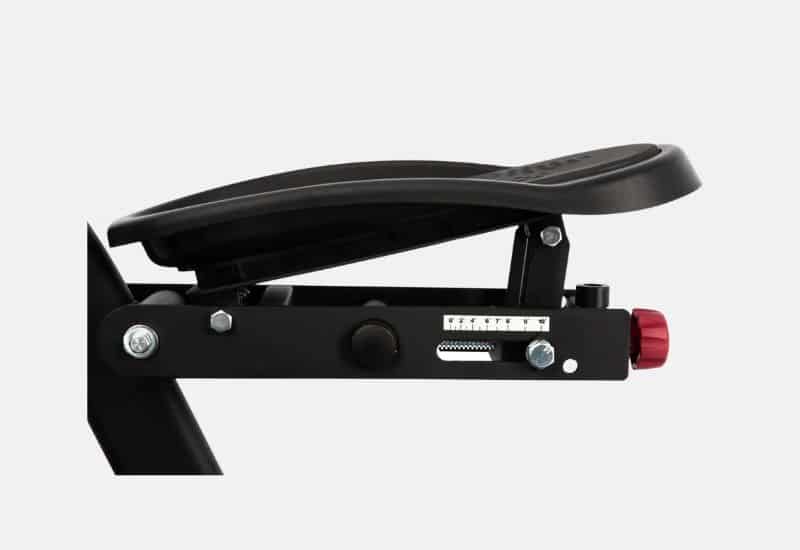 For advanced trainees and runners who are all about those complex biomechanical adjustments, this is a total win!
How much does the E55 weigh?
The E55 is definitely on the heavier side—it clocks in at 214 lbs. Which is good news in the sense that the extra weight makes for a more stable ride.
You'll probably want to set it up in the place where you'll be storing it, and once it's in place, you won't want to move it. It also doesn't come with caster wheels for easy mobility.
What's the difference between the E55 and other Sole ellipticals?
The E55 is one of 7 elliptical models offered by Sole Fitness.
It takes the heavy-duty components of the larger models (the Sole E95 and commercial-use Sole E98) but puts them in the compact body of the smaller, budget-friendly models (the Sole E25 and Sole E35).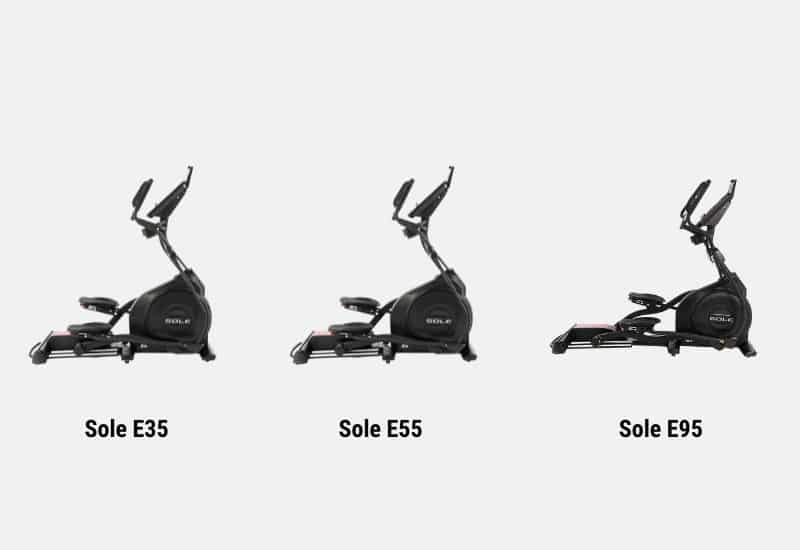 It's squarely in the middle in terms of price, but you can see below how it stacks up against some of its larger and smaller siblings:
| | | | |
| --- | --- | --- | --- |
| | E35 | E55 | E95 |
| Price | $1,399.99 | $1,499.99 | $1,699.99 |
| Stride length | 20" | 20" | 20" |
| Resistance levels | 20 | 20 | 25 |
| Unit weight | 231 lb | 214 lb | 236 lb |
| Dimensions | 71" x 82" x 31" | 71" x 71" x 27" | 71" x 82" x 31" |
| Incline | 20 incline levels | 20 incline levels | 20 incline levels |
The Bottom Line
The Sole Fitness E55 is one of the best ellipticals for home use thanks to its commercial-grade construction, small(ish) footprint, and extensive training options.
Even taller users will find it's sized just right for them, and between the smooth ride, sturdy build, advanced functionality, and multiple integrated training programs, it's a cardio machine well worth utilizing for your training sessions.
Sure, it could use a heavier flywheel and the manual could definitely be easier to understand, but overall, it's an excellent option.
In sum:
Heavy-duty build suitable for most users
High-tech capabilities
Advanced workout features
Ergonomic design and maximum comfort level
Smooth, gym-quality ride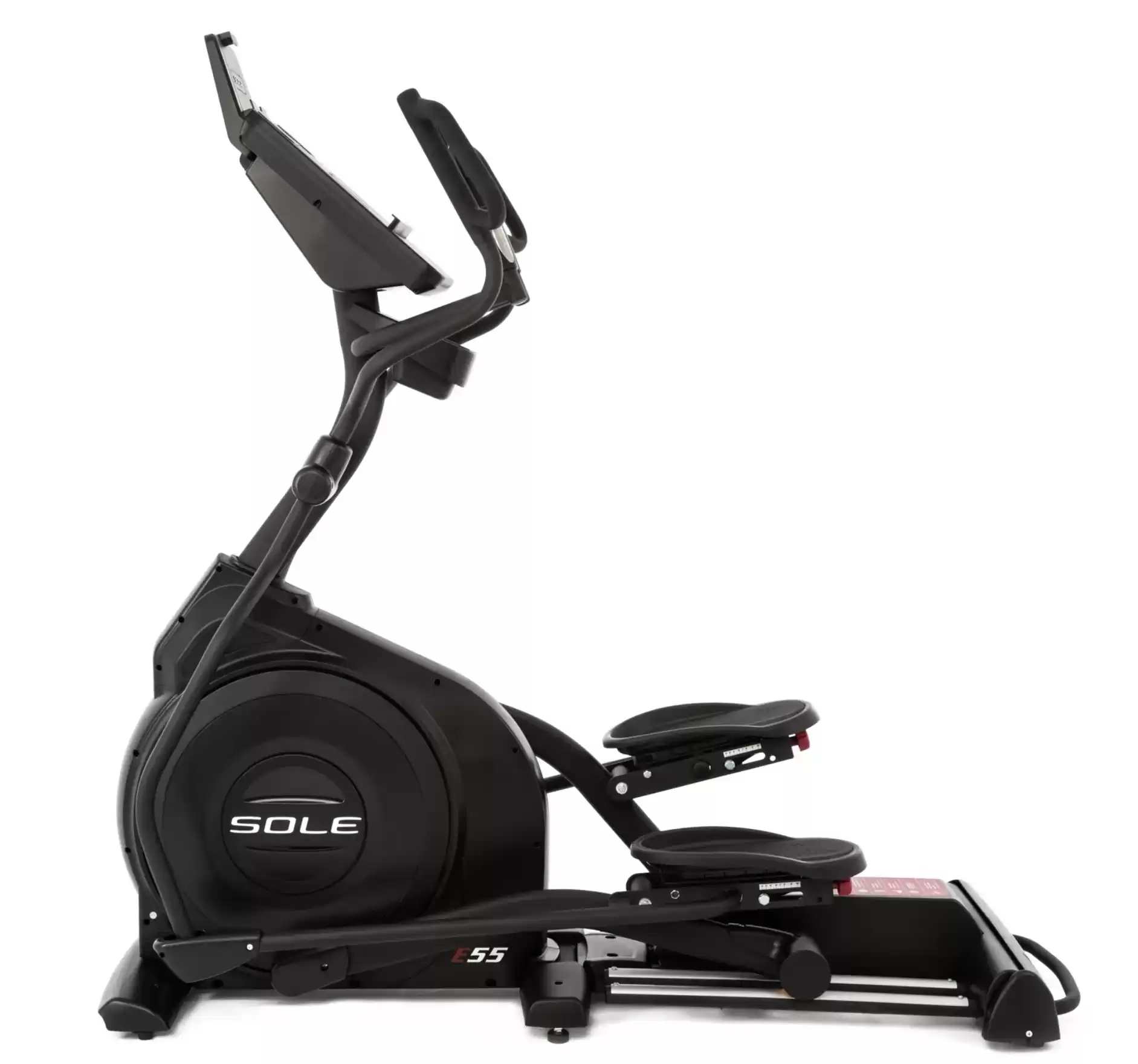 More Articles and Guides Like This
What's the Best Elliptical Stride Length? (How to Choose). Elliptical stride length is crucial for getting the most out of your workouts. Here's how to measure the right stride length for you, the benefits of long stride ellipticals, and more.
What Muscles Do Elliptical Trainers Work? (and How to Build Muscle on an Elliptical). The elliptical trainer is an excellent machine for building cardio and muscle. Here's a look at all of the muscles worked on the elliptical, tricks for changing muscle groups, and how to build muscle on the elliptical.