Wondering if the Sole Fitness E20 Elliptical is the right machine for your fitness goals and budget? In this review, we look at the pros, cons, and competition of this popular budget-friendly elliptical trainer.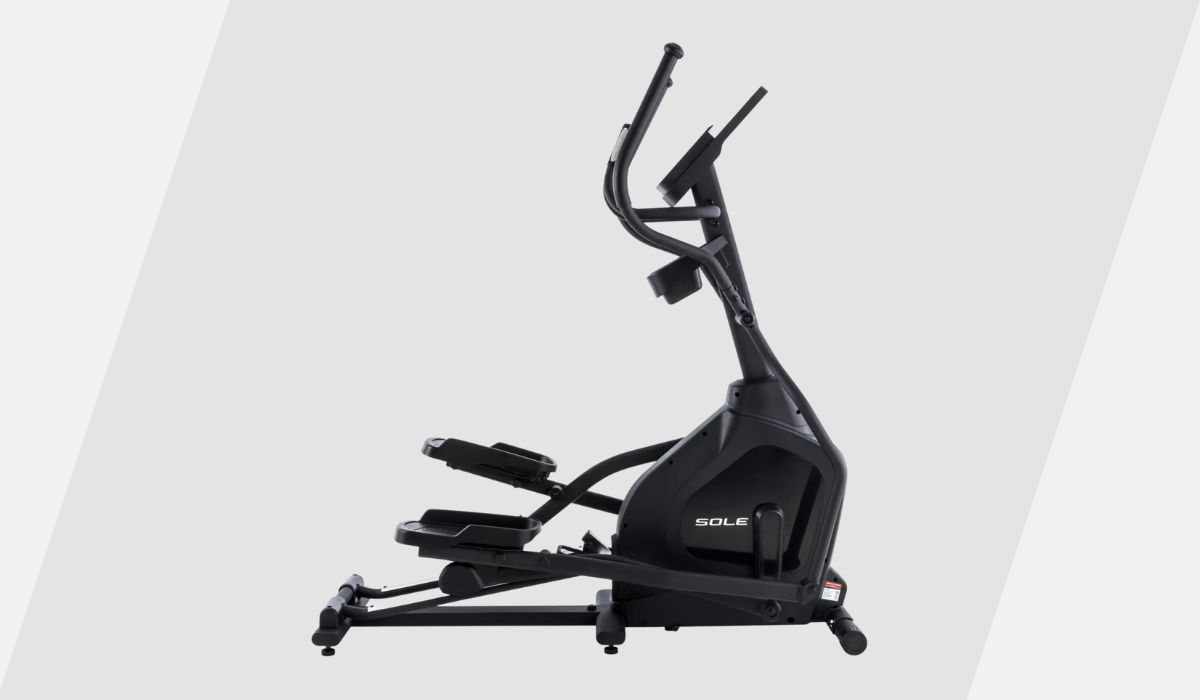 The Sole Fitness E20 Elliptical is Sole's most budget-friendly elliptical trainer.
Priced at just $799, it's an awesome machine for people who want an ergonomic striding experience, don't want to break the bank with a new elliptical trainer, and want a trainer made by one of the best in the biz.
In this review of the Sole E20, we take it for a spin, err, stride. We will share our experience with it, including the pros of the E20, some of the things to be aware of, and compare it to both competitors in its price range as well as Sole's other elliptical trainers.
By the end, you will have a crystal-clear idea of whether the Sole E20 Elliptical is the right machine for your workout goals and budget.
Let's jump right in.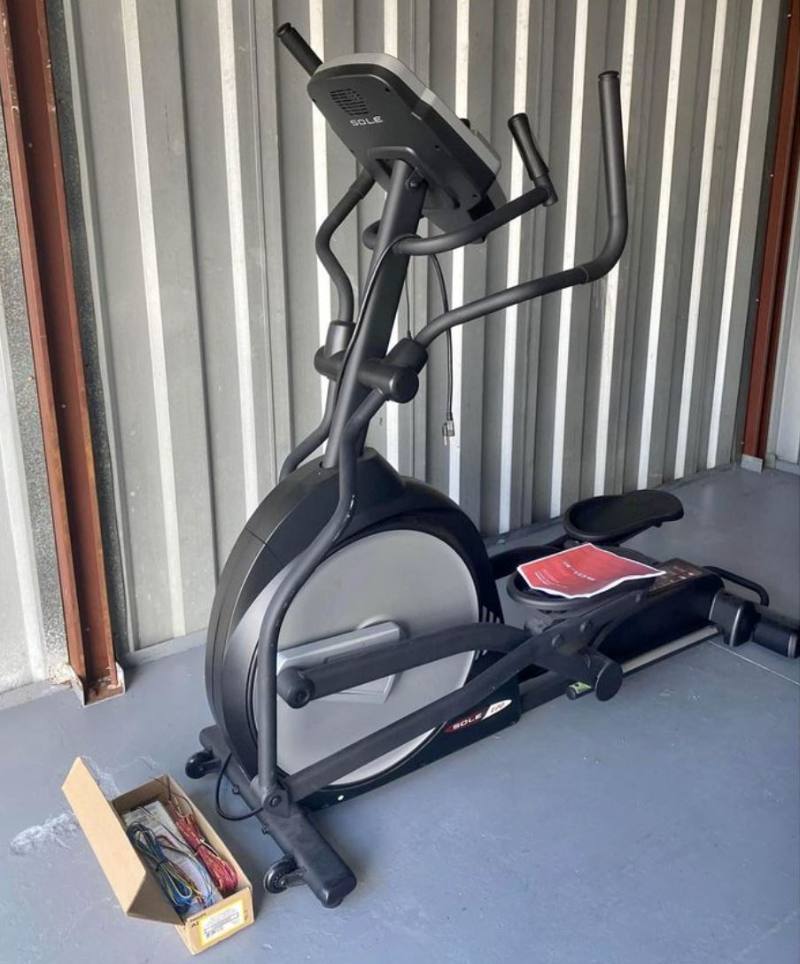 The Sole Fitness E20 – Overview
✅ Who is it for:
People looking for a budget-friendly, entry-level elliptical
An ergonomic foot pedal – the pedals have a 2-degree inward slope that reduces foot and toe numbness
Want the peace of mind of using an elliptical by one of the top brands in the game
People who like adding incline to the stride path
❌ Who it isn't for:
Taller people—the 18" stride length is likely too short
People who love interactive programming. The LCD screen is small and basic.
Sole E20 Elliptical – Key Specs:
Price: $799
Flywheel: 14.4lb
Stride length: 18"
Incline: Yes (manual)
Screen: 5.5" LCD
Machine weight: 175lbs
Max user weight: 300lbs
Warranty: Frame (lifetime), parts (1 year) labor (1 year)
Sole E20 Elliptical – The Pros
✅ Ergonomic pedal design
This is the key feature that separates the E20 from other ellipticals on the market—pedals that have 2-degree inward slope.
Why does this matter?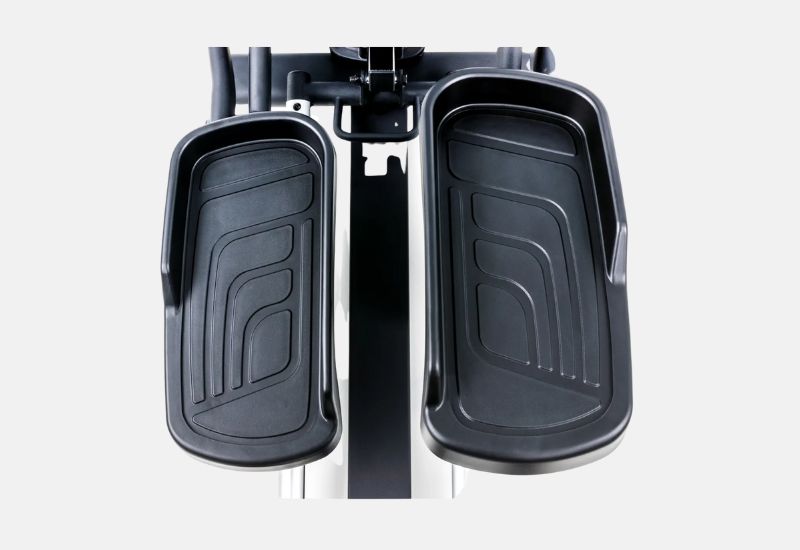 People who exercise for long periods of time on the elliptical will notice that sometimes their toes and/or feet go numb.
The ergonomic design of the pedals—designed specifically with the help of orthopedists—ensures proper circulation and comfort while exercising on the E20.
This is a feature that all of Sole Fitness's ellipticals have and is one of the reasons that their ellipticals are so popular.
✅ Budget-friendly
Sole Ellipticals are, in my opinion, among the best in the business.
They have a full range of killer ellipticals, from the top adjustable stride elliptical in the Sole E95s to the Sole E98, an elliptical built for commercial gyms but with the price of a residential machine.
For those who want a Sole elliptical, but don't quite want to spring $1,000+ to do so, can get their hands on the Sole E20 for just under $800.
(For more ellipticals at this price point, check out this list of the top ellipticals at under $800 for home gyms.)
✅ Smooth ride.
Even though it's a budget-friendly elliptical, the Sole E20 rides extremely well.
The E20 features a 14.4lb flywheel and dual-rail drive system that is as quiet as it is stable.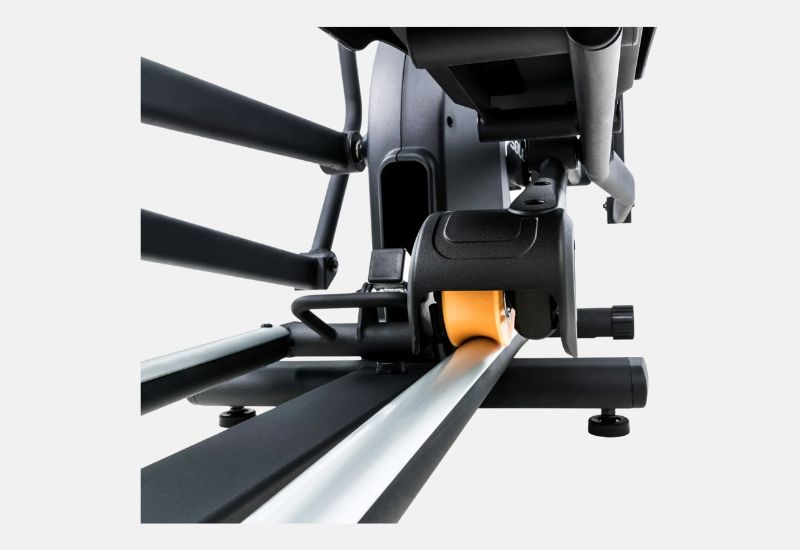 Larger and more experienced users will want to opt for an elliptical with a heavier flywheel, but for beginners and smaller users the E20 is plenty stable for your cardio and fat burning workouts.
✅ Solid build
The E20 weighs a solid 175lbs, which is more than most ellipticals in this price range.
Machine weight is a metric that doesn't get talked about a lot, but it is key in providing a stable and wobble-free striding experience.
✅ Incline
Being able to adjust the incline on my elliptical trainer is an absolute for me. Cranking up the incline is an instant way to increase the intensity of the workout.
And whether we are talking about using it in the middle of an HIIT workout or simply doing steady-state cardio on an incline, being able to adjust the incline is something I am always looking for when reviewing and testing ellipticals.
The Sole E20 has an incline feature—you can adjust it between three levels—but it should be noted that this feature is manual. Unfortunately, a power incline is not common at this price point (the Nautilus E616 is the only exception to the rule), but a manual incline is still better than nothing.
✅ Simplified workout programming
Although the tech and training programming on cardio machines has improved markedly in recent years, with the influx of trainer-led classes and big, shiny HD screens, there is something to be said about keeping things simple.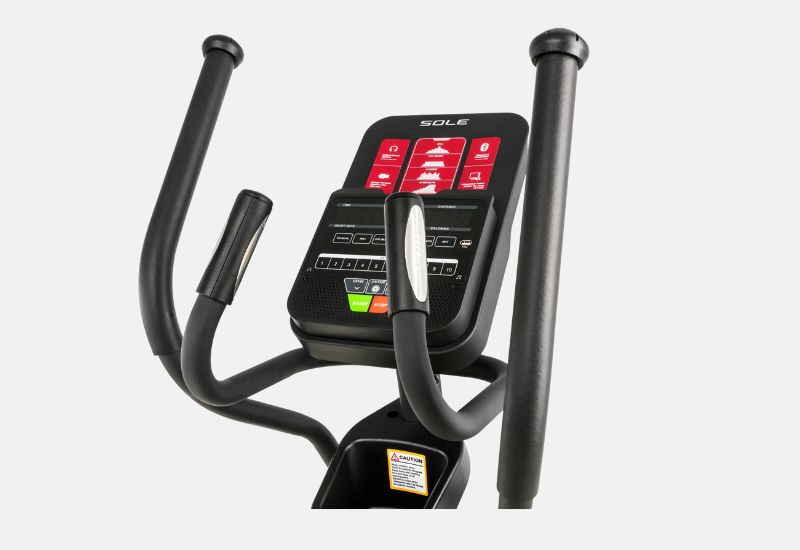 The Sole E20 has a console and set of workout programs that is about as simple as it gets. The console has a basic 5.5" LCD screen and (just) 8 workout programs pre-loaded.
For the person that just wants to get on and go, this is a big net positive.
✅ Comfort features
Recently I tried out a couple of elliptical trainers at my local gym—they were old Star Trac and Life Fitness ellipticals—that had water bottle holders that were too small for my water bottle.
Little things like this can be a pain in the buttocks when working out, and thus I can truly appreciate when an elliptical does the comfort features well.
The E20 nails it, with things like:
Oversized water bottle holder. Short of a 4L jug, your water bottle will fit in the holder.
Media tray for propping up your smartphone/tablet/book. The ledge also doesn't block your view of the LCD screen, which is something some cardio machines inexplicably do.
Built-in speaker that is Bluetooth enabled. Hook up your smartphone or tablet to it and crank up the sound.
USB outlet on the front of the machine. Charge your device while working out.
Fan to keep (somewhat) cool. The E20 has a fan built into the unit. Don't expect an Arctic chill from it, but it will give you a little breeze to help keep cool.
Sole E20 Elliptical – The Cons
The console is a bit dated.
The screens on consoles on cardio machines have improved wildly in recent years.
We can largely thank Peloton for forcing everyone to up their game in regards to the screen and console.
The E20's console does the bare essentials well enough, with all of the workout programs you'd expect (HIIT, manual, quick start, etc), the 5.5" LCD screen is a little dated.
Not as stable as other ellipticals in this price range.
The E20 is definitely not for larger and taller fellas for myself (I'm 6'5 and around 285lbs).
The lighter flywheel and relatively short stride length left a lot to be desired in my experience.
As we will see in the next section, there are ellipticals at the $799 price point that have more features (heavier flywheel, longer stride, and powered incline) compared to the E20.
Sole E20 Elliptical – The Competition
The E20 has competition at the $799 price point.
The main ones include:
Nautilus E616 – The Nautilus E616 Elliptical has a slightly longer stride length (20") and a heavier flywheel (22lbs). The incline is also motorized on the E616, the only elliptical at $799 that offers a power option.
Schwinn 430 – The Schwinn 430 Elliptical Trainer is also priced at $799 and has an increased stride length (20") and flywheel (20lb). Like the E20, the incline is manually adjusted.
Horizon EX-59 – Another budget-friendly option, the Horizon EX-59 Elliptical is slightly cheaper at $749 and mirrors the E20 in both flywheel weight and stride length. The EX-59, however, has no incline option.
Here is how they stack up against one another:
| | | | | |
| --- | --- | --- | --- | --- |
| | E20 | Nautilus E616 | Schwinn 430 | Horizon EX-59 |
| Price | $799 | $799 | $799 | $749 |
| Flywheel | 14.4lb | 22lb | 20lb | 14.3lb |
| Stride | 18" | 20" | 20" | 18" |
| Incline | Manual | Power | Manual | None |
| Max User Weight | 300lb | 300lb | 300lb | 300lb |
Sole E20 vs Sole E25
The Sole E25 Elliptical is the other (relatively) budget-friendly trainer in Sole's stable of ellipticals.
It retails for several hundred dollars more than the E20, but cranks up the features with a power incline, longer stride length and increased maximum user capacity.
And perhaps most crucially when it comes to ride smoothness, the flywheel is significantly heavier on the E25 (20lbs) compared to the E20 (14.4lbs).
Here's a look at the key differences between the Sole E20 and Sole E25: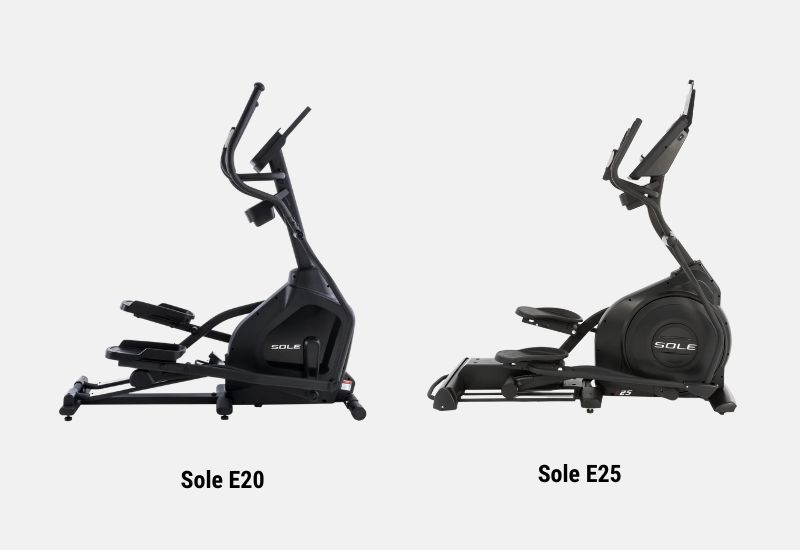 | | | |
| --- | --- | --- |
| | E20 | E25 |
| Price | $799 | $1,099 |
| Stride | 18" | 20" |
| Flywheel | 14.4lb | 20lbs |
| Screen | 5.5" LCD | 6.5" LCD |
| Max User weight | 300 | 350lb |
| Incline | Manual | Power |
The Bottom Line
There are a lot of things to really like about the Sole E20.
For people who struggle to find a comfortable pedal and have issues with their feet and toes going numb while using the elliptical, the Sole E20 is a no-brainer.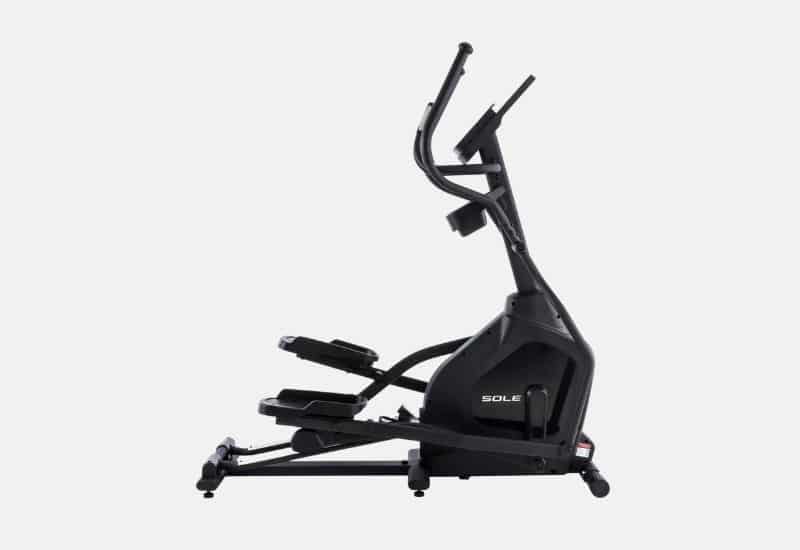 I really like the stride and build of the machine—for users who aren't large like me will love the stability of the heavy footprint and 14.4lb flywheel.
And if you are the kind of person who doesn't need the frills of a large screen and endless workout programs, the E20's "get on and go" console will be a perfect fit.
To recap:
| | |
| --- | --- |
| ✅ PROS | ❌ CONS |
| Ergonomic pedal design | Basic console |
| Three incline settings | Incline is manual |
| Simplified console and workout programs | The competition have longer strides and heavier flywheels |
| Lots of comfort features | |
| Solid stride at budget-friendly pricing | |
Best no-frills Sole Elliptical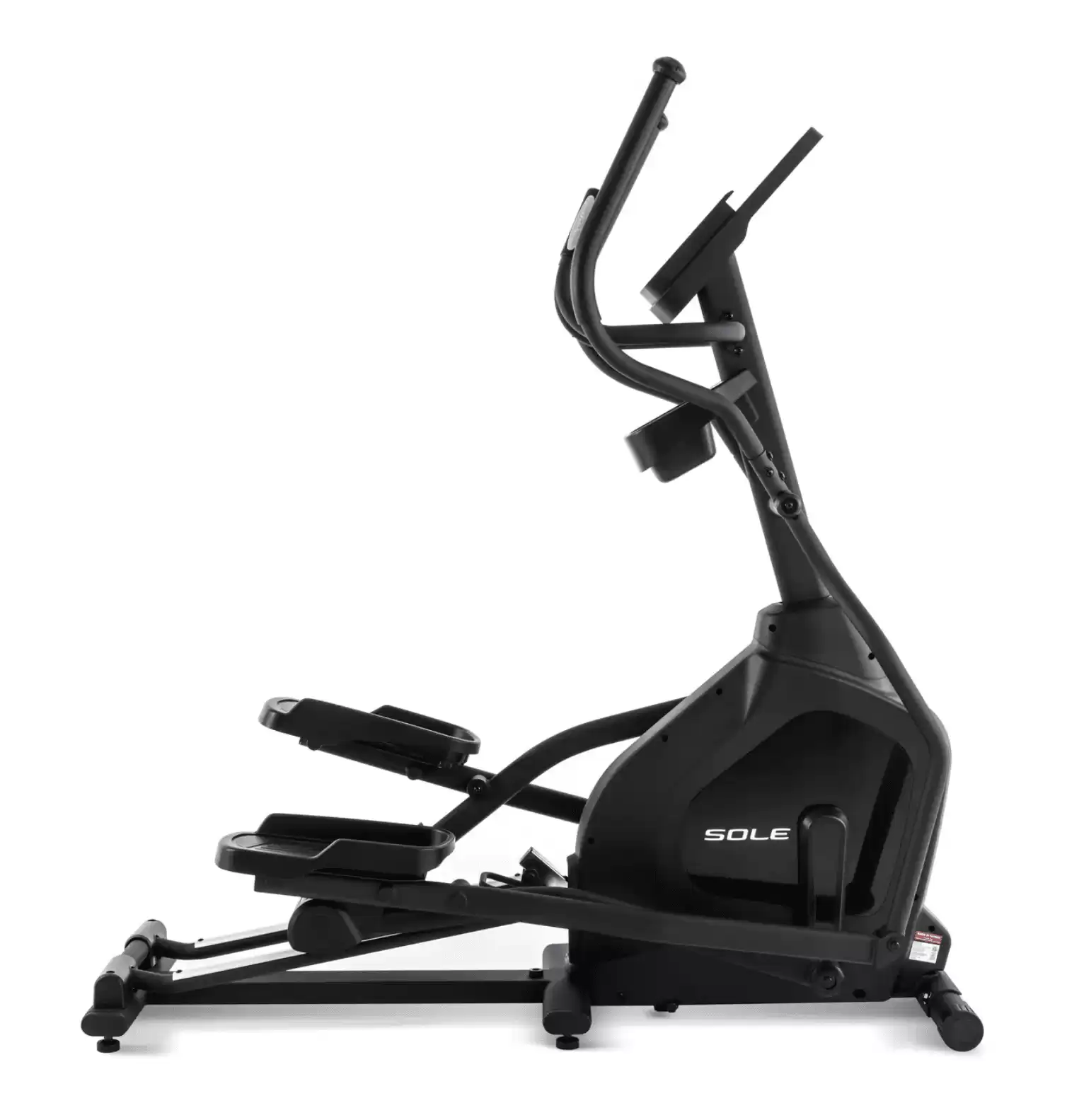 More Elliptical Guides and Reviews
What's the Best Elliptical Stride Length? (How to Choose). Elliptical stride length is crucial for getting the most out of your workouts. Here's how to measure the right stride length for you, the benefits of long stride ellipticals, and more.
Elliptical Buying Guide – Everything You Need to Know to Buy with Confidence. Want to buy an elliptical but don't know where to start? Arm yourself with the knowledge to choose the perfect elliptical for you and your workout goals.