Wondering if the Sole E95 Elliptical is the right one for you? In this guide, we do a deep dive on this popular elliptical trainer, looking at the pros, cons, and how it compares to other ellipticals for home gyms.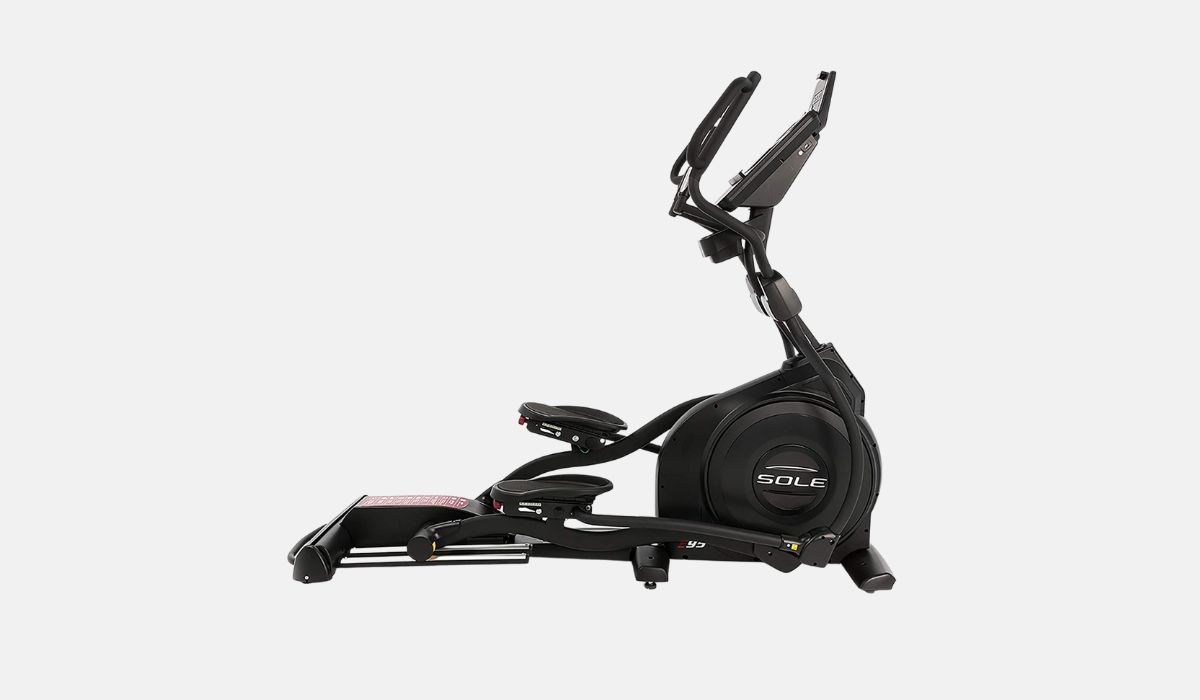 The Sole Fitness E95 Elliptical Trainer is a top-of-the-line elliptical made by Sole Fitness.
It's the best elliptical trainer on the market for people who want the ultimate in terms of adjustability in foot position and incline.
The Sole E95 Elliptical is also relatively budget-friendly at under $2,000 when you see how feature-rich the elliptical is, particularly when compared to more expensive trainers.
In this review of the Sole E95, we will detail our experience striding on this bad boy, discuss some key pros and cons of the E95, how it compares to other ellipticals in its price class, and more.
By the end, you will have a crystal-clear idea of whether or not the Sole E95 is the right one for you.
Let's jump right in.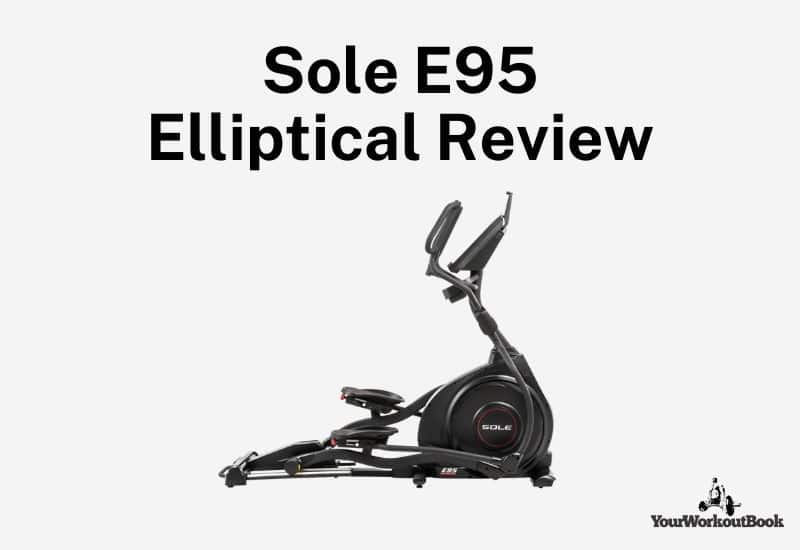 Sole E95 Elliptical – The Key Specs
Price: $1,999
Screen: 13.3" touchscreen display
Flywheel: 27lbs
Stride length: 20"
Resistance levels: 20
Power Incline: 0-20 degrees
Max user weight: 400lb
Machine weight: 242lb
Step-up height: 14"
Cooling fan
Water bottle holder
Heart rate monitoring: Yes—on handles (pulse grips) and included wireless chest strap
Foldable: No
Dimensions: 83" long x 34" wide x 70" tall
Warranty: Lifetime (frame), lifetime (flywheel), 3 years for electronics and parts
Financing available
Sole E95 Elliptical Trainer — The Pros
While there is a long list of things that are great about the Sole E95, there were several things that REALLY stood out for me and made the E95 stand apart from other ellipticals.
In my experience with using the Sole E95, here are the striking pros of this elliptical:
#1. Studio-grade striding experience
The Sole E95 has a tank-like 27lb flywheel that uses magnetic resistance to increase and decrease the difficulty of your elliptical workouts.
A heavy flywheel is something most people don't think about until they use a cheap elliptical with a featherweight flywheel. The difference is apparent in the reduced momentum, inconsistent resistance, and increased wobbling and rocking.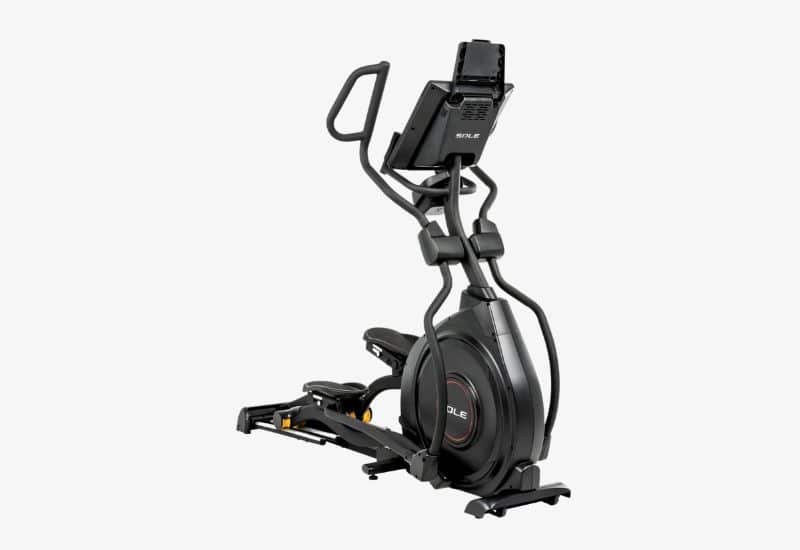 The 27lb flywheel on the Sole E95 is best-in-class at this price point, generating a smooth, wobble-free, and studio-grade striding experience when crushing your workouts.
Whether you are taking advantage of the power incline feature (up to 20 levels of incline) or changing between the E95's resistance settings, the flywheel makes it smoother than butter.
#2. Adjustable foot pedals.
The foot pedals on the Sole E95 are one of the things that really make it stand apart from other ellipticals on the market.
For starters, the pedals allow you to select from different ten different angles for the pedal. The foot pedals, which have a durable and comfy foam cover, have a 2-degree inward slope that reduces ankle and knee stress.
The pedals can be further tweaked to your unique posture and comfort using the "worm drive" dial that allows you to dial and tilt the pedal exactly how you want it.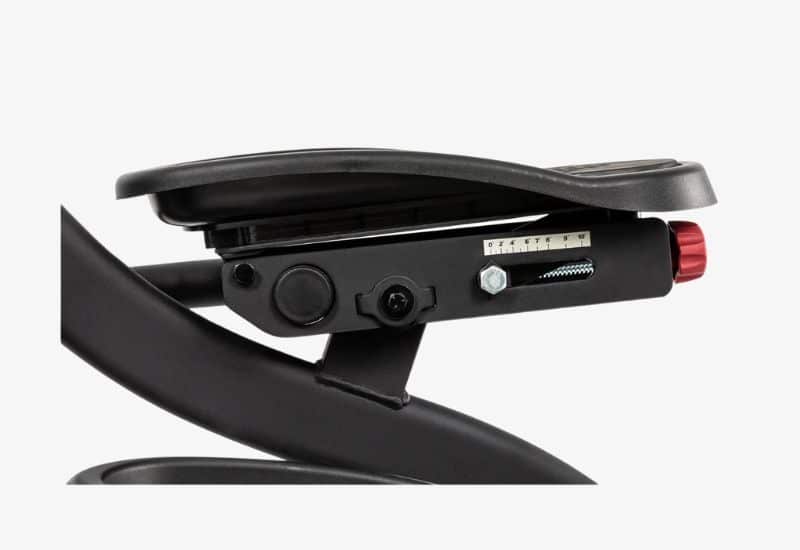 This is excellent news for people who want to customize foot position and reduce some common issues like foot or toe numbness, which happens a lot with ellipticals from constant nerve pressure on the toes and feet.
The Sole E95, like most ellipticals, can be pedaled forward and backward. Pedaling backward on the elliptical is also a great way to reduce the likelihood of toe numbness as it changes how pressure is placed on the feet when exercising.
#3. Huge new touchscreen
In recent years, ellipticals, and most cardio machines, have graduated from basic LCD displays to rich, high-definition touchscreens.
The Sole E95 recently got a huge upgrade with a new 13.3" touchscreen from a backlit 10.1″ LCD screen for an interactive and immersive exercise experience.
The screen is WiFi compatible, comes with several third-party apps installed (Netflix, Hulu, YouTube, etc), and can also be paired with most popular fitness apps.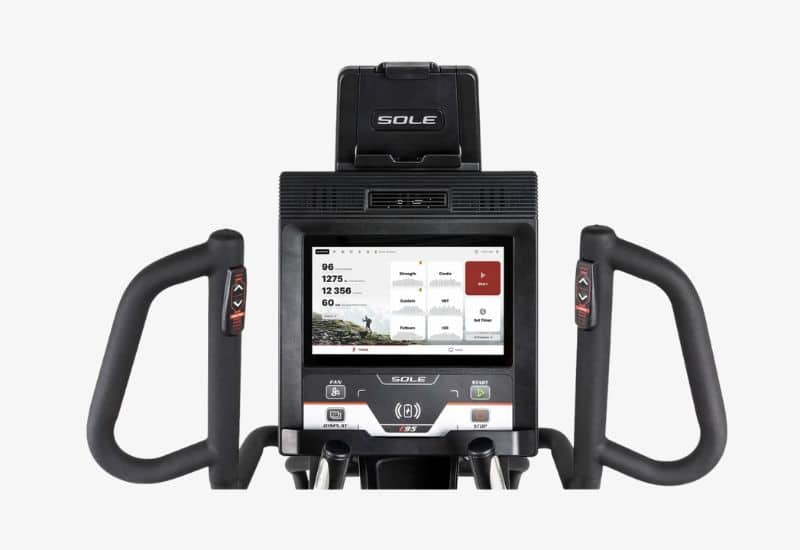 Sole has their own fitness platform, Sole Fitness STUDIO (subscription costs $19.99 monthly), that includes tons of trainer-led classes, workout challenges, and more
Whether you like doing classes, striding across various exotic locales around the world, or want to catch up on your favorite show, the Sole E95 is equipped for it.
When it comes to ellipticals with a screen, few can boast a larger screen than the E95.
Other tech upgrades with the most recent Sole E95 include a wireless charger for your smartphone on the console and screen-mirroring on the display.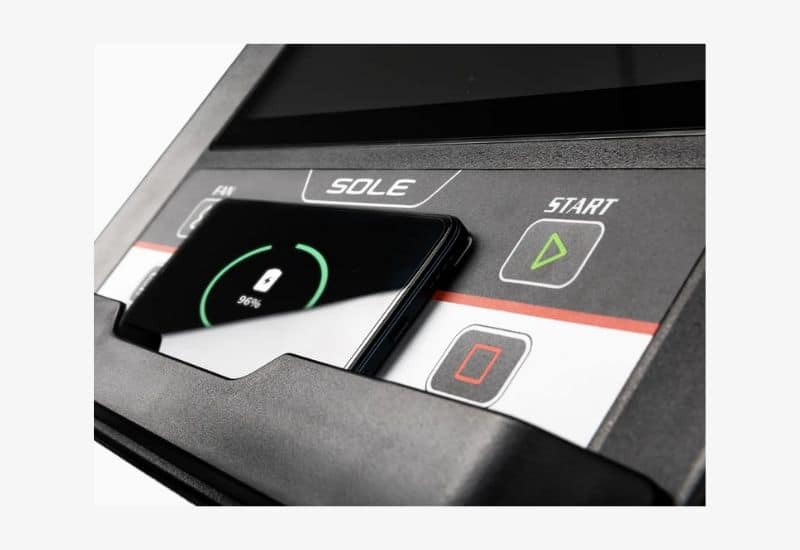 #4. Whisper quiet drive
The E95 (and it's big brother, the Sole E95S), utilizes a whisper-quiet drive incorporating a double rail system that is WAY smoother and quieter compared to single-rail ellipticals.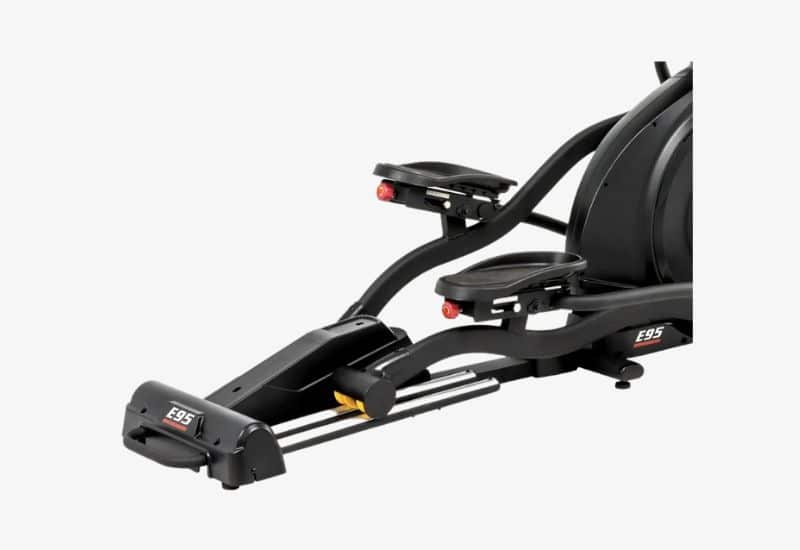 One of the most frustrating things I've seen when testing ellipticals, whether it's the Star Trac models at my local gym or the more budget-friendly ellipticals (which is code for "cheap"), is rail systems that "catch" and start to clunk after extended use.
The E95's double rail system almost completely eliminates the dreaded Elliptical Clunk.
#5. Heavy-duty design
The Sole E95 has the heaviest weight rating for a residential elliptical, with a maximum user rating of 400lbs.
This is partly due to the steel construction of the frame and the overall machine weight of 236lbs, reducing any wobbling or swaying when exercising aggressively on the E95.
Aside from a handful of ellipticals from Life Fitness, whose ellipticals range in price from $2,729 to a jaw-dropping $9,789, the E95 stands alone as the best elliptical for heavier people, and for those who want the ultimate in durability and stability.
#6. Resistance controls are built into the handles.
One of my favorite ways to train on an elliptical is HIIT workouts.
When short on time, nothing beats the high output and better results of interval training. For people who want to manually control the resistance levels, and not use the onboard HIIT programs on the console, having to release the handle while using the elliptical can be frustrating and even unsafe when going at full tilt.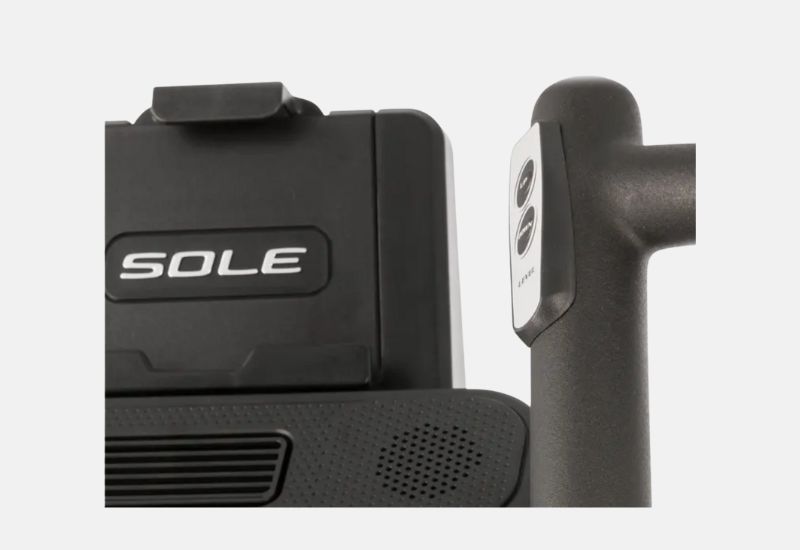 The E95 solves this by having controls for resistance levels on the molded P-shaped handles.
This is awesome news for those of us who like to increase the resistance (and decrease it) mid-workout almost instantly and without letting go of the handles and breaking stride.
#7. Standard programming plus studio programs with thousands of classes.
The Sole E95 comes with your basic workout programs—steady state, HIIT, and so on. For an added $20 a month, you can also join STUDIO, Sole's online workout service.
Online classes for home gyms have become all the rage, popularized first by Peloton and then adopted by other gym equipment manufacturers.
Sole Fitness, for a long time, was the "old school" elliptical of choice, but they have also jumped on the bandwagon and unleashed their own library of classes, with over 3,000 workouts and counting.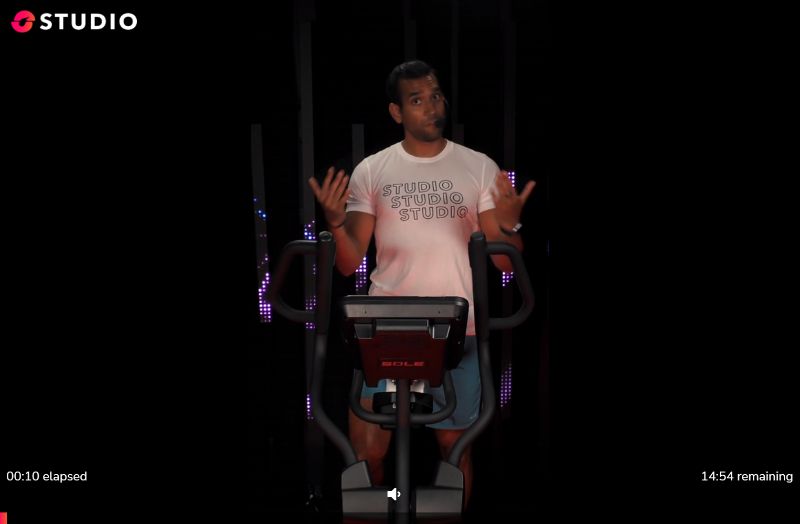 The production value isn't the same as Peloton, but it has a lot of the same features that make Peloton's classes so fun and addicting, including community leader boards, new classes, and lots of instructors and classes to choose from.
The $20 a month for online classes is also cheaper than alternatives like Bowflex's JRNY ($29.99 per month) and NordicTrack's iFiT ($29.99 per month).
#8. Lifetime warranty on the frame and flywheel
As you can guess by now, the Sole E95 is built like a tank. The steel frame on the E95 has a lifetime warranty, and Sole Fitness also has a lifetime warranty on the flywheel for maximum durability and peace of mind when purchasing one.
Sole also backs the electronics and parts of the E95 for three years, labor for one year, and covers cosmetic work for 90 days.
This is easily the best warranty in the business for residential ellipticals, and Sole also offers added coverage for up to five years through Extend.
---
Sole Fitness E95 Elliptical – The Cons
Although there is a lot to love about the E95, there are a couple of things that you should consider before investing in one.
Not foldable
The Sole E95 is not foldable. And with its full-size footprint of 83" long x 34" wide, consider how much space you have in your home before buying.
Moving it will be difficult for some users
The Sole E95 has a lot going for it in terms of stability and durability thanks to its heavy footprint. But moving it isn't one of them.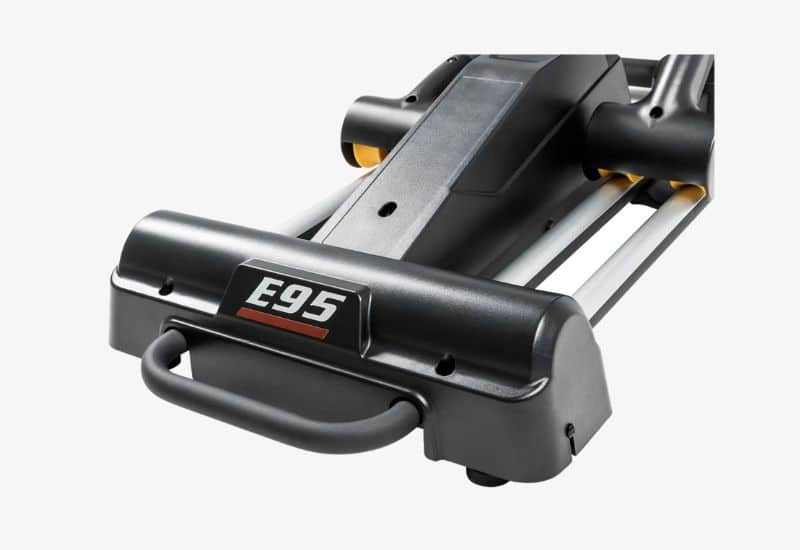 Although it has a handle at the back and transportation wheels, that 236lb weight will be hard to handle for some users.
Assembly is long
Assembling the Sole E95 was not one of the more enjoyable cardio machine assemblies I've done over the years. (And I've done PLENTY.) Consider opting for the in-home assembly for this one.
---
Frequently Asked Questions — Sole Fitness E95 Ellipticals
What's the difference between the E95 and the E95S?
The Sole E95S Elliptical has all of the features of the E95 but adds on an adjustable stride length, allowing users to select a stride length between 18" and 24".
This is the longest stride length available of any elliptical on the market.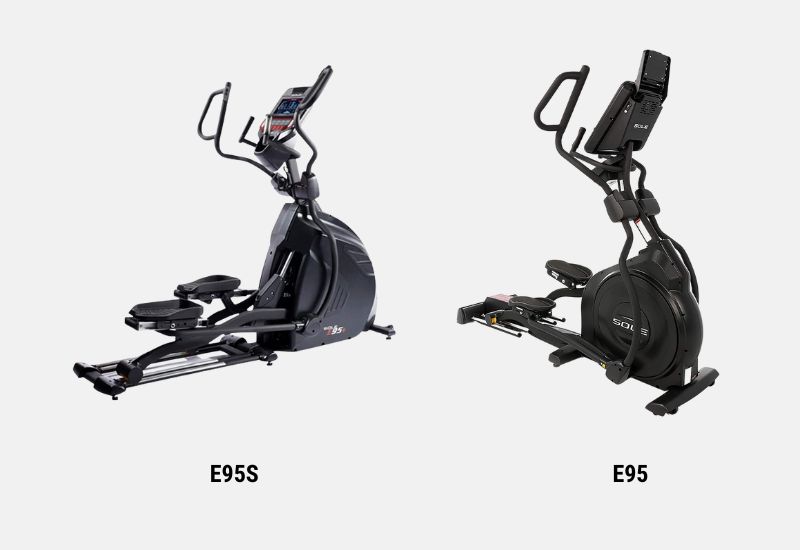 The Sole Fitness E95 has a 20" stride length that comes standard and cannot be adjusted.
The E95S has a slightly heavier flywheel (30lb vs. 27lb), the overall unit weight differs significantly, with the "S" weighing almost 30lbs heavier than the E95 (265lb vs 236lb).
Finally, the price tag on the "S" is about $500 more expensive ($1,999 vs $2,199).
What makes the E95 different from other Sole Fitness Ellipticals?
The Sole Fitness line of ellipticals covers various budgets and exerciser needs.
The Sole E25 is the entry-level elliptical in the Sole line, and the E95 (and the E95S) are the "heavy-duty", premium models.
Differences include stride length, flywheel weight, size of the LCD, and the unit's overall weight, which contribute to stability when using the machines.
(For a more complete review of the Sole E35, my pick for the best elliptical under $1,500, read this full-length review of the Sole Fitness E35 Elliptical.)
Here is a comparison of the key features comparing the Sole ellipticals:
| | | | | | |
| --- | --- | --- | --- | --- | --- |
| | E95S | E95 | E55 | E35 | E25 |
| Price | $2,199 | $1,999 | $1,499 | $1,399 | $1,099 |
| Flywheel | 30lb | 27lb | 20lb | 25lb | 20lb |
| Stride length | 18-24" | 20" | 20" | 20" | 20" |
| Display | 10.1" LCD | 13.1" touchscreen | 9.0" LCD | 7.5" LCD | 6.5" LCD |
| Unit Weight | 265lb | 236lb | 214lb | 231lb | 212lb |
| Adjustable Foot Pedals | Yes | Yes | Yes | No | No |
Is Sole Fitness a good brand for ellipticals?
Sole Fitness is one of the best brands for both residential and commercial ellipticals.
Sole makes durable, stable and budget-friendly ellipticals that are backed by lifetime warranties on the frame and flywheel.
The Sole E95 is a prime example of Sole making an excellent product that performs way above it's price point.
The Bottom Line
Sole Fitness is one of the sneaky brands when it comes to cardio machines and exercise equipment.
Even though they aren't as well known as the other big cardio brands like Nautilus, Life Fitness, Cybex, Bowflex, NordicTrack, and the like, Sole is hands-down the best maker of elliptical machines (and have been king for nearly two decades).
The Sole Fitness E95 Elliptical is the best overall elliptical for home gyms. The price tag is a bit hard to swallow for people on a budget, but the quality build and added features will pay for itself, both in longevity and added workouts over the years.
| | |
| --- | --- |
| ✅ PROS | ❌ CONS |
| 27lb flywheel for smooth and sturdy workouts | Not foldable |
| New upgraded 13.3″ high-definition touchscreen | Long assembly |
| Adjustable foot pedals | Moving will be difficult for some users |
| Whisper quiet drive | |
| Heavy-duty design (max user weight of 400lbs) | |
| Lifetime warranty on frame and flywheel | |
Best Overall Elliptical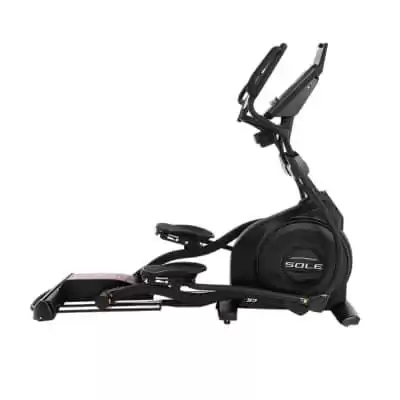 ---
More Guides and Resources Like This
How Much Do Ellipticals Cost? (44 Different Models Compared). Ellipticals can be a costly investment into your workout goals. Here is a look at how much each type of elliptical costs and how much to spend on one.
Sole E55 Elliptical Review | Pros, Cons, and Hands-on Experience. The Sole Fitness E55 Elliptical is an industrial-grade elliptical machine for home gyms. Here is a full review of this tank of an elliptical, including its pros, cons, and how it compares to other elliptical trainers.