Curious about whether the NordicTrack FS10i is the right cardio machine for you? In this review of the FS10i, we take this unique elliptical trainer for a spin. Read on and see if it's the right elliptical for you.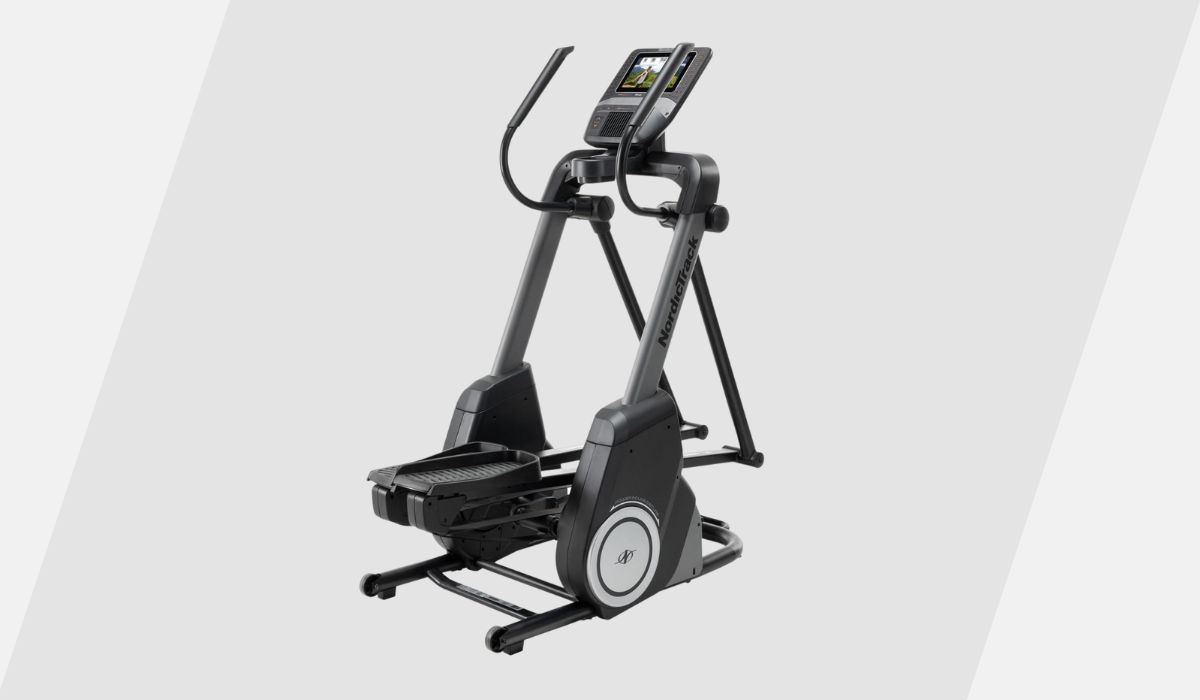 The NordicTrack FS10i is a versatile, compact, and relatively budget-friendly trainer for home gyms.
It's part elliptical, stepper, and treadmill, and it has a 10" HD touchscreen that is awesome for doing online classes with iFit.
But is the FS10i the right cardio machine for your weight loss and fitness goals?
In this review, we take the NordicTrack FS10i for a step/stride/run. We'll cover the pros of the machine, some things to be aware of, and compare it to other trainers on the market that are similar in function and price.
By the end, you will have an excellent idea of whether the FS10i is the right cardio machine for you and your workout goals.
Let's get to striding!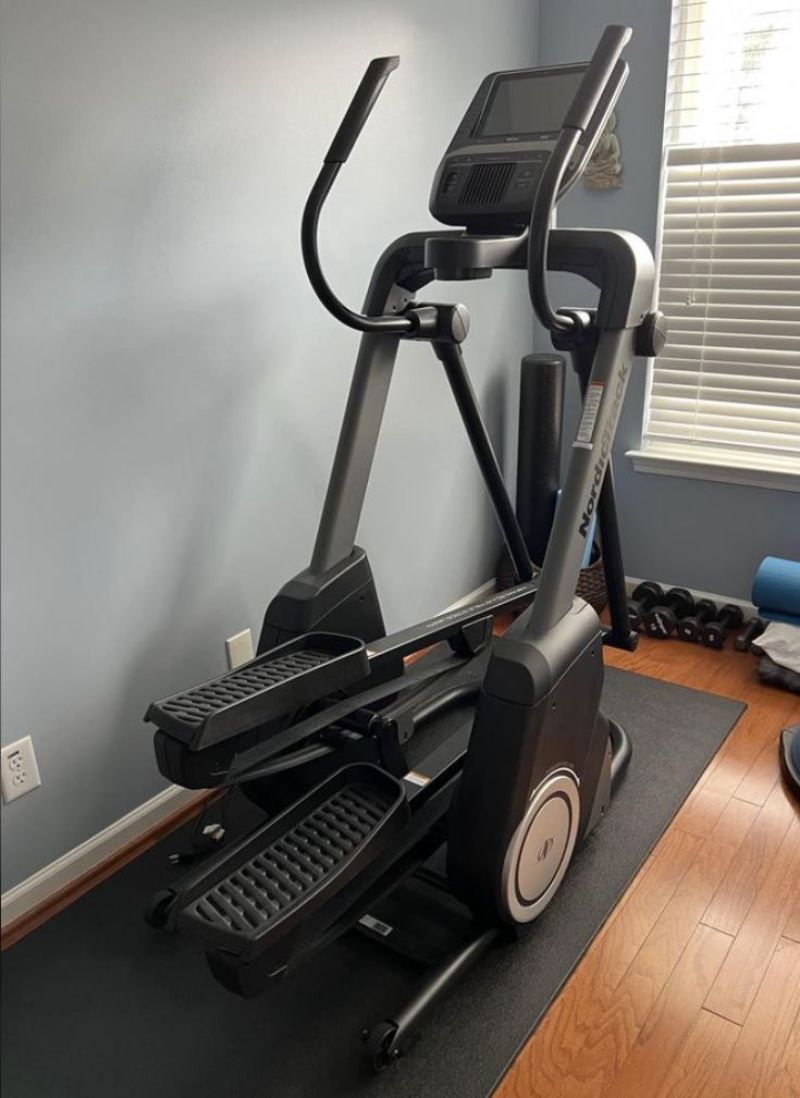 NordicTrack FS10i – The Key Specs
Price: $1,999
Console: 10" HD touchscreen
Incline: Up to 10-degrees (powered)
Stride length: Up to 32"
24 levels of resistance
Footprint: 58.5" long x 29.5" wide x 74" high
Machine weight: 284lbs
Maximum user weight: 375lbs
Flywheel: 20lb
Warranty: 10 years (frame), 2 years (parts), 1 year (labor)
In-home assembly: $249
NordicTrack FS10i – The Pros
Over the years we have tested A LOT of elliptical trainers. (44 and counting, to be exact.)
We tested the NordicTrack FS10i for several weeks, and as personal trainers and long-time cardio nerds, there are some things that we really liked about the FS10i.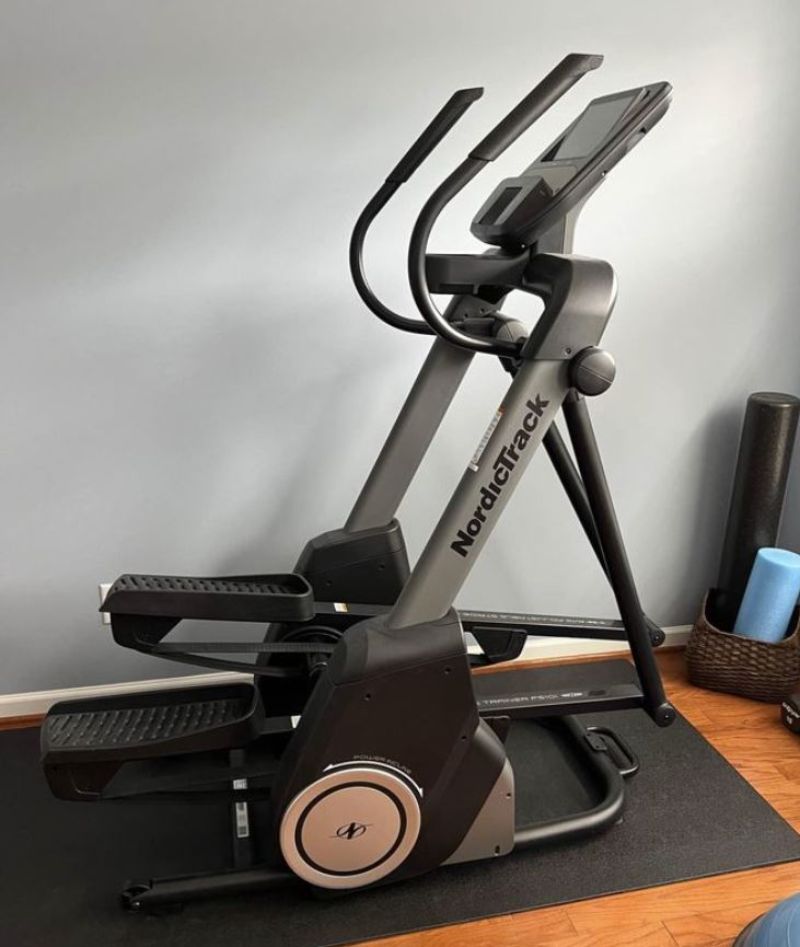 They include:
✅ It's the ultimate combo machine.
The FS10i is not just an elliptical trainer… it's also a stepper and sort of a treadmill.
The stride path of the machine adjusts automatically to your body within your workouts.
Shorten your stride and go vertical to use the machine as a stepper. Extend your gait for a motion that is close to running. Or use it as a compact elliptical trainer with an oval-shaped stride path.
When it comes to workout versatility and hitting more muscles and burning more fat than with just one type of movement, you really can't beat this range of movements.
One of my favorite ways to use the FS10i is doing ten minutes of elliptical, ten minutes of stepping, and closing the cardio session with ten minutes of "running."
✅ Exceptional workout functionality
To build on what we just talked about with the FS10i being a combo machine, the workout functionality is simply awesome on this machine.
It has a stride length that can extend up to 32" in length (!!!), which is going to be great news for taller users and people who have really long legs.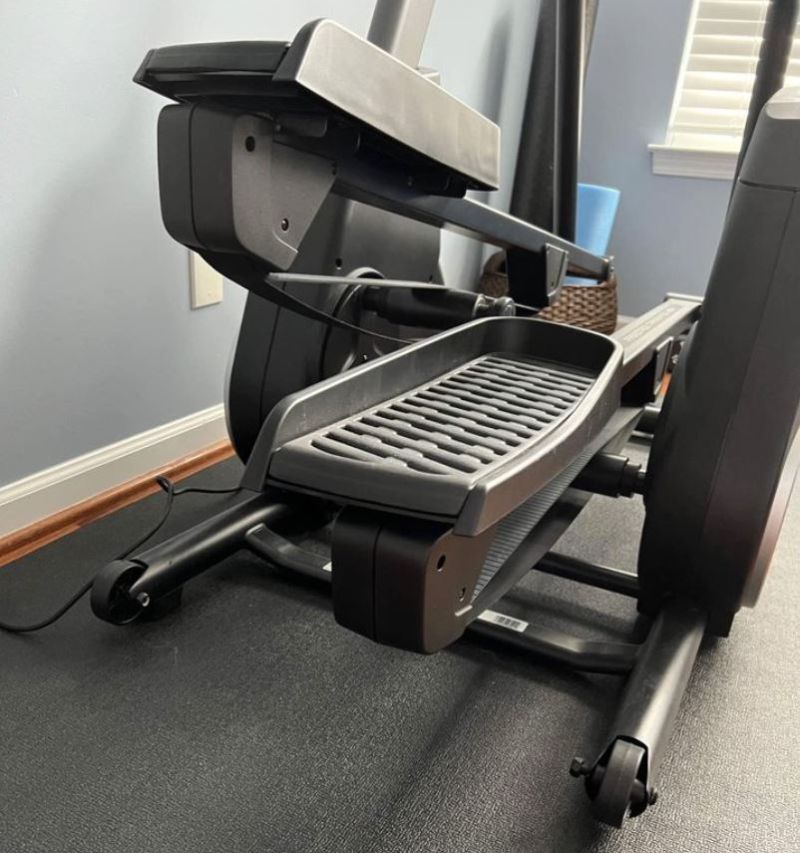 There is also a power incline, which means you can crank up the incline to up to 10-degrees for added challenge and difficulty.
And with 24 different levels of resistance, whether you are just getting started on your health and fitness journey or an experienced athlete, there is an appropriate resistance level(s) for you.
✅ Least expensive center-drive elliptical on the market.
Center drive ellipticals are the least common type of elliptical trainer on the market for home gyms.
They tend to be more expensive—the True Fitness PS300, for example, retails for over $4,000—as they have two drives, one on each side of the machine.
The NordicTrack FS10i is the least expensive center-drive elliptical on the market at $1,999.
You get the benefits of the center-drive elliptical—more ergonomic and comfortable stride, better balance, and a compact footprint—without nuking your bank account.
✅ Big 10" HD touchscreen.
The consoles on cardio machines for weight loss and building cardio have stepped up their game BIG-TIME in recent years.
Gone are the days of a basic LED screen. The age of the large and HD touchscreens is here and it's here to stay.
The NordicTrack FS10i has a large 10" HD touchscreen that can be used to access iFit's extensive library of classes, workouts, and "around the world" map packs.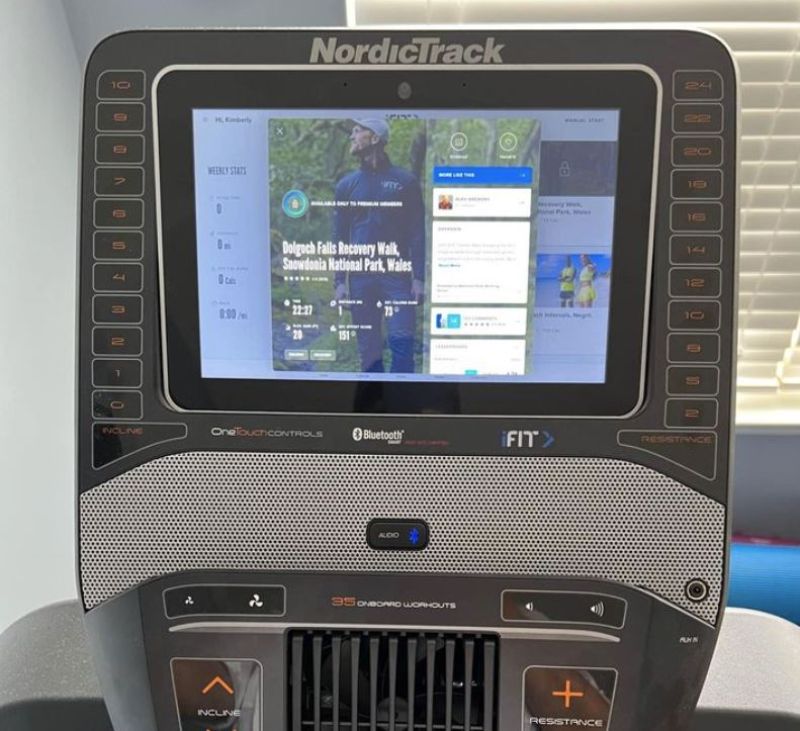 People who love doing online classes will love the FS10i as it provides an immersive workout experience.
If you don't want to use the iFit programming (it does cost $39 per month after the first free month lapses), the FS10i does have 35 programmed workouts on the console that can be done off-line
But really, if you want to get the most of this machine you kinda have to use the iFit membership.
NordicTrack FS10i – The Cons
While the NordicTrack FS10i is an absolute gangster in terms of performance, there are some users who this machine is not for.
Too expensive for a pure elliptical.
If you are fairly adamant about just using the FS10i as an elliptical, it's likely not worth the $1,999 investment.
There are excellent alternatives on the market that are less expensive and have heavier flywheels—the Sole E95 elliptical and the Nautilus E618 are two of my personal favorites—for people who want a pure elliptical.
If you want a pure elliptical and want to stick with the NordicTrack brand, check out the SpaceSaver 9Ei which is foldable, has a bigger screen (14″), and is $300 less expensive.
To get the most out of the FS10i, you will want to take advantage of the stepper and treadmill strides.
Not easy to move (it's heavy!).
The weight of the NordicTrack FS10i is a staggering 284lbs. On the one hand, this is great as the poundage makes the machine inherently stable when you are using it.
But if you have the kind of home gym that necessitates moving the FS10i frequently—multi-use rooms like bedrooms, for example—some users will find moving the FS10i difficult.
The FS10i does have transport wheels and a handle to tilt and wheel the machine around, but again, it's heavy.
NordicTrack FS10i – The Competition
The closest competitor to the NordicTrack FS10i is its big brother, the NordicTrack FS14i.
The reality is that the FS10i (and FS14i) are wildly unique compared to other elliptical trainers on the market. There simply aren't any other elliptical trainers that have the large screens and the 3-in-1 combo functionality.
The FS14i builds on the FS10i with a larger screen (14" vs 10") and more range in decline/incline. And of course, the FS14i is a bit pricier ($300 more).
Here is how the two FS machines compare against one another: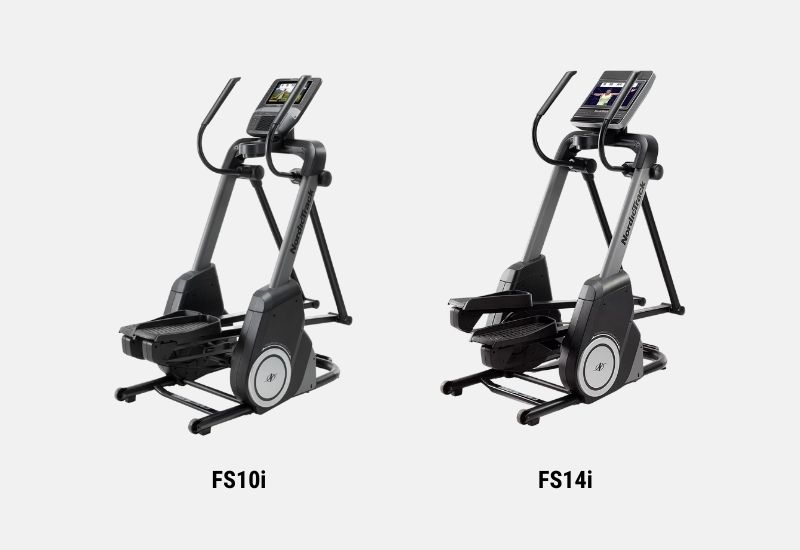 | | | |
| --- | --- | --- |
| | FS10i | FS14i |
| Price | $1,999 | $2,399 |
| Flywheel | 20lb | 20lb |
| Incline | 0-10 incline | -10 to +10 decline and incline |
| Touchscreen | 10" HD touchscreen | 14" HD touchscreen |
| Machine weight | 284lb | 287lb |
NordicTrack FS10i – The FAQs
Can you use the NordicTrack FS10i without iFit?
The NordicTrack FS10i and the large HD screen it comes with is designed to be used with iFit.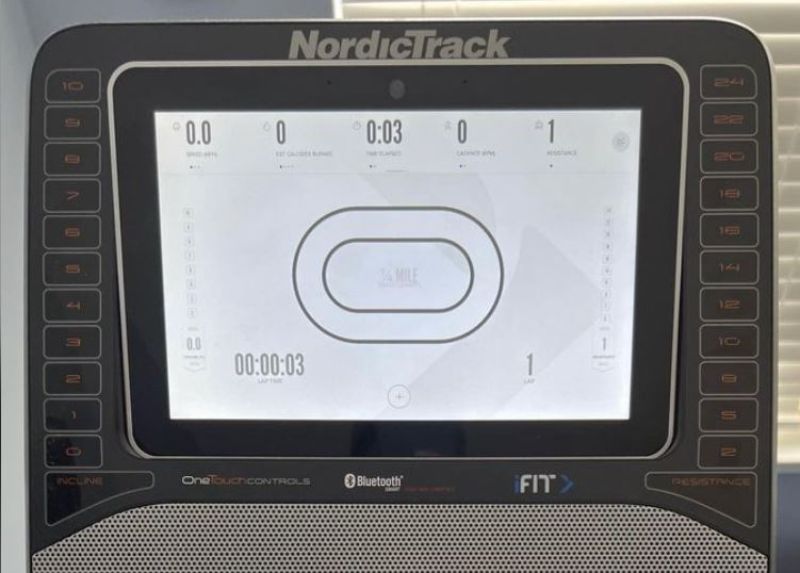 But if you don't want to pay the monthly or yearly iFit membership, you can train using the 35 different workout programs that are built into the console. These workouts can be used offline.
Can the NordicTrack FS10i be used backwards?
Yes! The FS10i, like most elliptical trainers, can be used forward and backward.
Going backwards on an elliptical is a great way to mix things up, better target your quads, and stimulate more muscles in your lower body when working out.
Are NordicTrack ellipticals good?
NordicTrack is one of the best names in the elliptical game. They have decades of experience constructing cardio machines for both commercial and residential settings.
For a more comprehensive review of all of NordicTrack elliptical trainers, read this guide.
The Bottom Line
The NordicTrack FS10i is a phenomenal machine in a lot of ways.
It's built like a tank, offers a huge range of workout functionality, and the 3-in-1 combo functionality is simply awesome. And if you are into doing online classes and using iFit, it's going to be the perfect elliptical trainer for you.
People who want a "pure" elliptical and don't want to pay the $39 monthly iFit subscription will want to check out alternatives.
| | |
| --- | --- |
| ✅ PROS | ❌ CONS |
| Budget-friendly center-drive elliptical | Fairly expensive if you just want an elliptical |
| Combo trainer; it's an elliptical, stepper and treadmill | Not easy to move |
| Big 10" HD touchscreen; perfect for classes | |
| Tons of workout functionality | |
---
More Elliptical Guides and Reviews
Elliptical Buying Guide – Everything You Need to Know to Buy with Confidence. Want to buy an elliptical but don't know where to start? Arm yourself with the knowledge to choose the perfect elliptical for you and your workout goals.
NordicTrack Commercial 9.9 Elliptical Review – A Feature-Rich Elliptical for Interactive Programming. Wondering if the NordicTrack Commercial 9.9 Elliptical is the perfect elliptical for crushing your health and fitness goals? Follow along for our hands-on review of this studio-grade elliptical machine for home gyms.