Want to buy an elliptical but don't know where to start? Arm yourself with the knowledge to choose the perfect elliptical for you and your workout goals.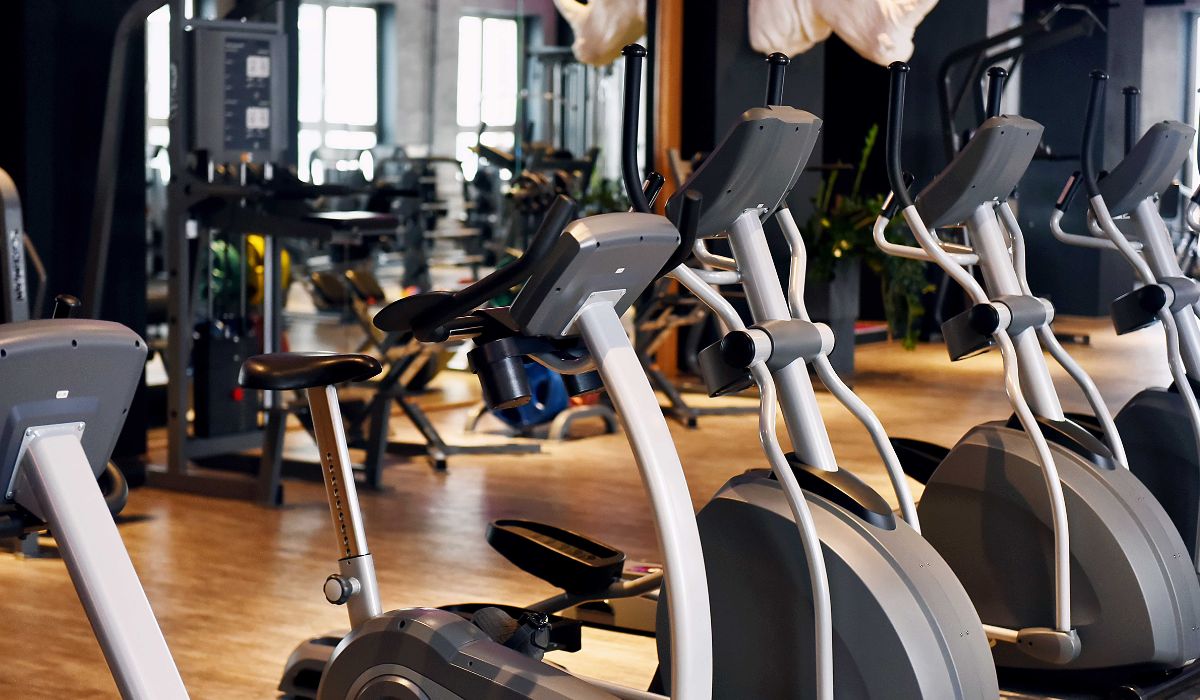 The elliptical is one of the best cardio machines you can use at home.
The benefits of ellipticals are extensive, including being awesome for HIIT workouts, steady-state workouts, fat burning, and the number of muscles worked on the elliptical.
But choosing the best elliptical for your home is where things get tricky.
There are plenty of options available these days, with heaps of different features, in different designs and at wildly different prices.
In this elliptical machine buyer's guide, we will cover everything you need to know before hitting "add to cart" so that you can buy with total confidence.
Let's jump right in!
Elliptical Buying Guide — What You Need to Know
The Type of Elliptical
Elliptical trainers, also known as cross-trainers, are a cardio machine designed to mimic climbing and running without placing undue stress on joints.
Ellipticals have been around since the 1990s, initially launched by commercial fitness company Precor1.
Ellipticals are characterized by the—wait for it—elliptical path the feet take when moving.
Stuck with Your Training in the Gym?
Join 12,000 lifters and athletes and sign up for FREE access to my 5-day email course on how to conquer the most common gym mistakes.
From goal setting to lifting technique, you will learn how to overcome the mistakes in the gym that are holding you back from getting bigger and stronger.
Unsubscribe anytime. No spam.
They are quite similar to stationary bikes in this regard, and the difference on some machines can be so subtle that you don't even notice the different, oval-shaped path of the pedals.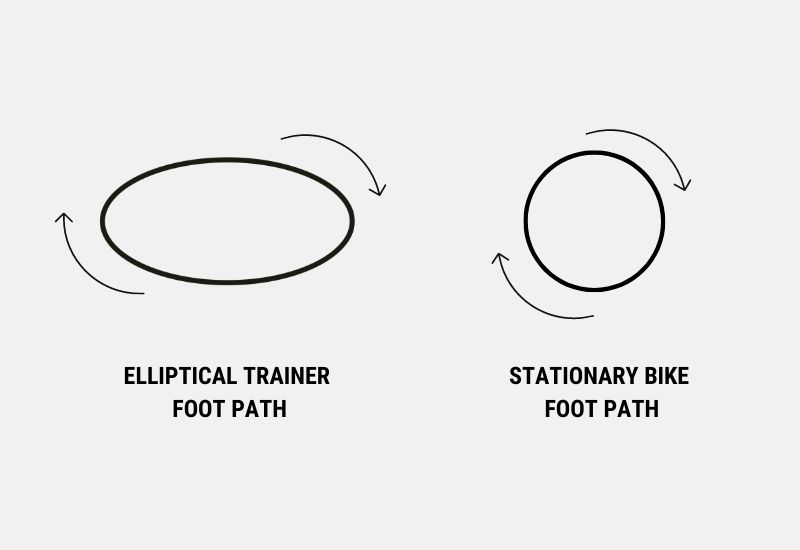 Elliptical path motion mimics how feet move when walking or running and as a result, is more comfortable than other cardio machines like stationary bikes and rowing ergs.
There are several types of elliptical trainers, including:
Standard ellipticals.
This is the type of elliptical you are probably thinking of—the ones you see in your local gym.
They are relatively long, have moving arms and a horizontal stride.
Some standard ellipticals—like those produced by Sole Fitness—have incline adjustment options, but for the most part, the striding is done purely horizontally.
Elliptical+ stepper combo machines.
What do you get when you take the best parts of an elliptical and a stepper?
Yup—these specialized cross-trainers that take the elevation (aka increased difficulty) of a stepper with the low-impact striding of an elliptical.
Machines like the Bowflex Max Trainer M9 are a perfect example of this kind of elliptical/stepper hybrid.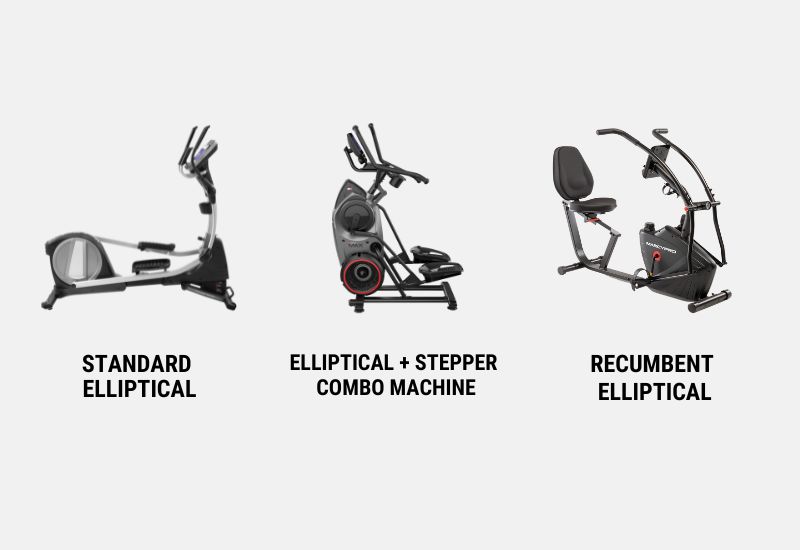 Recumbent ellipticals.
Best suited for therapeutic settings or those looking to really ease into exercise, recumbent ellipticals are just like a recumbent bike except with the swinging arms for upper body activation.
Recumbent ellipticals can have the arms for upper body work but also come in "armless" versions.
There are some other types of elliptical machines, rarer, that include lateral elliptical machines and elliptical gliders, but for the sake of this article, I'm going to assume that you are interested in a "classic" elliptical machine.
Type of Drive System
Elliptical machines come with three different drive systems—front, rear, or center.
The drive is essentially where the flywheel—a magnetic disk that generates resistance and allows you speed up and slow down—is located.
The difference in placement has some small but perhaps noticeable effects for elliptical users.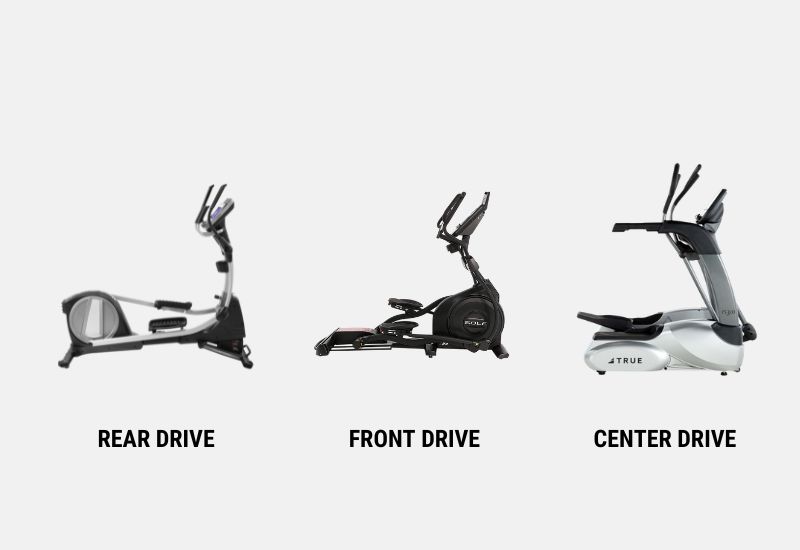 Front drive ellipticals, with the flywheel located in a housing right in front of you, gives you the sense that you are sort of striding "upwards" as with a stepping machine.
Rear drive ellipticals tend to be longer than the others, which is better suited for users who want an extended stride length (caveat: there are some ellipticals with front and center drives that have extra stride length).
Center drive ellipticals are space-savers. With the drive in the middle of the unit, it cuts down on a lot of the length that is inherent with front and especially rear drive ellipticals. Center-drive machines tend to be heavier and more expensive.
Training options and programs
Of course, the most important part of investing in an elliptical is the workouts that you are going to do with it.
The resistance levels, incline options (adding incline increases difficulty), programmed workouts, and other training options vary widely by brand and model.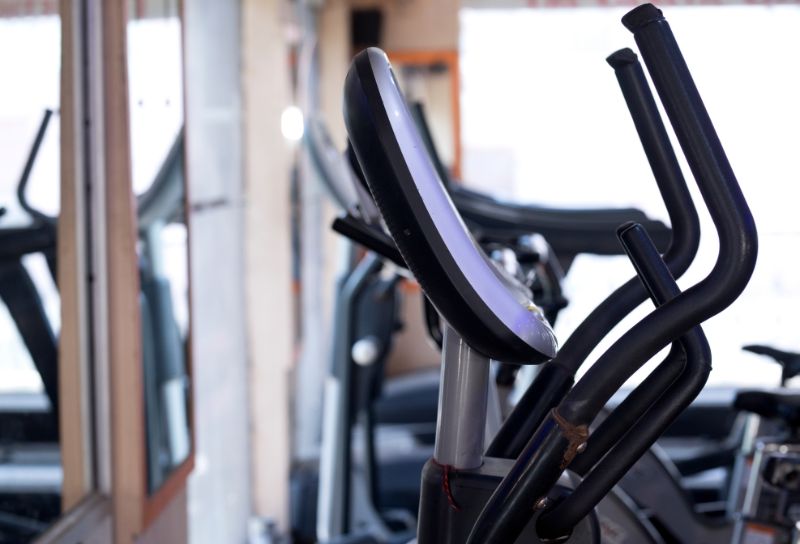 Some elliptical makers now offer online classes led by trainers (similar to what Peloton does with their wildly popular HD screens and trainer-led classes).
Ellipticals with screens have become insanely popular. These online classes are sometimes offered via the HD screen on the console (as is the case with NordicTrack and Bowflex) or through a smartphone or tablet-based app that can be paired with the console.
Key things to look for when it comes to training options on the machine include:
Pre-programmed workout programs (HIIT, steady-state, manual)
Customizable workout programs
Online training classes
Resistance levels
Incline
Stride length
Having proper stride length on the elliptical is crucial—not only for general comfort, but safety and injury-prevention as overly extending your hips can place undue strain on the knees and a cramped stride length is flat-out not fun.
Stride length starts at just 11" and can reach 21" in length. There are also a few ellipticals on the market that have adjustable stride length.
Height is typically the measurement used to figure out a suitable stride length, but this can be tricky as a more accurate measurement is length of the legs.
As an example, I am significantly taller than my wife, but she has legs that are as long, if not longer than mine.
Key things to look for when choosing an appropriate stride length:
Ellipticals come with a fixed stride length (11" to 20")
There are also some adjustable stride length elliptical machines
5'4" and under – 11" to 16" stride length
5'5" to 5'10" – 16" to 20" stride length
5'11" and up – 20" stride length and up
Stability of the Elliptical
A smooth striding experience is crucial as it indicates that the machine is durable enough to handle extended use, but it will also imply make the trainer more enjoyable to use.
If you've used enough elliptical trainers over time, you've undoubtedly been on one that "clunked", had an uneven stride, or felt like it was going to teeter over if you cranked up the intensity.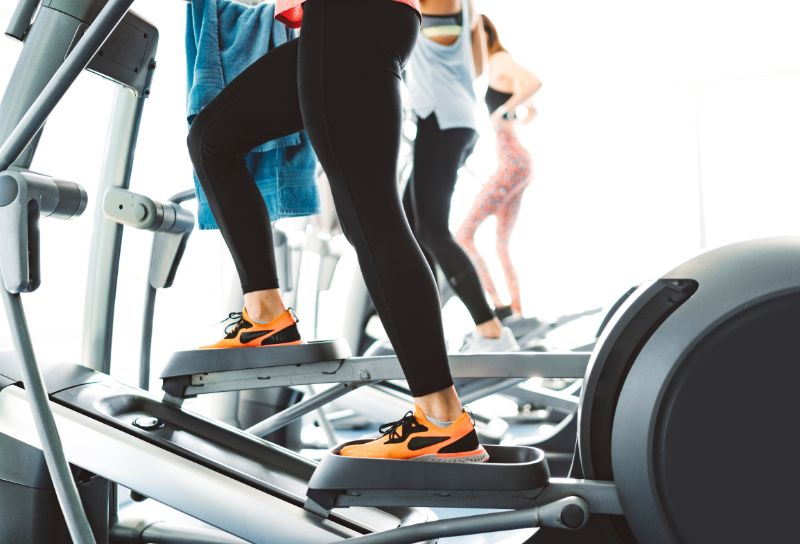 The stability of an elliptical trainer happens in a few different ways. The most obvious are manufacturer recommendations on maximum user weight for the machine.
The overall weight of the machine can be a significant indicator of stability as well—a heavy machine won't move around under use.
And finally, the flywheel is a key indicator of how stable the elliptical will be when you are hammering out another workout on the machine. A heavier flywheel will help cut down the teetering and rocking that can happen on an elliptical.
Key things to look for:
Max user weight
Weight of the machine
Flywheel weight
Budget
Cardio machines in general are not cheap. Which makes sense, between the heavy-duty construction, electronics, drive, and all of the accessories, there's a lot that goes into building a quality elliptical machine that will last.
There are three tiers of elliptical prices:
$400-800. These are your no-frills ellipticals designed exclusively for home gyms. They have fewer accessories and a reduced weight capacity, but for light users (both in weight and in workout frequency), these ellipticals are more than sufficient.
$800-2,500. This is the sweet spot of elliptical prices, where you get machines packed with the durability and features of club gym ellipticals with a price point that isn't ot-of-this-world.
$2,500 and up. Elliptical machines, particularly those built specifically with the gym owner in mind, accelerate rapidly in price when you hit the $2,000 mark. Some ellipticals are as much as $6,000 and are wildly over-built for most users. Unless you have a very specific feature in mind, this price range is reserved for big budget gyms.
One important thing I would note about the price brackets of ellipticals…
The jump from a $500 elliptical to a $1,500 is vastly more noticeable than the jump from $1,500 to $5,000.
You can get a commercial-grade, studio quality elliptical that will last for between $1,000 and $2,000.
Elliptical Trainer Buying Guide – Buy with Confidence
Once you have settled on the type of elliptical you want, the budget you are willing to commit to it, and the stride length that fits your frame, it's time to workout the logistics of getting the elliptical into your home.
Here are the key things to look for when settling on the right elliptical trainer for your home gym and actually getting the most of it moving forward.
In-home assembly.
To save on shipping costs, elliptical trainers are sold and shipped disassembled.
This requires you to either hunker down with the assembly manual and tools to get the job done, or, as is becoming more and more the case, paying a small fee to have the machine assembled in your home.
As an example, below is a diagram in the assembly manual for one of my favorite ellipticals, of all-time, the Sole E95 Elliptical.
I always recommend going the latter route with ellipticals as instruction manuals are almost always short on details (see image above for an example of what I mean), and if it's going to take several hours of your time to put the machine together, paying a nominal fee to have it assembled for you by a qualified tech is a no brainer.
Most companies including Sole Fitness and Bowflex offer this option when checking out on their official website.
Warranty.
The warranty is rarely a "one size fits all" with most cardio machine companies breaking down the warranty by frame (almost always lifetime), parts, electronics, and labor for the repair work.
Brand reputation.
Third-party sellers—the likes of which saturate places like Amazon and even Wal-Mart—are a little more dodgy when it comes to manufacturing quality and reliability.
Stick with the big names and companies in the industry that have been producing ellipticals—which at the end of the day are complex, multi-system products—so that you can purchase with confidence and troubleshoot should anything happen to your machine.
The most reputable elliptical brands include Nautilus, Sole, Bowflex, Cybex, Life Fitness, Schwinn, NordicTrack, Pro-Form, Horizon Fitness, True Fitness, Diamondback Fitness, and Sunny Health.
Money back guarantee.
What kind of guarantee do you have that you will be satisfied with your elliptical once you receive it?
Most reputable companies will offer at least a 30-day money back guarantee should you not be pumped on your new elliptical machine.
The Bottom Line
The elliptical machine is one of my favorite cardio machines for weight loss, HIIT workouts, and getting and staying in shape.
The benefits of ellipticals include its low load-bearing movement, full-body activation, and the variety in the exercise.
Choosing the right one can feel a little overwhelming. There's a lot of lingo and technology that is packaged with these machines.
Now that you've got a clear understanding of what separates a quality elliptical from the rest, you can invest in your next elliptical machine with confidence.
More Elliptical Guides and Resources
How Many Calories Do You Burn on an Elliptical? (and How to Burn More). Wondering how many calories the elliptical trainer burns? Here's how much calorie burning you are doing, how the elliptical compares to other machines in the gym, and tips for how to burn even more calories on an elliptical.
How to Lose Weight Fast on the Elliptical (Plus Benefits and Sample Fat-Burning Workouts). Ready to unlock beast mode on your fat-burning goals? Here's how to use the elliptical trainer the right way for weight loss, including some pro tips to max out fat burning, and three workouts to get you started.