Wondering if the Sole E95s is right for you? In this review, we look at the pros, cons, and competitors of the E95s so you can decide if it's the perfect machine for conquering your fitness goals.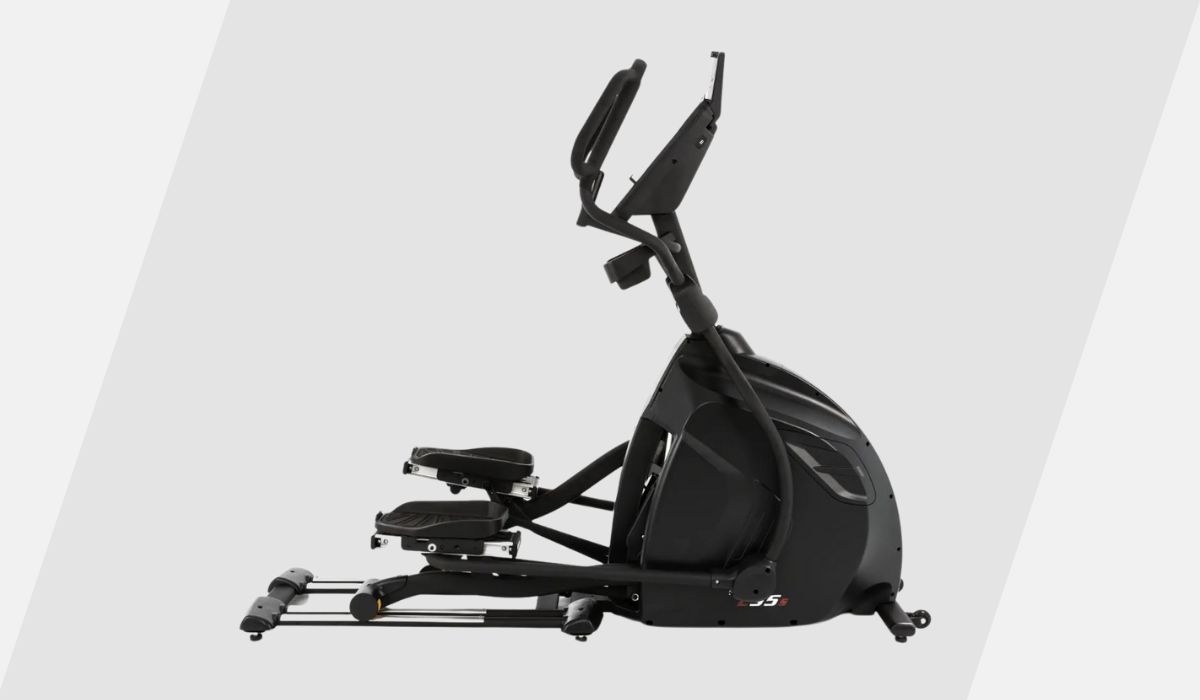 In this expert review of the Sole E95s Elliptical:
Sole Fitness is one of the best elliptical brands on the market.
Even though perhaps not as well known as Nautilus, Life Fitness and ProForm (likely because they primarily produce ellipticals for home use), Sole makes killer elliptical trainers that are legendary for their smooth ride and rock-solid stability.
The Sole Fitness E95S takes this smooth-as-butter ride and adds an adjustable stride. The result is an elliptical machine with a stride that can be extended all the way out to 24" in length.
In this hands-on review of the Sole E95S, we will detail what makes the E95S the best adjustable elliptical trainer on the market. We will cover the pros and cons of the E95S and also compare it to other Sole ellipticals and its competitors.
By the end, you will have everything you need to know if the E95S is the right elliptical trainer for you and your fitness goals.
Let's jump right in.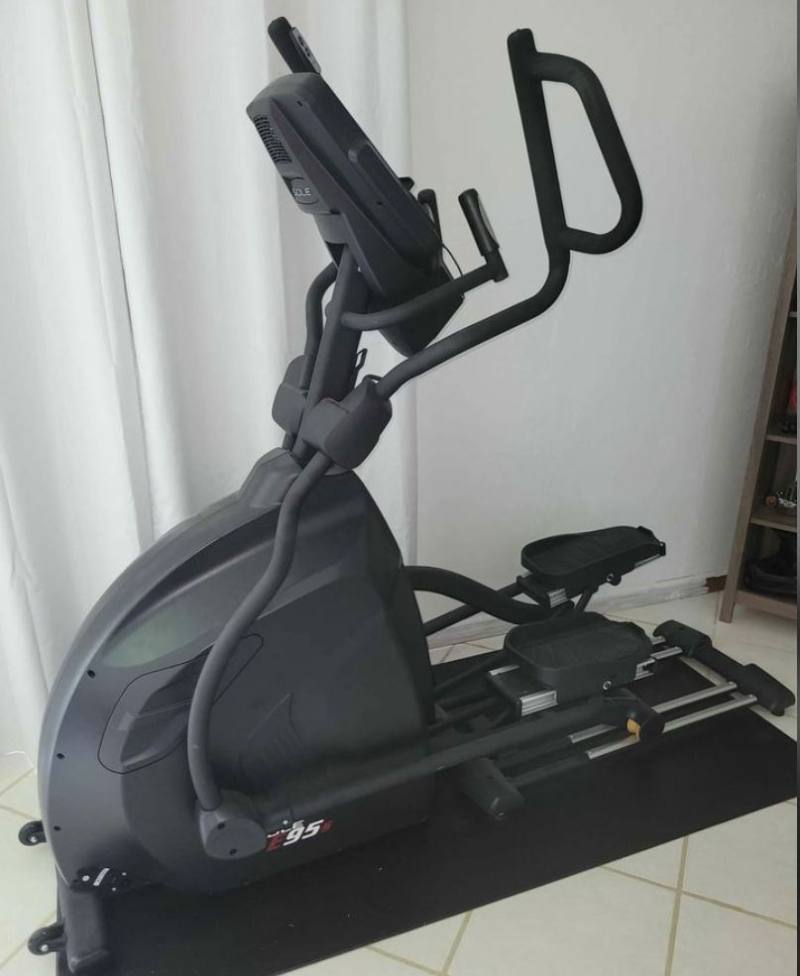 Sole E95S Elliptical Trainer – Key Specs
Price: $2,199
Stride length: Adjustable 18" to 24"
Flywheel: 30lb
Machine weight: 265lbs
Max User weight: 400lbs
Resistance levels: 20
Screen: 10.1" LCD
User profiles: 2
Incline: None
Step-up height: 14"
Footprint: 84.5" long x 32" wide x 71" high
Warranty: Frame (lifetime), parts (5 years), labor (2 years)
Sole E95S Elliptical Trainer – The Pros
Here are the key things that make the E95s kick all of the butts:
⭐ Power adjustable stride.
The main selling feature of the E95S and what primarily differentiates it from the E95 is the power adjustable stride length.
The E95S can be adjusted from 18" all the way up to 24".
For extra tall people and those who have really long legs, this is awesome news. Especially if you plan on sharing the elliptical with family members of varying heights.
And, as we will see shortly, combined with the other-worldly stability of this machine and the smooth ride, this makes the Sole E95S our reigning pick for the best adjustable elliptical trainer on the market right now.
⭐ Rides like a boss
As I mentioned at the beginning of the article, Sole Fitness makes ellipticals that are designed to do work.
The E95S is no exception to this commitment to build quality with a 30lb (!!!) flywheel and a machine weight of nearly 300lbs.
(I've only ever seen one other elliptical for residential use with a flywheel this heavy. The NordicTrack Commercial 14.9 rolls with a 32lb flywheel.)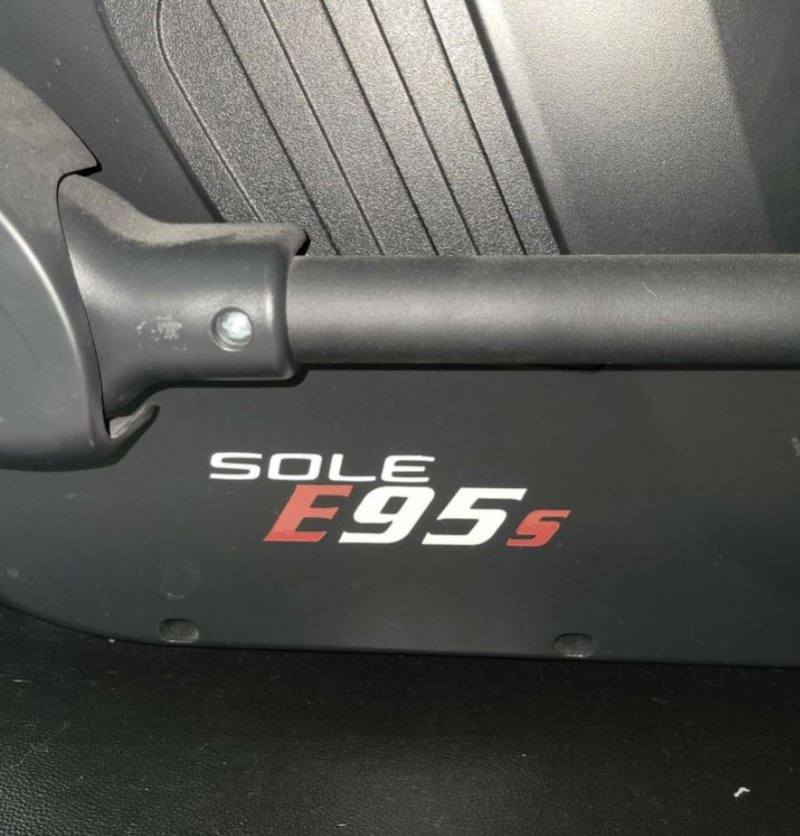 Pair the heavy, nearly overbuilt frame with a flywheel that can take the most aggressive HIIT workouts you can muster, and you've got a striding experience that is forever smooth and stable.
I'm a bigger fella—6'5 and flirting with 290lbs—and even when I am going full tilt on the E95s there is no wobble. None.
⭐ Best foot pedals in the business.
While I love using the elliptical trainer, there are moments where my feet and toes start to go numb and fall asleep.
The Sole E95s—and this is something similar across the board with all of Sole's ellipticals—has specially angled foot pedals.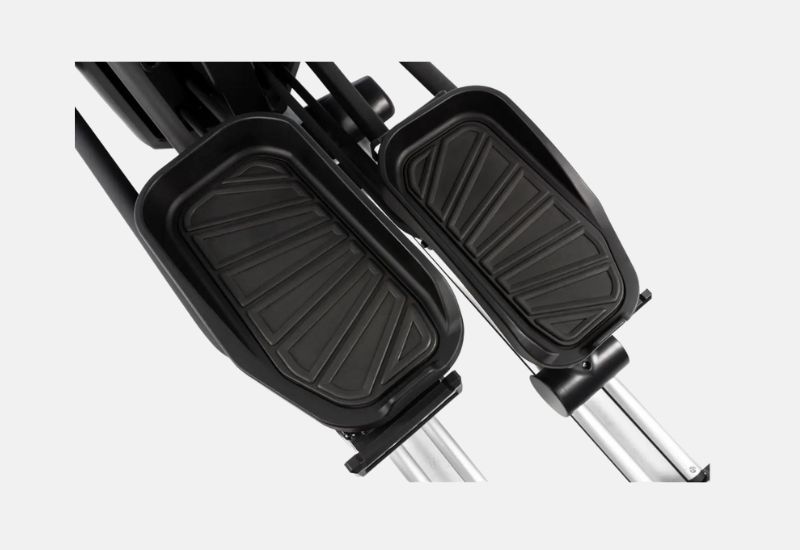 This little, barely noticeable 2" inward slope on the pedals cuts down on a lot of the poor foot positioning that leads to foot and toe numbness on the elliptical.
Great news for people who like doing longer, steady-state cardio sessions on their elliptical trainer.
⭐ It's the Batmobile of elliptical trainers.
I know, looks are not everything…
Ride and durability should be king when trying to choose the perfect elliptical for our home gyms.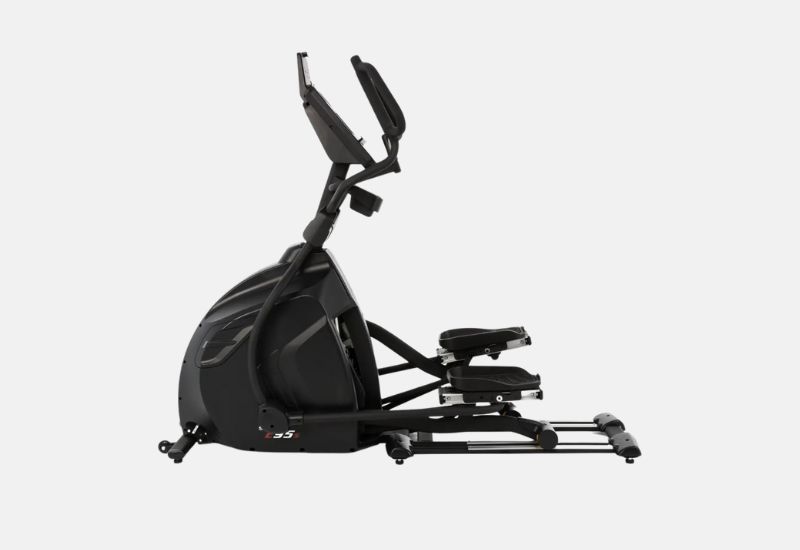 But the E95s simply looks badass, doubling up on function with a sleek, matte black housing unit that simply looks gangster.
The E95s is one of that rare breed of cardio machine for weight loss…
It performs and looks great, too.
⭐ Heaps of workout functionality (and optional interactive programming)
The console on the Sole E95s has everything you need in terms of workouts and programmed routines (HIIT, manual, quick start, etc).
For people who want to jump on, fire up the 10.1" LCD screen, hit start, and get to work, they are set.
But for trainees who like doing online, trainer-led classes and interactive programming will like the STUDIO app. It's a subscription-based app that you access via smartphone or tablet and connect to the E95s.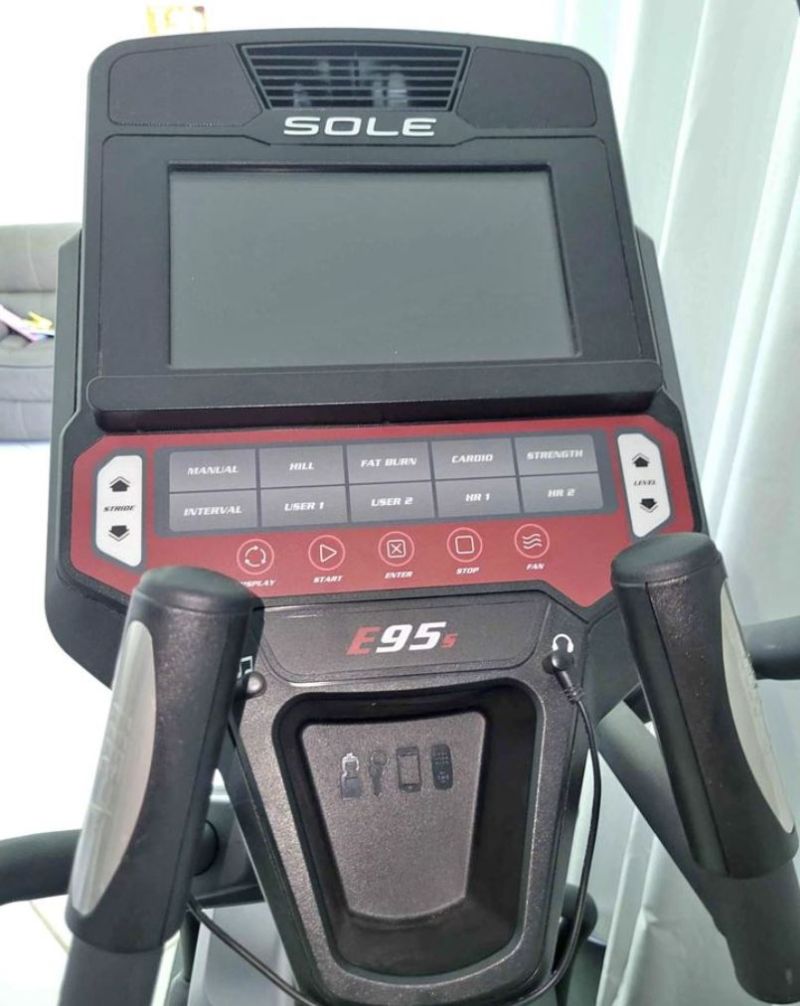 STUDIO has over 3,000 classes and all of the perks of online programming, including community leaderboards, custom-made playlists to get you hyped up, and metrics paired from your machine (via Bluetooth).
While it doesn't have the same volume of classes as Peloton or iFit, it's also significantly cheaper at just $20 per month.
Sole E95S Elliptical Trainer – The Cons
Okay, now that I've written a romantic novel detailing my love for the Sole E95s, it's time to come back to earth and review the things that maybe aren't so great.
They include:
It's huge.
The E95s is one of the longest elliptical trainers I've tested and reviewed.
It's got a length of a staggering 84.5" (plus working distance—you want to be able to get on and off the machine) making it a less optimal choice for cramped bedrooms and smaller workout areas.
If a smaller footprint is a priority, consider looking at a center-drive elliptical trainer like the True Fitness PS300 which features the same tank-like build but with a significantly reduced footprint.
And if you want to stick with an adjustable stride length elliptical that also has a smaller footprint, consider checkout out the Diamondback Fitness 1060ef which has a length of just 50″.
Assembly manual could be improved.
The E95s comes with a 46-page manual… but only about four pages of that is dedicated to the assembly of the machine.
People who aren't particularly mechanically inclined will feel a little overwhelmed trying to put the E95s together. (Sole does offer in-home assembly for an added cost.)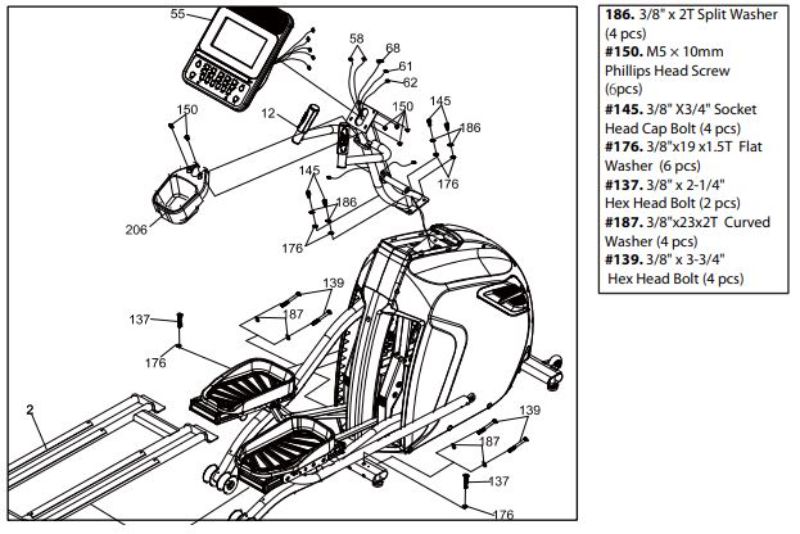 Spacing out the assembly instructions to simplify the process is something I'd love to see in future editions of the E95s.
No power incline.
Another key difference between the E95 and the E95s is that the latter doesn't have incline.
People who crave the added challenge of being able to add incline to the trainer will want to look elsewhere.
Sole E95S Elliptical Trainer – The Competition
Sole E95S vs NordicTrack Commercial 14.9 Elliptical
The NordicTrack Commercial 14.9 Elliptical is the closest competitor the Sole E95s has.
Like the E95s, it has an adjustable stride length, albeit not as adjustable with a range of just 17.5" to 18.7". The Commercial 14.9 also has a power incline feature and is about $400 less expensive than the E95s.
The NordicTrack Commercial 14.9 is especially a better option for people who love doing online classes and interactive training as it has a big, shiny 14" HD touchscreen.
The Commercial 14.9 uses iFit, an online workout portal that has like 17,000 workouts, tons of trainer-led classes, and is much more robust in terms of class options compared to Sole's STUDIO programming.
That said, when it comes to overall ride smoothness and stability, the E95s dominates. And, as noted, the E95s offers way more flexibility in stride length.
Here's a more detailed look at how the two ellipticals compare: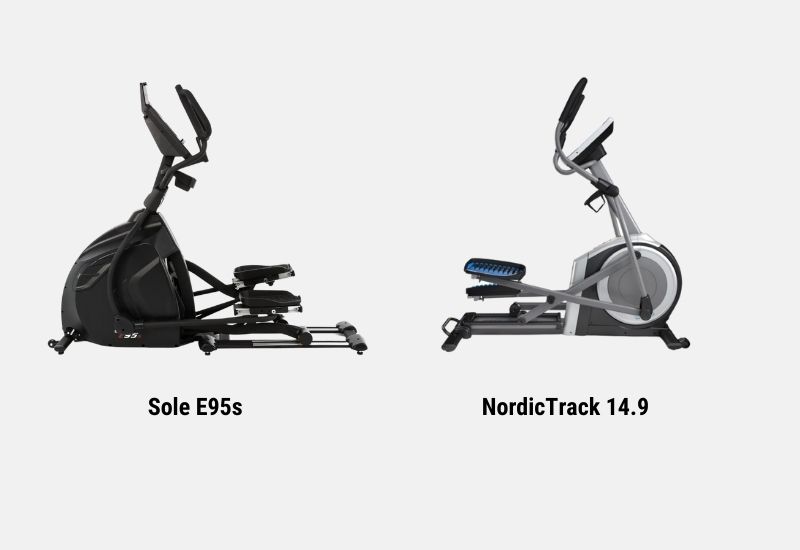 | | | |
| --- | --- | --- |
| | E95s | NordicTrack 14.9 |
| Price | $2,199 | $1,799 |
| Stride length | 18" to 24" | 17.5" to 18.7" |
| Flywheel | 30lb | 32lb |
| Machine weight | 265lb | 210lb |
| Max user weight | 400lb | 350lb |
| Incline | No | Up to 20-degrees |
| Screen | 10" LCD | 14" HD touchscreen |
| Online programming | STUDIO app | iFit app |
Sole E95S Elliptical Trainer vs E95
The Sole Fitness E95s has a slightly younger/smaller brother in the Sole Fitness E95 Elliptical.
While the machines carry a lot of similarities, there are some critical differences including machine weight, flywheel weight, and price.
The main performance differences are that the E95s has an adjustable stride (the E95 has a fixed stride length of 20") and the E95s doesn't have an incline feature (the E95 has a motorized incline).
Here is a more detailed look at the Sole E95s and the Sole E95 side-by-side: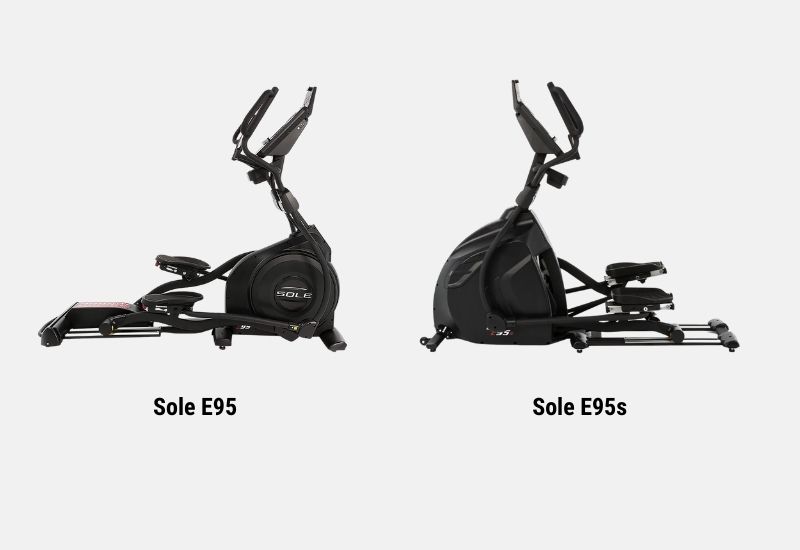 | | | |
| --- | --- | --- |
| | E95 | E95s |
| Price | $1,699 | $2,199 |
| Stride length | 20" | 18" to 24" |
| Flywheel | 27lb | 32lb |
| Machine weight | 236lb | 265lb |
The Bottom Line
When it comes to choosing an elliptical machine for your home gym, there are a TON of things to consider.
Price. Brand rep. Training features. Ride quality.
And if a fully adjustable stride length is somewhere at the top of the list, the Sole Fitness E95 Elliptical is the perfect trainer for you.
The E95s is built to last a lifetime, has an exceptionally smooth and stable ride, and has tons of training programs (and even more if you pair it with the STUDIO app).
To recap:
| | |
| --- | --- |
| ✅ PROS | ❌ CONS |
| Best elliptical trainer with adjustable stride (18" to 24") | It's really long! |
| Heavy flywheel for smooth ride | No incline feature |
| Tons of workout programs (and compatible with STUDIO app) | Assembly manual is short on steps |
| It's a good lookin' elliptical | |
| Angled foot pedals to prevent foot numbness and discomfort | |
---
More Elliptical Guides and Reviews
Sole Fitness Elliptical Comparison | Which One is Best for You? Looking for a detailed comparison of Sole Fitness Ellipticals? Here's a detailed breakdown of every Sole Elliptical, including key features, price, functionality, and much more.
What's the Best Elliptical Stride Length? (How to Choose). Elliptical stride length is crucial for getting the most out of your workouts. Here's how to measure the right stride length for you, the benefits of long stride ellipticals, and more.