Elliptical trainers don't have to cost a fortune to give an awesome workout. In this guide to the best elliptical trainers under $800, we list the top options on the market right now so you can buy with confidence.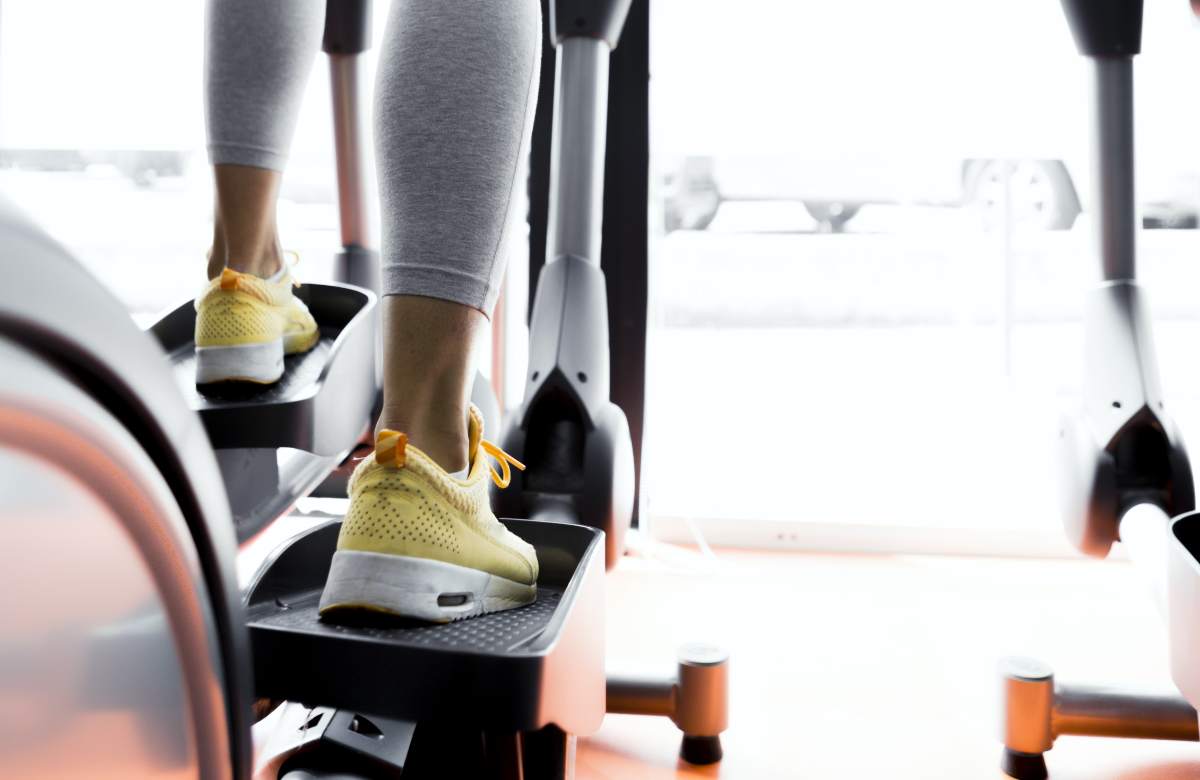 Looking for a kick-ass elliptical trainer for $800 or less?
We've got you covered. In this roundup of the best elliptical trainers under $800, we outline the best machines we've tested over the years that match this price point.
We'll outline the pros and cons of each elliptical, describe who the elliptical is perfect for, and list the key features of each machine so that you can buy with total confidence.
At the end, we will also give you a quick checklist for shopping for a new elliptical trainer like a boss.
Let's jump right in.
The Best Ellipticals for Under $800
Nautilus E616 Elliptical Trainer – Best Overall Elliptical Under $800
⭐ Best for: People who want a motorized incline option plus an extra sturdy ride.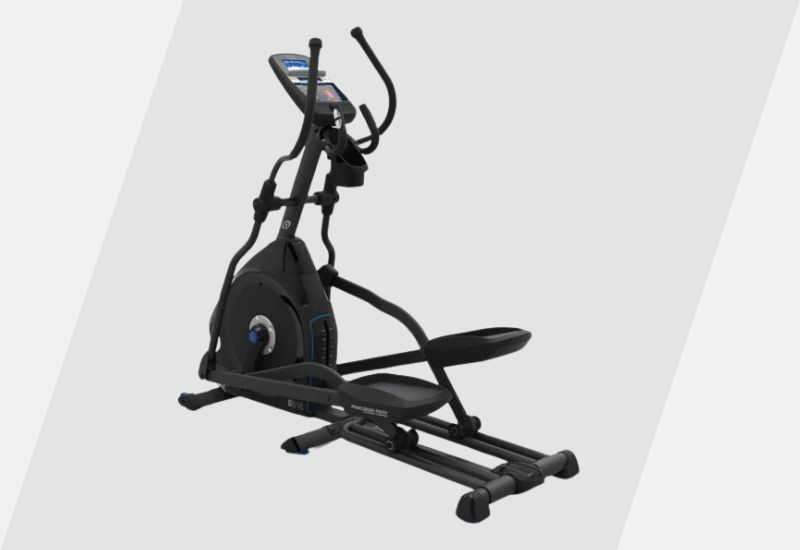 Key features:
20" stride length
Flywheel: 22lb
25 resistance levels
29 workout programs
Power incline (6 levels)
The Nautilus E616 Elliptical is our repeat champ when it comes to the best elliptical trainer for under $800, and it's not even really that close.
The E616 leads the pack with the heaviest flywheel and is the only elliptical at this price with a motorized incline. All the rest have either no incline or a limited manual incline.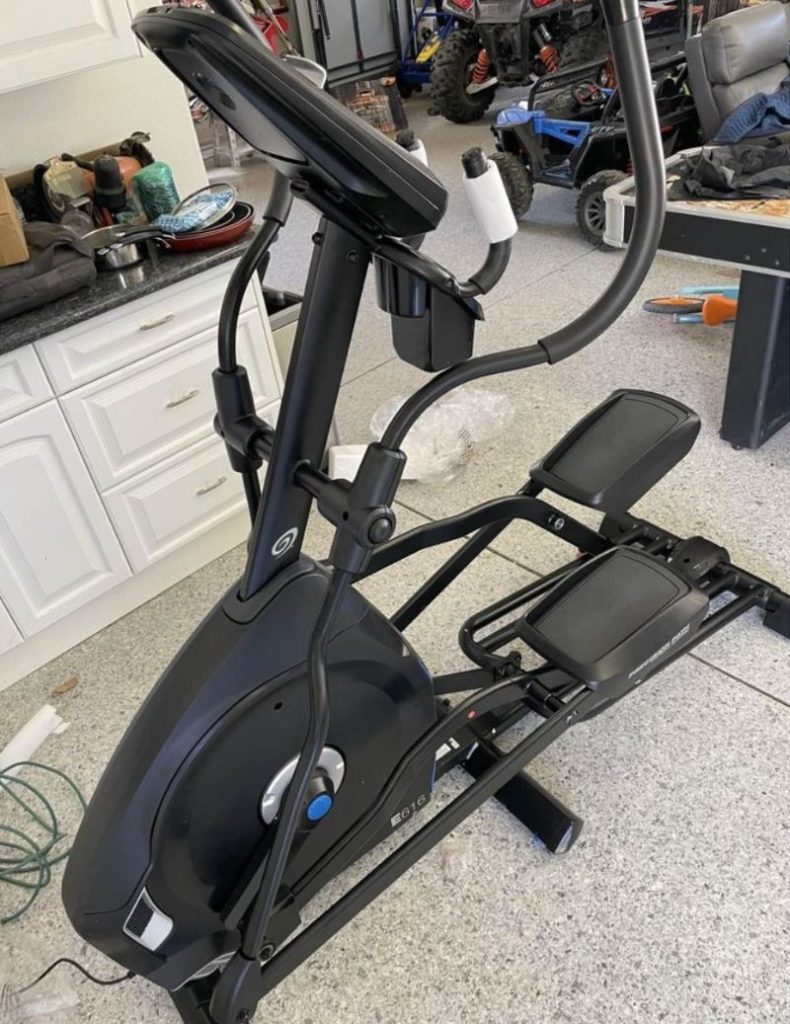 You've got heaps of workout options—the console is loaded with 29 different workouts—and the elliptical has 20 levels of resistance for your easy, recovery days as well as the workouts where you really want to push the pace.
The E616 also gets bonus points for being one of the easiest ellipticals that we've ever assembled. It comes partially assembled and the manual is extremely clear, with step-by-step instructions.
The only gripe I have, if you even want to call it that, is the E616 doesn't have a handle at the back of the unit for making it easier to wheel the machine around.
| | |
| --- | --- |
| ✅ PROS | ❌ CONS |
| Our reigning #1 pick for best elliptical under $800 | No handle for tilting and moving the machine |
| Easy to assemble | |
| Heaviest flywheel in class | |
| 20" stride length | |
| Power incline | |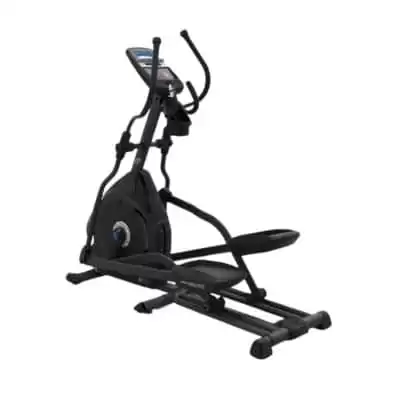 Schwinn 430 Elliptical
⭐ Best for: people who want dual LCD screens and almost all the functionality and features of the Nautilus E616.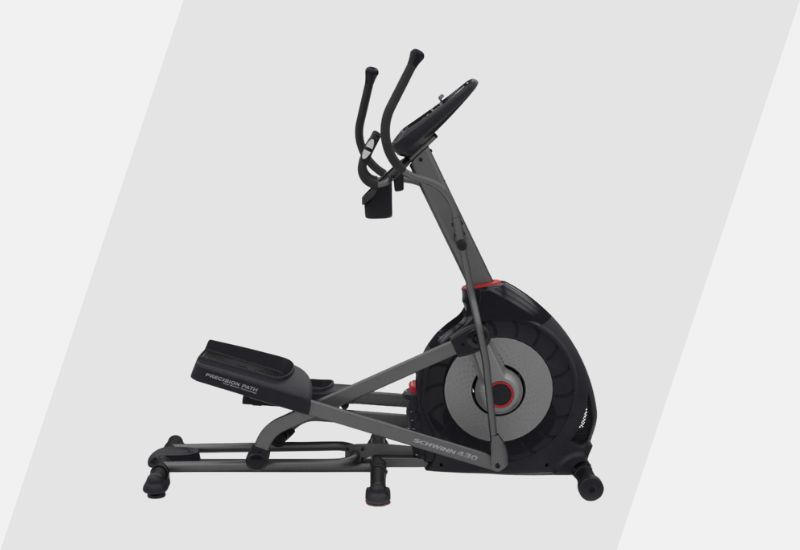 Key features:
20" stride length
Flywheel: 20lb
20 resistance levels
22 workout programs
Manual incline (6 levels)
The Schwinn 430 Elliptical is Schwinn's mid-range offering (the Schwinn 411 is an excellent budget-friendly elliptical at $549, BTW).
The 430 features a hefty flywheel (20lb for a smooth ride) and weighs nearly 170lbs, which makes it a pain to move but feels like a tank when in use.
The main thing keeping it back from dethroning the Nautilus E616 is that the incline on the Schwinn 430 is manual, which requires dismounting the machine mid or pre workout to adjust.
Besides that, the Schwinn 430 and Nautilus E616 are nearly identical in performance, with similar flywheels, stride length, and maximum user weight.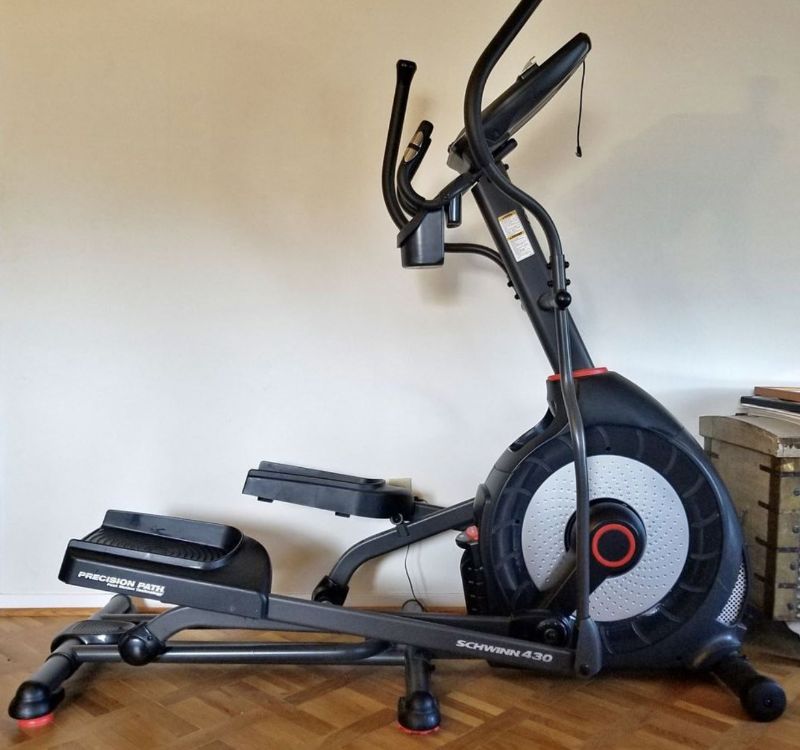 One thing that I really like about the 430 is the dual LCD displays. The upper LCD is the "main" one that has the matrix display showing workout progress.
If you are like most people and park your smartphone or tablet (or book!) on the media ledge, it will block the main LCD screen but not the secondary screen below it. Little features like this make using an elliptical more enjoyable and immersive.
| | |
| --- | --- |
| ✅ PROS | ❌ CONS |
| 20lb flywheel | Incline is manual |
| 20" stride length—awesome for taller users | Flywheel not as heavy as Nautilus E616 |
| Dual LCD screens on the console | |
| 22 different workout programs | |
| Incline—six levels | |
Sole Fitness E20 Elliptical
⭐ Perfect for: people who want a more ergonomic foot pedal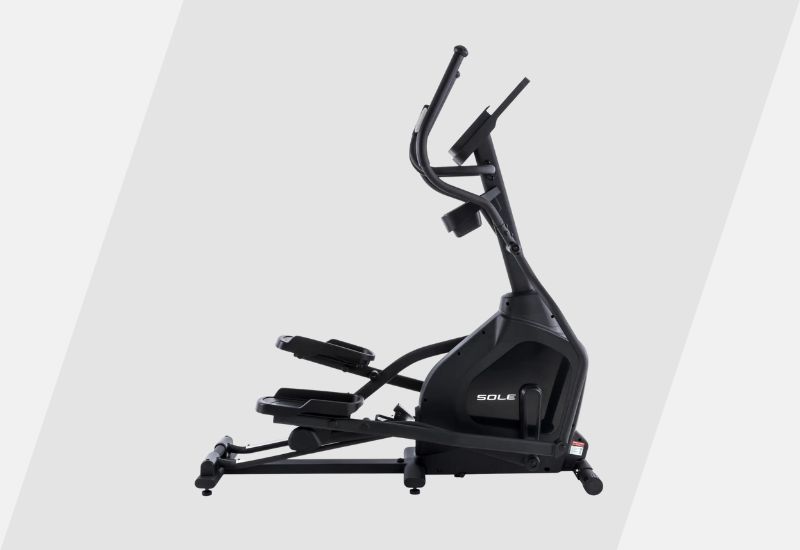 Key features:
18" stride length
Flywheel: 14.4lb
20 resistance levels
Manual incline (3 levels)
The ride is everything when using an elliptical trainer. When the stride length is too short, too long, or the pedals are not ergonomic, working out becomes uncomfortable to the point of being painful.
The Sole Fitness E20 Elliptical Trainer is uniquely built machine with its foot pedals that are angled inwards at a 2-degree slope.
This slight adjustment is barely perceptible, but it was designed with the help of orthopedists to promote better blood flow when using an elliptical trainer. This sneaky design also reduces undue pressure on the knees.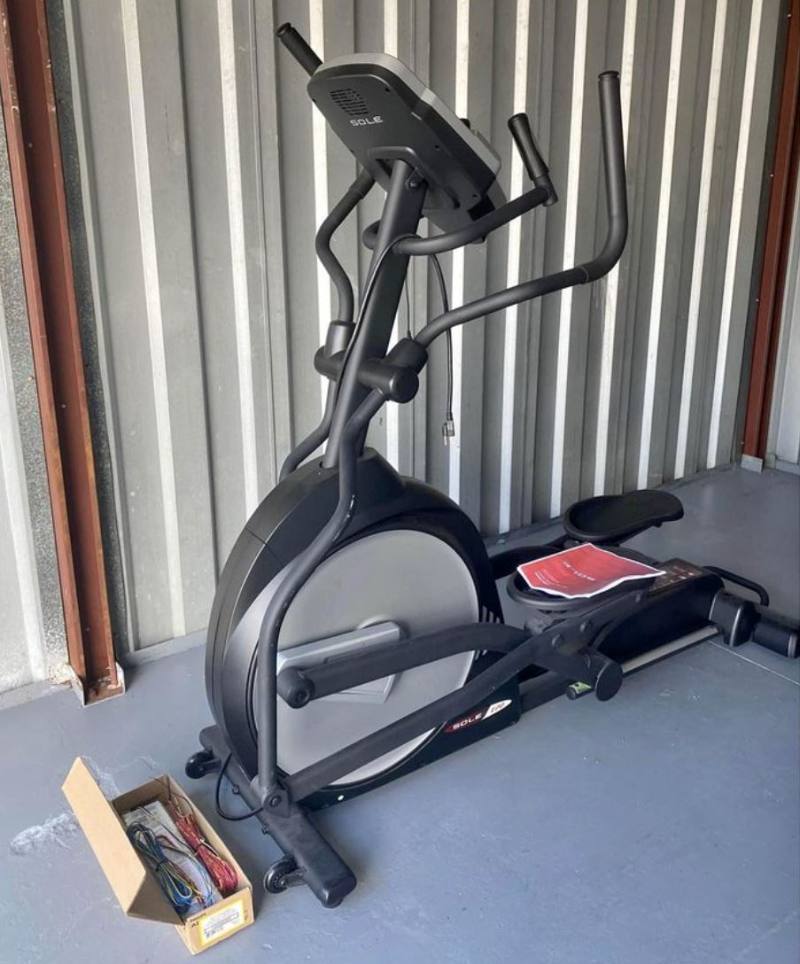 For people who love using the elliptical trainer but get frustrated with their toes and/or feet falling asleep, the E20 is an absolute game-changer.
Outside of that ergonomic piece of good news, the Sole E20 has plenty of performance features that make it a durable and smooth ride, including a 14.4lb flywheel, 300lb max user weight, and smooth dual-rail system that doesn't clunk or catch.
Like most ellipticals at this price range, the display on the E20 is fairly basic frills-free. And while the E20 does have an incline option (3 different levels), it requires manual adjustment.
| | |
| --- | --- |
| ✅ PROS | ❌ CONS |
| Ergonomic pedals that reduce knee pain and toe numbness | Manual incline |
| Lots of comfort features (oversized water bottle holder, etc) | Competition have longer strides and heavier flywheels |
| 3 incline settings | Basic screen |
| Dual rail system for a very smooth stride | |
Best no-frills Sole Elliptical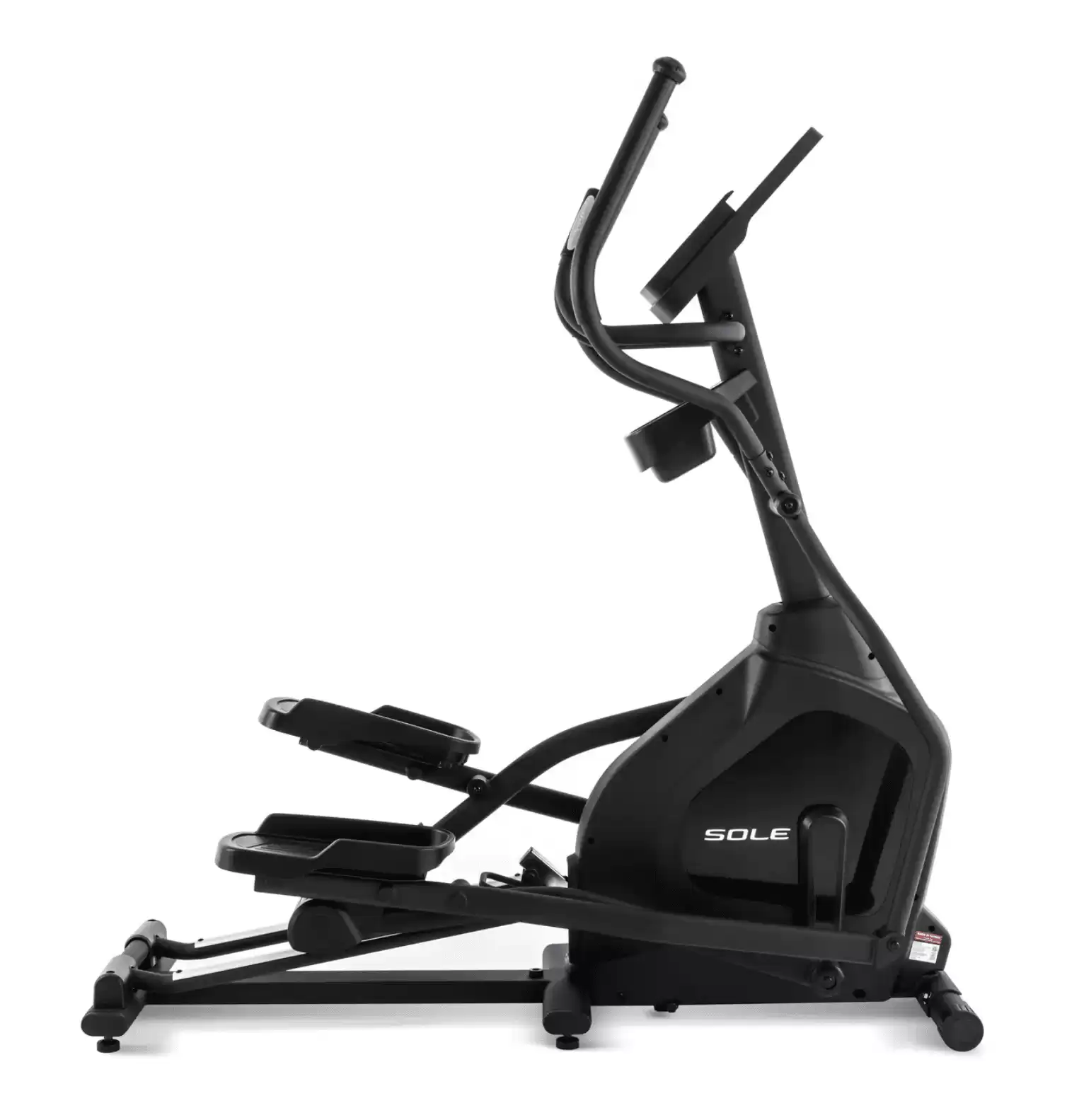 Horizon EX-59 Elliptical
⭐ Best for: people who want an easy-to-assemble and lightweight elliptical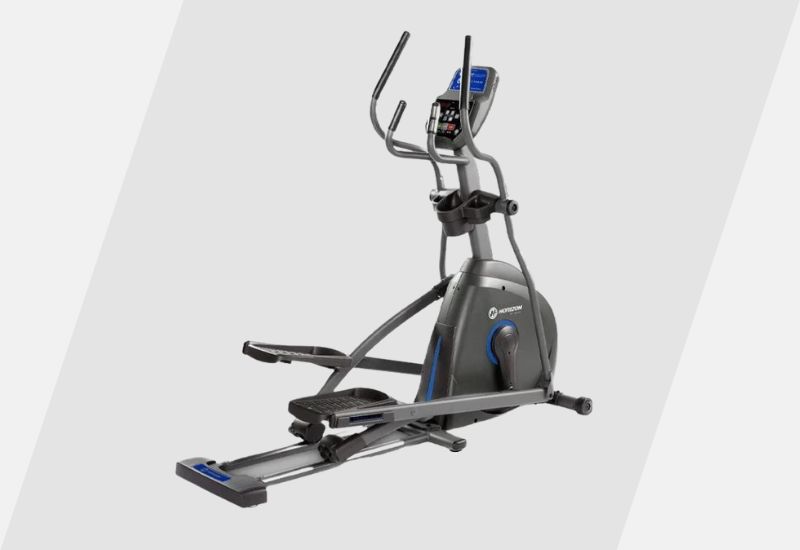 Key features:
18" stride length
Flywheel: 14lb
Lightweight frame – 145lbs
10 resistance levels
Weight capacity: 300lb
The Horizon Fitness EX-59 is less expensive than the other machines on this list—it retails for $699—but it is very similar in terms of features.
For starters, the flywheel weight is competitive with more expensive machines at 14lbs. The weight capacity is right up there as well (300lbs). And the stride length of 18" is identical to a few of the machines on this list.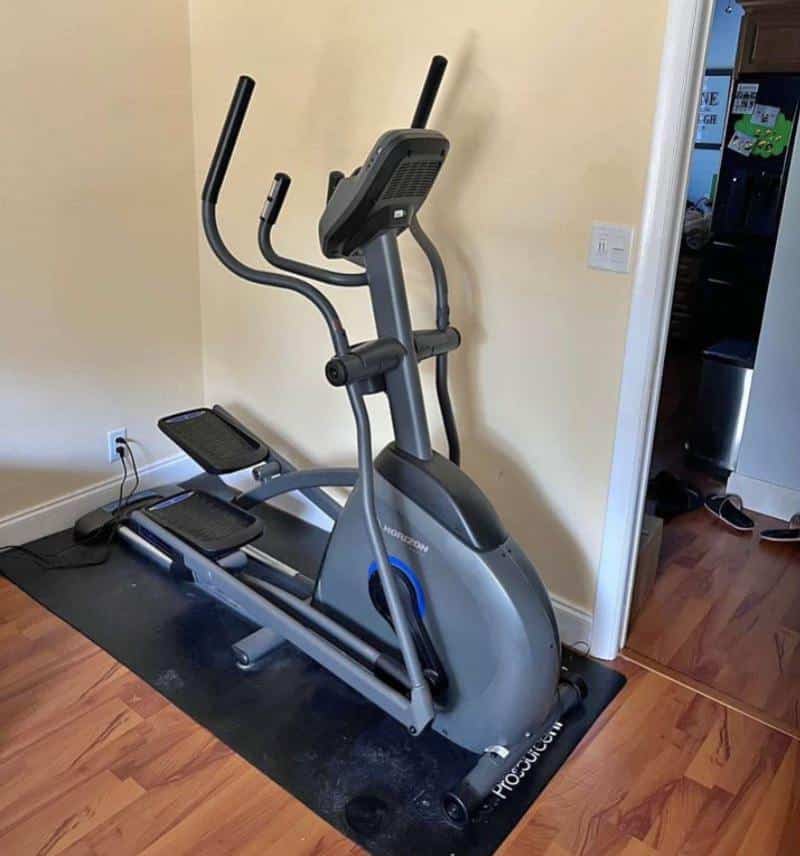 The Horizon EX-59 also has the distinction of being one of the easiest assemblies I've ever experienced putting together an elliptical.
Note: If you really like Horizon ellipticals but want a little more stability and longer stride length, consider the Horizon 7.0 AE. It's a shade over $849 but features a motorized incline and a flywheel that is ten pounds heavier than the EX-59.
While some machines can take upwards of 2-3 hours to assemble, the EX-59 was out of the box and ready for action in just over 20 minutes.
| | |
| --- | --- |
| ✅ PROS | ❌ CONS |
| Easy to move | No incline |
| Super easy to assemble | Only 10 resistance levels |
| 14lb flywheel | |
| 300lb weight capacity | |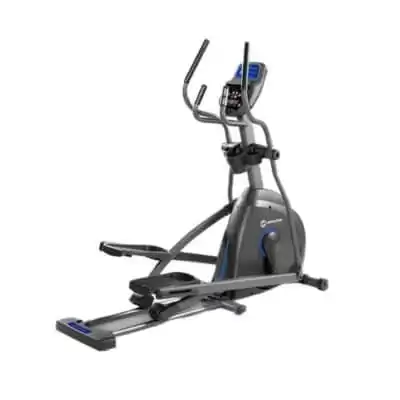 ProForm Carbon EL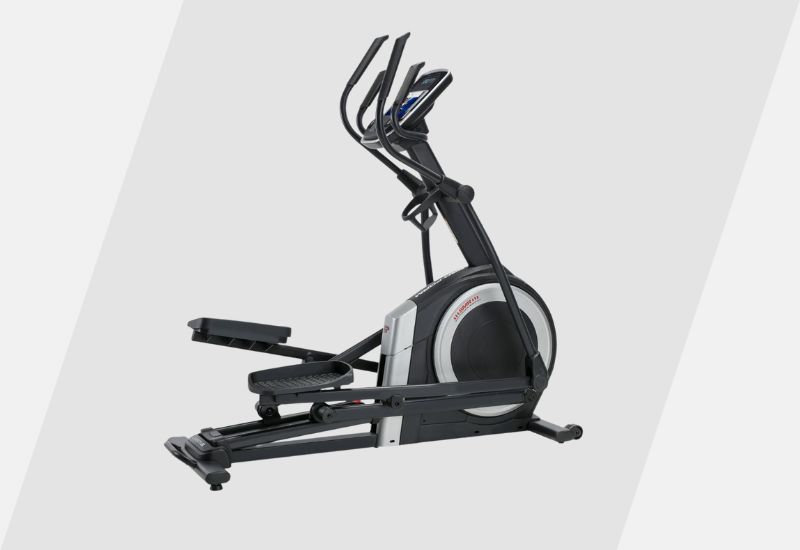 Key features:
19" stride length
Flywheel: 14lb
18 resistance levels
Manual incline (0-20 degrees)
Weight capacity: 275lb
The ProForm Carbon EL is the entry-level trainer in ProForm's set of elliptical machines.
The stride length is a solid 19", which will accommodate most users (except for very tall or very short people), and the machine has an incline feature (manual) for cranking up the sweat in your workouts.
Although the Carbon EL "only" has a 14lb flywheel, the overall machine weight compensates for this. The Carbon EL weighs a hefty 200lbs, lending a ton of stability to the elliptical when going HAM on your favorite HIIT workout.
One key "con" of the machine is that it is rated for up to 275lbs, which is the lowest amount in this class.
| | |
| --- | --- |
| ✅ PROS | ❌ CONS |
| Up to 20 degrees of incline | 275lb max user weight |
| Beefy weight for added stability | |
| 19" stride length | |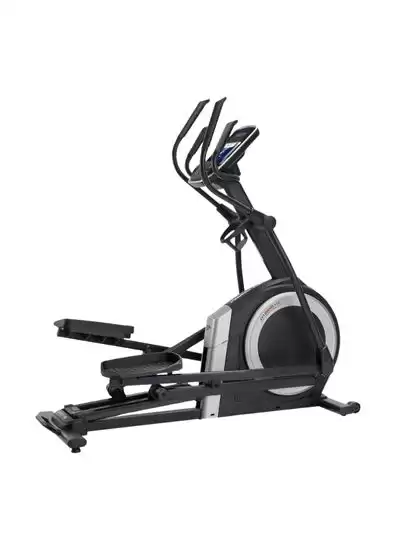 How to Choose the Best Elliptical Under $800
We have been testing and reviewing elliptical trainers—45 of 'em and counting—for a long time.
We are a group of personal trainers, strength coaches, and current/former athletes, so we know a thing of two about hitting that perfect stride on an elliptical machine.
When trying to figure out that perfect under–$800-elliptical for you, here are the key things to watch out for to help you buy with total confidence:
⭐ Overall stability of the machine.
There are two ways to get an idea of how stable and smooth the striding experience will be on the elliptical.
First, the flywheel weight. This is what generates resistance on the elliptical trainer. The heavier the flywheel, the more resistance and the more work it can handle.
Second, the overall weight of the machine. A heavier machine produces a more stable footprint and reduces a lot of the wobble and teetering common with lighter trainers.
⭐ Workout programs.
Keeping things fresh when exercising is crucial. The programs and mechanisms for generating resistance is what helps us to improve and stay committed to our fitness and health goals. With that in mind, when shopping for an elliptical, keep on eye on the following:
Number of workout programs. Ellipticals come packed with a set of workout programs, like HIIT, quick start, manual, and so on.
Resistance levels. Resistance is what delivers the fat burn and muscle building! The more options we have in terms of resistance levels, the better we can fine-tune the difficulty in our workouts.
Incline. Increasing the incline on an elliptical is another way to make things more challenging. I absolutely love incline, both in terms of adding some for longer, aerobic sessions as well as going up and down during more aggressive HIIT workouts.
⭐ The comfort features.
The primary considerations when investing in an elliptical tend to be durability and price. Which makes total sense.
But all of those little "add on" features like a properly sized water bottle holder, Bluetooth enabled speakers, media ledge, and controls on the handles can make using your new elliptical more comfortable, and by extension, more appealing.
⭐ Warranty.
Elliptical trainers are complex pieces of machinery with a lot of moving parts and are not immune to breaking, either from wear and tear or because of manufacturer's defect.
Look for a warranty that has at least five years on the frame and 1-2 years on parts and labor.
The Bottom Line
There are fewer things better than finding that perfect piece of exercise equipment that matches your body and exercise goals.
By now, you should be fully armed with everything you need to know to pick that perfect elliptical under 800 buckeroos.
To recap:
The Nautilus E616 continues to be our top overall pick thanks to its best-in-class power incline, heavy flywheel, and bombproof construction.
You can shop the Nautilus E616 both at Amazon as well as the official Nautilus website.
Runner-ups include:
The Sole Fitness E20 is an excellent choice for people looking for a more ergonomic foot pedal to avoid foot and toe numbness.
The Schwinn 430 is a great choice for taller users with its 20" stride length.
And the Horizon Fitness EX-59 is super easy to assemble and is a lightweight machine, ideal for moving it around easily between workouts.
Choose the elliptical that matches your goals, get to striding, and unleash the gains!
More Elliptical Guides and Articles
What's the Best Elliptical Stride Length? (How to Choose). Elliptical stride length is crucial for getting the most out of your workouts. Here's how to measure the right stride length for you, the benefits of long stride ellipticals, and more.
Elliptical Buying Guide – Everything You Need to Know to Buy with Confidence. Want to buy an elliptical but don't know where to start? Arm yourself with the knowledge to choose the perfect elliptical for you and your workout goals.
How Much Do Ellipticals Cost? (44 Different Models Compared). Ellipticals can be a costly investment into your workout goals. Here is a look at how much each type of elliptical costs and how much to spend on one.