The NordicTrack FS14i Elliptical is a three-in-one cardio machine that is perfect for doing studio classes at home. In this review of the FS14i, we look at the pros, cons, and competition so you can buy with confidence.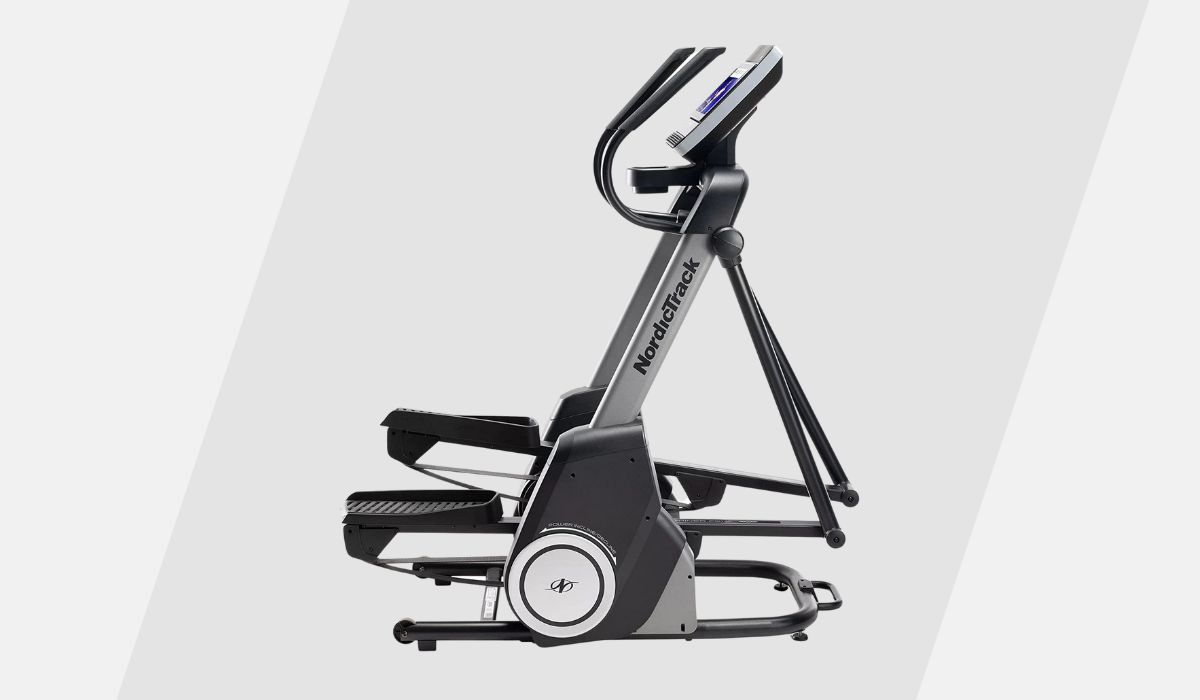 The NordicTrack FS14i is the Swiss Army knife of elliptical machines. It combines a stepper, elliptical and low-impact treadmill into one trainer.
It's also the only elliptical trainer I've ever tested that has a decline option on the machine.
The FS14i is also built specifically to use the full breadth of the popular iFIT app with a big and beautiful 14" HD touchscreen for doing studio classes.
But is the FS14i the right elliptical for you?
In this hands-on review of the NordicTrack FS14i, we will take it for a ride, showcasing the pros, the cons, the competition, and more.
By the end, you will have an excellent idea of whether the FS14i is the best elliptical for you.
Let's jump right in!
NordicTrack FS14i Elliptical Trainer — Key Specs
Price: $2,299
14" HD touchscreen
Center drive flywheel
Inertia-Enhanced magnetic resistance 20lb flywheel
26 resistance levels
3-in-1 machine (elliptical, stepper, treadmill)
Stride length: Up to 32"
Power incline (+10 degrees) and decline (-10 degrees)
Multi-power fan: Four settings (Low, Medium, High, Auto)
Compatible with iFIT (30-day free trial with the machine)
Bluetooth and WiFi connectivity
AUX headphone jack
Footprint: 58" L x 29" W
Commercial steel frame
375lb weight capacity
In-home assembly for $249 (depends on delivery location)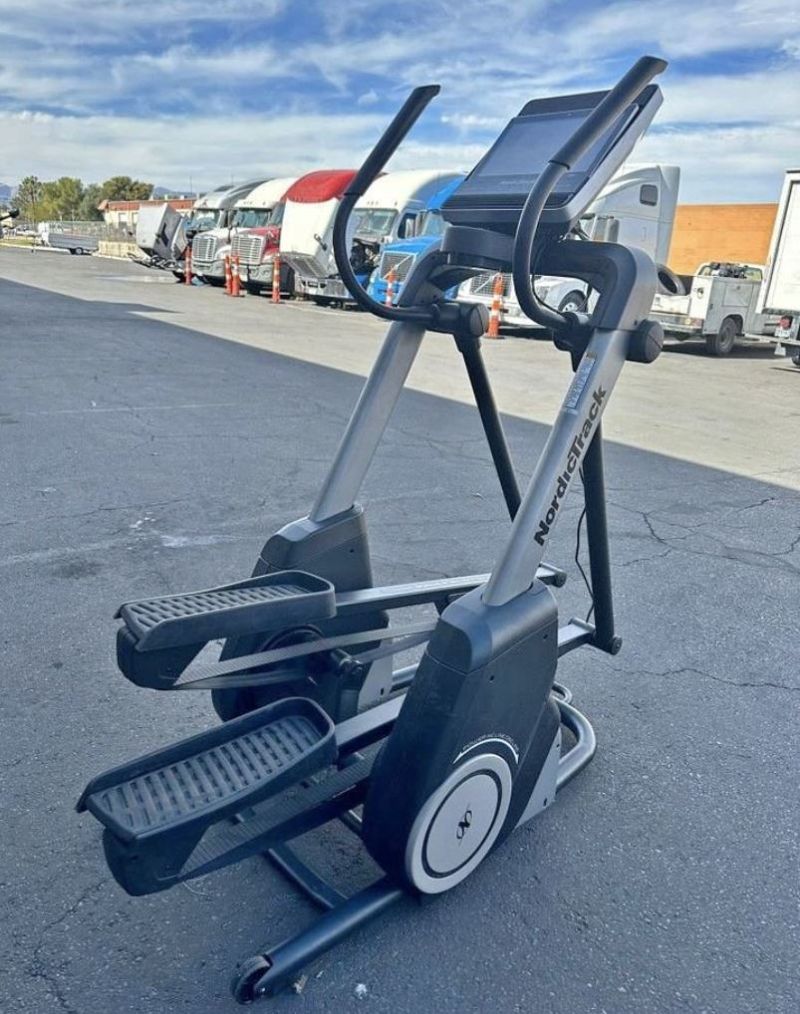 NordicTrack FS14i Elliptical Trainer – The Pros
Okay, let's jump right into the meat and potatoes of our review of the FS14i.
Here are the things that jump out about this elliptical machine:
✅ Adjustable, 3-in-1 stride
My favorite feature of this machine is its total versatility.
While it is categorized as an elliptical trainer, the stride path adjusts to your body's movement, whether that means you are doing a vertical stepping path or extending your legs horizontally for a gait that almost completely simulates running.
The FS14i is perfect for people who want a stepper, elliptical and low-impact treadmill in one machine that places less stress on the knee.
Not only does this mean more versatility and adjustability in your workouts, but you save a metric ton of money (and space) compared to if you were to purchase the three machines separately.
The stride length of the elliptical adjusts naturally to your stride, all the way up to 32" in length!
✅ Huge, 14" screen
The NordicTrack FS14i elliptical has an absolutely gangster HD screen.
Following the success of Peloton in 2020, cardio machine companies have swiftly begun offering huge screens on trainers for home use.
The touchscreen can be tilted to accommodate for taller users and the brightness can be adjusted.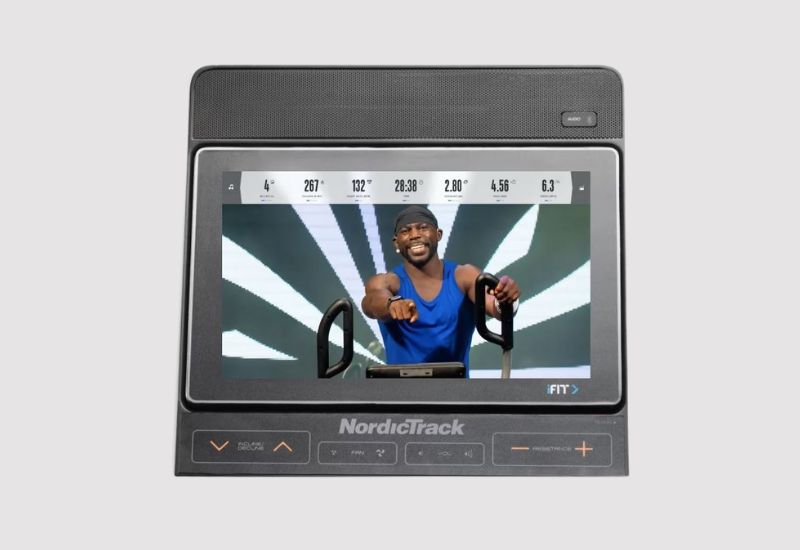 ✅ Perfect for iFIT classes
The NordicTrack FS14i is built to take total advantage of iFIT, an online app that has almost countless workouts, trainer-led classes, and training programs for both on the elliptical as well as off-machine exercise like yoga, weightlifting, and more.
The FS14i's huge screen and compatibility with iFIT is designed exclusively for this kind of programming, which includes calorie tracking, virtual training, heart rate monitoring, and much more.
iFIT boasts:
Nearly 20,000 workouts (and climbing)
The app can be used on the go (from your smartphone)
Studio, trainer-led classes
Using the Connected Fitness feature, the machine is adjusted by the trainer
Landscape routes and trails — stride exotic locations around the world
Stride through your neighborhood of choice using Google Maps
Dietitian and chef-led cooking classes for better nutrition
And more.
iFIT is a very comprehensive app for getting in shape, and if you love doing classes, this machine is going to be right in your wheelhouse.
The FS14i comes with a free 30-day trial for iFIT, and then it costs $39 a month moving forward.
✅ Center drive design
There are several different types of elliptical machines, mostly differentiated by the drive system that they use.
The most common machines are front and rear drive (usually these are the ones you see at the gym and they are often the least expensive).
Center drive machines are a little more rare and typically also more expensive.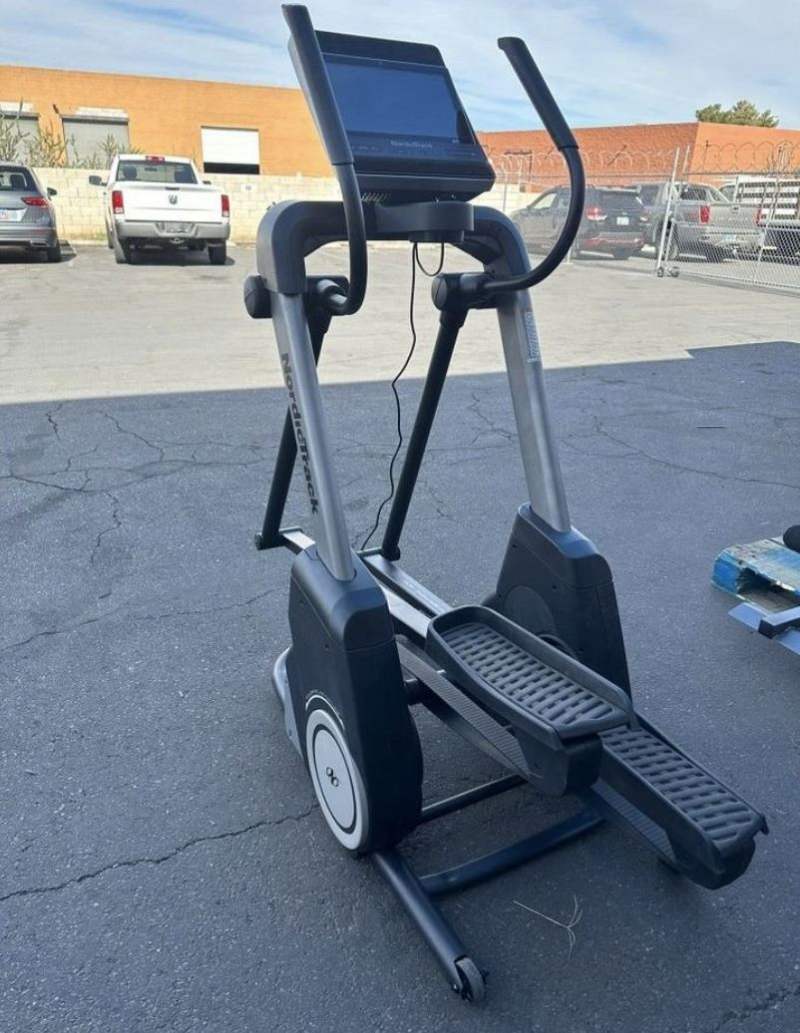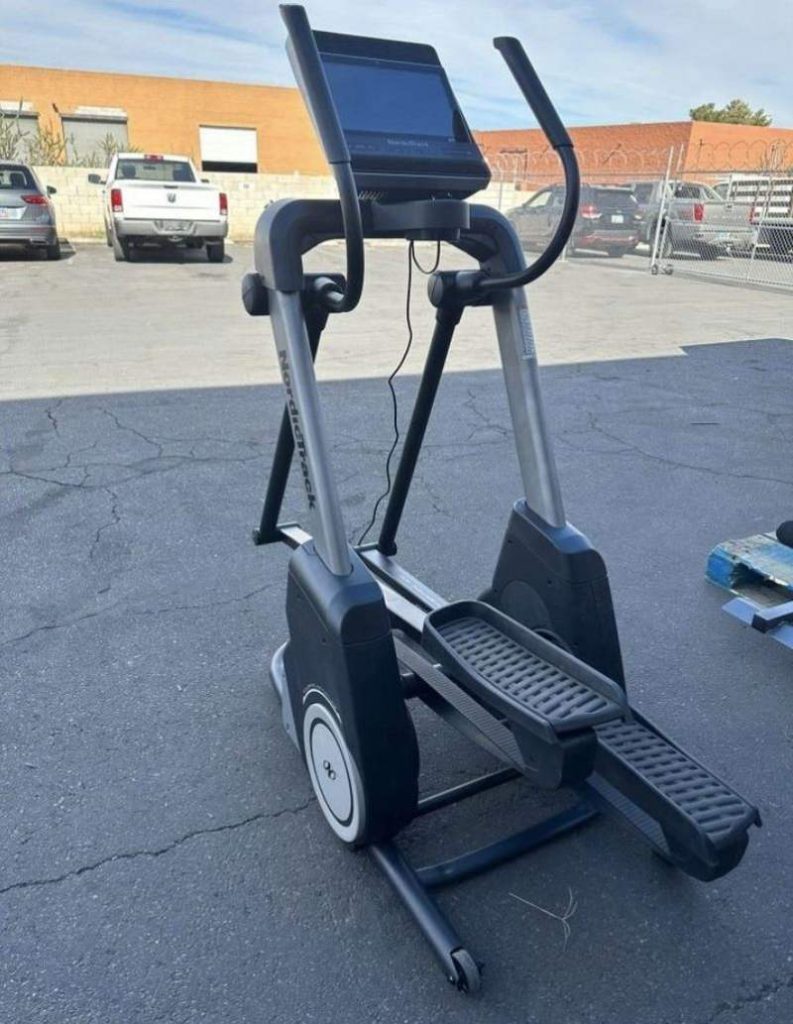 That said, this type of set up is more compact without sacrificing on stride length and users tend to have better posture when using it.
The FS14i's center drive design makes it a very "natural" feeling striding experience.
And as we will see, the center drive allows for a very interesting striding experience…
✅ Wide range of incline (and decline)
Ellipticals typically have a purely horizontal striding experience. But many ellipticals on the market nowadays have incline options, which allow you to increase the difficulty.
Some machines, like the Schwinn 430 and ProForm Carbon EL can be manually adjusted. Others, like the Sole E95 and NordicTrack SpaceSaver 9Ei have motorized/power inclines that can be adjusted up to 10 to 20-degrees.
The NordicTrack FS14i has a motorized incline as well, but also features something else that no other elliptical I've tested can claim… up to 10 degrees of decline!
The decline gives you the sensation of running/striding downhill, further increasing the flexibility in the way you train on the machine.
Combined with 26 resistance levels, the FS14i makes it easy to mix up your cardio workouts by incorporating uphill or downhill workout options to keep things fresh in your workout routine.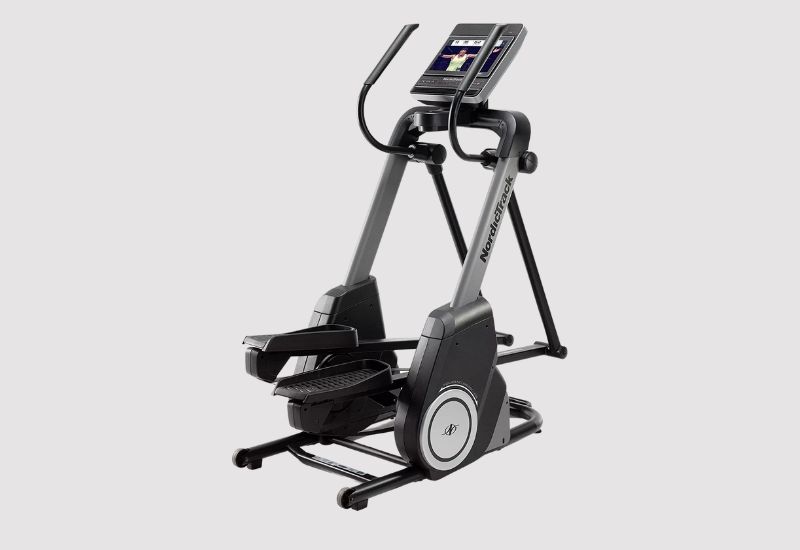 ✅ Quiet magnetic resistance
The NordicTrack FS14i utilizes a 20lb flywheel to change resistance. It smoothly and quietly adjusts speed by employing magnetic resistance, allowing for quick transitions between resistance levels.
By incorporating magnetic resistance flywheels, the machine operates very quietly while also increasing the lifespan of the elliptical.
This is due to reduced wear and tear on the drive mechanism, resulting in less noise and longer durability.
✅ Tons of comfort features
A smooth striding experience is one thing, but being comfortable on the elliptical is frequently a whole other issue.
Ellipticals that have a fan that can barely blow dust, have small pedals, or hard-to-reach controls can make working out uncomfortable.
The NordicTrack FS14i strides/steps/runs like a boss AND nails all of those little features that make exercising much more enjoyable.
The water bottle holder is oversized, accommodating up to a 22oz bottle of hydration-drenching fluids.
The fan on the FS14i isn't quite an industrial-grade fan, but it will keep you cool with four settings to keep cool when torching away the calories during your elliptical workouts.
The pedals on the FS14i are among the most comfortable I've ever tried. As someone who has clown feet—size 15" Nikes, to give you an idea—finding an elliptical with comfy foot pedals is often an issue.
Not so with the FS14i; the pedals are oversized and have a textured surface that gives exceptional foot comfort.
And the variety of easy-to-reach controls, from the touchscreen that is placed close to where the upright handlebars swing and right in the middle of the center console, to one-touch incline/decline and speed controls on the handles themselves, changing speed and resistance is a breeze.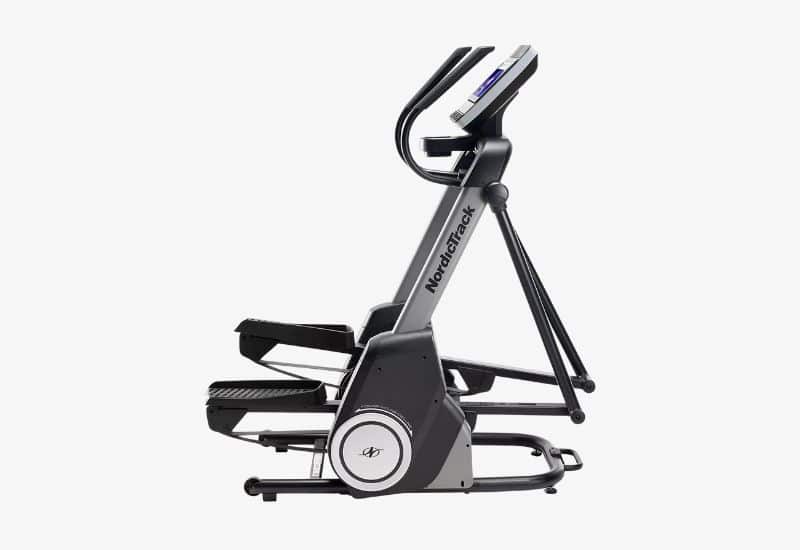 ✅ Heavy-duty steel frame
The NordicTrack FS14i stands out as a remarkably robust elliptical trainer. One of the most durable on the market for home gyms, in fact.
Its construction features a commercial-grade steel frame (with a 10-year warranty), ensuring exceptional durability. With a weight capacity of up to 375lbs, the FS14i is specifically designed to cater to the needs of heavier individuals, making it an excellent choice for those seeking a high-quality elliptical.
When fully assembled, this elliptical weighs nearly 290lbs, which means there is no rocking or teetering when in use (while the FS14i does not fold up, it does have transport wheels to make moving it easier).
By bringing the studio-grade elliptical experience to your home, the FS14i offers a comparable experience to what you would find in a Big Box gym at a significantly reduced cost.
NordicTrack FS14i Elliptical Trainer – The Cons
Designed exclusively for iFIT.
Call me old-fashioned, but there are times I just want to get on a cardio machine, hit the start button, and go to work.
The FS14i is designed almost exclusively to be used with iFIT, meaning there are few pre-programmed workouts on the machine. Getting the most from the iFit, whether that means virtual training or performance tracking requires the monthly subscription to iFit.
Additionally, because the NordicTrack FS14i is designed primarily for iFit classes and uses that big 14″ touchscreen, there is no ledge for parking a smartphone or tablet.
Pricey.
Center drive ellipticals are not cheap (some cost as much as $6,000!), and the NordicTrack FS14i, while designed for home use, is still quite pricey at $2,499.
The cost goes up quickly when you factor in the iFIT subscription. You get the first month for free when purchasing the machine, but once those 30-days lapse, you are paying $39 a month for the studio classes and workouts, which can add up quickly over time.
NordicTrack does offer financing options for this machine at varying terms, from 12 to 39 months.
The NordicTrack FS14i – The Competition
The closest competitor to the FS14i is the NordicTrack FS10i, a slightly paired-down version of the same machine.
It has a slightly smaller screen (10" vs. 14"), two fewer resistance levels, and a larger range of incline/decline. The FS10i is also $500 cheaper.
Center-drive ellipticals are not as common, but some alternatives to the FS14i exist. They include the True Fitness PS300, Cybex R Series, and the Matrix E30 XR.
Here they are side-by-side, including the FS10i:
| | | | | | |
| --- | --- | --- | --- | --- | --- |
| | FS14i | FS10i | True Fitness PS300 | Cybex R Series ARC Trainer | Matrix E30 XR |
| Price | $2,299 | $1,999 | $4,099 | $6,199 | $2,999 |
| Flywheel | 20lb | 20lb | — | — | 23lb |
| Footprint | 58" L x 29" W x 74" H | 58" L x 29" W x 74" H | 49" L x 32" W x 70" H | 81" L x 36" W x 60" H | 68" L x 29" W x 68" H |
| Stride length | Up to 32" | Up to 32" | 21" | 24" | 20" |
| Incline | -10 to 10 degrees | 0-10 degrees | No | 21 levels | No |
| User capacity | 375lb | 375lb | 350lb | 400lbs | 325lb |
| Machine weight | 287lb | 284lb | 266lb | 404lbs | 278lb |
| Screen | 14" HD touchscreen | 10" HD touchscreen | LCD screen | LED or 16" touchscreen | 8.5" LCD to 16" HD touchscreen |
| Warranty (frame) | 10 years | 10 years | Lifetime | — | Lifetime |
| Warranty (parts) | 2 years | 2 years | 7 years | 3 years | 5 years |
| Warranty (labor) | 1 year | 1 year | 1 year | 1 year | 2 years |
NordicTrack Freestride FS14i Elliptical Review – FAQs
Can you use the NordicTrack FS14i without iFIT?
In a manner of speaking, yes, you can use the FS14i without a subscription to iFIT.
There are some preprogrammed workouts on the console of the machine, but they still require a WIFI connection to be accessed.
Realistically, to get the most out of the FS14i, you would want to use the iFIT app.
How much space do I need for a NordicTrack FS14i?
Although the NordicTrack FS14i is a center-drive elliptical that takes up relatively little space, leave plenty of working room at the front and back of the machine.
The length of the machine is 58", but because of its long stride length (up to 32"!), the working length of the machine is around 70-75".
The pedals extend far–much more so compared to regular ellipticals–so be aware of this when exercising, particularly if you have kids or pets who are prone to walking in front (or back) of you while working out.
Additionally, the step-up height is higher on the FS14i compared to other ellipticals. It reaches a maximum height of 24.5″ at the top of the pedaling motion. For most standard rooms with a ceiling height of 9ft, this shouldn't be an issue unless you are super tall.
Can you go backward on the NordicTrack FS14i?
Yes, like most elliptical machines, the FS14i can be used backward.
There are many benefits to using an elliptical backward, including increased quad activation, increased difficulty, and plain old mixing things up.
What is a good elliptical machine for the home?
The best elliptical machine for your home gym matches your goals, budget, and the amount of space available.
While there is no one-size-fits-all option that is perfect for everyone, the NordicTrack FS14i does check a lot of the boxes when it comes to features and function.
However, for those looking for something a little different, there are plenty of other awesome ellipticals on the market.
We've tested and reviewed well over 90 ellipticals over the years:
The Final Verdict
The NordicTrack Freestride FS14i is an excellent machine in a lot of respects.
I absolutely love how the machine can be used as a stepper and a low-impact treadmill.
This flexibility helps to keep things fresh and challenging over time, which is the main challenge most of us face when investing in cardio equipment for our homes.
The big screen is awesome for people who get fired up doing online studio classes, which is the type of user who will get the most from the FS14i.
To recap:
| | |
| --- | --- |
| ✅ PROS | ❌ CONS |
| Versatile as heck; 3-in-1 stride functionality | A bit pricey |
| Has both incline and decline | |
| Center drive design; more natural stride | |
| Awesome for classes (using iFit) | |
| Massive 14" HD touchscreen | |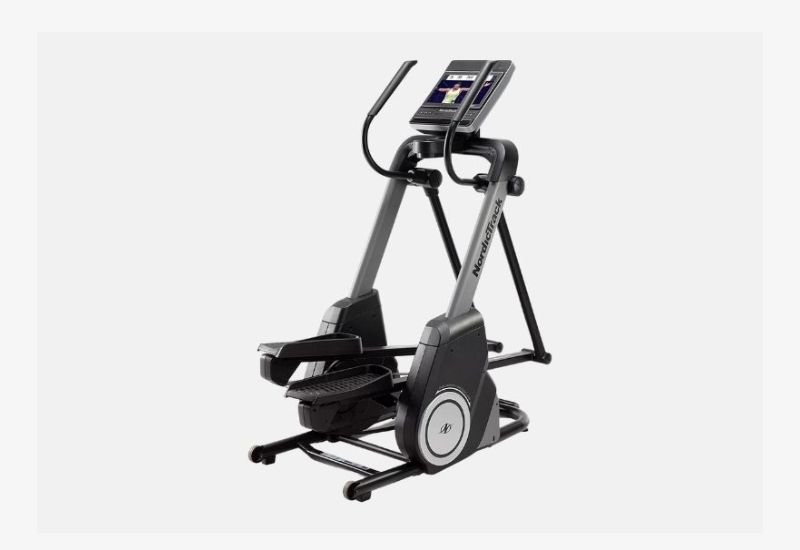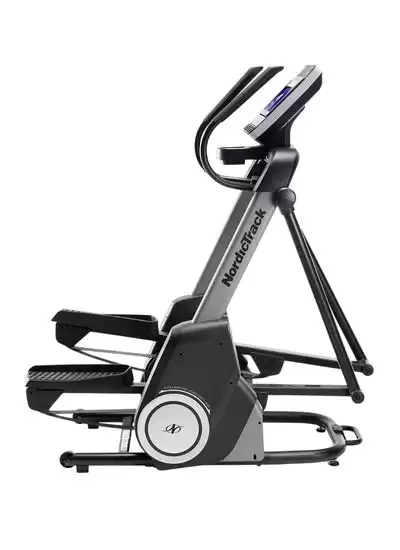 ---
More Elliptical Guides and Reviews
Elliptical Buying Guide – Everything You Need to Know to Buy with Confidence. Want to buy an elliptical but don't know where to start? Arm yourself with the knowledge to choose the perfect elliptical for you and your workout goals.