The Sole E98 Elliptical is a heavy-duty elliptical designed for light commercial settings. In this review, we take it for a stride, detail our experience with it, and list the pros and cons so that you can see if the E98 is right for you.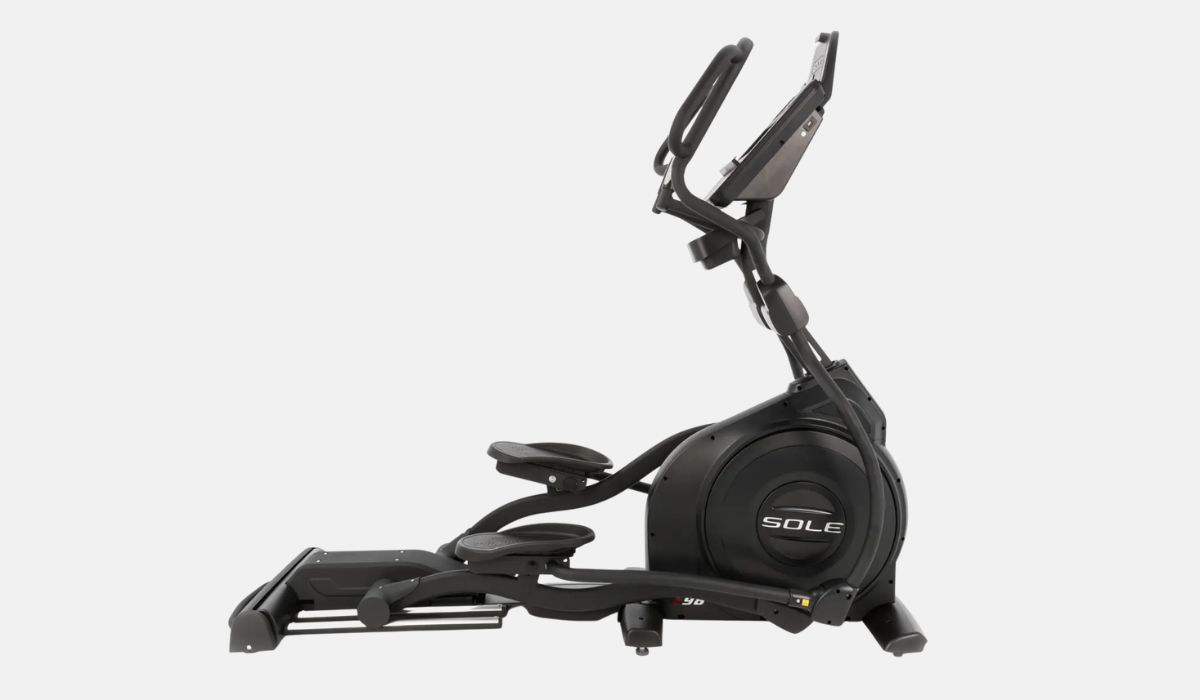 Say what you will about your local big box gym—they tend to have excellent cardio machines designed for weight loss that can take an absolute beating.
Day in and day out, these machines handle an endless stream of users and keep ticking.
If only you could bring that kind of reliability and durability into your home gym, right?
Welp, here's the good news: the Sole Fitness E98 Elliptical Trainer is a light commercial machine with a home gym price.
At $2,300, it's priced significantly less compared to other commercial elliptical trainers, has a heavy-duty flywheel, and has a power incline feature that even the ellipticals at my local gym don't have.
But is the Sole E98 right for you?
In this review, we will look at the things we love about the E98, a couple of things that could be improved, and compare it to both Sole's other ellipticals and some comparably priced light commercial ellipticals.
Next stop—Cardiotown!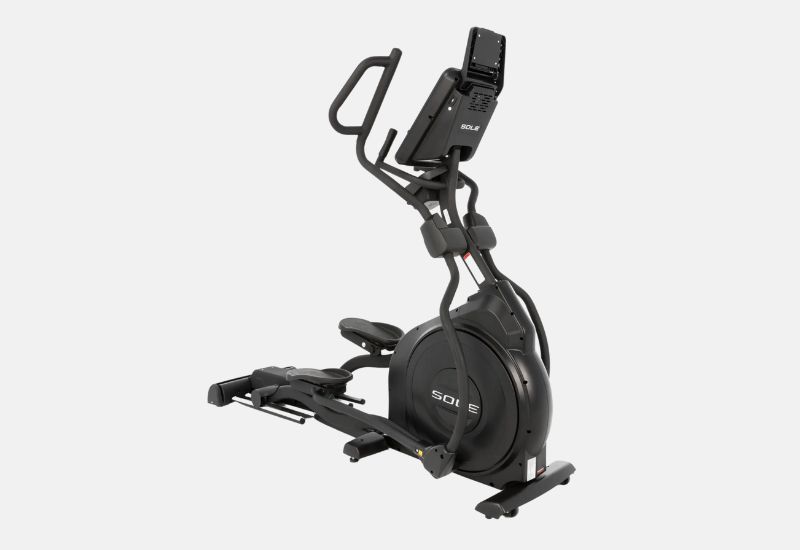 Sole E98 Light Commercial Elliptical Trainer – Key Specs:
Price: $2,299
32lb flywheel
20" stride length
10.1" crisp LCD screen
Footprint: 82.5" L x 32.5" W x 71" H
Unit weight: 247lbs
User weight rating: 400lbs
2-degree tilt on foot pedals
20 resistance levels
20 level power incline
Front drive system
Bluetooth compatible
Wireless heart rate strap included
Commercial warranty – Lifetime (frame), Parts (3 years), Labor (1 year)
Residential warranty – Lifetime (frame), Parts (5 years), Labor (2 years)
Sole Fitness E98 Elliptical – The Pros
The Sole E98 was designed for one purpose and one purpose only… to be a significantly cheaper alternative to studio-quality ellipticals that can cost $5,000 and up.
Here are the reasons that we love this elliptical and consider it the best light commercial elliptical on the market: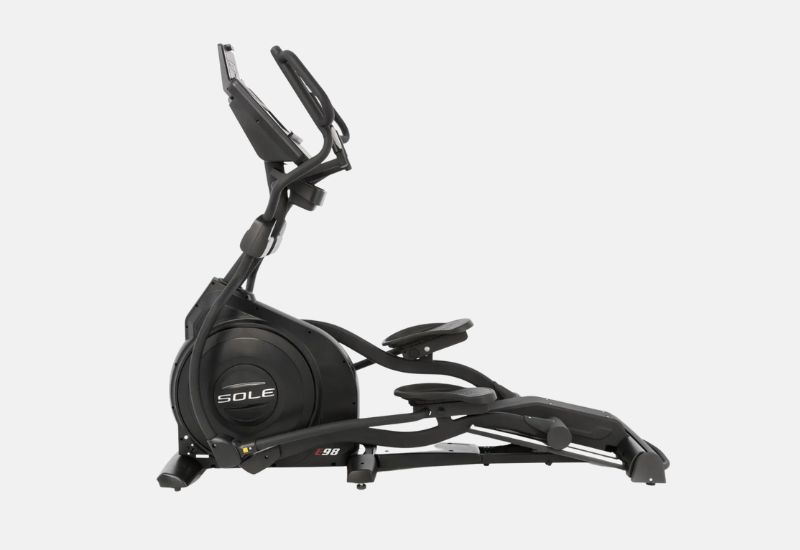 ✅ The Sole E98 is a tank
Okay, this could go both ways because home users will find it a pain in the butt to move the elliptical around (which means thinking out where you are going to put it before assembling)…
But this machine is an absolute beast of a unit.
It weighs nearly 250lbs which is very much in the weight class of commercial-grade ellipticals. This heavier-than-tank metric means it produces an exceptionally stable striding experience when working out.
It's also quite long and tall—the E95 is almost 83" long and 32.5" wide, creating a wide base for even more stability.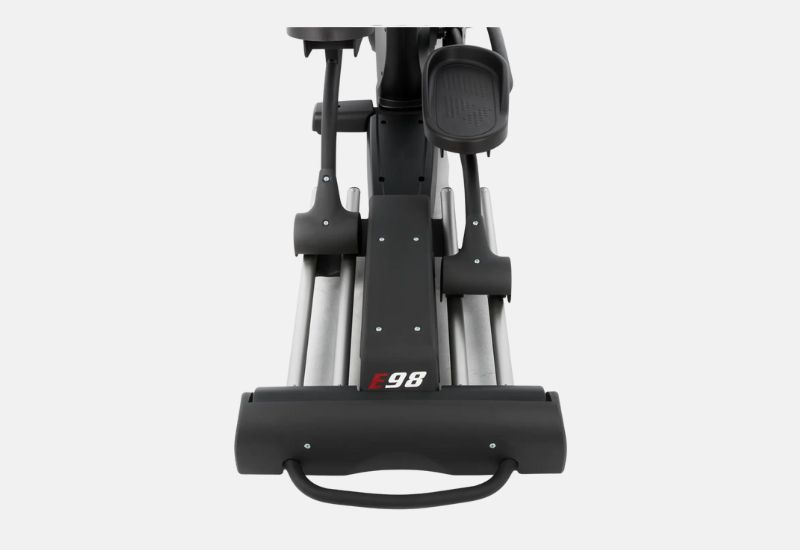 There's no dancing (or striding, ha!) around the fact that if you want a legitimately industrial-grade elliptical training experience… the E98 will deliver that.
(Note: The machine is also quite tall… Taller users—I'm 6'4″, and the tops of my hair graze the ceiling when using the E98 in a bedroom with 8-ft ceilings—will want to place it somewhere with higher ceilings.)
✅ The E98 is the least expensive commercial elliptical on the market
At $2,299, the Sole E98 is priced to win. And it wins, by a lot.
Compared to other elliptical machines that are designed for commercial settings, it's not even close when it comes to value.
Studio fitness equipment, in a lot of ways, hasn't really caught up in terms of value pricing compared to cardio equipment designed for home gyms. The reality is that most of these companies will continue to charge a premium as Big Box gyms continue to pay them.
The E98 exists in this weird place where you get a heavy-duty elliptical for a price that isn't much more than the paired-down ellipticals that are wobbly and shaky and designed for home use.
Here is a comparison of how much the E98 costs compared to other studio-quality ellipticals:
| | |
| --- | --- |
| MODEL | PRICE |
| Sole E98 Elliptical | $2,299 |
| Precor EFX 225 Elliptical | $2,999 |
| Life Fitness E3 Elliptical | $3,719 |
| Life Fitness Club Series + Elliptical | $5,249 |
| Star Trac 8RDE Elliptical | $6,299 |
| Matrix E30 Elliptical | $4,399 |
✅ Power incline feature
Okay, so we've established the fact that the E98 is a monster… And it doesn't cost an arm, leg and your firstborn to purchase.
But what about workout performance?
Welp, looking beyond all of the usual workout features (the E98 has a 10.1" crisp LCD screen that spits out all the typical workout programs, including HIIT, manual, etc), the E98 also has an adjustable power incline that can be used to increase difficulty on the fly.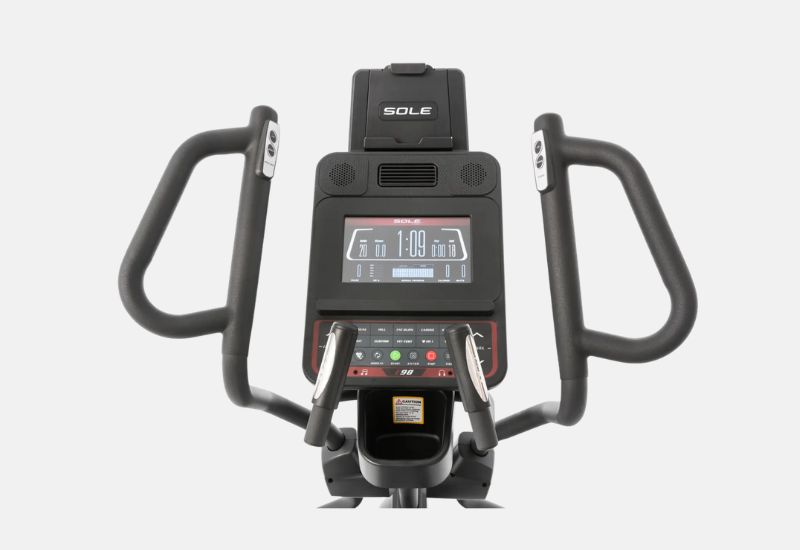 This is a feature that the Life Fitness ellipticals at my local gyms don't even have.
Adjusting the incline—higher the incline, higher the difficulty and sweat output—can be done from the console or the multi-grip handles, cranking up the challenge of the workout on the fly.
A steeper incline turns the elliptical into a modified stepper, giving you the best of both machines (natural, elliptical stride paired with having to raise your knees).
The E98 has 20 different levels on the power incline, so you can ease into this type of training, which will help you maximize time spent on the elliptical.
✅ Heavy-duty flywheel
Another "big perk" of this machine in my books is the heavy-duty flywheel. It's a hefty 32lbs, which means you are going to have a smooth and clunk-free ride on the E98.
I've used countless ellipticals over the years, both at the gym and at home, and the mark of a shoddy machine is when the drive clunks or catches mid-stride.
The increased weight of the flywheel eliminates this, creating a smooth and enjoyable striding experience.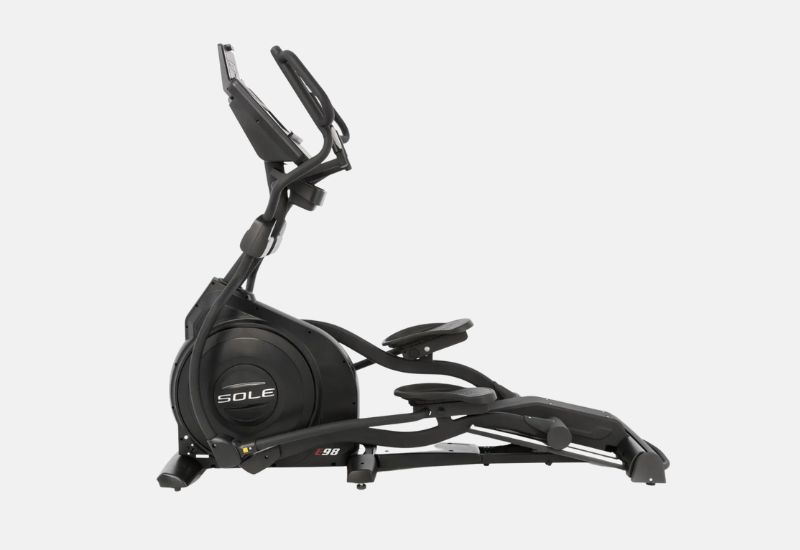 ✅ Tons of programming features
Variety is the spice of life—we all know that. Even though we have our favorite machines/workouts, having lots of options for types of workouts and even classes can help us stay motivated over the long term.
The Sole E98 has an adjustable console that includes all of the usual programs and workouts that you'd expect from a cardio machine, including HIIT, manual, Hill, fat burning, custom programs, and so on.
Additionally, you can take things further with Sole Fitness' STUDIO app, which has something like 3,000 different trainer-led classes.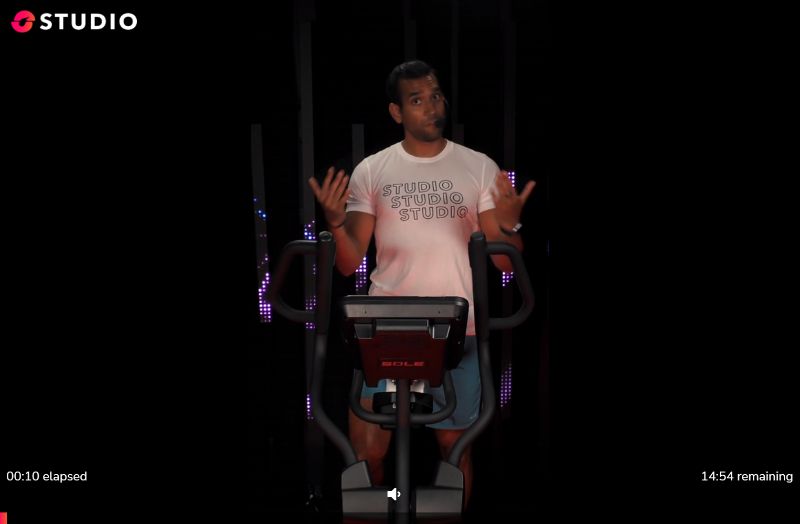 While I wouldn't put it on the same production level as Peloton, who really pioneered the trainer-led online class thing, STUDIO holds its weight, with tons of existing classes and new ones coming online each week.
(Note: The app will have to be paired with your machine via a smartphone—the app is not installed directly to the console on the machine.)
Sole Fitness E98 – The Cons
Okay, we've covered the things I really like about this machine.
But surely there must be some cons, some things that I don't like?
Welp, you'd be right!
❌ Assembly is a pain in the buttocks
While I love Sole ellipticals, I learned my lesson after purchasing a couple of them in 2019 and assembling them myself for my gym.
The lesson was this: Never again.
That time, I spent around 7 hours putting the two machines together.
The instructions for assembly are crammed into just four steps, or rather, four detailed drawings that are exploded out.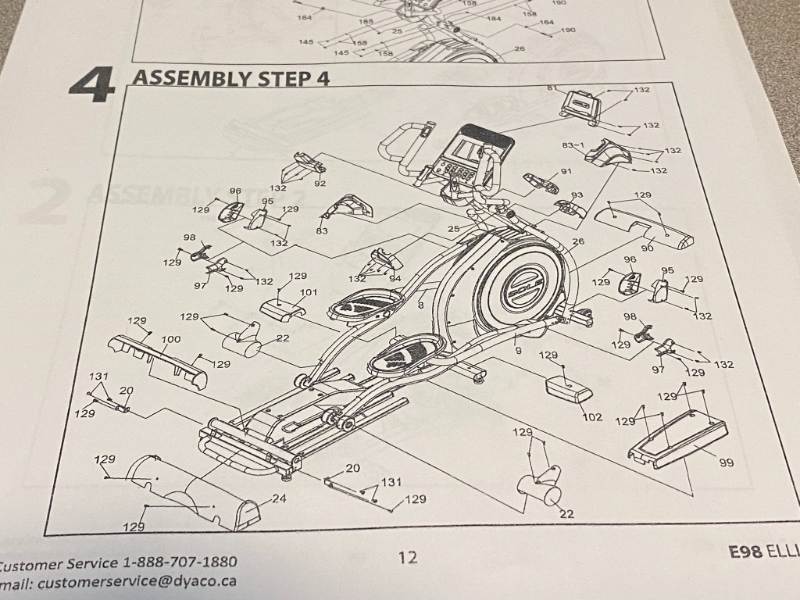 So the good news is that there are just four steps. The bad news is that each step has about 45 micro-steps crammed into them.
Sole now offers in-home assembly for their ellipticals, and if your time is valuable, I would highly recommend taking advantage of this option, which is presented as an option when checking out on the Sole official website.
How Does the E98 Compare to Other Sole Ellipticals?
Sole has seven different ellipticals, and the E98 is the Granddaddy in terms of price and mostly in features.
In this comparison, we will look primarily at how the Sole E98 compares to the Sole E95 and the E95S, which are Sole's next most expensive and feature-rich ellipticals.
(For a full and detailed look at all of their ellipticals and how they line up, check out this Sole ellipticals comparison).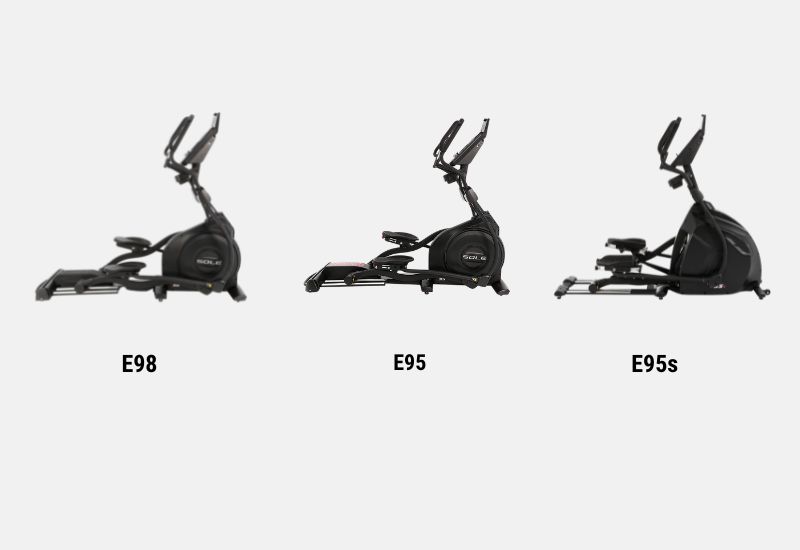 | | | | |
| --- | --- | --- | --- |
| | E98 | E95s | E95 |
| Price | $2,299 | $2,199 | $1,699 |
| Flywheel | 32lb | 30lb | 27lb |
| Stride | 20" | 18-24" | 20" |
| Incline | 20 levels | No | 20 levels |
| Unit weight | 249lb | 265lb | 236lb |
| Adjustable foot pedals | No | No | Yes (10 positions) |
The Bottom Line
The Sole E98 Elliptical Trainer is an elliptical that is made specifically for light commercial settings.
But priced for the home user who wants the ultimate in stability and smoothness when working out on the elliptical.
While it is a pain in the butt to assemble, and difficult to move once assembled, the E98 is an excellent choice for the elliptical enthusiast who craves lots of workout variety and the smooth ride of an industrial-grade elliptical.
| | |
| --- | --- |
| ✅ PROS | ❌ CONS |
| Bombproof 32lb flywheel; super stable ride | No adjustable foot pedals |
| 20 levels of power incline | Assembly is a challenge |
| Inexpensive commercial elliptical | |
| Built like a tank | |
Best Commercial Elliptical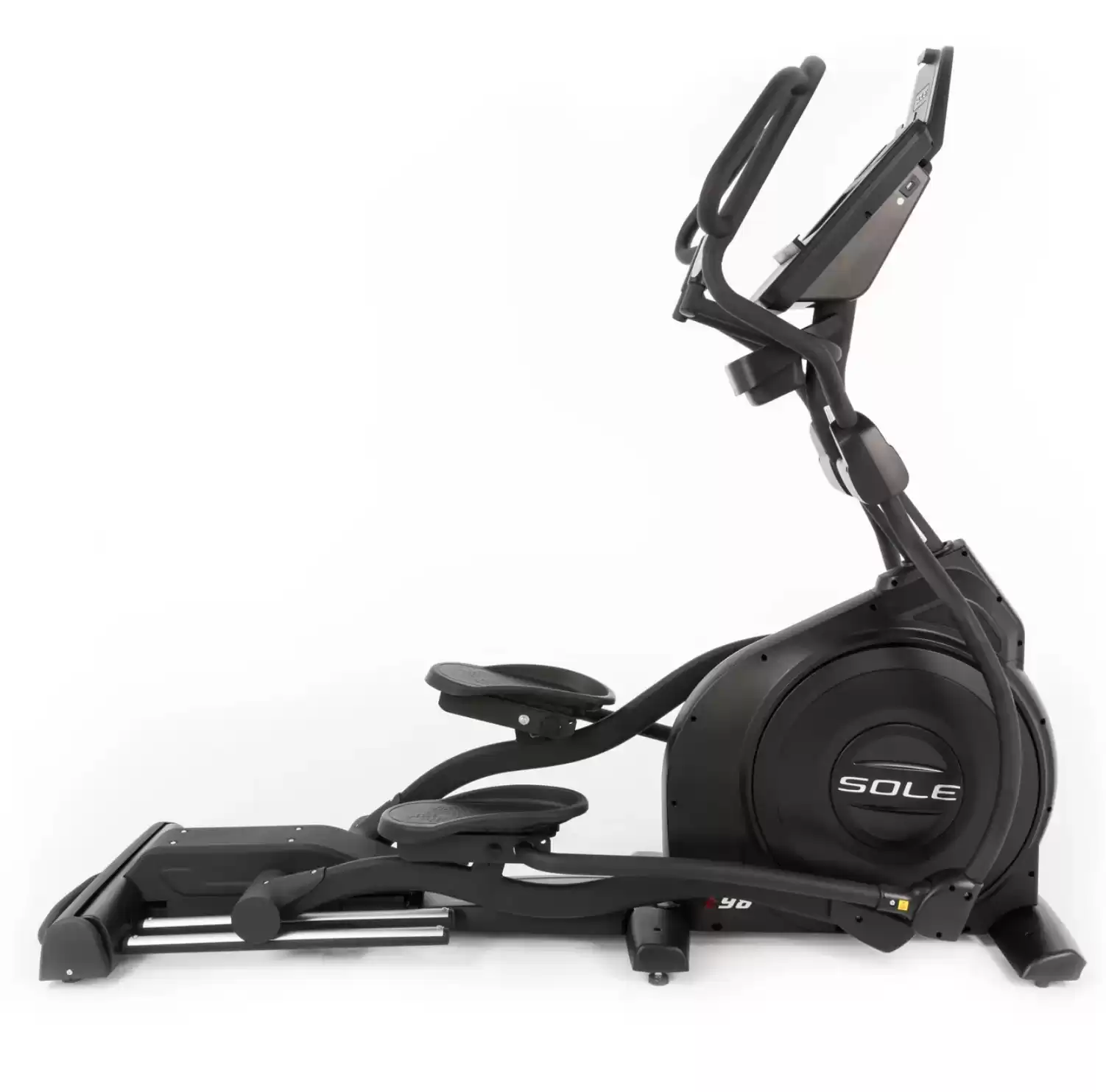 More Elliptical Guides and Reviews
Sole E95 vs Sole E35: Which One is Best for You and Your Workout Goals? Wondering what separates the Sole E95 and the Sole E35? Here's a detailed look at the differences and similarities between these two popular ellipticals.
Sole E35 Elliptical Trainer Review | The Best Elliptical Under $1,500 on the Market. The Sole E35 Elliptical Trainer is one of the best ellipticals for home gyms. Here's a full review of this elliptical, including pros, cons, and whether it's the right elliptical for you and your home gym.