Looking for a hands-on review of the ProForm Hybrid Trainer XT? Read on for the pros, cons, and comparable machines of what we consider the best elliptical bike combo on the market.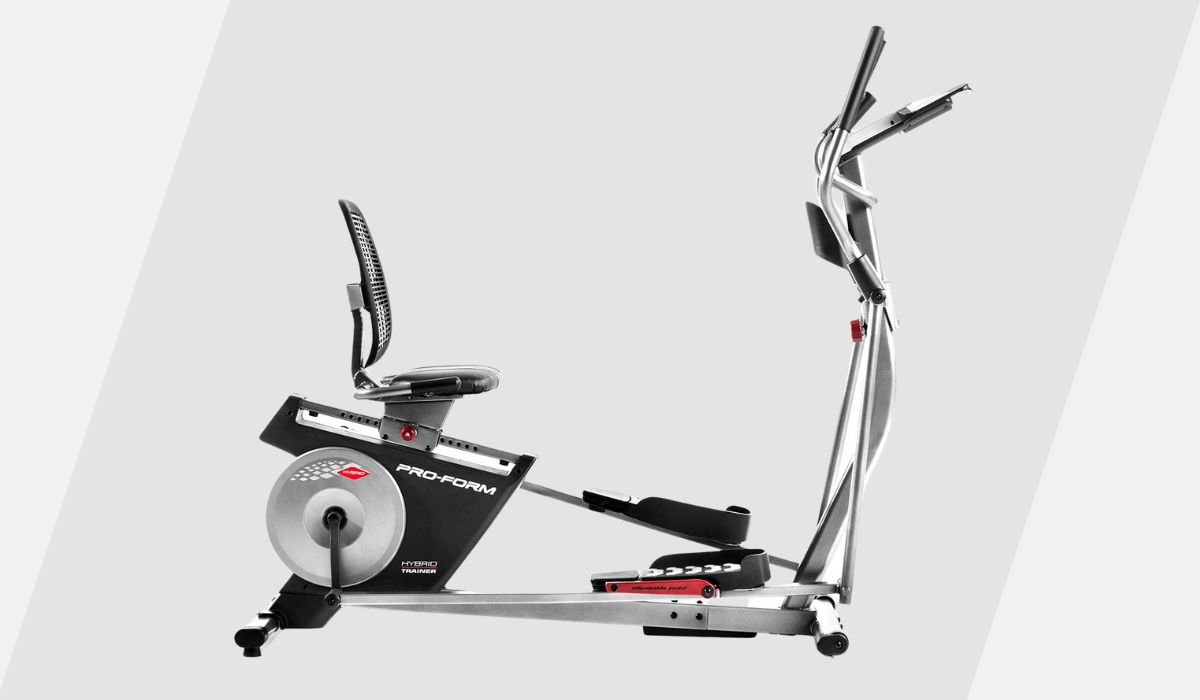 The ProForm Hybrid Trainer XT is a unique type of cardio machine—an elliptical and bike combo.
Made for beginners and people looking for peak low-impact exercise, the Hybrid Trainer XT is a relatively inexpensive trainer for home use.
But is it the right cardio machine for you?
In this review of the ProForm Hybrid Trainer XT, that's what we are going to find out!
We will take the trainer for a spin and a ride, outline the pros of the machine, and some things to be aware of, and list some comparable elliptical trainers.
By the end, you will have a crystal-clear idea of whether the ProForm Hybrid Trainer XT is the machine that is going to help you achieve your fitness goals.
Let's jump right in.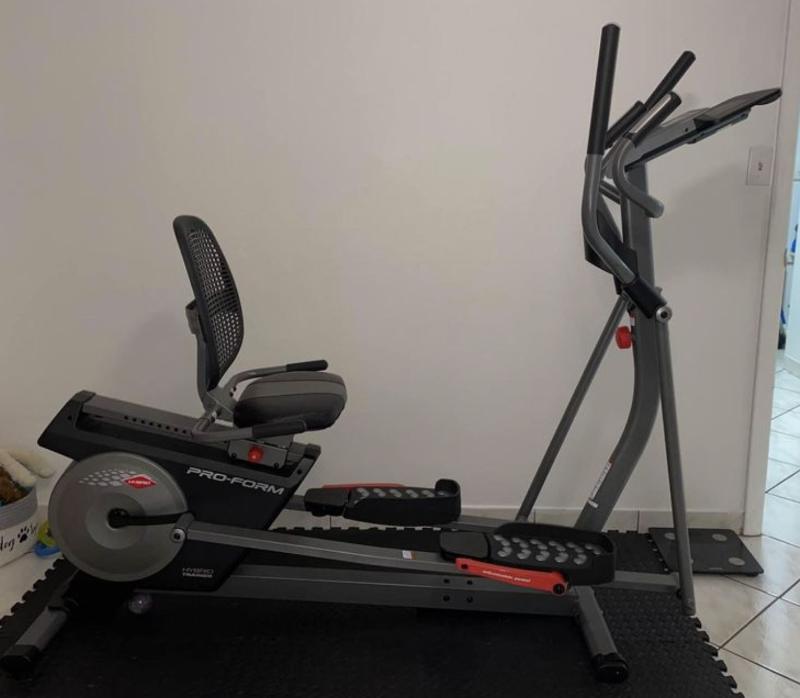 ProForm Hybrid Trainer XT – Key Specs
Price: $599
Stride length: 15"
Display: 5" LCD
Flywheel: 13lbs
16 resistance levels
Weight capacity: 250lbs
Footprint: 56.8" long x 25.4" wide x 49.8" tall
30-day iFIT trial ($39 a month after)
Warranty: Frame (5 years), parts and labor (1 year)
ProForm Hybrid Trainer XT – The Pros
The ProForm Hybrid Trainer XT is a very specialized type of cardio machine that exists in a category largely of its own.
Here are the main pros and features that stand out:
⭐ Smooth stride.
I didn't have much in the way of expectations when I tried the ProForm Hybrid Trainer XT for the first time at the iFit showroom in Logan, Utah.
Being a bigger fella, the small footprint, lighter overall machine weight, and the light flywheel didn't shout "stability!" to me.
And while this is not the elliptical trainer for intense cardiovascular exercise like HIIT or Tabata workouts, it is a very smooth ride for beginners and novices.
The flywheel on the Hybrid Trainer XT is 13lbs, which is lighter than what I would recommend for more experienced users.
I also noticed that the stability was much better when used as a bike compared to the elliptical, where I experienced a little wobbling. (I'm also 40lbs heavier than the max user weight, so there's that.)
⭐ It's a two-in-one machine!
Of course, this is the primary benefit of the Hybrid Trainer XT—the fact that it's both a recumbent bike and a stand-up elliptical trainer.
Switching between the two is super easy and requires just manually adjusting the incline on the pedals. Literally takes a few seconds to make the adjustment, and you are in business.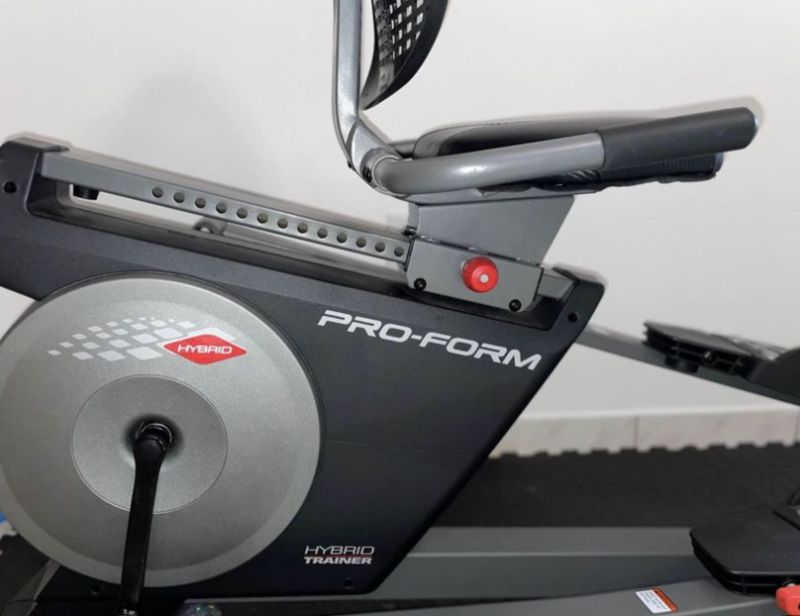 People who like keeping things fresh or want a cardio machine that allows you to quickly jump between different types of exercise will really like the Hybrid Trainer XT and how simple it is to switch between elliptical and bike.
⭐ Budget-friendly.
It's no secret that elliptical trainers can be very pricey. The cost of elliptical trainers can vary from $500-2,000 and go up from there for commercial-grade elliptical trainers.
The ProForm Hybrid Trainer flips the script on this, with a price tag of just $599. This is inexpensive for an elliptical trainer let alone a machine that combines two different cardio machines.
⭐ Ultra-low impact.
One of the main benefits of elliptical trainers is that they are a low-impact form of cardiovascular exercise.
You can shred a ton of calories and burn fat without placing too much stress and force on the joints and ligaments in your legs.
The ProForm Hybrid Trainer takes the low-impact nature of elliptical training a step further by adding a recumbent position.
The elliptical trainer, and especially a recumbent elliptical, is an excellent cardio machine for people with bad knees.
⭐ Lots of workout functionality.
The console on the Hybrid Trainer XT is a little basic, I will admit. The 5" LCD screen and 16 workout programs (8 for the bike, 8 for the elliptical) feature all the basic workouts you'd expect to find on an elliptical trainer.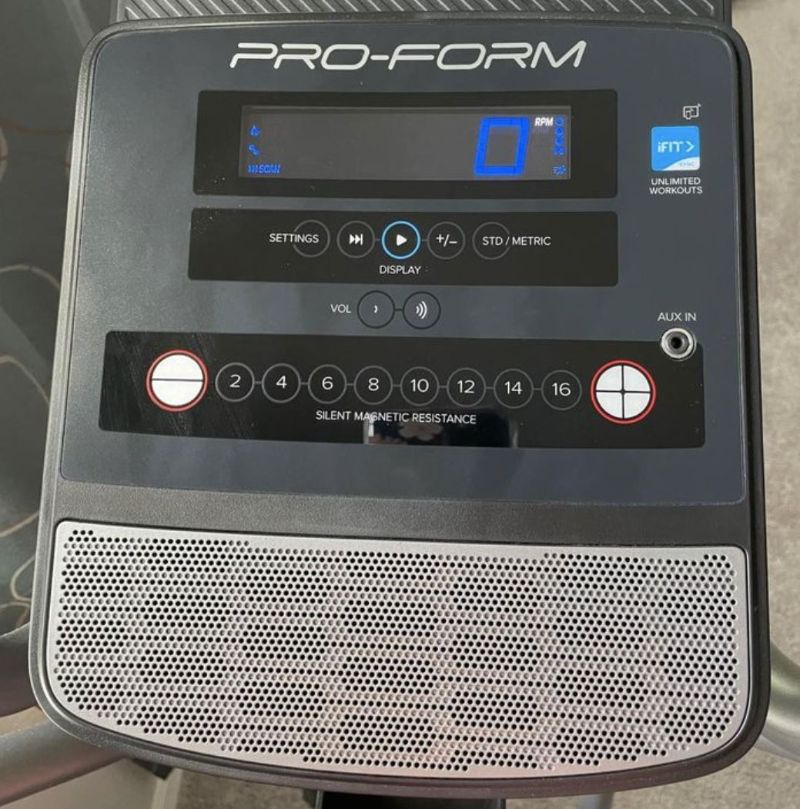 Above that, the Hybrid Trainer XT can be paired with iFIT's online programming via your smartphone or tablet. iFit carries literally thousands of workouts, trainer-led classes, and much more.
The Hybrid Trainer XT comes with 30-days of access to iFIT, at which point if you want to continue the subscription, there is a monthly fee that workouts to around $20 to $30 depending on the type of membership.
⭐ Straightforward assembly.
Despite being a more complex machine compared to a standard elliptical or recumbent bike, the ProForm Hybrid Trainer XT was straightforward to put it together.
The assembly manual that comes with the machine is thorough and breaks down the assembly process step-by-step.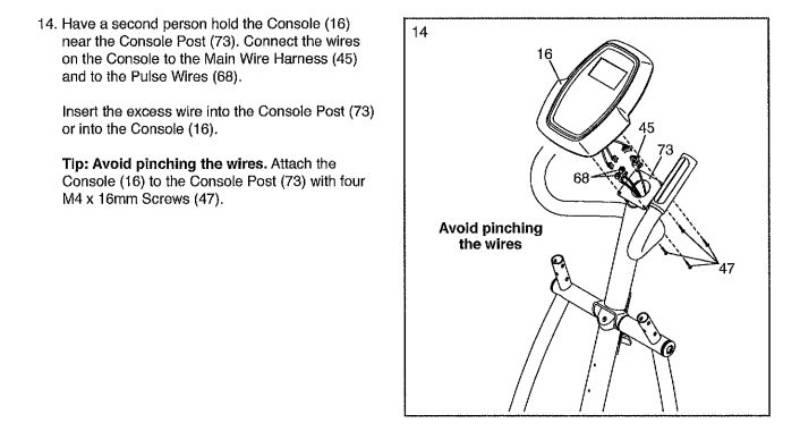 One of the main criticisms and frustrations I have with cardio machine companies is when they ship you a disassembled cardio machine with 232 parts and a one-page assembly "manual."
The assembly manual for the ProForm Hybrid Trainer XT ships with a 32-page manual that details each step of the assembly process.
⭐ Best elliptical and bike combo on the market
The ProForm Hybrid Trainer XT is the best of its kind–an elliptical and recumbent bike combination–on the market, and it's not even close.
The Body Power 3-in-1 Elliptical and Bike Trainer has some of the same ease with switching between bike and elliptical, but is a much more lightweight machine.
Same goes for the Sunny Health and Fitness Essential Upright Bike and Elliptical Trainer. It has a reduced price compared to the ProForm machine, but is rated for significantly less weight, has less seat adjustability, and a shorter stride length (12.5″ vs 15″ on the ProForm).
When it comes to elliptical and bike combo machines, the ProForm Hybrid Trainer XT is head and shoulders above the competition in terms of stability, build quality and options for adjusting the ergonomics of the seat and pedals.
ProForm Hybrid Trainer XT – The Cons
There are two main criticisms I have of the ProForm Hybrid Trainer XT.
They include:
Not ideal for taller people.
The stride length of the ProForm Hybrid Trainer is 15", which is not going to be long enough for tall people and users with longer legs.
For more information on how to size up an elliptical for your particular gait, check out this article on how to choose the right stride length on an elliptical.
Low max user weight capacity.
The ProForm Hybrid is rated for users up to just 250lbs.
For people who are bigger boned or heavier, or who are simply getting started on their fitness journey, the trainer will not be sturdy enough.
I am around 285lbs, and while the recumbent setting didn't produce any wobble, using the Hybrid Trainer XT did create some shaking and wobbling on the frame.
The Bottom Line
Working at home can be tough–even though the convenience is hard to beat–and let's be honest, many people struggle to stay consistent and motivated to exercise at home. The running joke with people buying cardio machines for weight loss at home is that they are simply buying an expensive towel rack.
But the increased functionality and versatility of the ProForm Hybrid Trainer XT gives you everything you need to stay engaged and target every major muscle group in your body within the same workout.
The Hybrid Trainer XT is also an affordable and reasonably stable (especially compared to its competitors) machine that is simple to use for both novices and experienced cardio enthusiasts alike.
To recap:
| | |
| --- | --- |
| ✅ PROS | ❌ CONS |
| Two-in-one elliptical and bike combo | Shorter stride length (not for taller people) |
| Easy to switch exercise modes | Low max weight; not for bigger users |
| Best elliptical + bike combo on the market | |
| Can be paired with iFit | |
| Ultra low-impact | |
| Budget-friendly pricing | |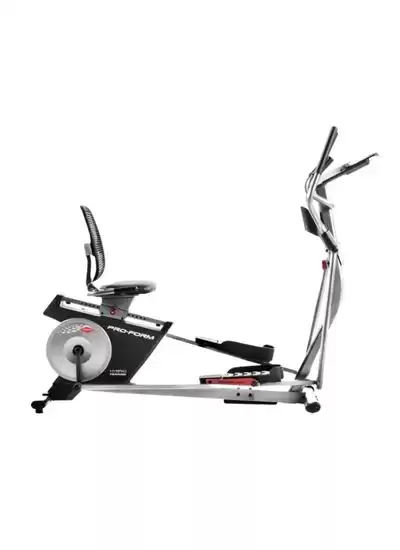 ---
More Elliptical Guides and Reviews
ProForm Ellipticals Comparison – Which One is Best for Your Workouts? Wondering which ProForm elliptical is right for you and your home gym? We compare the full range of ProForm ellipticals so you can buy confidently.
Elliptical Buying Guide – Everything You Need to Know to Buy with Confidence. Want to buy an elliptical but don't know where to start? Arm yourself with the knowledge to choose the perfect elliptical for you and your workout goals.