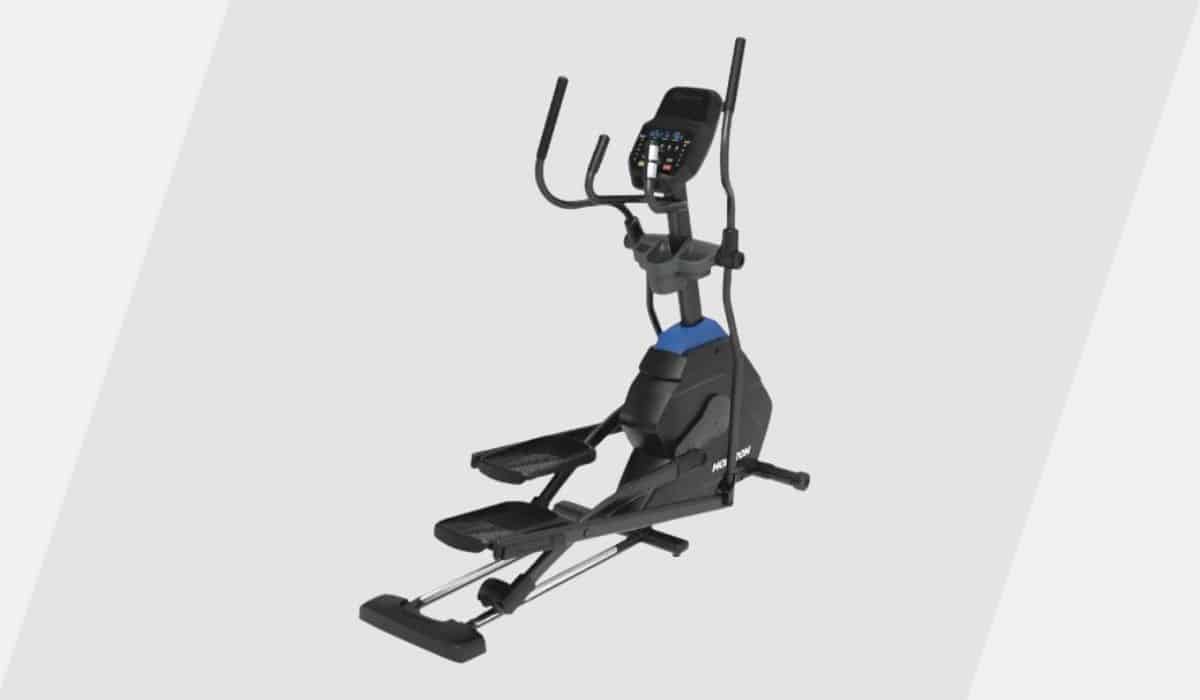 In this review of the Horizon EX-59:
The Horizon EX 59 Elliptical is the best-selling and most-awarded elliptical machine made by Horizon Fitness.
It's a top pick for anyone who wants an easy setup, sturdy machine, and simple-to-master controls that allow you to select your workout and get training with minimal hassle.
The Horizon EX 59 is also beautifully budget-friendly, one of the most affordable models on the market, fitting in the "sub-$800" category. Thanks to the Ergonomic Six Star frame, you work out in a more natural position and move more efficiently with every step.
In this review, we'll take a closer look at the Horizon EX 59, what makes it great, where it comes up a bit short, how it stacks up against other ellipticals I've reviewed, and more.
By the end of this post, you'll know exactly what it is the Horizon EX 59 has to offer you, and you'll be able to decide whether or not it's the right choice for your home gym.
Let's dive right in.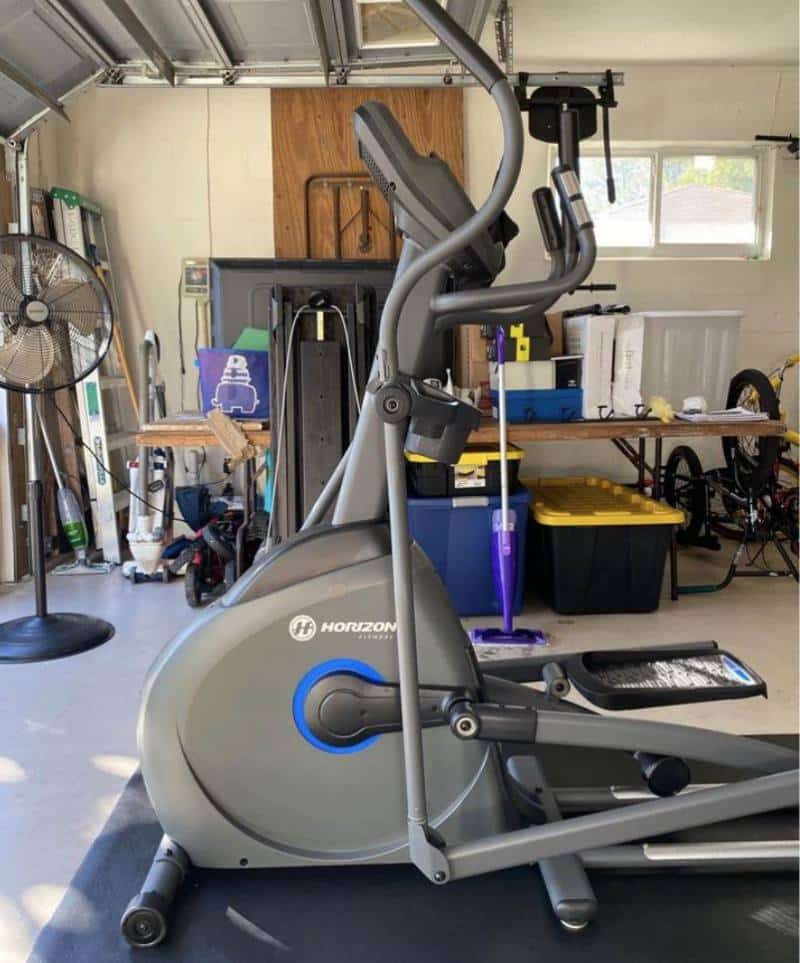 Horizon Fitness EX-59 Elliptical — The Key Specs
Price: $699
18" stride length
145lb unit weight
300lb max user weight
Very light flywheel best-suited to shorter/lighter users
74" long, 25" wide, 64.5" high
Built-in device holder and integrated Bluetooth speakers
Horizon Fitness EX-59 Elliptical — The Pros
Here are a few reasons you'll quickly come to love the Horizon EX 59 right out of the box:
Quick Assembly Time
I've struggled my way through assembling a lot of gym equipment in my time, poring over hard-to-read instructions manuals and trying in vain to figure out what went missing or what piece needs to go where.
So when an elliptical trainer is as easy to assemble as the Horizon EX 59, you know that's a good thing!
According to Horizon Fitness' website, the machine can be "set-up in 30 minutes or fewer". I found the "or fewer" thing spot-on—I had the machine out of the box and put together in just over 20 minutes.
Assembly was easy, the instructions manual was beautifully clear, and enough parts came pre-assembled and packaged in a way that made it a simple process to put it together.
Price
You can't go wrong with the Horizon EX 59's price tag!
It's rare to find a good quality elliptical that falls into the sub-$1,000 range. Many of the machines that are so low-priced tend to be "budget-quality," meaning they don't have great features, they're not built quite tough enough, or they're just not up to heavy-duty use.
As you'll see in the "Cons" section below, the Horizon EX 59 is definitely on the lighter side.
However, its light weight doesn't mean it's not sturdy or built tough. Once I tested it out, I was pleased by how solid the machine felt, and how efficiently it moved.
It's definitely worth more than its very reasonable price tag suggests and made our list of the best elliptical trainers for under $800.
Easily Movable
I did like that the machine weighs just 145 pounds. That's about as much as my very small adult daughter (don't tell her I said that!).
The light weight made it easier to set up, but even once it was set up, I could still move it around my home gym with minimal effort until I found the place that I (read: my wife) decided it fits best.
Durability
As I mentioned above, the Horizon EX 59 is a very solid, sturdily built machine despite its light weight.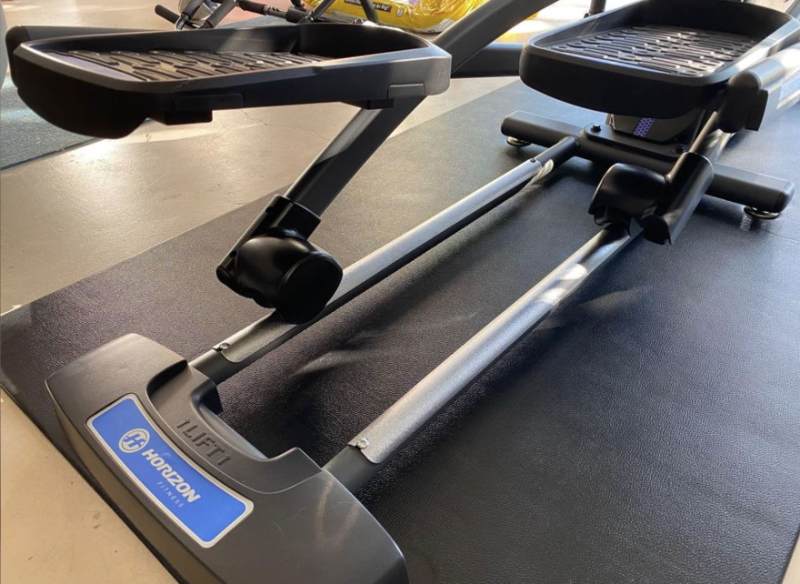 There were no wobbles or wiggles from the mechanical components, and it didn't struggle under my weight (around 280 pounds). It operated smoothly, quietly, and efficiently, with no grinding of gears or groaning of motors even when I pushed it to max speed, incline, and resistance.
Horizon Fitness clearly believed in the durability of its product, because the Horizon EX 59 is backed by a lifetime frame warranty, as well as a 1-year warranty on the brake, parts, and labor.
The higher-end models—such as the Horizon Fitness 7.0 AE Elliptical—do have higher warranties (such as a lifetime brake warranty), but given that the EX 59 is one of Horizon's lowest-priced models, it's good to see they still have a good warranty to back up the durability and reliability of the machine.
Good Ergonomics
The Horizon EX 59 is built with Horizon Fitness' "Six-Star Frame", a design that encourages more natural movement, keeps the pedals closer together to avoid knee/hip strain, and keeps you comfortable during the workout.
I have used more ergonomic machines—such as the Sole Fitness E35 and Sole Fitness E95—but the Horizon EX 59 definitely offers a comfortable ride with minimal wear and tear on my joints.
Integrated Entertainment Options
This is one of my favorite things about the Horizon EX 59!
I'm not the kind of guy who likes to watch sports or Netflix on my TV (or built-in TV) while I train. Instead, I like to read.
Yeah, I know, sounds strange. But I'm a die-hard reader, and nothing helps me get in the mood to work out like a great story. All I have to do is pop my tablet onto the built-in cradle and get sucked into one chapter after another while I train.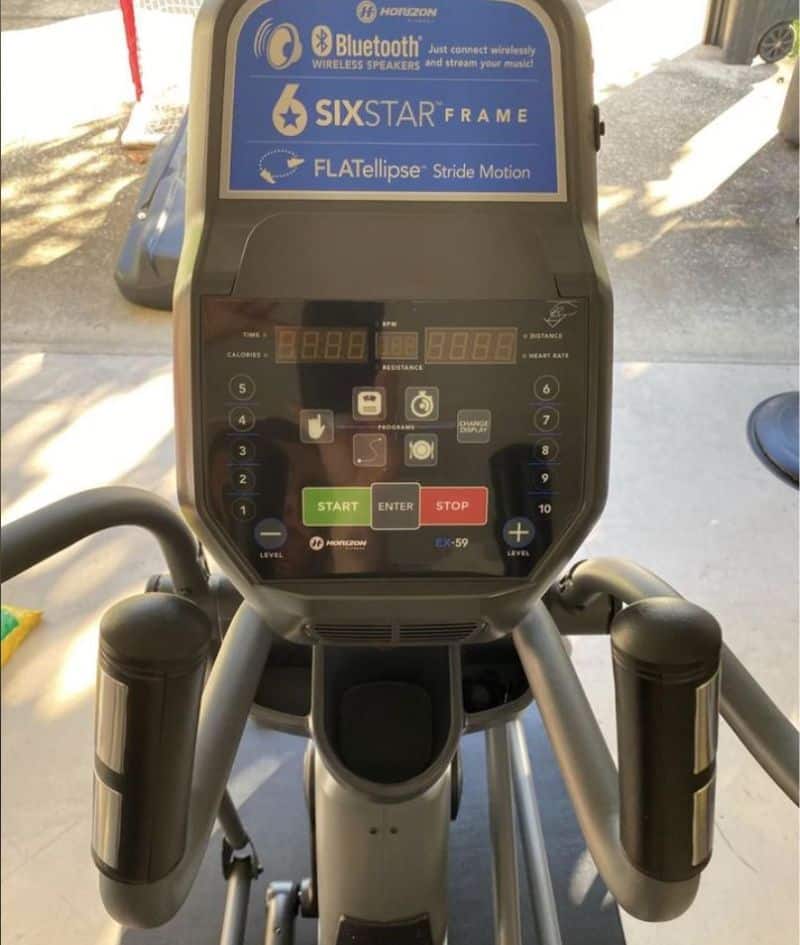 The Horizon EX 59 comes with a well-placed device holder that's A) sized right for my iPad (and iPad Mini), and B) high enough that I don't have to bend or hunch to read while I train. The cradle keeps my tablet firmly in place so I can read throughout my training session.
But that's not all it has to offer!
The Horizon EX 59 includes a pair of built-in speakers that connects via Bluetooth to your smartphone, tablet, even PC. This lets me listen to my audiobooks while I train, so I can keep up with my story even if my tablet runs out of battery.
Not that that'll ever happen, though, because the integrated rapid-charge USB port keeps my devices all topped up.
Horizon Fitness EX-59 Elliptical — The Cons
As with any machine, the Horizon EX 59 does have a few drawbacks that I feel the need to share here.
Too Light
I'm a big, heavy guy, so a 14-pound flywheel just isn't enough to give me a proper workout. There are 10 levels of magnetic resistance provided, but because the flywheel is so light, it feels like the "1 to 5" range on a machine with a 20 or 25-pound flywheel.
That being said, my much smaller and lighter wife finds it has sufficient resistance for her workouts. It's definitely suited to users like her, but bigger, heavier trainees won't really get a great workout.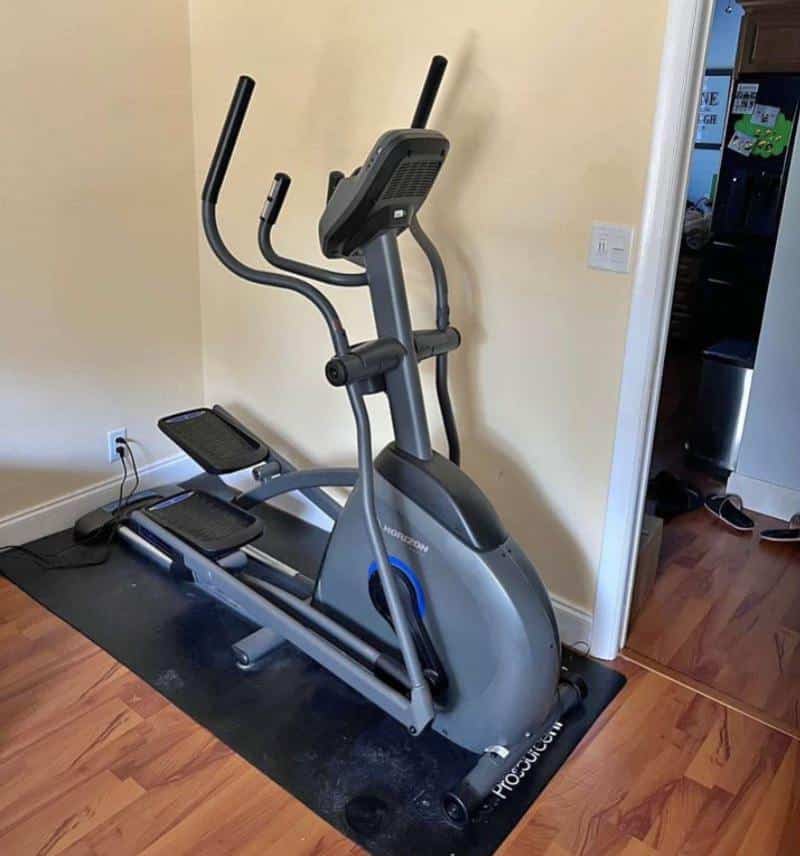 Short Stride Length
The Horizon EX 59 has an 18-inch stride length, which is much too short for my 6'6" frame. For my 5'3" wife, however, it's just the right stride length.
No Incline
This, for me, is a HUGE con.
I like maxing out the incline on my elliptical to target my glutes, which are crucial for a strong core. Sadly, that's not possible because the Horizon EX 59 doesn't offer any incline options.
That's right: the Horizon EX 59 allows you to raise the resistance, but there is no incline adjustment offered.
Though it's great for level-ground training, you won't be able to shred those glutes without buying a separate machine (stair climber or elliptical that features an incline option).
Horizon Fitness EX-59 Elliptical vs Horizon Fitness 7.0 AE Elliptical
The Horizon EX 59 is Horizon Fitness' budget-friendly, entry-level model, but it has a higher-end, more versatile older brother in the Horizon Fitness 7.0 AE Elliptical.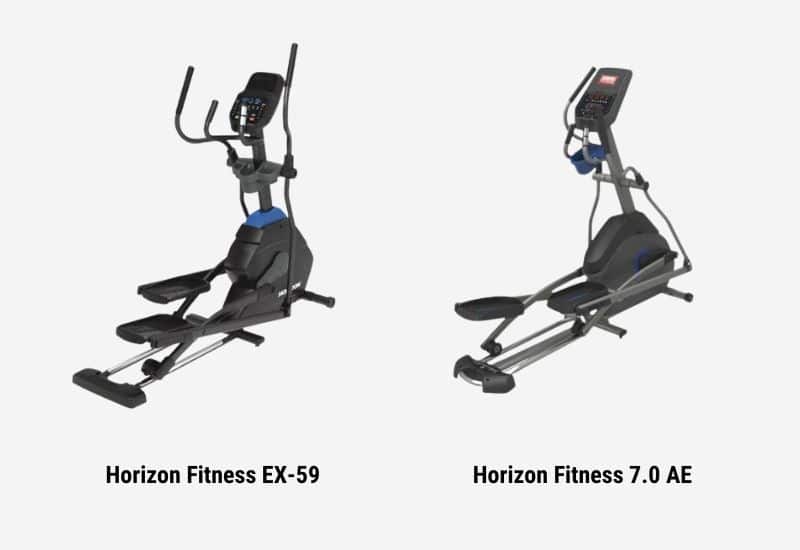 The 7.0 AE has a longer stride length and a ton of incline variability (20 levels!) and is only around $150 more than the EX-59, making it a value-oriented option for users who like the EX-59 but want just a couple more bells and whistles.
Here is how the two elliptical trainers stack up:
| | | |
| --- | --- | --- |
| | Horizon EX 59 | Horizon 7.0 AE |
| Price | $699 | $849 |
| Flywheel | 14.5lb | 23lb |
| Stride length | 18" | 20" |
| Incline | N/A | 20 levels |
| Unit Weight | 145 lbs | 194 lbs. |
| Weight Capacity | 300 lbs. | 325 lbs. |
Horizon Fitness EX-59 Elliptical vs the Competition
How does the Horizon EX 59 stack up against its competition?
Here are the ellipticals that most closely match the EX-59 in terms of price and features:
Sole Fitness E25 – The Sole E25 is a similar lightweight machine, but the 20-pound flywheel and 20" stride length make it a better machine for bigger, taller users. The design encourages a more natural gait, like the Horizon EX-59, but the controls and integrated workout programs are slightly more advanced than Horizon's budget model. The price, however, is significantly higher.
Schwinn 470 – The Schwinn 470 is only slightly more expensive than the Horizon EX-59, and offers a similar weight capacity. However, it can be raised to an incline, has 25 levels of resistance (vs. 10), and has both a heavier flywheel and a longer stride length. Its weight, though, makes it far less portable than the Horizon EX-59.
Sunny Health & Fitness SF-E320001 – The Sunny Health & Fitness SF-E320001 also has an 18-inch stride and a 17.6-pound flywheel, making it well-suited to lighter, smaller users. The price tag is actually lower than the Horizon EX-59's, and it includes 24 integrated workouts, a 330-pound weight capacity, and 16 resistance levels. Like the Horizon EX-59, however, it offers no incline options.
Nautilus E616 Elliptical — My favorite elliptical trainer under $800 is the Nautilus E616. It has a solid build with a 22lb flywheel and 20″ stride, and perhaps more importantly for people like me who crave an incline option when hitting the elliptical, a motorized incline.
The Bottom Line
As you've seen in this review, the Horizon EX 59 is a machine that's definitely worth its low-end price. Yes, there are a few drawbacks that certain users (namely, myself) will find makes it a less-than-ideal choice for their training.
More advanced fitness trainees who need more options—such as greater resistance or adjustable incline—may be better off elsewhere.
However, for smaller, lighter users or "casual" trainees who want an affordable elliptical to use in their home gym, the Horizon EX 59 is definitely a great choice.
You won't find many better-priced models on the market, and you'll appreciate its build quality, ease of assembly, and how easy it is to move if you need to shift it around to free up space in your home gym.
| | |
| --- | --- |
| ✅ PROS | ❌ CONS |
| Budget-friendly pricing | No incline |
| Easy to assemble | Stride length too short for taller users |
| Bluetooth connectivity and media tray | Sturdier options on the market for just a few $ more |
| 18" stride length | |
| Easy to move | |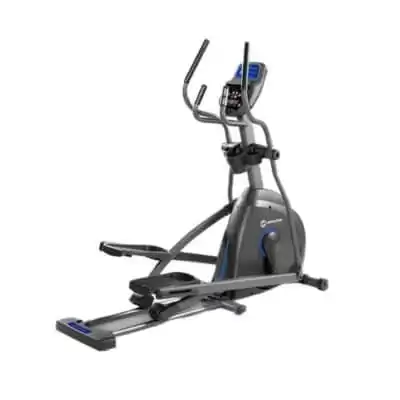 ---
More Elliptical Guides and Resources
Elliptical Buying Guide – Everything You Need to Know to Buy with Confidence. Want to buy an elliptical but don't know where to start? Arm yourself with the knowledge to choose the perfect elliptical for you and your workout goals.
The Different Types of Elliptical Machines (Pros and Cons of Each). The elliptical machine is one of the best tools to achieve weight loss goals. Here's a look at each type of elliptical machine, including the pros and cons of each, so that you can use the right one for you and your training goals.