Wondering if the NordicTrack Commercial 14.9 Elliptical is right for you? Here's a full review of this elliptical that is perfect for doing online classes and getting in killer shape.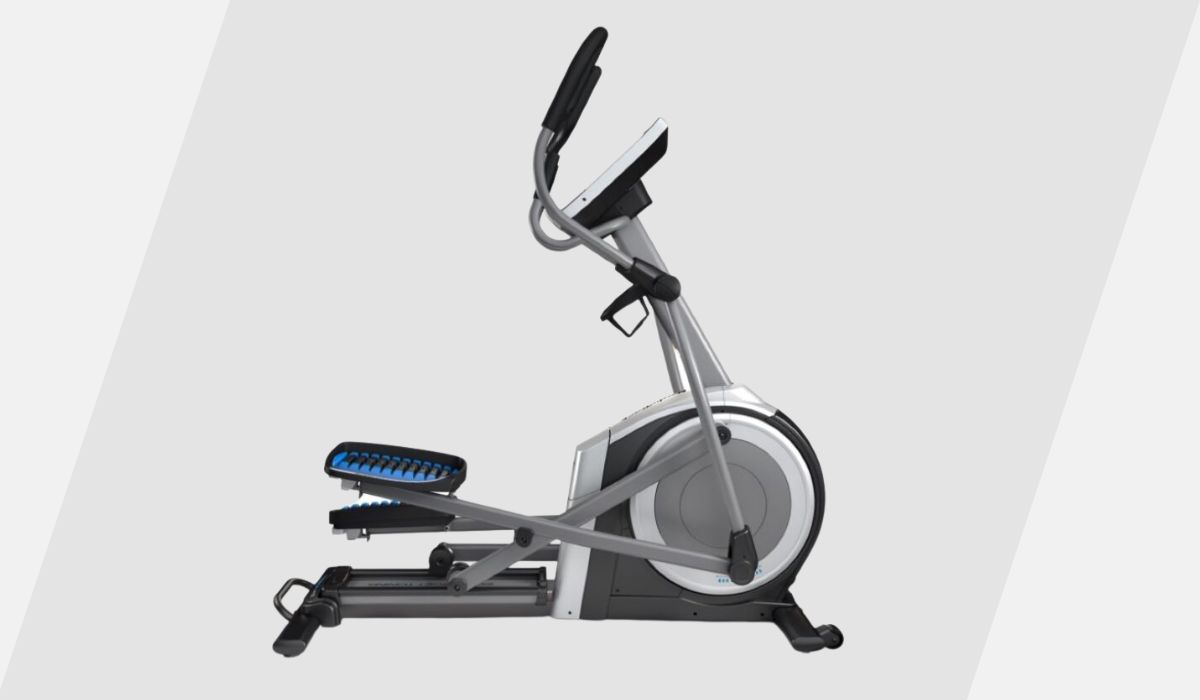 The NordicTrack Commercial 14.9 is one of the best elliptical machines on the market for home gyms.
It's got a big, glorious 14" HD screen that is perfect for doing online workouts, the biggest flywheel available for residential ellipticals (32lb), and NordicTrack's legendary brand reputation backing it all up.
In other words, the NordicTrack Commercial 14.9 Elliptical is the perfect trainer for people who love doing online classes and want an insanely smooth striding experience.
In this review of the Commercial 14.9, we cover the pros and cons of the machine, compare it to other NordicTrack ellipticals, and compare it to the competition.
By the end, you will know with total confidence whether the NordicTrack Commercial 14.9 Elliptical is the cardio machine to help you achieve your health and fitness goals.
Let's jump—or rather, stride—right in!
NordicTrack Commercial 14.9 Elliptical – Key Specs
Price: $1,499
Screen: 14" HD touchscreen
Interactive programming: iFit compatible (30 days free with the machine, $39 a month afterward)
Flywheel: 32lbs
Resistance levels: 26
Machine weight: 210lb
Max user weight: 350lb
Footprint: 67" x 29"
Warranty: 10 years (frame), 2 years (parts), 1 year (labor)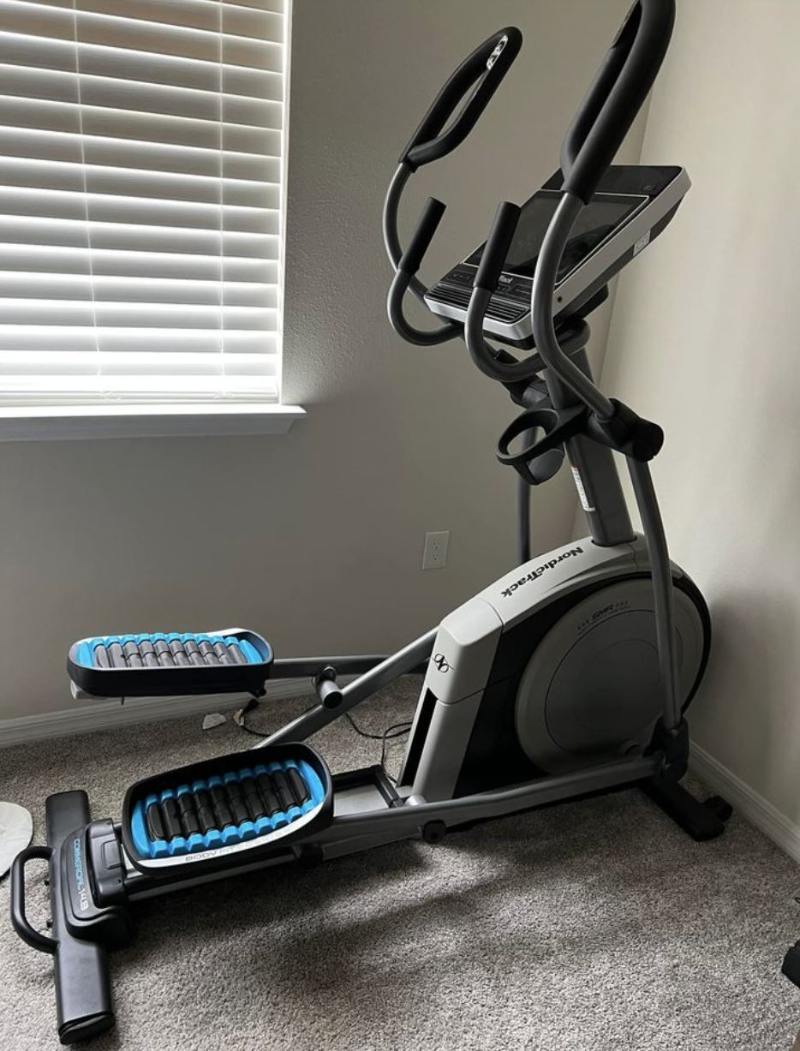 NordicTrack Commercial 14.9 Elliptical – The Pros
Okay, without any messing around, here are the key things that make the Commercial 14.9 stand above other elliptical machines in its class.
They include:
✅ The big screen that is perfect for immersive workouts
Cardio machines have come a long way in recent years when it comes to the console screen.
Where at one point the "standard" was a basic LCD display, now we have crisp, 4k screens broadcasting trainer-led classes from across the world.
The NordicTrack Commercial 14.9 Elliptical jumps on this trend with both feet, with a 14" high-definition touchscreen that is perfect for striding away to trainer-led classes or one of the thousands of workouts in the iFit library.
Note: The subscription to iFit includes more than just elliptical workouts. You also get access to tons of yoga, strength training and many other types of workouts.
If you don't want to do the online classes (or pay the monthly iFit subscription), the Commercial 14.9 does have 35 onboard workouts.
But honestly, if you plan on sticking to the "basics" and not using the iFit subscription, this isn't going to be the elliptical machine for you.
✅ One of the smoothest rides available on a residential elliptical
Like the touchscreens, the build quality of residential ellipticals has increased exponentially in recent years with the explosion of at-home workouts.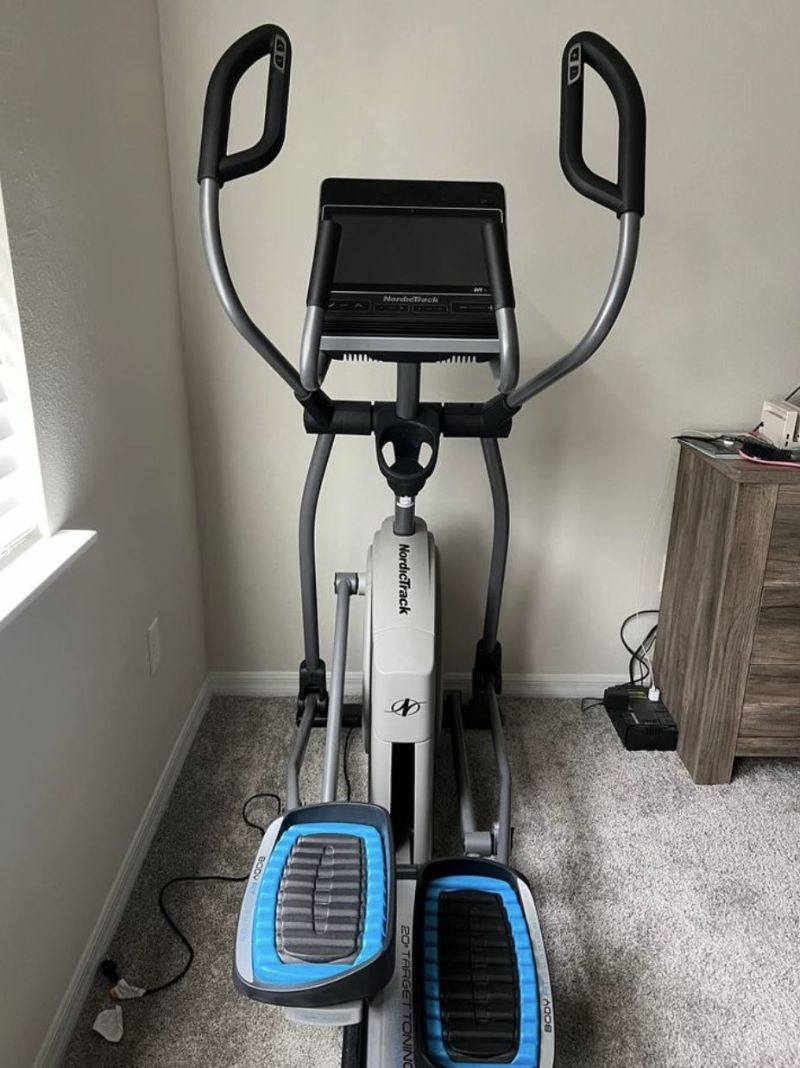 The Commercial 14.9 is at the top of the heap when it comes to generating a smooth ride thanks to a whopping 32lb flywheel. (After testing and reviewing over 50 ellipticals over the years, this is easily the heaviest flywheel on an elliptical designed for residential use.)
The heavy flywheel means you can hammer away on the machine vigorously, at full incline and full resistance, and the 14.9 will not wobble or shake at all.
✅ Auto-adjusting stride length
While I wouldn't consider the NordicTrack 14.9 a pure elliptical with adjustable stride length, it does have SOME variability with the length of your stride.
The 14.9 automatically adjusts the stride between 17.5" to 18.7" to your natural gait and form.
For most people, this is awesome news–you can hit that perfect stride that feels most comfortable when working out.
✅ The online training is legit.
Having worked as a personal trainer for years, I've seen the difference it can be having someone coaching you and pushing you while working out.
The iFit trainer-led classes are awesome for giving you a little motivation. It doesn't take long to have your favorite trainers and classes.
So while it's not the same as a personal trainer or coach in real life, having someone cheering you on through a screen can be a legitimate game-changer.
✅ Quiet magnetic drive.
Cardio equipment can be loud–anyone who has owned a treadmill, rower, or an assault bike can attest to this. Making a racket while kids, wife, and/or dog are trying to sleep in the next room tends to lead to grumpiness and protests.
The drive on the NordicTrack 14.9 uses magnets to create resistance–the magnets close in on the flywheel as you crank up the resistance–which means there is no airflow or loud motors banging around and making a ton of noise.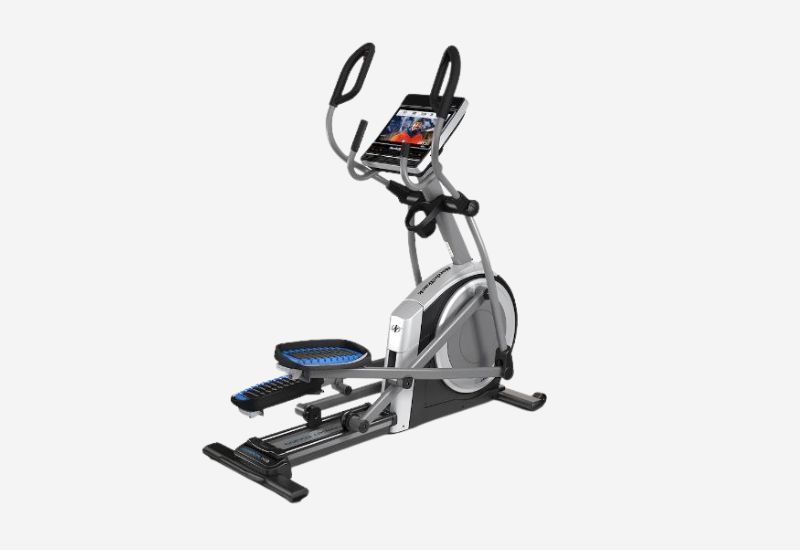 No matter how hard I went to town on the Comercial 14.9, that magnetic drive quietly hummed along, with no one else in the house the wiser. Great for those early morning workouts when you want to get a cardio session in without waking up the house.
✅ Most comfy foot pedals on the market. 
I've tried a TON Of elliptical machines over the years, from the $6,000 Life Fitness Ellipticals in home gyms to the super cheap, questionable-seller third-party seller no-name ellipticals found in the dregs of Amazon's 12th page of ellipticals.
And while the focus on these machines, particularly when investing in one for a home gym, tends to be price and ride, the comfort of the foot pedals plays a sneakily important role.
After all, if your feet get sore from a bad pedal, that $1,500 elliptical is going to turn into a towel rack mighty fast. The 14.9 (and the Commercial 9.9, as well), have the most comfortable foot pedals I've ever used.
NordicTrack Commercial 14.9 Elliptical – The Cons
Not ideal for really tall people.
Calling all tall people–you probably won't love the Commercial 9.9.
As a card-carrying member of the "low doorways are sometimes a problem" club, I found the 14.9 to be a little too short of stride for my liking, adjustable stride length and all.
My wife, who is 5'11" loved it, but me and my gangly legs at 6'5" were a little too tall.
Really tall users will want to check out an elliptical with a longer stride length.
My suggestions include the Sole E95s Elliptical (which has an adjustable stride length of up to 24″), the Nautilus E618 Elliptical (22″ stride length), or the Diamondback 1060ef Elliptical (with your choice of 17″, 20″ or 23″ stride lengths).
No ledge for smartphones or tablets.
I know, the Commercial 14.9 is designed to be an immersive online training experience with that big and shiny 14" HD touchscreen.
But I prefer having my smartphone on me while working, if not to listen to a podcast while working out than to keep my phone on me to stay in touch with my goings on of the day.
The Commercial 14.9 surprisingly doesn't have a ledge that you can park a smartphone or tablet on, which kind of surprised me.
NordicTrack Commercial 14.9 vs Commercial 9.9
NordicTrack has six different elliptical machines on the market right now, and they are clumped in big brother/little brother pairs.
The Commercial 14.9 is the feature-rich, big brother version of the "commercial" grouping, with the NordicTrack Commercial 9.9 Elliptical being the little bro. The 14.9's main upgrades include a significantly larger screen (14″ vs 7″) and a heavier flywheel (32lb vs 25lb).
Here is how the two machines stack up against one another in terms of features: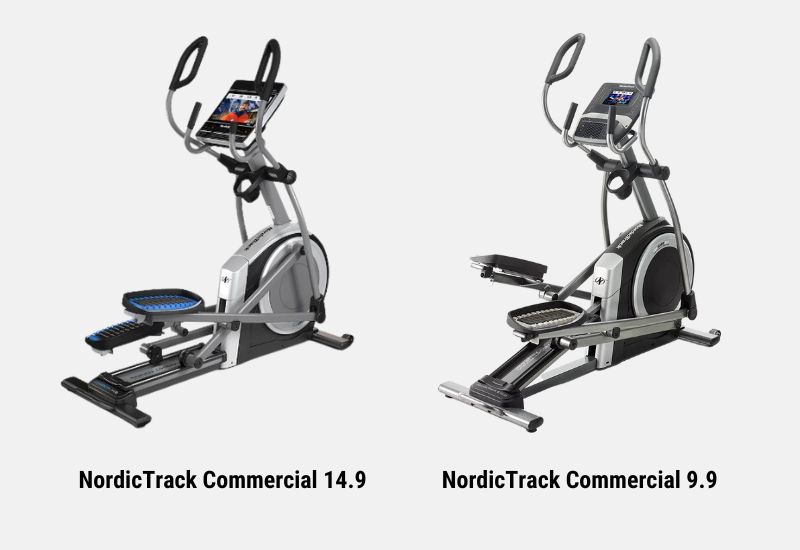 | | | |
| --- | --- | --- |
| | Commercial 14.9 | Commercial 9.9 |
| Price | $1,499 | $999 |
| Screen | 14″ HD touchscreen | 7″ HD touchscreen |
| Resistance Levels | 26 | 22 |
| Flywheel | 32lb | 25lb |
| Machine Weight | 210lb | 244lb |
| Max User Weight | 350lb | 350lb |
| Footprint | 67″ x 29″ | 68.3″ x 28.8″ |
NordicTrack Commercial 14.9 vs the Competition
In our opinion, the strength of the Commercial 14.9 lies in its huge screen for iFit classes.
Here is how it compares to other elliptical machines that are primarily designed for online workouts and trainer-led classes: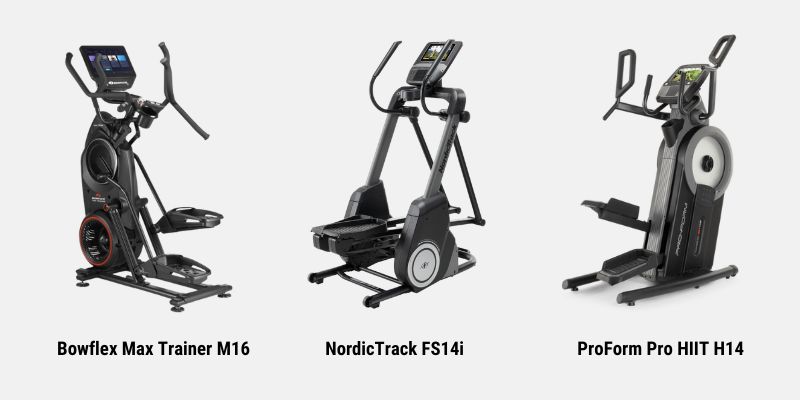 Bowflex Max Trainer 16. An elliptical and stepper combo that has a 16" (!!) HD touchscreen for immersive programming. The 16 is more of a stepper than an elliptical, which is harder and better suited to more experienced users looking to crank out sweaty interval workouts.
NordicTrack FS14i. The NordicTrack FS14i is a unique trainer in that it is a 3-in-1 machine, including a stepper, elliptical, and the running gait of a treadmill (without the impact). The FS14i offers the same 14" HD touchscreen as the Commercial 14.9 that is built for doing iFit programs and workouts but is also significantly more expensive ($2,299).
ProForm Pro HIIT H14. Another elliptical and stepper combo, and made by the same parent company as NordicTrack, the ProForm HIIT H14 also has a 14" HD touchscreen that carries iFit classes and programs. The footprint is tiny on the elliptical/stepper combo, making it ideal for people who are low on floor space in their home gym. It also costs exactly the same as the Commercial 14.9 at $1,799.
The Bottom Line
The NordicTrack Commercial 14.9 is an awesome elliptical.
The thing rides like a tank with its 32lb flywheel, the sturdiest of any elliptical I've come across that is designed for home use.
And with the 14″ HD screen, you will never be at a loss for workouts to try and trainers to follow.
If you are the kind of person who really gets a kick–or, stride, hehe–from online programming and want the sturdiest stride for home gyms, the NordicTrack Commercial 14.9 will be perfect for you.
| | |
| --- | --- |
| ✅ PROS | ❌ CONS |
| 14″ HD touchscreen | Probably not for people who won't use iFit |
| Compatible with iFit for almost unlimited workouts and trainer-led classes | Relatively short stride length; not ideal for very tall users |
| Most comfortable foot pedals on the market for elliptical machines | |
| 32lb flywheel; exceptionally sturdy striding experience | |
---
More Elliptical Guides and Articles Like This
The Best Ellipticals with Adjustable Stride for Home Gyms. Looking for an elliptical with an adjustable stride length? Here is a look at the best ellipticals with adjustable strides for home gyms.
How Much Do Ellipticals Cost? (44 Different Models Compared). Ellipticals can be a costly investment in your workout goals. Here is a look at how much each type of elliptical costs and how much to spend on one.
Elliptical Buying Guide – Everything You Need to Know to Buy with Confidence. Want to buy an elliptical but don't know where to start? Arm yourself with the knowledge to choose the perfect elliptical for you and your workout goals.