In the market for a compact and sturdy elliptical that won't bankrupt you? Read on for our review of the Niceday CT11 Elliptical Trainer and find out if it's the right cardio machine for you.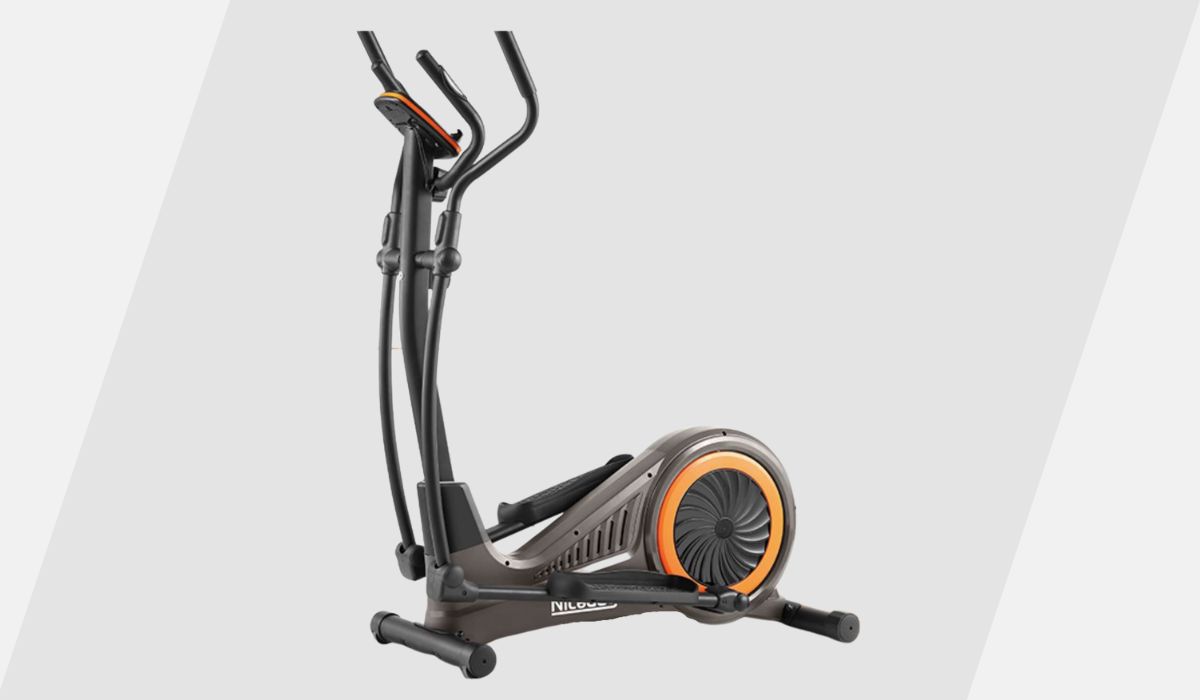 The Niceday CT11 Elliptical Trainer is a budget-friendly and entry-level elliptical trainer that is also very compact.
Sound too good to be true?
In this review of the Niceday Elliptical, we will take a look at the key features of this low-cost trainer for home gyms. The pros and cons of the machine. And how well it rides, err, strides. We will also show how it compares to the competition.
By the end, you will have an excellent idea of whether the Niceday Elliptical Trainer is the right machine for you and your workout goals.
Let's get started.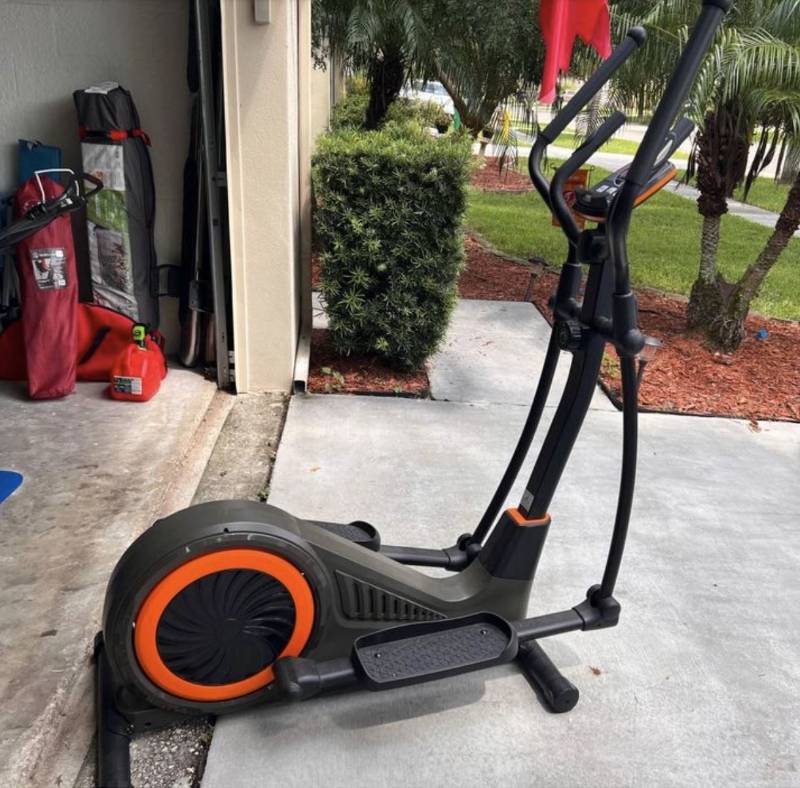 Niceday CT11 Elliptical – Key Specs
Price: $499 (when it is in stock)
Flywheel: 16lb
Rear-drive system
16 levels of resistance
Stride length: 15.5"
Machine weight: 106lb
Max user weight: 400lb
Footprint: 48" long x 24.4" wide x 62" high
Warranty: 365 days
Niceday CT11 Elliptical Trainer Machine – The Pros
Alright then—here are the things that we really liked about using the Niceday CT11 Elliptical for a couple of weeks between a couple of us:
✅ Small footprint.
There is a reason that the Niceday Elliptical Trainer made it onto our annual list of the best compact elliptical machines—it's got a footprint that is significantly smaller than other ellipticals.
It's no secret that cardio machines drink up a ton of space when set-up. The Niceday elliptical has a footprint of just 48" x 24.4", which is waayyy smaller compared to other full-size ellipticals, which routinely extend well beyond 75" in length.
The Niceday even has a smaller footprint than some of the top elliptical + stepper combo machines on the market like the ProForm Pro HIIT H14 and the Bowflex Max Total 16, which are designed to be space-savers.
Home gym owners are always on the hunt for ways to maximize function and space, and the CT11 delivers with a small overall footprint.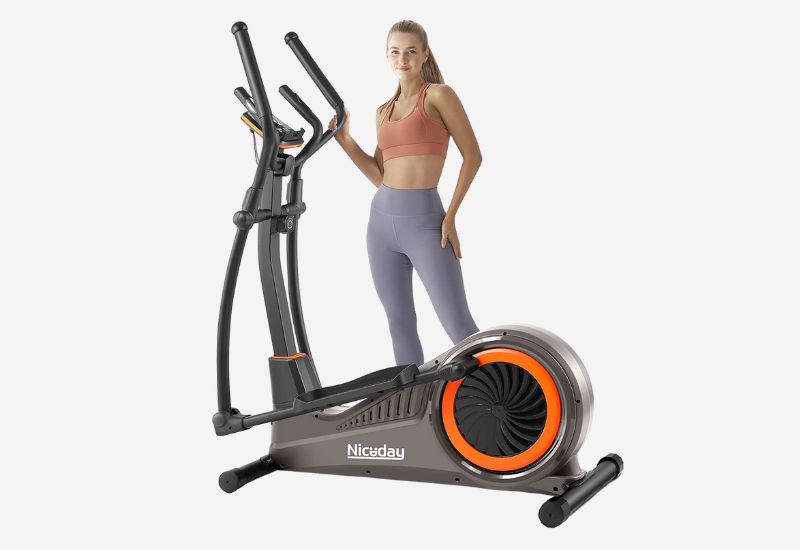 ✅ Very smooth stride for a budget elliptical.
The Niceday Elliptical is one of the best elliptical machines for under $500 on the market.
The elliptical machines in this price range are very often a dice roll and are rarely even remotely close in quality to studio-grade elliptical machines.
While the Niceday CT11 Elliptical will not give you that same sense of riding a tank that you will get from the heavy and feature-rich commercial elliptical machines at your local gym, it does punch above its price class in terms of a stable and smooth ride.
The Niceday Elliptical has a flywheel that weighs 16lb, which is going to be more than sufficient for most trainees, and as we will see shortly, this combined with solid steel construction results in an increased user weight tolerance.
✅ Super-fast assembly.
The Niceday comes almost completely assembled. There is very limited assembly once you get the machine out of the box, with 90% of the assembly already completed.
One of the big frustrations people have with ordering cardio machines for their home gym is the installation and assembly process, which can often take hours and feature poorly explained assembly manuals.
Not the case with the Niceday Elliptical Machine—which took me less than 15 minutes to completely unpack and turn on.
✅ Very quiet.
The magnetic drive on Niceday CT11 is exceptionally quiet. Because the machine doesn't use air for resistance (like a rower machine or an assault bike), it barely makes any noise when exercising on it.
This is great news for people who have a shared residence, or who like working out early when everyone else is sleeping, or who simply like the peace and solitude of a quiet workout experience.
✅ High max user weight capacity.
The 400lb weight capacity on the Niceday CT11 made me do a double-take the first time I saw it.
You simply don't see this kind of maximum user weight at this price point and with an elliptical this compact.
Here is how the CT11 compares to other elliptical machines in its price class for maximum user weight recommendations:
It's not even close with how much more weight the CT11 is designed to handle, and is why the CT11 made the cut when putting together our list of the best ellipticals for heavier people.
✅ No plug-in required.
Finally, there is the perk that you don't have to plug in the Niceday Elliptical.
You don't have to worry about positioning the machine close to an outlet to power the drive or the LCD display.
The LCD monitor runs off AA batteries, so you can set-up the Niceday CT11 wherever you like (i.e. right beside a window to get a cool breeze or outside under a covered patio).
Niceday CT11 Elliptical Trainer Machine – The Cons
While there are a lot of things that the CT11 does really well, there are some aspects and features that will be a mismatch for some users.
They include:
Shorter stride length.
Niceday recommends users between 4'9" and 6'2" will be comfortable on this machine, but I think the higher end of that range is overly optimistic.
Especially if you are a 6' person with longer legs.
Although height is the general agreed-upon metric for properly sizing the stride length of an elliptical trainer, leg length is the real determining factor of how comfortable you are going to be on the machine.
The stride length on the Niceday Elliptical is going to be too short for taller people and it's going to be downright uncomfortable for taller users who also have long legs.
Basic LCD screen
At this price point we shouldn't expect too much when it comes to workout programming and technology.
We are in the "balling on a budget" price range when it comes to features, after all.
The LCD console is very simple and has eight programmed workouts and a small display that cycles through your workout metrics.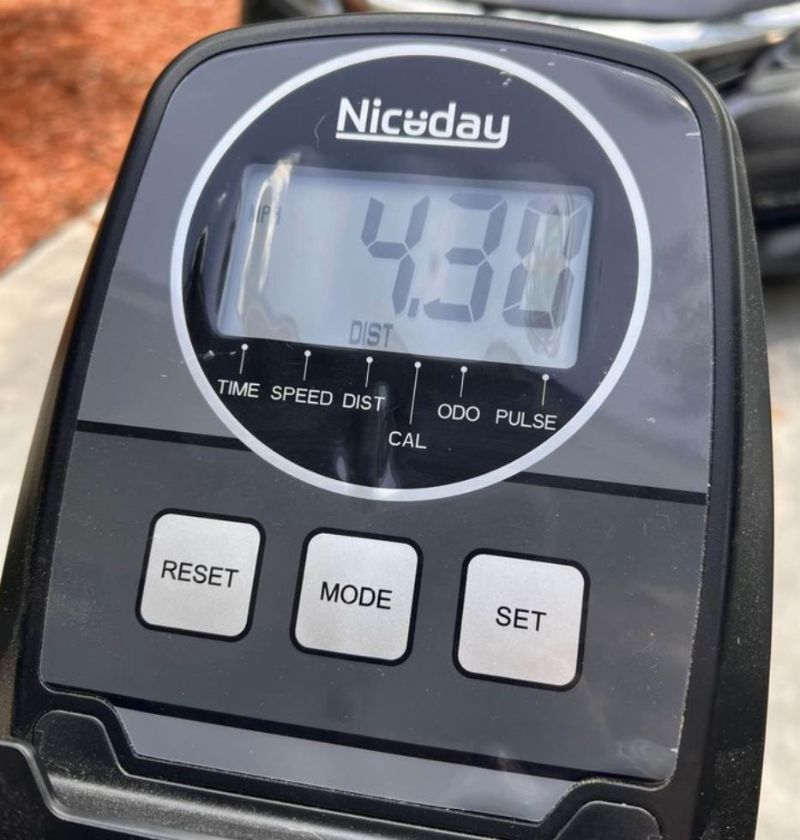 Because the LCD display lacks Bluetooth connectivity, it does not pair with smartwatches, so you can't sync up your workout data.
And while there is no water bottle holder on the Niceday CT11 (!?) at least there is a small ledge on the display to park a smartphone while working out.
Frequently out of stock.
The Niceday Elliptical is sold solely through Amazon.
And like many other manufacturers in this space, they have faced issues with the global supply chain disruptions in recent years.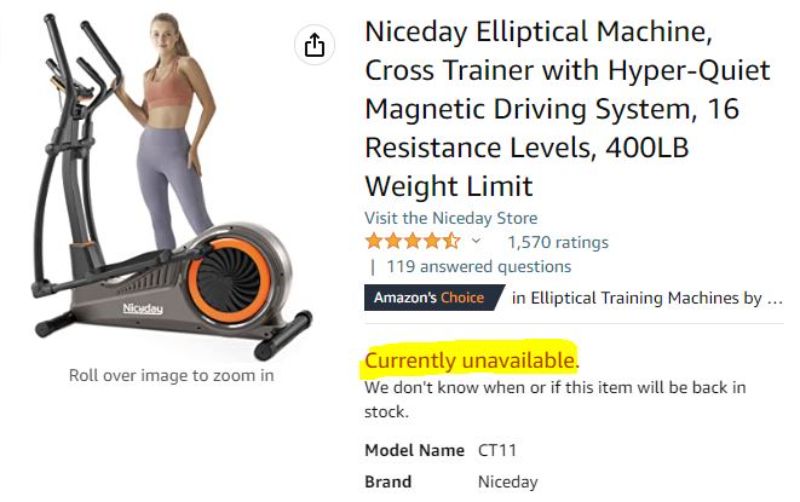 As a result, it is frequently out of stock ☹.
Click here to see current availability and stock at Amazon.
Niceday CT11 Elliptical Trainer Reviews
The reviews of this elliptical are almost universally positive. This is exceedingly rare in my experience, especially with low-cost machines such as this one.
Issues with elliptical machines almost always stem from quality issues with the build and problems with customer service, and Niceday seems to have conquered both these common pain points.
On Amazon, the Niceday Elliptical has collected over 1,000 five-star reviews.
The positive reviews of the CT11 focus on:
Stability of the machine
Quiet drive
Ease of assembly
How sturdy it is for an economical elliptical
Many of the one-star reviews come from people struggling with the short stride length and the resulting uncomfortable ride.
Also, because Niceday ellipticals are sold exclusively on Amazon, it's the latter that handles returns and quality assurance issues. Amazon is always Johnny-on-the-Spot when it comes to customer service and no-question-asked refunds on purchased items.
To read the full list of reviews on Amazon, read them here.
The Bottom Line
The Niceday CT11 Elliptical Trainer is an excellent value pick for an elliptical that is sturdy and that doesn't decimate the old credit card.
The CT11 is going to be perfect for shorter and heavier users just getting started on their weight loss journey who don't require a big and fancy console for tracking workout data.
Taller users, especially those with longer legs, will want to look for an elliptical with a longer stride length than the CT11's 15.5".
To recap:
| | |
| --- | --- |
| ✅ PROS | ❌ CONS |
| Low-cost pricing | Not ideal for taller trainees |
| Best-in-class max user weight capacity (400lbs) | Often out of stock ☹ |
| Compact footprint | Very basic console |
| Very easy to assembly | |
More Elliptical Guides and Reviews
5 Best Ellipticals Under $800: Studio-Grade Ellipticals on a Budget. Elliptical trainers don't have to cost a fortune to give an awesome workout. In this guide to the best elliptical trainers under $800, we list the top options on the market right now so you can buy with confidence.
Elliptical Buying Guide – Everything You Need to Know to Buy with Confidence. Want to buy an elliptical but don't know where to start? Arm yourself with the knowledge to choose the perfect elliptical for you and your workout goals.
What's the Best Elliptical Stride Length? (How to Choose). Elliptical stride length is crucial for getting the most out of your workouts. Here's how to measure the right stride length for you, the benefits of long stride ellipticals, and more.