Looking for an elliptical with an adjustable stride length? Here is a look at the best ellipticals with adjustable stride for home gyms.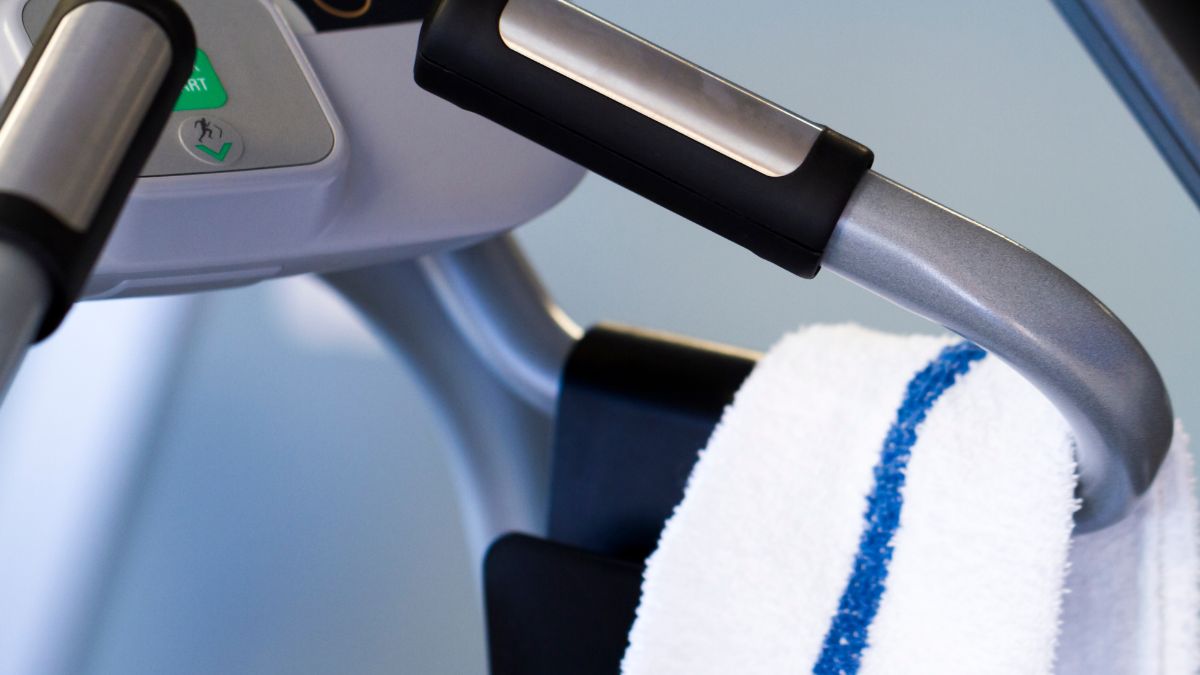 Elliptical trainers are one of the best cardio machines for weight loss, fat burning, HIIT workouts, and simply building cardio.
The low-impact nature of ellipticals also means just about everyone can use one. But when it comes to these machines and stride length, one size does not fit all.
That is where an elliptical with adjustable stride length steps, err, strides in.
They are an excellent option for home gyms with multiple users and for people who want to be able to change stride length.
In this review, we look at the best adjustable stride ellipticals on the market right now, including the pros and cons of each and who each elliptical is perfect for.
By the end, you will have everything you need to pick the perfect elliptical for you, your family/friends, and everyone's workout goals.
Let's jump in.
Best Adjustable Stride Elliptical Trainers
Sole Fitness E95s Elliptical
⭐ Best overall adjustable stride elliptical for home gyms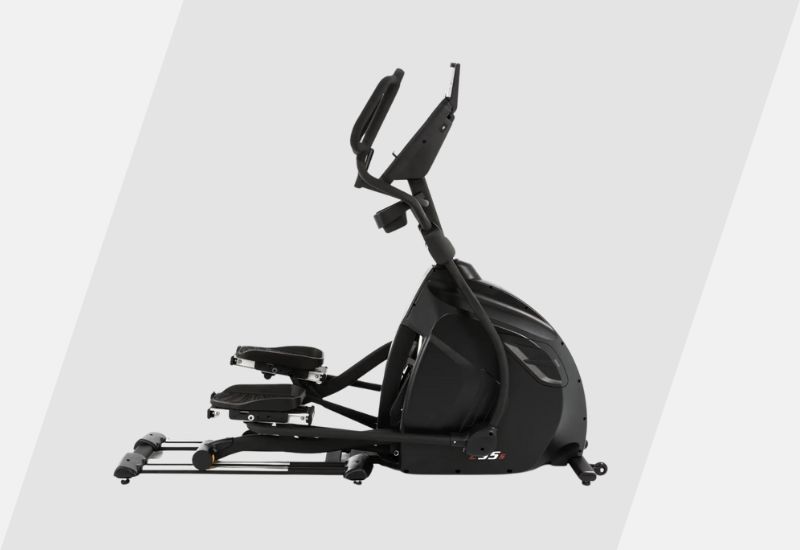 Key features:
Price: $2,199
Stride length: 18" to 24"
Flywheel: 30lb
Max user weight: 400lbs
Screen: 10.1" LCD
Built like a tank, with the broadest adjustable stride on the market, and with comfy, ergonomic foot pedals, the Sole E95s Elliptical Trainer is hands-down the best adjustable stride elliptical for home gyms.
The stride variability is the longest available, from 18" to 24", serving a huge range of body heights, and especially the tallest of us. At 6'5", the 24" stride is almost still too long, making the E95s the best choice for very tall users.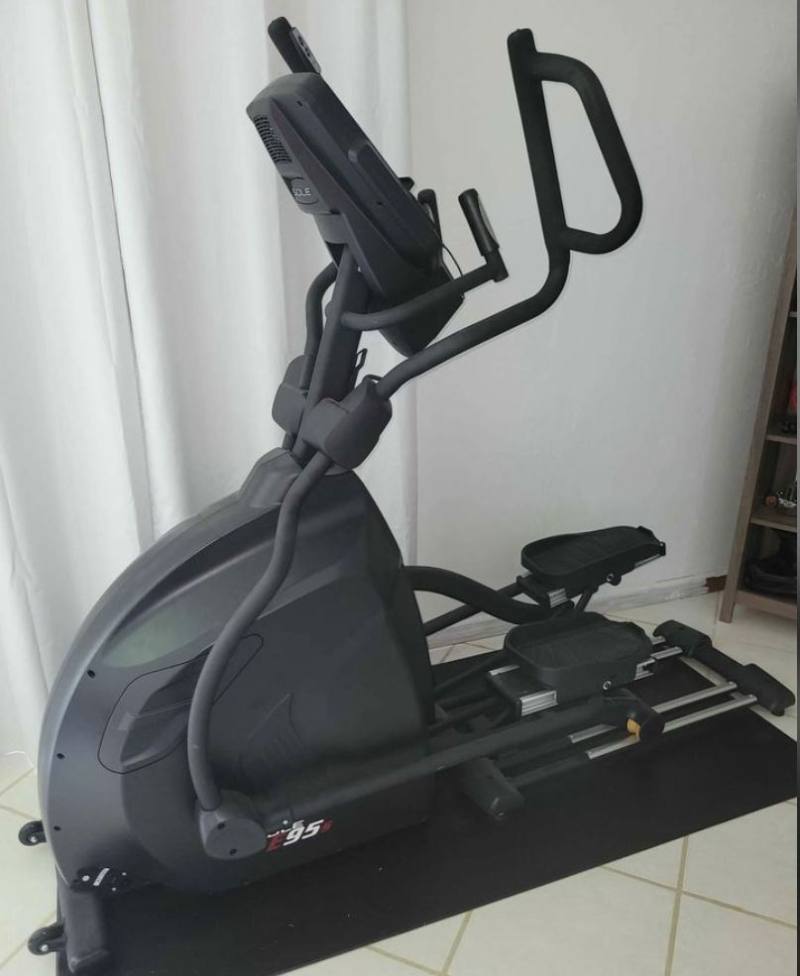 The ride on the E95s is epic. The flywheel on the machine is a whopping 30lbs, which is about as heavy as you will see in a residential elliptical. The machine also weighs a beefy 265lb, which means no wobble, teetering, or shaking when in use, making it an ideal elliptical for heavier people.
The foot pedals on the E95s also have a 2-degree inward slope. This isn't an accident—this slight angle reduces pressure on the knees and also eliminates the toe and foot numbness that comes from using an elliptical for extended periods of time.
In terms of the "extras" the E95s has an oversized water bottle holder, a bright 10" LCD screen with tons of preloaded workouts, and 20 resistance levels.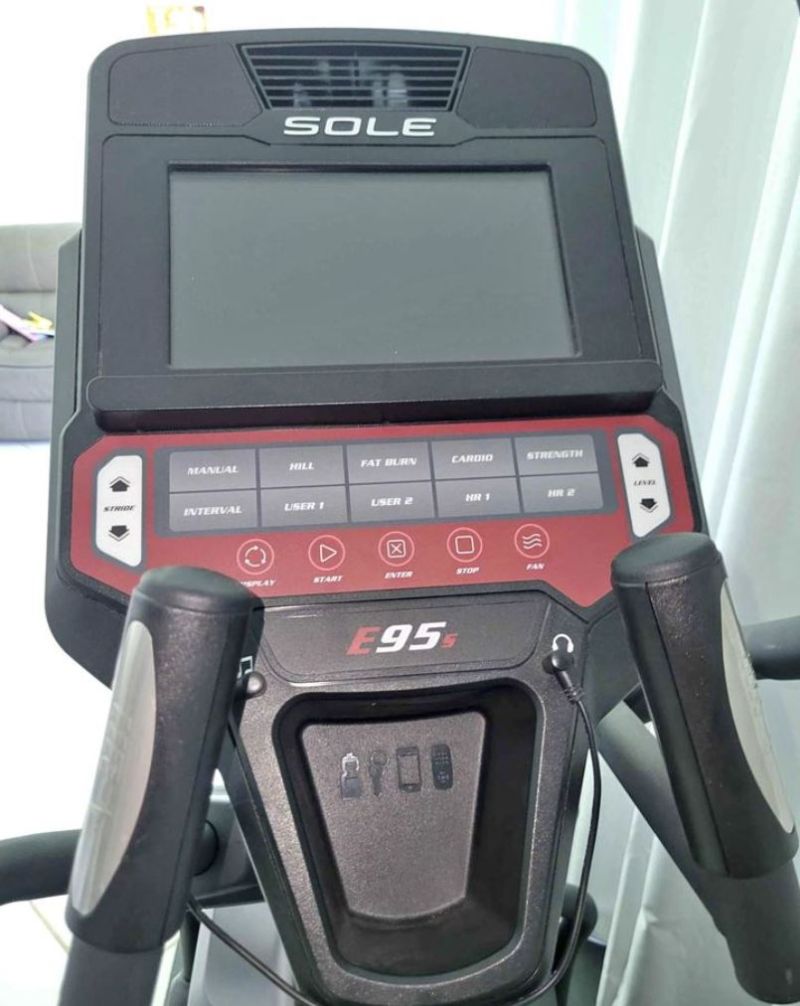 The only real drawback of this machine is that it is quite large—the machine length is 84.5" long, plus working space to mount and dismount on the back of the machine.
If you have the room for it, the Sole E95s is the best elliptical machine with adjustable stride… and it's not even really that close a competition.
| | |
| --- | --- |
| ✅ PROS | ❌ CONS |
| Best adjustable stride elliptical | Long footprint (84.5") |
| 18" to 24" stride length | |
| 30lb flywheel; extremely smooth ride | |
| Ergonomic foot pedals | |
| Power adjustable stride | |
---
Diamondback 1060ef Adjustable Stride Elliptical
⭐ Best budget-friendly elliptical with adjustable stride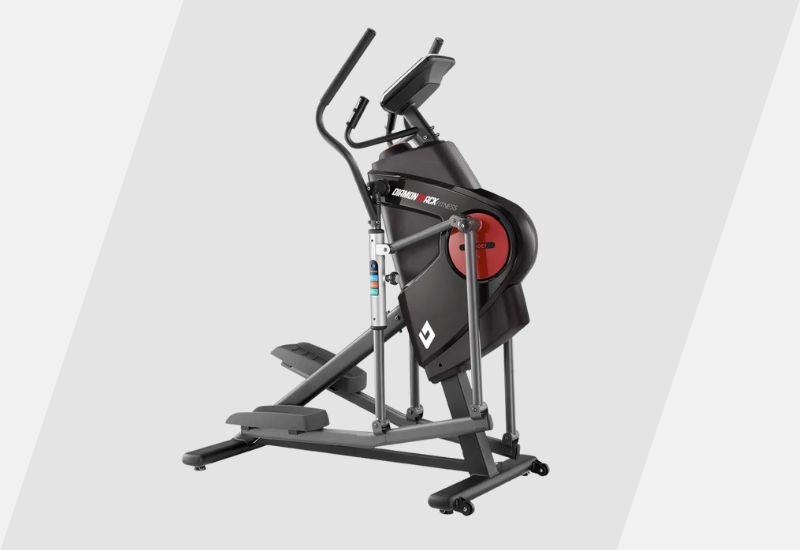 Key specs:
Price: $999
Stride: 18", 20" or 23"
Machine weight: 144lbs
Max user weight: 300lbs
Footprint: 49.2" L x 29.5" W
The Diamondback 1060ef Elliptical Trainer is a budget-friendly adjustable stride machine that is perfect for smaller workout areas and for entry-level users.
With a footprint of just 49" x 29.5", the 1060ef takes up significantly less space compared to standard ellipticals (as well as the Sole E95s). It also takes up significantly less space from your bank account, retailing for less than half of the E95s.
The 1060ef has three settings for stride length (18, 20 or 23") that will serve a wide range of body heights and leg lengths, the LCD console is stacked with preloaded workouts, and a light machine weight makes it easy to move when not in use.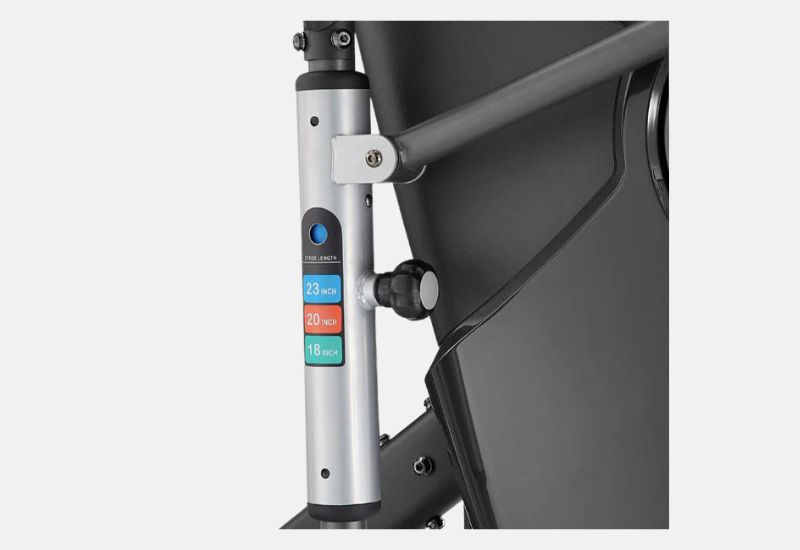 The Diamondback 1060ef is a solid case of getting what you pay for. The ride smoothness is not in the same league compared to the E95s, but for beginner and "regular" sized adults, the difference will be negligible.
Additionally, the stride is changed manually by dismounting the machine. This is great for multiple users, but a pain for users who like to switch up stride length mid-workout.
| | |
| --- | --- |
| ✅ PROS | ❌ CONS |
| Compact footprint | Ride is not as stable as the E95s |
| Budget-friendly pricing | Not ideal for heavier and more experienced users |
| Low step-up height | Manual adjustable stride |
| Lots of workout functionality | |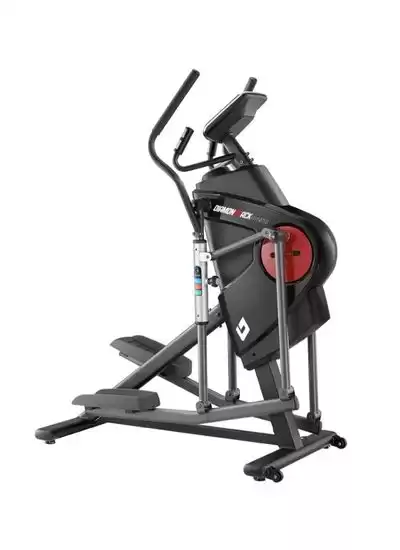 ---
Diamondback 1280ef Elliptical with Adjustable Stride
⭐ Best for: people looking for an adjustable elliptical with HD screen for streaming shows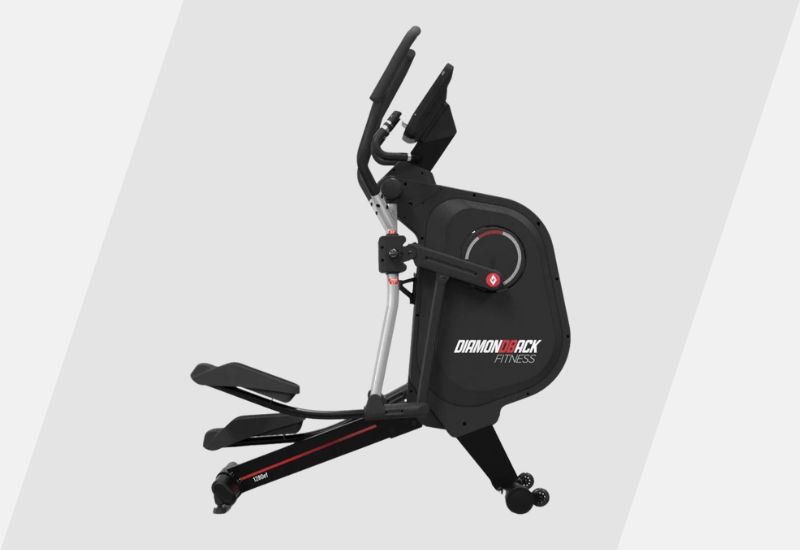 Price: $1,199
Adjustable stride length: 17" or 22"
16 levels of resistance
10" HD touchscreen
Max user weight: 350lbs
Machine weight: 187lb
Footprint: 50" x 36"
The Diamondback 1280ef Elliptical builds on the 1080ef with a big shiny 10" touchscreen, increased weight capacity, and more preloaded workouts.
The touchscreen is the big feature of this elliptical machine. Pair your WiFi to the Android-powered console, and you can start streaming and using apps like Netflix, YouTube, Spotify, and more while you are working out.
As someone who really likes listening/watching podcasts when working out, this is a game-changer.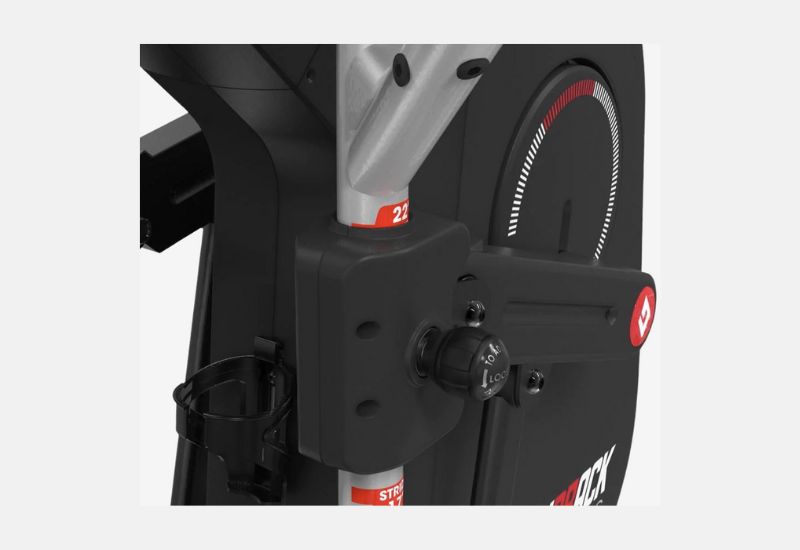 The stride length functionality is limited, with just two length settings of 17" or 22". Users who prefer a "standard" 20" stride length will not find this machine as comfortable.
The Diamondback 1280ef, like the 1080ef, is not that expensive when you consider the typical cost of elliptical machines, retailing at $1,199, making it a value-pick like its sibling.
Ultimately, the Diamondback 1280ef is a great choice for people who love streaming while working out, want a machine with a small footprint, and are happy with the two stride length settings of 17" or 22".
| | |
| --- | --- |
| ✅ PROS | ❌ CONS |
| 17" or 22" stride lengths | Manual adjustable stride |
| 10" screen for streaming Netflix, YouTube, etc. | Only two stride length settings |
| Compact footprint | |
| Max user weight of 350lbs | |
---
Spirit Fitness CE850 Adjustable Stride Elliptical
⭐ Best for: people who want a commercial-grade elliptical trainer at home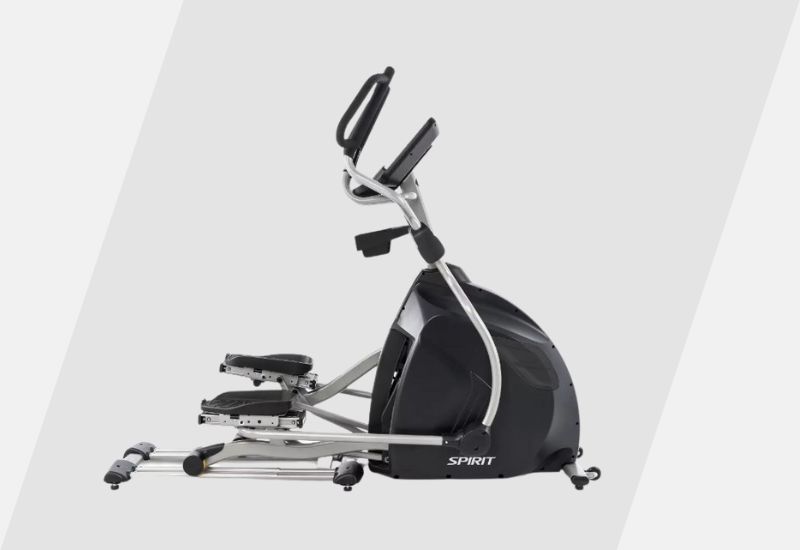 Key specs:
Price: $3,699
Stride length: 18-24" (adjustable in 0.5" increments)
Machine weight: 278lb
Max user weight: 450lb
The Spirit Fitness CE850 is primarily targeted at commercial users, whether that is a big box gym or a corporate office gym.
It's built heavy, has a TON of adjustability when it comes to stride length—12 different length settings between 18" and 24"—and features the same ergonomic foot pedal tilt as the E95.
In fact, the Spirit Fitness CE850 and the Sole E95s are eerily similar in function and design.
Fun Fact: It's no accident the E95s and CE850 look like long-lost siblings… Spirit Fitness and Sole Fitness have the same parent company.
Like the E95s, the CE850 has power controls on the handles for stride length, a 30lb flywheel, and a big LCD display.
The maximum user weight is higher on the CE850 (450lbs vs 400lbs on the E95s), making it a better choice for heavy-duty users—not judgment here, I'm a big fella myself. The warranty—when used in a residential setting only—is also better with a lifetime warranty on the frame, 10 years on parts, and 2 years on labor.
The CE850 is built for commercial use… so it probably isn't a surprise that it's priced like it, too.
The Spirit Fitness CE850 retails for around $3,600 which is a big jump in price compared to the Sole E95s.
For users who want maximum peace of mind with the warranty, the added cost may be worth it.
| | |
| --- | --- |
| ✅ PROS | ❌ CONS |
| Very sturdy with a 30lb flywheel and 450lb max user weight | Pricey |
| Excellent warranty | |
| Tilted foot pedals for superior ergonomics | |
| Adjustable between 18" and 24" (in half-inch increments) | |
---
Other Ellipticals with Adjustable Stride Length
The NordicTrack Commercial 14.9 Elliptical is one of the top ellipticals on the market thanks to a huge 14.9″ touchscreen that is perfect for doing classes.
While it doesn't have the large range of stride length as some of the other ellipticals on this list, it does have an auto-adjusting stride length between 17.5″ and 18.7″ that adapts to your natural striding gait.
---
Elliptical Trainers with Adjustable Stride — FAQs
What are the benefits of an elliptical with adjustable stride length?
Ellipticals with an adjustable stride have some serious benefits, the most obvious being that having a custom stride length is more comfortable.
Whether you have extra long legs, mobility issues, or simply want a custom stride length, adjustable stride ellipticals help reduce injury and promote use by encouraging better biomechanics on the machine.
How do I choose the best elliptical with adjustable stride for me?
Choosing the right elliptical machine stride length comes down to your height and/or leg length.
Taller users will gravitate towards machines that can produce a stride length of 20″ and up, while shorter users will want an elliptical that can dip into the high teens (15″ to 18″) for a comfortable stride.
Of course, there are other considerations beyond just the options of stride length:
Price. How much cashola are you willing to spend on the elliptical? These machines vary widely in price, from $999 to $3,699.
Footprint. Home gyms are great for a lot of reasons, but we all battle the constraint of space. Where you plan on placing the machine, and how much room you have available, are a key decision to make.
Warranty. Ellipticals are complex machines with a lot of electronics, motors, and moving parts. Look for a warranty that has at least 10 years on the frame and 1-2 years on parts and labor.
Do ellipticals with adjustable strides have incline?
Unfortunately, elliptical machines with adjustable stride lengths do not have an incline setting, whether powered or manual.
The NordicTrack Commercial 14.9 Elliptical comes closest. The stride on this specific elliptical automatically adjusts between a stride length of 17.5″ and 18.7″ depending on the gait of the user and the machine has a power incline option.
We didn't include the Commercial 14.9 in this list because the adjustability range is too small and it's not adjusted by the user.
Are adjustable stride ellipticals as durable as standard ellipticals?
Adjustable stride ellipticals are just as tough and durable as ellipticals with a fixed stride length. And because the stride length is sized properly to the user, I'd argue that because they are used correctly, they could even last longer.
Like any kind of cardio machine, how durable it turns out to come down to regular maintenance (lubing the rails, etc) and matching the weight/ability of the user to the respective machine.
The Bottom Line
The elliptical machine has long been one of my favorite tools for burning fat, doing cardio, and doing sweaty-as-a-waterfall HIIT workouts.
For people who have a home gym with multiple users, or who have really long legs, or who simply want to shorten/lengthen stride at will, the adjustable stride elliptical trainer is a no-brainer.
Our top pick is the Sole Fitness E95s, and it's not even really close.
It's priced reasonably, is built like a Sherman tank, and has a powered adjustable stride that can be increased or decreased from the handles and console.
Shop the Sole Fitness E95s at the official Sole Fitness website today.
---
More Elliptical Guides and Reviews
How Much Do Ellipticals Cost? (44 Different Models Compared). Ellipticals can be a costly investment in your workout goals. Here is a look at how much each type of elliptical costs and how much to spend on one.