The Schwinn 470 Elliptical is the best trainer that Schwinn offers. In this hands-on review, we detail the experience of using the Schwinn 470 so that you can learn whether this elliptical is right for you.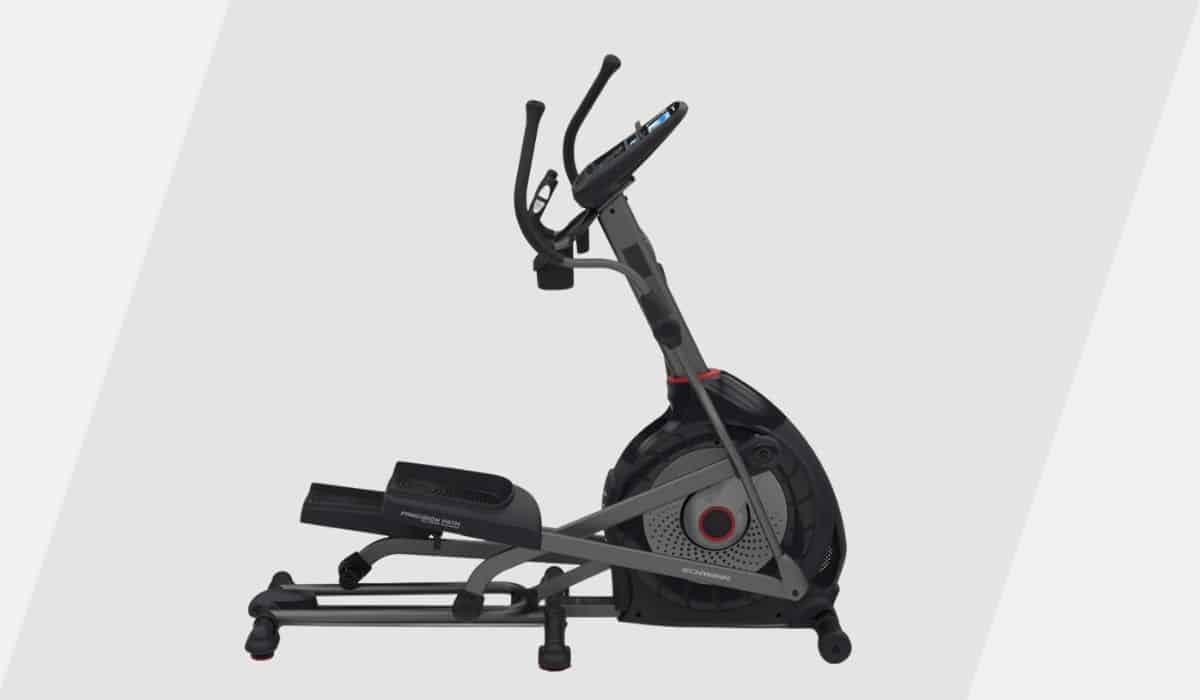 The Schwinn 470 Elliptical is Schwinn's most feature-rich elliptical trainer built specifically for home gyms.
With tons of training functionality, two LCD screens, and a motorized incline for more challenging workouts, the Schwinn 470 packs a fat-burning punch. It's also got a relatively small footprint, making it ideal for smaller home gyms.
But is the Schwinn 470 the right elliptical for you and your home gym?
In this hands-on review of the Schwinn 470 Elliptical, we take it for a stride, outline the pros and cons of the 470, list some comparable machines, and more.
By the end, you will have a crystal-clear idea of whether the Schwinn 470 elliptical is the perfect machine for helping you accomplish your health and fitness goals.
Let's jump right in.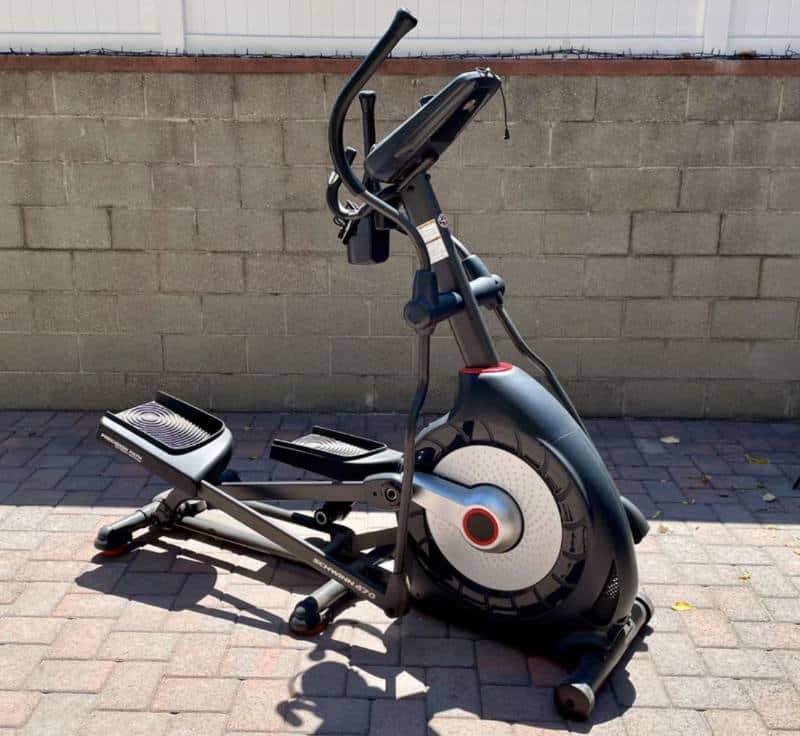 Schwinn 470 Elliptical Trainer – Key Specs
Price: $1,099
In-home assembly option: $249
Flywheel: 20lb
29 programmed workout options
Two LCD screens
25 levels of resistance
Footprint: 70.1" long x 28" wide x 63" high
Machine weight: 164lbs
Max user weight: 300lb
Stride length: 20"
0-10 incline (motorized)
Warranty: 10 years (frame), 2 years (parts), 90 days (labor)
Schwinn 470 Elliptical Trainer – The Pros
The Schwinn 470 is an excellent and well-built elliptical for home gyms.
Here is why the 470 will your go-to trainer for exercising like a champion: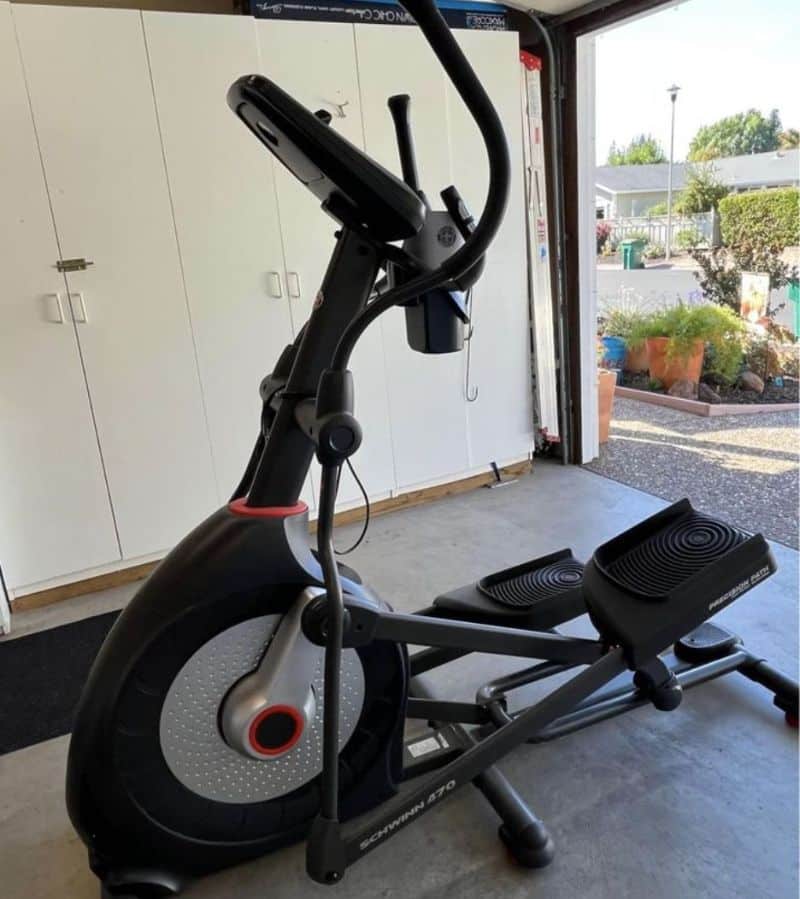 ✅ Tons of workout functionality.
When it comes to workouts, variety and different types of stimulus is key for maximizing the time spent on the elliptical.
We all want more results from our workouts, and the Schwinn 470 sets you up for success with a ton of programmed workouts (29 in all), motorized incline (up to 10 degrees), and the option of using the Explore the World app.
The motorized incline is not a feature that is typically seen in ellipticals at this price point. Incline is one of my "must-have" features with ellipticals. Raising the incline raises the difficulty, which is perfect for workouts that feature intervals.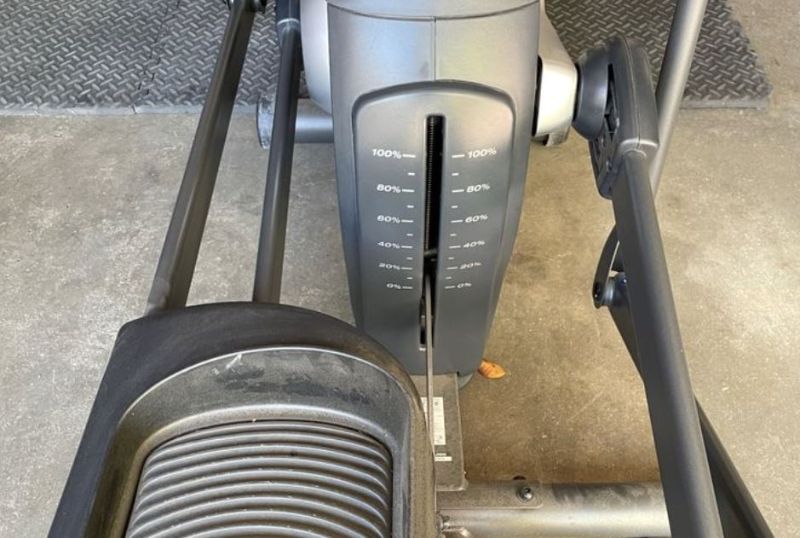 The Explore the World app is a little bit glitchy at times, but users who are able to get it to work reliably love it.
Whether you like using ellipticals for HIIT workouts, doing long-and-slow fat burner sessions, or even banging out super short Tabata workouts, the Schwinn 470 has the workout programming to get you on your way.
✅ Sturdy rides like a cloud.
Ride is everything with elliptical trainers. I've used plenty of ellipticals over the years that have promised a commercial-grade ride but have been clunky, cramped, and wobbly.
The Schwinn 470 delivers on an exceptionally solid striding experience. While it's not quite studio-grade, it comes very close thanks to a relatively heavy machine weight–164lbs–providing a solid foundation of stability.
The flywheel is also a respectable 20lbs, reducing the wobble and teetering that is typical of cheaper, lighter elliptical trainers.
Decent stride length
✅ Straightforward assembly.
It took me just under an hour to assemble the Schwinn 470. The assembly manual is clear and straightforward, guiding new owners step-by-step through the assembly process.
My experience will not be typical–after putting together a couple of dozen similar machines like the 470 over the years, I've got a lot of hands-on experience with this kind of thing.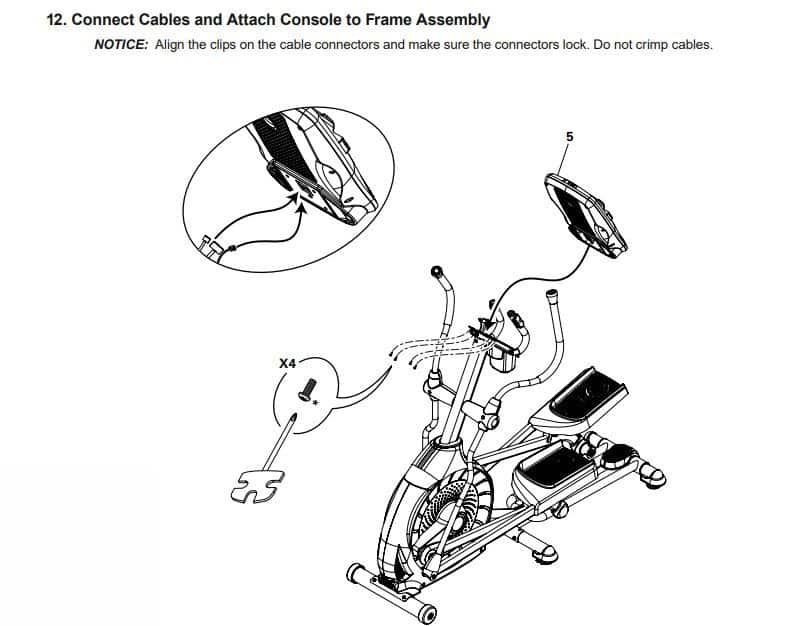 Reviews online often note that assembly takes a couple of hours, and for those who don't want to put the elliptical together themselves, Schwinn offers an in-home assembly option for an added $249.
✅ Tons of comfort features
Working out is designed to be a little, well, uncomfortable.
The Schwinn 470 has the creature comforts that can make kicking your own butt a little more comfortable and convenient, including:
USB port for charging smartphone or tablet
Media tray that can hold a tablet or book without blocking all of your workout metrics (time elapsed, calories burned, etc)
Small fan for keeping you cool when sweating away
Speakers that can be paired to your tablet or smartphone via Bluetooth
Workout info can be paired to most popular fitness tracking apps
And oversized and cushioned foot pedals for comfortable and extended use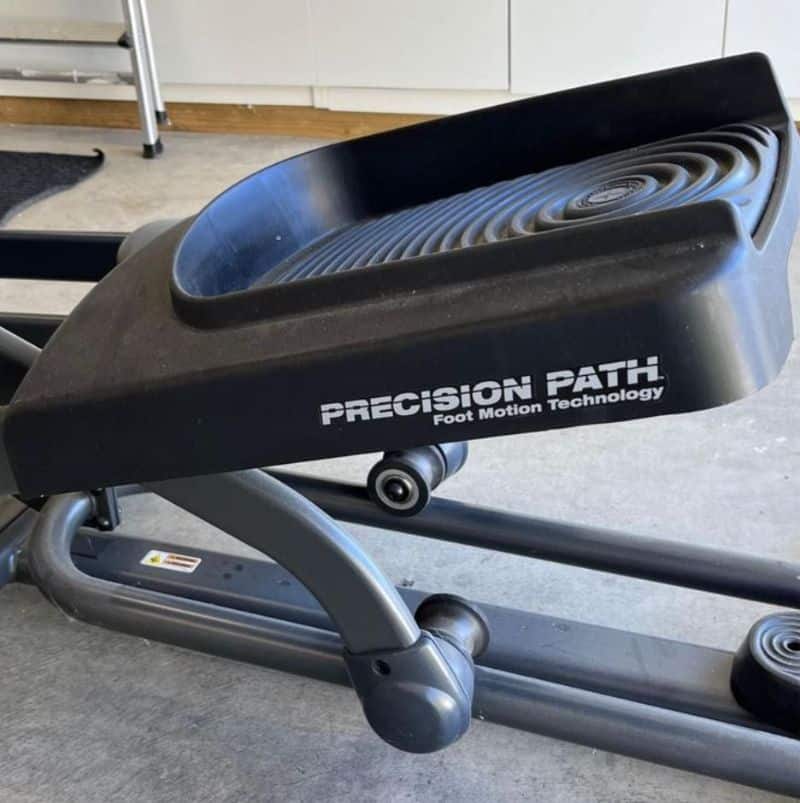 These little details and features can seem insignificant when viewed separately, but combined they make using the Schwinn 470 a vastly more enjoyable experience.
✅ Budget-friendly.
Elliptical machines are generally not very cheap. The cost of ellipticals makes sense–there's a ton of moving parts and electronics involved with the construction of each machine.
Schwinn's line of ellipticals are very affordable. The Schwinn 470 is the top-of-the-line elliptical in Schwinn's batch of ellipticals at $1,099.
Schwinn 470 Elliptical Trainer – The Cons
Okay, now that we've looked at all teh reasons that the Schwinn 470 elliptical kicks all of the butts, let's look at some of the things that could be improved upon.
The two main bones I have to pick with the Schwinn 470 include:
No touchscreen.
While I really like the dual LCD screens on the Schwinn 470–you can place a tablet or book and cover the main LCD screen while the lower screen continues spitting out workout details like heart rate, time elapsed, etc–the screen are a little basic.
This would be okay with cheaper ellipticals, but at this price point, an HD touchscreen is an expectation. Other elliptical trainers at the $1100 price range, such as the ProForm Carbon E7, has a 7" HD touchscreen. I would love to see future iterations of the Schwinn 470 incorporating a screen.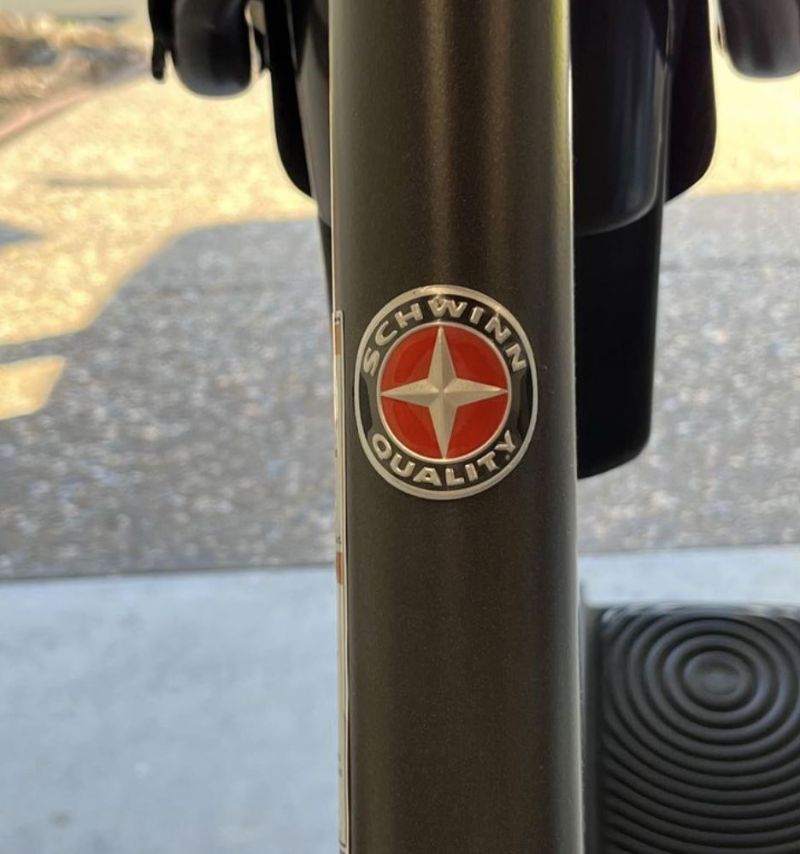 Larger than other ellipticals at this price point.
The Schwinn 470 has a footprint of 70" x 28", which makes it slightly larger than its two primary competitors, the Sole Fitness E25 and the ProForm Carbon E7.
The added size doesn't come with an increased weight capacity, either; both competitors offer a smaller footprint along with higher maximum user capacity recommendations.
People who are trying to maximize every last inch of their home gym will find the competitor's offerings slightly better (a more detailed comparison of the Schwinn 470 against its competitors are below).
Schwinn 470 Elliptical Trainer – vs Schwinn Ellipticals
The Schwinn 470 is one of three elliptical trainers that Schwinn makes for home gyms. It is the priciest of the three, and features more resistance levels, a motorized incline, and a heavier footprint.
The Schwinn 411 is the most budget-friendly of the three and also has a very compact footprint, while the Schwinn 430 is the classic middle sibling, incorporating an incline feature (that is manual, not motorized) and most of the training capabilities of the 470.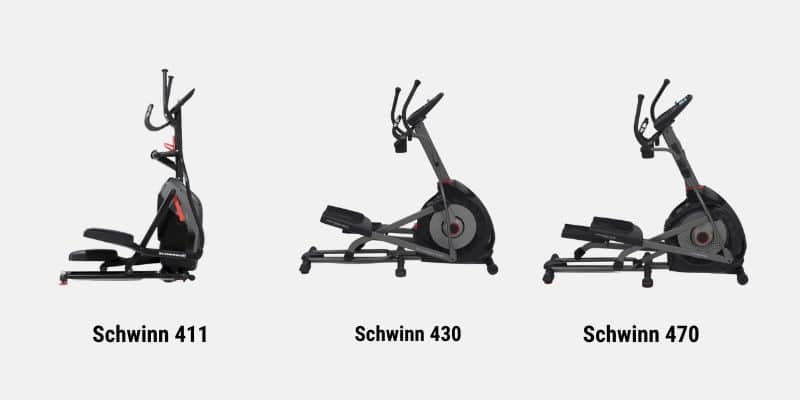 Here is a look at how the three machines compare:
| | | | |
| --- | --- | --- | --- |
| | Schwinn 411 | Schwinn 430 | Schwinn 470 |
| Price | $549 | $799 | $1,099 |
| Stride length | 18" | 20" | 20" |
| Resistance levels | 16 | 20 | 25 |
| Footprint | 54" x 24" | 70" x 28" | 70" x 28" |
| Incline | No | Manual | Powered |
| Flywheel | Magnetic | 20lbs | 20lbs |
Schwinn 470 Elliptical Trainer – vs. the Competition
The Schwinn 470 has two primary competitors at the $1,099 price point: the Sole Fitness E25 and ProForm Carbon 7.
The ProForm Carbon 7 outperforms the 470 in two key areas: it has a 7" HD touchscreen and a heavier flywheel (although a slightly shorter stride length).
The Sole E25 has a smaller footprint and a heavier weight capacity while matching the 470 in other key performance parameters like stride length and flywheel weight.
Additionally, the 470 is slightly larger than the other two options at this price point, making it not the best option for people on a space crunch at home.
Here is how the Schwinn 470 compares against the competition:
| | | | |
| --- | --- | --- | --- |
| | Schwinn 470 | Sole E25 | ProForm Carbon 7 |
| Price | $1,099 | $1,099 | $1,099 |
| Flywheel | 20lb | 20lb | 25lb |
| Stride Length | 20" | 20" | 19" |
| Screen | Dual LCD screens | 6.5" LCD screen | 7" touchscreen |
| Power Incline | Yes | 20 levels | 0-20 degrees |
| Max user weight | 300lb | 350lb | 325lb |
| Footprint | 70" x 28" | 66" x 23" | 68" x 25" |
Schwinn 470 Elliptical Trainer – FAQs
How much does the Schwinn 470 weigh?
The Schwinn 470 weighs 164lbs when fully assembled. The machine does not have transport wheels on the frame, something to note if you plan on moving the elliptical frequently.
Are Schwinn ellipticals good?
Schwinn is one of the leading brands in making cardio equipment, whether that is building air bikes (Schwinn invented and popularized the first air bike, also known as assault bikes), spin bikes, and yes, elliptical trainers.
They are on the same level as other big-name elliptical brands like Sole Fitness, Nautilus, NordicTrack, and ProForm.
How much ceiling clearance do you need for the Swhinn 470 elliptical trainer?
Schwinn recommends taking your height and adding 26" to determine maximum ceiling clearance. The incline on the Schwinn 470 means that the machine gets quite "tall" when fully extended, making it a less-than-ideal option for rooms with low clearance or basements.
The Bottom Line
The Schwinn 470 is an excellent choice for people who want an elliptical machine with a lot of workout programming, all of the little creature comforts that make working out more enjoyable, and a sturdy ride that comes close to studio-grade ellipticals.
While there are a couple of things that could be improved, particularly the screen (which you can work around by pairing a tablet to the 470), it is still a value pick at $1,099.
People who want a comfortable and durable striding experience will love the Schwinn 470.
To recap our experience with the Schwinn 470:
| | |
| --- | --- |
| ✅ PROS | ❌ CONS |
| Tons of workout functionality; incline, programs, etc | No HD touchscreen |
| 20" stride length | |
| Sturdy and stable ride | |
| Straightforward assembly | |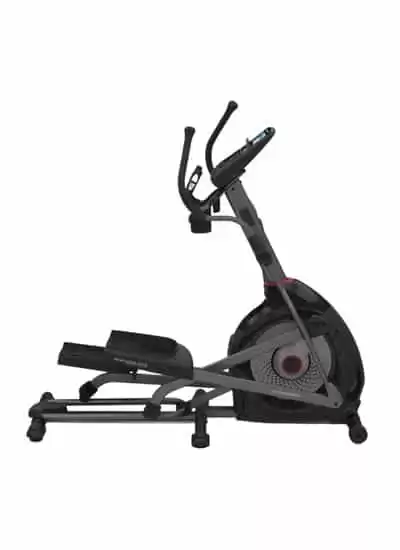 ---
More Elliptical Guides and Reviews
Elliptical Buying Guide – Everything You Need to Know to Buy with Confidence. Want to buy an elliptical but don't know where to start? Arm yourself with the knowledge to choose the perfect elliptical for you and your workout goals.
What's the Best Elliptical Stride Length? (How to Choose). Elliptical stride length is crucial for getting the most out of your workouts. Here's how to measure the right stride length for you, the benefits of long stride ellipticals, and more.