Wondering if the Diamondback 1280ef is the perfect elliptical for you? Read on for our review of the 1280ef, including pros, cons, the competition, and get the inside scoop.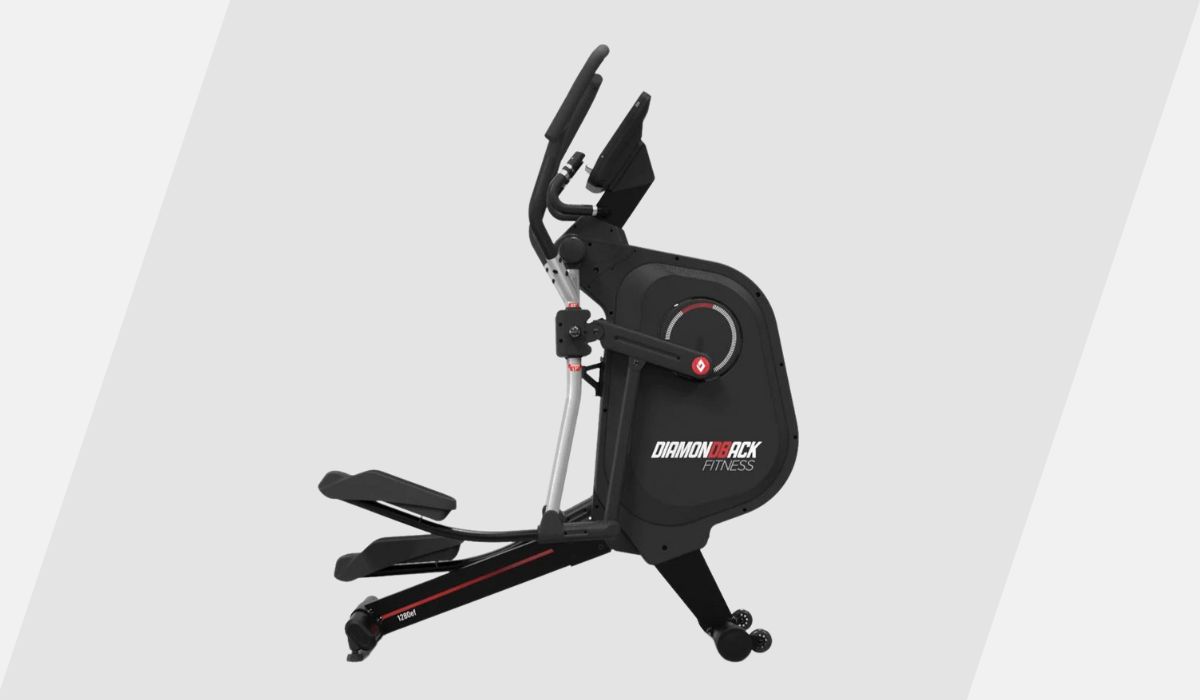 Elliptical trainers are one of the best tools for getting the job done in the gym. 
Whether it's hitting an interval workout, doing longer, steady-state fat-burnin' cardio, or simply chasing an endorphin rush before a long day of work, ellipticals are a low-impact and versatile way to get and stay fit.
But let's be honest: sometimes those cardio workouts can drag on and get boring. Staring at a basic LCD screen and watching the calorie-burned tracker slowly tick north can get tiresome.
Enter the Diamondback Fitness 1280ef Adjustable Elliptical and its 10" HD screen, which can stream your favorite Netflix and YouTube media (or other web-based apps via it's Chrome).
Oh, and it's also adjustable, making it perfect for multi-user homes or people who like to change up the length of their stride.
In this review of the Diamondback 1280ef, we take it for a ride, err, stride. List some of the reasons we think it's a great option for home users. We also list some things that can be improved. And compare it to other elliptical machines on the market.
By the end of the review, you will know everything you need to know about whether the Diamondback 1280ef is the best elliptical machine for you and your fitness goals.
Let's jump right in.
Diamondback Fitness 1280ef Adjustable Elliptical – Key Specs
Price: $1,199
Stride length: 17" or 23" (manual adjustable)
10" HD touchscreen
Footprint: 50" x 36"
Machine weight: 187lbs
Max user weight: 350lbs
Heart rate monitoring: Yes (compatible with Polar)
Warranty:
What we love about it:
Compact footprint–takes up nearly half the space of other elliptical machines.
Adjustable stride lengths–choose between 17" or 23"
Easy to move–the machine weighs under 200lb and has transportation wheels
A big 10" screen for streaming and tracking workout data
Low step-up height–makes it easy to get on the elliptical
What we didn't love:
Only two stride lengths–other machines on the market offer more flexibility in choosing stride length
Limited warranty–comes with a 5-year warranty on the frame which is below the industry standard
Diamondback Fitness 1280ef Adjustable Elliptical – The Pros
Okay, let's take a deeper look at the what we really like about the Diamondback 1280ef adjustable stride elliptical.
They include:
✅ It's got variable stride lengths!
The Diamondback 1280ef is built for stride customization.
Stride length is crucial when using an elliptical machine. Too long, and your knees and hips hyperextend. Too short, and you aren't getting the proper range of motion.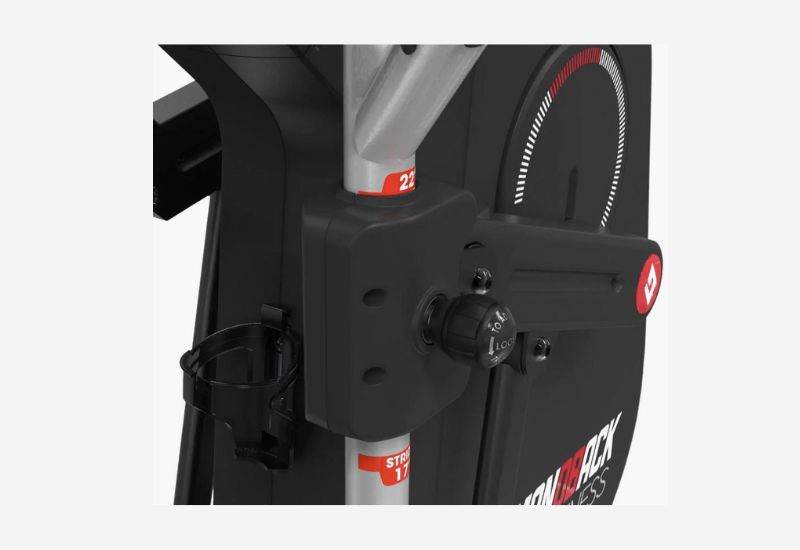 In both cases, it's wildly uncomfortable and makes it less likely you want to use the elliptical. With the 1280ef, you have the choice of two stride lengths, 17" and 22", covering a wide range of stride requirements.
The adjustment is made manually (it's not a power stride) and is done quickly with a knob on the main column of the elliptical.
✅ Big 10" screen for streaming.
Some days when I jump onto the elliptical, all I need is the LCD display telling me the time elapsed and my heart rate.
On other days, I need some form of distraction in the form of sports, a movie, or a podcast.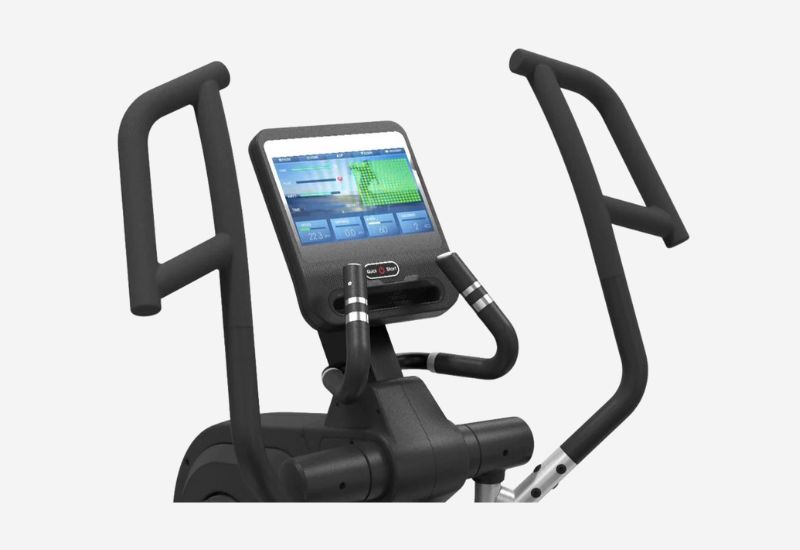 This is why cardio theatres are lined with big screen TVs at your local gym–they know sometimes we just wanna kick back and put back a movie or digest the news while doing a long, moderate session of cardio.
The Diamondback 1280ef is perfect for days like this, with WiFi connectivity and a big 10" HD touchscreen powered by Android.
It comes with apps like Netflix, Spotify, and Chrome, so you can use all of your web-based apps, too.
✅ Compact footprint.
Elliptical machines are not the smallest piece of exercise equipment. Some of them can extend up to nearly 90" in length (!), soaking up a ton of room.
This isn't an issue at the local gym, but when you are trying to cram a cardio machine into a busy garage or into a bedroom, every inch matters.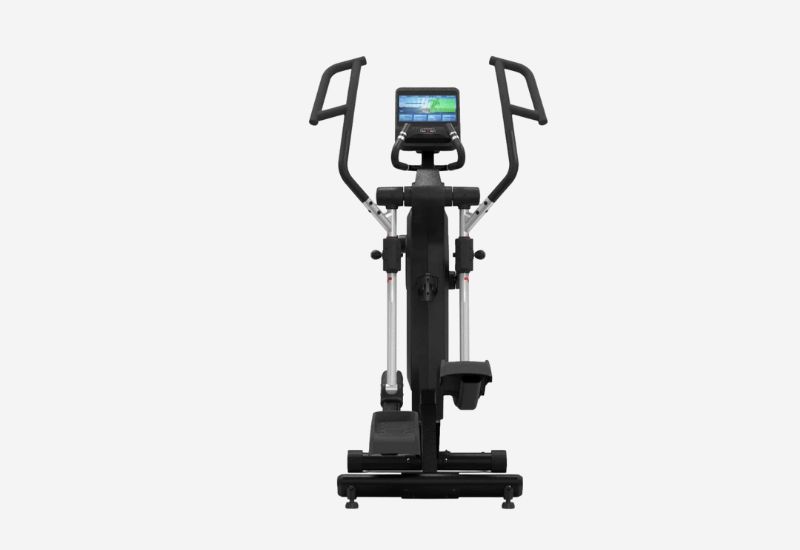 The 1280ef has a footprint of just 50" x 36", which is close to half the length of some of the larger elliptical machines on the market.
✅ Excellent assembly manual.
Yes, I know–the performance and the bells and whistles of an elliptical machine are the primary purchasing decision-makers when buying an elliptical.
But after having reviewed (and assembled) countless ellipticals over the years, the assembly process has become an integral part of my testing of the machines.
A brand that can put together a clear and step-by-step assembly process (seems simple enough!) gets big points, and the Diamondback 1280ef checks this box.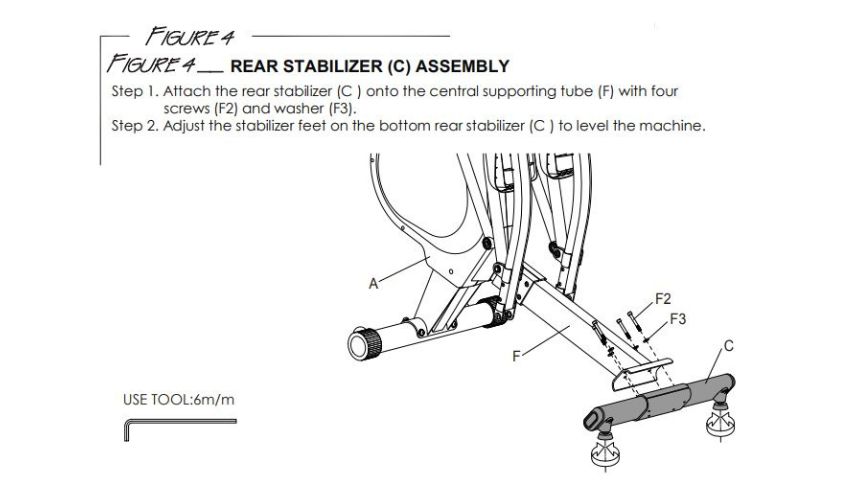 The assembly and user manual is nearly 30 pages long and contains simplified and illustrated instructions to put together the machine.
Each step includes an illustration, instructions, and even the tools to use. In other words, putting together the 1280ef is straightforward and won't take you half the day.
It's a wonder to me that every cardio machine company doesn't produce assembly manuals this good, but that is where we are.
✅ Using the Diamondback 1280ef is smoother than a baby's bottom
When it comes to using the machine, I was pleasantly surprised with how smooth the drive was.
You never really know with compact elliptical trainers, but the magnetic flywheel and 187lb machine weight generated plenty of stability, even when I was getting after it on a full-resistance HIIT workout.
Besides the fact that the ride is as smooth as a baby's bottom, the 1280ef has all of the basic creature comforts of a quality elliptical, including:
Media ledge for smartphone/tablet
Multi-grip handles for custom grip
Stationary handles on the main column with heart rate monitoring
Forward and backward stride
Low step-up height (just 6.7")
Oversized foot pedals
Diamondback Fitness 1280ef Adjustable Elliptical – The Cons
Limited stride lengths.
The Diamondback 1280ef's distinguishing feature–the fact that it's adjustable–only offers two lengths, 17" or 22".
Which makes it great for slightly-shorter-than-average and taller-than-average users. (Which is an odd pair of lengths, I will agree.)
Compared to even Diamondback's little brother, the 1060ef, which offers three stride lengths (18", 20" and 23"), or the Sole E95s, which offers a full broad range of stride lengths (18" to 24" in half-inch increments), the 1280ef is limited in choices for stride.
I would like to see future editions of the 1280ef have a few more options (especially 20", which is generally the "standard" elliptical stride length) for stride length.
Limited warranty on the frame
One thing that kind of concerned me about this elliptical was that the frame warranty is just five years.
This is significantly lower than what I would consider the industry standard of 10 years to life.
The parts and labor warranties are more in line with what other cardio machines provide: 3 years on parts and 1 year on labor.
Diamondback 1280ef vs Diamondback 1060ef
Diamondback Fitness manufactures just two elliptical trainers, the 1280ef, and its little brother, the Diamondback Fitness 1060ef Elliptical.
The 1060ef has three stride length options, even though it's the cheaper option (18", 20", and 23"). The 1060ef has a lower max user weight (300lb vs 350lb) and the screen is a lot more basic compared to the 1280ef.
Here is a more detailed look at the 1280ef vs 1060ef:
| | | |
| --- | --- | --- |
| | 1280ef | 1060ef |
| Price | $1,199 | $999 |
| Step-up height: | 6.7" | 6.7" |
| Screen | 10" HD | 5.5" LCD |
| Max user weight | 350lb | 300lb |
| Stride lengths | 17" or 22" | 18", 20", 23" |
| Workout programs | 8 | 8 |
Diamondback Fitness 1280ef Adjustable Elliptical vs. Sole E95s Elliptical
When it comes to adjustable stride elliptical machines, there isn't a huge list.
But far and away the best overall elliptical machine with adjustable stride is the Sole E95s Elliptical thanks to its insanely stable ride plus a wide array of stride options (12 different lengths between 18" and 24"–perfect especially for taller people).
The Sole E95s is a more expensive elliptical at $2,199, nearly double the price as the Diamondback 1280ef, and will take up a lot more floor space, but it has a much superior build and has a lifetime warranty on the frame of the machine.
For people who want the ultimate in adjustable stride length, the E95s is our run-away favorite.
You can read our full-length review of the Sole E95s here.
The Bottom Line
The Diamondback Fitness 1280ef Adjustable Stride Elliptical is a solid machine in a lot of respects.
It's sturdy, can be adjusted between two stride lengths, and that big screen will help keep you entertained and exercising on those days when you aren't "feeling it."
The 1280ef is perfect for people and families with multiple users looking for an entry-level elliptical with entertainment options.
To recap:
| | |
| --- | --- |
| ✅ PROS | ❌ CONS |
| Adjustable stride lengths | Limited stride length options |
| 10" touchscreen for streaming | Stride length adjusted manually |
| Low step-up height | |
| Sturdy ride | |
| Compact footprint | |
| Budget-friendly pricing | |
---
More Elliptical Reviews and Guides Like This
What's the Best Elliptical Stride Length? (How to Choose). Elliptical stride length is crucial for getting the most out of your workouts. Here's how to measure the right stride length for you, the benefits of long-stride ellipticals, and more.
Elliptical Buying Guide – Everything You Need to Know to Buy with Confidence. Want to buy an elliptical but don't know where to start? Arm yourself with the knowledge to choose the perfect elliptical for you and your workout goals.