The Life Fitness E1 Elliptical is a studio-grade elliptical that is perfect for home gyms. Here's a full review of the pros, cons, comparable ellipticals, and the best place to buy the E1.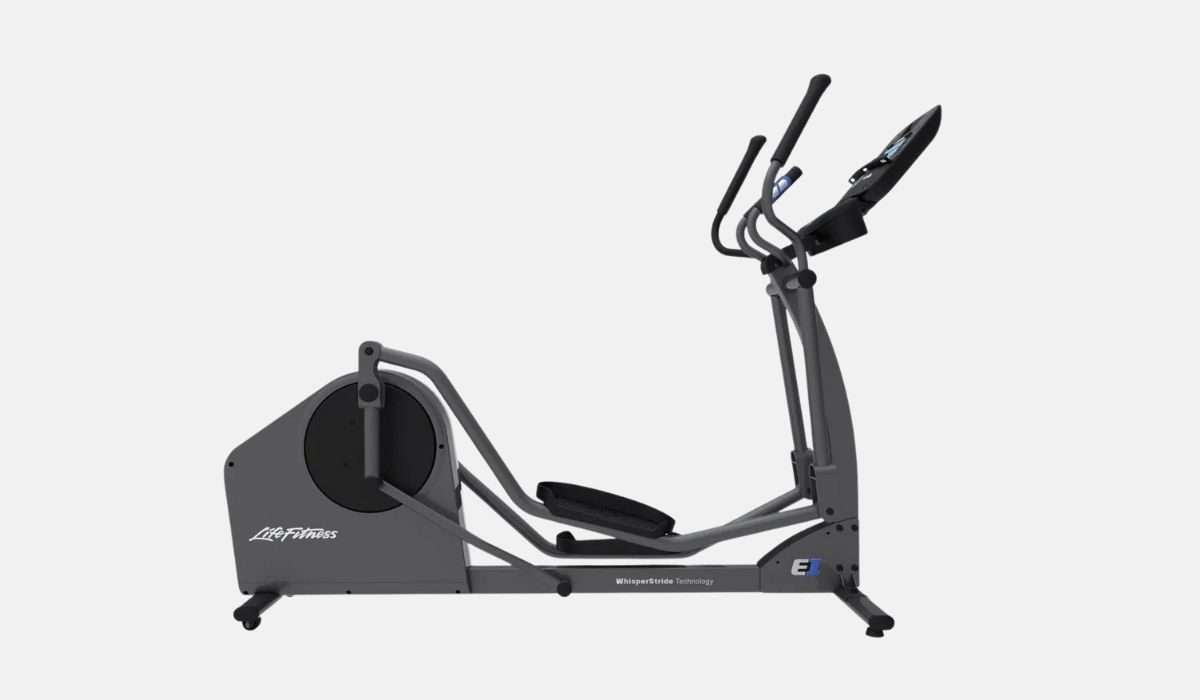 In this Life Fitness E1 Elliptical Review:
If you have ever stepped into the cardio theater at your local Big Box gym and used one of the elliptical machines, it was almost certainly made by Life Fitness.
They are one of the, if not the, most commonly seen cardio machine brands in neighborhood gyms. And while most of their cardio equipment is priced at commercial-grade prices, Life Fitness does make ellipticals for the home user.
In this review of the Life Fitness E1 Elliptical, we will detail the specs, pros, and cons of this studio-grade elliptical that is designed for home gyms.
By the end, you will have a crystal-clear idea of whether or not the E1 is the right elliptical for you.
Let's jump right in.
Life Fitness E1 Elliptical Cross-Trainer – The Key Specs
Before we jump into the hands-on experience of using the E1, here is a rundown of the key components and specs of the machine:
Price: $2,729
Console: 2 user profiles (on base console)
13 pre-programmed workouts (and one custom)
Unit weight: 212lbs
Max user capacity: 400lbs
Stride length: 20"
Dimensions: 82" L, 30" W, 59" H
Step-up height: 6.5"
Warranty: Lifetime (frame), parts (5 years), labor (1 year)
Life Fitness E1 Elliptical Cross-Trainer – The Pros
Alrighty, enough with the specs, let's jump into what we really like about this particular elliptical machine.
The pros include:
✅ Built by one of the best cardio companies on the planet.
Life Fitness has been building ellipticals (and treadmills, rowers, etc) for decades, and their machines are used in studios and clubs that see constant, 24-hour use all over the world.
As a result, they know a little something-something about how to build a machine that can take a beating better than most.
And although their commercial-grade machines can get almost comically expensive (the E5, for example, starts at $6,510!), the E1 is a much more affordable machine, retailing for $2,729.
✅ Different console options.
Being able to customize the elliptical you buy is awesome. And one of the sneaky-sneaky ways to do this with the E1 is by choosing the type of console you want with the elliptical.
While you don't get the large, HD screens that are becoming more popular with premium elliptical trainers (like Nordic Track and Bowflex who offer trainer-led classes through their screens—like Peloton), there are three choices of consoles with the E1.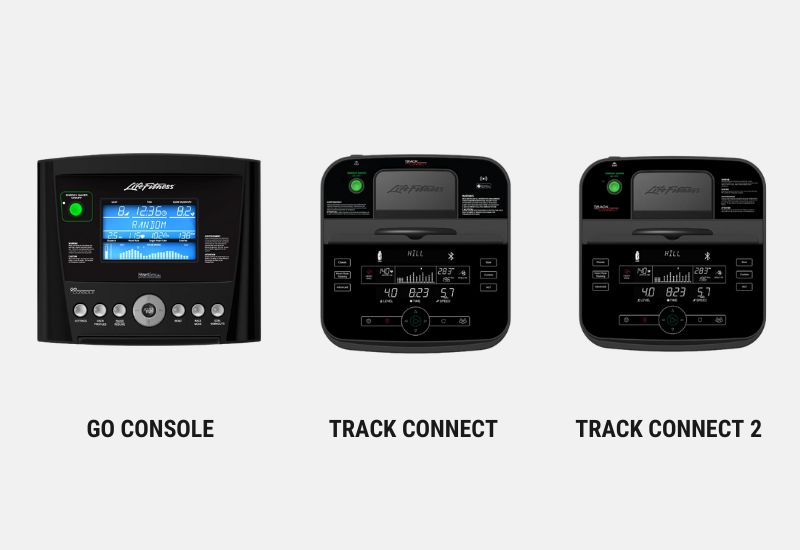 They include:
Go Console. Perfect for the user who just wants to get on and go. No frills, no fuss, just straight calorie burnin'.
Track Connect. You get a couple more workouts, and more user profiles, and it connects with the Life Fitness app and other select fitness apps.
Track Connect 2.0. All of the above plus connectivity to Apple and Samsung smartwatches.
✅ Almost completely silent.
The E1 Elliptical is exceptionally quiet. How quiet? Well, quiet enough that you can hammer away on it next to your sleeping spouse and they will almost definitely continue to snore away.
The elliptical machine is built with ball bearings that significantly cut down on potential friction, creating a whisper-like striding experience.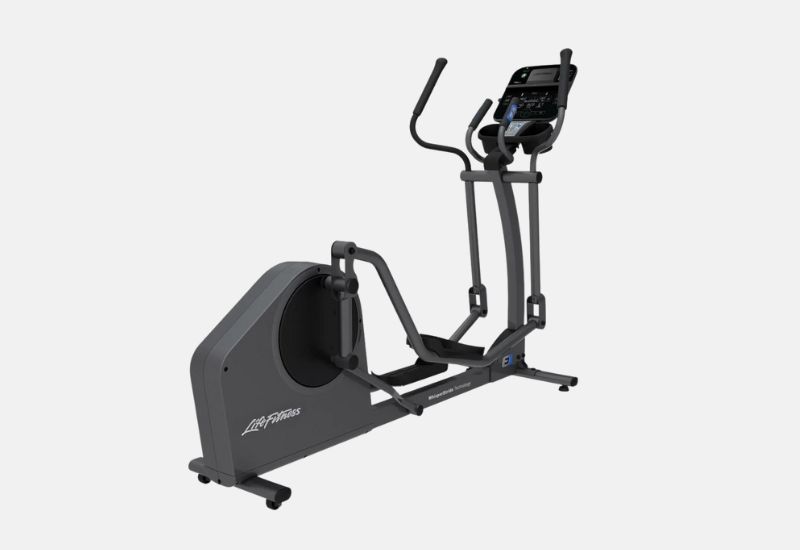 For users who place a premium on machine silence—whether because you have roommates, workout at odd hours, or simply enjoy working out in dead silence—the E1 is one of the quietest ellipticals on the market.
✅ Low step-up height.
Elliptical machines can be a bit of a challenge to mount at times, especially if the drive is a little loose and gives the moment you step onto the machine.
Some machines add side-steps to help you mount the elliptical more easily and confidently (the True Fitness PS300 Elliptical is a good example of this), but the E1 solves for this by simply lowering the step-up height of the pedals.
Unlike other ellipticals which can be a 12-18" off the ground, the E1, at its lowest pedal position, is just 6.5" from the ground, making it an ideal choice for users who want to be able to easily get on the machine.
✅ Smooth Ride
And of course, all of those features are for naught if the elliptical doesn't ride smoothly…
Which it does.
The rear drive system, along with Life Fitness' proprietary "WhisperStride" technology gives you a striding experience that feels like you are pedaling through the clouds.
✅ Assembly manual is easy to follow
A major issue with some cardio machine companies is selling what are essentially complex and disassembled machines (saves on shipping, so it makes sense…) with vague and compressed assembly manuals (looking at you, Sole Fitness!).
If you decide to put the E1 Elliptical together yourself (Life Fitness offers an assembly service, as well), the assembly manual is a dream.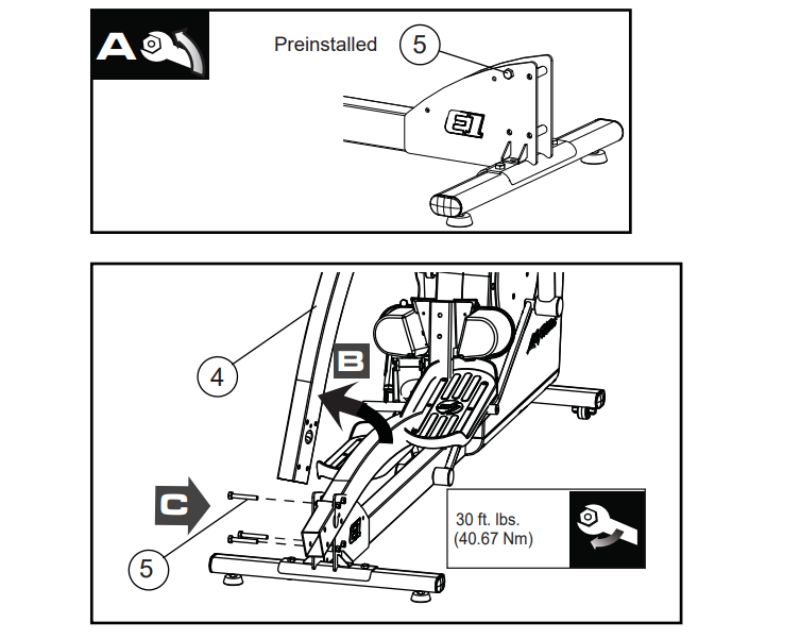 Each stage of the assembly is illustrated step by step so you can put together the E1 with confidence.
Life Fitness' customer service is also very responsive in the event that something breaks down or you find yourself stuck with the assembly of the cross-trainer.
Life Fitness E1 Elliptical Cross-Trainer — The Cons
Not everything is rosy and awesome with the E1.
And it mainly comes down to this…
The E1 is expensive.
Cardio machines are almost never cheap. But the E1, despite all of the features like the smooth ride and ninja-levels of silence, is pricey as hell.
The E1 starts at $2,729 (unless you catch it on sale–I've seen it on sale for as low as $1,365 on Black Friday-type sales), which is way more expensive compared to other machines similar in its class.
The Sole Fitness E95 Elliptical, for example, is about a thousand dollars less and provides a similarly smooth ride (as well as power incline).
Although I really like the E1, it's hard to justify when there are other machines with just as much awesomeness packed into it at a significantly reduced price.
How Does the Life Fitness E1 Compare to the E3 and E5?
Great question!
Life Fitness has three ellipticals in the E-series line of machines, all designed for home use.
(For a look at ALL of Life Fitness's ellipticals, check out this comparison guide.)
The E1 is the most budget-friendly option of the three. The E3 is slightly beefier in weight (14lbs more)
The E5 is the only one that has an adjustable stride length (users can electronically change the stride length from 18 to 24") and has a larger footprint and increased unit weight compared to the other two machines.
All three machines give you the option to choose between the three different consoles.
Here's a quick comparison of the Life Fitness E-series ellipticals:
| | | | |
| --- | --- | --- | --- |
| | E1 | E3 | E5 |
| Price | $2,729 | $3,719 | $5,269 |
| Stride | 20" | 20" | 18-24" |
| Dimension (L,W,H) | 82x30x59" | 82x34x61" | 84x34x66" |
| Step Up Height | 6.5" | 6" | 10" |
| Unit weight | 211lbs | 225lbs | 251lbs |
| Max user weight | 400lbs | 400lbs | 400lbs |
| Resistance Levels | 20 | 20 | 20 |
| In-home assembly | Yes | Yes | Yes |
The Final Verdict
The Life Fitness E1 Elliptical a machine that gives you the best of both worlds…
Commercial-grade build and premium industry experience combined with a (mostly) reasonable price tag suitable for home use.
Between the customization of the consoles, sturdy design, silent drive system, and the easy-to-follow assembly, the E1 is a killer pick for anyone wanting a gym-quality elliptical trainer at home.
The Life Fitness E1 is perfect for people who:
Want a reputable manufacturer
Value an elliptical that is nearly completely silent
Flexibility in console choice
Studio-grade elliptical at home gym prices
Low step-up height
Where to Buy the Life Fitness E1 Elliptical Cross-Trainer
The E1 is offered at several online fitness retailers, but I've consistently found that the Life Fitness official website most regularly carries deals.
They also usually have offers on delivery and in-home assembly (sometimes included for free).
More Elliptical Reviews and Articles
How Much Do Ellipticals Cost? (44 Different Models Compared). Ellipticals can be a costly investment into your workout goals. Here is a look at how much each type of elliptical costs and how much to spend on one.
Elliptical Buying Guide – Everything You Need to Know to Buy with Confidence. Want to buy an elliptical but don't know where to start? Arm yourself with the knowledge to choose the perfect elliptical for you and your workout goals.