The Nautilus E616 Elliptical has a lot of features for an elliptical under just $800—but it's not for everyone. Read on for our ultimate review of the Nautilus E616 Elliptical.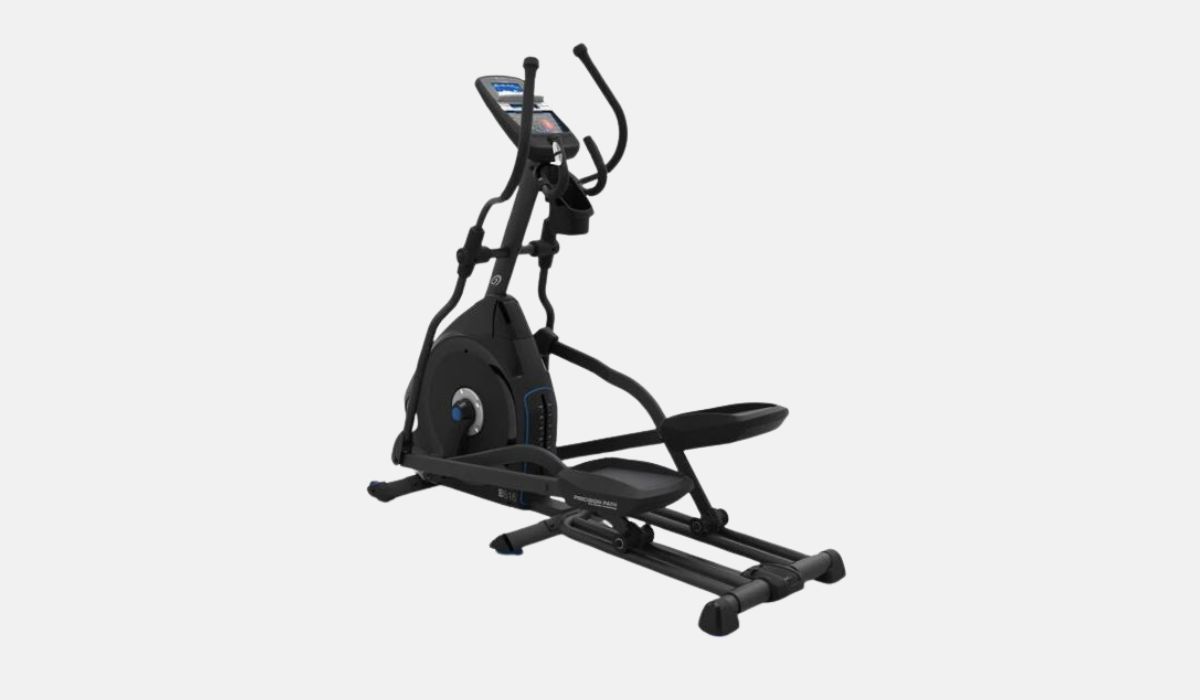 In this Nautilus E616 Elliptical Trainer Review:
Priced at just $799, the Nautilus E616 Elliptical combines exceptional bang-for-buck and tons of workout options with Nautilus' decades of experience building machines for countless commercial gyms worldwide.
The result is a comfortable, sturdy, and well-priced elliptical for crushing your workout goals in the comfort of your own home. It's also topped our list of the best elliptical machines for under $800.
But is it the E616 the right one for you?
In this review, we will do a hands-on, deep dive on the E616, including the key specs, the pros of the E616, and the cons, compare other ellipticals at the E616's price, and even compare it to Nautilus' other ellipticals.
By the end, you will have everything you need to know about whether the E616 is worth your hard-earned money.
Let's get right to it.
Nautilus E616 Elliptical – The Key Specs
Stride Length: 20"
Drive system: Front drive, magnetic flywheel
Flywheel weight: 22lbs
Incline: 6 levels (motorized)
Resistance levels: 25
Workout programs: 29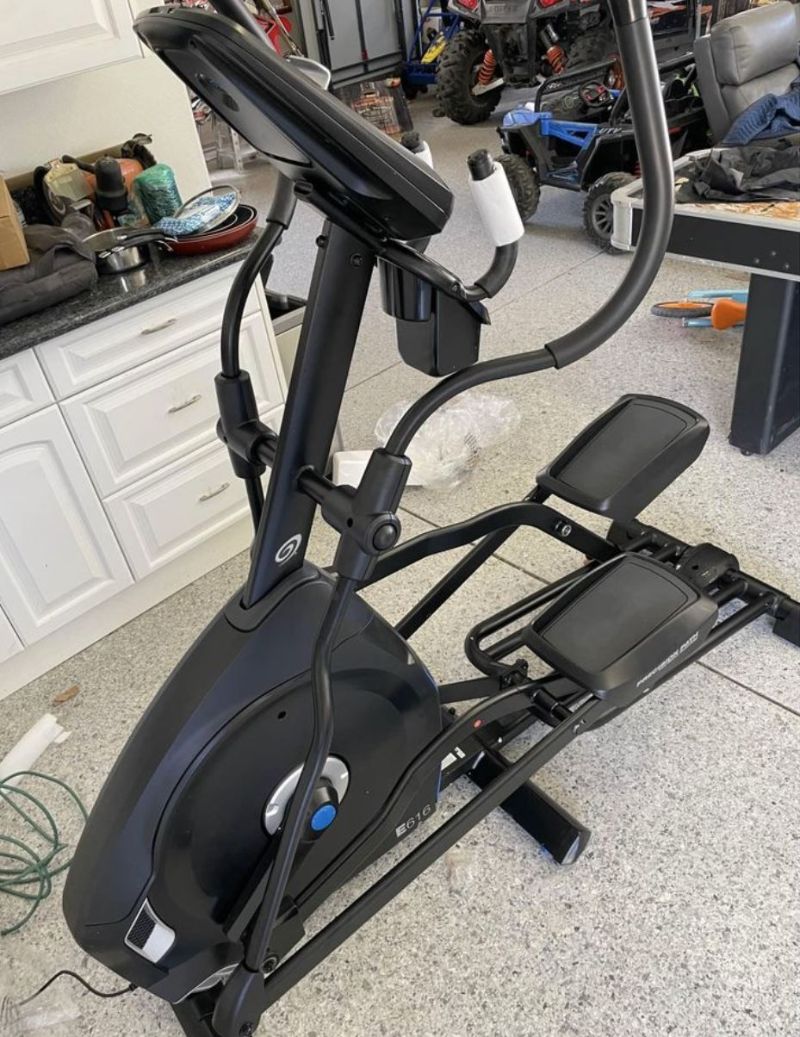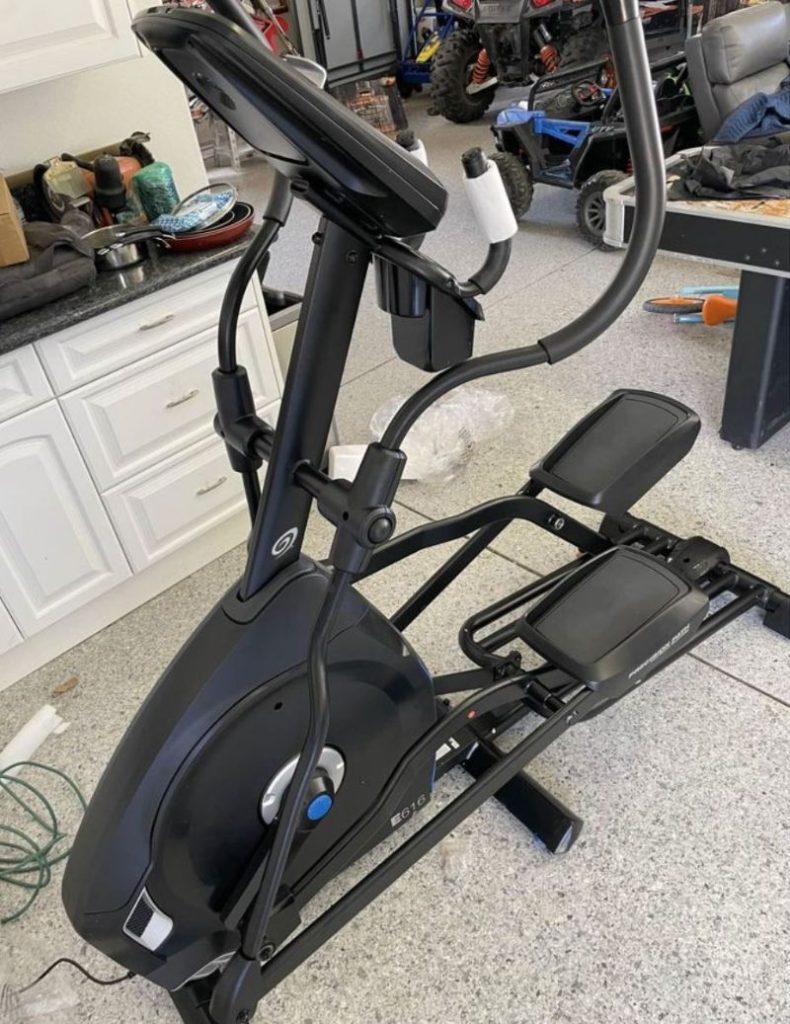 Nautilus E616 Elliptical – The Pros
Alrighty, let's get right to the good stuff!
Here are the things that I really like about the Nautilus E616 and how it stands out compared to elliptical machines that are similar in features and/or price:
✅ Priced to win.
The main selling feature, in my opinion, is the price of the E616.
In my experience riding, testing, and endlessly striding on ellipticals over decades at the gym, I've yet to see a better elliptical when it comes to balancing out the price and the features.
It's a steal at $799 when you consider the weight of the flywheel, motorized incline, 20" stride length, and more.
You simply don't see this list of features in ellipticals in the $800 price bracket, with similarly-featured machines often costing $1,100 or much more.
Best elliptical under $800 for home gyms?
Yes.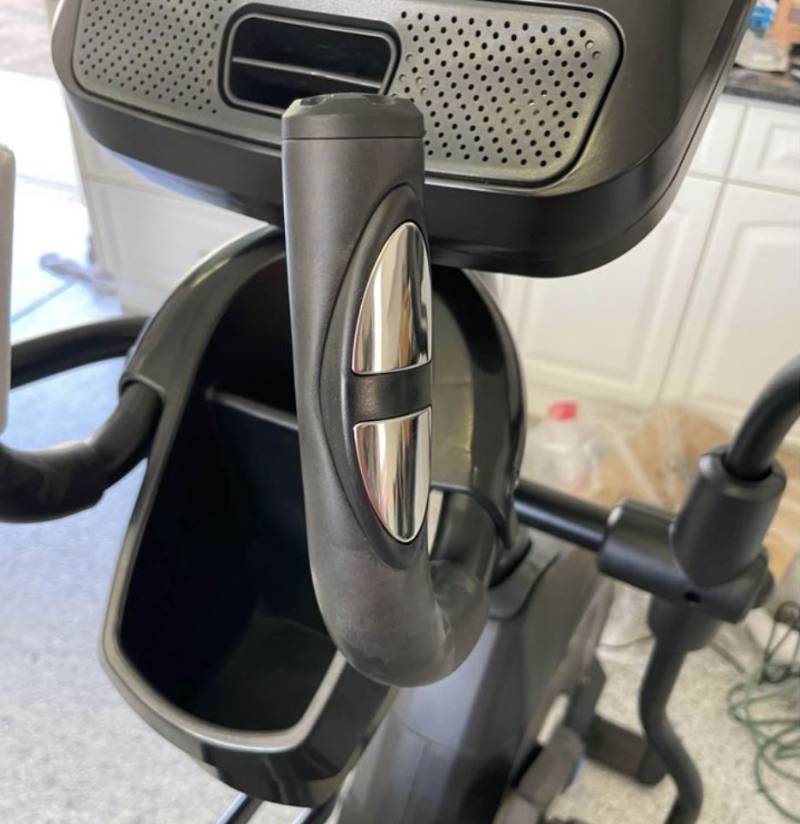 ✅ Maximum flexibility in workout difficulty.
Getting a killer workout is the whole point of getting an elliptical, and the E616 delivers on features in this regard.
Including:
25 different resistance levels
Tons of preprogrammed workouts, multiple user profiles, and custom training programs
Best-in-class six incline levels for added difficulty
The 25 levels of resistance generate more than enough flexibility when deciding how hard or easy you plan on going that day on the elliptical. This is way more resistance levels than is usually offered at this price point.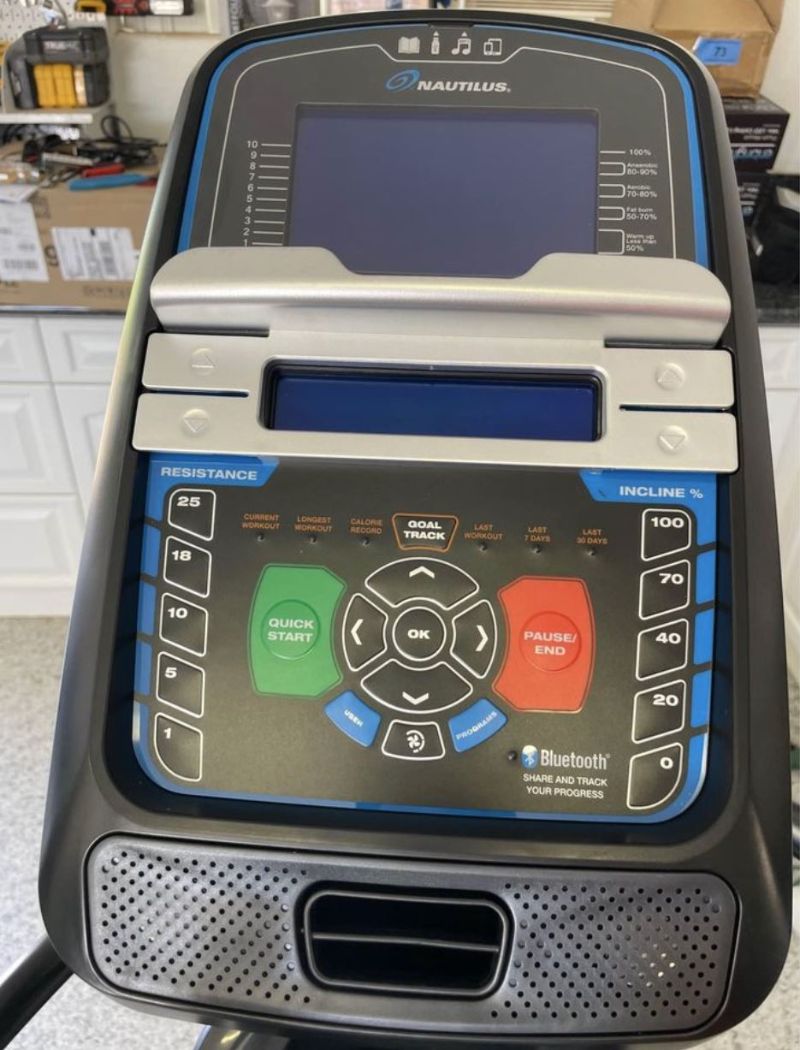 The console has all of the usual training programs (29 in total!), including HIIT, manual, custom, steady-state, as well as multiple user profiles, perfect for couples or families who want to save their workout information.
But what makes the E616 really stand out from other ellipticals in its price class is the incline options.
The E616 has six different levels of incline (that are adjusted by motor) that allow you the ability to crank up the difficulty of the workout instantly.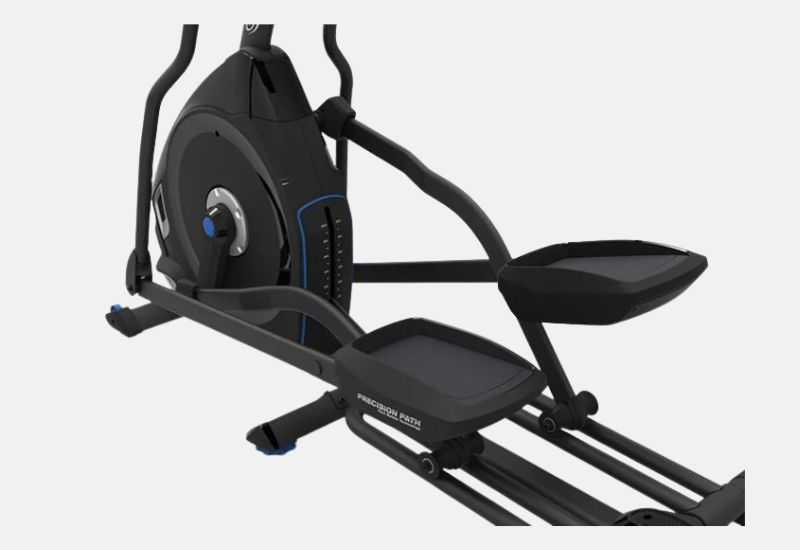 And finally, Nautilus, as well as its subsidiary companies Bowflex and Schwinn, offer a smartphone/tablet app called Explore the World, which allows you to through 50+ worldwide locales while promising to track and log your training information.
While kind of neat, the app is prone to glitches and crashing (more on that in the "cons" sections).
✅ Rides like a cloud
While it's not the same studio-quality ride experience you are going to get with the more expensive machines, I would say it's comparable, particularly for lighter users, and especially when considering that this is a very budget-friendly elliptical.
Fun Fact: Nautilus Inc. is the umbrella company for Bowflex, Universal Gym Equipment (aka "Universal gyms"), Schwinn, Stairmaster, Octane Fitness and yes, Nautilus, which originally started with a variable resistance machine called the Nautilus back in the 1970s before expanding to more cardio training designs and machines.
The E616 has a 20lb flywheel, which is heavier than almost ALL ellipticals at this price point, so this feature alone should give you confidence that the machine will keep striding smoothly long after you set it up in your home gym.
Also, even though it's a relatively inexpensive machine, it's not "short" on size for taller and bigger users. As an example, I am 6'5″ and have size 14 feet paddles, err, feet, and the pedals were more than large enough to ride the E616 comfortably.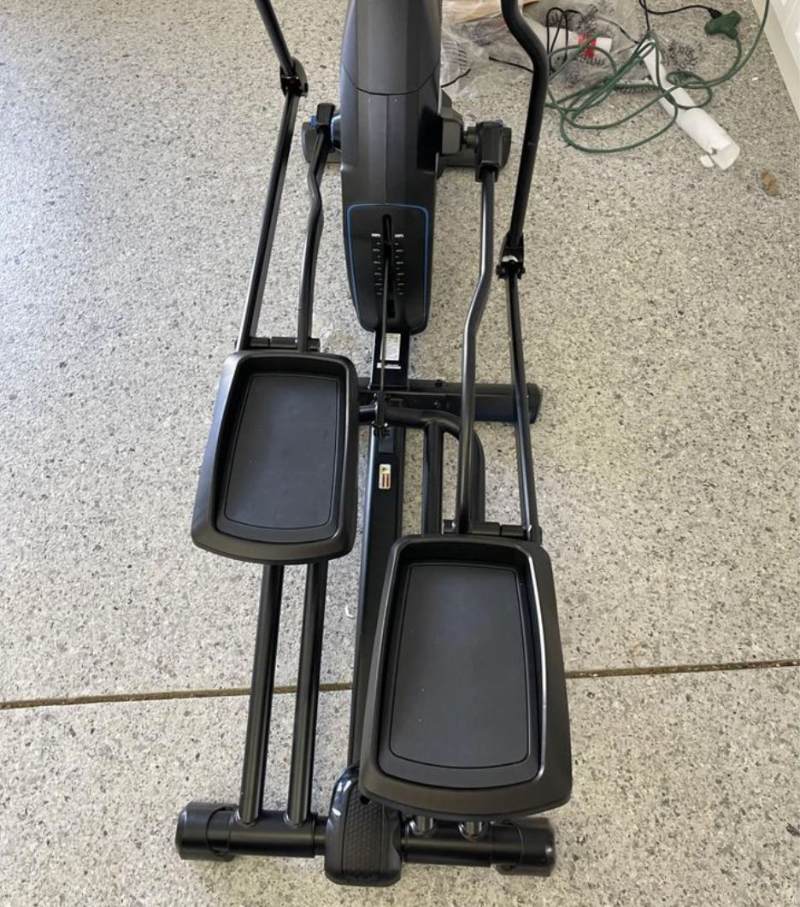 ✅ Easy-to-follow assembly
Choosing the best elliptical machine for you is hard enough. Then comes the not-so-fun part—assembling it properly and putting it together in such a manner that it doesn't creak and groan or worse, falls apart when you step on it for that first workout.
While there are some elliptical companies out there who provide assembly manuals that are way too short (Sole Fitness' collection of ellipticals, for example, have only four steps in their manual to outline the entire assembly of the machine), the Nautilus E616 comes with a clear, step-by-step assembly manual that keeps things simple.
Having lost count of the number of squat racks, cardio machines and other assorted exercise equipment I have put together over the years, it warms my heart to see an assembly manual that doesn't try to cram the entire assembly into one page.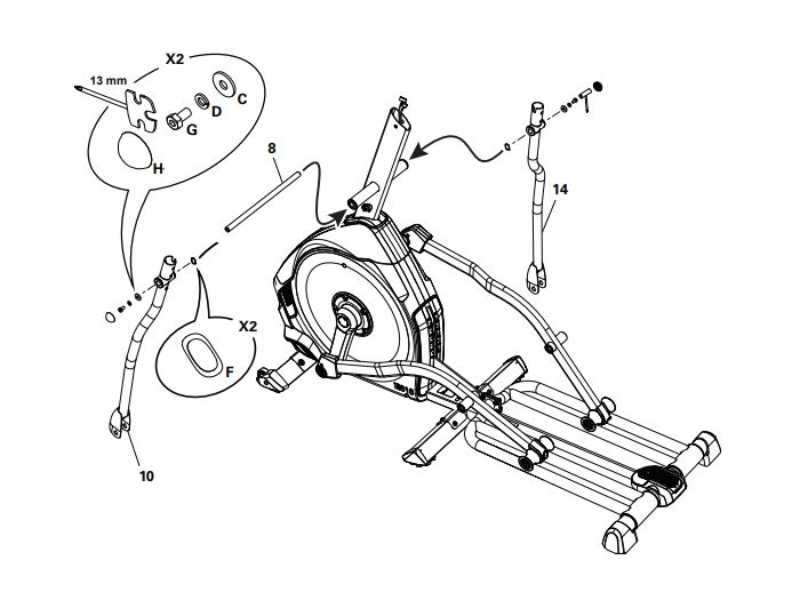 Of course, if assembling it isn't your cup of tea, there is also the option of in-home assembly for total peace of mind, which Nautilus offers for an added $249.
Nautilus E616 Elliptical – The Cons
Although I really like the E616, there are some opportunities for improvement.
The main one is this:
The Explore the World app can be quite glitchy.
Reviewers often find that the app is quite glitchy and will crash mid-session while exercising, usually because it would lose Bluetooth connectivity with the machine.
This is especially a pain in the butt when you are trying to track your workouts. Nothing worse than training for 45-minutes and then losing the progress and potentially new PBs.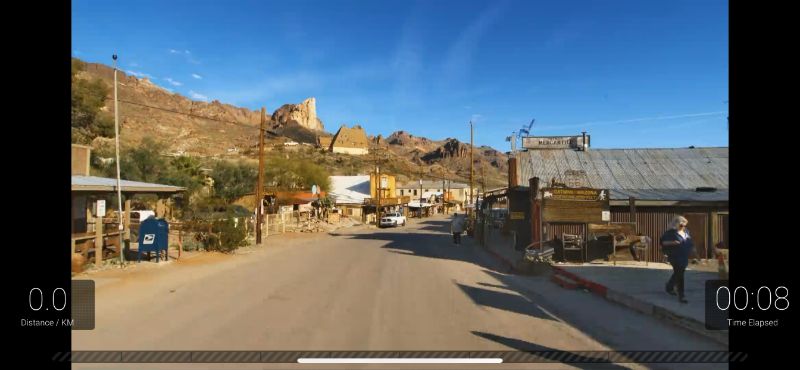 The rating on the Apple app store says it all—an abysmal 2/5 star rating. Compare that to Peloton's training app, which has nearly 60,000 five-star reviews.
Ouch.
If you are cool with the regular workouts—HIIT, steady state, and all the rest—consider sticking to the LCD display and logging your training data on a separate app or an old-fashioned logbook.
And because the app also requires a subscription, the Explore the World app is a non-starter.
How Does the E616 Compare to Other Nautilus Ellipticals?
The E616 is the middle sibling of the "E" series of ellipticals by Nautilus that include the Nautilus E614 and the Nautilus E618 Elliptical Trainer.
They are all designed for home use and are priced under $1,000. (The E618 has an MRSP of $1,399 but is frequently on sale for $999.)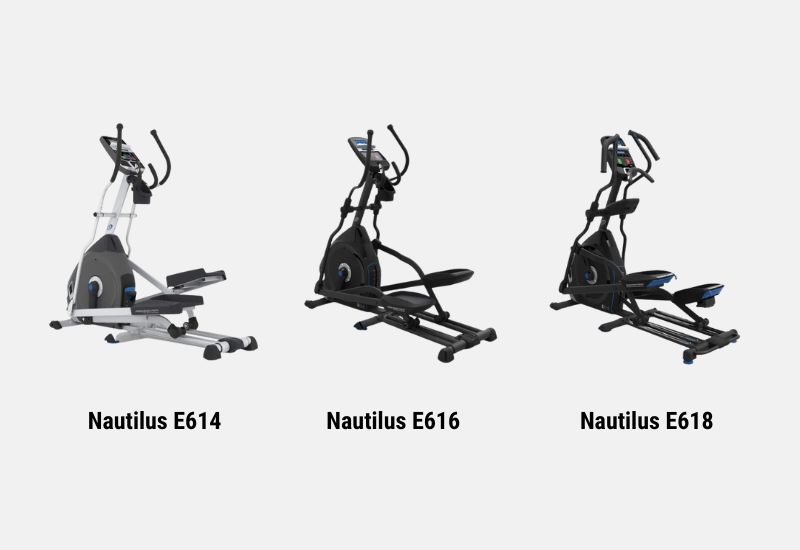 Here is how the E616 compares to the other ellipticals in this range:
| | | | |
| --- | --- | --- | --- |
| | E614 | E616 | E618 |
| Programs | 22 | 29 | 29 |
| Bluetooth | No | Yes | Yes |
| Stride Length | 20" | 20" | 22" |
| Resistance Levels | 20 | 25 | 25 |
| Price | Discontinued* | $799 | $999 |
| Machine Weight | 165lbs | 173lbs | 210lbs |
| User Weight Max | 300lbs | 300lbs | 350lbs |
| In-home assembly | Yes ($249) | Yes ($249) | Yes ($249) |
At the time of publishing, both Amazon and Nautilus' official website were either out of stock or had discontinued the E614.
How is the Nautilus E616 Different from Other Ellipticals Under $800?
Cardio machines tend to be quite pricey, which makes sense given the amount of steel, electronics, and drive components that are required to manufacture one that rides smooth.
Elliptical machines are no different.
Fortunately, you don't need to spend a heaping pile of money to get your hands on a smooth and durable elliptical.
Here is how my two favorite ellipticals that cost less than $800, the Schwinn 430 and the Horizon EX-59, rank against the Nautilus E616: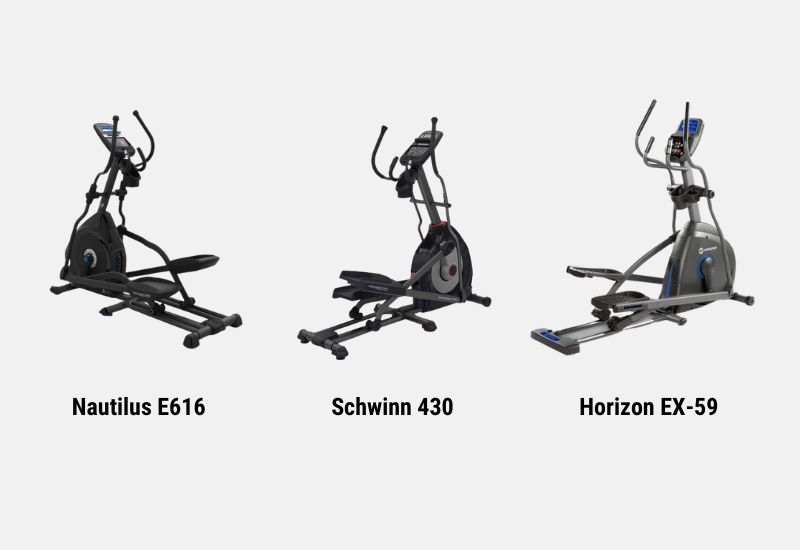 | | | | |
| --- | --- | --- | --- |
| | Nautilus E616 | Schwinn 430 | Horizon EX-59 |
| Price | $799 | $799 | $749 |
| Bluetooth | Yes | Yes | Yes |
| Stride Length | 20" | 20" | 18" |
| Resistance Levels | 25 | 20 | 10 |
| Machine Weight | 173lbs | 168lbs | 187lbs |
| User Weight Max | 300lbs | 300lbs | 300lbs |
| Dimensions | 70" L, 28" W, 71" H | 70" L, 28" W, 63" H | 74" L, 25" W, 64" H |
| Flywheel | 22lbs | 20lbs | 14.3lbs |
| Incline | 6 levels (motorized) | 6 levels (manual) | No |
| In-home assembly | Yes ($249) | Yes ($249) | Yes |
Nautilus E616 Elliptical Crosstrainer – FAQs
How much does the Nautilus E616 weigh?
The E616 weighs 173lbs. The unit weight generates added stability and prevents rocking and teetering when using the trainer.
Is Nautilus a good brand of elliptical?
Nautilus is one of most reputable elliptical brands on the planet. They also manufacture ellipticals by Schwinn and Bowflex (like the M9 Trainer). Nautilus has been making ellipticals for decades for both commercial and home use.
What is the flywheel on the Nautilus E616?
The flywheel on the Nautilus E616 is weighted around the perimeter, generating a more balanced and smooth striding experience. The weight of the flywheel is 22lbs, which is nearly industrial-grade in terms of weight and helps eliminate wobbling of the elliptical during heavy training.
The Final Verdict
Elliptical machines can feel like a bit of a risky investment. The machines themselves are complex in terms of drive systems, electronics, and a lot of moving partners.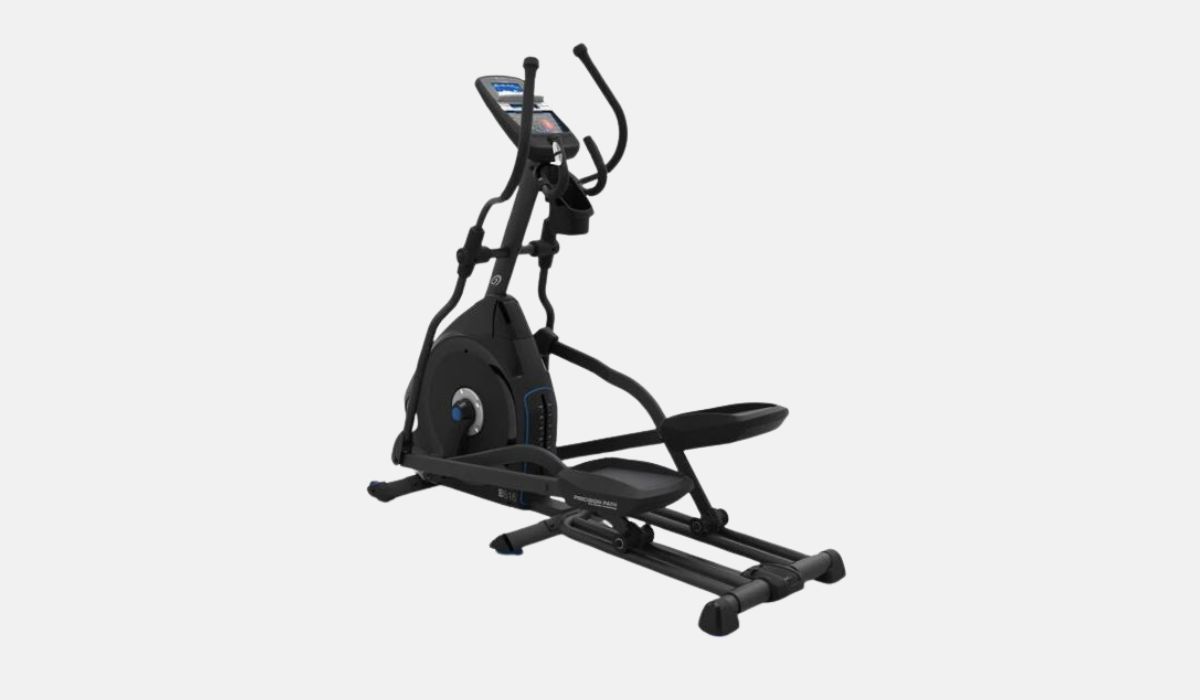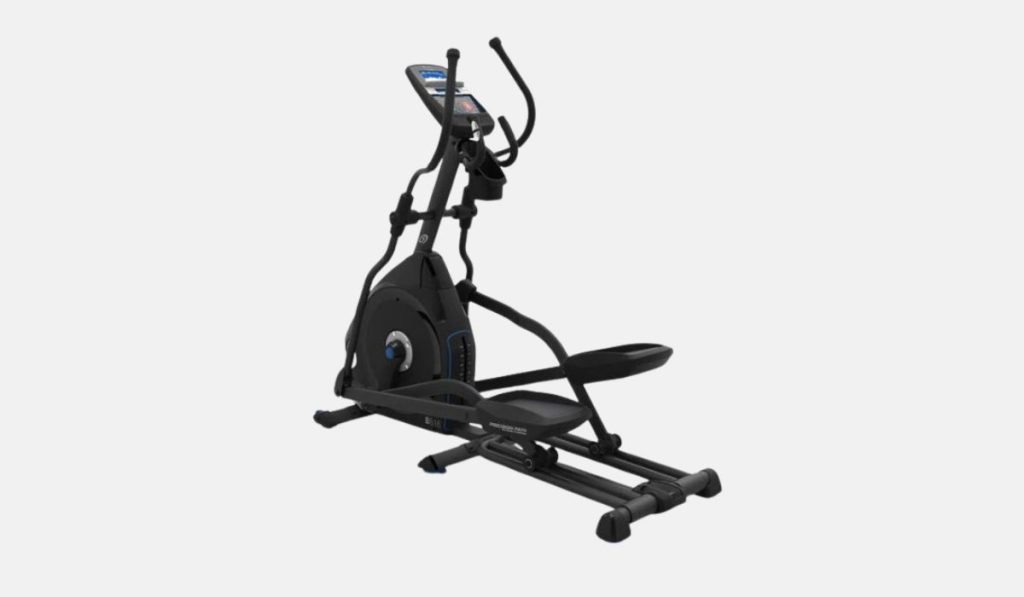 You don't want to spend a bunch of money on a piece of junk that falls apart after three weeks of workouts.
The Nautilus E616 Elliptical Trainer is that rare unicorn amongst cardio machines: a durable, smooth-riding trainer that won't donkey-kick your bank account into the next decade.
Combine that with the motorized incline and a heaping pile of workout programs and resistance levels and you've got a budget-friendly winner for your home gym.
| | |
| --- | --- |
| ✅ PROS | ❌ CONS |
| Best budget-friendly elliptical under $800 | The "Explore the World" app is kinda garbage |
| 25 levels of resistance | |
| Heavy-duty flywheel – 22lbs | |
| Motorized incline (6 levels) | |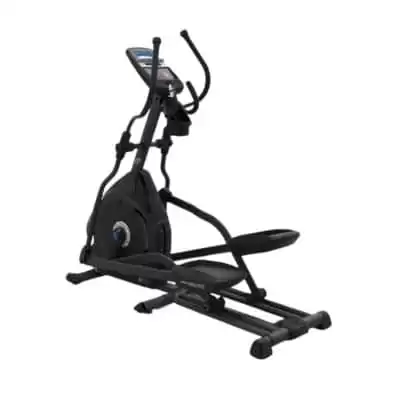 ---
More Elliptical Guides and Reviews
NordicTrack SpaceSaver SE7i Elliptical Review – A Budget-Friendly Elliptical for Small Spaces. The NordicTrack SpaceSaver SE7i is a budget-friendly elliptical that can be stored vertically and is perfect for people who like doing online classes. But is it right for you? Here's a detailed review of the SE7i, including pros, cons, how it compares to other ellipticals in its class, and more.
Life Fitness E1 Elliptical Review – A Studio-Grade Elliptical for Home Gyms. The Life Fitness E1 Elliptical is a studio-grade elliptical that is perfect for home gyms. Here's a full review of the pros, cons, comparable ellipticals, and the best place to buy the E1.