The Nautilus E618 Elliptical trainer is one of the best choices for taller people looking for a long stride length when training. Here is a full review of the E618 elliptical, including the pros, cons, and the competition.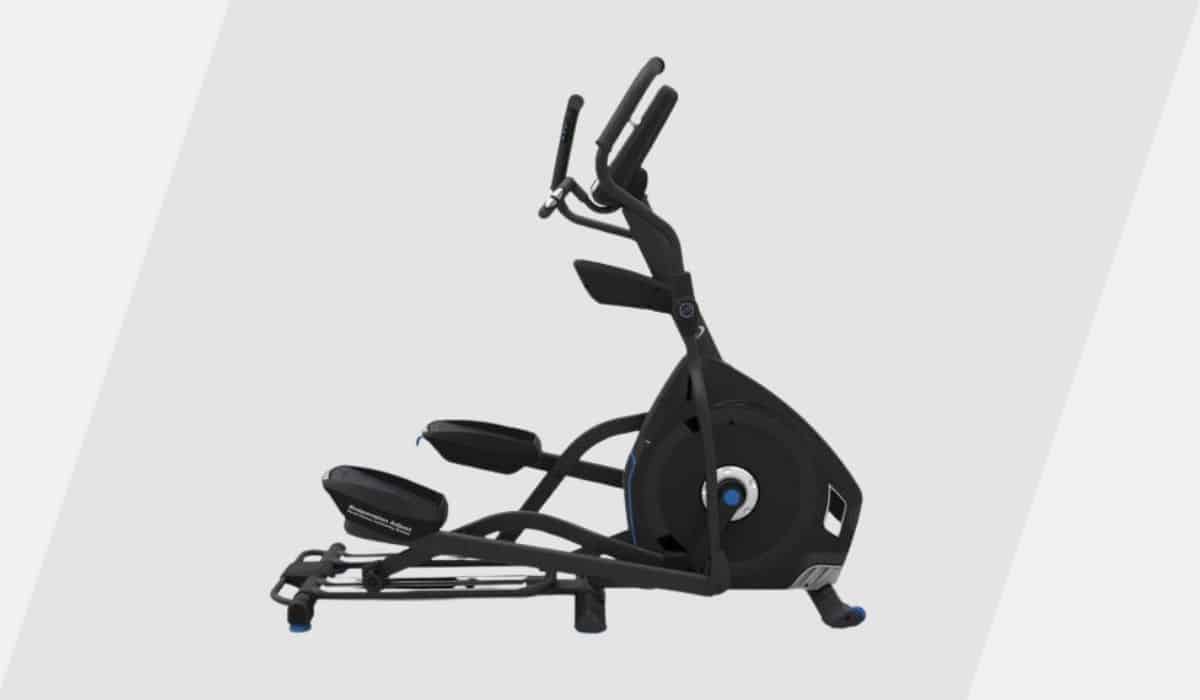 In This Nautical E618 Review:
The Nautilus E618 elliptical trainer is a feature-packed and relatively budget-friendly machine for home gyms.
It's got a heavy flywheel, power incline, tons of preprogrammed workouts, and a price that won't drain your bank account.
The E618 is particularly perfect for taller users with its 22" stride length.
In this review, we are going to take the Nautilus E618 Elliptical for a stride (ha!), list the things we liked about it, some areas for improvement, and compare it to other Nautilus ellipticals and ellipticals in its price bracket.
Let's jump right in.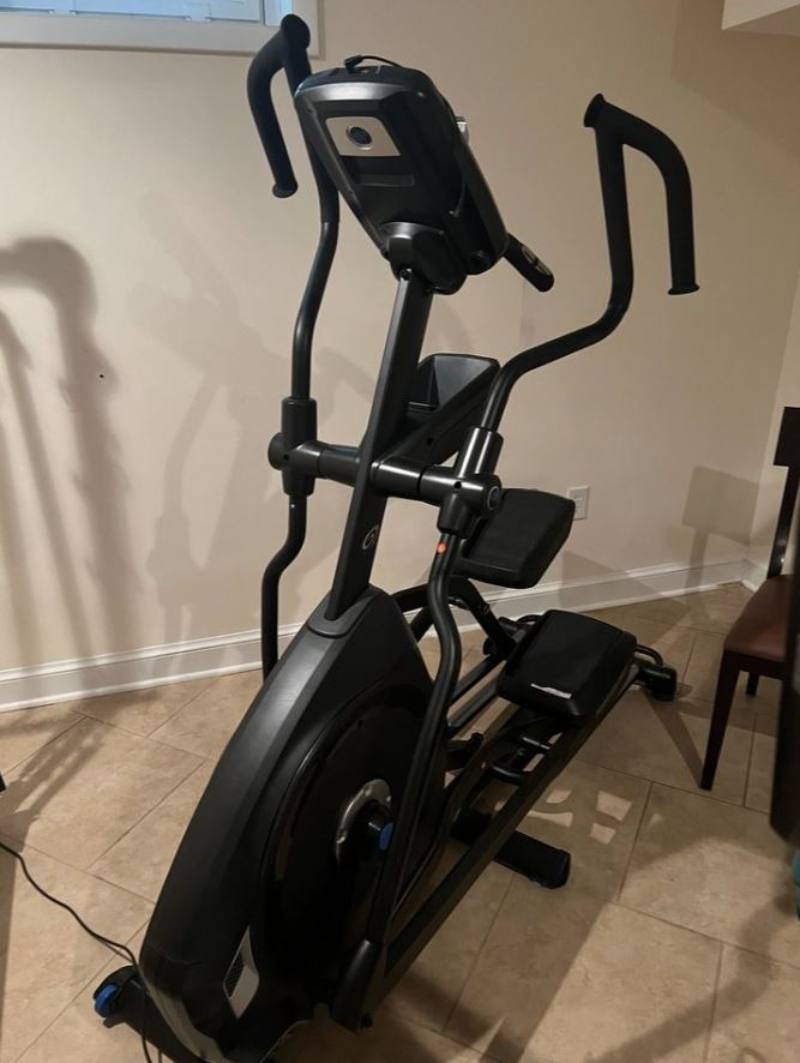 Nautilus E618 Elliptical – The Key Specs
Price: $1,399
Stride length: 22"
30lb flywheel
Power incline (0-10 degrees)
29 preset workout programs
Machine weight: 210lbs
Max user capacity: 350lbs
Multi-grip handles
Custom foot pedal incline: Up to 10-degrees
Enhanced warranty: Frame (15 years), Parts and electronics (5 years), Labor (2 years)
In-home assembly: $249
Nautilus E618 Elliptical – The Pros
Here are the main features that I really liked about the E618 when using it:
✅ Long stride length.
The E618 has one of the longest stride lengths out of the elliptical machines that are priced for home gyms.
The typical stride length is 18-20" for most machines—reference this guide for how to choose the right stride length for you—but the E618 adds an extra two inches, making it the ideal elliptical trainer for a) taller people (6'2" and up) and b) people with long legs.
A proper stride length is crucial for comfort and reducing injury while using the machine, and for tall folk who are tired of feeling cramped and squished on other machines will find the E618's 22" stride a breath of fresh air.
✅ Excellent ride.
This comes up over and over again with reviews online—the E618 is smooth, quiet, and a "comfortable" ride that can be performed extensively and repeatedly.
This is due to the flywheel on the E618 being a staggering 30lbs and an overall machine weight that is over 300lbs.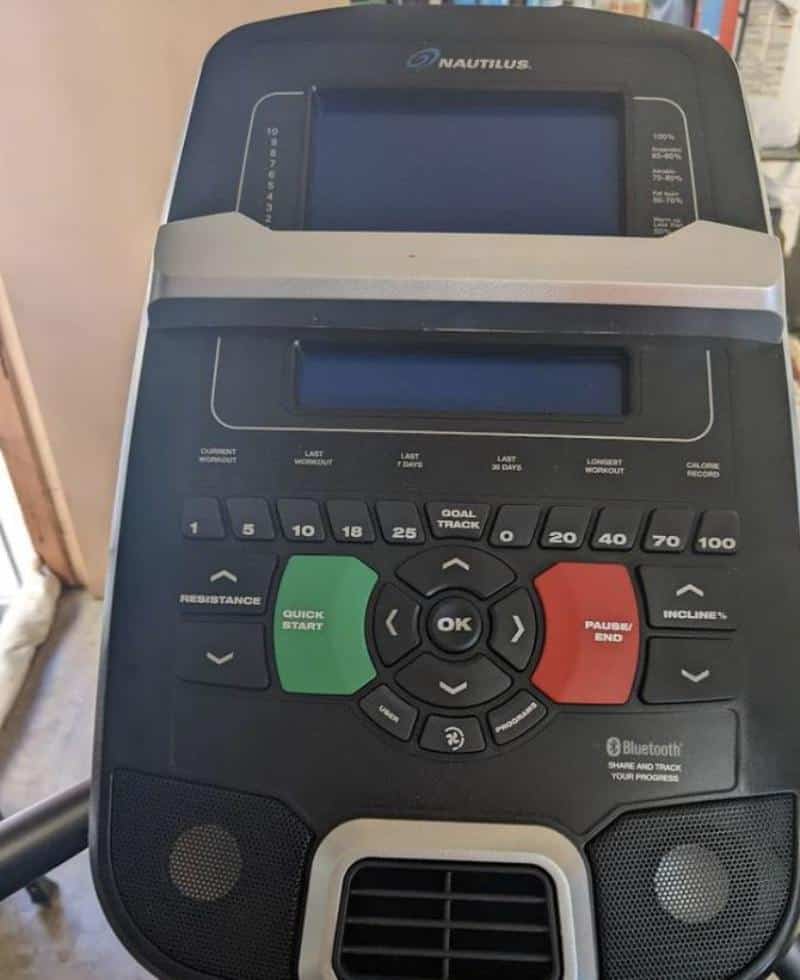 This heavy-duty build means no wobbling or teetering when you are going to town on your workout goals on the machine.
I'm a heftier fella—nearing 290lbs, and the striding experience was smoother than my bald head.
✅ Power incline.
The E618 has a power incline feature, which is something that I consider a must for people who plan on using their elliptical trainer a lot over the years.
Being able to crank up the incline means you can difficulty to your workout, whether you are doing high-intensity interval training or simply want to spice up your long, steady-state sessions with some incline to get the heart rate elevated quickly.
The power incline can be adjusted from the console or from the right handle on the elliptical machine, from 0-degrees all the way up to 10-degrees.
Sweat, engage!
✅ Adjustable foot pedals.
If you've ever struggled with your toes or feet going numb when using an elliptical, this feature is a game-changer.
The foot pedals on the E618 can be manually adjusted to create more heel support and also switch up the muscles targeted while using the machine.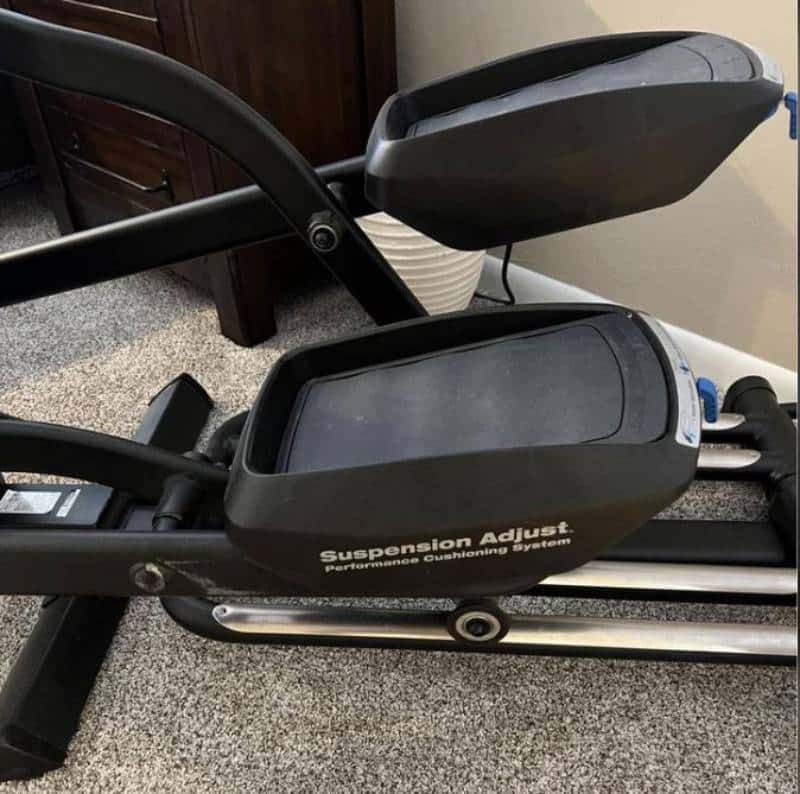 Placing your heels on a slight incline keeps your feet flatter on the pedals, which is great for people who don't want to target the calves as much when using the elliptical.
✅ Assembly is straightforward.
Elliptical machines are bulky, complex machines with a lot of components and parts.
This is why it makes me absolutely crazy when companies (looking at you, Sole Fitness!) provide a two-page assembly manual when shipping these machines out.
The Nautilus assembly manual is extremely clear and simplified, guiding you step by step through the assembly of your new machine.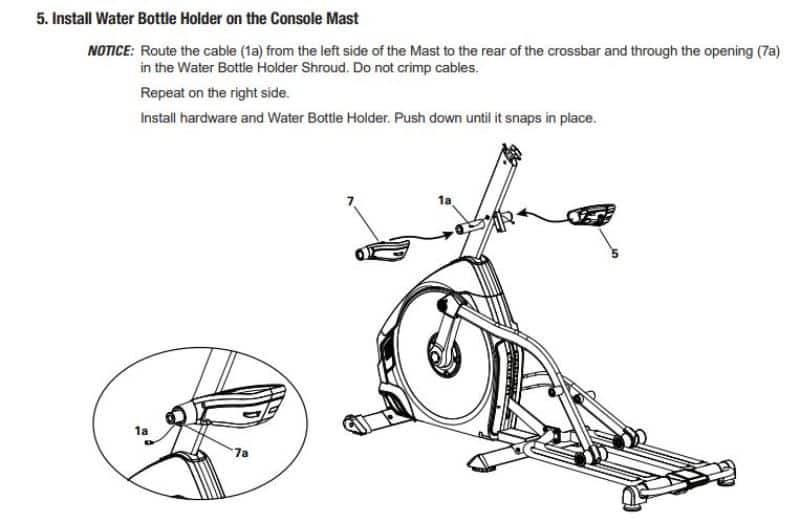 It took me about two hours to do the job on my own, and if you aren't mechanically inclined or simply don't want to put it together, Nautilus does offer a $249 in-home assembly option for maximum peace of mind.
✅ Excellent value pick.
And finally, the price is supremely reasonable given the basket of features that comes with the elliptical.
The cost of the elliptical machine you choose plays a huge role when purchasing, and the E618 comes in at a respectable starting price of $1,399 (I've seen it for sale for as low as $999 several times on Nautilus' official website), which makes it a mid-tier elliptical.
But the features it has, which surpass the bells and whistles typical of Life Fitness Ellipticals and other premium elliptical brands, make it an excellent value pick.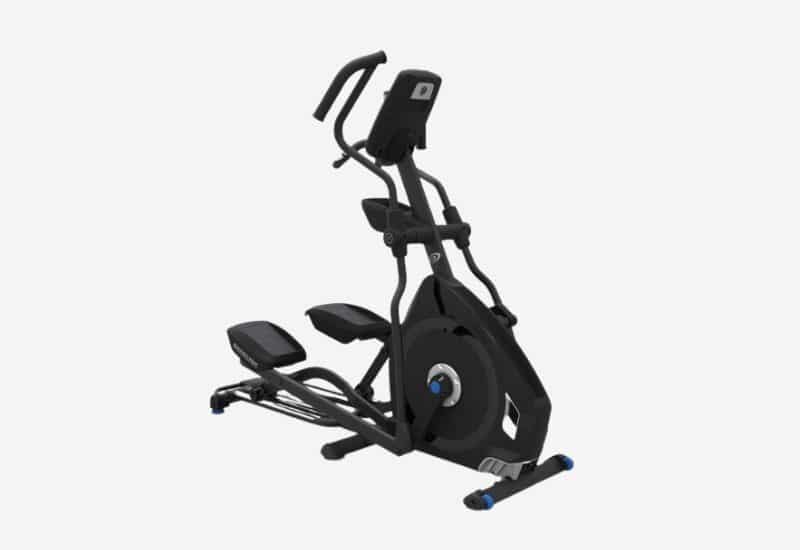 Nautilus E618 Elliptical – The Cons
Welp, you had to guess that it wasn't going to be all rainbows and puppy dogs with this machine.
The main gripe or roadblock people will have with this machine is this:
Not for shorter people.
The E618 has a longer stride length than your typical elliptical machine, which will make it more challenging to use for shorter users and people with shorter legs.
Shorter elliptical users will want to opt for a machine like the Schwinn 411 elliptical (18" stride), NordicTrack SpaceSaver 7Ei (18" stride), or for very short users, the Sunny Health E905 Elliptical Machine (11")
Nautilus E618 vs Nautilus E616 Elliptical
The Nautilus E616 Elliptical is the little brother to E618 and in my opinion is the best elliptical on the market for under $800.
Key differences between the E618 vs E616 include a higher max user weight (350lb for the E618 vs 300lb for the E616), heavier flywheel, and a beefier overall machine weight that makes the E618 ride smoother and in a more stable manner.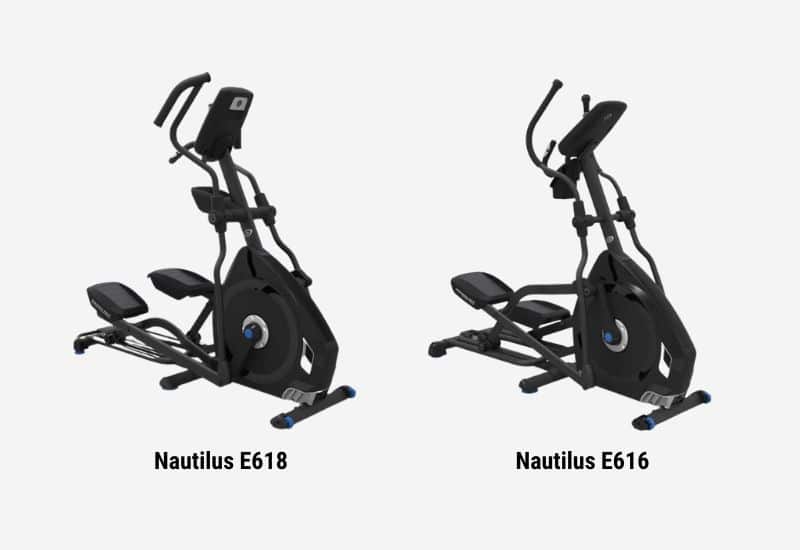 And of course, the E616 is a significantly cheaper option, retailing for several hundred dollars less than the E618.
Here is a more detailed look at how the two Nautilus ellipticals line up:
| | | |
| --- | --- | --- |
| | Nautilus E618 | Nautilus E616 |
| Price | $1,399 | $799 |
| Flywheel | 30lb | 22lbs |
| Stride | 22" | 20" |
| Incline | Yes, power | Yes, power |
| Machine weight | 210lb | 173lb |
| Max user weight | 350lb | 300lb |
| Adjustable foot pedals | Yes | No |
Nautilus E618 vs Sole E35 Elliptical
The Sole E35 elliptical is a heavy-duty trainer that has a heavyish flywheel (25lbs) and increased overall machine weight for extra stability.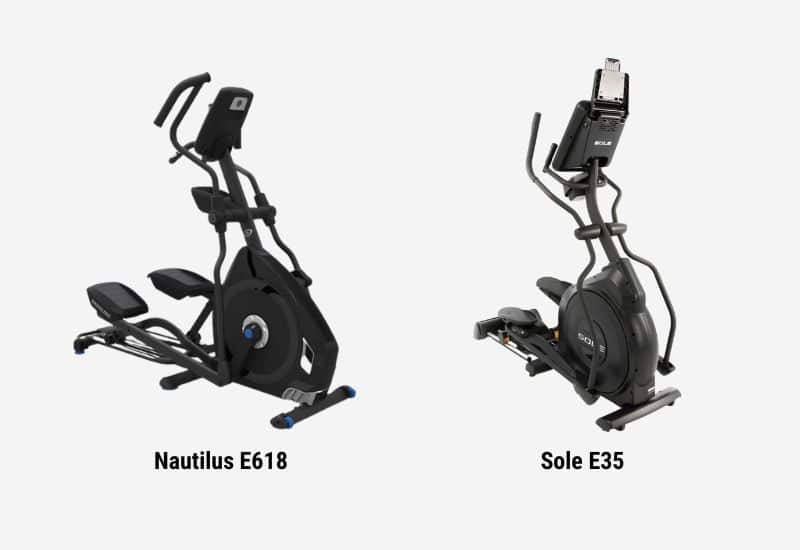 The Sole E35 has a lot of the same key features of the E618, including power incline, a lengthy stride (20"), controls on the handles, and adjustable foot pedals.
Here is how the two machines compare when lined up against one another:
| | | |
| --- | --- | --- |
| | Nautilus E618 | Sole E35 |
| Price | $1,399 | $1,399 |
| Flywheel | 30lb | 25lb |
| Stride | 22" | 20" |
| Incline | Yes, power | Yes, power |
| Machine weight | 210lb | 231lb |
The Final Verdict
Nautilus has a limited line of elliptical machines, but they absolutely crush it when it comes to packing these ellipticals with features at a price that is affordable for most people.
To recap, the Nautilus E618 is perfect for:
Taller users with the long stride length
Trainees who want to take advantage of the adjustable pedals
People who love the added challenge of power incline
And those who want an extra sturdy elliptical stride in the comfort of their own home.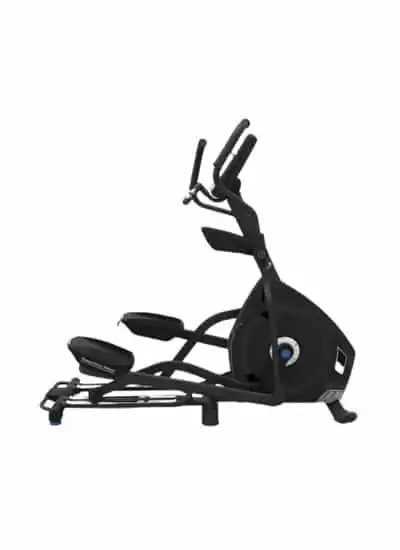 ---
More Elliptical Reviews and Guides
NordicTrack SpaceSaver 9Ei Review – The Best Folding Elliptical for Online Classes. The NordicTrack SpaceSaver 9Ei is a premium elliptical machine that folds up and has a big, beautiful screen for online classes. But is it for you? Read on as we look at the pros, cons, and closest competitors to the 9Ei elliptical trainer.