Looking for an elliptical machine with an adjustable stride that won't break the bank? Here's a review of the Diamondback 1060ef, the best budget-friendly elliptical with an adjustable stride for home gyms.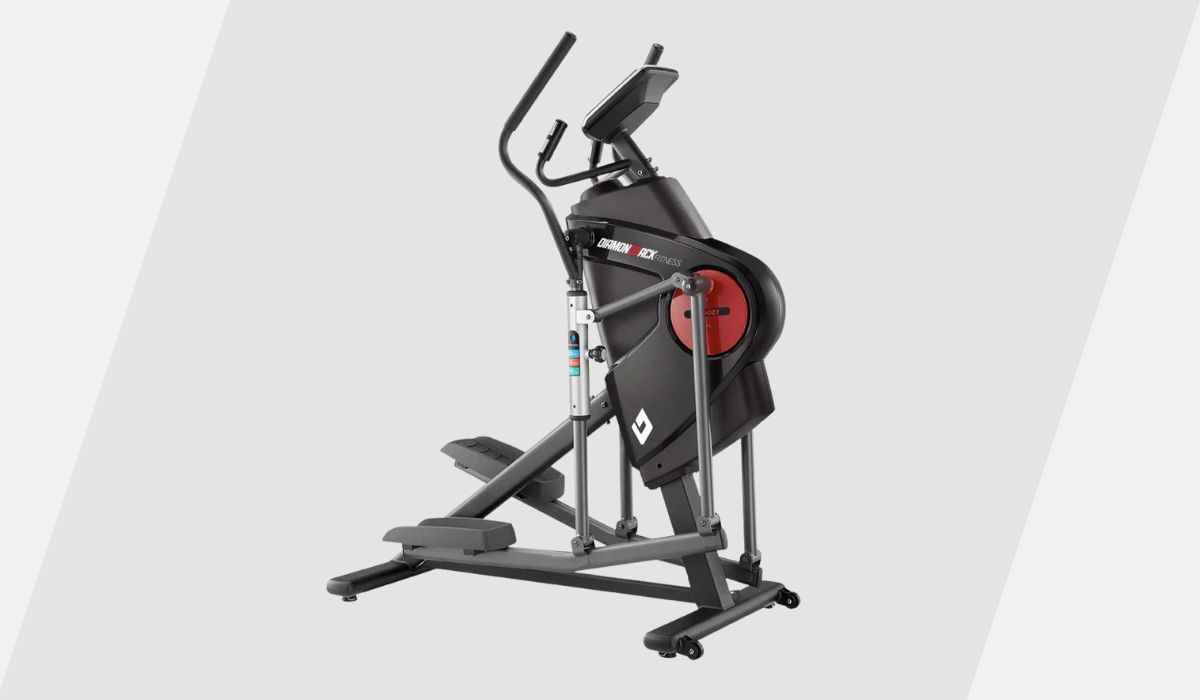 In this review of the Diamondback 1060ef:
The elliptical trainer is an absolute beast when it comes to burning fat and increasing cardio in a low-impact manner.
In fact, because it's so low impact, you can do more of it compared to other cardio exercises like running or jumping rope thanks to the reduced likelihood of joint pain and injury.
But… (and there's always a but, am I right?)… even though elliptical trainers are low impact, the stride still needs to be right.
Too long, and you hyperextend your hips. Too short, and you feel cramped and uncomfortable.
The Diamondback 1060ef Elliptical solves this problem with a customizable stride length.
Which means better form, more comfortable posture, and by extension, better and more enjoyable workouts!
In this review of the 1060ef, we list the pros and cons of this budget-friendly elliptical. Compare it to other adjustable stride ellipticals. And render our final verdict on who will get the most use of this particular elliptical.
By the end, you will have a confident answer on whether the Diamondback 1060ef is worth your hard-earned money.
Let's jump right in.
Diamondback 1060ef Elliptical Review – Overview
Price: $999
Stride length: 18", 20" or 23"
Footprint: 49.2" long x 29.5" wide x 65" high
Unit weight: 147lb
Max user weight: 300lb
Step-up height: 6.7"
8 preset programs (plus custom programs)
Media ledge for smartphone or tablet
In-home assembly: $299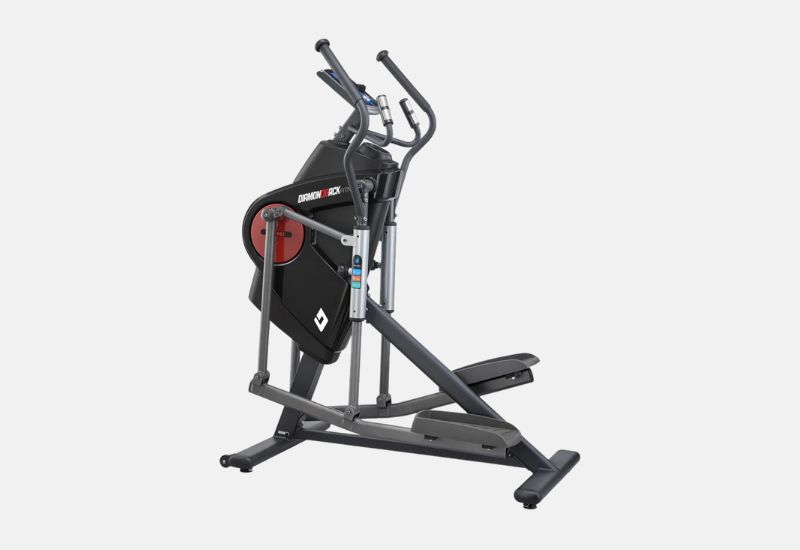 What we love about it:
Easy on the wallet; best-priced adjustable stride elliptical on the market
Compact design; doesn't take up a heap of space
Three adjustable stride lengths for a comfortable workout
Very clear assembly manual
Low step-up height (6.7″) to easily mount and dismount
What we don't love about it:
Not as sturdy as some other adjustable stride ellipticals
Limited adjustments on the stride
Basic LCD screen; for a little more money you can upgrade to a HD screen
Diamondback 1060ef Elliptical Review – The Pros
✅ It's got three stride lengths!
When shopping for an elliptical, people tend to focus on the cost of the elliptical and overall durability. Which makes total sense. But the stride length and how comfortable you are using the machine is what will decide how much use you get from the elliptical.
The Diamondback 1060ef's distinguishing feature is that it has three different stride lengths to choose from, 17", the "standard" 20", and extra long stride length for taller users, 23".
This is awesome news for multi-user households whether it's the parents and kids or roommates sharing a machine.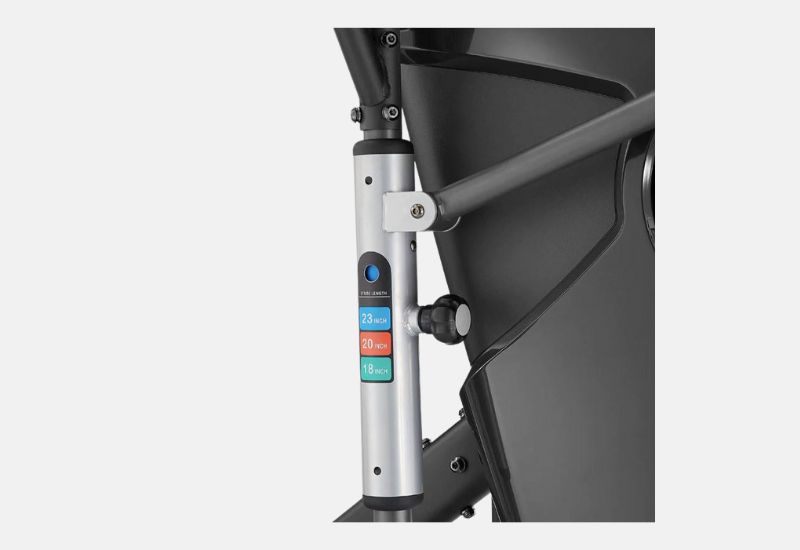 An adjustable stride length means each person using it can find a comfortable stride that is natural for them, use a better range of motion, and even reduce injury by finding a stride length that is biomechanically superior for each person.
The stride length on the 1060ef is adjusted with a simple knob that is on the housing of the elliptical and takes seconds to adjust.
✅ Budget-friendly
The Diamondback Fitness 1060ef's second best feature is that price point! At $999, it is the least expensive elliptical trainer that has an adjustable stride.
Other options within this niche of elliptical trainers are significantly more expensive. The Sole Fitness E95 and Spirit Fitness CE850, for example, cost $2,199 and $3,699, respectively. 
For people who want an elliptical with an adjustable stride and don't want to donkey-kick their bank account into oblivion, the 1060ef is a functionally and financially smart move.
✅ Compact footprint
Elliptical trainers are not small machines! Like other large cardio machines like treadmills and rowing ergs, ellipticals can take up a ton of space.
While this is no biggie at your local gym, when choosing a cardio machine for a home gym, which almost always has space constraints, footprint matters.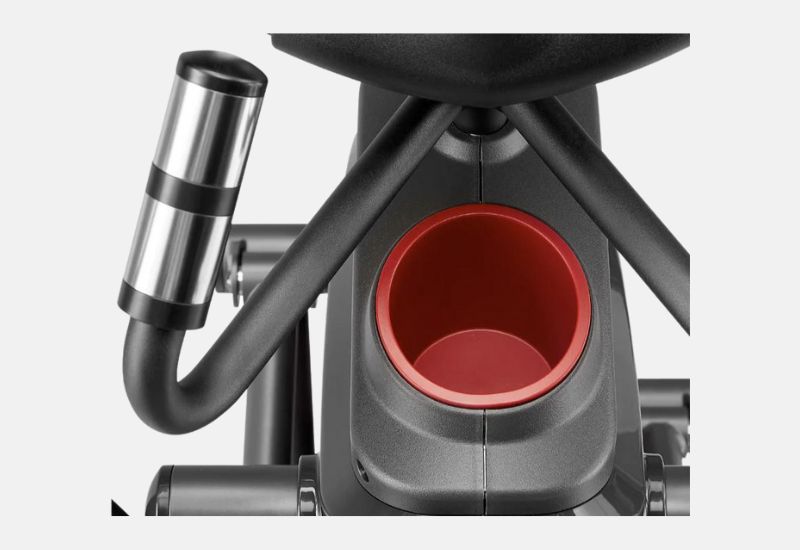 The Diamondback 1060ef has a small footprint of just 49.2" long x 29.5" wide.
Standard ellipticals are usually 70-80" in length (some as long as 90″!), making the 1060ef an excellent option for the home gym enthusiast that is playing Tetris with their workout room and fitness equipment.
In addition to the small footprint, the 1060ef also has a lightweight frame at 144lb, which is about 75-100lb lighter than your normal elliptical machine.
Caster wheels at the front of the machine make the 1060ef a breeze to wheel out of the way between workouts.
✅ Simple assembly (and an awesome assembly manual)
I've put together more elliptical trainers and cardio machines than I can count over the years. And while the complexity of the machines isn't always so bad (after all, they are complex machines, full of electronics and a lot of moving parts), it's the lousy assembly manuals that have driven me up the wall on more than a few occasions.
Diamondback Fitness understands the need for clear, step-by-step instructions when it comes to putting together an elliptical, and the manual they ship with the 1060ef exemplifies this in spades.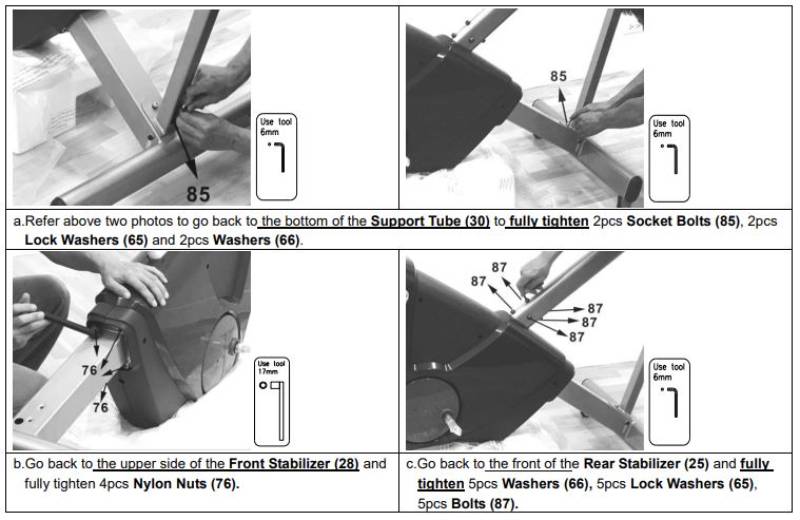 Each step is both illustrated and visually demonstrated with photos (something few cardio equipment companies do, inexplicably).
While it will still take some elbow grease and about an hour to fasten all the parts together, you can feel comfortable knowing that each step is thoroughly and clearly explained.
Diamondback Fitness 1060ef Elliptical – The Cons
Not as stable as other adjustable stride ellipticals
The Diamondback Fitness 1060ef weighs a lightweight 144lb. For an elliptical this is very light. While there is some serious upside to a lighter frame—easier to move, for instance—it is just not as sturdy when compared to other heavier ellipticals on the market.
For heavier users like myself (for reference, I'm 6'5 and around 280lb) the lightweight frame is simply too lightweight. The machine begins to wobble and shake when picking up the pace on high-resistance intervals.
While the 1060ef will be fine for lighter users, us heavyweights will need a little more stability out of the flywheel and overall weight of the machine.
The stride length customization is done manually.
Families who have multiple people using this machine will love that you can quickly change the stride length, hop on, and get a great and height-specific workout.
Individuals who like adjusting the length of the stride mid-workout, however, will not.
The stride length is changed manually using a knob on the housing of the elliptical which requires disembarking the machine to do so.
A manual stride length adjustment is typical of ellipticals at this price point.
To level up to a power-adjustable stride instantly doubles your budget. The Sole E95s, for example, which I consider to be the best overall elliptical with adjustable stride, and has a power adjustable stride, retails for more than double the price of the 1060ef.
So where you lose on the power, you gain on cost savings.
For families, this is a total win, whereas individuals looking to switch stride on the go may want to consider upgrading to a model with powered stride adjustment.
Diamondback 1060ef vs Diamondback 1280ef
The Diamondback Fitness 1060ef is the little brother to the Diamondback Fitness 1280ef.
The big difference is that the 1280ef is a big and shiny 10" HD touchscreen that is Android-powered and can be used for Netflix, Spotify, and so on.
The 1280ef has only two stride lengths (17" or 22") compared to the three stride lengths on the 1060ef. And the 1280ef is also a little beefier, with a higher max user weight rating (350lb vs 300lb) and 30lbs more frame weight (187lb vs 144lb).
Ultimately, the 1280ef is a better choice for people who love working out to their favorite Netflix show, or podcast on Spotify, or binge YouTube subscriptions while sweating away.
Here is a better look at the 1060ef vs 1280ef and how they compare in terms of features: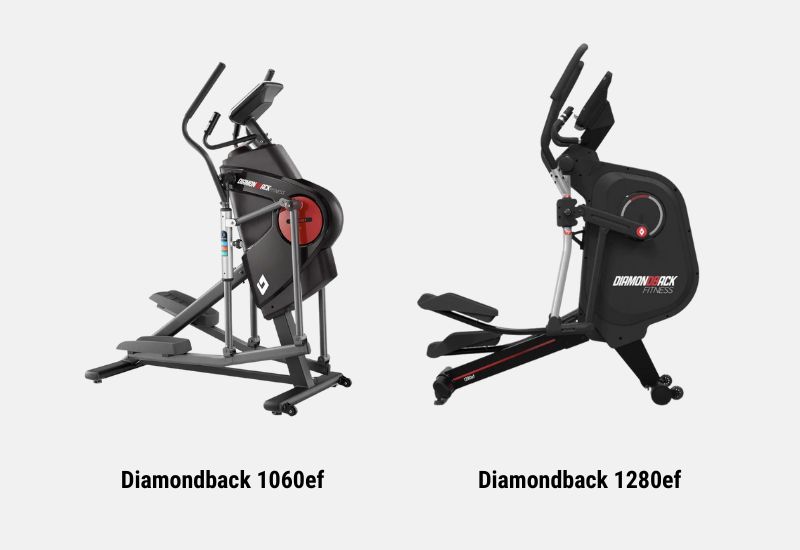 | | | |
| --- | --- | --- |
| | 1060ef | 1280ef |
| Price | $999 | $1,119 |
| Screen | 5.5" LCD | 10" HD touchscreen |
| Stride lengths | 18", 20", 23" | 17", 22" |
| Max User Weight | 300lb | 350lb |
| Unit weight | 144lb | 187lb |
| Footprint | 49.2" x 29.5" | 50" x 36" |
The Bottom Line
There are a lot of reasons to love the Diamondback Fitness 1060ef. It's priced like a total champion, has three lengths of stride adjustments for multiple users (or simply stretching out your stride), and takes up minimal space.
While bigger and more experienced users will prefer the sturdier design and power adjustment of the Sole E95s, the 1060ef is an excellent entry-level adjustable stride elliptical for beginners.
To recap:
| | |
| --- | --- |
| ✅ PROS | ❌ CONS |
| Budget-friendly | Not as stable as other options (like the Sole E95s) |
| Excellent entry-level elliptical | Manual stride length adjustment |
| Small footprint | |
| Three options for stride length | |
| Easy to assemble | |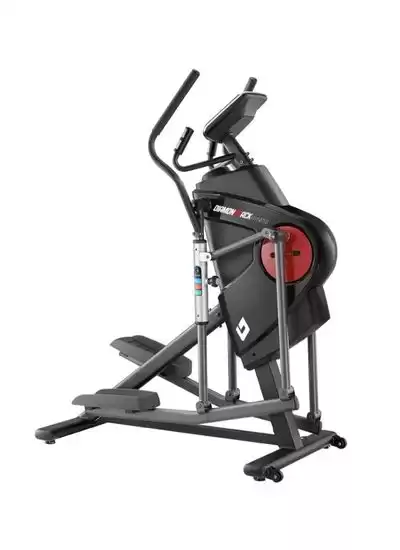 More Elliptical Reviews and Guides Like This
What's the Best Elliptical Stride Length? (How to Choose). Elliptical stride length is crucial for getting the most out of your workouts. Here's how to measure the right stride length for you, the benefits of long-stride ellipticals, and more.
Elliptical Buying Guide – Everything You Need to Know to Buy with Confidence. Want to buy an elliptical but don't know where to start? Arm yourself with the knowledge to choose the perfect elliptical for you and your workout goals.