Looking for an elliptical designed to hammer out HIIT workouts? The ProForm Carbon HIIT H10 is that machine. Here's a full hands-on review of the Carbon HIIT H10, including pros, cons, and some comparable alternatives.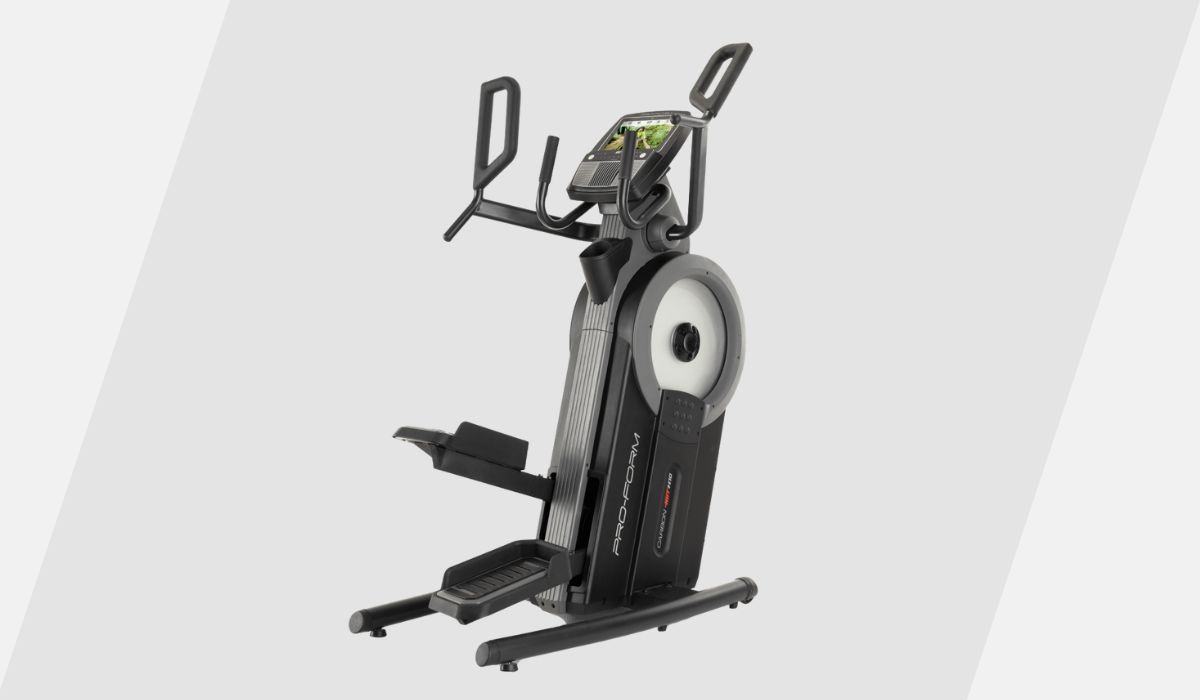 In this review of the ProForm Carbon HIIT H10 Elliptical:
The ProForm Carbon HIIT H10 is a mid-to-upper-tier elliptical trainer made by ProForm, one of the brands best known for making ellipticals in a wide variety of designs, both front and center drive.
The Carbon HIIT H10 is a front drive elliptical that offers truly amazing versatility for glute-focused workouts, thanks to the high incline settings and magnetic resistance. Plus, the $1,403 price tag is fairly reasonable compared to many of its competitors' similar products.
Below, we'll look at what makes the Carbon HIIT H10 a good choice for your home, all the pros and cons it has to offer, and how it stacks up against other ellipticals, both those designed by ProForm and the brand's rivals.
By the end of this post, I think you'll agree that this particular machine is definitely worth considering if you're looking for a machine that can do more while taking up less space.
Let's jump right in.
ProForm Carbon HIIT H10 – Key Specs
Price: $1,403
Vertical Path: 10"
Display: 10" Smart HD Touchscreen
Built-in fan: Yes
Dimensions: 29.25″ W x 52″ D x 66.7″ H
Weight Capacity: 325 lbs.
Warranty: 10-Year Frame, 2-Year Parts, & 1-Year Labor Warranty
ProForm Carbon HIIT H10 – The Pros
Let's start off by talking about what makes the Carbon HIIT H10 a good option for your in-home use:
⭐ Takes Up Less Space
Front-drive ellipticals have a significantly smaller footprint than most rear-drive ellipticals.
The drive (the assembly that includes the flywheels and magnets) is set directly beneath the screen, and serve as the housing for the pedals. It will take up far less space than any rear-drive ellipticals thanks to this design.
You'll find that the ProForm Carbon HIIT H10 is even fairly compact compared to many front-drive ellipticals, too. If you've got limited space in your home gym, it's a great option to consider.
Stuck with Your Training in the Gym?
Join 12,000 lifters and athletes and sign up for FREE access to my 5-day email course on how to conquer the most common gym mistakes.
From goal setting to lifting technique, you will learn how to overcome the mistakes in the gym that are holding you back from getting bigger and stronger.
Unsubscribe anytime. No spam.
⭐ Steep Angle of Incline
For those who like to spend more time training their glutes (rather than only getting a quad-focused workout), the ProForm Carbon HIIT H10 is definitely a winner.
It's unlike many other ellipticals in that it functions more like a Stairmaster than a standard elliptical. Though it's got the same handles to give you the upper body workout, the pedals have a much greater vertical movement than horizontal.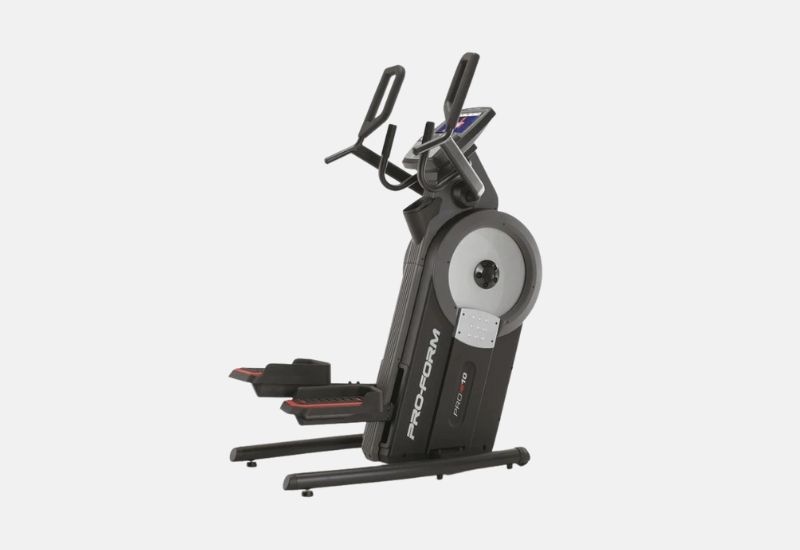 This means that you're climbing up with every step, building those glute muscles in a way you only can when working at a steep angle of incline.
You still get some horizontal movement—it travels about 5 inches forward and back—but with the ProForm Carbon HIIT H10, it's all about the vertical path, making it more of a stepper machine or stair climber than your standard elliptical.
⭐ Interactive Training Experience
I've always been the sort of trainee who likes to craft my own workouts and blaze my own fitness path.
But when I logged onto the iFIT platform, I found that the workouts they offered were surprisingly enjoyable.
Now, I do at least 2-3 of these workouts each week, in addition to my own training.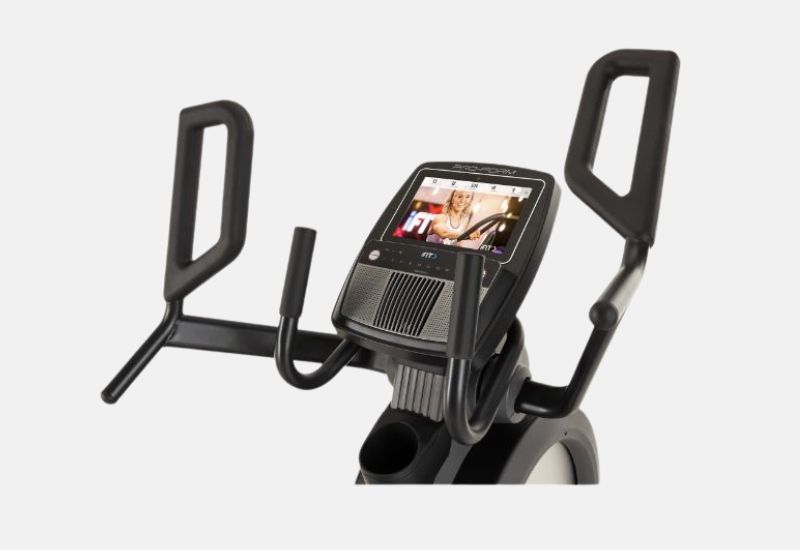 When you buy the ProForm Carbon HIIT H10, you get free access to the iFIT platform for three years, and that means you're able to log into it and see all the thousands of workouts—from Yoga to walking to mountain climbing to strength training to studio classes—led by world-class trainers.
What's fascinating is that these classes are all connected to your machine, so when the trainer increases their resistance or angle, yours will, too. It's a fun, interactive way to take your training to the next level, to add variety into your routine.
⭐ Quiet Training
The ProForm Carbon HIIT H10 is built with the brand's proprietary "Silent Magnetic Resistance", which uses magnets and a metal flywheel to generate the resistance necessary for your workouts. The result is an exponentially quieter machine than many of ProForm's competitors.
This can be amazing if you're trying to train with a sleeping baby next door, or you don't want to disturb your spouse early in the morning (the only time you can fit in your workout). Because of how quiet it is, you can train at any time of day, and know you won't be disturbing people.
⭐ Comfortable Pedals
I've got big feet (Size 13 shoes), so I often have a problem with cardio machines that are built for people of "average" feet size.
For example, many stationary bikes have pedals that are too small for my feet, or on ellipticals, my heels and toes constantly strike the front or back of the pedal because they're just not sized right for big feet.
This is not the case with the ProForm Carbon HIIT H10. The pedals are actually oversized, and they comfortably fit even my big feet with room to spare.
⭐ Amazing HIIT Workouts
Climbing at a steep incline is an amazing workout, one that pushes your muscles and cardiovascular system to the max.
With the ProForm Carbon HIIT H10, you can take it to the next level and mix it up using HIIT, intervals of high intensity and low intensity combined.
The machine comes with a selection of pre-programmed elliptical HIIT workouts you can choose from, along with the iFIT video classes. You can also manually adjust the incline at the touch of a button, and simply speed up your pedaling to ratchet the intensity up to the max.
For HIITers like me, the ProForm Carbon HIIT H10 is one of the best machines to use for your high-intensity training.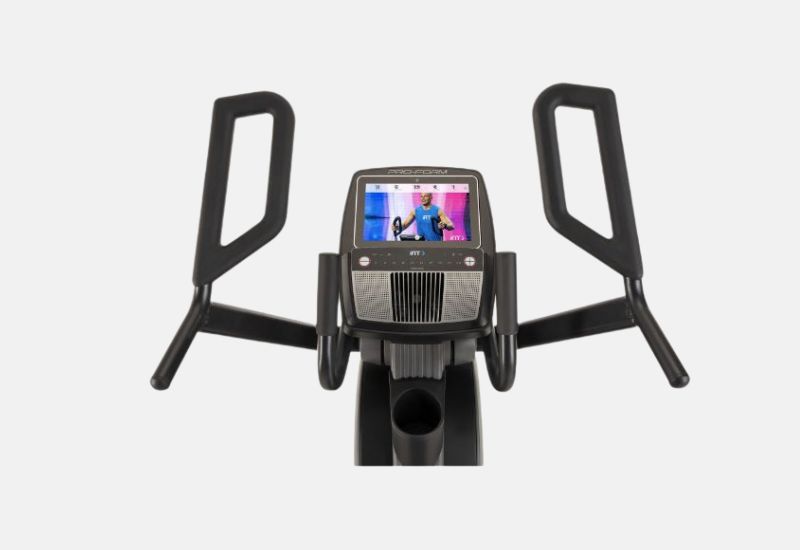 ProForm Carbon HIIT H10 – The Cons
Of course, no machine is perfect. There are some downsides you need to know about:
Monthly Membership Fees
As good as the iFIT workouts are, you do end up paying for them—and quite a lot, in fact!
Once the trial membership that comes included when you buy the ProForm Carbon HIIT H10 expires, you'll end up paying at least $15 per month, though you can spend up to $468 for a 1-year membership. That's definitely not inexpensive, adding that on top of the cost of the elliptical.
Yes, that is cheaper than a gym membership, but given how easy it is to find quality workouts—on YouTube, Instagram, TikTok, Facebook, and other social media platforms—often at a very low price or even free, it may not be worth paying the high price of the iFIT membership.
Hard on Your Knees
I'm a big fan of stair-climbing or high-incline elliptical workouts. They're amazing for training glutes and strengthening your knees.
However, I will say that I'm prone to occasional knee pain (from old sports injuries), and when I am, the ProForm Carbon HIIT H10 is not my best friend.
Because it's set to pretty much only climb (even at its lowest setting, the incline is still fairly steep), there's always the risk of knee strain or exacerbating existing knee injuries.
While ellipticals are generally quite good for people with bad knees, the increased vertical stride path will make it a challenge/problem for people with bad knees.
No "Standard" Elliptical Workout
Unlike most of the other ellipticals we've reviewed on this site, the ProForm Carbon HIIT H10 doesn't offer your "standard" workout—essentially "walking" while working the handles.
It's a unique machine that ensures you always get a heart-pumping, high-intensity training session, absolutely game-changing for fitness. But it doesn't really do what most other ellipticals do and allow for an "easy" workout.
And yes, I know that this sounds bad. We should be pushing hard and training to the max if we want to see good results.
Well, what about on your "rest day" or "recovery day"?
You can't push your body 100% every single day, otherwise it will break down. You need days when you take it a bit easier and use low-impact exercise like the elliptical for active recovery—low-intensity "light" exercise that gets your blood flowing and your metabolism firing, but doesn't push you into the real of "overwork".
The ProForm Carbon HIIT H10 doesn't allow for that sort of easy recovery, or a "standard" walking workout.
It's max intensity all the time, which does, occasionally, have its downsides.
ProForm Carbon HIIT H10 vs other ProForm Ellipticals
The ProForm Carbon HIIT H10 is one of the brand's higher-level offerings, with a price tag near the higher end of the range but not quite the tip-top.
The ProForm HIIT H14 is the highest-end HIIT model.
In addition to a heavier flywheel (30 pounds), it offers a larger touchscreen (14" vs. the H10's 10" screen).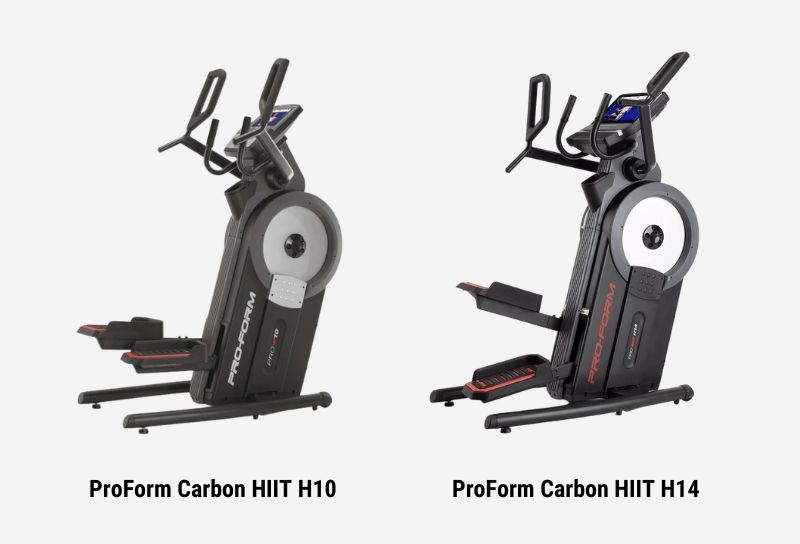 However, it's just as quiet, compact, and reliable as the H10.
If you want a more "standard" elliptical machine, ProForm has a couple of options worth considering:
The ProForm Carbon EL is a more affordable elliptical that features a 19-inch stride, rear-drive design, a larger footprint, easy digital controls, and a 5" screen (roughly the same size as the average smartphone) where you can display your iFIT workouts or watch movies/TV while training.
The Proform Carbon EL, too, features Silent Magnetic Resistance and uses the same inertia-enhanced flywheel as the ProForm Carbon HIIT H10.
The ProForm Hybrid Trainer XT is a really cool machine that can be used as both an elliptical and a recumbent bike.
All you have to do to switch between the two is slide the seat backward or forward, and either stand or sit as desired. It's also a very budget-friendly model.
However, it's designed for smaller, lighter users, so big, heavy people may find it too compact and lightweight to be comfortable.
For a more detailed look and comparison between ProForm's elliptical reference this guide.
ProForm Carbon HIIT H10 vs the Competition
The ProForm Carbon HIIT H10 has a lot of upsides, as you saw above, as well as a few drawbacks.
How does it stack up against competing products, you might wonder?
Here are the ellipticals that the HIIT H10 competes with in terms of price and features:
The Nordic Track C9.9 features the same front-drive design, with the same adjustable incline that lets you take your HIIT sessions to the next level.
However, it can be used in "standard" elliptical configuration, too, giving you an easy recovery workout as well as max-intensity challenges. The 25-pound flywheel is more than capable of handling even heavier trainees. However, the price tag is significantly higher than the ProForm Carbon HIIT H10.
The Bowflex Max Total 16 is designed to function exactly like the ProForm Carbon HIIT H10, with that same high-stepping, HIIT-focused workout.
The price tag is more than double ProForm's, though, but it comes with a 1-year membership to the JRNY fitness platform (their rival to iFIT). It's got a significantly bigger touchscreen (16"), more resistance levels (20), and it's even Bluetooth-enabled. Definitely a higher-tech machine, if not a higher-priced one.
(There is also the Bowflex M9 Trainer, which at $1,999 is a little closer in price to the HIIT H10.)
The Sole Fitness E95 is more of your "standard" front-drive elliptical. Like the Bowflex Max Total 16, it's notably pricier than the ProForm Carbon HIIT H10, but it offers greater flywheel weight, more resistance levels, better foot positioning, and similar incline features.
The display on the Sole E95 elliptical is much more basic than the ProForm Carbon HIIT H10, though, and it's a heavier, less movable machine.
The Bottom Line
The ProForm Carbon HIIT H10 isn't without its flaws, so it's far from a "perfect" machine, especially when you consider that it's a higher-than-average-priced elliptical.
However, when you look at the "pros" it offers, you can see that there are enough benefits to make it worth considering, especially for people who are focused on doing heavy HIIT training and targeting their glutes and quads.
The Proform Carbon HIIT H10 is compact, offers an interactive training experience, runs quiet, feels comfortable, and will deliver next-level HIIT workouts.
| | |
| --- | --- |
| ✔️ PROS | ❌ CONS |
| 10″ HD touchscreen | Not an ideal machine for people with bad knees |
| Perfect for HIIT workouts | No "standard" elliptical workout |
| iFIT workout programs | |
| Quiet drive; great for busy homes | |
| Compact, space-saving design | |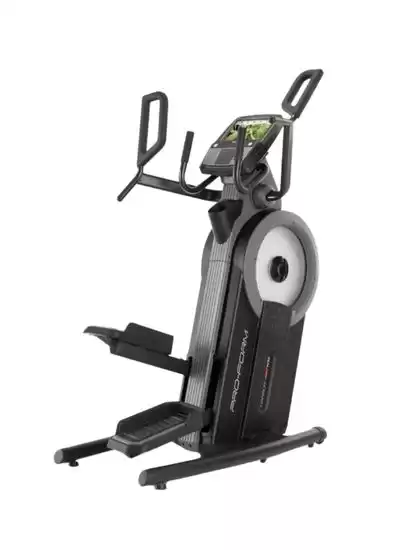 More Elliptical Guides and Reviews
Elliptical Buying Guide – Everything You Need to Know to Buy with Confidence. Want to buy an elliptical but don't know where to start? Arm yourself with the knowledge to choose the perfect elliptical for you and your workout goals.
What's the Best Elliptical Stride Length? (How to Choose). Elliptical stride length is crucial for getting the most out of your workouts. Here's how to measure the right stride length for you, the benefits of long-stride ellipticals, and more.