The Schwinn 430 Elliptical Trainer is a budget-friendly machine that includes a lot of features seen in more expensive ellipticals. Here's a full look and review of how the Schwinn 430 rides so you can see if it is the one for you.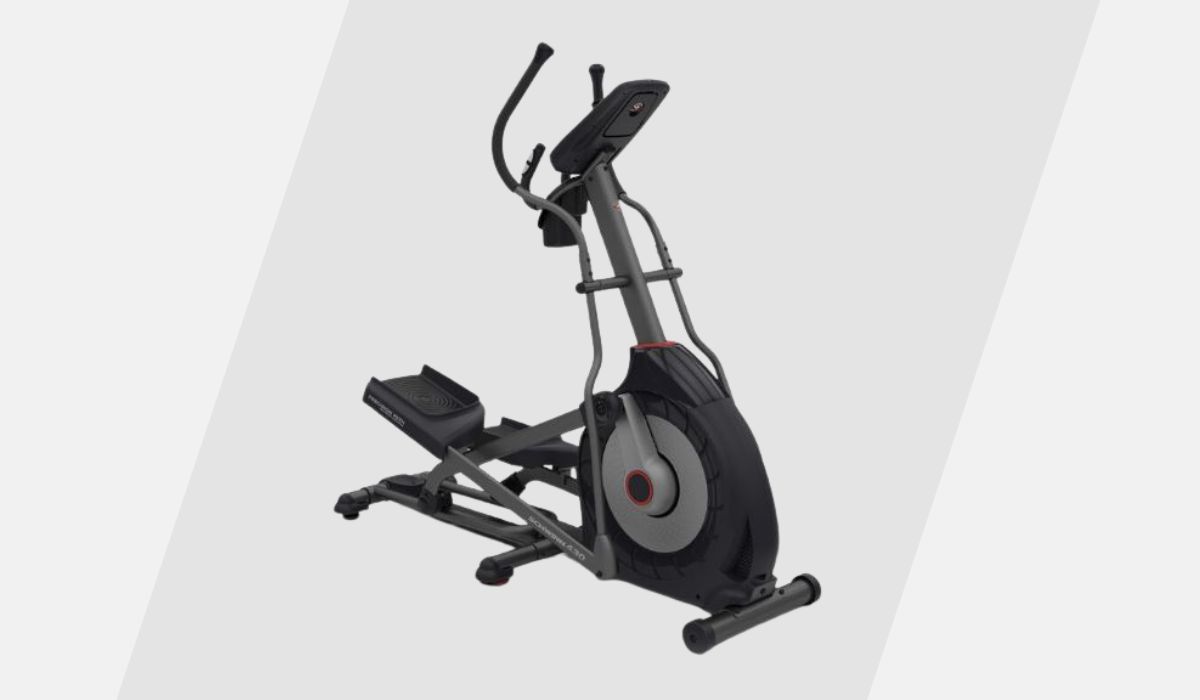 Schwinn is one of the best names in the game when it comes to making killer cardio equipment.
They were the ones who invented and popularized the Airdyne (one of the best air bikes on the market), and their line of elliptical trainers are some of the sturdiest and most budget-friendly available.
The Schwinn 430 Elliptical, Schwinn's mid-range elliptical, is a sturdy, 20" stride length elliptical that is easy on the wallet.
It's also got some snazzy features like a manual incline, a simplified console, and a surprisingly smooth stride.
But is the 430 the one for you?
In this review, we will find out!
We will examine the main features and benefits of the 430, where it falls a little bit short, and compare it to both the other ellipticals in Schwinn's line as well as other ellipticals in its price class.
Let's jump in and get to striding!
In this Schwinn 430 Elliptical Review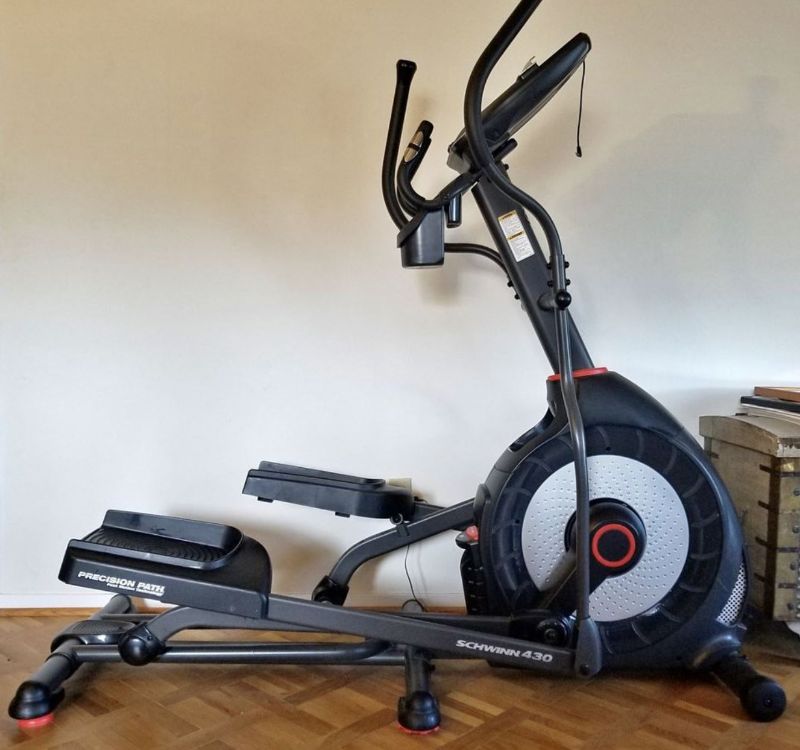 Schwinn 430 Elliptical Trainer – The Key Specs
Price: $799
Flywheel: 20lbs
Stride length: 20"
20 resistance levels
Incline (6 levels, manual)
Machine weight: 168lbs
Max user weight: 300lbs
Dimensions: 70" L x 28" W x 63" H
In-home assembly: $249
Warranty: Frame (10 years), Parts (2 years), Electronics (1 year), Labor (90 days)
Schwinn 430 Elliptical – The Pros
Let's start off with the things that really stick out (in a good way) with the Schwinn 430.
They include:
✅ Sturdy ride for a budget elliptical
When you are looking to buy an elliptical machine, things can get a little tricky…
After all, you want to balance budget with quality. The goal is an elliptical machine that is studio-grade in the sense that you don't have to think about it rattling and wobbling without paying studio-grade prices.
With the Schwinn 430, you actually get a shockingly sturdy ride when you consider how not expensive it is (relatively speaking, obviously).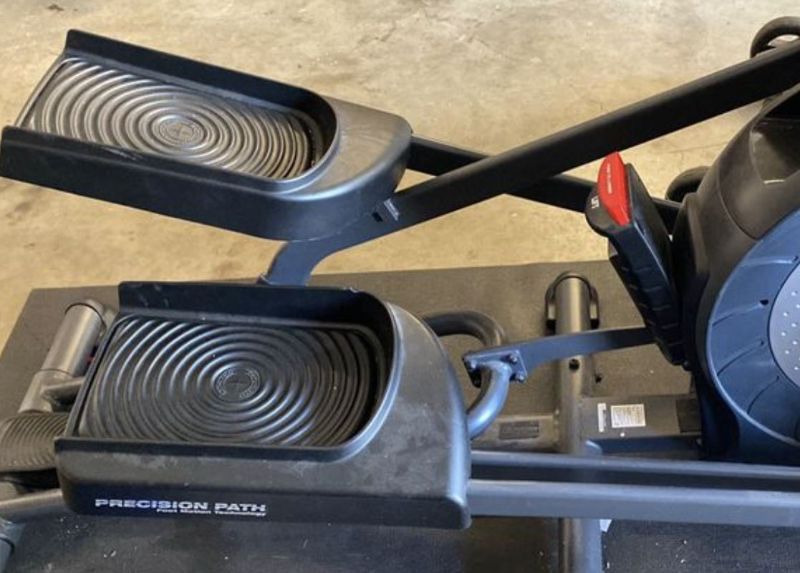 It is not rare to see ellipticals in this price range wobble and teeter quite a bit, but the Schwinn 411 has none of that.
It's got a 20lb flywheel, which punches above its weight for this price range, the dual rail system is as smooth as it is quiet, and even when hammering away at my favorite HIIT elliptical workouts… no wobble.
After months of nearly daily use, the Schwinn 430 continues to stride quietly and without a trace of wobbling. Impressive considering that I am towards the top end of the recommended weight range (290ish pounds).
Win!
✅ Simplified console
Call me old-fashioned, but I appreciate a cardio machine that you can jump on, hit a preprogrammed workout, and go to work.
Having tested countless ellipticals over the years, I've noticed that many of the new machines designed for home use, inspired by Peloton, have huge and glossy screens and trainer-led classes.
(Side note and a personal diatribe: A recurring monthly subscription fee for online, trainer-led programming kind of voids the whole "this machine will pay for itself with a cancelled gym membership" justification for buying cardio equipment).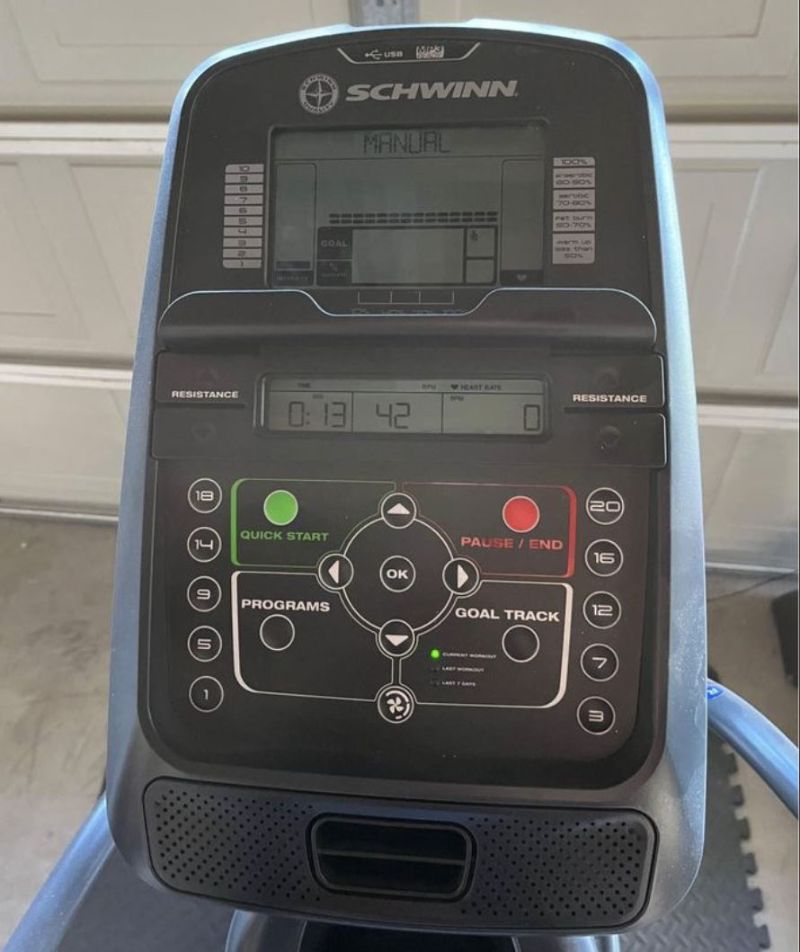 The Schwinn 430 has all of the basics covered when it comes to programs, including beginner and advanced workouts, quick start, fitness tests, heart rate programs, and more.
There are 22 types of workouts already programmed into the console, which means you can spend more time working out and less time messing around with the online programming.
✅ Incline for extra sweat
Elliptical machines are designed to mimic the horizontal stride and gait of running (versus a stationary bike, which has a strictly circular foot path).
While this can be challenge enough for many users, I love being able to add an element of incline to the striding experience to crank up the difficulty and sweat.
The Schwinn 430 Elliptical features an incline option which instantly increases the difficulty, making it perfect for shorter, harder workouts (and HIIT sessions, in particular).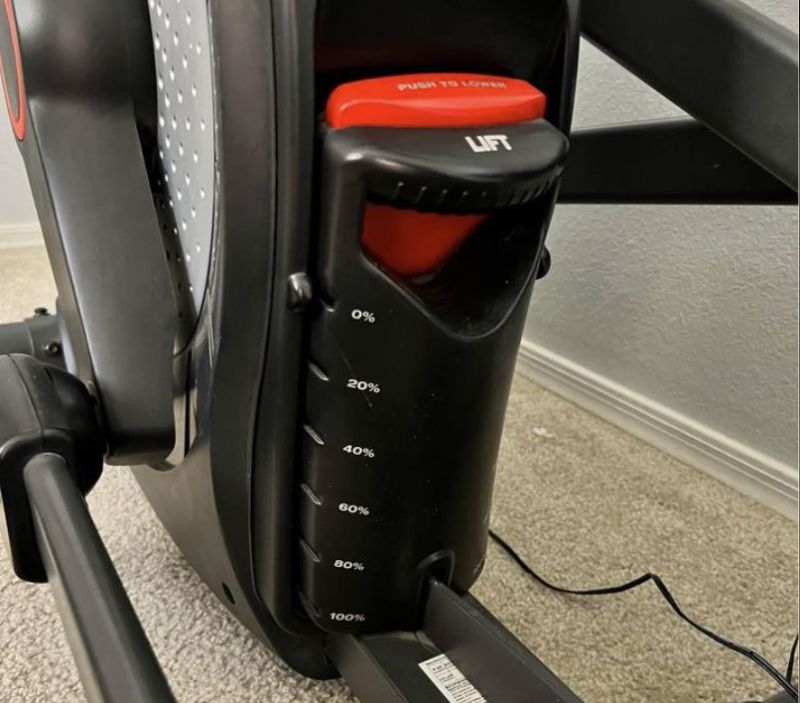 Although it's a manual incline (i.e. you will have to set it up before your workout or dismount the machine mid-workout to adjust the degree of incline), it's a feature not seen often with machines at this price range.
The only exception is the Nautilus E616, which, at the same price as the Schwinn 430 features a motorized power incline.
Later, we will cover a more detailed analysis of how the Nautilus E616 and Schwinn 430 compare.
✅ Media tray for my smartphone and tablet
One of the absolute essentials for cardio equipment, and especially elliptical machines as they are the best cardio machine for weight loss, in my opinion, is a tray or ledge to park your smartphone, tablet or book.
My preferred method of using my elliptical is for longer, steady-state fat burning sessions (lasting up to an hour), and I really like being able to stream the football game, podcast, or a movie on my device to help pass the time.
Having a place to park my device is therefore crucial, and the Schwinn 430 has a little ledge halfway up the console where I can put them, without blocking some of the more essential data metrics on the smaller LCD screen below, like time elapsed, heart rate, and RPM.
Schwinn 430 Elliptical – The Cons
Although there are a lot of things that I really, really like about this elliptical machine, there is room for improvement.
The big ones include:
The incline is manual.
While I absolutely love the fact that the 430 has an incline option, the fact that it is manual is kind of a pain in the ass.
After all, if you plan on doing some intervals alternative hard, uphill-centric efforts with easy, horizontal rest intervals, getting off the interval to manually adjust the incline simply isn't in the cards.
Fan isn't that powerful.
The Schwinn 430 has a little fan at the bottom of the console, which generally blows light, dusty air.
As a larger fella, who sweats a lot when doing cardio, the fan is basically like someone lightly blowing air from across the room.
Which means that I won't get rid of my gym fans quite yet.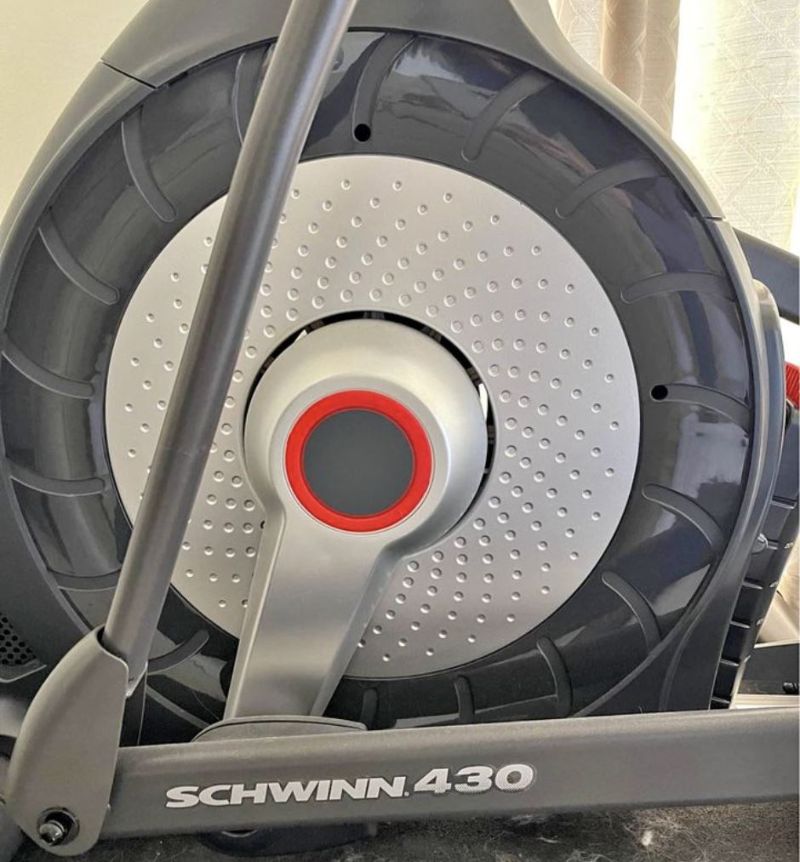 Schwinn 430 vs Other Schwinn Ellipticals
At the time of this writing, Schwinn makes three ellipticals for home users.
There is the Schwinn 411, which has an exceptionally small footprint, with just 53" of depth, making it an excellent choice for people that are on a space budget at home.
It also doesn't have a flywheel, instead using magnetic resistance to generate, err, resistance, thereby helping it achieve such a small footprint.
(If you want to learn more about the 411, we fully reviewed the Schwinn 411 here.)
The Schwinn 430 is the mid-range option.
And the Schwinn 470 is the top tier elliptical, with motorized incline, increased resistance levels (25, vs 20 on the 430), and more options for workout programs.
Here is a quick look at how the Schwinn 430 compares to its siblings: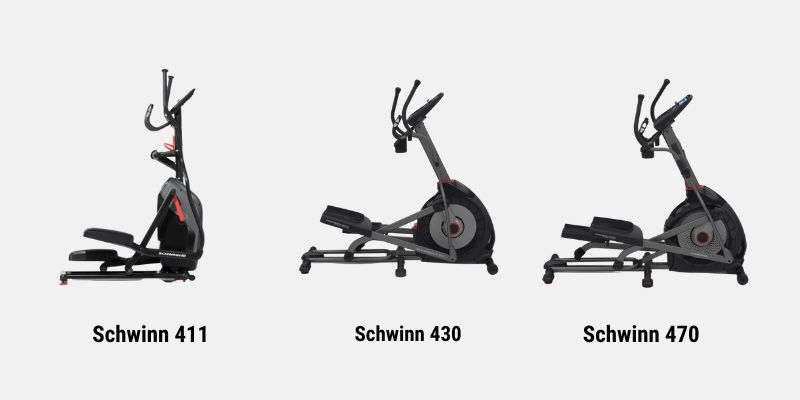 | | | | |
| --- | --- | --- | --- |
| | Schwinn 411 | Schwinn 430 | Schwinn 470 |
| Price | $549 | $799 | $1,099 |
| Stride Length | 18" | 20" | 20" |
| Incline | None | 6 levels (manual) | 5 (motorized) |
| Flywheel | Magnetic | 20lbs | 20lbs |
| Depth | 53" | 70" | 70" |
| Resistance Levels | 16 | 20 | 25 |
Schwinn 430 vs Nautilus E616
The Nautilus E616 is in the same weight class cost-wise as the Schwinn 430 and the two compete tightly for our choice as the best elliptical for under $800.
The main differences between the two machines include the E616 having five additional resistance levels (25, total), a heavier flywheel, and perhaps most crucially, the incline is motorized, which means the E616 can adjust incline mid-workout.
(Another under-$800-elliptical is the ProForm Carbon EL Elliptical, but it lacks in comparable features when lined up against the Schwinn 430 and Nautilus E616.)
Besides that, they are almost identical.
Here is how the two machines stack up against one another.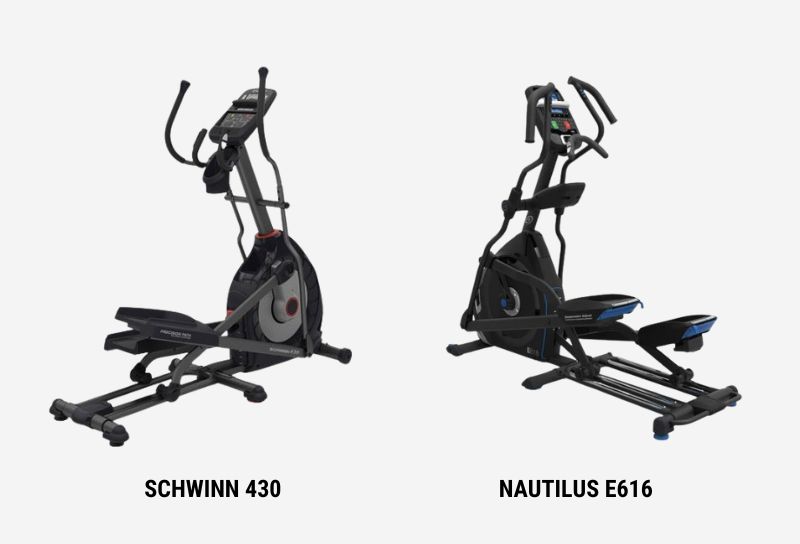 | | | |
| --- | --- | --- |
| | Schwinn 430 | Nautilus E616 |
| Price | $799 | $799 |
| Stride Length | 20" | 20" |
| Incline | 6 levels (incline) | 6 levels (motorized) |
| Flywheel | 20lbs | 22lbs |
| Depth | 53″ | 70″ |
| Max User Weight | 300lbs | 300lbs |
| Machine Weight | 168lbs | 173lbs |
| Resistance Levels | 20 | 25 |
| In-home assembly | $249 | $249 |
The Final Verdict
The Schwinn 430 is one of my favorite budget-friendly ellipticals on the market. The 430 doesn't wobble, has a get-on-and-go interface, and although annoying to adjust the incline manually, this may just encourage you to do the whole workout at a greater degree of difficulty.
It's a lot sturdier and has a smoother striding experience compared to the super budget options like the Sunny Health E905 (it's around $200, but has a tiny stride length—just 11"—and is not designed for "enthusiastic" use).
While not a commercial-grade ride, it does come close, and at just $799, that's about as much as you can ask for.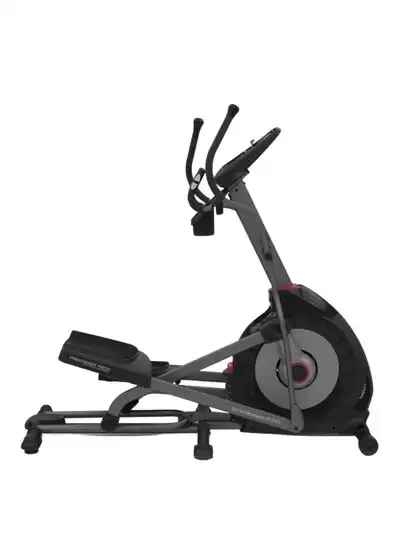 ---
More Elliptical Reviews and Guides
How Much Do Ellipticals Cost? (44 Different Models Compared). Ellipticals can be a costly investment in your workout goals. Here is a look at how much each type of elliptical costs and how much to spend on one.
Elliptical Buying Guide – Everything You Need to Know to Buy with Confidence. Want to buy an elliptical but don't know where to start? Arm yourself with the knowledge to choose the perfect elliptical for you and your workout goals.