Elliptical stride length is crucial for getting the most out of your workouts. Here's how to measure the right stride length for you, the benefits of long-stride ellipticals, and more.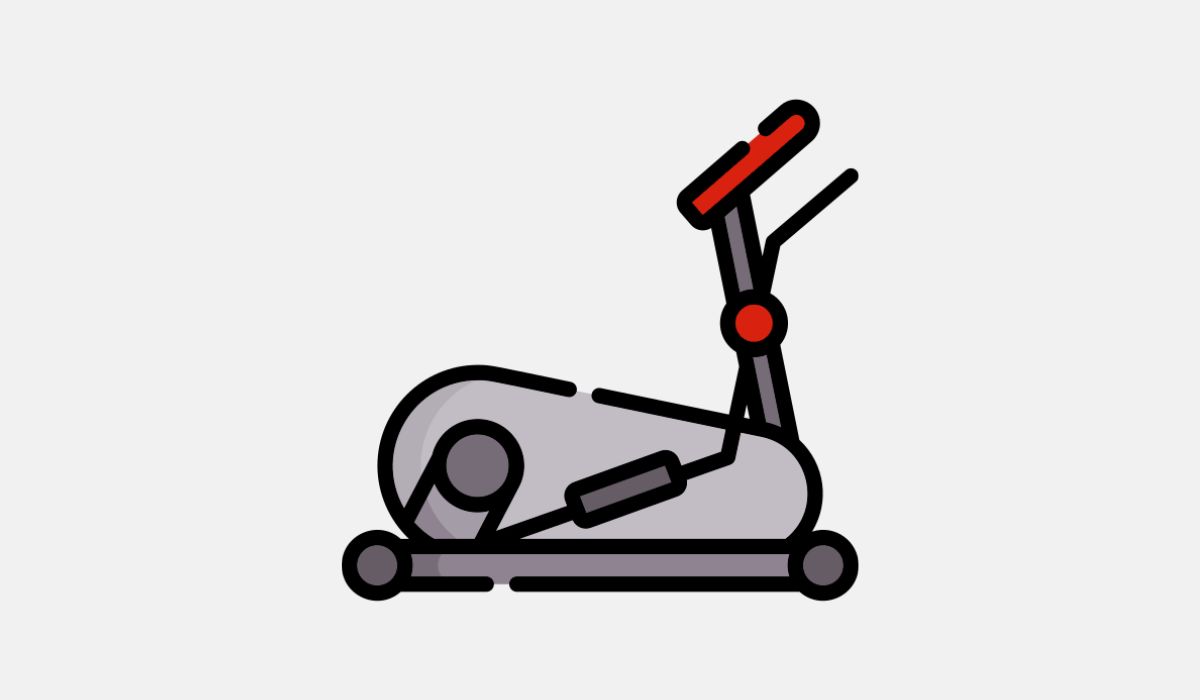 The elliptical is one of the best tools people have for getting in shape at the gym (or at home).
The benefits of ellipticals are deep and legit, including comparable fat burning to running, reduced load-bearing, and a full-body workout.
But when it comes to getting onto the elliptical and using it, you need to consider the stride length.
Why?
Too short, and your range of motion will be impaired and your knees will bang non-stop on the console and handles.
Too long, and your hips are going to have to twist in order for your feet to go through the whole plane of motion.
In this guide, we will look at the importance of stride length, how to figure out the right stride length for you, and list some of the best ellipticals for home gyms for people looking for a specific stride length.
Let's jump right in.
What is Stride Length on an Elliptical Machine?
Stride length refers to the distance between the two pedals on the elliptical when the feet reach the apex of the forward and backward planes of motion.
Stuck with Your Training in the Gym?
Join 12,000 lifters and athletes and sign up for FREE access to my 5-day email course on how to conquer the most common gym mistakes.
From goal setting to lifting technique, you will learn how to overcome the mistakes in the gym that are holding you back from getting bigger and stronger.
Unsubscribe anytime. No spam.
In other words, it's the distance between the two pedals when they are the furthest away from one another.
Although elliptical trainers have a ton of bells and whistles, including inclines, consoles packed with training programs, and multi-grip handles, the most important factor to consider for overall comfort is the stride length of the machine.
A tall person on a short-stride machine will find it uncomfortable and will miss out on the benefits of a fuller range of motion.
On the other hand, a shorter person will struggle to tippy-toe their way through the full range of motion on a stride length that is too long.
Finding the right elliptical stride length is crucial as it allows you to workout and exercise comfortably on the machine, significantly increasing the likelihood that you will actually use it!
How Do You Measure Stride Length for an Elliptical?
When it comes to choosing the right stride length on the elliptical, here are some loose guidelines you can follow based on your height:
| | |
| --- | --- |
| HEIGHT | STRIDE LENGTH |
| 5'4" and under | 11" to 16" |
| 5'5" – 5'10" | 16" to 20" |
| 5'11" and up | 20"+ |
These are only loose guidelines, and it is key to remember that height isn't always the perfect way to size an elliptical machine as it's really the length of the legs that will determine how comfortable you are on the machine.
My wife, for example, who is 5'10", has longer legs than I do, at 6'4" (I am, what you may call, all torso), and so we both end up using an elliptical that has at least a 20" stride length even though we are six-inches apart in height.
Ultimately, the best way to figure out the perfect stride length for yourself is to get on an elliptical and give it a rip.
If you are shopping for one for your home gym, head down to local fitness stores, as most will have display models that you can test out.
Is a Longer Stride Better for Elliptical?
One of the reasons that I love ellipticals is because they somewhat replicate the gait of running and walking.
And in the same way that a long stride when running is more efficient and recruits more muscle, a longer stride on the elliptical has some benefits.
One study found that a longer stride length on the elliptical trainer increased activation in the hamstrings1.
For most trainees, opting for a slightly longer stride length will be more comfortable than choosing an elliptical that ends up having a stride length that is too short and too cramped.
Of course, simply maxing out stride length is pointless if you are hyperextending your knees and nearly falling off the machine to complete the elliptical stride, so size the stride length properly and with an eye on proper biomechanics.
Which Elliptical Has the Longest Stride Length?
There are some excellent options for taller users looking for an elliptical that has a longer stride length.
All my fellow Daddy Longlegs will appreciate the fact that one of the best ellipticals on the market, the Sole Fitness E95S Elliptical, has an adjustable stride length of up to 24".
The range of stride length is from 18" to 24", making it an awesome option for couple of varying heights that want an elliptical they can both use.
Sole Fitness absolutely crushes it when it comes to durability and price, easily making the E95S my top pick for taller (and most) users.
Other "long stride" ellipticals include the Nautilus E618 Elliptical (22") and the Body-Solid E5000 Elliptical Trainer (21").
More ellipticals with longer stride lengths:
Which Elliptical Has the Shortest Stride Length?
There are fewer ellipticals on the market for shorter users, but there are still some excellent (and very budget-friendly!) options.
The Sunny Health & Fitness E32003 Elliptical has the shortest stride length at 11".
The Bottom Line
An elliptical machine is an awesome tool for getting in shape, whether it's in the comfort of your own home, or at your local gym.
To get the most out of your time on the elliptical, choose a machine that has an optimal stride length for you and your body, and unleash the gains!
More Elliptical Machines Guides and Articles
How Much Do Ellipticals Cost? (44 Different Models Compared). Ellipticals can be a costly investment into your workout goals. Here is a look at how much each type of elliptical costs and how much to spend on one.
What Muscles Do Elliptical Trainers Work? (and How to Build Muscle on an Elliptical). The elliptical trainer is an excellent machine for building cardio and muscle. Here's a look at all of the muscles worked on the elliptical, tricks for changing muscle groups, and how to build muscle on the elliptical.
How Many Calories Do You Burn on an Elliptical? (and How to Burn More). Wondering how many calories the elliptical trainer burns? Here's how much calorie burning you are doing, how the elliptical compares to other machines in the gym, and tips for how to burn even more calories on an elliptical.