Elliptical trainers are a versatile and low-impact way to crank up your workouts in the gym. Here is a full list of the benefits of ellipticals, including a couple of disadvantages of this popular cardio machine.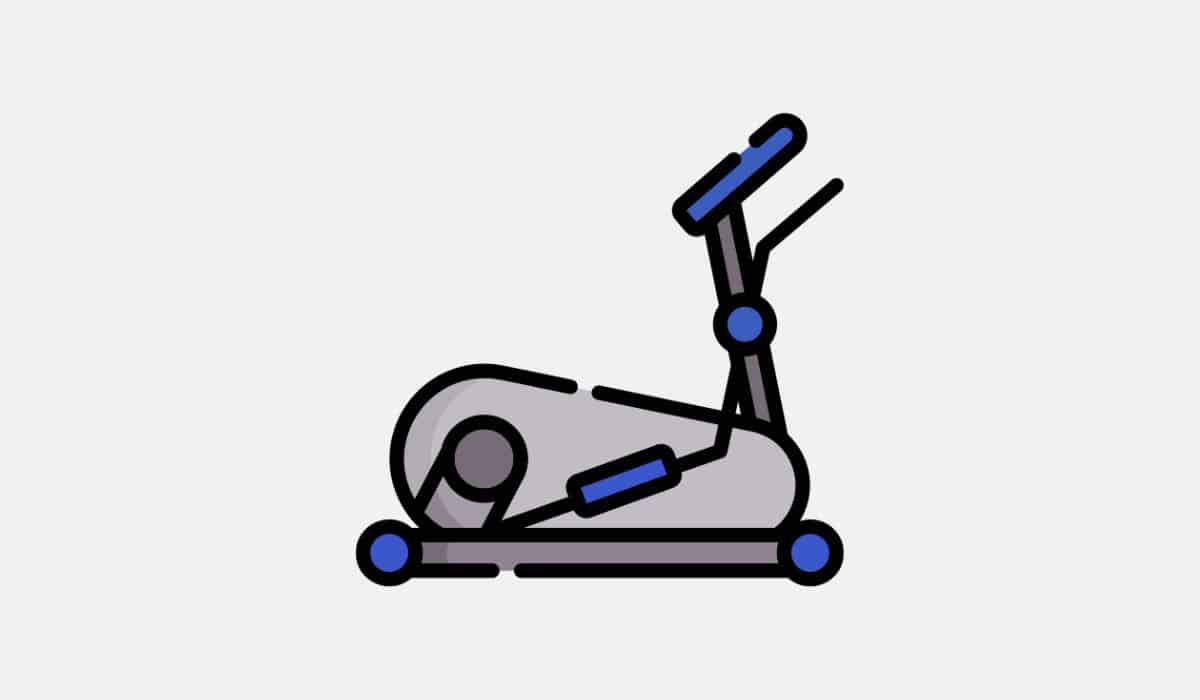 Elliptical trainers are one of the most popular cardio machines in the cardio theater at local gyms.
It's not too much of a surprise when you consider how effective they are for building muscle, increasing cardiovascular capacity, burning fat… and oh yeah, the whole low-impact thing!
In this article, we are going to look at the broad range of benefits of the mighty elliptical trainer, how it can be used to achieve your workout goals, and some disadvantages to be aware of.
Let's jump right in!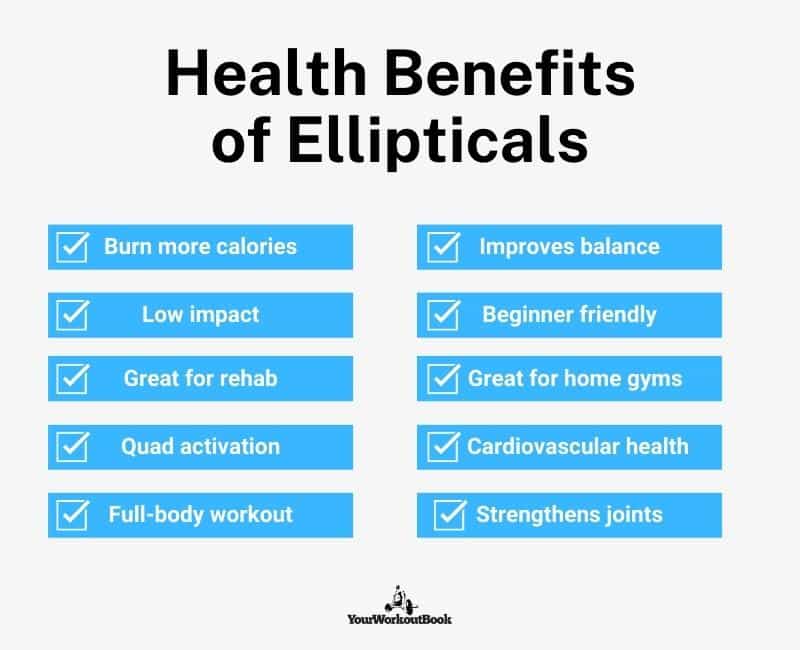 Health Benefits of Elliptical Machines
Alrighty, let's take a more detailed look at all of the benefits of elliptical trainers and how it can help you achieve your health and fitness goals:
✅ Burns more calories (because you can use it longer)
There are cardio machines that can burn more calories per minute/per hour than the elliptical machine.
These include the Jacob's Ladder, the rowing machine, the stair climber, assault bike (aka air bike, fan bike), and even the treadmill (when set to high speed/steep incline).
However, just because the elliptical machine doesn't burn the most calories, that doesn't make it a less-effective machine.
In fact, I'd argue that it's one of the more effective machines for a simple reason: you can often train for longer and thereby burn more calories over the course of your workout.
To illustrate my point, let's look at the calories burned using a rowing machine. According to Harvard Medical School1, a 185-pound person will burn around 440 calories in 30 minutes of vigorous rowing. Not bad, right?
Fun fact: A study2 found that the elliptical and stair climber generated the same oxygen consumption, heart rate, fuel utilization, and energy expenditure as the treadmill at 60%, 70% and 80% intensities, making it an excellent alternative for people who want the gains of the treadmill without the impact.
Now, let's compare that to the elliptical machine. The same 185-pound person will burn around 378 calories in a 30-minute elliptical workout. Not quite as good, but still decent.
But the real game-changer is when you compare the workout durations. Most of us feel "done" after a solid 30-minute rowing session. We can get up from the machine and walk away, knowing we did a great workout.
On the elliptical, though, it's easy to push the pace to 40 minutes, 50 minutes, or even an hour before you really start to feel the fatigue. Because of the longer workout duration, you end up burning more calories per workout than you would with a rowing machine.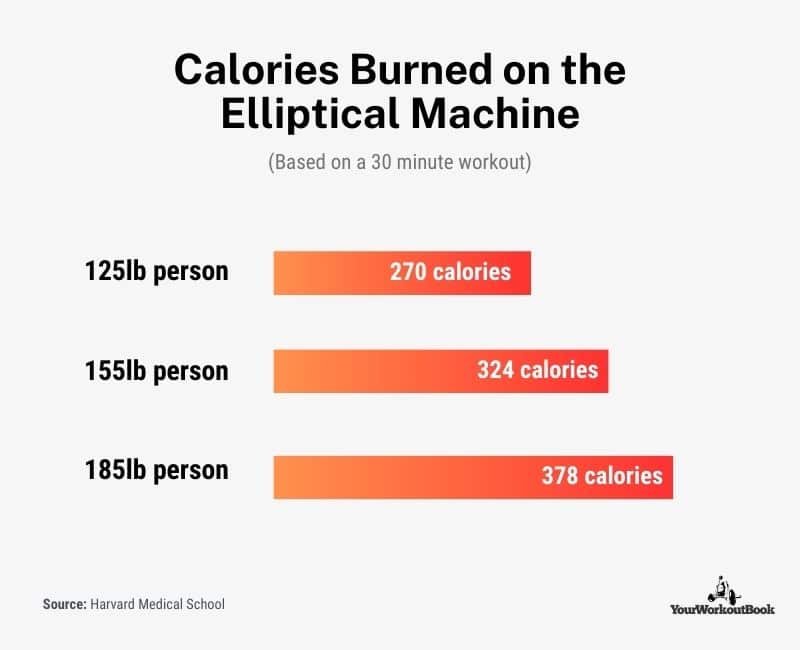 The same is true across the board for most other machines that burn more calories per hour.
Most people can only do a Jacob's Ladder workout or stair climber workout for a short period before running out of steam. Treadmills, because they are higher-impact, also force limitations on workout length.
The lower-intensity nature of the elliptical machine is actually an advantage, making it a superior cardio machine for weight loss because you can go longer and thus burn more calories.
✅ Low-Impact Training
When you're young and feel bulletproof, you probably think you can handle even the highest-impact workout. And you're probably right. Our bodies are designed to absorb a great deal of impact and repair the damage to our joints, bones, and muscles.
As we age, though, our innate repair mechanisms become less effective at making those repairs. High-impact workouts take a greater toll on our joints. Time and training compound injuries, insufficiencies, and instabilities until, eventually, a high-impact workout causes pain, stiffness, and joint problems.
A study published in 2014 in the scientific journal "Gait and Journal," a research publication that focuses on human locomotion, balance, and movement, looked at the weight-bearing impact of different forms of cardiovascular exercise.
The researchers found that the elliptical produced significantly less weight-bearing impact compared to treadmill jogging, overground jogging, and even overground walking.
And it wasn't even close, as you can see in the image below.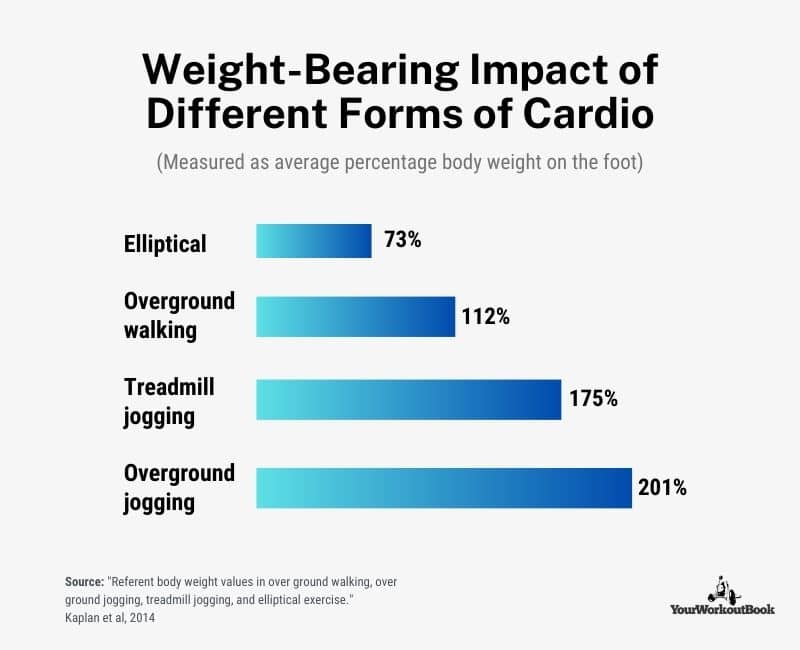 For people who are advancing in years (even mid-30s and 40s), this is very much a factor to consider.
High-impact workouts still deserve a place in our training regimen, but it's also a good idea to look for low-impact, joint-friendly options like elliptical training to give our joints a break.
Even for younger lifters and athletes, the low impact nature of an elliptical is an excellent benefit; particularly for those dealing with pesky injuries or people just getting back into the swing of working out after time off and don't want to go straight to the treadmill.
✅ Excellent for rehab and physical therapy
One study3 looked at four different types of exercise—treadmill jogging, elliptical training, over ground jogging, and over ground walking—to compare how they affect our bodies, specifically with the goal of assessing their use for rehabilitation purposes following an injury or surgery.
As the study discovered, significantly less weight was placed on the entire foot when elliptical training, so there was less direct load on the joints.
This means it has the potential to be a more effective rehab exercise than walking or jogging.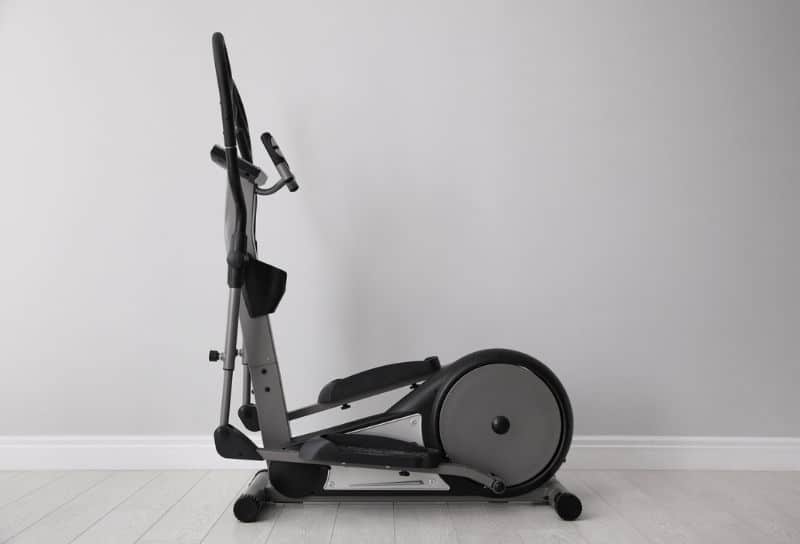 Thanks to the low-impact nature of elliptical training, it's much more joint- and muscle-friendly. You never actually lift your feet off the pedals and place them down again, so there's no impact on the bottom of your feet, ankles, and knees.
The smooth, gliding strut is natural but gentle, making it perfect for anyone trying to train their way back from injuries or recovering from surgery.
✅ Targets All Lower Body Muscles
One of the main benefits of the elliptical machine is that you can use it to work out different muscles.
Typically, the standard incline/intensity setting will target your quads, with some minimal engagement of the hamstrings and glutes (to use the elliptical as a glute-building cardio machine, increase the incline and resistance).
But when it comes to activating lower body muscles, the elliptical is tough to beat.
Researchers at the National Institutes of Health Clinical Center in Bethesda, Maryland, compared the muscle activation between elliptical machines, stationary bikes, treadmill walking, and overground walking.
In the study, entitled "Comparison of elliptical training, stationary cycling, treadmill walking and overground walking," scientists found that the elliptical performed the best, with "elliptical training demonstrating greater quadriceps activity and greater quadriceps/hamstrings coactivation than all other conditions."
Quadriceps activation, in particular, significantly outperformed cycling and the walking conditions, with nearly 50% more quad recruitment.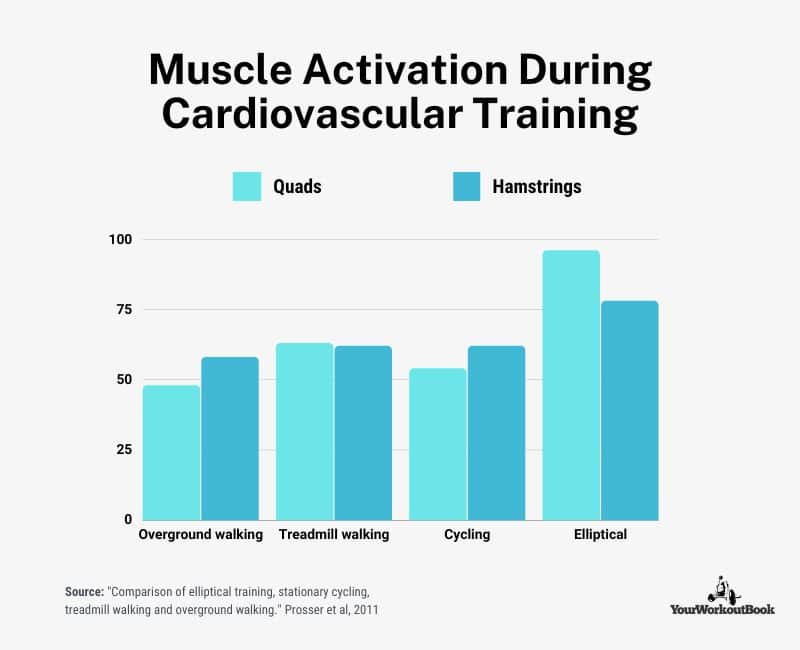 And, of course, because your calves always engage when you walk, they'll be trained, too.
It's one of the most versatile cardio machines and makes it easy to target all your lower body muscles exactly the way you want to.
✅ Improves Cardiovascular Health
As with all cardio machines, regular training on the elliptical machine will improve your heart health.
Regular training will expand your lung capacity, increase the amount of oxygen your body can absorb into your bloodstream, accelerate the delivery of that oxygenated blood to your internal tissues and organs, and strengthen your heart muscle.
Fun fact: A paper4 took a group of women and had them do a 12-week training program using an elliptical, treadmill, or stair climber. Ultimately, all three groups improved their VO2 max the same, regardless of the cardio machine they used.
Cardio can also clear out blockages in your blood vessels, burn fat, and improve circulation and cardiovascular function overall.
The elliptical trainer is an excellent machine for improving cardiovascular health thanks to the full-body movement, low-impact gait, and the wide range of workout o
✅ Strengthens core and upper body
If you were only pedaling using your feet, the elliptical would be exclusively targeting your lower body (like an exercise bike or treadmill).
But what makes the elliptical stand out from so many other cardio machines is that it combines upper body and core training into the lower body workout.
Like with an air bike/assault bike, you can use the power of your arms, shoulders, chest, and back to work the handles.
Your core has to engage with every step to keep your body steady, and it's constantly twisting to move the upper and lower body in opposite directions.
What this does is tones your entire body, not just your legs. It may not be as good for toning your muscles as a proper resistance training session, but it works your upper body muscles far more effectively than virtually every other cardio machine in the gym.
✅ Improves Balance
One of the sad realities of aging is that we are at a greater risk for balance-related health issues, including limited mobility and loss of balance. Loss of balance happens as a result of lowered blood pressure, poor circulation, low blood sugar, neurological conditions, and a host of other health conditions.
The Centers for Disease Control and Prevention, in a report titled "Trends in Nonfatal Falls and Fall-Related Injuries Among Adults Aged >65 Years", found that in 2014 alone, there were 29 million falls, with 7 million of those falls resulting in significant injury.
Staying physically active is one of the best things you can do to prevent falls, and the elliptical machine is full of benefits for improving balance and staying active, including the low-impact gait, low step-up height, and safety handles.
A study published in the Journal of Neurologic Physical Therapy had three chronic stroke patients perform eight weeks of training with an elliptical machine. All participants saw significant improvements in balance, with one patient seeing a 28% increase in balance as measured by the Berg Balance Scale.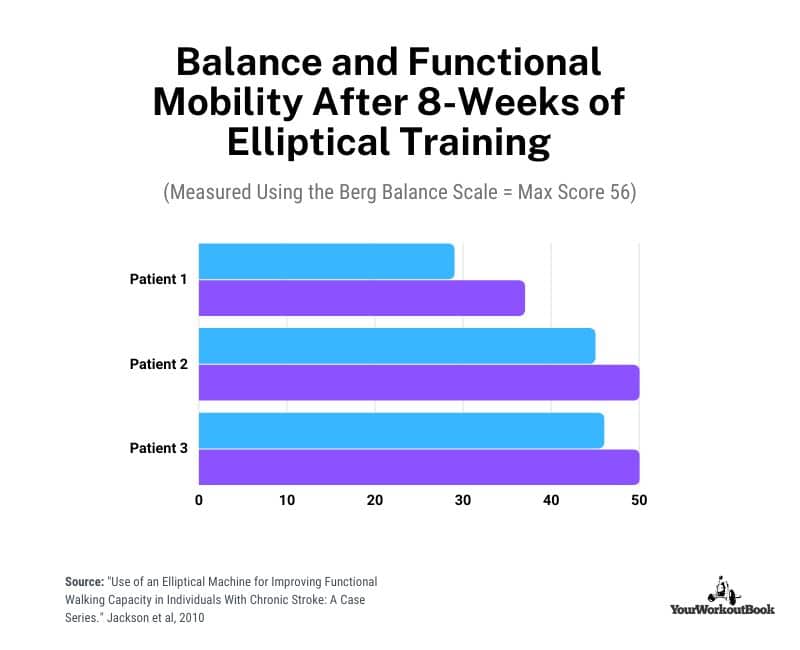 The elliptical machine has swinging and stationary handles that keep you upright and steady when exercising. As you become more confident using the elliptical, try using the machine without the handles, strengthening your posture and the muscles in the upper body, core, and lower body that facilitate balance through the movement.
Try to go for a full minute without holding the handles, and once you master that, move on to two minutes, then three, then five.
Work up to 15 minutes without gripping the handles. By the time you reach that point, you'll notice HUGE improvements in your posture and balance across every activity, sport, and movement.
✅ Newbie-Friendly
The great thing about the elliptical machine is that there's really nothing in the way of a learning curve.
You've got the support of the handles so you'll never truly wobble or lose your balance, and it takes all of 30 seconds to master the pedaling gait. After that, you've got everything you need to keep training hard.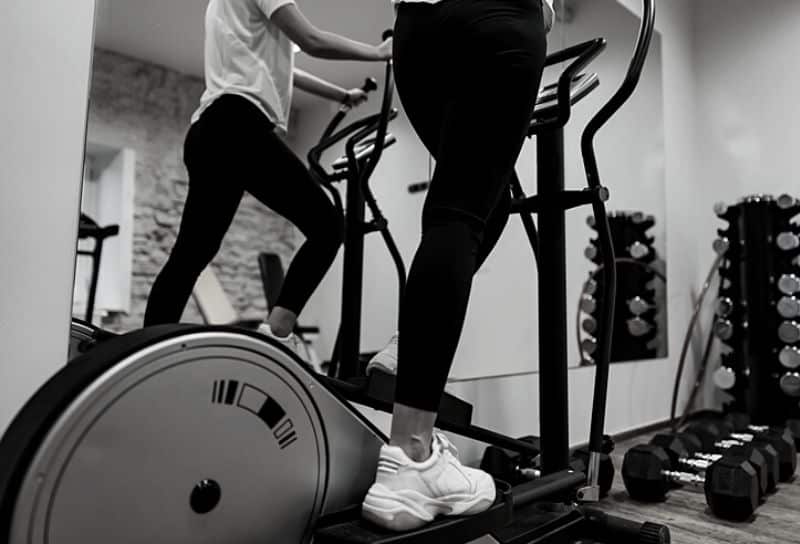 For those who are totally new to the gym, the elliptical machine is often an excellent go-to because of how easy it is to master.
But it's also gentler on your butt and back than the exercise bike/assault bike, it's much less likely to cause you to stumble or lose your balance than the treadmill, and it's a great first machine to help you work your way up to the more challenging ones like the stair climber or Jacob's ladder.
For beginners looking to improve cardio, lose weight, and get in shape, one of the key benefits of the elliptical machine is how easy it is to use for beginners.
✅ Suitable for Home Gyms
Ellipticals are one of the best machines for HIIT workouts and regular cardio workouts at home for the same reasons it's great for a gym-based workout, but they're also fairly inexpensive, take up less space than a stationary bike or treadmill, and are easy to operate.
Everyone in your family can get in a great cardio workout using an elliptical machine.
on the consoles of the machine, from steady-state cardio to high-intensity interval training.
✅ Strengthens Bones, Joints, and Muscles
While elliptical training is gentle on your joints, it's still excellent for strengthening them, along with the bones and muscles around them.
This is because it's a weight-bearing exercise, with all of your body weight resting on your legs as they move.
The workout causes microscopic damage to the bones and muscles, which forces your body to make repairs so the bones and muscles become stronger and more resilient.
The result is a tougher body better-able to handle higher-impact and weight-bearing exercise and activity.
Elliptical Trainers – The Disadvantages
Although there is a lot to love about the elliptical trainer, there are some reasons that it may not be suitable for you and your cardio workouts.
Not as functional.
Any kind of cardio machine has limitations as they limit the functionality inherent in "free" cardio exercises like running, jumping rope, or even kettlebell swings.
Ellipticals lock you into a fairly steady range of motion, which can be awesome if that's what your workout goals require, but if you are looking for a cardio activity that is more functional and relevant to your sporting activity of choice, an elliptical is probably not the best choice.
Not a lot of spice with elliptical workouts.
Besides going backwards and forwards, there isn't really much else you can do with ellipticals.
The extent of variety comes with changing stances or setting the machine to reverse to get more of a glute focus out of the workout.
The Benefits of Elliptical Trainers — FAQs
Is it better to go forward or backward on an elliptical?
Typically, your standard elliptical workout involves pedaling forward because that's how you train your quads and target your glutes and hamstrings to strengthen them most effectively for your most common activity of daily life: walking.
However, there are some excellent benefits to walking backward on the elliptical machine. Not only does this increase the focus on your calves and shins, but it helps to train the lower quadriceps muscles surrounding your knees.
Backward elliptical training can strengthen your knees and make them more resilient to injuries. Try to combine both backward and forward walking for the best possible results.
Is it OK to use an elliptical every day?
Absolutely! Because it's a low-impact cardio machine, you can use it daily in a number of ways:
As a pre-workout warm-up
As a post-workout cool-down
As a HIIT cardio workout
As an evening calorie-burner (in place of a walk)
Ellipticals are a great tool to incorporate into your daily training without a significant risk of overuse injury.
The Bottom Line
The elliptical machine has earned its place as one of the best cardio machines in the gym, and it's one you'd do well to spend more time on—both during and around your regular workout sessions.
You can use it for high intensity training, get some low-intensity fat-burning cardio, even treat it as a balance-improving workout.
The next time you are firing up a cardio workout at the gym, step up on an elliptical trainer and use it in service of your workout goals.