The NordicTrack SpaceSaver SE7i is a budget-friendly elliptical that can be stored vertically and is perfect for people who like doing online classes. But is it right for you? Here's a detailed review of the SE7i, including pros, cons, how it compares to other ellipticals in its class, and more.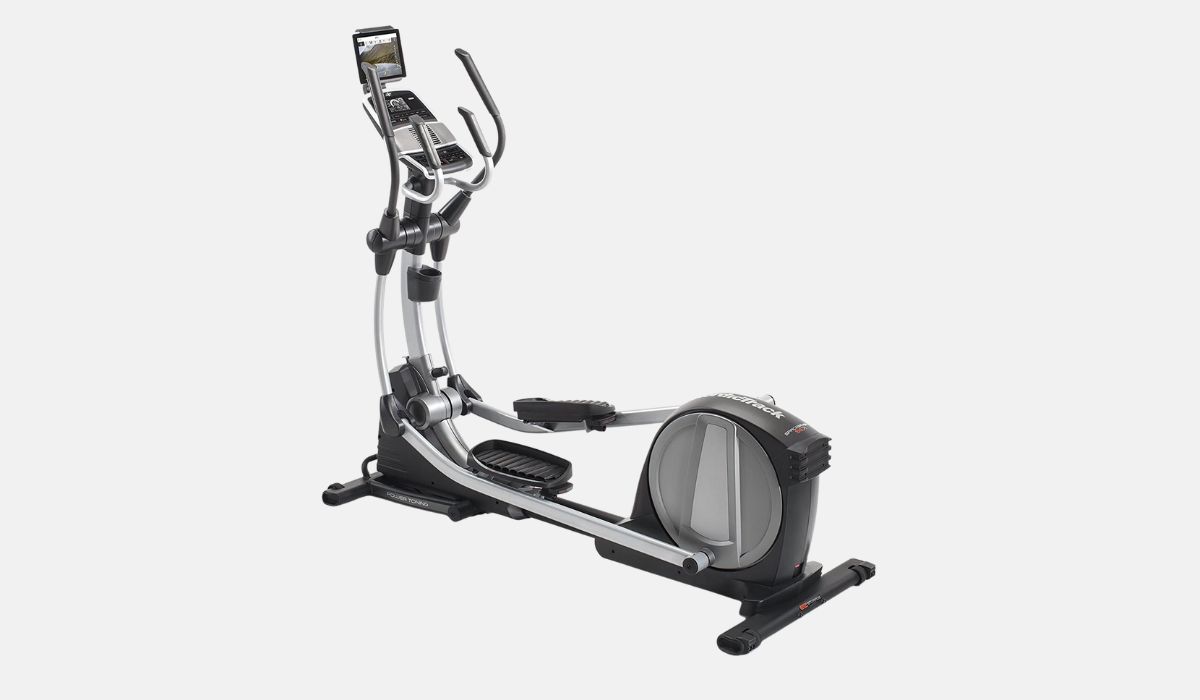 In This NordicTrack SpaceSaver SE7i Review:
The NordicTrack SpaceSaver SE7i Elliptical is WAS one of NordicTrack's most cutting-edge, high-tech elliptical machines.
Not only does it provide a customized, easily adaptable workout, but it offers access to the iFIT personal training platform that offers thousands of workouts—both pre-recorded and live—to help you take your fitness to the next level.
It's surprisingly budget-friendly compared to many of the higher-end models offered by its competitors, and though it's not perfect (as you'll see by the "cons" below), it's a great machine that delivers on quality, performance, and reliability.
It's also a foldable elliptical that can be folded and stored vertically, making it a killer choice for tight spaces and multi-purpose rooms.
In this review, we'll take a closer look at the NordicTrack SpaceSaver SE7i Elliptical, seeing both its strengths and weaknesses, how it stacks up compared to some of the other top elliptical machines, and more.
By the time you finish this post, you'll know exactly whether or not the NordicTrack SE7i is the machine for you.
NordicTrack SpaceSaver SE7i – The Specs
22 resistance levels
iFIT offers access to thousands of pre-programmed and live workouts
Unit weight: 215lbs
Max user capacity: 325lbs
Stride length: 18"
Dimensions: 80″ L x 32″ W x 67″ H
Silent magnetic resistance
Warranty: 10 years (frame), parts (2 years), labor (1 year)
NordicTrack SpaceSaver SE7i – Pros
Now that we've gotten the specs out of the way, let's dive in and find out some of the things we loved about this elliptical.
Things we love ❤️ about the SE7i:
Space-saving, folding design
Extremely quiet
Excellent assortment of classes (trainer-led and programmed workouts)
Commercial-grade quality with home gym pricing
Let's take a deeper look at each of the pros of the SE7i:
Ultra-Quiet Operation
This is a BIG deal if you're working out in a room in your house where you have to be quiet. Maybe you've got a baby sleeping next door, or you like to wake up earlier than everyone else to work out but don't want to disturb the rest of your household.
Whatever the case, a machine that runs quiet isn't just a convenience, it's a necessity!
The NordicTrack SpaceSaver SE7i features the brand's patented "Silent Magnetic Resistance", which uses a magnetic flywheel to increase/decrease the resistance as desired.
Thanks to this, the machine runs surprisingly quiet compared to many of the other ellipticals I've tested. In fact, I could actually hear my kids watching a movie in the living room (next to my gym room), but they never heard my elliptical through the open door.
Excellent Workout Options
I don't know about you, but I hate doing the exact same workout day after day. I get bored, which leads to demotivation and makes working out so much harder!
Which is why I really like the NordicTrack SpaceSaver SE7i. When you buy the machine, you get access to the iFIT platform (for a monthly fee, of course), where you can scroll through literally thousands of pre-recorded workouts. Whether you're looking for a low-intensity "stroll" or a heart-pounding HIIT session, the iFIT platform has it all.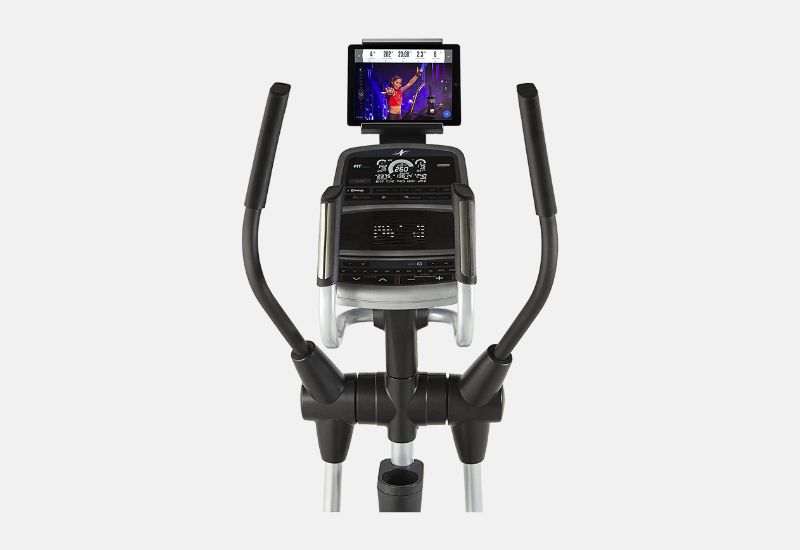 But more than that, you can actually join in on live training programs—in a spinning/elliptical training studio, or even on live walks and runs with trainers around the world. It's a great way to "get out and exercise around the world" without ever actually leaving your house.
Plus, it guarantees that no two workouts are ever the same and you'll never get bored.
As an added bonus (which I absolutely love), your workout performance is recorded by the elliptical machine and uploaded to the iFIT platform, where you can compare it against others who did the same workout (either in the same class or previously).
As a competitive person to the core, it's awesome being able to see how my workout stacked up against others, so I can push myself even harder. Talk about motivation!
Awesome for data nerds
The more you explore the system, the more you'll find there is right at your fingertips.
The 10-inch HD touchscreen is great for watching the recorded and live video workouts, but you can use it to monitor your in-workout performance, scroll through your data post-workout to see your performance, and access your specific user profile (it has space to store up to 5 users).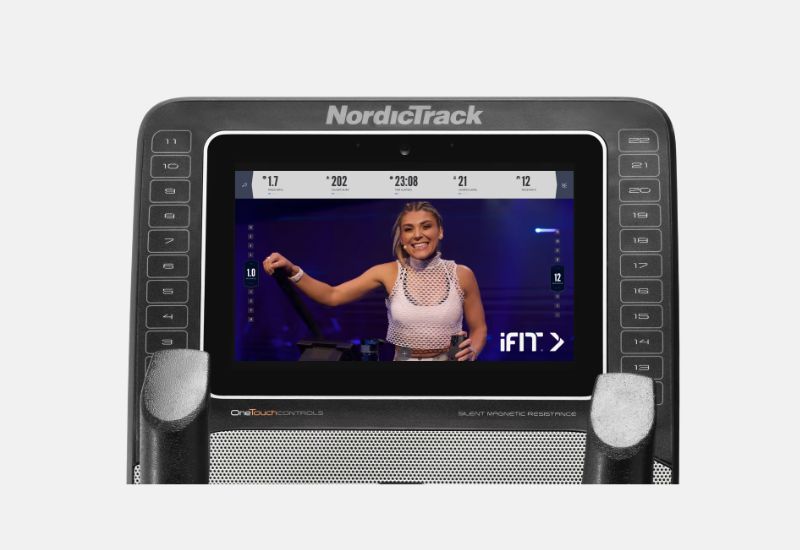 Not only that, but the system will auto-adjust the incline and resistance as you work out (along with a video or live session) without your ever having to touch a button. It makes for highly efficient training sessions, and you'll never struggle to keep up with the rest of the class.
Rear Drive design.
The NordicTrack SpaceSaver SE7i is a rear-drive elliptical, which means the magnetic flywheel is placed behind the pedals.
As I talked about in my article on "The Different Types of Elliptical Machines", this design encourages a smooth walking and running motion and helps you to stay upright when you walk. There's the likelihood of you bending/leaning forward, which means less strain on your spine.
Yes, the rear drive design does have a couple of drawbacks—there's a bit of "bounce" to the step, and you won't get quite as much of an incline as a center-drive elliptical—but overall, it's designed to give you the best possible workout.
Sturdy Build
If you've ever stepped onto any of the NordicTrack ellipticals, treadmills, or cardio machines, you'll know exactly what I'm talking about!
The brand has made a name for itself as one that builds sturdy, reliable, solid machines that will last for years.
Why do you think they're one of the most commonly used brands of cardio machines at gyms around the world?
Though the NordicTrack SpaceSaver SE7i is designed for home use, it still feels as tough as any commercial elliptical machine. The frame is built from solid steel, and the plastic components (such as the pedals and handles) feel far from flimsy or cheap.
Everything from the handles to the pedals to the screen console feels durable and long-lasting.
Space-Saving Design
Last, but definitely not least, I've got to call your attention to the design that earned the NordicTrack SpaceSaver SE7i its name (at least the "SpaceSaver" part).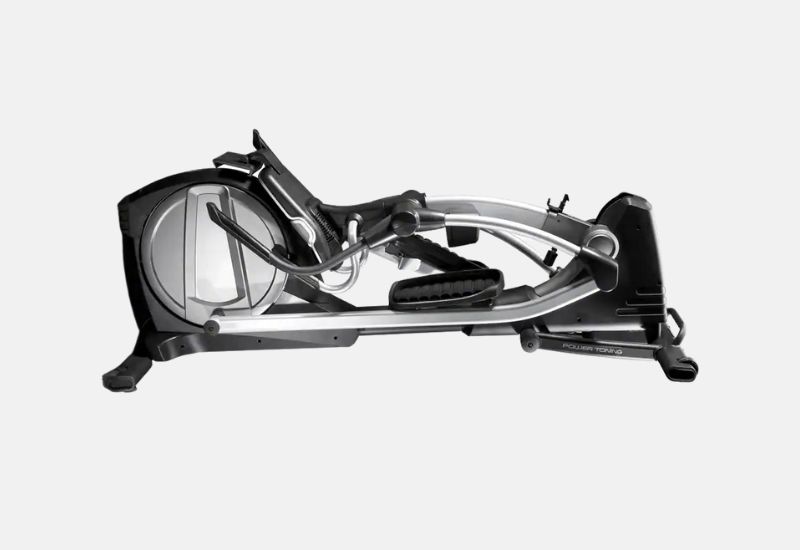 When you're done with your workout, you can easily fold down the machine's upper parts—including the handles, console, and the stand that holds it all upright.
It can then be tilted vertically, dramatically reducing the overall footprint of the elliptical when not in use.
A handle on the back makes titling the machine easy, and wheels at the front of the elliptical means you can quickly wheel the elliptical into a corner of the room when you are done with working out.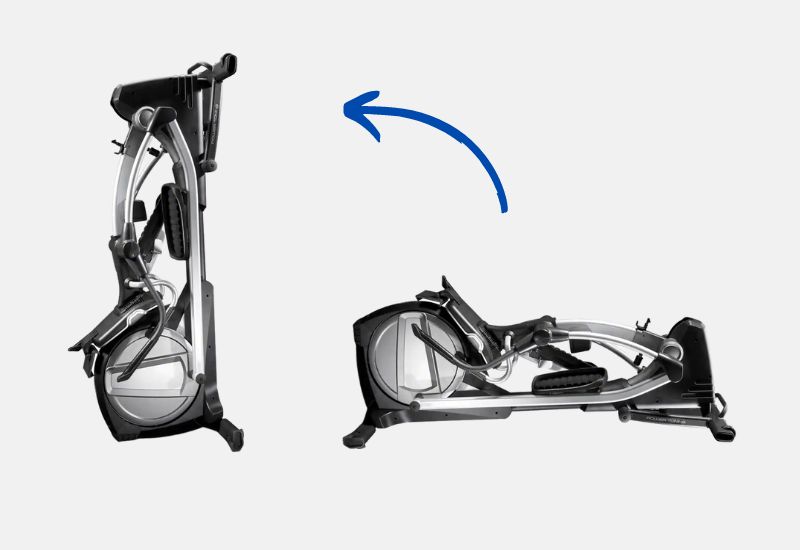 This unique design makes the SpaceSaver SE7i the perfect elliptical for people who workout area at home is a multi-use area, such as a bedroom, rec room, or a single-car garage.
NordicTrack SpaceSaver SE7i – Cons
As with any cardio machine, there are a couple of drawbacks that make the NordicTrack SpaceSaver SE7i stop a bit short of "perfect".
The Key Things that Could be Improved with the SE7i:
Shorter stride length
Not ideal for heavier users
Lighter flywheel
Shorter Stride
While many ellipticals I've reviewed and tested over the years have a 20-inch stride, the NordicTrack SpaceSaver SE7i uses an 18-inch stride.
For the average person, this is going to be no big deal. However, for any taller users (like me–I'm almost 6'5″), an 18-inch stride length can feel very short and even be a bit uncomfortable.
An 18-inch stride length is almost certainly going to be a deal-breaker for very tall users and people who have very long legs.
Limited User Capacity
Again, this isn't going to be a problem for the average user, but for anyone who is heavier than average, it may be an issue.
Many ellipticals will be built to handle 350 or 400 pounds of user, but the NordicTrack SpaceSaver SE7i will only accommodate up to 325 pounds.
Heavy users who are just taking their first steps down their weight loss journey may find that the machine just can't accommodate them, and thus may be forced to look for a machine that can bear up under their weight.
Light Flywheel
A light flywheel isn't able to generate as much resistance as a heavier one.
This means a heavier user will find that the resistance actually feels a bit too "light", and can't deliver as effective a workout as the 20, 25, or 30-pound flywheels integrated into other ellipticals.
The good news is that most people won't be bothered by these cons at all. However, for outliers (like me) who are bigger, heavier, or taller than "average", they're important factors to take into account.
NordicTrack SpaceSaver SE7i – FAQs
What are some ellipticals comparable to the SpaceSaver SE7i?
The NordicTrack FS7i FreeStrider is built as tough as the SpaceSaver SE7i, but it's a center drive elliptical that offers an incline adjustment that turns it almost into a stair climbing machine.
Though the screen is smaller (just 7 inches vs. the SE7i's 10 inches), you still have access to the iFIT platform and all the live and recorded workouts it has to offer.
The flywheel is also heavier and it has a higher user weight capacity (375 pounds).
The Sole E95 Elliptical is definitely pricier than the SpaceSaver SE7i, but it's backed by a lifetime warranty (vs. the 10 years offered by NordicTrack), has a heavier flywheel (27 pounds) and a higher user weight capacity (400 pounds).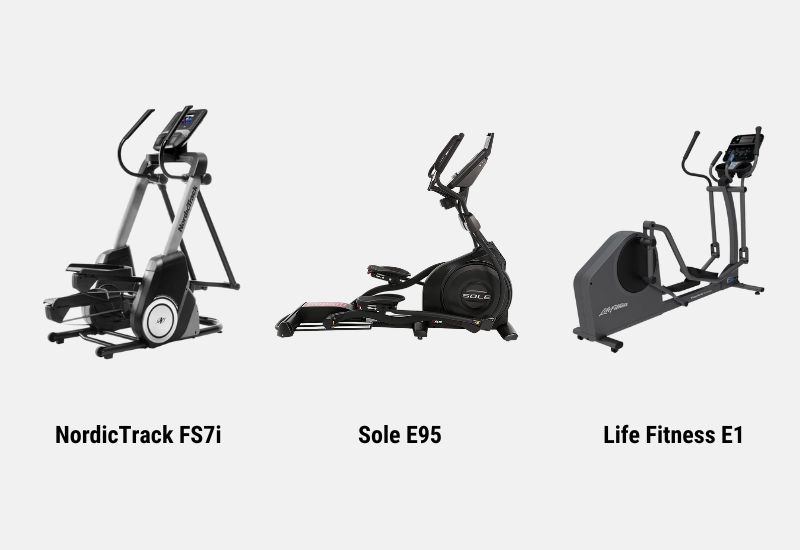 The Sole E95 elliptical is my favorite all-around elliptical machine for home users thanks to its heavy-duty build and whisper-quiet drive, although it does have a price tag that is $500 more than the SE7i.
Sole also has something relatively similar to NordicTrack's iFIT program with its STUDIO program, but the library of workouts and trainer-led classes with the iFIT program is superior.
The Life Fitness E1 Elliptical Cross-Trainer has a 20-inch stride length, a 6.5' step-up height (great for low ceilings), 20 levels of magnetic resistance (vs. the SpaceSaver SE7i's 22 levels), and WhisperStride Technology that makes it roughly as quiet as the SpaceSaver SE7i.
The flywheel is lighter (16 pounds) and the warranty is only for 5 years vs. the SpaceSaver SE7i's 10. Price-wise, though, it's pricier than the SpaceSaver SE7i.
What is the stride length of the NordicTrack SE7i?
The stride length on the NordicTrack SE7i is 18 inches, which is shorter than the unofficial "average" used by other brands but is perfect for users in the range of "regular" height.
Taller users (like 6'2″ and above) will want a longer stride length.
For a more detailed guide on choosing the right stride length on an elliptical, reference this article.
What's the difference between the SE7i and SE9i?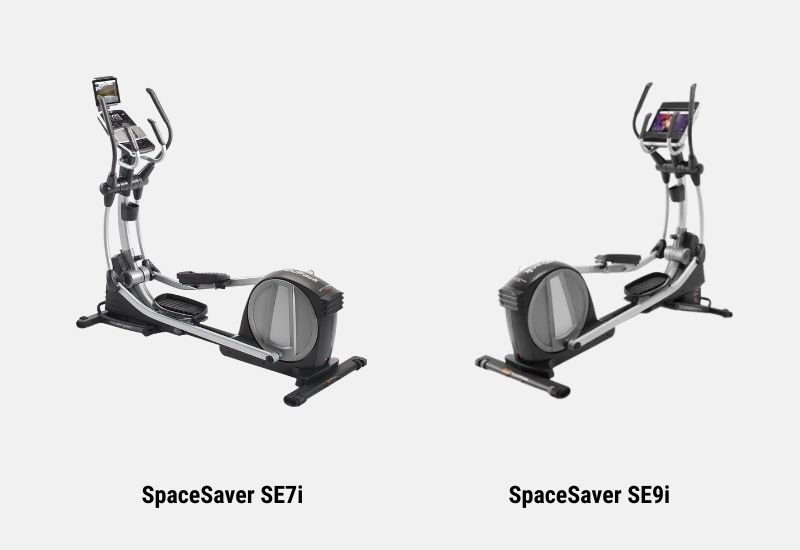 The NordicTrack SE9i differs from the SE7i in a few ways:
Marginally more expensive
A larger 14" full-color touchscreen
Two more levels of resistance (for a total of 24)
10% Incline Matching Tech
Automatic Trainer Control (which lets the trainers auto-adjust the elliptical to match the workout)
It's similar in design and function, with just a few more high-tech bells and whistles.
The Bottom Line
The NordicTrack SpaceSaver SE7i is a high-quality machine that's built tough, offers excellent versatility, gives you access to an impressive range of workouts (17,000+ according to the website), and delivers quality for your money.
Compare it to many of the other ellipticals on the market, and you'll find the price is reasonable considering its value.
Sure, it's got a couple of cons—light flywheel, limited user capacity, and a too-short stride for taller users—but when you compare it to all the pros, you can't help but agree that it's a great machine to consider for use in your home gym.
---
More Elliptical Guides and Reviews
How Much Do Ellipticals Cost? (44 Different Models Compared). Ellipticals can be a costly investment into your workout goals. Here is a look at how much each type of elliptical costs and how much to spend on one.
Elliptical Buying Guide – Everything You Need to Know to Buy with Confidence. Want to buy an elliptical but don't know where to start? Arm yourself with the knowledge to choose the perfect elliptical for you and your workout goals.
NordicTrack Commercial 9.9 Elliptical Review – A Feature-Rich Elliptical for Interactive Programming. Wondering if the NordicTrack Commercial 9.9 Elliptical is the perfect elliptical for crushing your health and fitness goals? Follow along for our hands-on review of this studio-grade elliptical machine for home gyms.