The elliptical trainer is an excellent machine for building cardio and muscle. Here's a look at all of the muscles worked on the elliptical, tricks for changing muscle groups, and how to build muscle on the elliptical.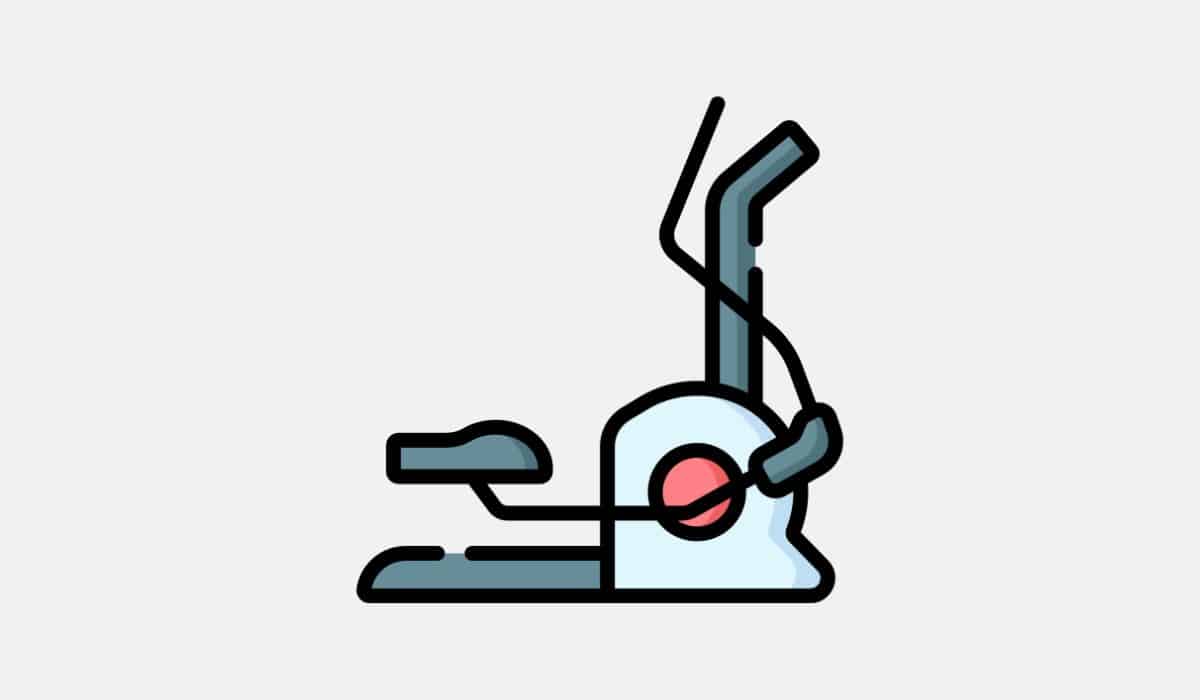 The elliptical machine is one of the most versatile cardio machines in the gym.
Not only is it a great cardio workout, but the elliptical machine works the quads, hamstrings, calves, core, shoulders, glutes, and hip flexors.
In this article, we will take a detailed look at ALL of the muscles worked on the elliptical, how you can change your stance/grip to change muscle groups, benefits of using the elliptical, and how to use the elliptical to build muscle.
Buckle up, we are hitting the elliptical!
The Elliptical Trainer – Why Should You Use It?
The elliptical trainer, also called a "cross-trainer", is a machine designed with two suspended pedals on an oval-shaped (elliptical) track, which glide forward and backward in a movement very similar to walking.
The pedals are connected to two handles, which help to improve your balance and actually serve to work out your upper body and core at the same time as your lower body.
What makes the elliptical such a great machine?
There are plenty of benefits of elliptical trainers, but here are the biggies:
Low Impact, Joint-Friendly Training
With the elliptical machine, you never actually lift your feet (like you do when walking or running) when pedaling, meaning there is virtually no impact on your joints.
For those with joint, muscle, or bone problems, it's one of the safest machines in the gym, least likely of all to cause pain or exacerbate injuries or insufficiencies.
Ellipticals generate significantly less load-bearing weight compared to other types of cardio, including walking, jogging, and running on a treadmill1.
Because of this, it's often used as a rehab tool, and it's highly recommended for anyone recovering from injury or surgery.
Highly Effective Cardio Workout
Like all cardio machines designed for weight loss, the elliptical trainer is intended to push your cardiovascular system to its limits.
When doing your cardio workout, there is minimal energy utilized by your muscles, but just enough that your muscles demand energy and oxygen in order to keep functioning.
This means your heart has to pump harder, your lungs have to work to absorb more oxygen into the bloodstream, and that blood has to be delivered to the working muscles.
All of this combines to increase your cardiovascular capacity, as well as to burn fat and glucose-based energy stored in your bloodstream and liver.
Ellipticals generate the same peak heart rate, oxygen consumption, and energy expenditure as treadmills at 60%, 70%, and 80% intensities2.
It also burns existing fat and cholesterol in your bloodstream, which in turn lowers your risk of arterial blockages.
It's one of the most effective fat-burning workouts, especially when sustained for long periods or performed at high-intensities.
Versatile
There are few cardio machines in the gym as versatile as the elliptical.
Think about it: with the rowing machine, all you can do is row. With the treadmill, you can walk, jog, or run. With the exercise bike, you either pedal sitting down or standing up.
Pretty straightforward, sort of a one-trick pony.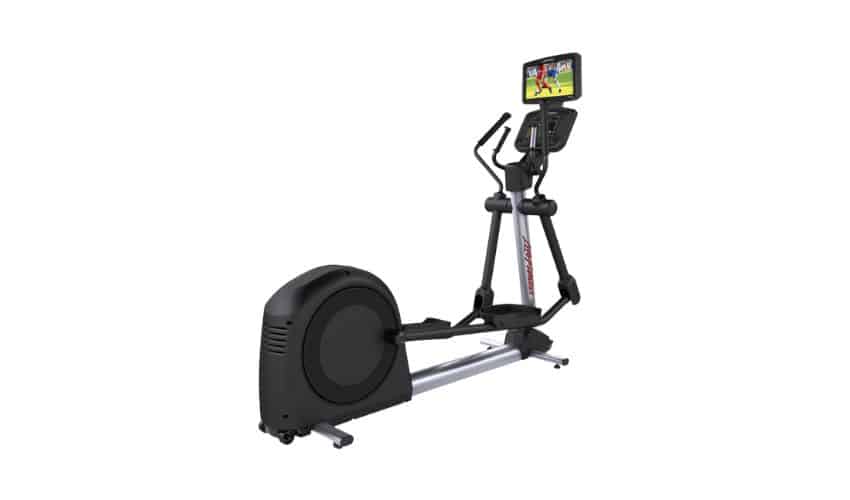 But the elliptical offers lots of options!
For example, if you want to target your glutes and hamstrings, raise the incline and difficulty of your pedaling, so it gives you a workout akin to the stair climber/Stairmaster.
If you want to target your lower quads (to bulletproof your knees) and calf muscles, reverse your direction and pedal backward. If you want to train your upper body and core more than your lower body, focus on pushing and pulling harder against the handles.
And if your goal is to improve your balance, try removing your hands from the handles altogether and train the muscles that keep you upright.
Natural Movement
Ellipticals tend to be very newbie-friendly because they move in a motion that most of us are fairly familiar with.
It's sort of a cross between walking normally and pedaling a bicycle, and the average newbie can master the natural movement in a matter of minutes.
When the time comes to push the pace and increase the intensity, you'll find it's easy to do so knowing you've got the backup of the handles and built-in supports to keep you steady. This makes it one of the best machines for HIIT workouts, hands down!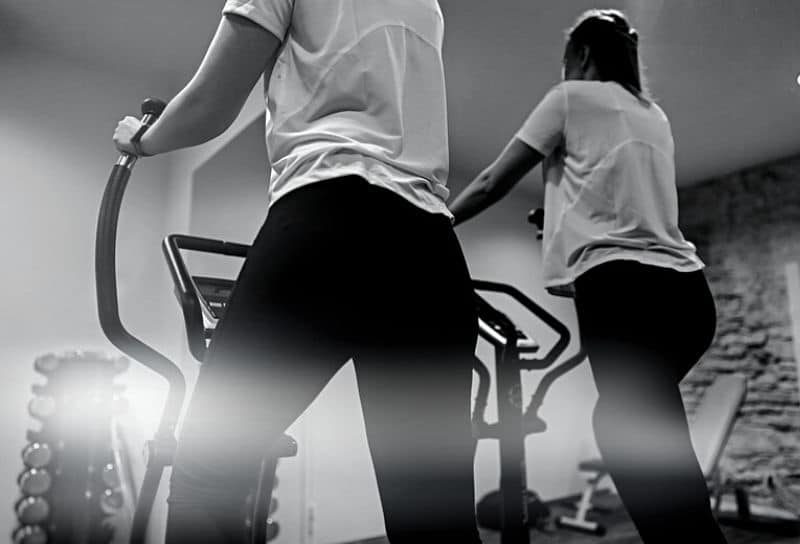 Elliptical Trainer – Muscles Worked
Now that you know why to use the elliptical machine, let's take a closer look at what exactly it does.
As with most cardio machines, there's a great deal of focus on training and strengthening the lower body muscles, including:
Quadriceps muscles
Gluteal muscles
Hamstrings
Calves
Shins
However, unlike most other cardio machines, there's also recruitment of the upper body and core.
In fact, virtually all the core and upper body muscles are engaged very effectively!
When you push against the handle, you're working:
Chest
Deltoids
Triceps
Forearms
When you pull against the handle, you're working:
Upper back
Deltoids
Biceps
Forearms
And because of the way your body twists with every movement, your core has to work extra-hard to keep you stable, leading to greater development of the critical core muscles:
Abs
Spinal erectors in your lower back
Obliques
Really, it's shorter to list the muscles NOT worked by the elliptical.
How to Build Muscle on the Elliptical Trainer
Most cardio machines are typically focused on cardiovascular endurance training—i.e. strengthening your heart and lungs—rather than building any real muscular strength.
However, what makes the elliptical such a great machine is that you can use it to specifically target your muscles to build strength.
All it takes is a few modifications to the way you utilize it, and you can see real muscular growth.
So how do you build muscle on the elliptical trainer?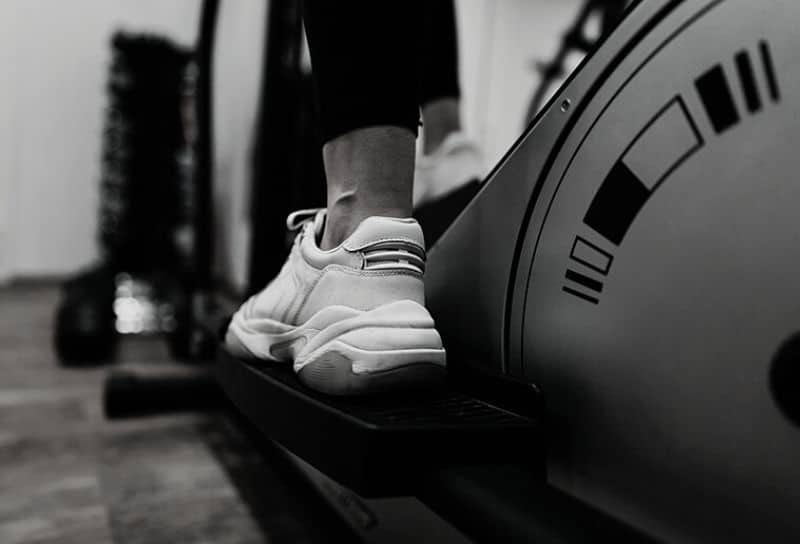 Target Your Upper Body
To focus on your upper body, try to move your legs as little and possible, and let your arms do the work of pushing and pulling on the handles.
I know, it's easier said than done to reduce your lower body movement. Because your legs are supporting you on the pedals, it's virtually impossible to eliminate them from the workout.
But that's not a problem! The goal is to minimize, not eliminate.
Your legs can still do the work of holding you upright and going through the pedaling motions. However, the real driving force of the workout should be your arms pushing and pulling on the handles. Feel the push motion in your chest, shoulders, and triceps, and the pull motion in your back, shoulders, and biceps.
The harder you work the upper body, the faster you'll feel the burn!
Target Your Core
To target your core muscles, try to utilize your arms and legs in equal measure, and focus on tightening your core as you go through the twisting motion.
You'll find there's a tendency for your core to relax, to let your lower body do the work and use your arms for stabilization.
However, if you work with both upper and lower halves in equal measure, your core muscles have to tighten to drive into the pedaling motion and maintain your stability.
Target Your Balance/Stability Muscles
Strengthen the secondary muscles that help you maintain your balance by removing your hands from the handles and supports entirely and pedaling only using your feet.
Within just a few seconds, you'll be leaning forward or tipping backward.
That's because the motion is just unnatural enough your body isn't accustomed to compensating for it and holding your balance.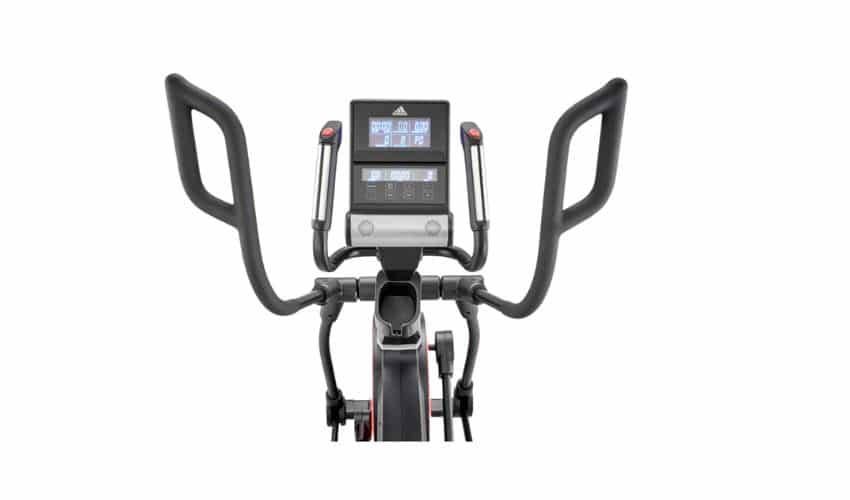 And that's a good thing!
You can use the time you spend on the elliptical machine working on strengthening those balance muscles and teaching your body to compensate for the odd rolling/pedaling gait.
Start with 1-2 minutes of hands-free pedaling, and work your way up to 5 minutes, then 10, then 15. By the time you can do your entire workout without needing to hold onto the supports, you'll have noticed huge improvements in your posture and balance across every sport and activity.
Target Your Quads
To hit your quads, set the treadmill to the standard incline but the difficulty up to the max.
Treat it like pedaling a bike on the hardest setting. You'll have to drive through the quads and really struggle to keep yourself moving despite the resistance.
Target Your Lower Quads and Calves
Time to switch things up and pedal in reverse! Set the incline to slightly above "normal"—usually between 25% and 50% will suffice.
This way, it feels like you're walking backward and climbing up a gentle hill, which places all of the strain on your lower quads and calf muscles.
These are the muscles surrounding your knees, the ones that you need to strengthen if you want to increase the resilience of this joint.
Spend time training these lower quad and calf muscles, and you'll experience exponentially less knee pain.
Target Your Hamstrings and Glutes
Ellipticals are an excellent cardio machine for targeting the glutes.
To pay attention to these critical posterior chain muscles, set the incline to the max and turn up the resistance to about 50%.
You'll certainly feel the burn in your quads, but the high incline will target the glutes and hamstrings in a truly effective way.
It'll be a workout similar to stair-climbing, but with far less impact on your joints.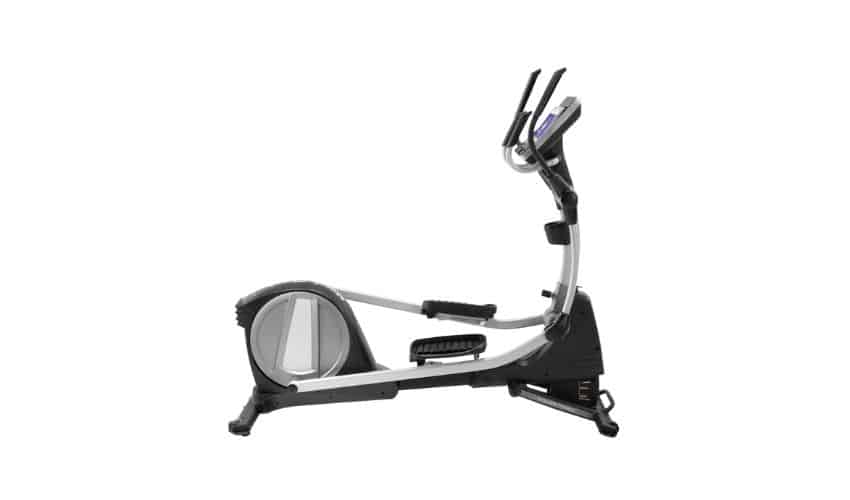 How Long Should I Work Out With an Elliptical to Build Muscle?
Typically, a muscle-building workout won't last as long as a cardio workout. It's all because of the way your body utilizes energy.
With resistance training, your muscles burn predominantly glycogen, which is derived from sugar and is easily accessible and quickly utilized. With cardio (low-intensity), your body can activate stored fats, which provide more energy overall, but burns slower and with more difficulty.
Your muscle-building workout usually won't last longer than 20-30 minutes. If you're doing high-intensity (HIIT) training, you'll probably last around 20 minutes, max, which is why I love the elliptical as a cardio machine for HIIT workouts.
Compare this to a 30 to 60-minute cardio session, and you'll see the difference clearly.
However, because you're not training your muscles the same way resistance training does (you're in an aerobic state where you can burn some oxygen, rather than a purely anaerobic state where you burn glycogen), you may find you can last a bit longer—from 30 to 45 minutes.
The Bottom Line
As you can see, elliptical training offers a truly versatile workout, one that lets you target your cardiovascular endurance or build muscle effectively.
A few simple adjustments to the way you use the machine, and you can target different muscles in pretty much your entire body. How's that for a great piece of equipment?
While treadmills, rowing machines, stair climbers, and other cardio machines offer a lot of benefits, few can hold a candle to the elliptical machine.
If you've only got time for one machine in your workout or only have the space for one machine in your home, the elliptical may very well be your best choice.