The True Fitness PS300 is a commercial-grade, compact, and feature-rich elliptical for home use. Here's a full review of the PS300, including pros, cons, how it compares to other center-drive ellipticals, and much more.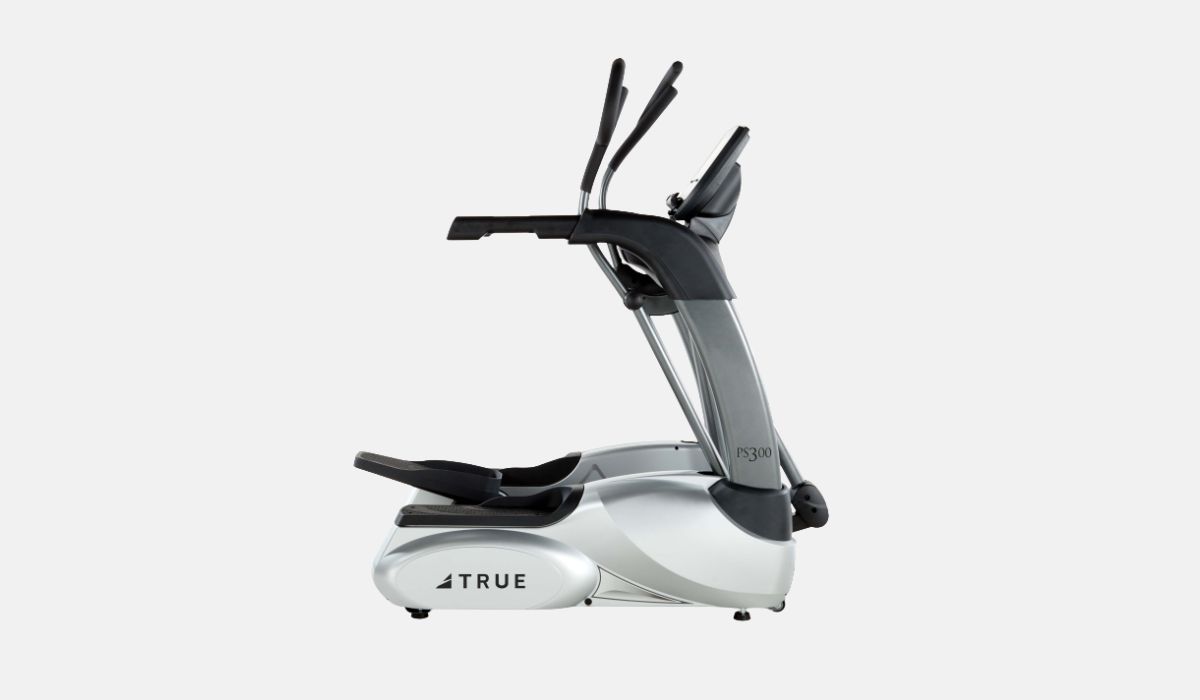 The True Fitness PS300 is a heavy-duty and compact elliptical machine tough enough for commercial gyms, but with the small footprint perfect for home gyms.
Made to take a beating, the PS300 features one of the longest elliptical stride lengths on the market and is one of the smoothest ellipticals available for home gyms.
Although it is built for commercial use, the machine basically qualifies as a compact elliptical thanks to its center-drive system, with a footprint of just 49" x 33" (working footprint is 70" long).
In this review of the PS300, we will look at the pros of the elliptical, some of the things that can be improved, and how it compares to other ellipticals on the market.
By the end, you will have a crystal-clear idea of whether the True Fitness PS300 is the best elliptical for you and your goals.
Let's jump in.
True Fitness PS300 — Key Specs
Footprint: 49" x 32.5" (active footprint is 70" long)
Center drive system (TRUE Core Drive System)
21" stride length
HRC Cruise Control
Side steps for getting on and off the machine easily
Side arms for added stability and peace of mind
Unit weight: 266lb
Max user weight: 350lb
Handles and wheels for portability
Lifetime warranty on the frame and 7 years on parts
Tablet holder, water bottle holder, accessory tray
Removable foot pads for easy cleaning
Multi-grip handle
Heart rate monitor (also compatible with Polaris HR monitors)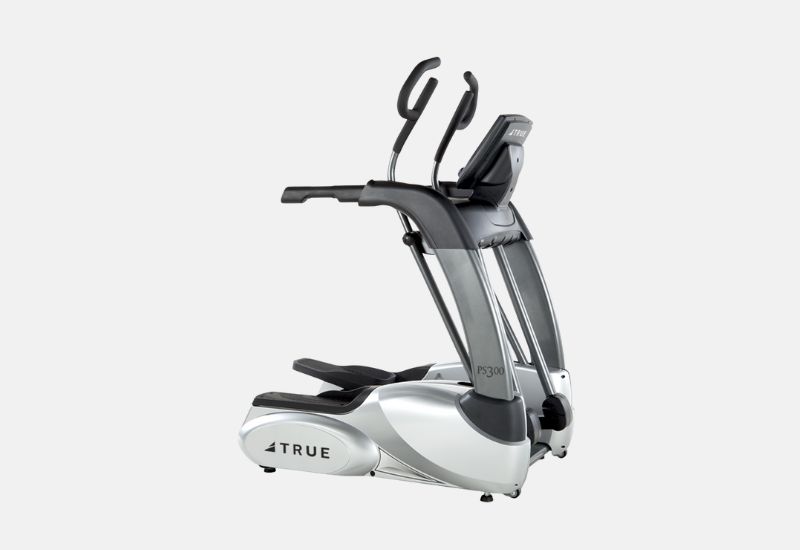 True Fitness PS300 – The Pros
Okay, let's take a deeper look at what I really liked about using this machine, and how it stands apart from the other best elliptical machines out there.
The pros of the PS300 include:
Exceptional foot comfort
One of the complaints I have with most generic elliptical machines at the gym are the hard, flat pedals. After a while, my feet can start to feel numb and fall asleep.
The PS300 has removable footpads that are among the most comfortable I've tried over the years.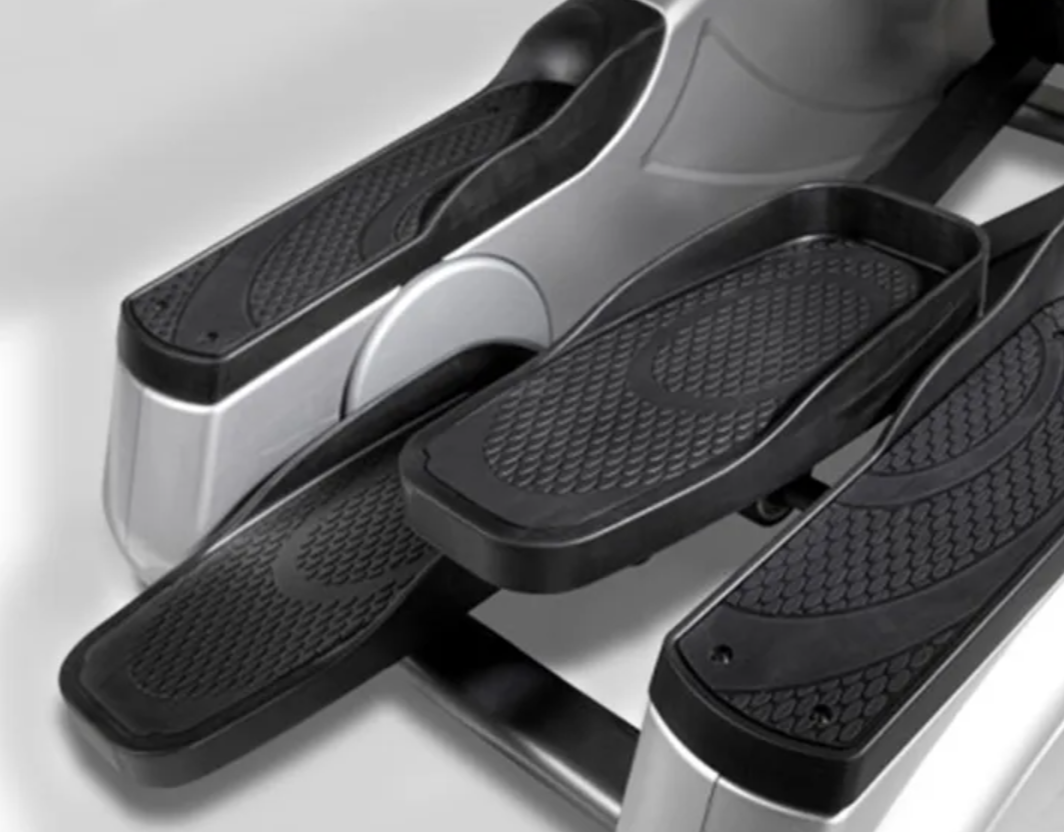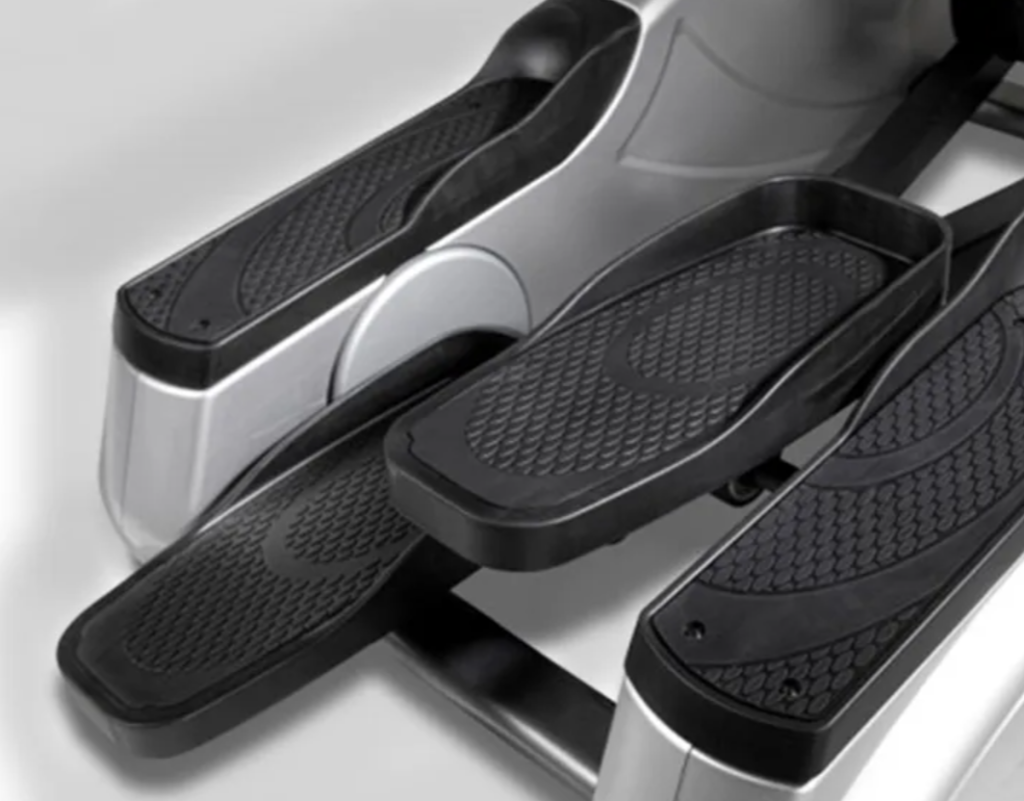 The orthopedic design "fits" to the unique shape of your feet, and the pads are easy to take off and clean between workouts. The pads are specifically designed to help reduce toe and foot numbness that is common with people using ellipticals.
Compact design
The Ture Fitness PS300 is a space-saver in a world of machines that can take up a lot of room.
People building a workout area for themselves at home are constantly up against a shortage of space, and elliptical machines as a category can take up a TON of room.
The intelligent center-drive system on the PS300 means the machines doesn't need added space like rear-drive or front-drive elliptical.
The compact footprint of the PS300, just 49" x 33" is insane when you consider that you also get a 21" stride length with the machine.
For home gyms short on space, but don't want to go for one of the cheapo compact ellipticals, the PS300 is an excellent choice.
As sturdy as it gets for an elliptical machine
One thing you will notice when exercising on the PS300 is how sturdy the machine is.
One of the frustrations of ellipticals is working out on a trainer that wobbles or otherwise feels like it might teeter or topple over if you exercise too aggressively on it.
Not so with the PS300.
It's built like an absolute tank, with a unit weight of 266lb.
This puts it right in the neighborhood of other premium, gym-quality elliptical machines like the Sole Fitness E95 (236lb) and the Life Fitness Club Series+ Elliptical (301lb).
The PS300 also has two caster wheels at the front of the machine so that you can move it around when necessary.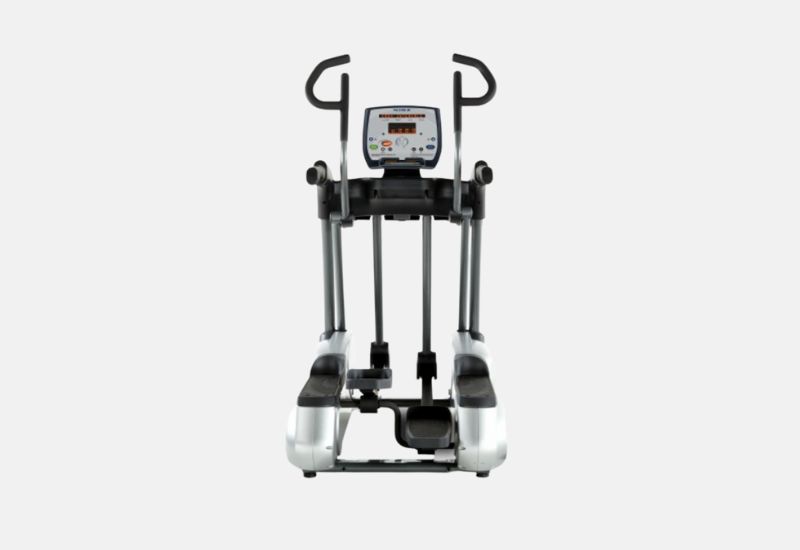 Lots of safety features
The PS300 has side steps that make it easier (and safer) to climb onto the machine.
Stepping onto a machine that has floating pedals can be difficult for some users, so the side steps provide a more secure way to mount the elliptical.
It also has extendable safety arms that can be used to stabilize yourself when getting on and off or even when you want to give your arms a break when working out.
These are features you just don't see with elliptical machines, so for people who want maximum safety and accessibility, the PS300 is an excellent choice.
Advanced Heart Rate Features (HRC Cruise Control)
Staying in the right heart rate zone means you can make the most of your time on the elliptical.
One of the coolest parts about the PS300 is a feature called HRC Cruise Control. Once you configure the machine to your desired heart rate range, the PS300 adjusts the speed and resistance to keep your heart rate where it should be.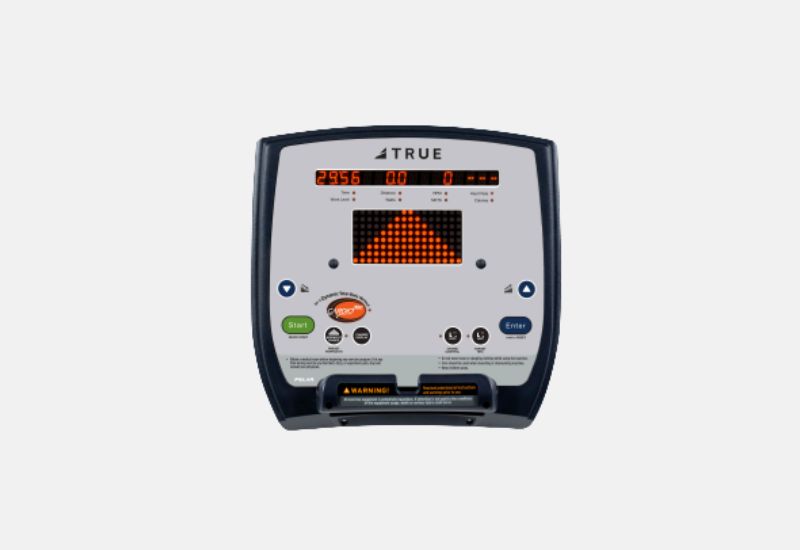 Automagically!
This is awesome for people who don't want to spend their workout dialing up and down resistance, or even for athletes and other more serious gym-goers to get a better feel of pacing for proper heart rate ranges.
This is an excellent way to keep your workouts honest, and frankly, is something I didn't think I would enjoy using as much as I do.
True Fitness PS300 Elliptical – The Cons
There are a couple of call-outs for this machine, despite all of the things that I really liked about it.
They include:
Limited console options.
Tue Fitness' elite elliptical, the ES700, has an option for an upgraded console that has an HD screen. With the PS300 you get the basic LED screen. I would have liked to see the option to upgrade, especially at a price point of over $4,000.
No incline options.
People who want to crank up the difficulty on their elliptical machines with incline options will want to look elsewhere.
The PS300 is a classic, horizontal stride machine, unlike the power adjustable incline machines like the Sole Fitness E35, which has 20 incline levels, or the Bowflex Max Trainer M9, which is a hybrid elliptical/stepper machine.
How does the True Fitness PS300 Compare to Other True Fitness Ellipticals?
True Fitness makes a full line of ellipticals for both residential and commercial use.
They all feature their patented center drive system, which means that they all have a relatively small footprint compared to other popular ellipticals for home gyms.
Here is how the PS300 compares to the other machines in their residential line of elliptical trainers:
| | | | | |
| --- | --- | --- | --- | --- |
| | M30 | M50 | PS300 | ES700 |
| Price | 2,799 | 3,199 | 4,099 | 5499-6299 |
| Stride | 21" | 21" | 21" | 16" to 27" |
| Footprint | 42" x 30" | 42" x 30" | 49" x 33" | 49" x 33" |
| Active Footprint | 70" x 30" | 70" x 30" | 70" x 32" | 75" x 33" |
| Unit Weight | 275lb | 276lb | 266lb | 272lb |
| Max user weight | 300lb | 300lb | 350lb | 350lb |
| Screen | LED | LED | LED | LED or T9 Touchscreen |
The Bottom Line
Ultimately, the PS300 is a high-quality and wildly durable elliptical trainer.
The space-saving design makes it a perfect option for people who want a full-featured elliptical without taking up a ton of room.
The accessibility features are ideal for those who want to get on the elliptical with confidence, and the heart rate cruise control will ensure that you are making the most of your time on the elliptical machine.
The price point is a bit high, but this is actually fairly "normal" for center drive ellipticals, and I would have loved to see an upgraded screen option.
True Fitness' customer service is above average (they responded to separate enquiries within a business day) and a lifetime warranty on the frame and 7-years warranty on the parts mean you can buy with confidence.
In sum:
Compact, space-saving design
Huge stride length with a tiny footprint
Heart rate cruise control program
Exceptional foot comfort
Safety features for using the machine securely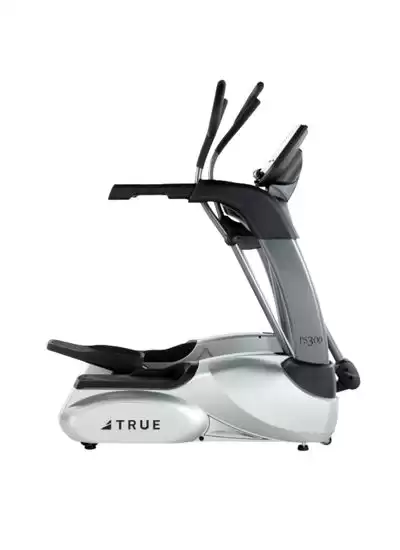 ---
More Elliptical Reviews and Guides
How Much Do Ellipticals Cost? (44 Different Models Compared). Ellipticals can be a costly investment in your workout goals. Here is a look at how much each type of elliptical costs and how much to spend on one.
How Many Calories Do You Burn on an Elliptical? (and How to Burn More). Wondering how many calories the elliptical trainer burns? Here's how much calorie burning you are doing, how the elliptical compares to other machines in the gym, and tips for how to burn even more calories on an elliptical.