The NordicTrack SpaceSaver SE9i is a premium elliptical machine that folds up and has a big, beautiful screen for online classes. But is it for you? Read on as we look at the pros, cons, and closest competitors to the SE9i elliptical trainer.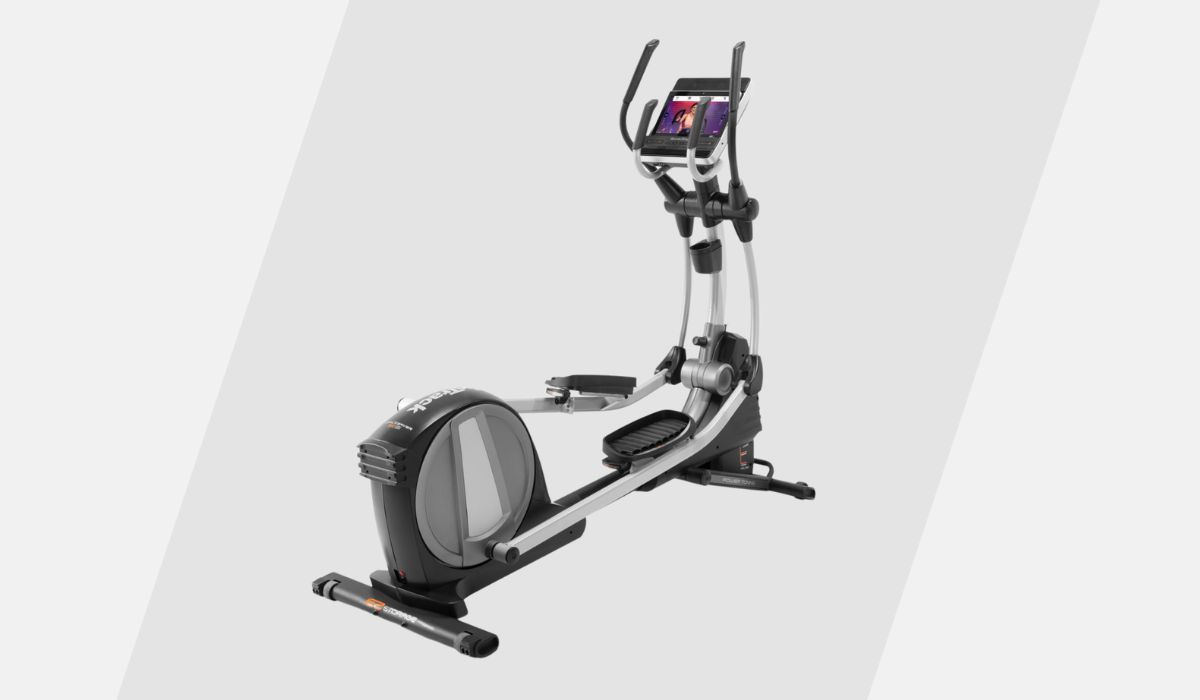 In this Review of the SpaceSaver SE9i:
The NordicTrack SpaceSaver SE9i is a well-built trainer that can be folded up and is perfect for taking complete advantage of the huge library of workouts from the iFIT training program.
It's also a bit pricey and likely not the best elliptical trainer for the person that just wants to jump on the machine and go.
In this review of the NordicTrack SpaceSaver SE9i Elliptical, we take a deep dive into the features, pros and cons, and how it compares to other ellipticals in its price range.
By the end, you will be fully armed to buy (or not buy) with total confidence, knowing the machine is the one for you.
Let's jump right in.
NordicTrack SpaceSaver SE9i Key Specs:
Price: $1,699
Screen: 14" HD touchscreen
Incline: Powered, up to 10 degrees
24 levels of resistance
Stride length: 18"
Flywheel: 18lbs
User capacity: 325lbs
Machine weight: 218lbs
Dimensions: 80" L, 32" W, 67" H
30-day iFIT subscription included ($39 per month afterward)
Warranty: 10 years (frame), 2 years (parts), 1 year (labor)
In-home assembly: $199
NordicTrack SpaceSaver SE9i Elliptical – The Pros
Alrighty, let's jump into the best parts about this elliptical and how it can give you a kickass workout at home:
✅ It can be folded and stored vertically!
Everyone with a home gym knows that space is typically the big constraint when investing in workout gear.
Ellipticals are especially large—the SE9i is 80" long, which is typical of front and rear drive elliptical machines—and can quickly drink up a ton of valuable real estate in your home.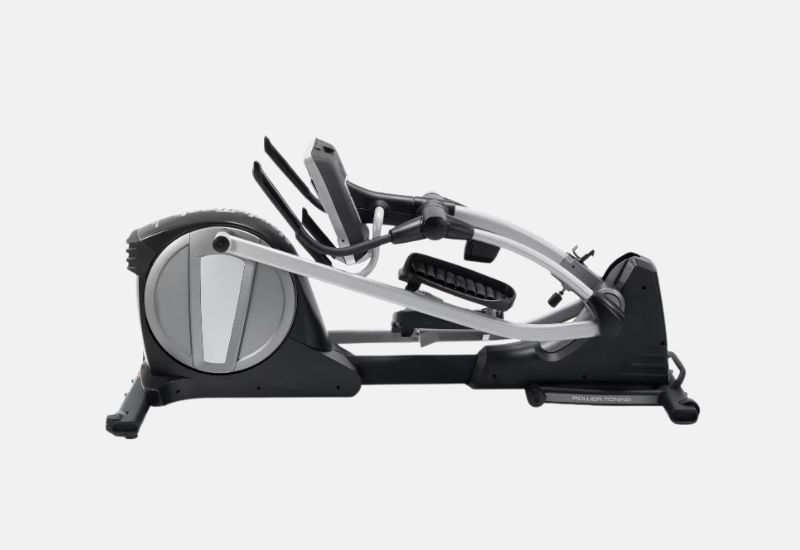 That is where a foldable elliptical like the SE9i can solve this by being able to be folded and stored vertically.
This means you can free up square footage in your house, whether it's in the master bedroom, the living room, or your basement between sweat sessions on the elliptical.
✅ Thick, comfortable foot pads.
The main benefit of elliptical machines—in my case, at least—is that it's exceptionally low impact while emulating the gait of running and/or stepping.
But the foot pedals still need to be comfortable, and with this, the SpaceSaver SE9i is a winner.
The foot pads are cushioned and treaded. Even after striding for upwards of an hour, there is no soreness on the pads of my feet.
I have reactive arthritis that presents mostly in my feet, and most forms of cardio (running and jumping in particular) tend to leave my feet sore.
Unpadded foot pedals (like on the Life Fitness machines at my local gym) can generate some foot soreness, too.
But not the case with the SE9i's pedals, which puts a big "hell yeah" in the win column for me.
✅ Power incline
Elliptical machines are excellent for replicating the gait and oval-shaped pattern of a running motion.
But if you want to crank up the difficulty, some incline is in order!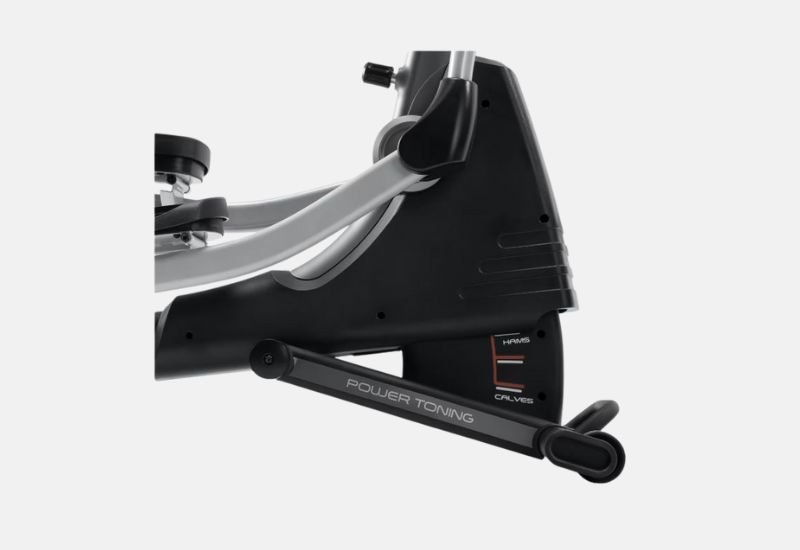 The SpaceSaver SE9i has an additional 10 degrees of incline for cranking up the sweat factor in your workouts and is perfect for intervals and focusing on your glutes on the elliptical.
The incline also shows you what muscle parts are being emphasized as the machine goes up, which is a great little "fun fact" feature that will help promote smarter workouts.
Note: The incline significantly increases the height of the machine when in use. If you are planning on using this machine in a lower-than-normal-height room, and/or you are a really tall human, keep this in mind and double-check your measurements before purchasing the SE9i.
✅ Huge, glorious HD touchscreen.
We can collectively thank Peloton for making huuuge HD screens the standard with cardio machines.
NordicTrack rises to the occasion with the massive 14" screen on the SE9i that is crisp and bright. Like it's cousin, the NordicTrack Freestride FS14i, the screen means business with crisp colors and high-definition resolution.
The screen is a beauty.
Enough said.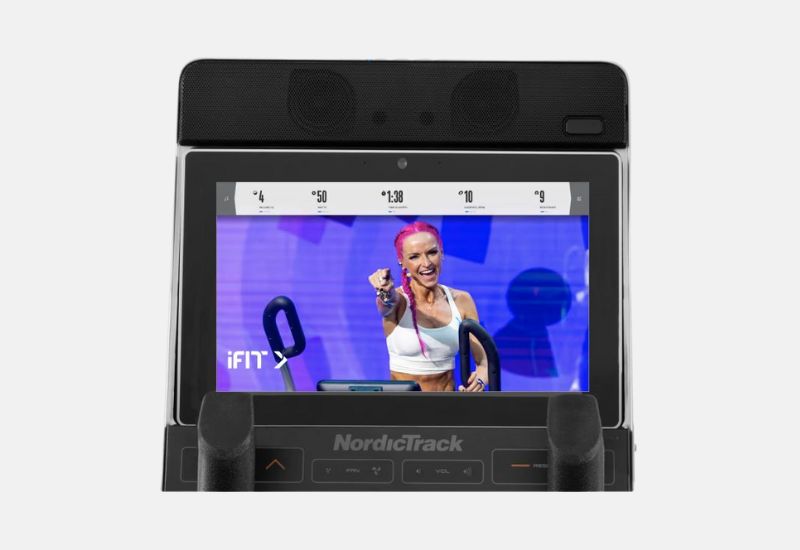 ✅ Lots of workout programs (both on machine and off).
People who really like doing online classes will love this machine.
(And honestly, that is pretty much the only kind of trainee this machine is good for.)
iFIT is NordicTrack's online class membership of choice, and it's absolutely loaded with workouts and classes.
It includes:
50 types of workout and counting (HIIT, steady-state, etc)
Hundreds of trainers and thousands of classes
Exercise "tourism" (exercise in landscapes around the world)
Live events
Various monthly challenges
Google Maps feature
The latter is a really cool feature—you can "elliptical" around neighborhoods and locales of your choice using Google Maps.
iFIT gamifies your workouts with monthly challenges and issues badges for leveling up and achieving goals.
Additionally, iFIT has a ton of workouts that can be done off the elliptical (strength training, core workouts, mobility sessions, etc), so it can be used for full-body training off of the elliptical as well on it.
For those who find this type of programming valuable and motivating, it's a no-brainer to help you stay on track with your workouts.
NordicTrack SpaceSaver SE9i — The Cons
The SE9i kicks butt in a variety of ways.
But there are some things that I didn't particularly love about it and will likely dissuade some prospective buyers.
My gripes included:
It's a glorified pitch for the iFIT membership.
The elliptical machine is straight-up a vehicle for getting you to sign up for the monthly iFIT membership.
After all, once you've plunked down $1,600 for the machine, you only get one free month of the iFIT studio classes and workouts.
Additionally, there are no programmed workouts on the machine if you choose not to use the iFIT subscription ☹.
To make this more enticing, NordicTrack (if y'all are listening), should make at least the first year of classes free for new SE9i owners.
Not as stable as other machines in its price bracket.
This machine will wobble a bit with heavier users.
I'm around 280lbs, and found that the SE9i did teeter a little bit, particularly when doing high-intensity intervals.
While the SE9i has a relatively wide base (at 32" wide, that's on par with other ellipticals in its class), and a beefyish weight (218lbs is plenty heavy), it has a bit of a wobble.
I couldn't quite put my finger on why; it might be the way the weight is distributed in the frame or because it's a rear-drive elliptical.
This sentiment was reflected in a few other reviews that I read online, as well.
No media tray.
If you are buying the 9Ei, it *should* be because you want to be using the classes and online workouts.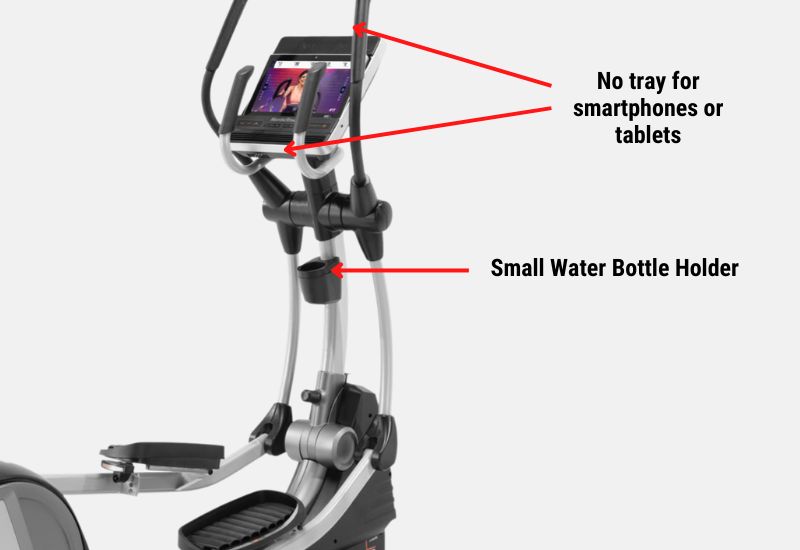 Which means having a place for your smartphone likely won't be a priority.
But for those who want their phone nearby when working out, you'll be disappointed to see there is no media tray or rack on the machine.
But what about the water bottle holder?
Nope—it's too small for a smartphone and, infuriatingly enough, even too small for most water bottles.
Note: The previous generation of the SE9i had a smaller touchscreen, programmed workouts and a tablet/smartphone holder at the top. The older SE9i can still be found at some brick and mortar retailers.
What's the Difference between the NordicTrack SpaceSaver SE9i and the SE7i?
The SpaceSaver SE9i and 7Ei are extremely identical, with several significant differences between the two machines:
Bigger touchscreen (14" vs 10")
Price ($1,999 vs $1,799)
Resistance levels (24 vs 22)
Power incline (SE9i only)
Trainer Control (SE9i only)
For the person who really likes doing classes, the SE9i has a bigger touchscreen and a couple of extra levels of resistance, and the power incline introduces an optional degree of difficulty the 7Ei doesn't have.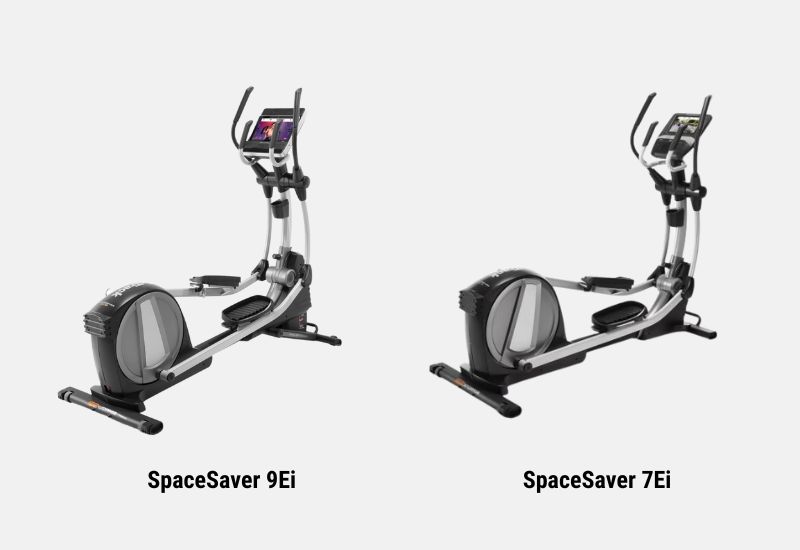 Also, the 7Ei has one-touch buttons along the sides of the console to change resistance settings on the fly, whereas the SE9i's resistance settings are a simple up or down at the bottom of the console.
Besides that, the dimensions, user weight, stride length, warranty and all of the rest are the same.
NordicTrack SE9i vs Sole Fitness E95 Elliptical
The closest competitor in terms of build quality, price, and specs is the Sole Fitness E95 Elliptical Trainer.
Even though the Sole E95 Elliptical Trainer doesn't have the big touchscreen (the E95 uses a relatively basic pair of LCD screens that output the essentials—HR, time elapsed, etc), it's an absolute brute in terms of build quality.
The E95 also has all of the standard workout programs built into the machine—no subscription required.
If you aren't too hung up on the online classes and workouts, and prefer a machine that is more stable, the E95 will be a better choice and it costs a couple of hundred dollars less ($1,699) than the 9Ei and it's even less expensive than the 7Ei.
NordicTrack SpaceSaver SE9i Elliptical – FAQs
Can you use the NordicTrack SE9i without iFIT?
You can use the machine, in a manner of speaking, without the iFIT subscription, but only in terms of increasing or decreasing resistance levels.
There are no workout programs built into the machine, which means relying solely on the touchscreen and iFIT for workout programs, even if you are just looking for a basic HIIT workout.
This didn't always use to be the case.
The original SE9i had a decent-sized screen (about 9") along with the usual console controls.
The most recent version has done away with the console and program controls for more screen size and an all-in commitment to the iFIT programming.
Can you stream Netflix, Hulu, etc. on the NordicTrack SE9i?
In the eternal words of the movie Top Gun, that's a negative, Ghostrider.
The screen and hardware are designed specifically to be used with the iTIF software.
There are no USB ports or ways (that I know of, please feel free to let me know if there are some ways to MacGyver the screen for streaming) to download and use other software.
The Bottom Line
The NordicTrack SE9i has two distinct features that make it perfect for a very specific type of user…
It folds up and can be stored out of the way and it has the best screen for taking full advantage of all of the classes and programs that are part of the iFIT subscription.
If that sounds like you, click on the big old blue button below and get your order started.
| | |
| --- | --- |
| ✅ PROS | ❌ CONS |
| Huge 14" HD touchscreen | Limited functionality without iFit subscription |
| Perfect for doing online classes and workouts | Not as stable as other "heavy duty" ellipticals |
| Can fold up and be stored vertically between workouts | |
| Power incline for cranking up the difficulty | |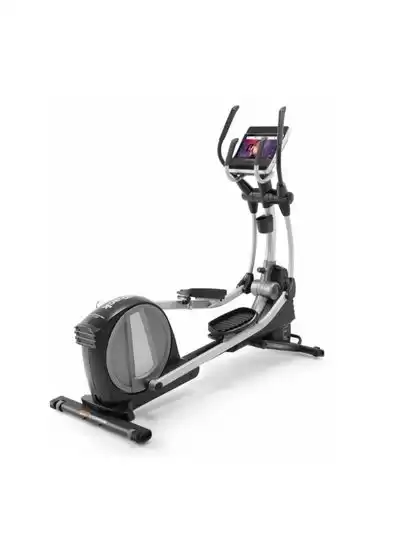 ---
More Elliptical Guides and Articles
How Much Do Ellipticals Cost? (44 Different Models Compared). Ellipticals can be a costly investment into your workout goals. Here is a look at how much each type of elliptical costs and how much to spend on one.
Elliptical Buying Guide – Everything You Need to Know to Buy with Confidence. Want to buy an elliptical but don't know where to start? Arm yourself with the knowledge to choose the perfect elliptical for you and your workout goals.
NordicTrack Commercial 9.9 Elliptical Review – A Feature-Rich Elliptical for Interactive Programming. Wondering if the NordicTrack Commercial 9.9 Elliptical is the perfect elliptical for crushing your health and fitness goals? Follow along for our hands-on review of this studio-grade elliptical machine for home gyms.