Squat racks are one of the best investments you can make for your lifting goals. Here's a look at the cost of each type of squat rack, some of the hidden costs of buying a rack, and why they can be so expensive.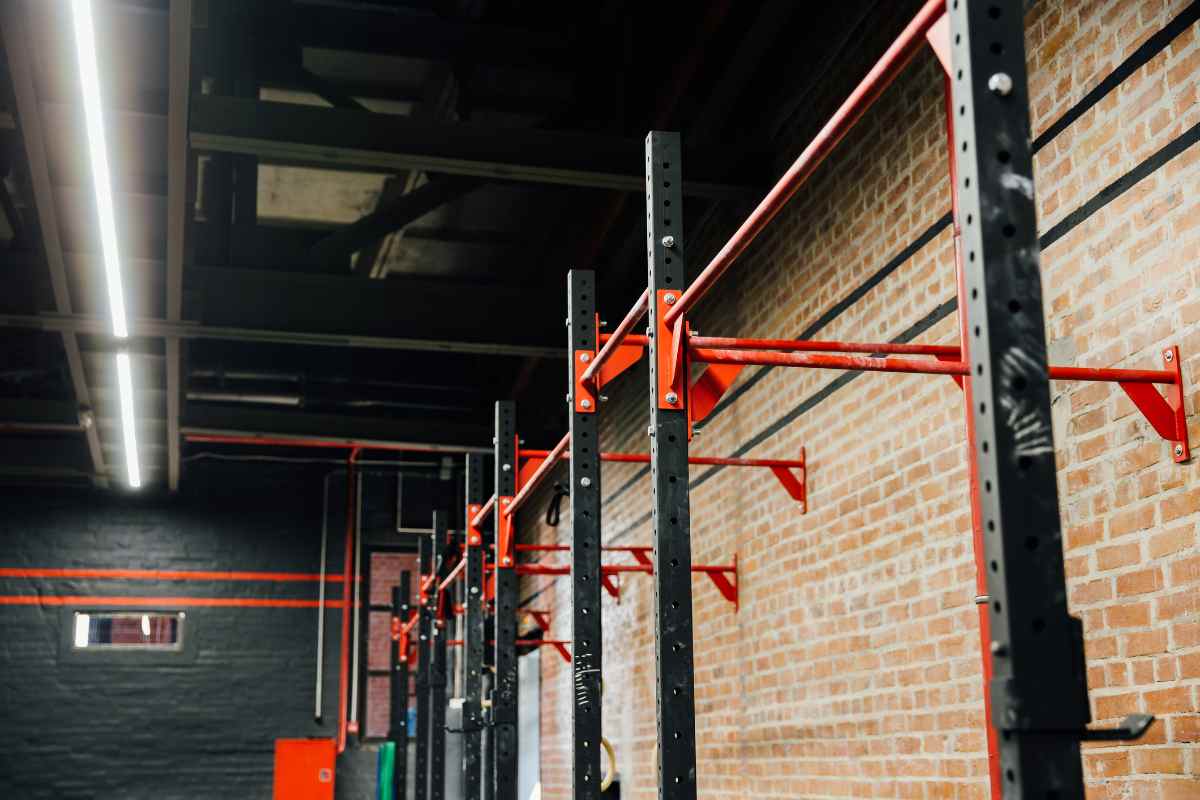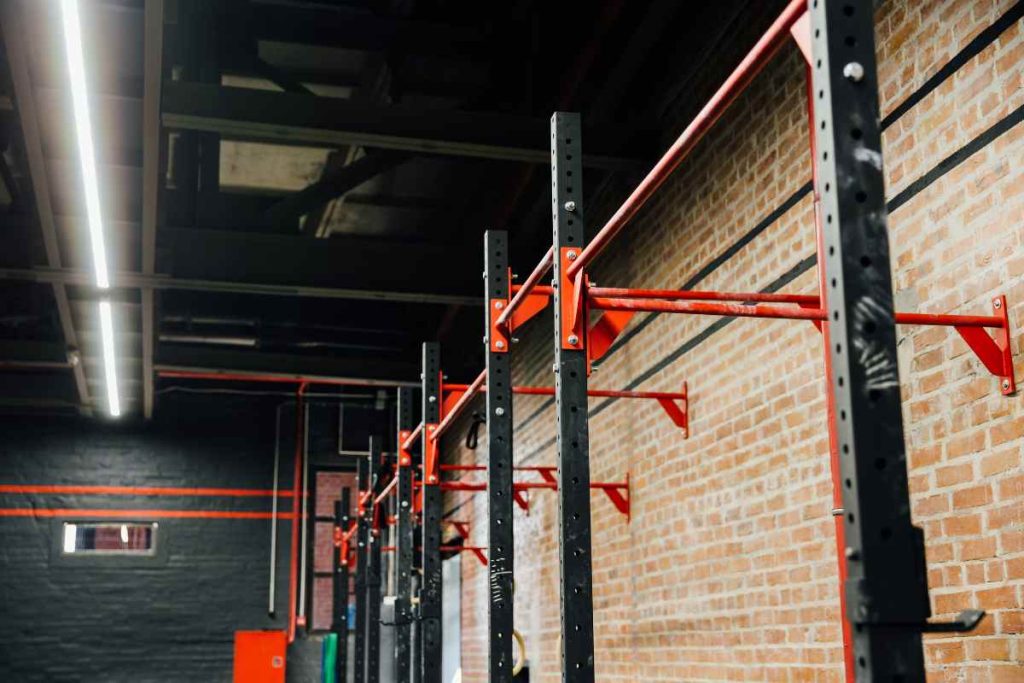 A squat rack is one of the first purchases most home gym enthusiasts will make.
And while sketching out your dream home gym, you are going to wonder just how much that squat rack is going to end up costing you.
Quality squat racks for home gyms cost around $800. Cheaper racks are available for $200-$400 but are built with thinner steel and skinnier uprights, making them less suitable for heavy loads. Premium racks and rigs start at $2,000 and can go up quickly from there.
In this guide, we will drill down into the costs of various types of squat racks, cover why squat racks are so pricey, and discuss some of the sneaky additional costs of investing in a squat rack.
Let's jump right in.
---
Squat Rack Price by Brand and Type
Here is a more detailed look at the price of each type of squat rack.
Power Racks
Power racks are 4 or 6 column racks (also known as a power cage) that offer the ultimate in stability and versatility.
Larger racks don't have to be bolted down and can be used for storage for all of your weight plates, barbells and lifting accessories.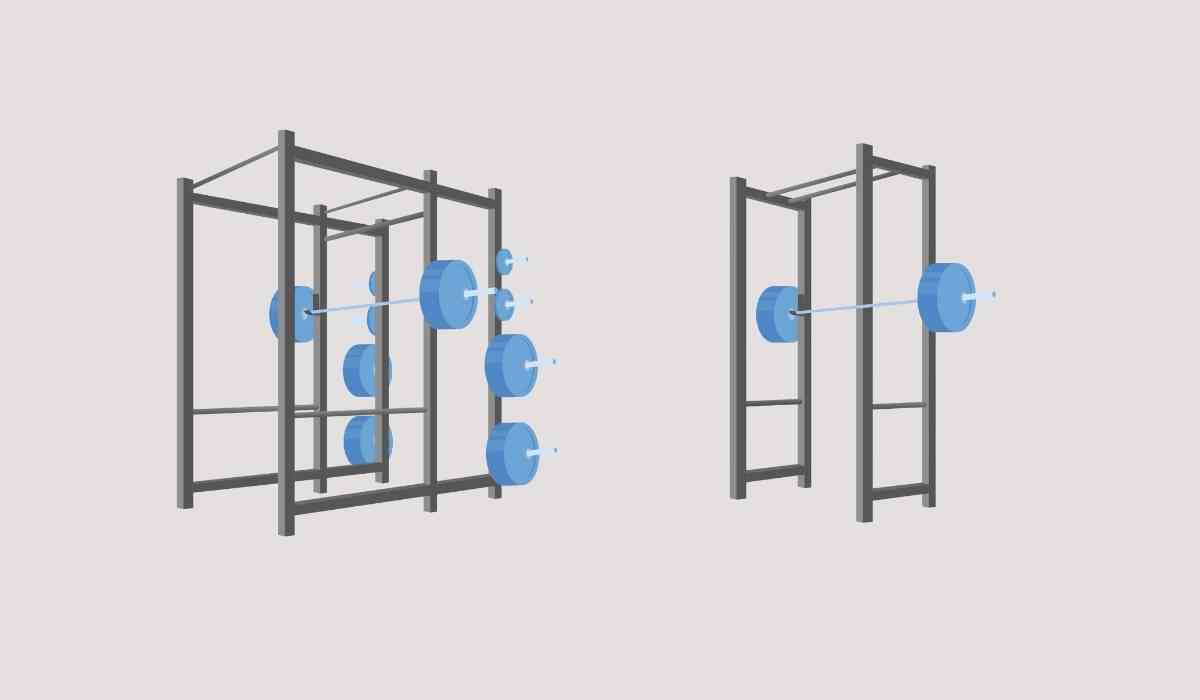 Racks that have a 2" x 2" steel frame are on the cheaper side of things (ranging from $300-600), while sturdier racks using a 3" x 3" frame start at around $800 and go up from there.
Here are the current prices of the most popular racks for home gyms:
* Price varies by third-party seller on Amazon
Half Racks
Half racks are exactly what they sound like—a conventional power rack that has been cut in half.
They aren't as versatile as a full cage, and instead of using safety pins or straps inside the cage as a spotter, half racks use spotter arms on the outside of the rack.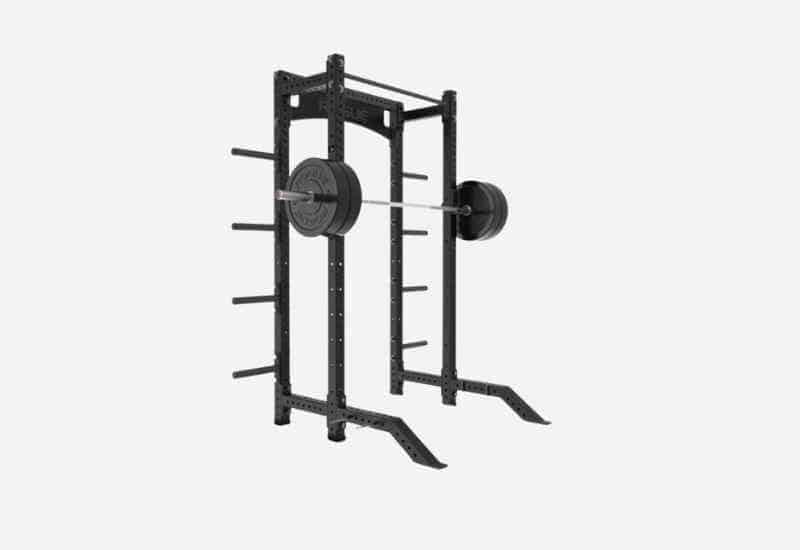 Half racks aren't that much cheaper than a full size power rack, but for experienced lifters who don't need a full cage, they do represent an excellent option for home-based workouts.
| | |
| --- | --- |
| Rogue HR-2 Half Rack | $795 |
| Rogue Monster Lite Half Rack | $1,385 |
| Iron Bull Strength HR1-B Half Rack | $1,945 |
| Hammer Strength HD Athletic Half Rack | $3,499 |
Squat Stands
Squat stands are perfect for lifting minimalists who strictly require their rack to hold the barbell in place.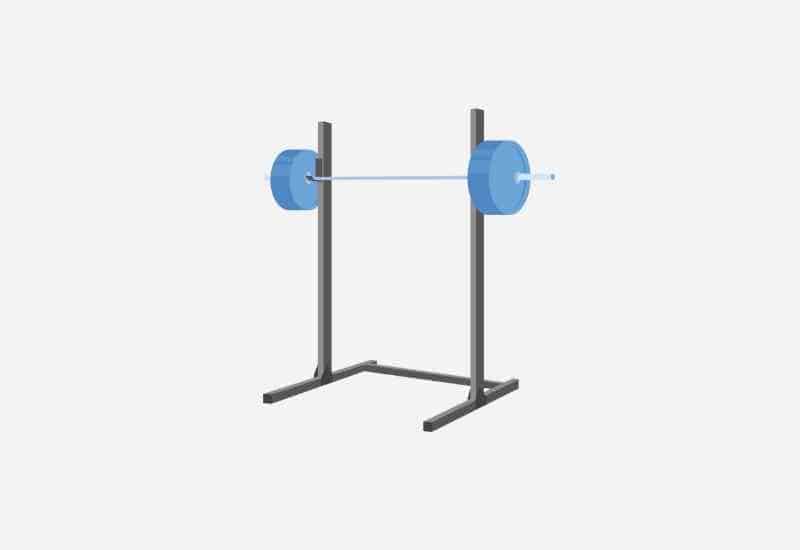 Squat stands are portable, take up minimal space, and tend to be significantly less expensive compared to full and half racks.
| | |
| --- | --- |
| Rogue SML-2C Squat Stand | $535 |
| SML-1 Rogue Monster Lite | $415 |
| Rogue SML-2 Squat Stand | $425 |
| Rogue SM-2 Monster Stand | $805 |
| REP SR-4000 Squat Stand | $529 |
| Iron Bull Strength SS1-B | $750 |
| Iron Bull SR1-R | $845 |
| Bells of Steel Squat Stand 3.0 | $299 |
| CAP Barbell Squat Stand | $233 |
| Hammer Strength HD Athletic Squat Stand | $1,999 |
Folding Squat Racks
The ultimate in space-saving, folding wall-mounted squat racks can be folded back against the wall between workouts.
Folding racks take up around 5-6" space when folded back, and when installed properly, can handle just as much (if not more) weight load compared to power racks.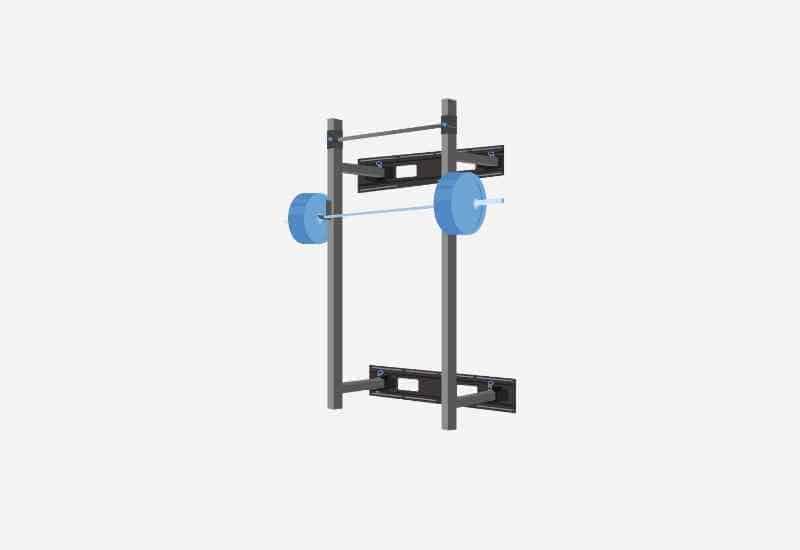 They are also particularly budget-friendly, with some of the best folding squat racks on the market costing less than $500.
| | |
| --- | --- |
| Rogue R-3W Fold Back Rack | $495 |
| Rogue RML-3W Fold Back Rack | $600 |
| Rogue Monster Lite RML-390FULLW | $1,460 |
| REP PR-1040 Folding Rack | $499 |
| Titan T-3 Series Folding Rack | $459 |
| Bells of Steel Folding Rack | $469 |
| Force USA MyRack Folding Rack | $699 |
| Mikolo Folding Squat Rack | $789 |
| AMSTAFF Folding Wall Rack | $649 |
Combo Racks
Combo racks are a specialized bench press + squat stand combo that are designed specifically for heavy-duty use. Like, powerlifting competitions type of heavy-duty use.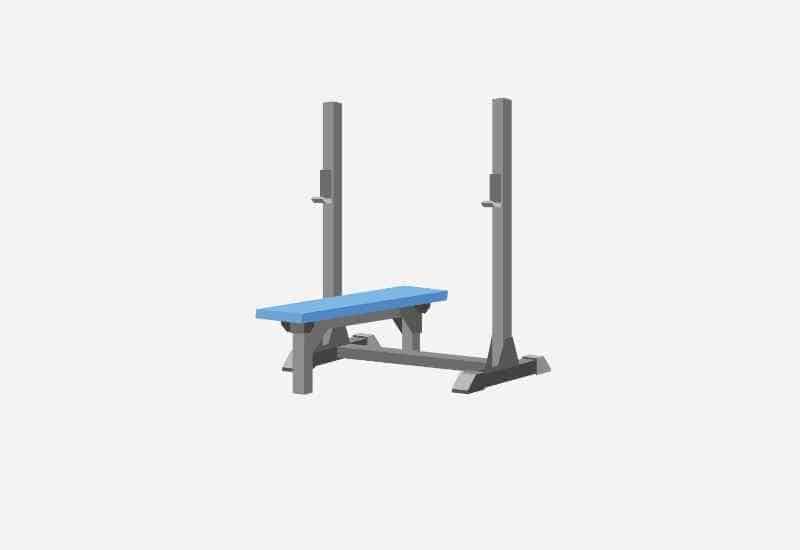 They feature the strongest steel frames on the market (the Rogue Combo rack has 7-gauge steel, by far the thickest frame for a home rack) and as a result, are not cheap.
| | |
| --- | --- |
| Bells of Steel Combo Rack 3.1 | $1,094 |
| Rogue Combo Rack | $4,048 |
Rigs
Rigs are squat racks that are designed for multiple users. They can be customized for lots of users, with lengths going up as wide as 24-feet.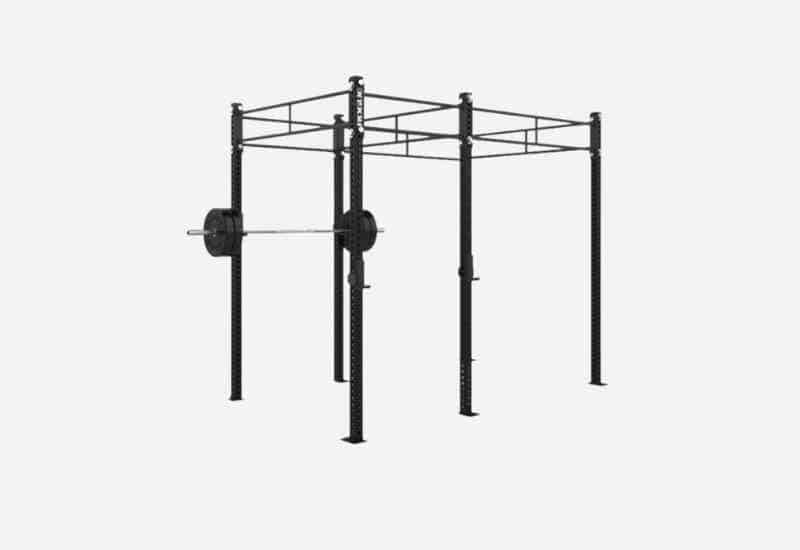 Rigs are definitely for the commercial gym owner (or someone who has a TON of space with their home gym and lift in groups), allowing for high volume use, multiple stations, various exercises, and numerous users.
They are on the pricier end of the spectrum when it comes to squat rack cost.
| | |
| --- | --- |
| Rogue Monster Rig 2.0 | $2,250 |
| Monster Lite Rig 2.0 | $2,195 |
---
Why are Squat Racks so Expensive?
Squat racks are expensive due to the fact they are crafted with high-quality steel, the use of powder-coated finishes to reduce corrosion and rusting, and because of the use of a lot of steel in the manufacturing process.
Fortunately, for most people, a squat rack is a one-time purchase. Even with a bare minimum of care (i.e. not leaving it exposed to salt air for years and years), a squat rack will last you a lifetime.
---
The Hidden Cost of Squat Racks
A squat rack is just the beginning of your home gym. As you will see, the costs of the equipment you will need to fully utilize your rack can quickly exceed the cost of the rack itself.
With your squat rack, additional costs will come in the form:
Fastening devices.
For squat racks that require bolting down to the floor, a concrete anchor kit will be required.
(You can also fasten the rack to your lifting platform, which, is obviously another cost.)
With folding squat racks that are attached to the wall, you should add a stringer to bolster the stability and security of the rack.
These can be made with plywood or you can purchase a pair of stringers from most strength training equipment makers.
Rogue, for example, sells their stringers for $199 a pair.
Attachments.
Power rack attachments come in three categories.
First, you have the safety accessories. Things like J-hooks, safety pins, spotter arms, and safety straps.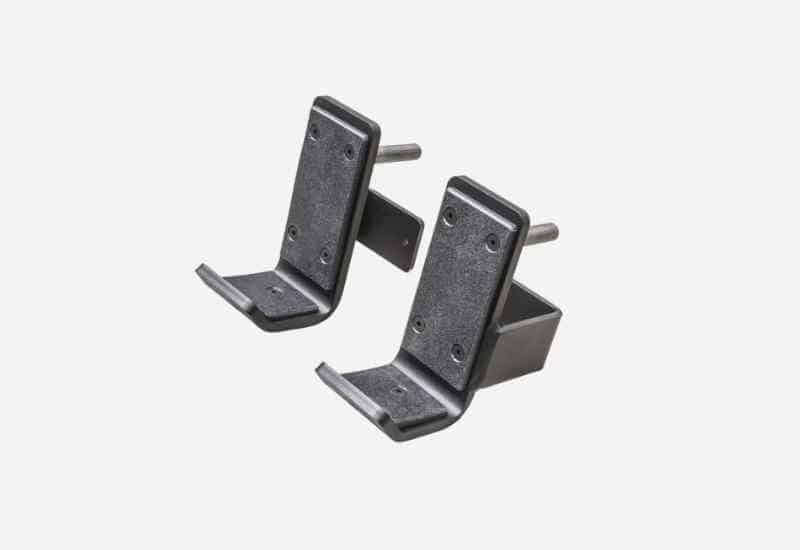 Second are the storage attachments, including pegs for hanging weightlifting chains and resistance bands, as well as plate storage pegs for racking bumper plates and cast iron plates.
And third, there are all of the increased performance attachments.
The list is almost endless, including jammer arms, Monolift, multi-grip pull-up bar, lat pulldown attachment, landmine attachment, dip station, and on and on.
The fun part in owning a squat rack is making it yours, and accessorizing it as the best way to do this.
Weight plates.
Resistance training means adding resistance to your training, and this comes in the form of weight plates.
Whether you stack up on bumper plates or cast-iron plates, you are going to need weight to level up your strength and muscle mass in the gym.
A set of quality bumpers—like the Rogue HG 2.0 bumpers—cost $580 for a 230lb set.
Barbells.
And of course you need to put your plates on something in order to push, press and lift them.
Barbells come in a few different shapes and sizes, but a quality barbell is going to set you back a few hundred dollars.
Powerlifting barbells are best suited for 1RM lifts with their reduced flex and increased stiffness, while Olympic barbells make for an excellent all-purpose lifting barbell.
The Bottom Line
Having a squat rack in the comfort of your own home gym is every lifter's dream come true.
Being able to skip the lines for machines at the gym, not have to deal with other lifters, and customizing the rack to your preferences is simply awesome.
And fortunately, with the increased interest in home gym equipment in recent years, it's never been more affordable to own a squat rack.
---
More Squat Rack Guides
The Beginner's Guide to Squat Racks (and How to Use Them Like a Pro). Ready to add the squat rack to your training routine? Here's what you need to know about using this piece of equipment like a champ.
7 Best Exercises You Can Do with a Squat Rack (Plus Sample Workout). Squat racks are an essential tool for tackling all of your favorite lifts more safely. Here's a look at the best exercises you can do with a squat rack, plus a sample workout routine for the next time you step inside the rack.