Level up your squats with our hand-picked list of the best squat stands for your home gym.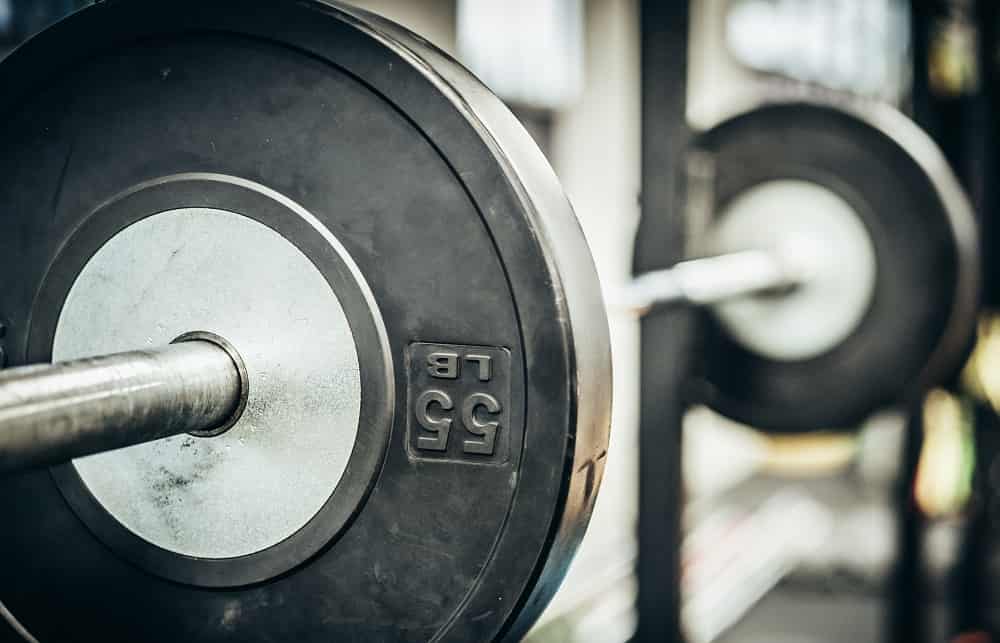 Squat stands are an excellent alternative to the typical power rack or half rack.
First off, squat stands are considerably cheaper compared to other popular squat racks. In their own way, they are also more adjustable. Squat cages and half racks come in a predetermined width.
Squat stands, which can also be used to perform bench press in combination with a workout bench, can be set according to the user's preferences for width.
Secondly, squat stands barely leave a footprint. When your workout routine is done, and you have tucked away the barbell and weight plates, the squat stand can be tucked quickly into the corner, freeing up valuable floor space.
Of course, there are also drawbacks to this kind of set-up.
You don't get the same spotting and safety as you would get from a squat cage. And because you are placing the bar on two independent stands, you need to pay extra attention to bar placement, especially when using heavy weight.
That said, the cost benefits of this kind of set-up will easily pay for themselves after just a couple of months.
To help you in search for an ideal squat stand, I've put together a list of my favorites, including key features such as weight capacity, footprint, construction, and more.
Here is a breakdown of the best squat stands for home gyms.
Let's do this.
Ollieroo Barbell Rack
One of my favorite features of the barbell and squat rack is the simplicity. When it comes down to it, you are looking at a couple of steel tubes held together with thick screws, designed to hold up a ton of weight.
The Ollieroo Barbell Rack handles the simplicity well, with an adjustable height and width rack. The top bar holders can be set as high as 65", which is great news for us tall folk, while the base of the rack can be extended out to as far as 49". This is further good news for "wider" humans who like to do bench press with a wider grip on the barbell.
Unlike a lot of portable racks, this stand is held together by a thick steel bar, adding stability at the loss of a little bit of portability.
The Ollieroo Barbell Rack comes as is, with just the rack and pair of bar holders, or with an optional pair of weight plate holders (at an added $4, it's kind of a no-brainer).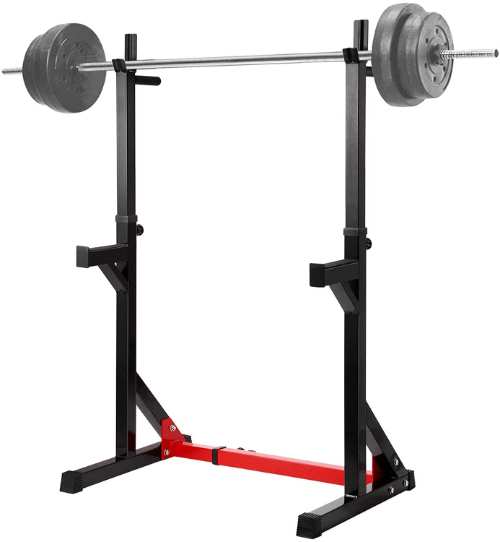 Nisorpa Barbell Squat Rack
Looking for a rack that is portable and can be tucked away easily when not in use?
The Nisorpa is a heavy load-bearing rack that gives much of the versatility of a power rack with the convenience of portability.
The rack is adjusted with heavy-duty steel pins that can be pulled out easily to give yourself a more comfortable lifting-off height. The feet of the rack are an H-frame foundation, with rubber-tipped ends to make sure that the bar isn't sliding around when you remove the bar from the holders.
The Nisorpa racks can handle over 440-pounds, have removable horn bars, and can be easily slid under benches for doing bench press.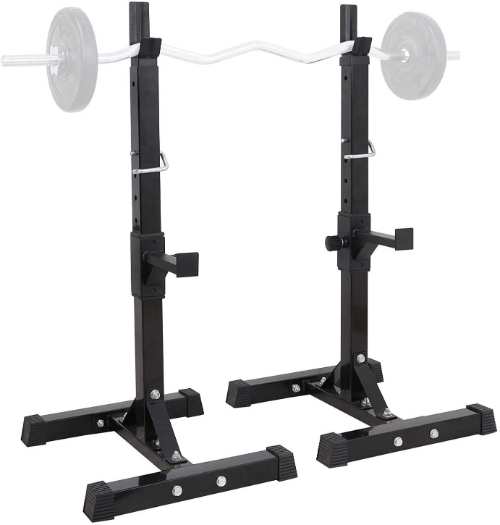 Lanmu Barbell Rack Stand
The Lanmu Barbell Rack Stand is an Amazon Editor's Choice, and for good reason—it balances high-performance with safety.
The height of the stand can be as high as 70" (the highest in our list), making it the ideal choice for the taller lifters among our readership.
Durable steel pins keep the bars in place, and non-slip rubber-tipped feet prevent damage to the floor and keep the stand from skidding and slipping while in use.
The stand is durable, can take on just under 400-pounds of weight, and can be easily tucked away between workouts in your home or garage gym.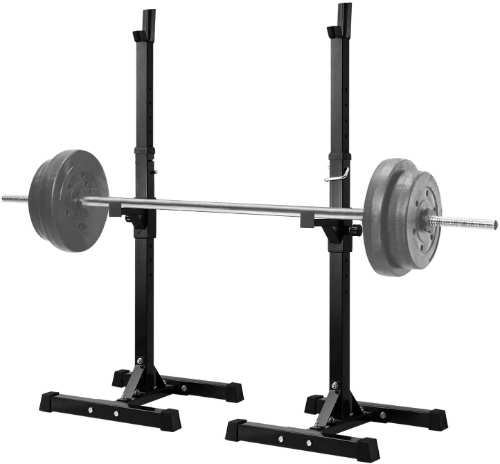 Synergee Squat Stand Rack
Synergee is one of my favorite makers of gear for the home-based athlete and gymgoer. Their Olympic barbell is the same one that I currently have in my power rack, and their squat stand rack is just as awesome.
With a 500-pound capacity, a pull-up bar, and slip-free base, the Synergee stand will take all you can squat and then some.
Welded with highly-durable steel, the Synergee Squat Stand has a pair of J-hooks and safety arms that provide a measure of safety and spotting during your lifts.
The stand is relatively easy to put together, very stable (especially when you have weight plates on the plate holders on the back of the stand for extra footing), and the Synergee customer service team has always been on-point and timely with my questions about their products.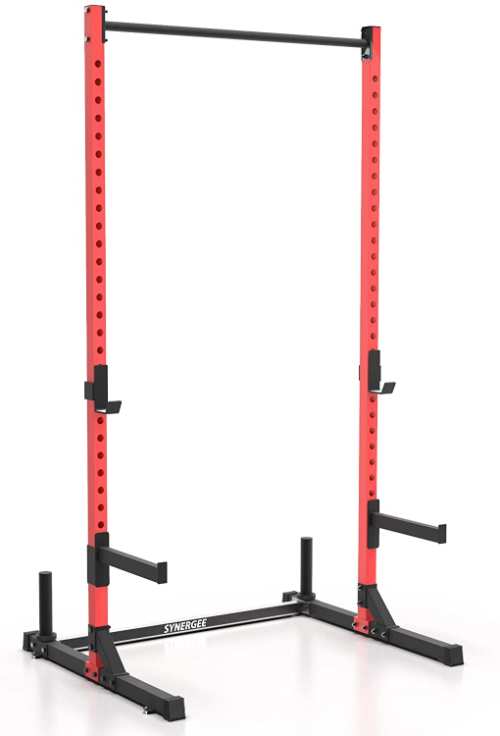 tonchean Barbell Squat Stand Rack
Another no-frills and highly affordable stand for your barbell comes from tonchean. The stand can hold up to 440-pounds (200kg).
Using safety pins, the height of the arms can be adjusted easily and quickly. The base frame of the rack is more compact, which I actually appreciated.
One of the main benefits of this kind of squat stand is a smaller footprint, and the tonchean rack is able to achieve this goal without sacrificing stability or weight-bearing capacity.
The stand can be extended up to 65-inches in height, are easy to move when not in use, and anti-skid, rubber-coated feet ensure that the stand stays in place when in use.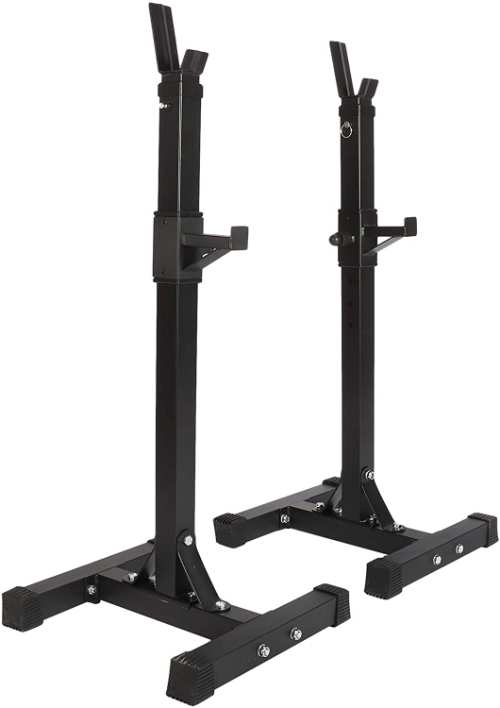 PLAYH Adjustable Squat Stand
The PLAYH squat stand is a sturdy and adjustable way to bang out your squats in the comfort of your garage or home gym.
Added stability comes from the bar that connects the two arms of the stand. (The horizontal bar can be adjusted for width, with up to nine different lengths available, for even the widest of us.)
The thing I like most about this unit is that the PLAYH can also be used as a portable dip station, an added versatility which you don't see very often with these kind of simplified squat stands.
On the downside, the height of the stand maxes out at 55", making it less optimal for taller lifters (like the guy writing this).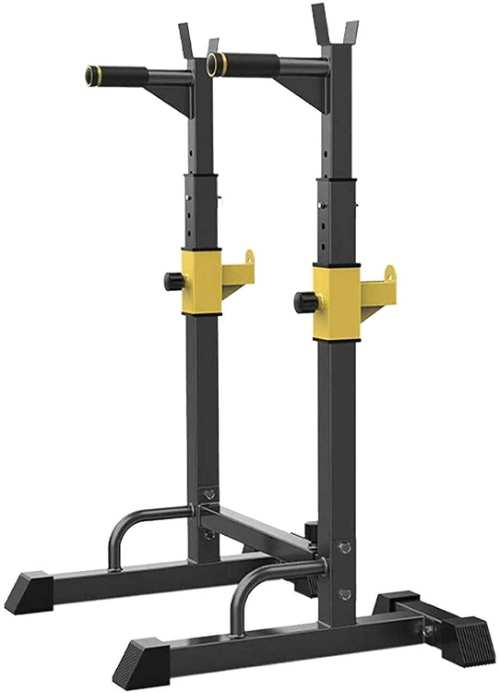 Didn't Find the Right Squat Rack for You?
Check out our other reviews and round-ups of the best squat racks.
5 Best Power Racks for Your Home Gym. Power racks–or squat cages/racks–are finally affordable enough for the home-based athlete. Here's a collection of our favorite affordable full-size power racks for working out at home.
Best Half Racks for Working Out at Home. Want the perks of a power rack without the large footprint? Half racks are a great balance between cages and squat stands.