Looking for an awesome half rack for your home gym? Here's a full review of the Rogue HR-2, my favorite half-rack on the planet.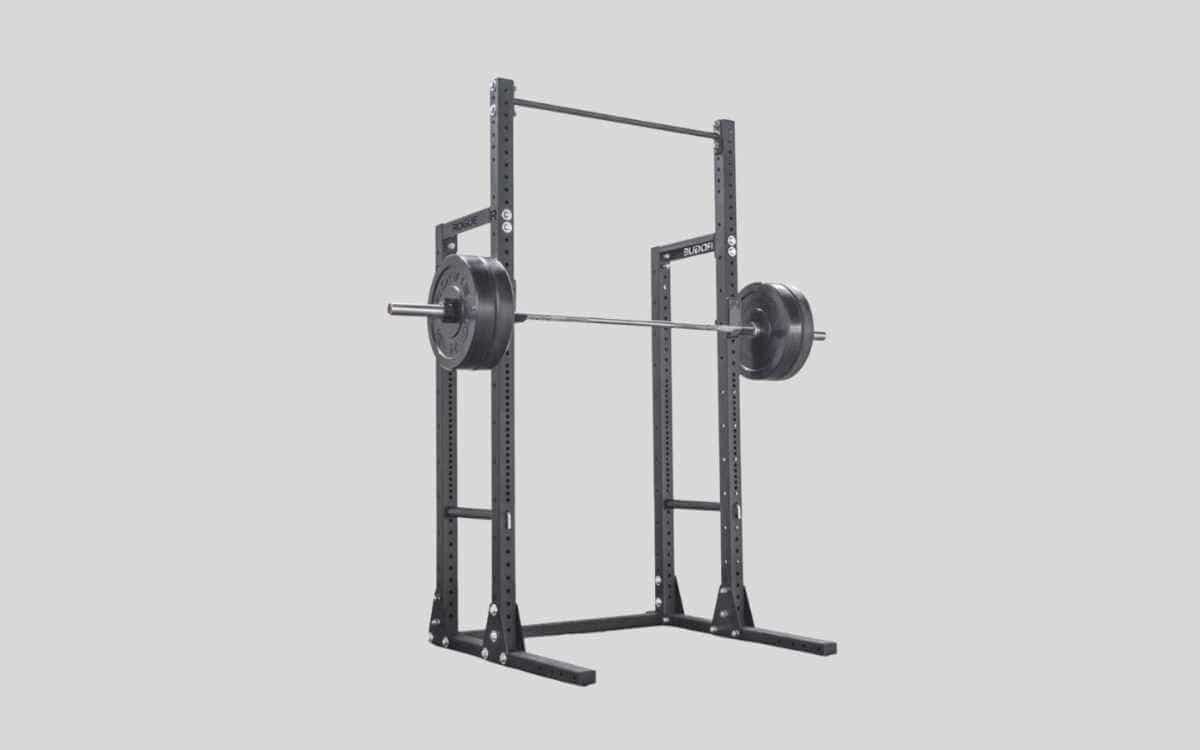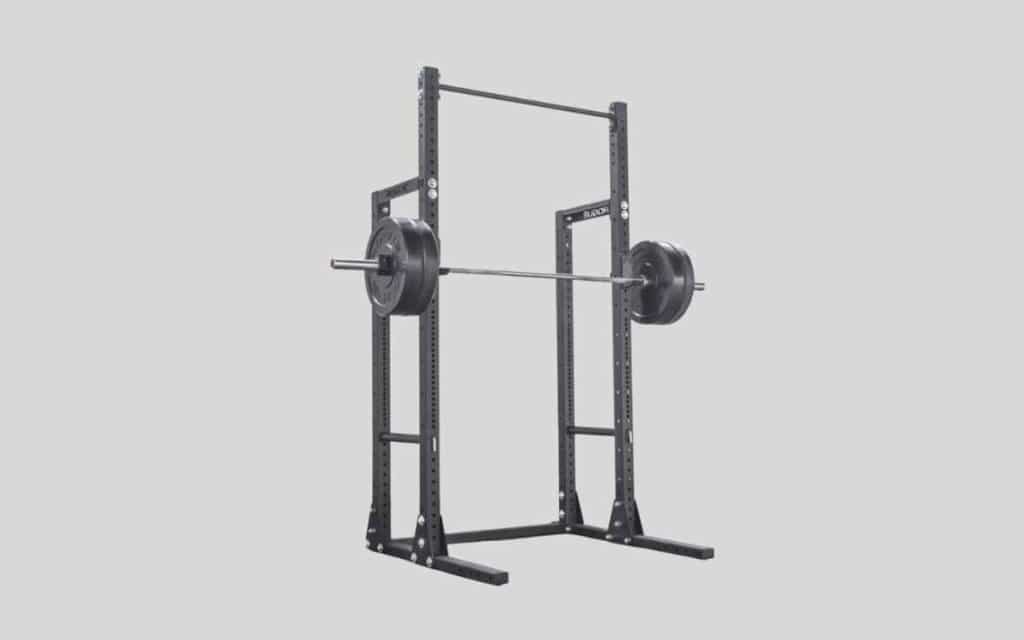 There are a lot of options when it comes to choosing the best squat rack for you and your home gym.
One of the best options for a squat rack that features the best parts of a full-size squat rack (being able to lift inside the cage, pull-up bar, spotter pins, etc.) and a bare-bones squat stand (tiny footprint, inexpensive) is a half-rack, and no one does it better than the Rogue HR-2.
In this look at my favorite half-rack on the market, we will dive deep with the Rogue HR-2.
#1 Pick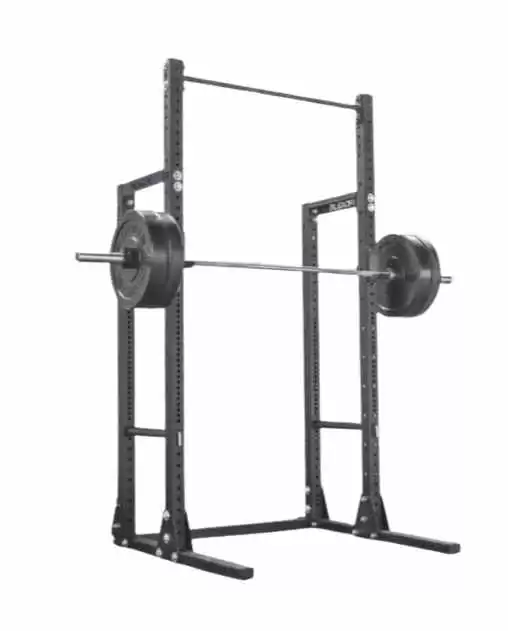 It combines a lot of the functionality of a full-size power rack with the smaller footprint of a half-rack or squat stand.
Here are the reasons I really like this half rack and offer a couple of things I don't like so much, too.
Let's jump right in.
Rogue HR-2 Half Rack – The Things I Like
Okay, let's get right to the salty goodness about the Rogue HR-2:
Sturdy 3" x 3" 11-gauge steel uprights.
One of the primary concerns anyone has about shopping for a squat rack is knowing they are purchasing something that is going to last.
The Rogue HR-2 Half Rack has 3×3" steel uprights, which is as thick a column you will find and it the same thickness you will find in a commercial gym. The base is made with 2×3" steel bars.
Steel thickness throughout the whole rack is 11-gauge, which is basically bombproof.
Steel thickness is measured by gauge. 11-gauge is more than suitable for even elite powerlifters.
In other words, this squat rack will last you a lifetime.
Smaller footprint than full-size cages.
This is the main benefit to most half racks, and the HR-2 is no exception.
It provides a slightly smaller footprint than some of the smaller full-size racks. That said, there are some racks that
As an example, the Rogue R-3 Squat Rack, which is one of the more narrow Rogue racks, has a footprint of just 53×34".
In comparison, the HR-2 has a footprint of 48×49″.
Although half racks don't offer the same space-saving benefits of squat stands, the HR-2 does provide some, with a majority of the space savings coming from the front uprights being pushed to the center.
Westside Hole Spacing
For lifters who want total flexibility on where they place their J-hooks and barbell, the HR-2 comes with Westside Hole spacing in the push-pull area.
Westside Hole Spacing has become very popular in recent years and is now almost standard on most premium squat racks.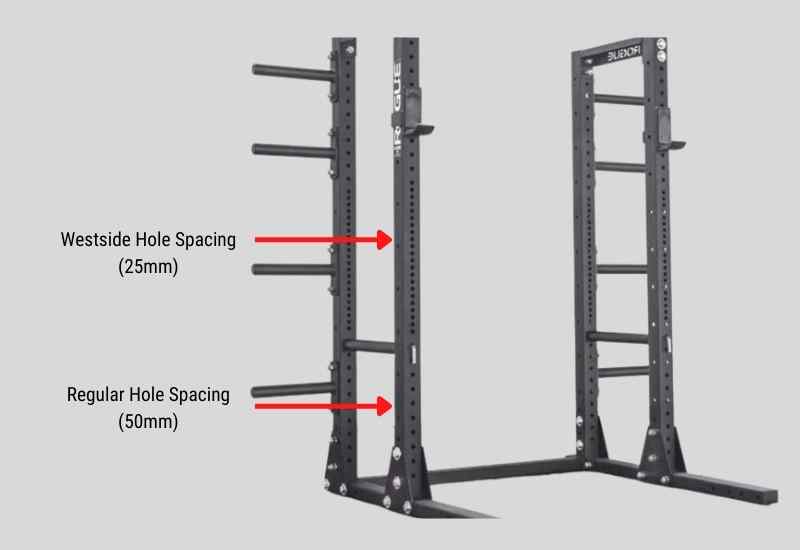 Squat racks usually have 50mm between holes. Westside Hole Spacing pushes the holes closer, with 25mm separating them.
---
The Rogue HR-2 doesn't need to be bolted down.
Hesitant to use concrete anchors in your garage? Understandable.
Similarly, the rack might be going somewhere in your home where it can't be bolted to the floor without causing damage (in a bedroom turned home gym, for example).
The Rogue HR-2 Half Rack has a wide enough base that it doesn't need to be bolted down.
Additionally, power racks usually should be bolted down because lifting is often done using the front uprights, which are off-center.
The uprights on a half-rack are in the middle, preventing the toppling and teetering that can happen when putting a loaded barbell down on the front uprights of an unsecured power cage.
Variable height options.
One of the main benefits of half racks is their reduced footprint requirements compared to full-size cages.
But the Rogue HR-2 Half Rack also comes in variable height options.
Whether you have a lower ceiling in your workout area or you are a taller fella who wants to be able to do pull-ups on the pull-up bar on the rack, there is an HR-2 height option for you.
The numbers listed indicate the height of the front and back upright bars:
There is a 90"/70" option (the "shorty" version) and a 108"/90" option.
The HR-2 is made with American steel in the USA.
One of the things I like most about Rogue products is that they are built in the USA with American (and sometimes Canadian) steel.
Unlike many cheapo squat racks that litter Amazon, Rogue squat racks are made to the highest standard of quality possible.
There's a certain peace of mind that comes with buying American-made. Rogue's customer service is also excellent.
Over the years of my incessant questions about their products it's never taken more than a business day to get a detailed response.
A TON of plate storage capacity
One of the reasonable complaints about half-racks, in general, is that there isn't a ton of room for storing your lifting gear on them.
The Rogue HR-2 bucks this trend. Because it has four uprights, it has a ton of capacity for plate storage. Just like a regular power rack would.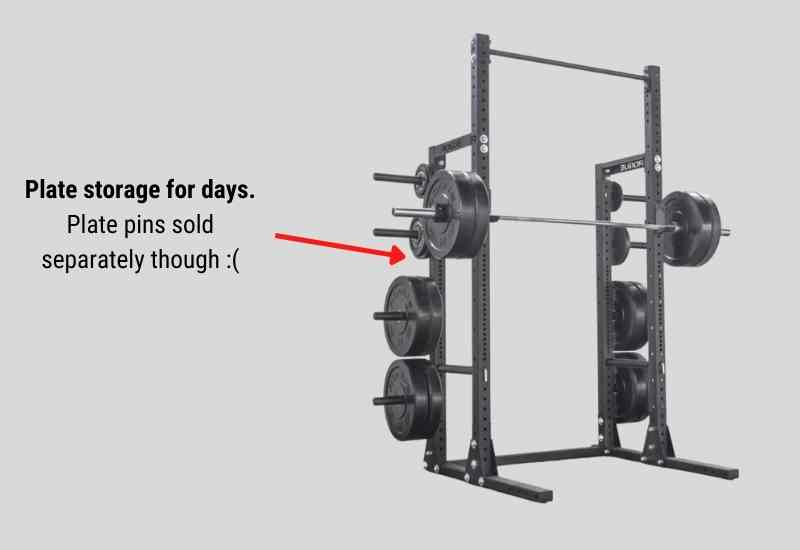 Not only can you get your bumper plates and iron plates off of the ground (removing tripping hazards and also protecting your plates from humidity), but you can also add some stability to the rack with the added weight.
What I Don't Like About the HR-2
There are some things that I didn't necessarily love about this half rack.
While it's an excellent half-rack at a great price, there are some things you will need to make it a more stable and safe rack for training at home.
Safety pins not included.
One of the main benefits of a rack or cage is that you can step inside the cage and use spotting accessories like pins or straps to catch the barbell on a failed lift. Rogue doesn't include safety pins with the HR-2.
Plate pins not included.
As mentioned earlier, the HR-2 doesn't need to be bolted down.
And one of the ways I've always recommended stabilizing racks that aren't bolted down is using plate storage pegs to both store your bumper plates and/or cast iron plates while also adding weight to the rack to keep it stable.
Plate storage pegs aren't included with the base package and need to be purchased separately.
How much is the Rogue HR-2 Half Squat rack?
The Rogue HR-2 starts at $795 for the 90"/70" short rack, with the taller version starting at $855. The price goes up from there when it comes to attachments.
#1 Pick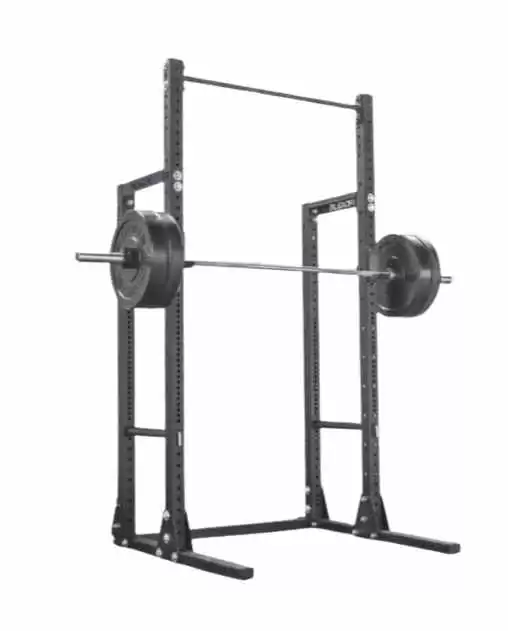 Is the HR-2 compatible with Infinity and Monster Lite attachments?
Yes. The Rogue HR-2 works with both Infinity and Monster Lite attachments, which includes spotter arms, Matador (dip station), bar holders, weight plate pins, safety pins, and much more.
The Bottom Line
The Rogue HR-2 Half Rack combines the legendary commitment to quality that Rogue is known for with a sturdy, space-saving design.
For home gym owners who want something that doesn't need to be bolted down, that will last a lifetime, and that has a long list of customization options to make the rack truly yours, the HR-2 continues to lead the pack with half racks.
Where to buy the Rogue HR-2 Half Squat Rack
The HR-2 is available exclusively at Rogue's website.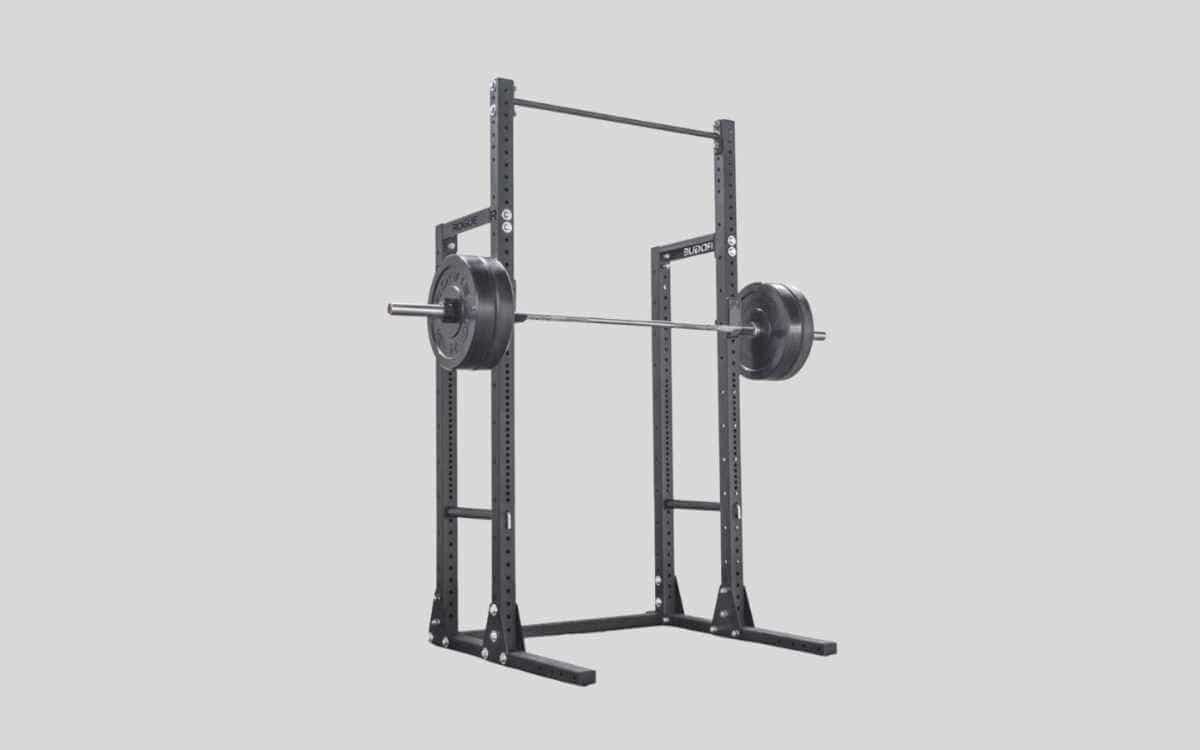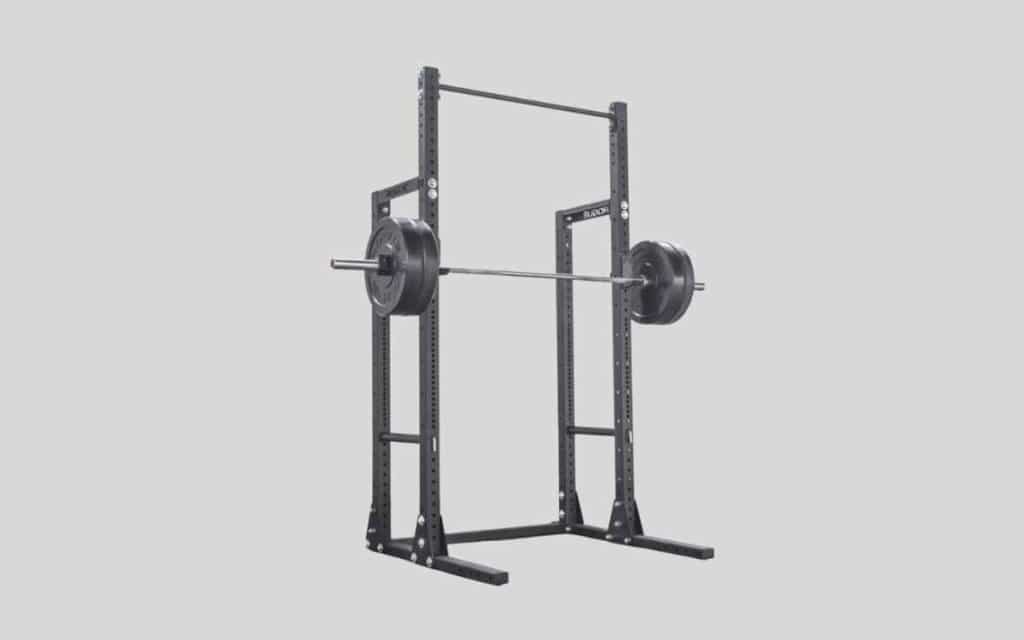 More Squat Rack Guides and Reviews
? 10 Best Squat Racks for Home and Garage Gym. Ready to start looking at the different racks on the market? Here's a detailed breakdown of the best squat racks for every kind of workout space, lifter and budget.
9 Things to Know Before Buying a Squat Rack. Investing in a squat rack is one of the best things you can do for your training goals. Here's a deeper look at all the lingo and details to know when choosing a rack.