Getting ready to build your own ultimate home gym? Welp, that starts with choosing the right squat rack for your workout goals. Here is a breakdown of seven types of squat racks.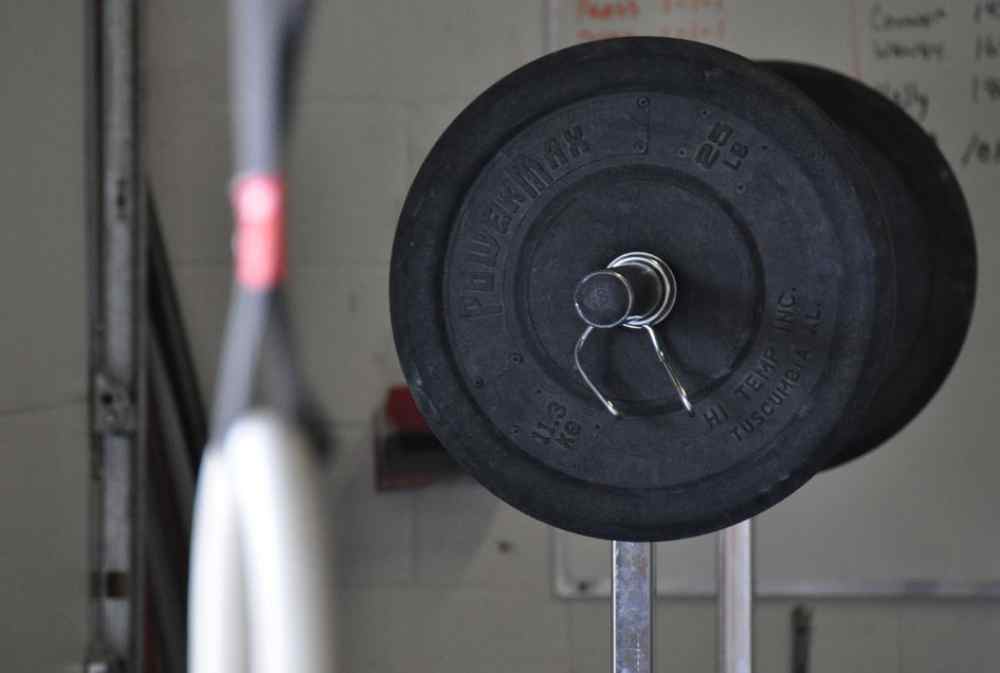 Even though the squat exercise is simple enough—grab some weight, lower your behind, raise your behind, repeat—there are a lot of different types of squat racks.
From the ultra-minimal squat stands (which you can practically tuck into a closet between workouts) to commercial-grade power racks, you've got some options when it comes to building the home gym of your dreams.
Before you throw down a decent chunk of change, check out this breakdown of the most common types of squat racks that you can set up in your home gym.
Want a comprehensive guide of the best squat racks on the planet? Here's a detailed look at the top squat racks for home and garage gyms.
Let's jump right in.
The Different Types of Squat Racks
1. Power Racks
Power racks, also known as a cage, power cages, or squat cages, are probably the first image that comes to mind when we think about what a squat rack should look like.
The chief benefit of a power rack is that lifters are provided a true spotter with the arms of the cage.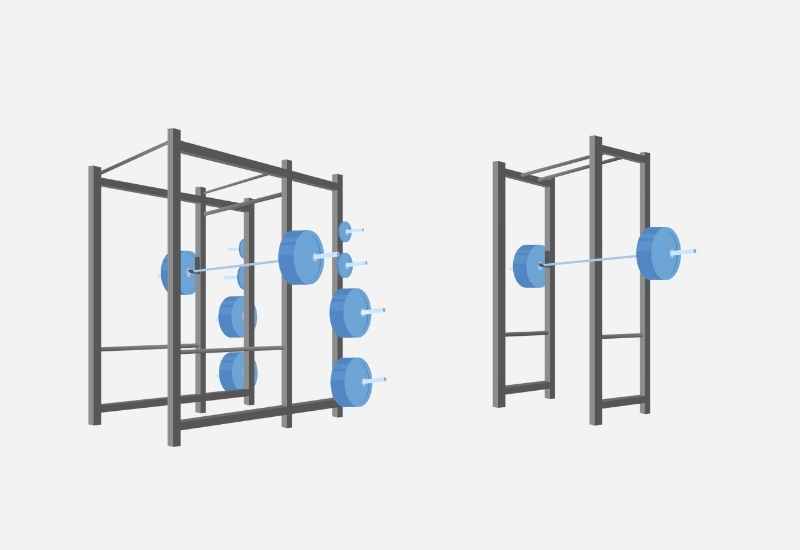 You step inside, put the barbell on your back, and if you have been a little too ambitious with the amount of weight you planned on lifting, the barbell will fall on the safety bars (or safety straps) instead of the floor.
(For more information on power racks, check out this detailed guide to the best power racks.)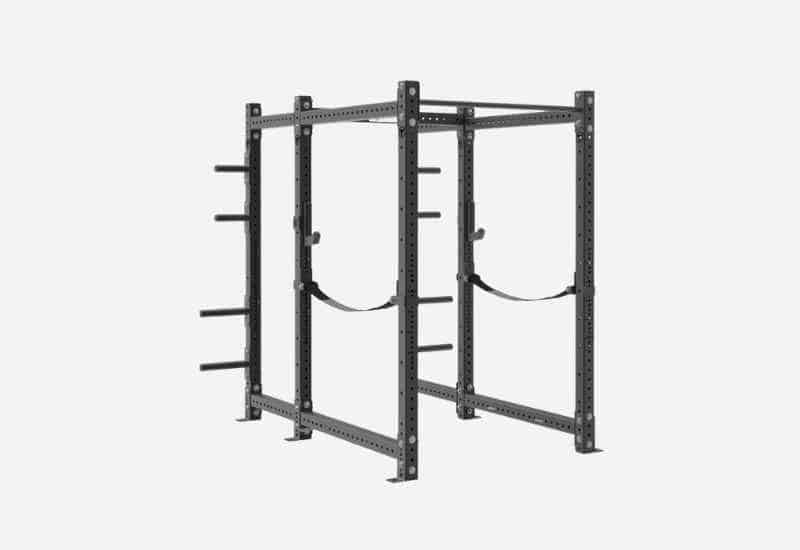 Cages take up the most amount of floor space and are more difficult to move around (the big ones you see in commercial gyms are also usually bolted to the floor, so they don't move around at all).
See also: Power Racks vs Squat Racks: Pros, Cons, and Differences
Cages are optimal for people training on their own at home because of the safety, obviously, but I love power racks for their versatility, from additional pull-up bars to adding TRX cables to the side, and so on.
One of the most versatile setups is a power rack with lat pulldown, which gives you even more options for training and building muscle.
With power racks, you do your squats inside the cage.
2. Half racks
Next up we have the half rack! As the name suggests, it is half a rack, or more accurately, half a cage.
This bad boy is a slightly smaller version of your usual power cage or rack.
They can provide a lot of the same benefits as the power rack—safety with the big horns at the bottom (although if you fall backward while lifting you are S.O.L.), storage and multi-functional use, a big, sturdy base, and more.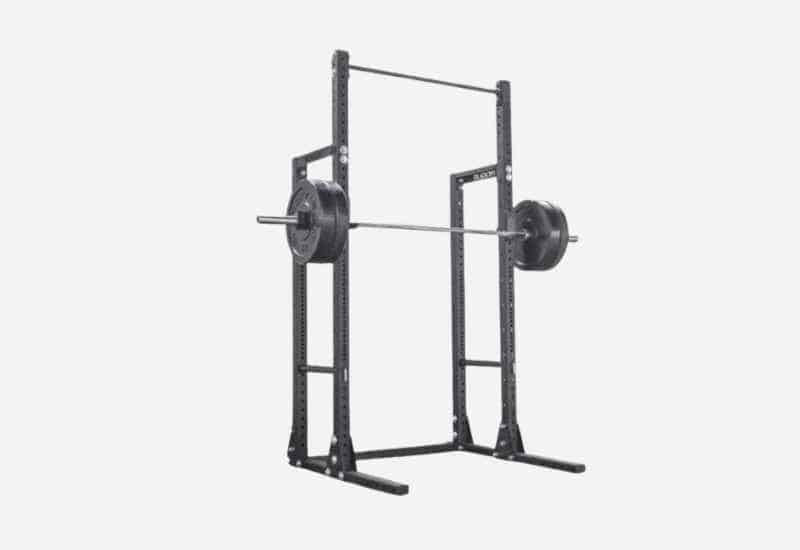 Half racks are appealing because they share a lot of the same functions as the bigger power racks at a lower cost and a smaller footprint.
With half racks, you do your squats just outside of the half-cage and rely on spotter arms to "catch" the barbell in the event you have to bail out of a squat.
3. Squat stands
These bad boys are your stripped-down, no-frills version of a half squat rack.
They serve basically one purpose—to hold the barbell.
For everything else, you are on your own. For experienced lifters, squat stands hold some obvious benefits.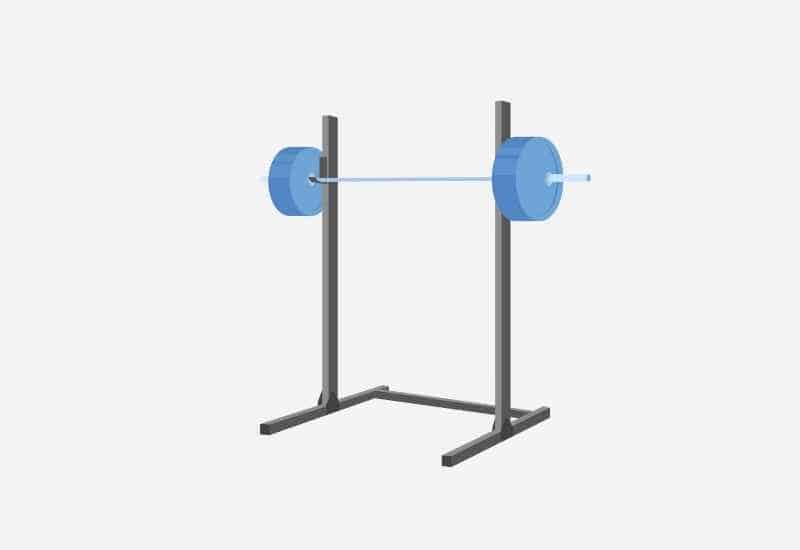 In most gyms, squat stands are usually last in line for users, who gravitate toward the safety of cages and power racks. For the home or garage gym enthusiast, squat stands take up a minimal amount of space.
Some versions of squat stands come in two pieces and can be very easily tucked to the side when not in use.
4. Wall-mounted squat racks
Wall-mounted squat racks are another way that you can get to squattin' at home. Instead of being planted on the floor, they are typically attached to beams and studs in your wall.
The big perk to this kind of set-up is that you won't trip over the foundations that come with most squat racks (especially two-piece squat stands).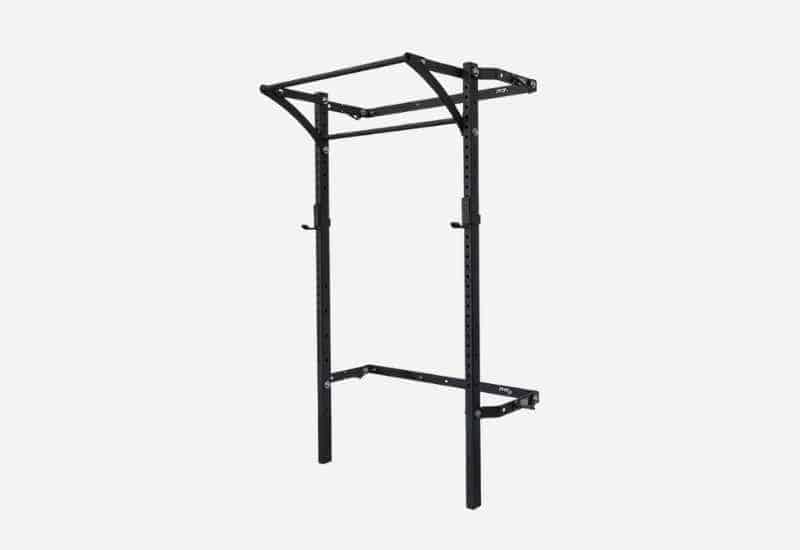 Folding wall-mounted squat racks, which can be tucked flush with the wall when not in use, are very compact and can still carry a lot of weight.
Installation is obviously a little more in-depth, and you will want to install something like this in a place you plan on spending a longer amount of time in, but the benefits of the rack, once installed, are hard to beat.
For smaller home gyms, and for users who own their homes (or whose landlord loves them ? ) will want to consider this form of the squat rack.
5. Folding Squat Racks
Folding squat racks have exploded in popularity in recent years.
The space-saving design allows you to pull the rack out and away from the wall and fold it back when the lifting session is completed, making them ideal for garages and other multi-use areas.
Folding squat racks rely on the studs and frame of your home for stability, and given that weight-bearing studs are exceptionally strong, folding squat racks are more stable than you might otherwise think.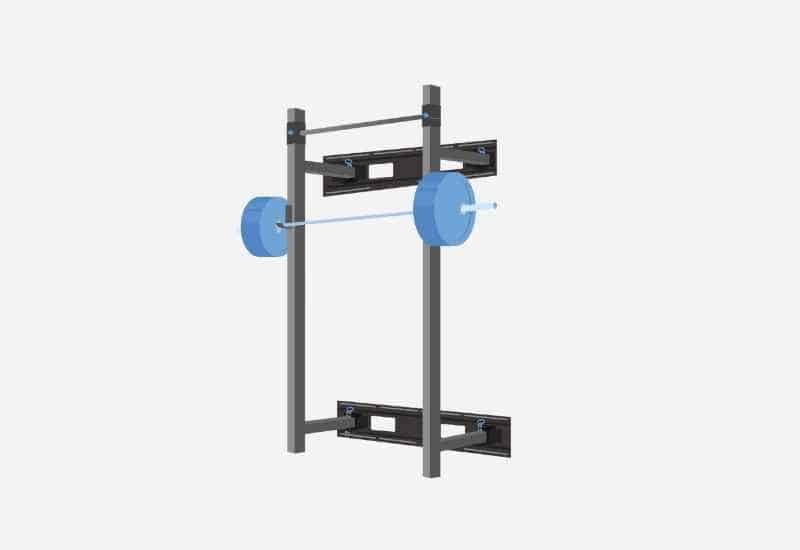 Folding squat racks come in two forms, either wall-mounted or free-standing.
The leading makers of this kind of rack include Rogue (the RML-3W Folding Squat Rack is the best option for a durable and reasonably priced folding rack), PRX, and Titan Fitness.
Standalone folding racks are rare, with the Force USA MyRack being the only free-standing folding rack on the market that I know of.
6. Combo Racks
A combo rack is a very specialized type of rack this is used primarily for powerlifting competitions. A combo rack, as the name would suggest, is a combination of a squat rack and a bench press.
Combo racks are built to a higher standard, with the steel thickness on them reaching 3/16" thick (0.1793-inches).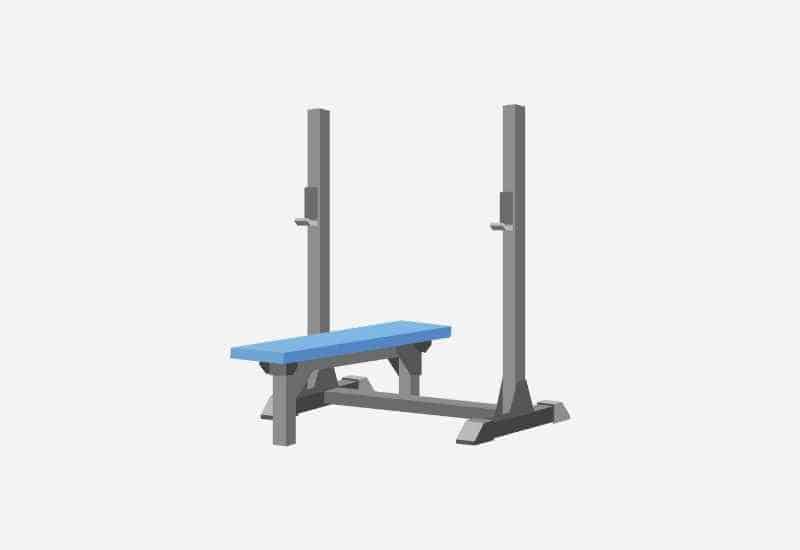 This is in comparison to your standard squat rack steel thickness, which are between 11-gauge (0.1196-inches thick) to 14-gauge (0.0747-inches thick).
With all of that extra steel comes a higher price tag. Rogue's Combo Rack, for example, costs $2,950.
For lifters who are really serious about their powerlifting, a combo rack is right up your alley with its overbuilt design that is best-suited for huge lifts and max stability.
7. Rigs
Designed for commercial gyms like CrossFit boxes and high-volume gyms, rigs are multi-user "racks" that can be expanded out to accommodate lots of lifters.
Built almost exclusively with 3" x 3" steel uprights, rigs are bolted down to the gym floor and offer a huge range of customization options.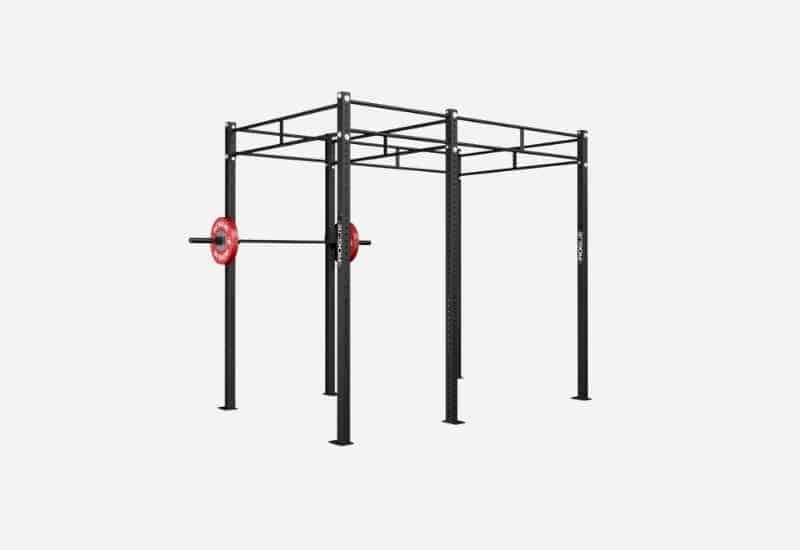 Rogue's line of Monster Lite Rigs, for example, can be extended up to 24' wide and offers over 100 different attachment options.
---
FAQs About The Different Types of Squat Racks
How Do I Choose a Squat Rack?
Choosing a squat rack comes down to budget, space, and the functionality you want from the rack.
Power racks offer the most versatility, as there is an almost endless number of power rack attachments, including lat pulldown machines, pull-up bars, jammer arms, dip stations, and more.
Squat stands are the best no frills option for a squat rack and give you a 1-2 punch of portability and small footprint.
See also: The Best Squat Racks with Pull-Up Bars (and How to Choose)
Ultimately, choosing the right squat rack comes down to your goals in the gym and space requirements.
For more information on how to choose the right squat rack for you, check out this squat rack buyer's guide that details everything you need to know about buying a rack, including the key lingo to know (steel gauge, for example), and more.
What are some alternatives to squat racks?
There are lots of other machines that you can use not only for squats, but also for all of the various presses, lunges, deadlifts, and so on that can be done with a rack.
They include:
Smith Machine. The Smith Machine gets a lot of hate from the lifting community, but it's a great tool fo isolating muscle groups and reducing the likelihood of injury in the gym. There are some excellent Smith Machines designed for home use that won't shatter your bank account.
Belt squat machines. One of my favorite (and underrated!) leg machines at the gym is a belt squat machine. It reduces load and compression on the spine, making it easier on the back compared to traditional back squats. Belt squat machines can also be used for a ton of additional exercises (here is a look at my favorite exercises you can do with a belt squat machine).
Hack squat machine. Another squat rack alternative is a hack squat machine. It's definitely more of a specialized machine, but the benefits of hack squats include a fixed load path and reduced load on the spine. There are some reasonably priced hack squat machines for home-use, particularly the hack squat + leg press combo machines which increase the machine's versatility.
The Bottom Line
The squat rack, at the end of the day, is the foundation of your home gym.
Although originally designed for squats, it's evolved to the point that it can help you train every part of your body.
And as the array of attachments continues to increase, the capabilities of squat racks only continue to increase.
Now that you've got a clear idea of what the different types of squat racks do, and can see their respective benefits and disadvantages for yourself, it's time to choose the one that matches your goals and workout space!
---
More Squat Rack Guides and Resources
10 Best Squat Racks for Home and Garage Gyms. A squat rack is the best purchase you can make for your workout goals. Here's a detailed buyer's guide and the best squat racks on the market right now for home gyms.
Do You Have to Bolt Down a Squat Rack? (Plus How to Do It and Alternatives for Anchoring Your Rack). Bolting down a squat rack is a guaranteed way to make lifting safer. Here's why you should do it, how to do it, and some alternatives for anchoring your rack if you don't want to bolt it down.
The Best Short Squat Racks for Small Spaces and Big Workouts. Working with low clearance in your home gym? Here are the best short squat racks that are low in height but tall in features.