The Rogue RML-390F is the top flat foot squat rack on the market. Here's a full look at this squat rack, including key features, pros, cons, and how it compares to other flat-footed squat racks.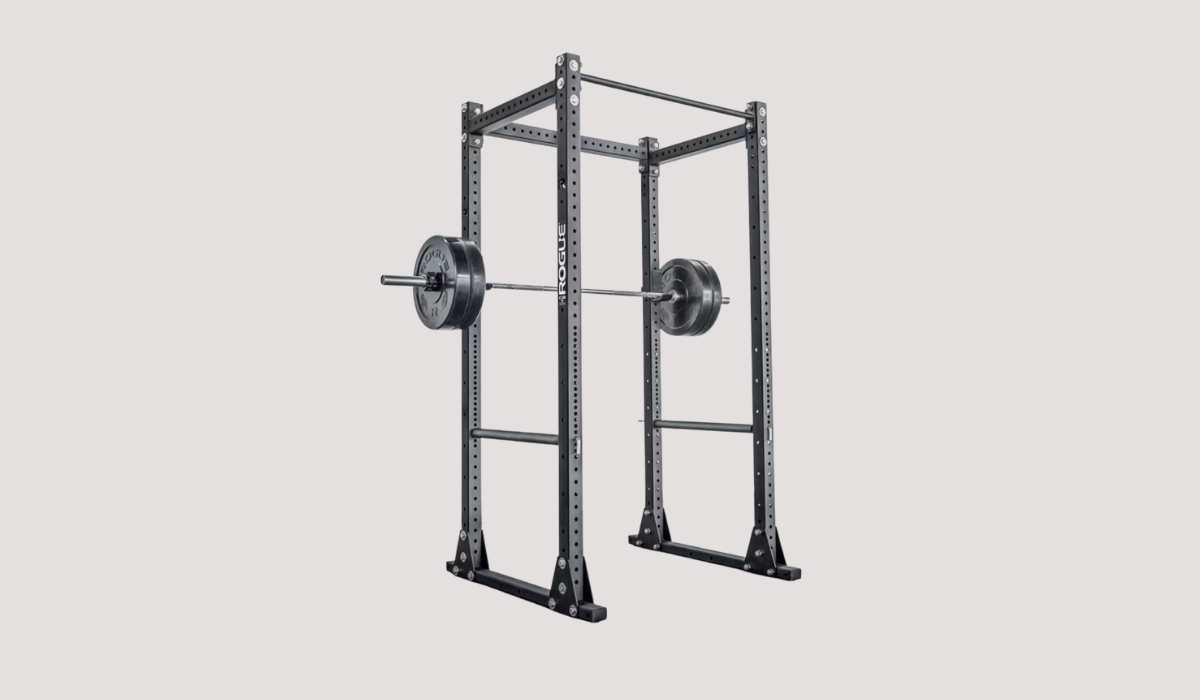 Rogue is a legend in the squat rack game, and the RML-390F Flat Foot Monster Rack is the best squat rack for lifters who want a sturdy rack for their home gym that doesn't need to be bolted down.
In this review, we will dive into the specifics of the RML-390F, including the things we like the most about this rack, some of the cons, and why it's the best flat foot squat rack on the market.
Let's jump right in!
Why Trust Us
We are serious about squat racks and power racks, having tested and lifted over 50 racks through the years.
From power racks to half racks to squat stands, we've used and abused the best squat racks for home and garage gyms over the years, using feedback from our team and community to rank and order the top options out there.
Between our deep and ongoing hands-on experience, and our extensive experience as competitive powerlifters, CrossFitters, and hard-core home gym enthusiasts, we go hard in the paint when it comes to reviewing racks.
The Rogue RML-390F Flat Foot Monster Rack – The Pros
Alrighty, let's get right into the things that stand out the most about this particular rack.
1. Flat-footed design
The Rogue RML-390F is the best flat foot squat rack on the market.
Why would you want a flat foot squat rack? Well, for starters, you don't need to bolt it down to the floor.
For people who don't want to bolt the rack into their weightlifting platform, or damage their floor by screwing or bolting the rack into their basement or home floor, a float foot rack provides a stable option.
2. The RML-390F is strong as hell
The frame of the RML-390F is built with 11-gauge steel (which is significantly stronger than the cheapo racks you will find on Amazon) and has a thick and beefy 3" x 3" frame.
A 3" x 3" frame is as thick as it gets for home gyms, and is more than suitable for just about every lifter on the planet.
(To give you an idea of how beefy the rack is, *most* racks designed for home gyms use 12- or 14-gauge steel and a skinner 2" x 2" frame.)
The rack also has gussets to strengthen the base at the bottom of the four uprights for added stability.
3. Small footprint
The base of the RML-390F is just 48" x 49", with a lifting area between the uprights of around 30".
This makes the rack one of the better options for homes and garages that have narrower and smaller workout areas.
4. Westside Hole Spacing
Westside Hole spacing has become all the rage in recent years with squat racks coming out on the market.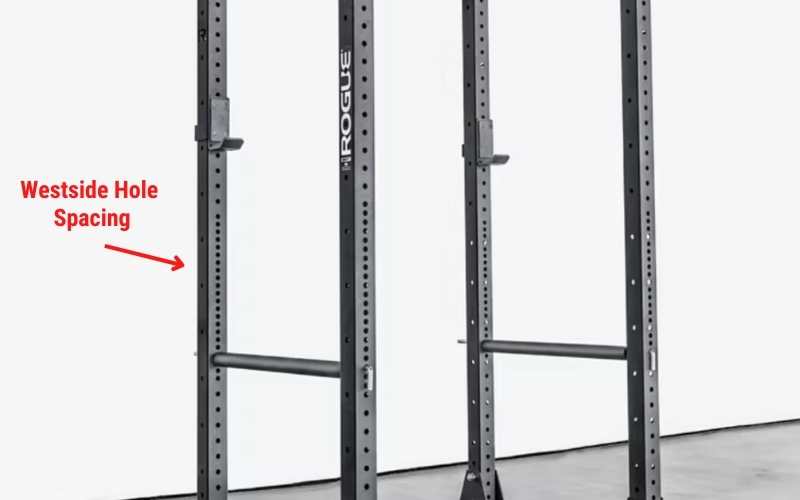 Rogue led the way with this, partnering with the legendary Louie Simmons (RIP) from Westside Barbell.
The crux of Westside hole spacing is reducing the space between holes on the uprights, giving lifters significantly more options for where they want to place J-hooks and their barbell.
5. Safety attachments included
One of the main benefits of a power rack is being able to use it as a spotter for heavy lifts.
By using spotter arms, spotter pins, or safety straps, you can lift with full confidence that you can ditch the barbell safely and without dropping a fully loaded barbell through your floor.
See also: Squat Rack Spotter Pins vs. Safety Arms: Pros, Cons and Differences
I've witnessed a ton of injuries over the years at the gym from lifters not using the safety attachments and then flailing to not drop the barbell, hurting themselves—sometimes quite seriously—in the process.
Rogue ships spotter pins and their high-quality J-cups along with the RML-390F so that you can get lifting more safely on day one.
6. Available as a conversion kit
If you are already the owner of a Rogue SML-2 Squat Stand or the SML-3, you can purchase a RML-390F conversion kit to turn your squat stand into a flat footed monster.
The conversion kit retails for just over $500 and only works with these specific Rogue squat stands.
7. All the additional attachments you will ever need
The Rogue RML-390F is part of the Monster Lite series of power racks. The number of power rack attachments in the Monster Lite line is hilariously long, including:
Vertical barbell holder
Monster Lite Matador (dip station)
Vertical bar holder
Infinity band pegs (not recommended unless you bolt the rack down)
Spotter arms
Adjustable Monolift
Safety straps (SUPER recommend these over spotter pins!)
Leg roller
Battle rope anchor
Various pull-up bars (multi-grip, single bar, Crown pull-up bar, etc)
And more.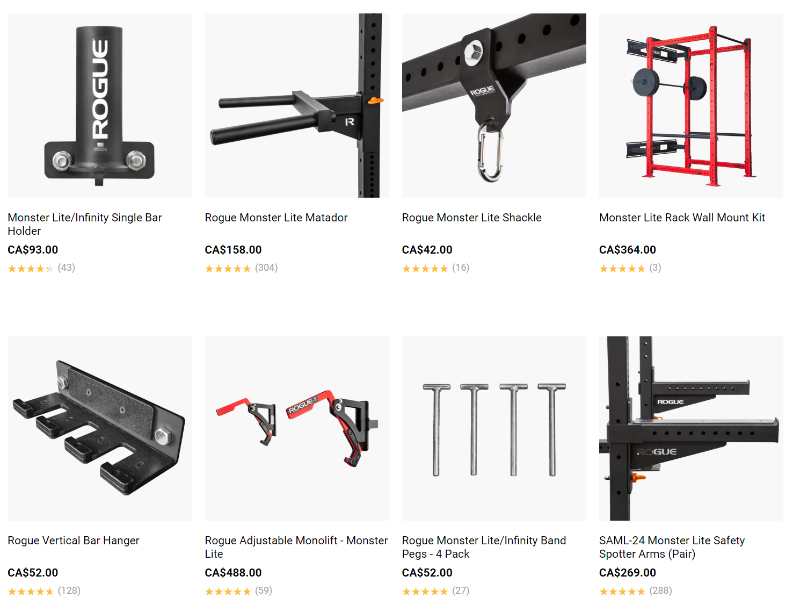 Getting a squat rack is just the first step in building a killer rack that can be used for every exercise you can dream of.
8. Made in the USA
Finally, we gotta give Rogue credit where credit is due.
They make bomb-proof lifting equipment in the good old U.S.A. with American (and sometimes Canadian) steel.
The Rogue RML-390F is completely manufactured at their factory in Columbus, Ohio, one of the very, very few strength training equipment companies that do so.
Rogue RML-390F – The Cons
Okay, now that we've sung the RML-390F's praises on repeat, it's time to point out what you might not be so wild about.
They include:
Pricier compared to other flat foot racks.
She's a spicy, err, pricey power rack!
The rack starts at $895, which is more expensive compared to other flat-footed power racks.
In comparison, consider:
So, the RMl-390F retails for *about* a hundred dollars more than other similarly-designed options.
However, the RML-390F is considerably thicker and stronger than both racks and has more additional attachment options, so in this case, you do pay for what you get.
Rogue RML-390F Flat-Footed Squat Rack – Who Is it For?
Like most Rogue squat racks, the RML-390F is exceptionally well-built. It includes a long line of optional attachments for true customization.
And Rogue's customer service is exceptional—anytime I've emailed them about something, big or small, they've gotten back to me within hours.
Lifters who want a squat rack at home without having to bolt it down to the floor will LOVE this rack.
It's sturdy, and built like a tank, and you don't need to bolt it to the floor or lifting platform to lift securely and with peace of mind.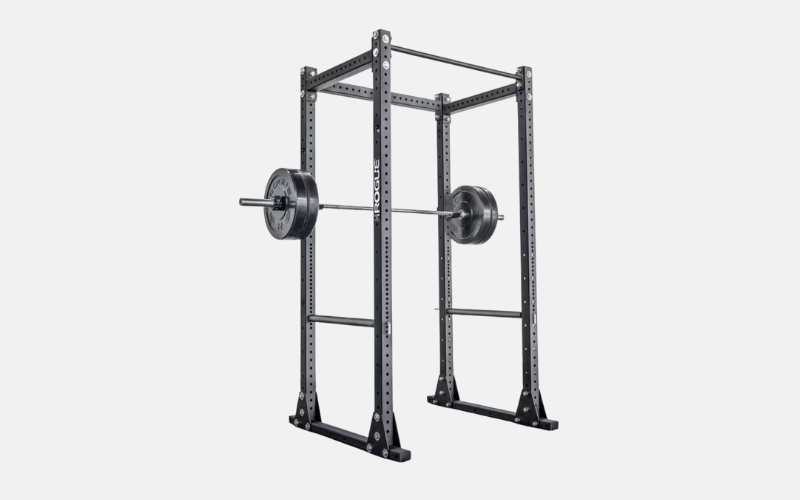 ---
More Squat Rack Guides and Reviews
Rogue R-4 Power Rack: Pros, Cons, Alternatives, and Review. The Rogue R-4 is an excellent squat rack for experienced lifters looking to build a beefy, durable, and versatile home gym. Here is a full look at the rack, including, pros, cons, and alternatives, and who it is for.
7 Reasons the Rogue HR-2 Half Squat Rack Kicks Butt [Review]. Looking for an awesome half rack for your home gym? Here's a full review of the Rogue HR-2, my favorite half-rack on the planet.