A squat rack is the best purchase you can make for your workout goals. Here's a detailed buyer's guide and the best squat racks on the market right now for home gyms.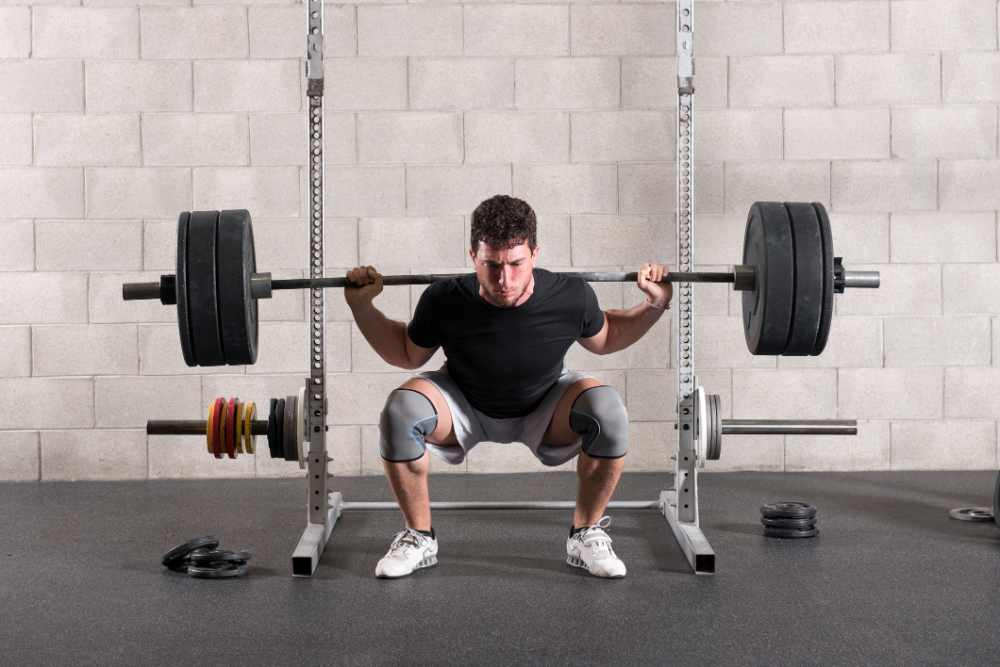 When it comes to outfitting a home or garage gym, there is a lot of equipment and gear to choose from.
The one that should get the most of your attention is a squat rack.
Squat racks, despite the name, are the foundation and scaffolding of your home gym and a ton of exercises.
From the bench press, to rack pulls, to military presses, a squat rack is more than a bunch of steel for holding a barbell when doing squats.
It's a spotter. Training partner. Storage accessory.
And with the number of different squat racks on the market nowadays, there is a squat rack for every budget, workout area, and lifter.
Below is a breakdown of the best squat racks on the market right now.
In this guide we are going to cover a lot of ground, covering every aspect of choosing the right squat rack for your home gym.
So buckle up…
Pour yourself a double-scoop of your favorite preworkout…
And let's jump right in.
Best Overall Squat Racks
Rogue R-3 Squat Rack
The Rogue R-3 is a heavy-duty, inexpensive squat rack for narrow workout spaces and areas.
Rogue is one of the big names in the strength-training game, and one of the best well-known companies for even casual lifters. Their gear is ubiquitous in gyms—and not just CrossFit boxes—across the planet.
Rogue's squat racks are legendary, and with good reason.
The Rogue R-3 is a heavy-duty squat rack that comes in variable heights, has plenty of bells and whistles for beginner to advanced lifters, and its footprint makes it an excellent choice for home and garage gyms.
The R-3 has a 2" by 3" steel frame (that is made in the USA—not many can claim that!) that is powder-coated to prevent corrosion and a depth of just 34", making it an excellent free-standing squat rack for narrow workout areas.
There are a lot of reasons I love this squat rack (which I more thoroughly reviewed in this post on the R-3), and the customization options are just the cherry on top:
Pros:
It comes in regular (90.4") and shorty (84.375") heights
Includes J-cups, safety pins, and pegs for resistance bands
Skinny and fat pull-up bars also included
Starts at $825
Compatible with the Infinity line of Rogue add-ones (dips bars, multi-grip bar, etc)
Cons:
Rogue highly recommends bolting it down
Concrete anchor kit sold separately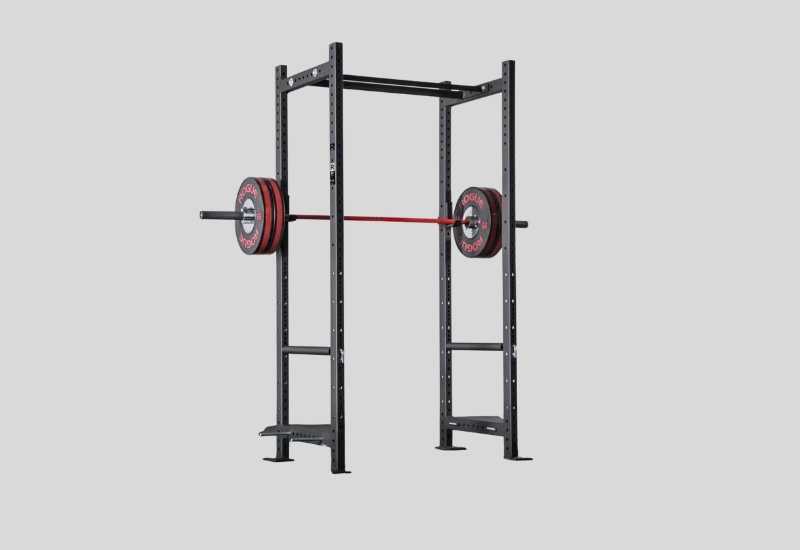 Bells of Steel Squat Rack 5.1 – Light Commercial
Best value rack that doesn't have to be bolted down, the Bells of Steel Light Commercial Squat Rack is built by powerlifters for heavy-duty use at an approachable price.
Bells of Steel is a Canadian-based company founded by competitive powerlifters who make exceptional gear at a reasonable price.
The BoS Rack 5.1 is a flat-footed squat rack that comes with just about everything you need to get started on day one.
Because of the design of the base of the squat rack, which includes a curved cross-bar at the back and extended feet at the front, the rack doesn't need to be bolted down to the floor.
The steel frame is made with 2.3" by 2.3", 12-gauge steel, which is a bit of a weird size. Most squat racks have 2×2, 2×3, or 3×3 steel framing.
The main drawback of this is that you can only accessorize the 5.1 with BoS add-ons.
That said, the optional add-ons for this squat rack are nearly endless, with everything you could want to pimp out your rack, from monolifts to multi-grip pull-up bars to lat pulldown machines.
Additionally, the BoS has a short version (at just 72"!) making it one of the best squat racks available for low ceiling workout areas like a basement.
Pros:
Full-size height (84.5") or short version for low ceilings (72")
Includes a ton of training accessories, including J-cups, roller J-cups, four band pegs, multi-grip bar and heavy-duty safety straps
Westside hole spacing in the push-pull area for more flexibility for where you want to set the barbell
Doesn't need to be anchored down (but each squat rack comes with concrete anchors)
Long, long list of optional accessories, including a cable crossover attachment, lat pulldown attachment, dip bar, plate pegs, belt squat/lever arms, monolift, etc etc etc.
The rack starts at $799, making it one of the most affordable "pro" squat racks on the market.
Cons:
2.3" by 2.3" steel frame, so will only fit BoS accessories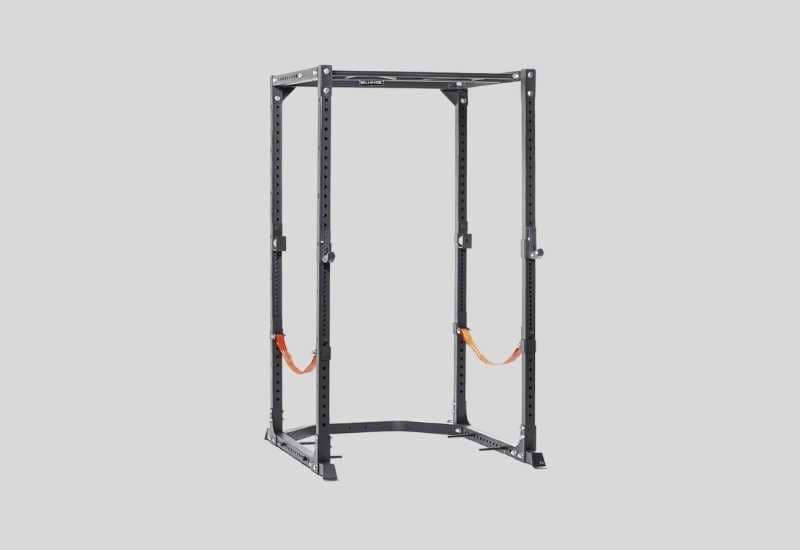 Best "Price is no option" Squat racks
Rogue RM-6 Monster Squat Rack 2.0
The Rogue RML-6 Monster is just that…a monster. Endlessly customizable, with tons of plate storage and heavy-duty construction, this is the last squat rack you will ever buy.
Looking for a serious squat rack? Want to kit out your rack with a heap of add-ons to make it truly custom and ready for battle?
Welp, the Rogue RM-6 Monster 2.0 Squat Rack is built for the gyms of the best athletes on the planet. With a price tag of $2,600, you can bring home this absolute tank of a squat rack into your home gym.
Let's start off with the frame, a 3" by 3", 11-gauge six-column behemoth that has three different height options (90", 108" and 110").
There are over 60 optional add-ons that you can put on the rack, including safety straps, utility seat, mini feet (for added stability), barbell storage racks, hip thruster bench, dip bar, Monolift, lat pulldown seat, trolley and lever arm kit…
You get the idea.
The RM-6 is the ultimate in terms of customization, sturdiness, and overall awesomeness. Rogue is one of the best names in the business for a reason, and the RM-6 lives up to the rep.
Pros:
13 different color options
Single pull-up bar comes standard (three additional bar options as well)
3" by 3", 11-gauge frame
Ships with J-cups and safety bars
Three different height options (90" to 110")
1" hole spacing throughout for maximum bar placement flexibility
Westside hole spacing in the push/pull area
Massive number of attachment and add-on options
Price starts at $2,600
Cons:
You'll never get the excitement of buying a new squat rack again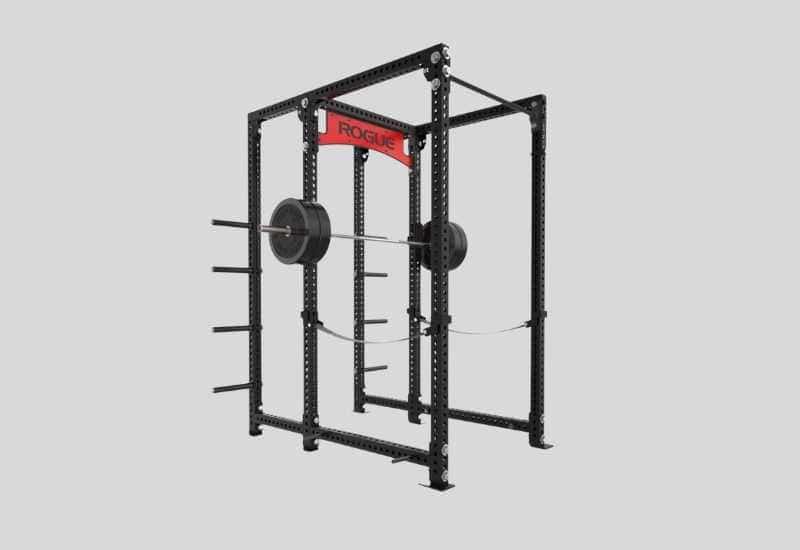 Best Half Squat Racks
HulkFit Multi-Function Half Rack
HulkFit makes some of the best racks that you will find on Amazon, and the Pro Half Rack includes a TON of accessories.
Buying a rack off of Amazon is a bit of dice roll these days. Most of the racks are sold by third-party sellers who have terrible customer service.
That said, HulkFit is one of the few Amazon-specific brands that makes quality racks.
The HulkFit Multi-Function Half Rack is available in a few different models, with the Basic starting at $150 (weight capacity of 500 pounds, 2" by 2" steel frame) going up to the Pro model.
The HulkFit Pro Half Rack has a 1,000lb capacity, multi-grip pull-up bar, weight storage pegs (load it up with bumper plates for more rack stability) and more.
Made with 11-gauge steel, the Pro model is also thicker, with a 2.5" by 2." Frame. The added accessories make it an excellent option, starting at around $400.
If you are absolutely set on buying a half rack through Amazon, this is your best bet, but for just a few dollars more you can pick up a rack from Rogue, Titan, Iron Bull or REP who use North American steel and have vastly superior customer service. (Rogue emails me back within 1-2 hours anytime I have a question.)
Pros:
Includes spotter bars, J-cup barbell holders, vertical barbell holders, weigh plate holder and band pegs
Best half rack you will find on Amazon
Rubber-tipped feet to keep the rack from sliding
Multi-grip pull-up bar
Excellent option for beginners or those lifting low to moderate amounts of weight
Cons:
Unless you bolt it down, wouldn't recommend using the band pegs
Customer service isn't very fast or responsive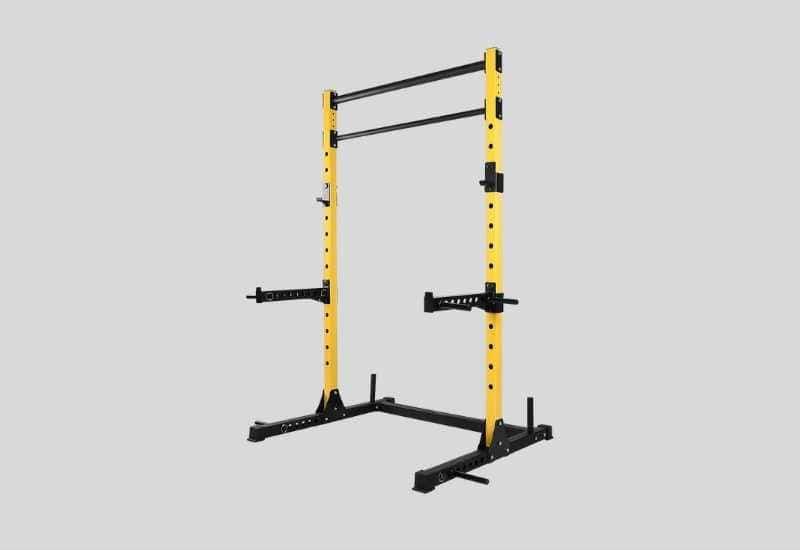 Rogue Monster Lite Half Rack
The Rogue Monster Lite Half Rack is a robust, affordable half rack that is designed to store a ton of weight plates and help you lift securely.
Want the sturdiness of a full rack but want to manage the space in your workout area?
The Rogue Monster Lite Half Rack combines the typical overbuilt construction standards of Rogue with a reduced footprint.
Made with 3" x 3" 11-gauge steel, the Rogue Monster Lite Half Rack is a certified… well… monster. Like most Rogue racks, there are plenty of customization options, including variable rack depths (17" or 24").
The half rack has extended front feet for a longer base, increasing stability. Included are a pull-up bar, Rogue nameplate across the back, eight plate storage pegs, J-cups, and band pegs. The Rogue Mosnter Like Half Rack is pricey, starting at $1,395.
Pros:
Built like a tank (one reviewer noted that they would hide under it the next time there was a tornado warning ?)
Rack weighs 330lbs – no wobbling here
Tons of weight plate storage for a tidy workout area and more stability on the rack
Variable rack depth options
Angled feet for added stability
Band pegs for doing banded lifts
Cons:
Safety spotter bars are sold separately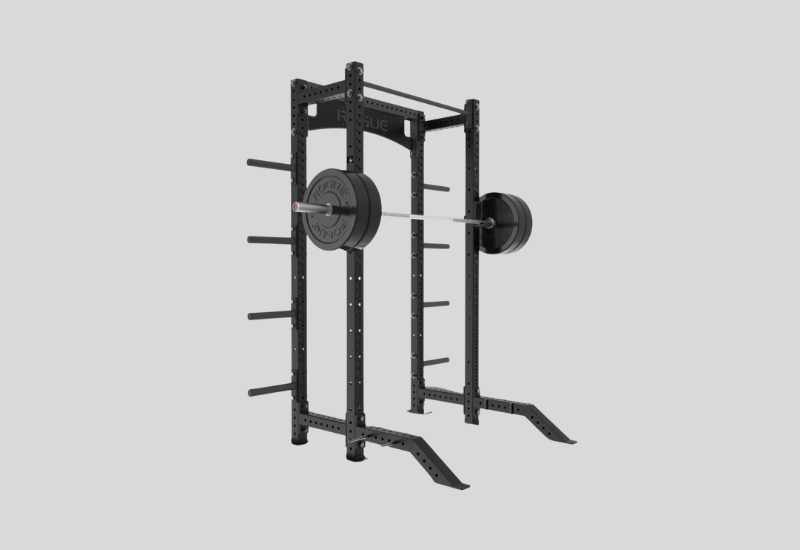 Folding Squat Racks
Rogue RML-3W Wall-Mounted Folding Squat Rack
The ultimate squat rack for small spaces is a folding, wall-mounted rack. No one does it better than Rogue and the RML-3W.
For the home-based lifter who is on a serious space crunch, a folding squat rack can be your ticket to getting stronger at home and minimizing the footprint of your equipment.
My favorite is the Rogue RML-3W, a heavy-duty, fold-back, wall-mounted squat rack that extends just 5" from the wall when folded up.
The RML-3W comes in a few different depths, including 9" (the standard), 21.5" and 41.5", giving you a lot of flexibility for how much space you want the rack to take up when folded out.
With a 3" by 3" frame, and optional stringers and a cross-bar for added stability, the Rogue RML-3W can handle a ton of weight.
(Okay, maybe not a ton, … but when I reached out to Rogue and asked, they responded that "as long as installation is done appropriately, there would not be a weight capacity concern.")
Also, folding squat racks simply look badass.
Pros:
Heavy-duty 3" by 3", 11-gauge steel frame
Variable depth (9", 21.5" and 41.5")
Protrudes just 5" when folded up
Two J-cups included
Westside hole spacing on push-pull areas
Comes with a quick-attach pull-up bar
Starts at $600
Cons:
May want a professional to install it for peace-of-mind
Stringer pair cost extra ($105)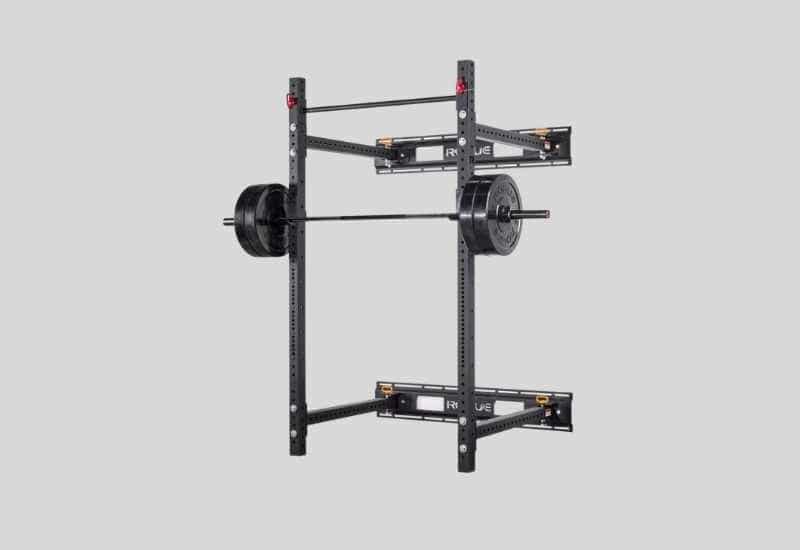 Best Squat Stands
Squat stands sacrifice a little bit of stability for custom set-up (you can set the uprights closer or wider) , smaller footprint, and portability. Also known as "indy" stands.
Rogue S-4 Squat Stand
Built for battle, experienced lifters will love the sturdiness and hole options on this squat stand.
Rogue built this thing like it builds the rest of their racks and stands-to take a beating. Testing during production found that the S-4 could handle 1,000lbs of weight, making it ideal for 99% of the lifters on the planet.
The S-4 is heavy enough to give you confidence while lifting (the full stand weighs 130lbs), is built with a 2" by 3" 11-gauge steel, with 7-gauge steel feet, and each stand includes a pair of J-cups for you to park your barbell between sets.
Squat stands are an excellent option for lifters who are confident enough in their technique and form that they don't need spotter bars.
Pros:
Westside hole spacing on the uprights
Up to 72"
It's heavier than many inexpensive full-size racks
Tested to handle up to 1,000lb
Includes a pair of J-cups
Small footprint (26" by 22")
Cons:
Not suitable for beginners or those who want spotter bars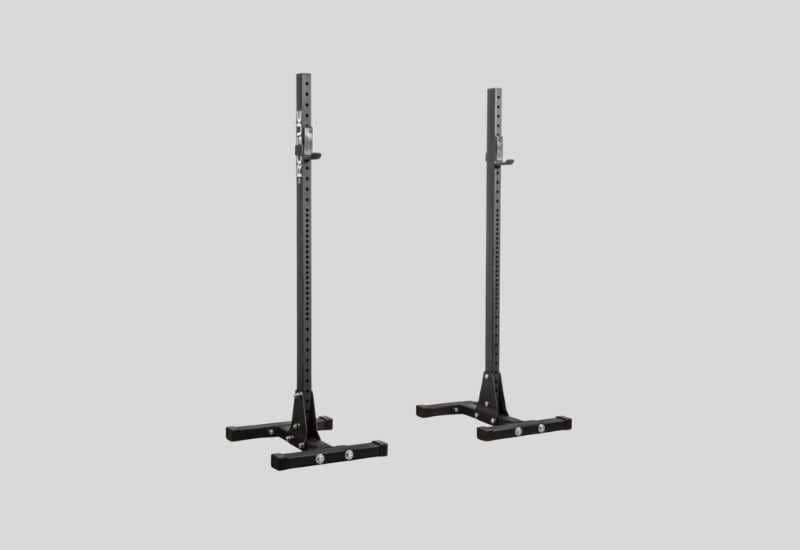 Titan T-3 Series Short Squat Stand
Titan Fitness' T-3 Series Squat Stand is a great choice for low-ceiling areas like basements.
Working out in a low ceiling area like a basement? The T-3 Squat Stand comes in a short (72") or regular (92") height to fit in your workout space.
The T-3 is extremely comparable to the Rogue S-4, with a heavy footprint (144lbs), upright heights, Westside hole spacing, and costs about $100 less.
Besides the price, the one thing I like about this squat stand is the cross-member at the front of the stand.
This helps keep the stand from wobbling too much if you put load a barbell onto the stand unevenly.
The T-3 Series Short Squat Stand is an excellent choice for beginner/intermediate lifters who want the small footprint and height of a squat stand with some of the stability of a cage.
Pros
Westside hole spacing
Very affordable, retailing for around $260
2" x 3", 11-gauge steel construction
Powder-coated to prevent rust
Two J-hooks included
Cons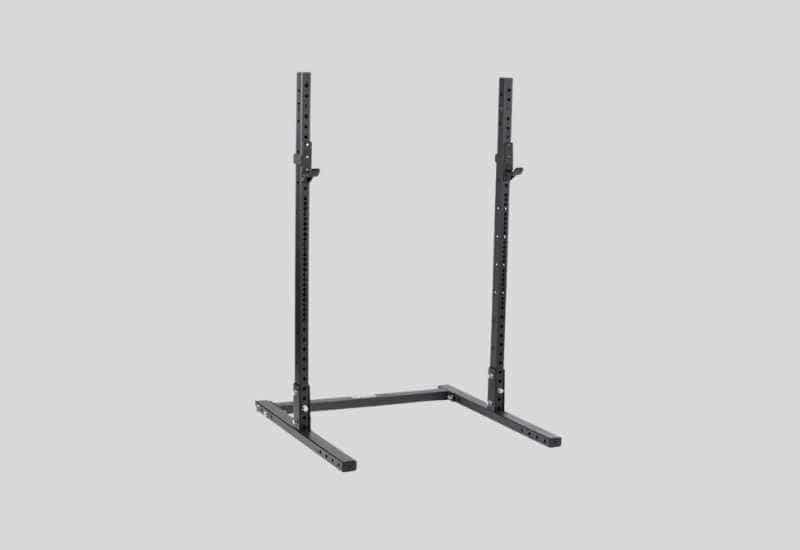 Best Combo Racks
Combo racks are a specialized squat rack that is designed for powerlifters and are primarily used for lifting heavy on squats and bench press.
Rogue Combo Rack
The Rogue Combo Rack is one of the toughest squat racks on the planet and is totally overkill for most lifters. Which is probably why we love it so much.
The Rogue Combo Rack is simply the sturdiest rack I've ever come across. It comes with 3" by 3" steel uprights that has 7-gauge steel and weighs a tank-like 505lbs.
Featuring an extra wide base (over 80-inches), a removable Rogue bench with a thick pad, and diamond-treated spotter decks, the uprights include telescoping tubes with steel pins for bar height variability, whether that means hitting a heavy bench press or squatting.
The reason it's so overbuilt is that it was developed with the International Powerlifting Federation to create a rack that could be used in competition.
With that in mind, this squat rack is designed for a select few, retailing for just shy of $3,000.
Pros
It's a tank (505lbs total weight)
IPF certified for powerlifting competitions
Removable spotter arms and thick-pad bench
Lever system for precision heigh adjustments on the uprights
Very niche-specific—built for powerlifters and just about no one else
Cons
Very niche-specific—built for powerlifters and just about no one else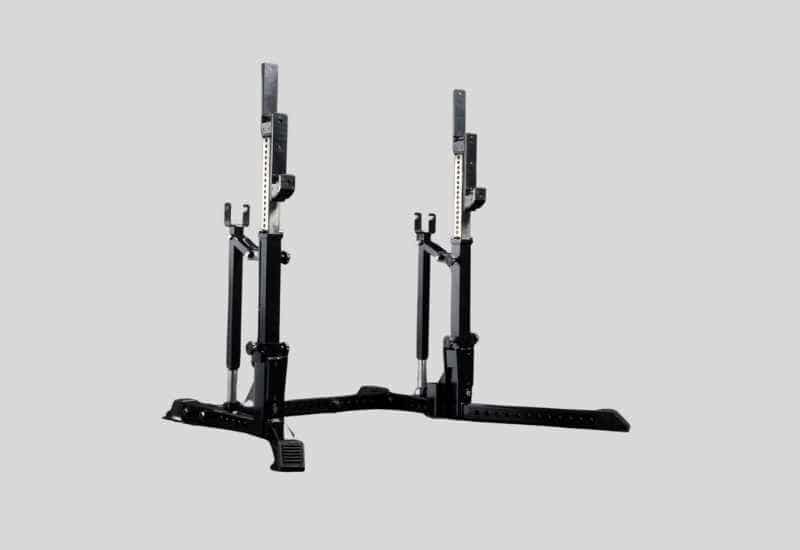 StrongArm Combo Squat Rack/Bench Press 3.1
The StrongArm Combo Rack is an excellent and relatively inexpensive alternative to the Rogue Combo Rack.
For the aspiring powerlifter who wants a sturdy training bench and squat rack for home, dropping $3k for a combo rack is a little… well, it's pricey. No doubt about that.
While there are few other combo racks on the market, StrongArm makes an excellent combo rack that is extremely durable and also much more approachable in terms of cost.
The StrongArm Combo Rack 3.1 is an IPF-approved rack designed by powerlifting veteran Mike Armstrong. While not as sturdy as the Rogue Combo Rack (there are only a couple of racks on the planet that would be), the StrongArm is a perfect rack for aspiring and experienced powerlifters.
Built with 3" by 3", 12-guage steel, it has easy-to-adjust levers for quick adjustments between lifters, pegs for hooking up resistance bands, and for those worried about potential tipping, the rack has holes for bolting to the floor and plate storage pegs to weigh down the front of the rack.
Pros:
IPF-certified for competition
Rated for up to 1,000lbs of weight
Adjustable safety catches
Pegs for banded lifts
Plate storage pins to "anchor" the rack
Inexpensive for an IPF bench at around $1,000
Cons:
Spotter deck can make moving the bench in and out difficult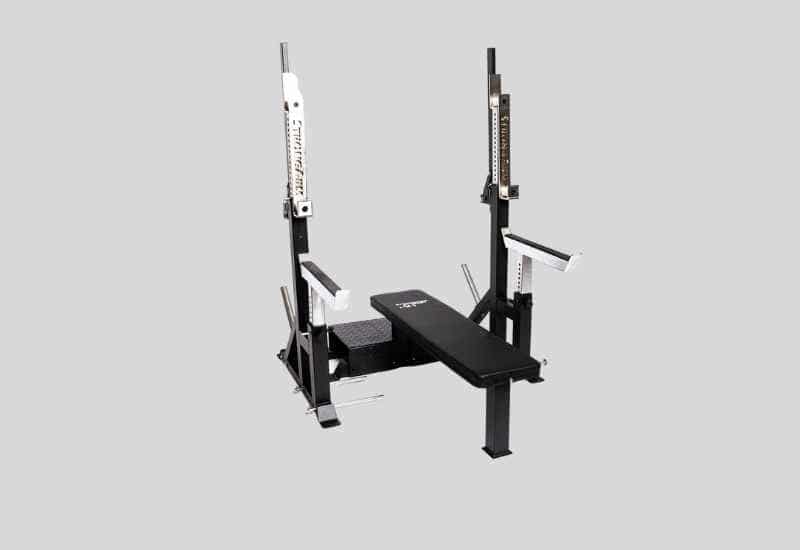 Best Squat Racks — FAQs
What makes a good squat rack?
The three things that make a good squat rack are functionality, footprint, and durability.
⭐ Functionality. Squat racks are designed for much more than just squats, and the functionality of the rack you choose should match the kind of workouts and the goals you have in mind for yourself.
If you are looking to do strictly squats, a basic squat stand can suffice. If you are looking to build out a true home gym, and want to be able to accessorize in the future with a lat pulldown machine, landmine attachment, and so on, you will want to look primarily at power racks.
⭐ Footprint. When it comes to footprint, everyone's workout space is different, ranging from closet-sized rooms to expansive garage gyms, and the squat rack is only as good as it lines up with the space you have dedicated for it.
TIP: When spacing out your squat rack, don't forget to leave space around the rack for barbells and access to the rack for loading and unloading weight plates.
⭐ Durability. Durability is obviously crucial—we all want a rack that will work as hard as we do! Squat racks are generally measured by weight capacity and load, but it's the steel frame and gauge that are the true indicators of how strong a rack is.
Introductory racks have a 2" by 2" frame while the heavy-duty racks on the market have a 3" by 3" rack. Steel gauge is how thick the steel is. 11- or 12- gauge steel is more than sufficient for even the most experienced powerlifters.
What are the different kinds of squat racks?
When someone says "squat rack," they can mean a variety of things.
There are a bunch of different kinds of squat racks, including:
⭐ Power racks. Also known as cages, power racks have four or six columns, and you can workout inside the cage. Power racks give you the most versatility when it comes to the number of exercises you can do in, next, and on the rack.
⭐ Half racks. Take a power rack, cut it in half, and you've got yourself a half rack. They have a wide base, are built sturdy, and can be used for pull-ups, presses, and so on.
⭐ Squat stands. Squat stands are as bare-bones as a rack can get. Featuring two uprights, they can be moved around easily and are usually the least expensive option for the squatting enthusiast.
⭐ Folding wall-mounted racks. The newest squat rack on the block is the folding and/or wall-mounted squat racks. Folding racks can be folded flush against the wall and provide the same load capacity as regular racks.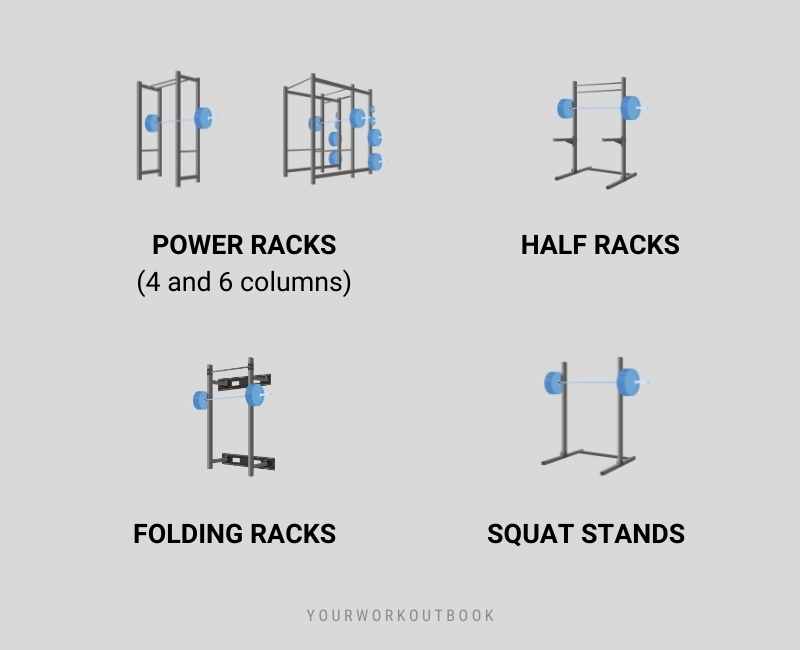 How much do squat racks cost?
Squat racks vary widely in price, with some cheap racks on Amazon costing as little as $250.
Squat stands and half racks cost in the $400-600 range, while quality racks start at $800 and can quickly reach $4,000 to $5,000 for heavy-duty squat racks with accessories.
Fortunately, there is so much more choice in the market now compared to five years ago. (We can thank the pandemic for that one.)
Should I invest in a squat rack?
Squat racks can be a big upfront investment, but it doesn't take long for them to pay off.
Canceling a $50/month gym membership means you can pay off a $1,000 squat rack in 20 months.
Additionally, there is the commuting time back and forth to the gym to add to the plus column, as well as no line-ups for the rack and full control of the playlist on the sound system (and the TV in your home gym, too).
TIP: The steel used in squat racks is measured by gauge. Most quality racks have a gauge of 11. Seriously heavy-duty racks—like the Rogue Combo Rack—are built with 7-gauge steel. This is the thickest you will see outside of a tank.
The elimination of a commute removes a lot of the "I don't feel like it" and removes the excuses to get you in the gym and lifting, which results in uncountable benefits in the short and long term.
Squat racks are almost always a one-time investment as they are designed to last for years, if not decades with even a minimal amount of care and maintenance.
The answer isn't whether you should invest in a squat rack, but rather whether you should invest in yourself and your health.
Power rack vs Squat rack – what's the difference?
The two terms are often used very interchangeably, but there are some key differences.
A squat rack is an umbrella term that covers racks, cages, half racks, and stands. A power rack, on the other hand, refers solely to four or six column racks and cages.
An easy way to figure it out if it's a squat rack or a power rack is to see if you can step inside the cage. If so, you're working with a power rack.
Ultimately, whether you choose a power rack or squat rack comes down to your workout goals.
Power racks are best suited for those who workout alone at home and maximum peace of mind via safety bars and safety straps when lifting heavy.
Does a squat rack have to be bolted down?
Larger squat racks and cages are designed to be bolted down.
This isn't always necessary however, especially with squat racks that have a flat foot design. Flat foot racks have an extended footprint to widen the base of stability.
An easy way to "weigh down" and secure your squat rack is to use pegs to store your bumper or iron plates on the rack itself.
Doing this not only stabilizes the rack, but keeps plates off the ground, tidying up your workout area.