The Rogue RML-490 is an absolute beast of a power rack. Here's a full review of the RML-490, who it's for, pros, cons, and comparable alternatives.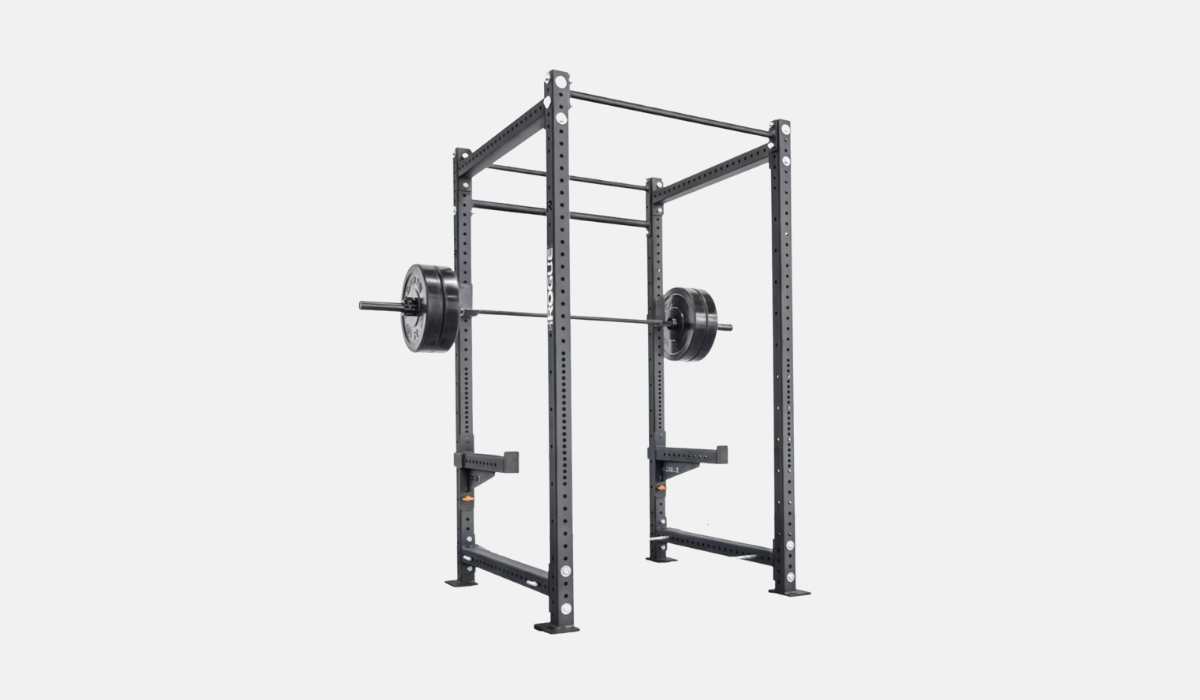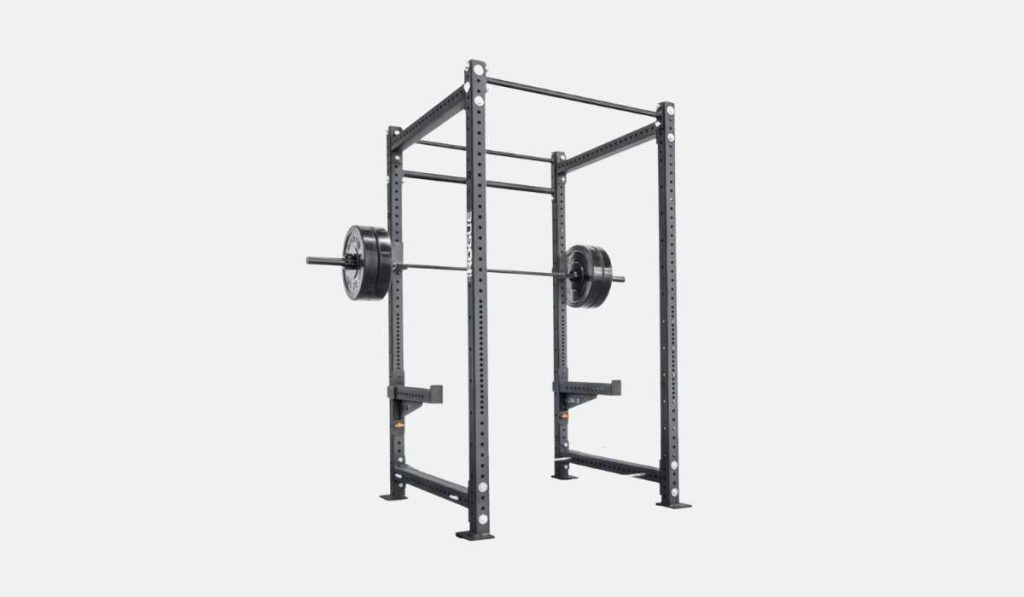 Affordable, overbuilt, and compatible with a huge range of attachments, the Rogue RML-490 is one of the strongest power racks for home gyms.
Lifters who want their "forever rack" will love this thing, from Rogue's legendary commitment to overbuilding racks to the 10 different color options, the RML-490 is a complete monster.
In this review, we are going to step inside the RML-490, list the key features and things we love about it, hold it up next to other power racks (Rogue and otherwise), and even list a couple of things you should be wary of when ordering.
Let's get to power rackin'!
What is the Rogue RML-490 Power Rack?
The Rogue RML-490 is a four-column steel power rack made by Rogue Fitness, who are based out of Columbus, Ohio.
"RML" stands for "Rogue Monster Lite" and refers to a specific line of racks that Rogue manufacturers.
Key Specs:
Height: 90.375"
53" x 53" footprint
5/8" hardware
Westside hole spacing in push-pull area
Part of the Monster Lite collection of Rogue racks
Who is the Rogue RML-490 for?
The Rogue RML-490 is for lifters who want a squat rack that is exceptionally durable without taking up a huge amount of floor space.
This is a commercial-grade rack, so it is definitely geared toward the more experienced lifter who plans on pushing some heavy-duty weight.
Additionally, the RML-490 is an excellent rack for lifters who want to train with resistance bands. Compared to other racks such as the Rogue RML-390F (Rogue's flat-foot power rack), this rack is built for band use.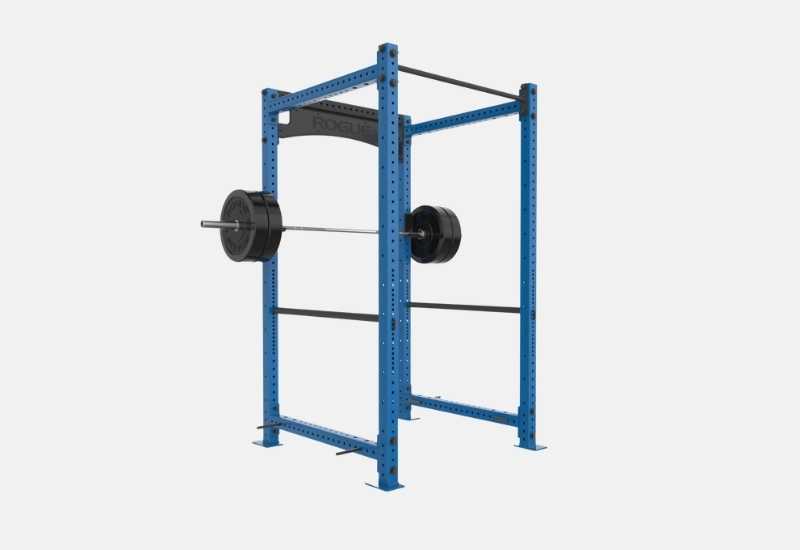 Additionally, because it doesn't have the feet extending out from the front of the rack, it's easier to do exercises like sumo squats with the RML-490.
Finally, lifters who want ultimate flexibility in attachment choice will LOVE this rack as you have the option of over 70 different power rack attachments and accessories to make the rack truly yours.
Things That I Really Like About the Rogue RML-490 Power Rack
There is a lot of things to really like about this rack.
The main features include:
11-gauge, 3" x 3" steel frame
There is one word that comes to mind when you actually put this thing together and stand inside of it…
Tank. Beefy. Overbuilt.
Okay, that was three words, but you get the idea.
For lfiters who have never really looked at the specifications on a power rack before, 3" x 3" is the same heavy-duty thickness you will see with racks in your local gym.
For beginner lifters, this thick and beefy construction will be total overkill, but experienced lifters will love the stability that comes with the thick steel frame.
The RML-490 is a heavy rack.
The RML-490 weighs 336lbs, which is heavy for a rack compared to most racks that are designed for home use.
And yes, this is a good thing.
An increased weight ensures more stability and less wobbling when working out on it.
Here is how much it weighs compared to other Rogue racks:
Having a sturdy rack—especially if you are planning on not bolting it to your weightlifting platform or the floor of your home—is crucial for stability and overall peace of mind.
Westside hole spacing
Westside Hole Spacing—pioneered by Rogue in conjunction with eh late Louie Simmonds, founder of the legendary Westside Barbell Club—has taken off bigly in recent years.
With Westside hole spacing, you have way more flexibility in where you place your barbell and J-hooks.
Instead of 50mm spacing between holes, Westside holes are just 25mm apart.
Numbered uprights
Numbered uprights make it easier to find the right hole and line up your attachment, whether it is a safety pin, J-hook, safety straps or whatever else you are rigging up to the rack.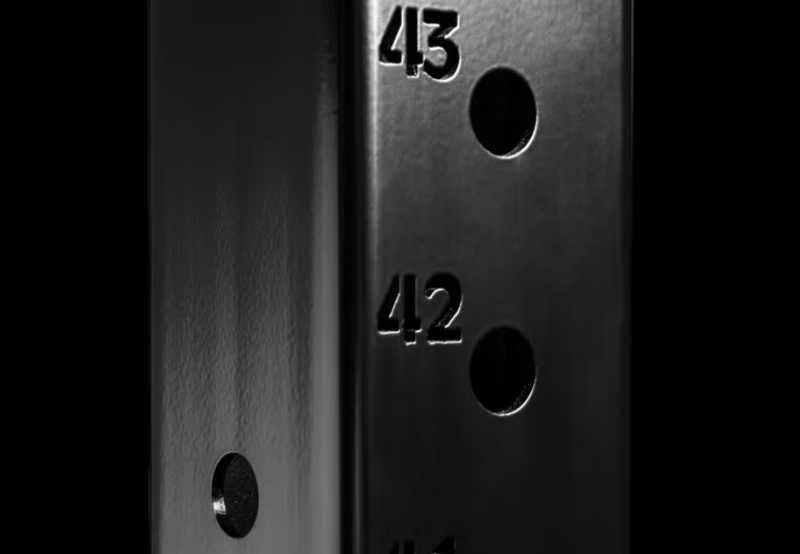 This is particularly handy with Westside hole spacing, which can make it a little tougher to eyeball even placement with safety pins, J-hooks, etc.
Affordable for an overbuilt rack
The Rogue RML-490 starts at around $1,100, which is an excellent price point.
No, it's not as cheap as other budget squat racks on the market, like the CAP Barbell Power Rack ($200ish) or the REP Fitness PR-1100 ($380), but you get what you pay for in terms of thicker steel, thicker frame, and increased attachment options.
Heaps of attachment options
The RML-490 is part of the Monster Lite line of racks that Rogue offers.
This means that it is compatible with a metric butt-ton of attachments and accessories, including:
Matador (dip station attachment)
Vertical barbell holder
Monster Lite Slinger (lat pulldown attachment)
Hip thruster bench
Trolley and lever arm attachment
Plate storage
Stabilizer bar add-on
And much more.
At last count, there are over 70 different attachment options in the Monster Lite line.
The rack is just the beginning when it comes to the RML-490.
The frame of the rack can do the basics exceptionally well, but where a power rack turns into the epicenter for your workouts is when you start kitting it with the attachments of your choosing.
Color options
Who doesn't like injecting a little bit of color into their home gym?
The RML-490 is also available as the RML-490C (C = color), with your choice of ten different colors to spice up the visual flavor of your home gym.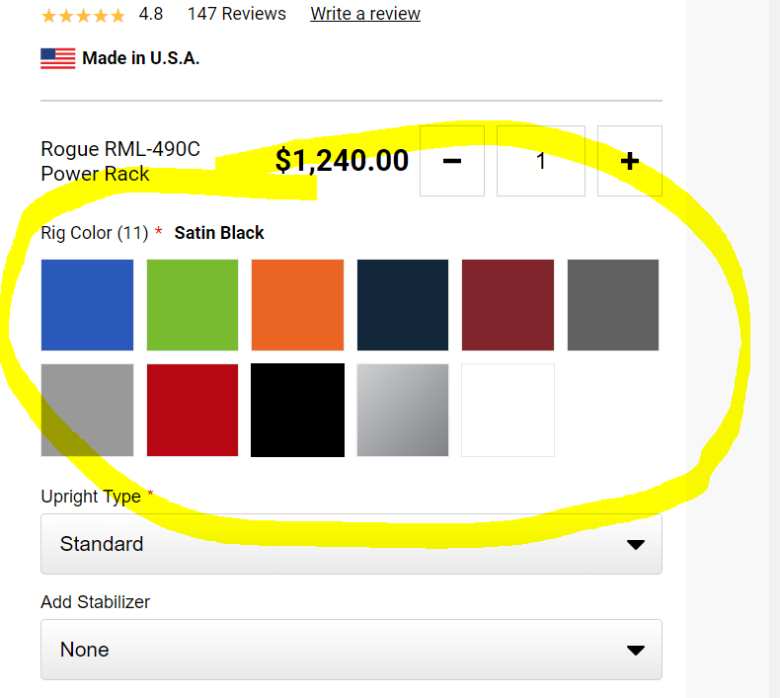 The color option is a little more expensive.
The 490 in "regular" black costs $1,125 versus the color option that costs $1,240.
Doesn't have to bolted to the ground
As long as you are lifting inside your power rack, most squat racks don't have to be bolted down, and this is the case with the RML-490, as well.
As mentioned earlier, the RML-490 is a beefy and heavy rack (weighing over 330lbs!).
If you are worried about rack stability beyond its already weighty footprint, add a crossbar at the back (Rogue offers one for added cost when checking out) and weigh down the rack further by loading your weight plates on the rack.
See also: Do You Have to Bolt Down a Squat Rack? (Plus How to Do It and Alternatives for Anchoring Your Rack)
Made in the USA
Like all of Rogue's squat racks, and most of their strength training equipment, the RML-490 is manufactured in the United States with American steel (and sometimes Canadian steel).
The build quality is simply worlds apart when you line it up against imported racks. The welds are better, the finish is better, the holes are more accurately machined.
Rogue is the best in the game when it comes to affordable and durable squat racks, and the Rogue RML-490 continues this fine tradition.
Lots of safety gear comes standard to get you started
One of my biggest frustrations with squat rack manufacturers is shipping a rack without the basic safety gear to get started.
After all, being able to lift safely and without a spotter is the whole premise of a power rack, so it makes no sense to be shipped a rack that doesn't have safeties or some type of J-cup.
/ rant over
Rogue ships each RML-490 with a pair of their premium Monster Lite J-cups (these things are light years better than the chrome-finished safeties that come with most budget squat racks), safety pins (that are coated with plastic to protect your barbells), and four band pegs for doing banded lifts.
Provided you have a bar and some plates, you are going to be in business on day one with this rack.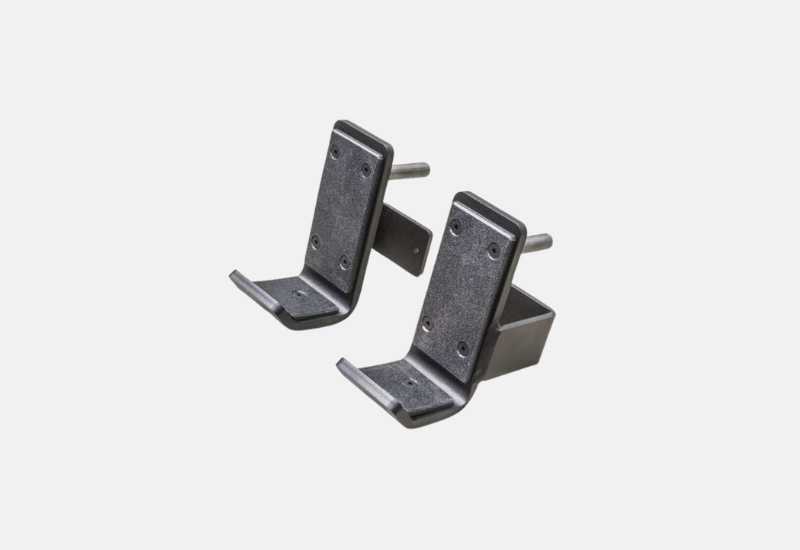 It looks awesome.
I know, the aesthetics of a power rack shouldn't really matter, but we'd all be kidding ourselves if that didn't factor into the decision-making process.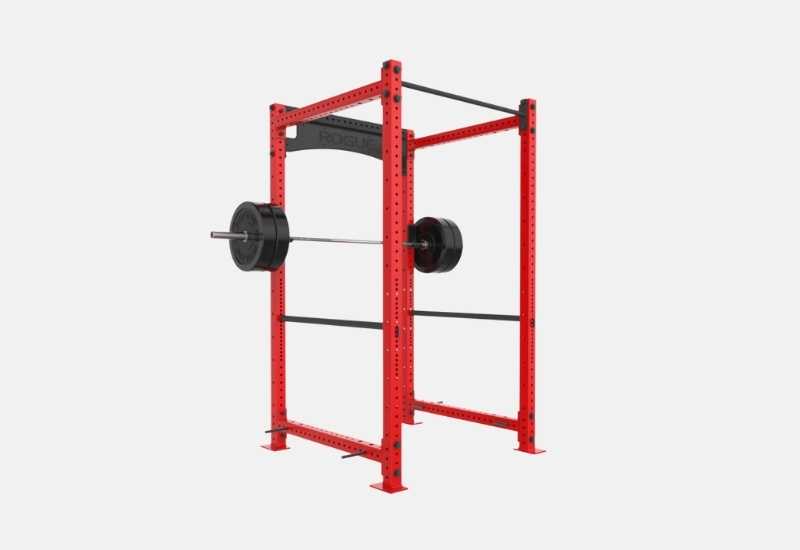 The Rogue RML-490 is simply a badass-looking rack, finished with Rogue's customary powder-coated matte black (or the color of your choice), and the Rogue logo smartly added to the uprights of the rack.
Things That Could Be Improved with the Rogue RML-490
As good as the RML-490 is, there were a couple of things that rankled me about it.
My criticism isn't even really about the rack itself, but more of an annoyance of added costs in the checkout process.
Anchor kit sold separately
For lifters who want to bolt the rack to the floor or lifting platform, the anchor kit is sold separately and not included.
The kit is like $30, which just seems like one of those things that could just be added to the order, especially when you are paying over a thousand dollars for the rack.
Stabilizer bar sold separately
Just as the anchor kit is an added cost, so is the stabilizing crossmember.
For lifters who don't plan on bolting the rack to the floor, the stabilizer bar (another $95) is almost mandatory for further stabilizing the rack during heavy use.
This is another added cost at the time of checkout.
---
What are some power racks that are similar to the Rogue RML-490?
Rogue RML-490 vs REP Fitness PR-5000
The PR-5000, made by REP Fitness, is the closest competitor to the RML-490 when it comes to build quality, attachment options, and frame size.
It has the same 3" x 3" 11-gauge steel frame, tons of attachment options (it has more accessory options compared to the PR-4000), variable height options, and variable height and depth options. And like the 490, there are tons of options for rack color.
The REP PR-5000 is on average less expensive than the RML-490. (Depends on how you customize the rack.)
The main difference between the two is that the PR-5000 is imported, while the RML-490 is made in the USA.
The Bottom Line
Look, it's no secret that I'm a huge fan of Rogue squat racks, and the RML-490 is not going to change that perception at all.
Built domestically, with American steel, and loaded with possibilities, the Rogue RML-490 is a killer power rack for the intermediate to experienced lifter who wants the ultimate in durability and versatility in their home gym.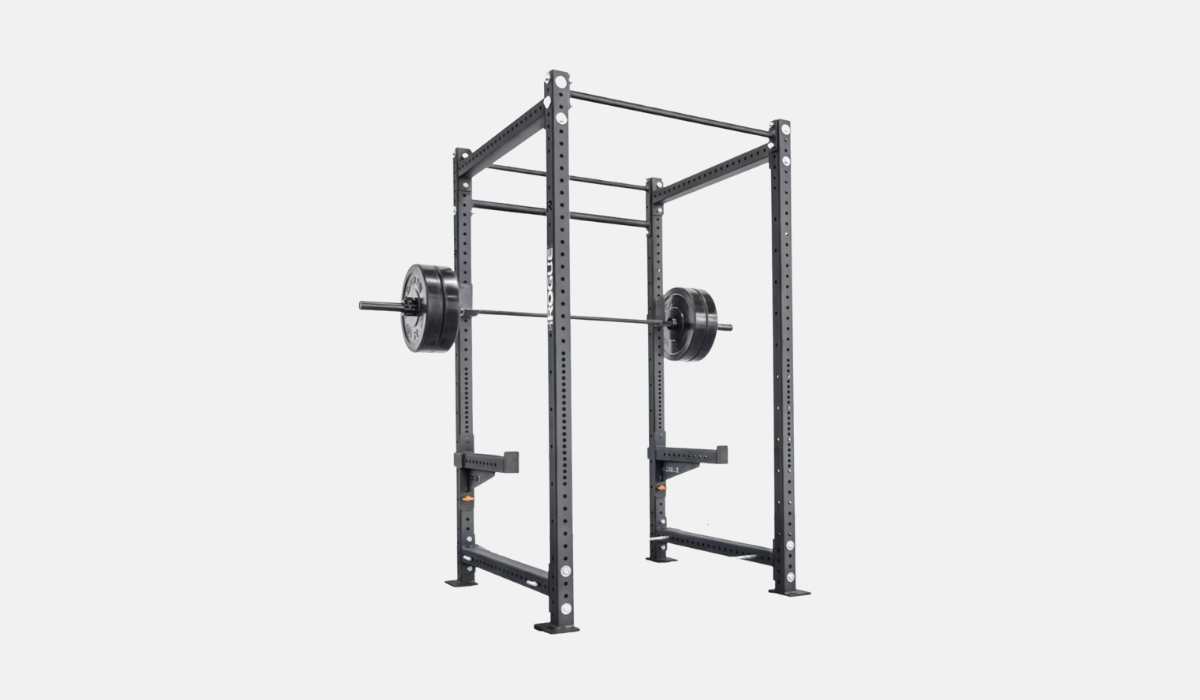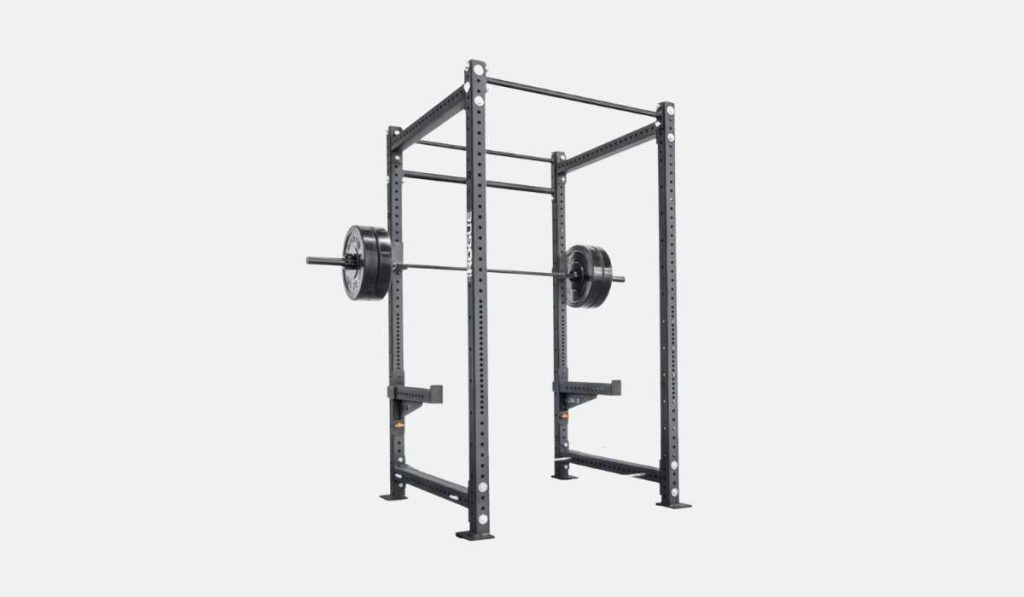 ---
More Squat Rack Guides and Reviews
7 Types of Squat Racks for Your Home Gym. Getting ready to build your own ultimate home gym? Welp, that starts with choosing the right squat rack for your workout goals. Here is a breakdown of seven types of squat racks.
The Best Short Squat Racks for Small Spaces and Big Workouts. Working with low clearance in your home gym? Here are the best short squat racks that are low in height but tall in features.
The Best Squat Racks with Pull-Up Bars (and How to Choose). Ready to take your pull-up training to the next level in the comfort of your own home? Here are the best squat racks with pull-up bars for every budget and lifter.