Wondering if the Rogue SML-2 Squat Stand is right for you? In this review, we'll look at this squat stand, including key features, who it's for, and much more.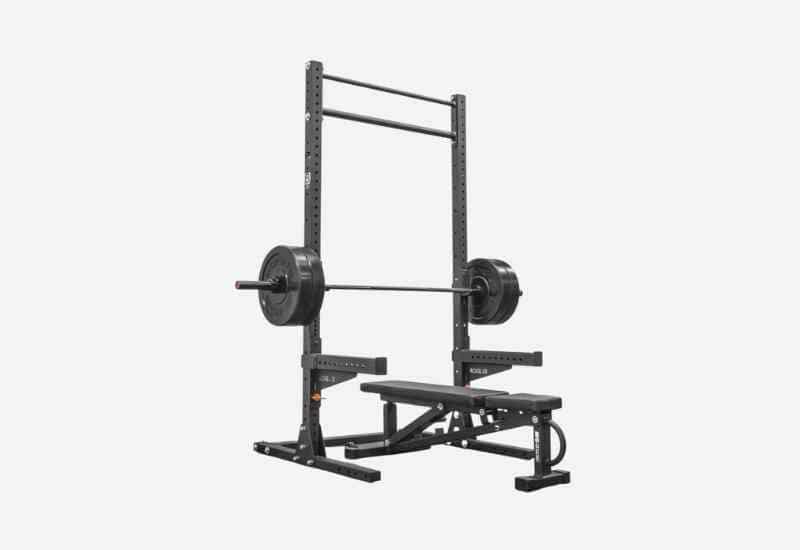 Squat stands are an excellent option for experienced lifters who want the ability to rack heavy weight while also minimizing their equipment footprint.
There are other benefits to squat stands, including:
⭐ Portable – you can move the stands around with ease. Tuck it away when not in use, bring it on out when it's go time.
⭐ Versatile – Squat stands, and the RML-2 is a perfect example of this, are almost just as effective as a regular rack in terms of functionality. Pull-up bar, safety arms, customization, and more.
⭐ Affordable – compared to squat racks, power racks, and even half racks, squat stands are the most affordable option for holding heavy barbells.
And just about no one does it better than the Rogue SML-2 Squat Stand.
In this review, I'll take you through the reasons I think it's the best squat stand on the market.
We'll look at key features, who it's for, and more.
Let's squat, err, jump right in.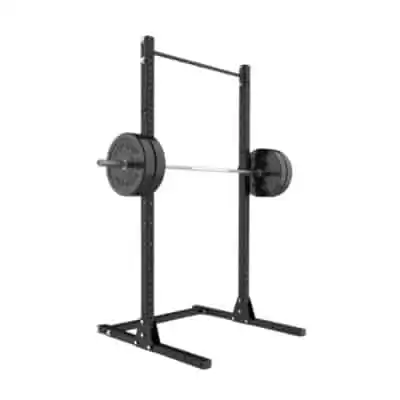 The Rogue SML-2 Squat Stand – Overview
Rogue is renowned for making exceptional strength training equipment.
Countless athletes use them on a daily basis, and combine that with the fact their racks and stands are made with American steel, in the United States, you've got yourself a one-two combo of awesomeness.
The Rogue SML-2 is part of the "S Series" of squat stands that Rogue makes.
Rogue's line-up on squat stands is extensive, but the SML-2 is my favorite for reasons that I will list below.
Rogue SML-2 Squat Stand – 6 Things I Love About It
Here is an overview of the things I like most about this squat stand:
Built like a Sherman tank
The frame of a squat rack/cage/stand is crucial.
Beyond the fact that it holds everything together, it needs to be able to handle a lot of weight coming at vertical and sometime horizontal directions.
The weight capacity of the Rogue SML-2 is 1,000lbs.
The SML-2 is built with the thickest uprights you will find at 3" by 3". The base is made with 2″ x 3″ bars.
The steel used, American-made, is 11-gauge, which is more than strong enough for even elite powerlifters and weightlifters.
Additionally, the SML-2 has steel gussets connecting the foot bars with the uprights for even more stability and strength.
Westside Hole Spacing
Westside Hole Spacing has become all the rage in recent years. Rogue first incorporated the smaller spacing between holes (25mm compared to the regular 50mm) in conjunction with Westside Barbell.
Since then, Westside Hole Spacing has exploded in popularity, with most popular racks including them.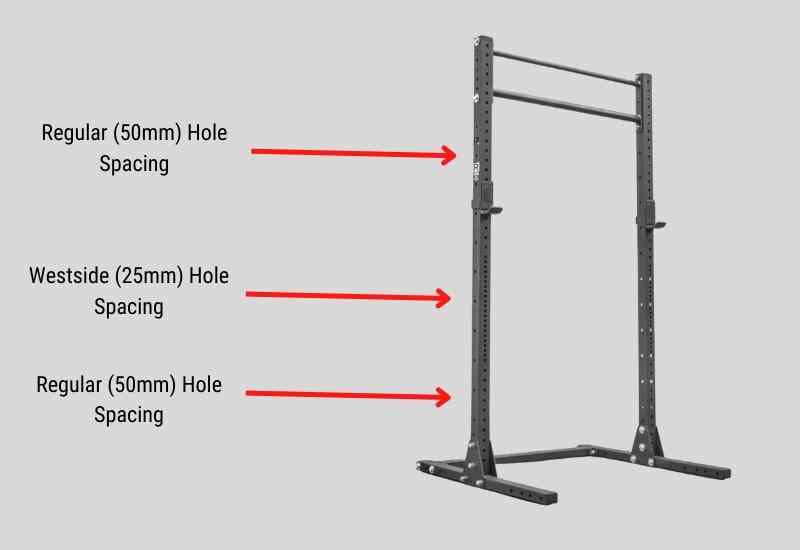 The added holes in the push-pull areas allow for a greater range of flexibility in where you place the J-hooks and barbell when unracking for your next lift.
Whether you are doing rack pulls or decline press, the increased hole options give you the maximum choice for bar placement.
Single or Double pull-up bar
Longtime readers of the blog will know that I am a pull-up nerd. They end up in most of my workouts, either doing weighted pull-ups for maximum power or as a finisher on heavy back days.
One of the limitations with squat stands is that they frequently don't have a pull-up bar. This is mainly because having a pull-up bar nulls one of the key features of a squat stand—it adds extra height and requires the two uprights to be bolted together.
While this feature won't appeal to every lifter out there—particularly those who want to be able to separate the uprights when putting them away, saving on space—I personally love the pull-up bar.
What's the difference between the Rogue SML-1 and the SML-2? The Rogue SML-1 is the most "bare bones" squat stand that Rogue offers. Unlike the SML-2, it doesn't have a pull-up bar and it's significantly shorter.
The SML-2 comes with a single 1.25" pull-up bar or, at no additional cost, a dually fat and skinny pull-up bar for grip variety.
Endless attachment options
One of the best things about Rogue racks in general is the wide assortment of accessories and attachments.
The SML-2, being part of the "monster lite" series, is compatible with the nearly 70 attachments that are part of this line.
Optional attachments include:
Weight plate storage pegs (highly recommended if you plan on keeping the squat stand in one place—they are great for stabilizing the stand)
Vertical barbell holder (keep your barbells off the ground)
Spotter arms (ideal for catching the barbell if you have to ditch it on a failed rep—in my opinion this should be included)
Wheel bracket set (tilt the squat stand when your workout is complete and you can roll it out of the way)
Floor mounting feet (used to bolt the squat stand to the ground for maximum stability and reduced wobble)
Band pegs (best used if the stand is properly weighed down or even bolted down)
And much more.
Rogue's racks are endlessly customizable, and with the line of monster attachments, you can make the squat stand truly unique to you and your training goals.
Monster J-cups included
Although there are a lot of attachments that need to be purchased separately, arguably the most important one, the things that hold the barbell between sets and reps, most definitely are included.
Rogue's Monster Lite J-hooks are some of the best in the business. They feature plastic inserts to protect the knurling on your barbell from getting chipped and damaged.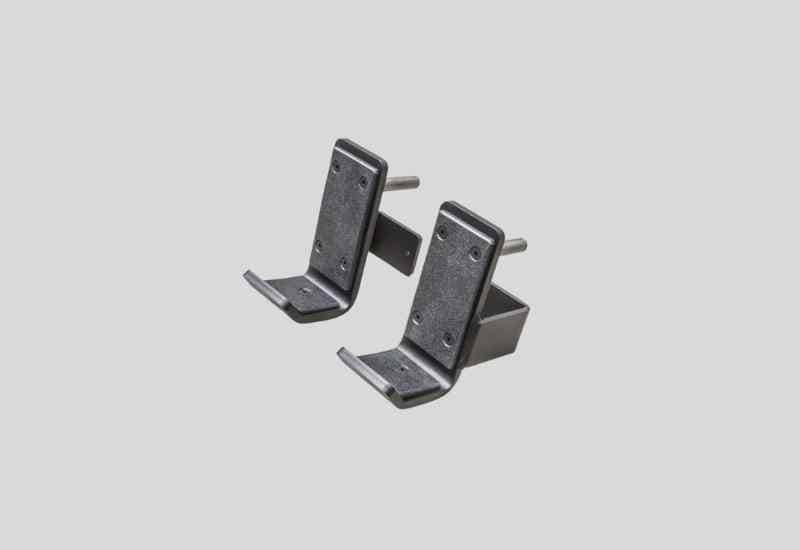 One of the issues I've had with cheaper J-hooks is that they rotate out of the uprights when racking a loaded barbell back onto the rack. Not the case with the Monster Lite J-hooks—they stay in place, so that you can rack the barbell with confidence.
The slim profile of the J-hook also makes it easier to drop the barbell into the hook.
Priced like a champion
Functionality and attachments aside, one of the best things I love about the SML-2 is the price point.
Look: you don't need me to tell you that squat racks can get hilariously expensive.
The SML-2 starts at just $525, which is an epic deal for stand that is a) made with the highest quality steel you will find in a squat rack or stand and b) going to last you about three-and-a-half lifetimes.
While the attachments can get the cash register ringing like a fire alarm (the Monster Lite spotter arms, for example, are almost $200), if all you need is a bombproof squat stand, the SML-2 is hands-down the best option on the market right now.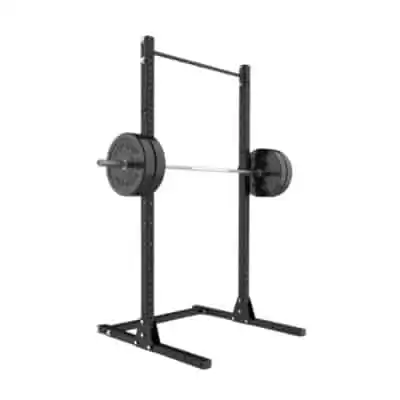 Things I Didn't Like About the SML-2
Despite all the ooh'ing and aah'ing, there was a bone that I had to pick with the RML-2.
Spotter arms not included
Readers that breezed through my review of the Rogue HR-2 Half Rack will pick up on a common theme with Rogue squat racks and stands—they don't always include spotter arms.
The RML-2 is another example of this. And not only are they not included, but if you want spotter arms for this particular unit, that's gonna cost you an additional $195 bucko.
If cost-savings is one of the prime drivers of your reason to purchase a squat stand, that added $195 gets you pretty close to power rack territory.
That said, if you are confident in your ability to ditch the bar safely, spotter arms may not be necessary.
Rogue SML-2 Squat Stand – Quick Facts
Height: 92"
Weight: 157 pounds
Base: 49" x 48"
Frame: 3" x 3", 11-gauge
Price: $525
Record: Undefeated
Where to Buy the Rogue SML-2 Squat Stand
The SML-2 is available exclusively at Rogue's official website. They ship everywhere in the United States, Canada, Australia, and most of Europe.
You can shop the SML-2 Squat Stand by clicking here at Rogue's website.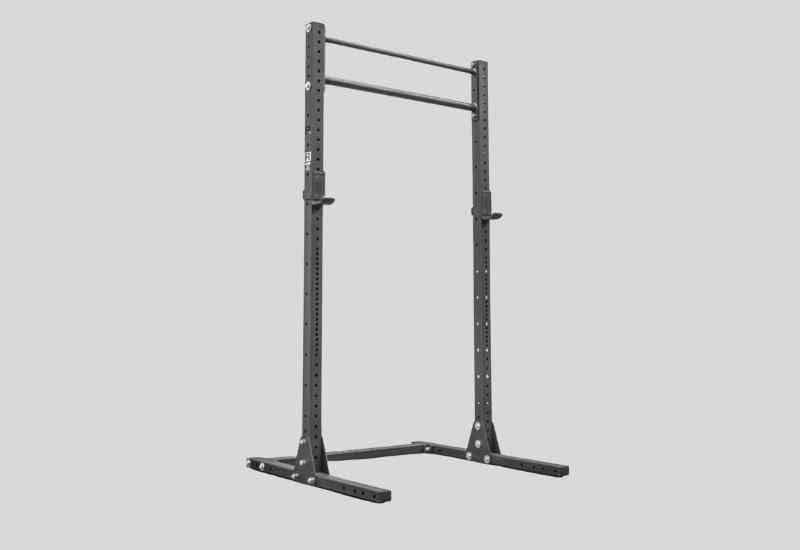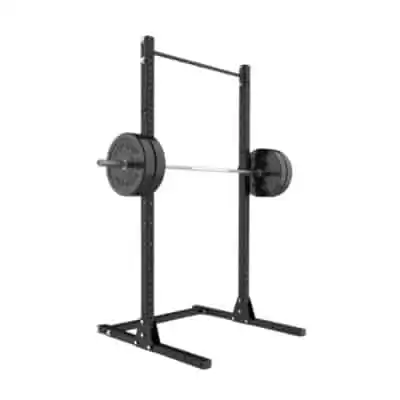 ---
More Squat Stand and Rack Reviews
Rogue R-3 Rack Review: The Ultimate Everyman Rack for Home Gyms. Rogue's R-3 Power Rack is one of the best racks on the market. From affordability to Rogue's legendary durability, the R-3 is a killer choice for your home gym. Here's why.
5 Best Folding Squat Racks for Saving Space and Big Lifts. Short on space and big on your lifting goals? Here is a breakdown of the best folding squat racks for home and garage gyms.