Looking for a fold back rack that is durable and keeps a low profile? Here's why the Rogue RML-3W is the top fold back squat rack on the market right now.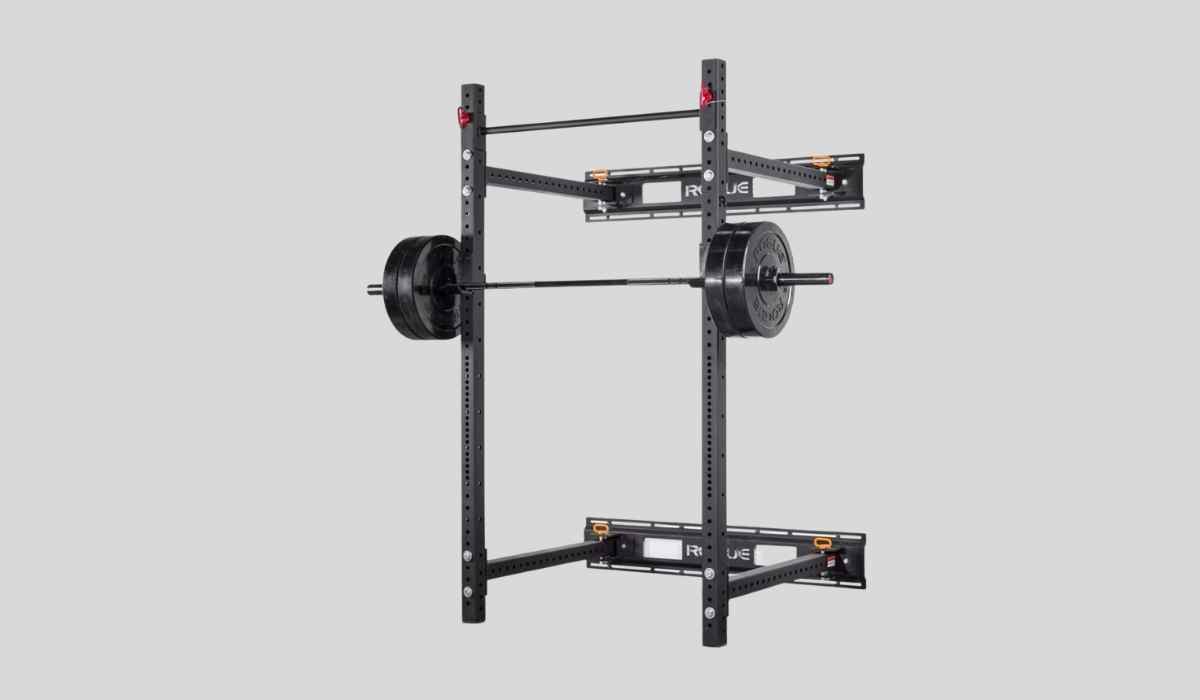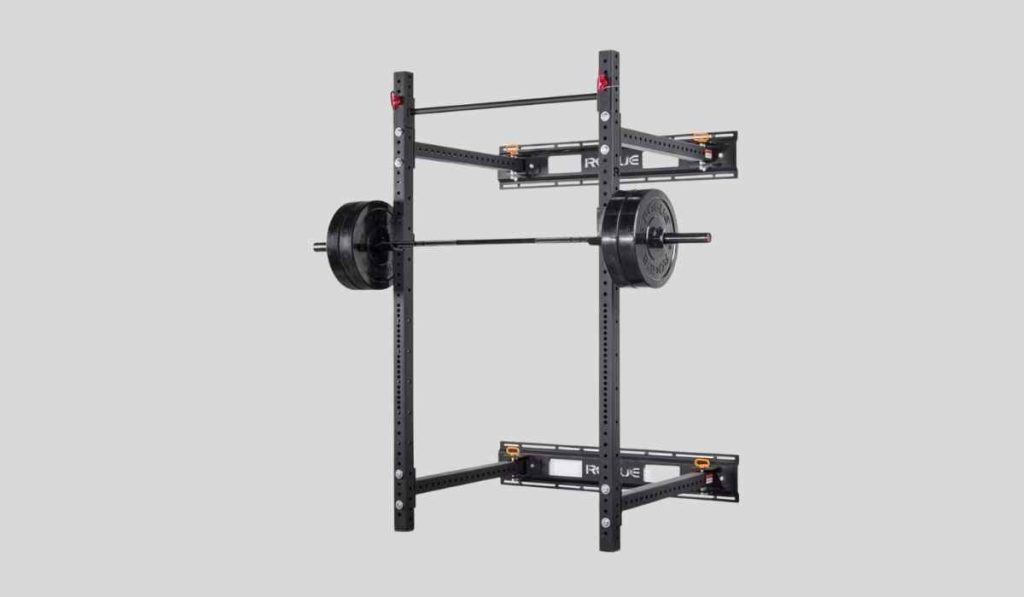 Folding squat racks are the best squat rack for people who are short on space or who want to fully maximize the area they have for working out.
Additionally, folding squat racks are simply badass.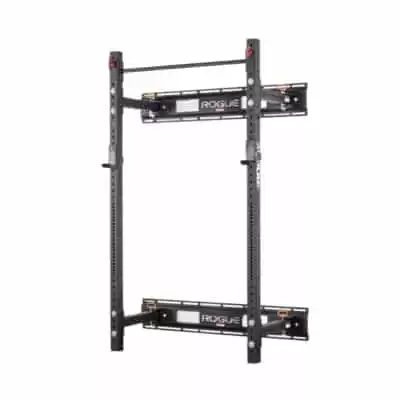 They combine the heavy-duty load capacity and functionality of a full-size power rack with the Batman-esque ability to swing it out of the way when not in use.
The Rogue RML-3W Fold Back Squat Rack exemplifies the best of what kind of features and capacity this form of squat rack can offer.
In this review, we are going to do a deep dive on the reasons the RML-3W should be your first choice when searching for the best folding squat rack for your home or garage gym.
Let's jump right in.
Rogue RML-3W Fold Back Squat Rack – What I Love About It
There is a lot to love about the RML-3W.
Here are the highlights:
1. Available in different depths.
Rogue's racks have become more and more specialized in recent years, with each rack customizable to some degree, whether it's customized colors, "Shorty" versions, or in this case, variable depths.
The RML-3W is offered in two different depths, 21.5" or 41.5" when fully extended.
Ultimately, the depth you choose comes down to how far out you want the rack to stick out from the wall.
Besides depth, keep in mind that the way they fold is a little different.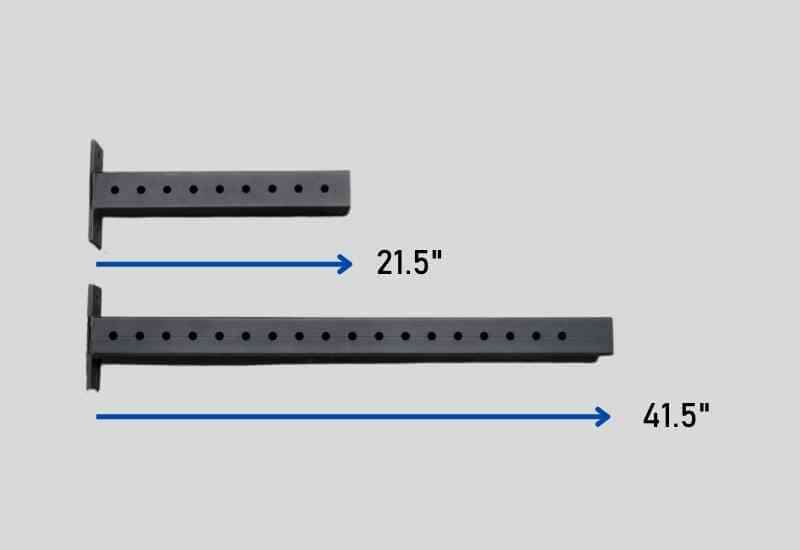 The thinner version can be either folded in or out, whereas the 41.5" can be folded in but will have some overlap and won't be perfectly flush against the wall.
To be perfectly flush with the 41.5" depth model, one side needs to get folded outward and one side inward.
2. Bombproof uprights and frame
One of the reasons I love Rogue gear—and Rogue squat racks in particular—is that they manufacture the racks and stands in the United States with American steel (sometimes Canadian steel, too).
The RML-3W is no exception to this. The uprights are made with 11-gauge steel, which more than strong enough for even elite weightlifters.
The thickness of uprights also provides extra stability and durability.
At 3" by 3", this is significantly thicker (and correspondingly, more stable), than the cheapo racks you are going to find on Amazon.
3. Tiny profile when folded up
Okay—we talked about how much the rack can extend when folded out. But what about when it's folded in?
The RML-3W, when folded fully back against the wall, protrudes just five inches.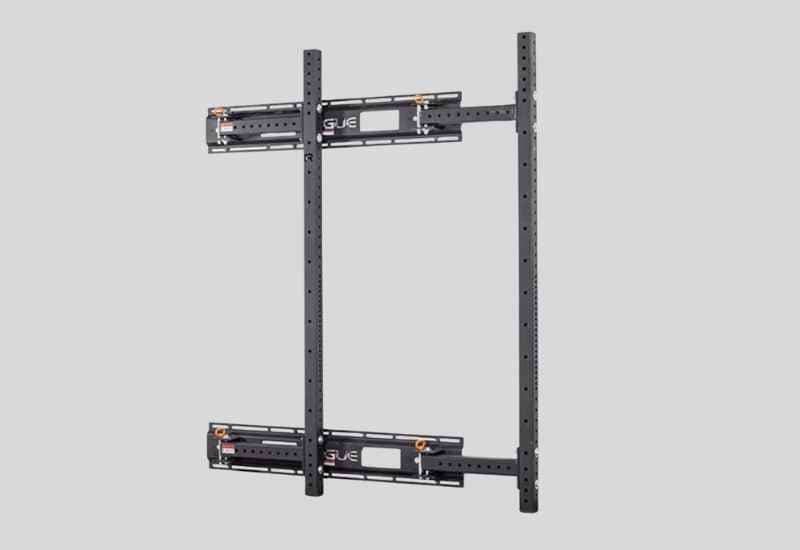 While this isn't the slimmest on the market—the PRX Profile One Folding Squat Rack is 4" when flush against the wall—it's inevitable with its thicker frame.
That tiny profile when folded up frees up your garage or workout area for other uses.
4. Lifetime guarantee on the frame and welds
Rogue guarantees the rack for life.
This includes the frame itself as well as the structural welds.
For those of you who have never installed or used a fold back squat rack in your home, there is some comfort in knowing that Rogue unequivocally stands behind the manufacturing of their racks.
5. Includes J-cups, pins and pull-up bar
Each Rogue RML-3W comes with J-cups that can be quickly and securely attached to the uprights for optimal bar placement.
These particular J-hooks (or J-cups, whatever floats your boat) have plastic pads on them that help to protect the knurling your barbells from getting damaged and also protect the J-cups themselves from getting scratched up from metal on metal contact.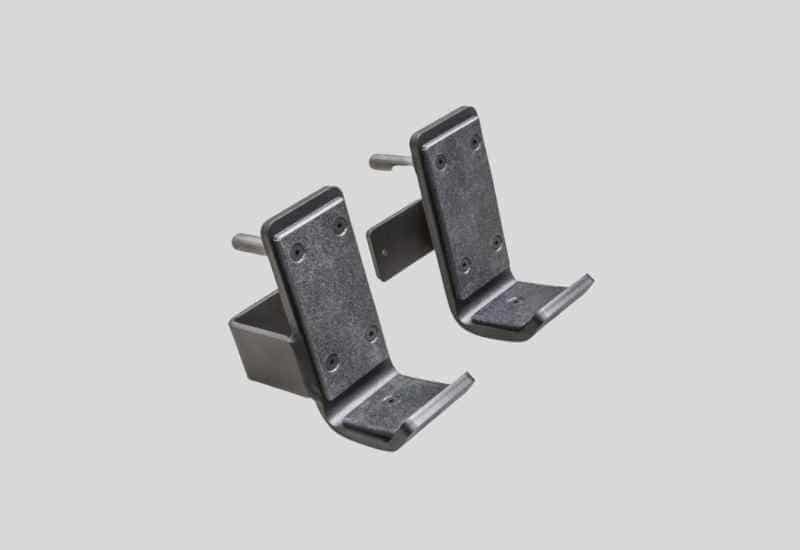 The RML-3W also has a straight pull-up bar which can be rapidly dropped into place and fastened with heavy-duty pins.
The pull-up bar also gives the rack a little extra added stability when folded out.
6. Tons of optional add-ons and accessories
Another thing that sets Rogue racks apart from others is their huge inventory of attachments and accessories.
The RML-3W (the "ML" stands for monster lite) has a large range of add-ons that you can use to accessories your rack.
Things like a matador (a dip station that can be quickly added and locked-in with a pin), plate storage (you'd have to keep the rack folded out to use it, obviously), and so on.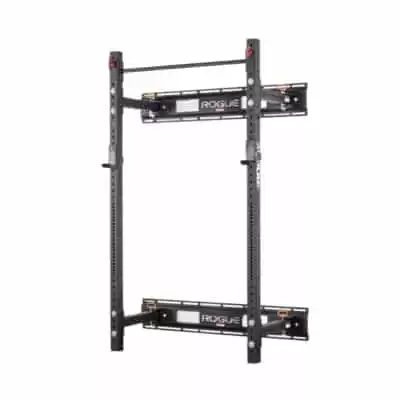 Rogue also has a range of other wall-mounted, space-saving storage options like vertical bar hangers, belt and band hangers, and more.
The one add-on I would definitely recommend purchasing when you get your RML-3W is a pair of stringers ($105). They help you get the most stable installation out of your fold back rack.
Unlike wooden stringers, these are made of 11-gauge laser-cut steel and they are made specifically for Rogue's fold back racks.
(I would add that the fact the stringers are sold separately should count as something that I don't like about the RML-3W… Rogue should be bundling them with the rack.)
7. Westside hole spacing
Over the past few years Westside Hole Spacing has become exceedingly popular with premium squat racks.
Rogue, in conjunction with the legendary barbell club, Westside Barbell, kicked it off, adding 25mm hole spacing to the push/pull areas on the uprights of squat racks.
Why is this important?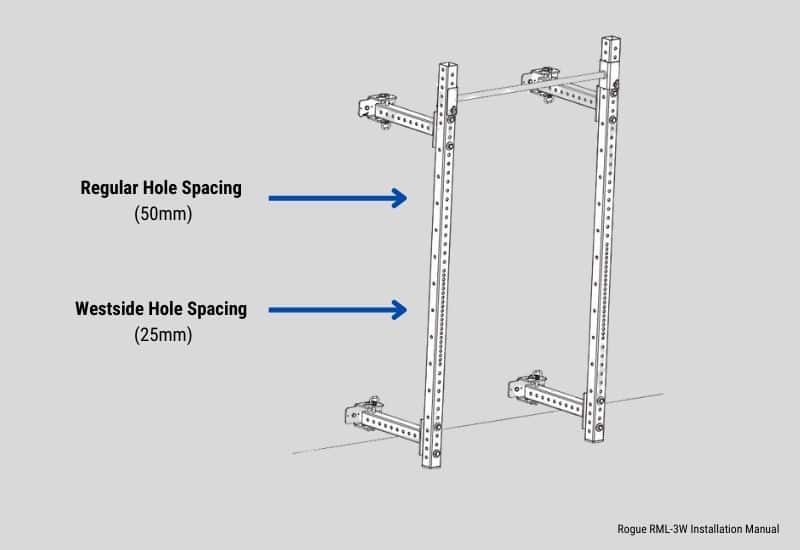 Well, more holes give lifters more flexibility in where they place the J-hooks and barbell when lifting.
The RML-3W features this hole spacing, with 25mm hole spacing through the middle of the uprights, and "regular" 50mm hole spacing above and below.
How hard is it to install the Rogue RML-3W fold back squat rack?
Installation difficulty and time varies (obviously) by your experience and whether you have a pal or two to help you install the rack.
The video below, produced by Rogue, shows a couple of guys installing the squat rack in just over 15-minutes.
This is obviously a best-case scenario with experienced installers, but if you've ever installed the bracket for a wall-mounted television, this should be fairly straight forward.
Once you have the wall brackets and stringers lined up and bolted, it's actually pretty simple from there. Mounting hardware is included.
What's the weight capacity of the Rogue RML-3W?
Great question! And this is a common question people have when researching a fold back squat rack.
The idea of attaching a squat rack to the wall and then using it for heavy lifts doesn't feel quite right.
But fear not.
According to the friendly folks at Rogue, as long as the installation is done properly, there would not be a weight concern with the rack, and hence, they haven't even listed a weight capacity on the product page for the rack.
How much is the Rogue RML-3W?
Rogue retails the racks starting at $600 (for the 21.5" depth model) or $700 (for the 41.5" model). Add in the pair of stringers, and the total cost of the rack is either $705 or $805 (plus shipping and applicable taxes).
Rogue sells them exclusively through their website, which you can access by clicking here.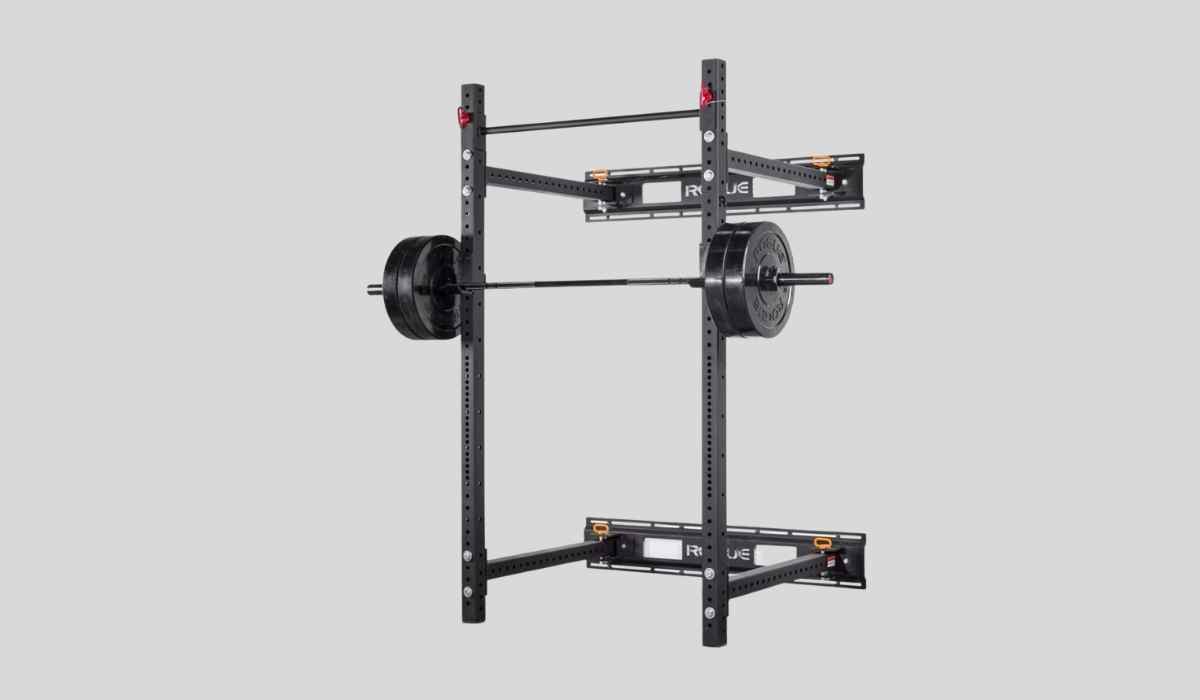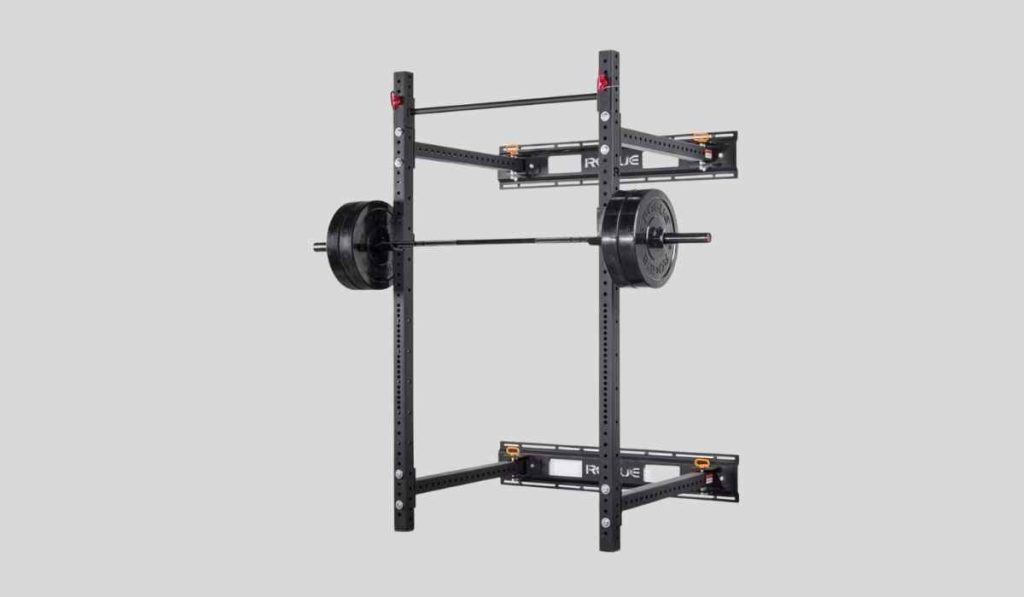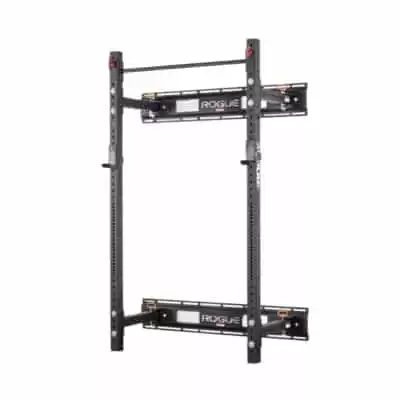 ---
More Stuff Like This
Rogue R-3 Rack Review: The Ultimate Everyman Rack for Home Gyms. Rogue's R-3 Power Rack is one of the best racks on the market. From affordability to Rogue's legendary durability, the R-3 is a killer choice for your home gym. Here's why.
5 Best Folding Squat Racks for Saving Space and Big Lifts. Short on space and big on your lifting goals? Here is a breakdown of the best folding squat racks for home and garage gyms.
6 Reasons the Rogue SML-2 Squat Stand Kicks Butt (Review). Wondering if the Rogue SML-2 Squat Stand is right for you? In this review, we'll look at this squat stand, including key features, who it's for, and much more.