The Force USA MyRack is a total game-changer when it comes to squat racks. Here's a detailed look and review of the MyRack Folding Squat Rack, including pros and cons.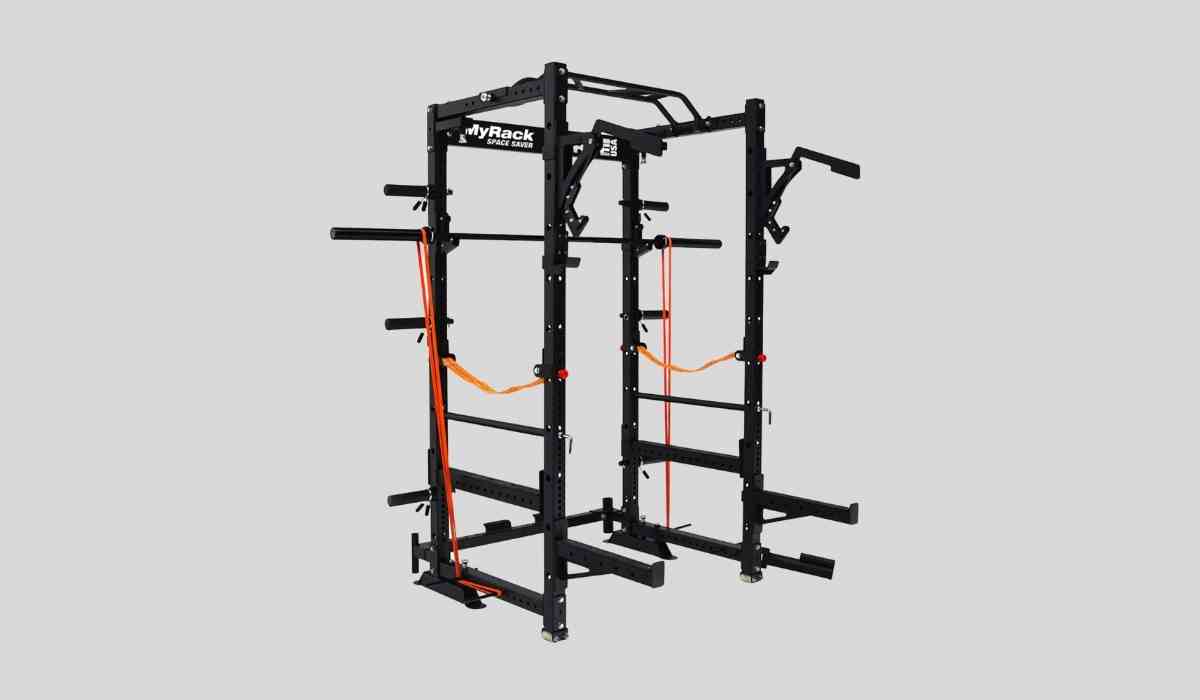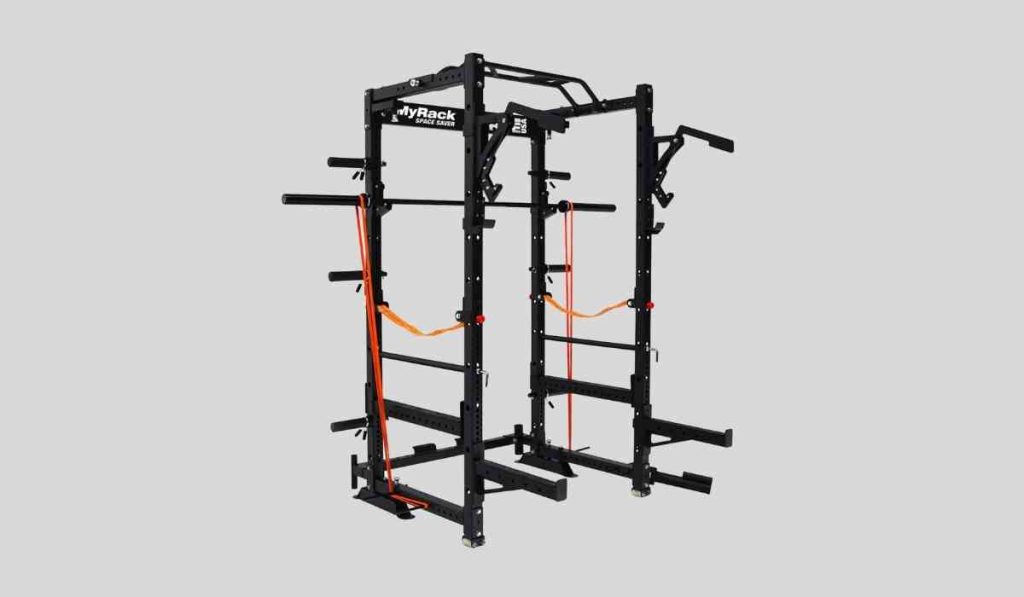 In the world of home gyms and squat racks, there are a TON of options to choose from.
Power racks. Half racks. Squat stands. Wall-mounted racks. And wall-mounted folding squat racks.
Within this ecosystem, there is one rack that stands within its own category…
The free-standing folding squat rack by Force USA.
In this full-length and hands-on review, we are going to take a look at the Force USA MyRack Folding Squat Rack.
This thing is…
Well…
It is something.
Let's jump right in.
The Force USA MyRack Review – What Is It?
The MyRack folding squat rack combines the best features of a free-standing squat rack with the space-saving benefits of a folding squat rack.
Is it a folding rack?
Is it a power rack?
Welp, it's both.
MyRack Folding Rack – What I Really Like About It
I'll try to keep the blushing and Bromance to a relative simmer in this review, but there are a lot of things that I really like about this specific rack.
1. It's a freestanding folding squat rack!
The MyRack doesn't need to be bolted or mounted onto the wall.
This is a huge bonus for obvious reasons—while everyone loves the idea of being able to fold a rack against a wall like a pair of freshly dried jeans, the idea of drilling the mounts and the rack properly and safely is a little more intimidating.
Not to mention, not all of us can drill into the studs in our residence (whether that's because it's a rental or we simply don't want to leave garish holes in the wall) nor do all of us want to.
The Force USA MyRack is THE alternative to drilling and hammering.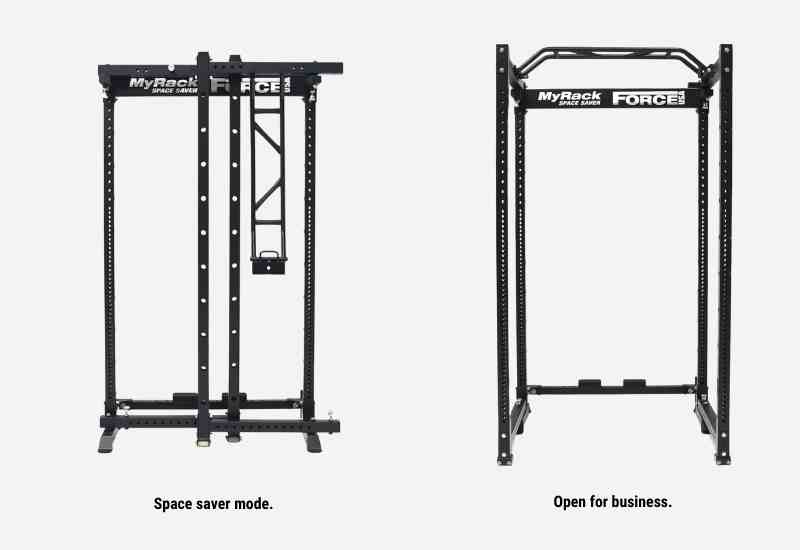 Another side benefit to this is that you have more flexibility with moving the rack around.
Once you drill a wall-mounted folding rack into the studs of your home, moving it around is going to be a total pain in the glutes.
The MyRack has an element of portability that is missing in other folding racks.
2. Tons of optional attachments
A squat rack is usually just the beginning of the home gym adventure for most lifters.
The next steps include customizing it so that you can expand the number of exercises that can be done with the rack.
Optional attachments include:
J-hooks (rated for over 2,500lbs)
Monolift
Safety spotter arms
Spotter straps (HIGHLY recommend getting these over spotter arms)
Dip handles
Weight plate holders for storing bumper plates and iron plates
3. Multi-grip pull-up bar included
Anyone who knows me knows that I love me my pull-ups! And I love playing around with different grips in order to activate different parts of my arms and back.
Which means that a multi-grip pull up bar is mandatory when it comes to my squat racks. While other rack makers (looking at you, Rogue) only include a straight bar with their racks, Force USA has a multi-grip bar that comes standard.
The pull-up bar also serves as a locking mechanism for the uprights when the rack is folded out.
4. Westside Hole Spacing
Westside hole spacing has become really popular with squat racks in the past few years, and with good reason.
The smaller spacing between holes gives you way more choices when it comes to J-hook and bar placement.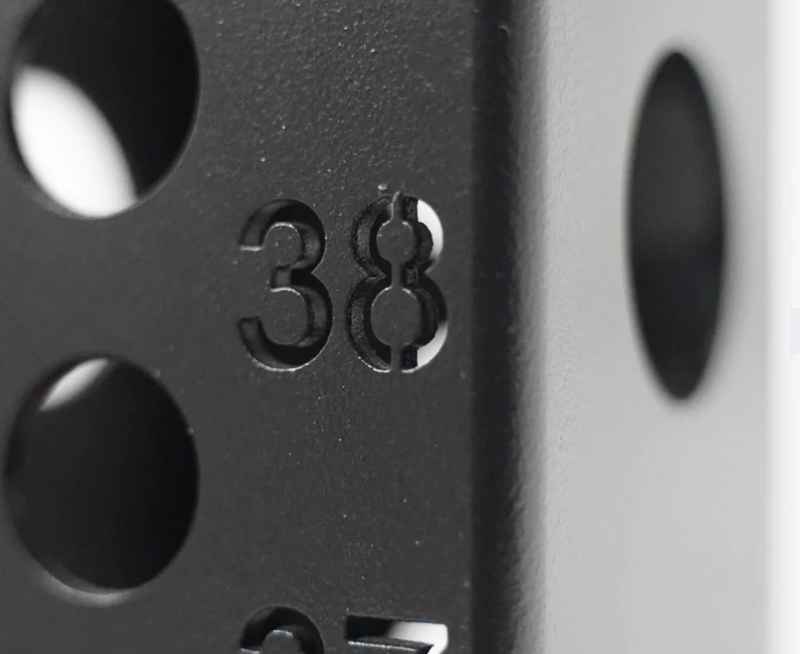 More holes means you can find a place to rack the bar that is comfortable for you. No over-extending to lift off or doing a partial lift to get the bar out of the hooks.
The MyRack has Westside hole spacing (1" between holes) in the pull/push area (where you would usually do bench press). The rest of the rack has 2" hole spacing.
5. The MyRack is rated for up to 2,000lbs
Let's be honest here for a second… None of us need a weight rating of up to 2,000lbs for a squat rack.
Bench pressing or squatting that much weight simply isn't in the cards.
The weight rating is more of an indication of how durable the rack is.
Although the weight capacity is important, a better indication of a rack's quality and durability is the gauge of steel used.
In the case of the MyRack, Force USA uses 12-gauge steel, which is more than thick enough for heavy-duty gym use.
6. Very easy to unfold
When folded up, the MyRack is about 20" (which is one of the downsides of the rack, which I will cover shortly), and when folded out it's 50" x 41".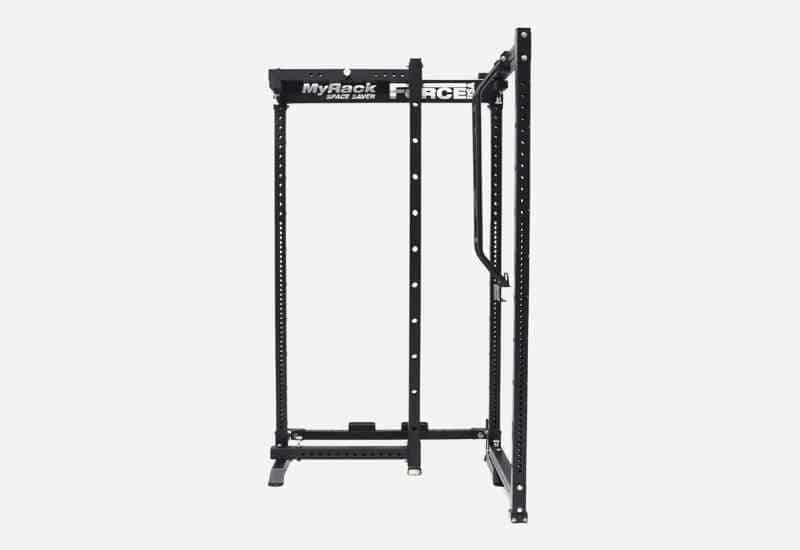 Folding out the rack is very easy—simply swing the uprights out (they are on rollers, so they won't scrape against the ground) and hook up the pull-up bar to the top columns.
Takes about five seconds to swing out the uprights and lock the pull-up bar in place and it's go time.
7. Lifetime warranty
Lifters get understandably apprehensive when it comes to big pieces of fitness equipment with lots of moving parts.
There have been so many new sellers in this space, pushing substandard products (I've gotten properly hosed by some third-party sellers on Amazon, for example), that it's natural to be cautious.
Force USA backs the structure of the MyRack for life. And perhaps more tellingly, anytime I've had questions about the products they offer, they've gotten back to me within a business day.
Force USA is based in the United States (Utah) and also makes its racks domestically with American steel.
Force USA MyRack – Things I Didn't Love
Okay, now that we've gone on and on about utterly and thoroughly rad I find this squat rack, there are a couple of things that I didn't super love.
Thick profile when folded.
When the rack is folded up, the rack is over 20" thick.
Now, I realize that this is nitpicking, and the reality is that I don't think they could make it any slimmer if they tried, but if you are after a truly slim rack when it's folded, this one isn't going to be it for you.
In comparison, here are the folded depths of other folding racks:
PRx Performance Profile – 4"
Rogue R-3W – 5"
Titan Fitness X-3 – 5-8"
Ultimately, the fact that you can crumple up a free-standing power rack into a 20" is wildly impressive, but not ideal if you really need to be able to maximize every last inch of your workout space for alternate uses.
The uprights are 2.4" x 2.4"
The sizing of the frame (at 2.4" x 2.4") isn't a hardiness or durability issue, but rather a compatibility issue.
One of the best parts about building out a home gym is customizing it to your tastes and workout goals.
While *most* major rack makers produce racks with uprights that are 3" x 3" thick, Force USA went with a 2.4" column on this rack to save space and make the rack fold up more easily.
The downside of this is that you will need to exclusively use Force USA attachments in order to individualize the rack for yourself.
The Verdict on the Force USA MyRack Folding Squat Rack – 9/10
At the end of the day, this rack is fantastic.
It's exceptionally well-built and engineered.
Has TONS of options for customization, from safety pins to spotter straps to a dip station, and it's backed by a lifetime warranty.
The one bone I have to pick with the rack is that they don't ship with J-hooks, knocking one point off my review, and giving the rack a 9/10 score.
The MyRack is available exclusively at Force USA's website, starting at $599.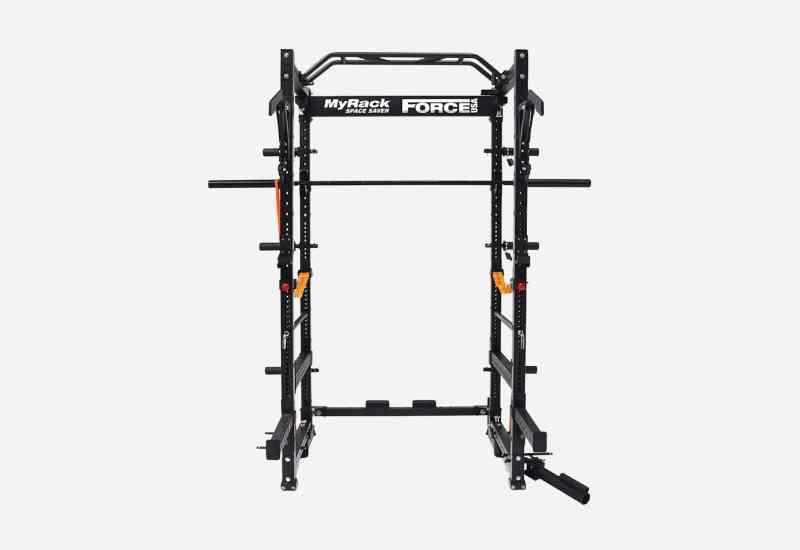 ---
More Guides and Reviews Like This
10 Best Squat Racks for Home and Garage Gyms. A squat rack is the best purchase you can make for your workout goals. Here's a detailed buyer's guide and the best squat racks on the market right now for home gyms.
6 Best Folding Squat Racks for Saving Space and Big Lifts. Short on space and big on your lifting goals? Here is a breakdown of the best folding squat racks for home and garage gyms.