The CAP Barbell Power Rack is one of the leading budget-friendly power racks that doesn't totally suck. Here's a deeper look at the rack, including its best features, some areas for improvement, and alternative racks at the same budget.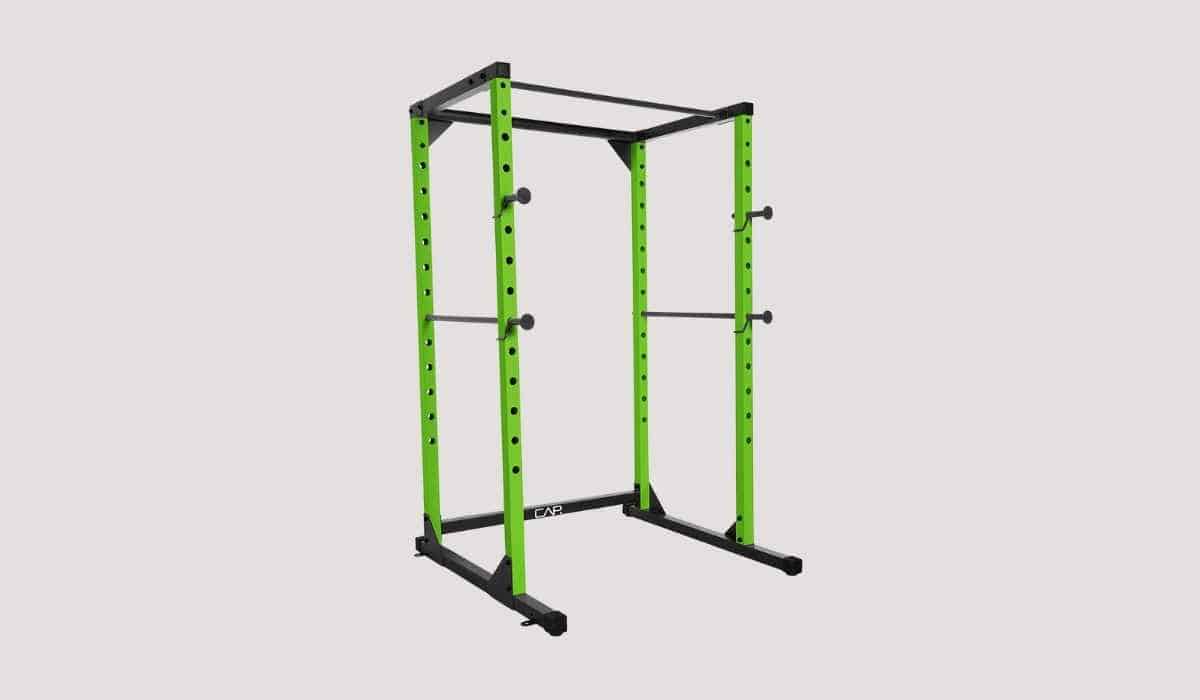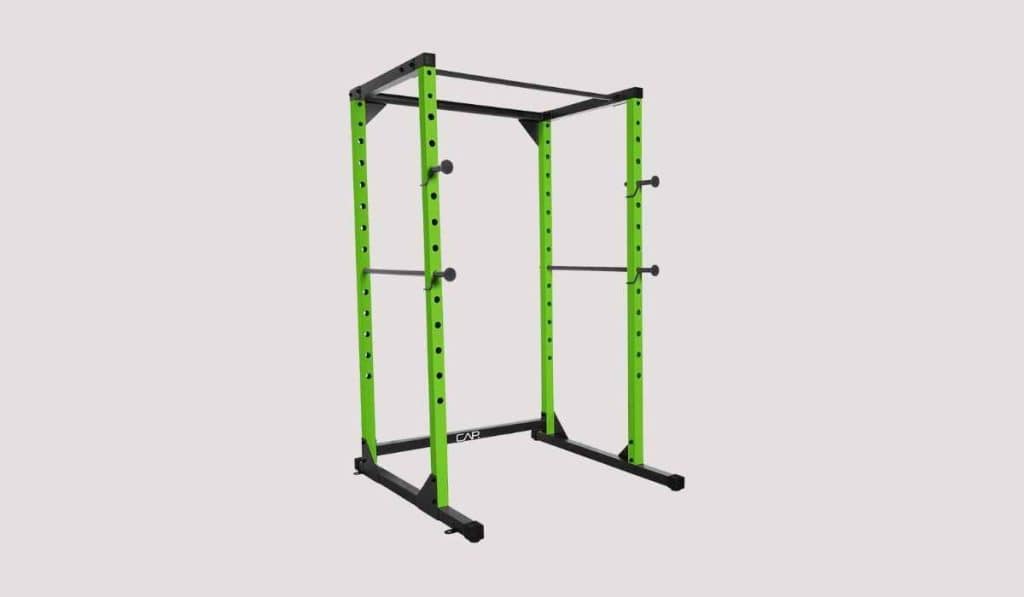 The CAP Barbell Power Rack is one of the best entry-level squat racks for home gyms.
At just over $200, it's priced to win, has tons of customization options, has a short version, and is strong enough for a majority of beginner and intermediate lifters.
In this review of the CAP Barbell Power Rack, we will do a deep dive on this excellent, entry-level squat rack, including:
The key benefits and pros of the rack. There is a lot to like about this rack! Although low in price, the rack packs a punch in terms of features and customization.
The things that maybe aren't so great. The rack isn't perfect—we'll outline some of the disadvantages to be aware of.
Alternative power racks that have similar specs. The CAP Barbell Power Rack has some peers—we'll quickly look at them too.
By the end of this review, you will have a clear idea of whether the CAP Barbell Power Rack is the right one for you.
Let's jump right in.
Things to Love About the CAP Barbell Power Rack
CAP Barbell is one of the best budget-friendly makers of strength training equipment.
They are also among the best squat rack makers you will find on Amazon (which is awash with crap third-party sellers promoting poor-quality racks).
Here's what I really like about this rack:
Available in three different colors.
Aesthetics are important, as much as we like to tell ourselves and others that it isn't, and CAP offers this rack in three different color combinations, including black, energy green, and red.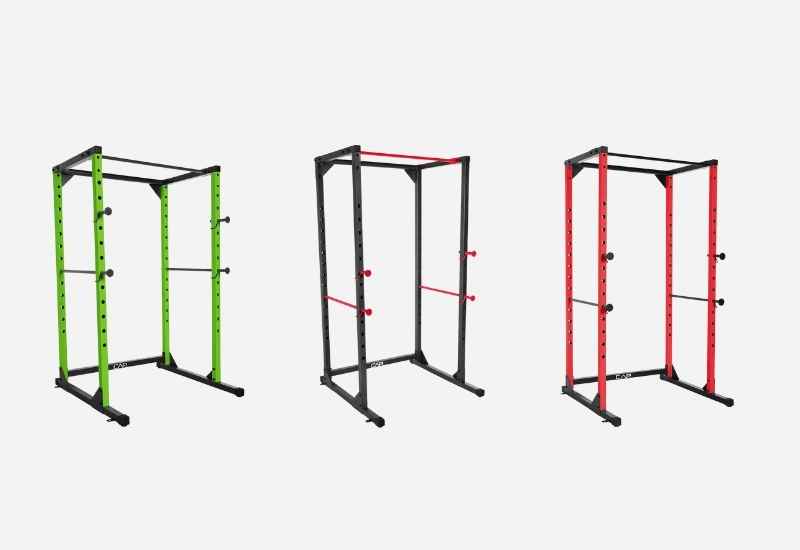 Combine that with the powder-coat finish, and you've got a really good-looking rack that matches the look of your home gym.
Shorty version (perfect for basements and low ceilings).
The CAP Barbell rack is one of the best short squat racks on the market.
It's available in two height options (6' and 7') which makes it an excellent option for home gyms that have a low ceiling or are located in the basement.
Safety pins and chrome catches included.
A squat rack is only as helpful as it can hold weights up in the air and provide a spot for you when pushing heavy weights.
The rack ships with safety pins (use these for spotting when doing heavy lifts inside the cage) and catches, which are a form of J-hook to hold a barbell aloft between sets.
See also: The 14 Best Attachments for Your Power Rack (and Where to Buy)
Powder coat finish.
Squat racks take a lot of abuse over the years, from barbells getting dropped on them to hanging on them for pull-ups.
But one of the sneaky opponents to rack longevity is moisture and humidity.
Steel is strong but not impervious to the effects of rust and corrosion.
The rack is finished with a powder-coated finish to maximum longevity, while the attachments are polished with zinc.
Real friendly on the budget.
There isn't a cheaper full-size power rack on the market than the CAP Barbell Rack.
At just over $200, you truly cannot beat the price. The same goes for the attachments for this rack, which are almost hilariously inexpensive compared to other brands.
For example, a set of Olympic plate holders (which are an excellent option to store your bumper plates and weigh down your rack for added stability) are just $24. A dip attachment goes for just $40.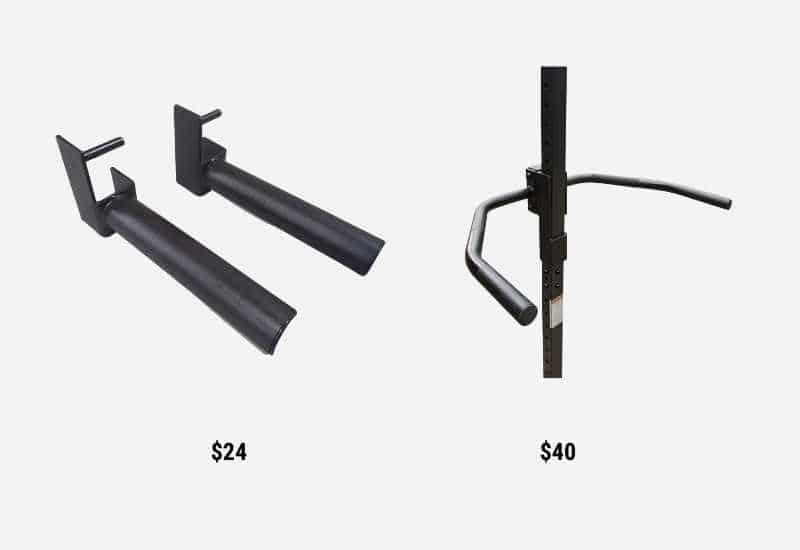 And so on.
You can see a full list of the attachments for the rack on Amazon here (38 results the last time I looked).
With the CAP Barbell Rack, you can get a fully kitted-out rack for full-body workouts for just a few hundred dollars.
Perfect for beginner and intermediate lifters.
The light frame, low price, and no-frills safety attachments are perfect for the lifter who doesn't need the steel frame of a tank with their squat rack.
There are not a lot of quality low-priced squat racks—the welds on "budget-friendly" racks often leave a lot to be desired—but the CAP Barbell is amongst the best in the low-budget crowd.
The static capacity for the catches is 500lbs and the load rating for the pull-up bar is rated for up to 750lbs, which is more than enough for beginner lifters.
CAP Barbell Power Rack – The Cons
Alrighty, so all that being said, there are some cons to this particular rack.
Frequently out of stock.
While this problem is by no means specific to CAP Barbell, with lots of strength training equipment companies dealing with supply shortages in recent years, this rack is sold out a lot on Amazon.
It's often found on international storefronts on Amazon (for example, as I write this, it's available on Amazon Canada's storefront for around $500 but is sold out on the USA Amazon site).
Unfortunately, as is the case with a lot of strength training equipment, especially the more popular racks, it's often out of stock.
You'll want to upgrade the catches to J-hooks.
Secondly, I'm not a huge fan of the zinc-coated catches that they include with the rack.
There are two reasons for this:
First, they aren't as sturdy as a good J-hook or J-cup. The bar doesn't sit tightly on a catch.
And second, because the catches are quite long, the bar will roll a bit, usually leaving the barbell on an angle if the rack is even a little bit uneven.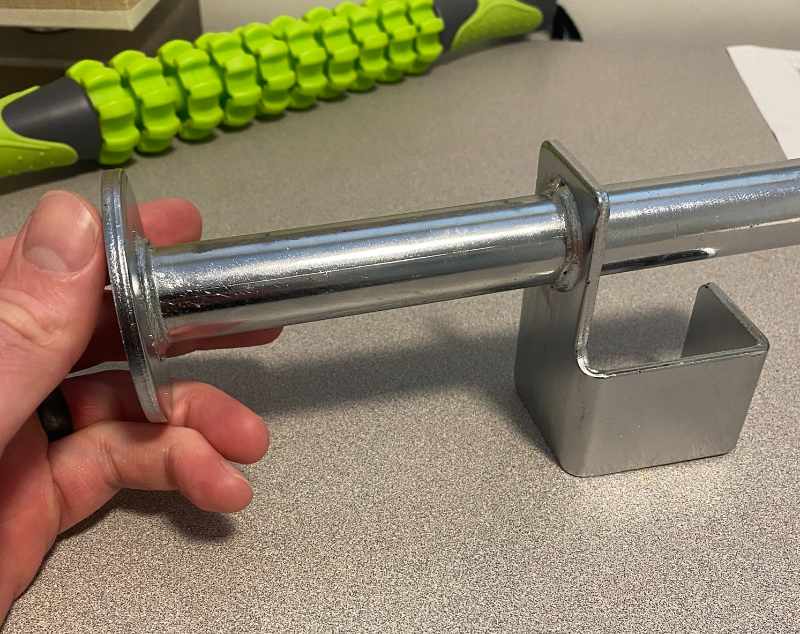 This isn't a huge deal for most people, but if you are lining up to do a heavy bench press, and the left side of the bar is three inches further away from you than the right side, it leaves you at a mechanically disadvantaged position.
For this reason, invest in a pair of J-cups. They are way more sturdy, the barbell won't roll, and you can begin each lift with a straight bar.
Does the CAP Barbell Power Rack have to be bolted down?
The rack does not have to be bolted down. The CAP rack is basically a flat-footed squat rack, with extra depth at the front of the rack for added stability.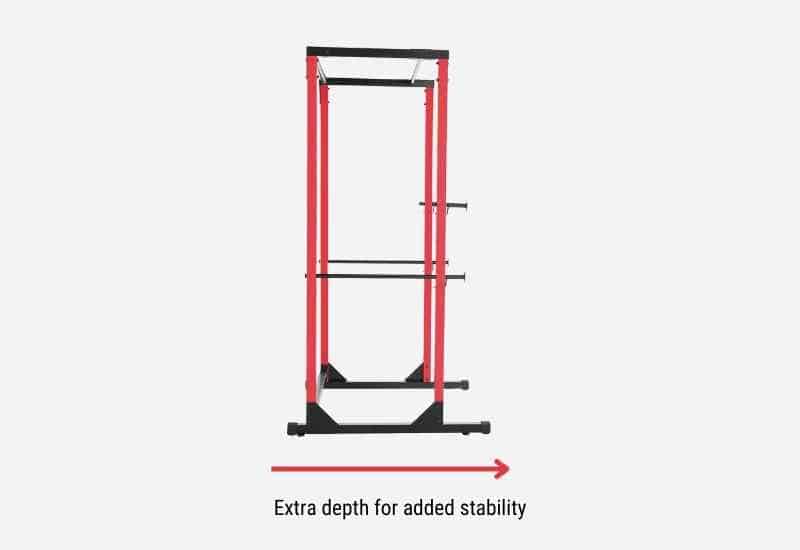 There are four anchor holes that you can use to drill the rack into your floor or into a lifting platform, but as long as you are doing the heavy lifting within the rack (and not hanging off of the side of it), the rack is plenty stable.
If you want to add more stability without bolting down the power rack, you can add a couple of weight storage pegs to the lower rear of the rack and load it with weight plates to weigh it down.
---
What are some racks comparable to the CAP Barbell Power Rack?
Glad you asked! We've reviewed a metric ton of racks over the years.
Below are the two that come closest:
Titan Fitness T-2 Series Power Rack
Shortest rack on the market (71″)
2″ x 2″ steel frame construction
Include J-hooks, safety pins, and plate storage pegs
19 additional attachment options (including a ten-inch extension kit)
(We've also compiled a more in-depth of this specific squat rack, which you can read here: Titan Fitness T-2 Series Power Rack [Full Review])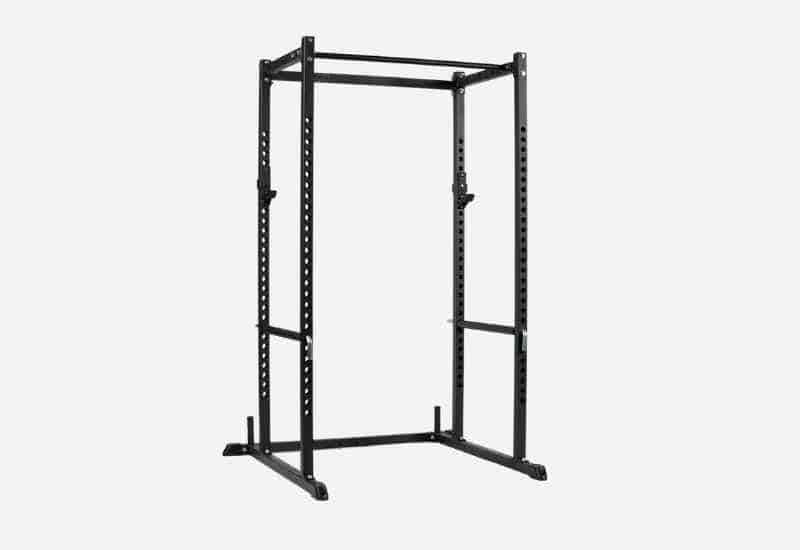 ---
REP Fitness PR-1100 Power Rack
Our top overall pick for the best budget squat rack
2" x 2" 14-gauge steel frame
3" hole spacing
85" height (REP also has a shorty version with the PR-1050 that is about a foot shorter)
Available in four different colors
Read our full review of the REP Fitness PR-1100 Power Rack here.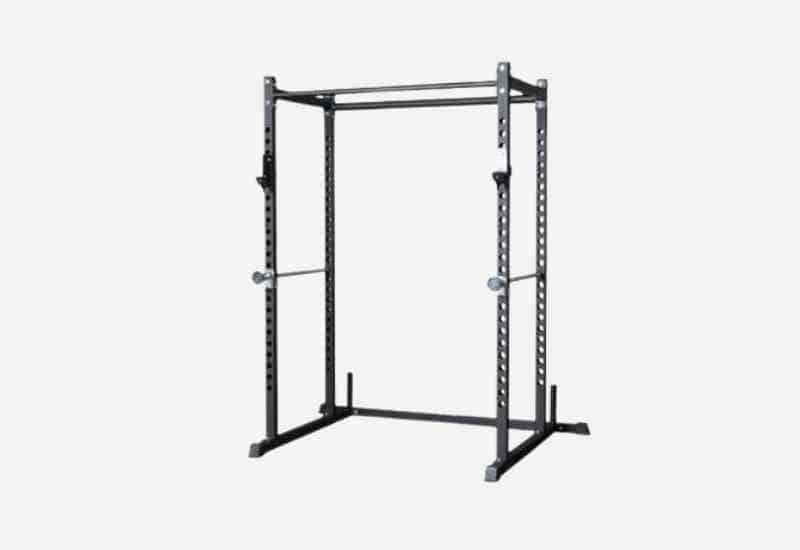 ---
The Bottom Line
The CAP Barbell Power Rack is an absolutely awesome squat rack for first-timers looking to build a home gym.
It's got all of the basics covered, is extremely budget-friendly, and has some great options for both color finishes and height options.
For people who are absolutely determined to buy a rack via Amazon, it's a no brainer. For the rest, there are comparably priced racks (with more attachments and features) out there for you to try.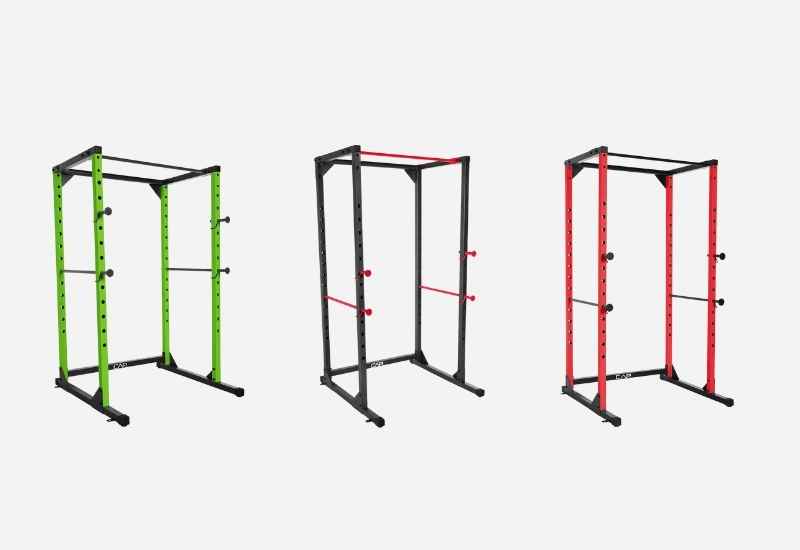 ---
10 Best Squat Racks for Every Home and Garage Gyms. A squat rack is the best purchase you can make for your workout goals. Here's a detailed buyer's guide and the best squat racks on the market right now for home gyms.
Rogue R-3 Rack Review: The Ultimate Everyman Rack for Home Gyms. Rogue's R-3 Power Rack is one of the best racks on the market. From affordability to Rogue's legendary durability, the R-3 is a killer choice for your home gym. Here's why.