Looking for a detailed review and comparison of the REP Fitness PR-1100? We've got you covered. In this review, we look at the specs, pros, cons, and closest competitors to the PR-1100, one of the best entry-level squat racks for home gyms.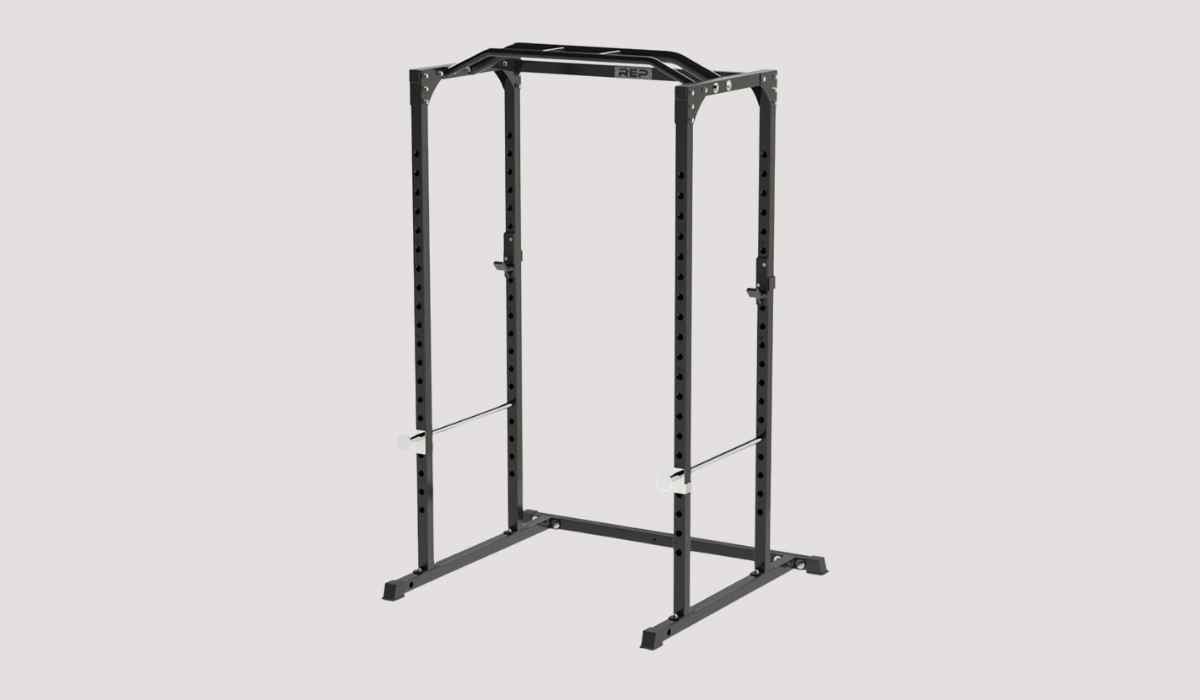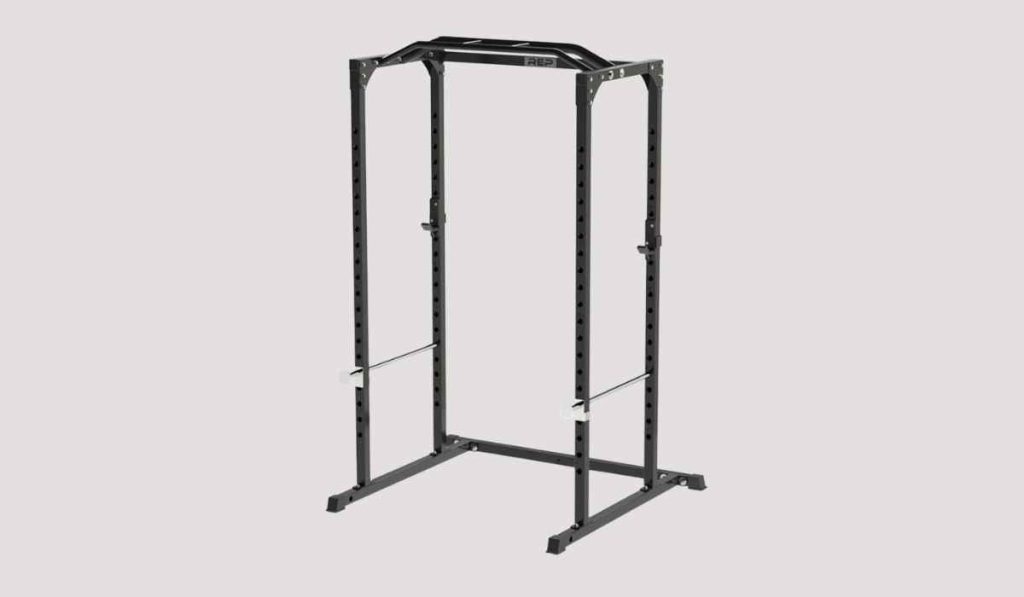 Budget-friendly, durable, and perfect for the beginner and intermediate home gym, the REP PR-1100 Squat Rack is a perfect blend of being easy on the wallet while still going hard to the paint with features.
At less than $400, and available in a shorter version (the REP PR-1050), the PR-1100 is an excellent entry-level squat rack for the beginner home gym enthusiast.
Here is a deeper look and review of the key features of the REP PR-1100 and where it stands compared to other REP Fitness racks
We'll examine the pros of the rack, cons, and also compare it to other similarly-priced squat racks.
By the end of this review, you will have a clear idea of whether the REP PR-1100 is the right squat for you and your home gym.
Let's go.
❤️ Things We Really Like about the REP PR-1100
Here are the key things that we really liked about this particular squat rack.
Extremely budget-friendly.
Welp, may as start off with the leading feature, and that's the price.
The PR-1100 costs just $379.
When it comes to squat rack cost, pricing varies widely. The $300-400 range is about as cheap as it gets without sacrificing on quality too much.
While there are some other racks that are cheaper upfront, the PR-1100 is a better budget buy for the fact that it's made by a reputable strength training equipment brand.
(Oh–and shipping is included!)
Flat-foot design that doesn't have to be bolted down.
One of the main concerns friends have when discussing investing in a squat rack is getting the stability they want out of the rack.
This usually means bolting the squat rack down, whether that's into the concrete floor of the garage or basement or into a dedicated lifting platform.
The REP PR-1100 does not have to be bolted down as it's designed with a flat-footed design that promotes stability and safety when lifting inside the rack. (See also: What is a Flat Foot Power Rack? Pros, Cons, and More)
A simple way to better anchor your rack is to store weight plates on the back of the rack or using optional weight storage pegs.
Available in multiple colors.
What's better than having a squat rack in your home or garage? Having a squat rack that turns heads.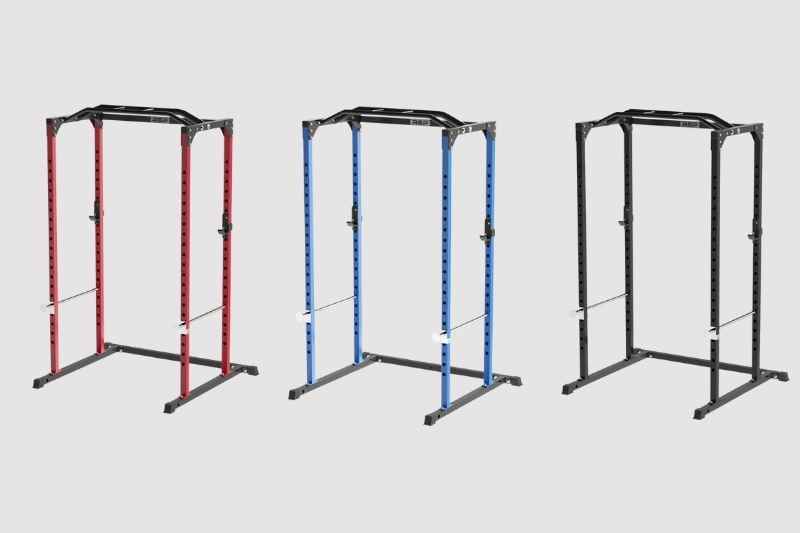 REP offers the PR-1100 in three different colors, including metallic black, red, blue, or matte black.
While a good-looking squat rack may not help you lift more on leg day, it may just motivate you to spend more time in your home gym.
Attachment options galore.
While the PR-1100 doesn't offer as many options as some of the other similarly priced racks on the market, they do offer some excellent upgrades, including:
Lat pulldown attachment ($259)
Weight Storage – also great for adding depth and stability to your rack ($219)
Dip station ($79)
Landmine attachment ($89)
And more.
When investing in a rack for your home gym, adding power rack attachments turns it into a true home gym, and the add-ons that REP offers with their line of 1000-level racks is more than respectable.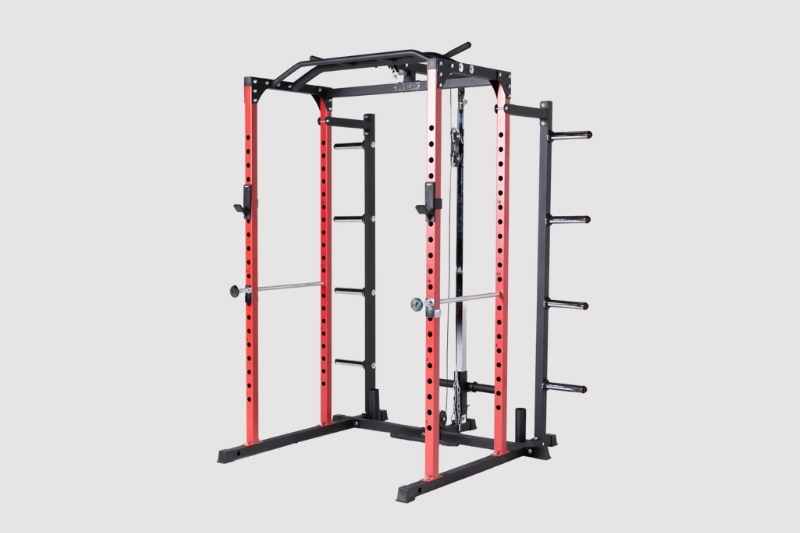 Numbered uprights.
Numbered uprights are a feature more commonly seen in premium squat racks, not with budget power racks.
It's an underrated and "simple" feature that can save time and frustration when blazing through a workout that requires different barbell heights.
Sure, you could mark the uprights yourself with chalk, but numbered uprights simply looks better.
Lining up the J-hooks and safety pins is faster and easier when you can accurately place them in the right holes each time you move them around.
Numbered uprights is one of those super simple features that can solve repeated moments of frustration during your time in the home gym.
Upgraded J-cups (instead of safety catches) included.
Most squat racks at this price point offer chrome-plated safety catches to hold your barbell between sets.
These types of catches okay, but far from optimal. There is usually an extended handle that means your barbell will roll between sets, leading to uneven lift-offs.
Additionally, the J-cups (also known as J-hooks) that REP ships with the rack are plastic-lined, which will protect your barbell as you chase those gains.
J-cups make lifting easier (well, maybe not easier, but definitely more convenient), protect your equipment, and look better on the rack.
The PR-1100 is in stock with free shipping.
Hallelujah!
Buying a squat rack online over the past couple of years has felt like a lottery at times, with racks consistently out of stock or awaiting restocking, or simply discontinued (this happened A LOT with many of the dodgy third-party sellers that littered Amazon).
REP Fitness is a) an extremely reputable brand based in the USA with actual customer service and b) they have the PR-1100 in stock and offer free shipping for the rack from their warehouse in Pennsylvania. (You can pick up the rack at their warehouse if you are in the area, too.)
REP PR-1100 Squat Rack — Things That Could Be Improved
While I really like the REP PR-1100, there are some things that could be improved, or at the very least, people should be aware of when hitting the add-to-cart button:
Thin steel frame.
14-gauge steel is the thinnest steel you will see in a home power rack.
This is just the reality about buying a bargain-basement squat rack—if you want the 11-gauge or 12-gauge steel racks, you are going to have to invest a few more hundred dollars for the added steel.
(And if you want a 7-gauge steel frame, which is basically a tank disguised as a squat rack, you will be paying thousands more.)
That said, for most entry-level home gym users, a 14-gauge steel frame will be more than suitable for durability and stability.
And let's be honest, with the price of steel unlikely to go anywhere but up, the less-than-$400 price point is a steal.
(Ha! See what I did there… "steel"… "steal"…)
3" hole spacing.
This probably won't be a dealbreaker for most users, but I would have liked to see 2" hole spacing on the uprights for more flexibility on where to set-up my J-hooks and barbell.
How Does the PR-1100 Compare to Other Budget-Friendly Squat Racks?
Still not sure how you feel about the PR-1100?
Fortunately, there are plenty of options for squat racks on the market that won't drop-kick your bank account into oblivion.
Here's how the rack compares to others in its price bracket:
CAP Barbell Power Rack
⭐ Closest match in terms of features and color options
Available in two height options (72" and 84")
Three color options to choose from
750lbs Rack capacity
Uses safety catches instead of J-cups
Frequently out of stock on Amazon ☹
Full review of the CAP Barbell Power Rack here.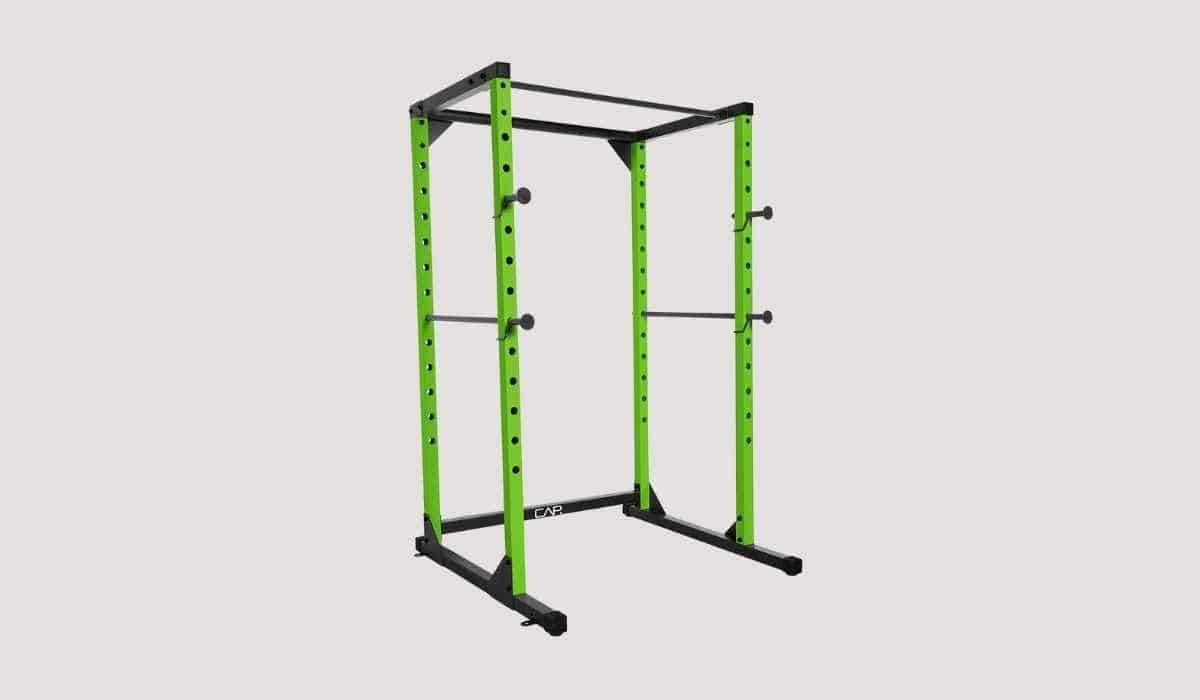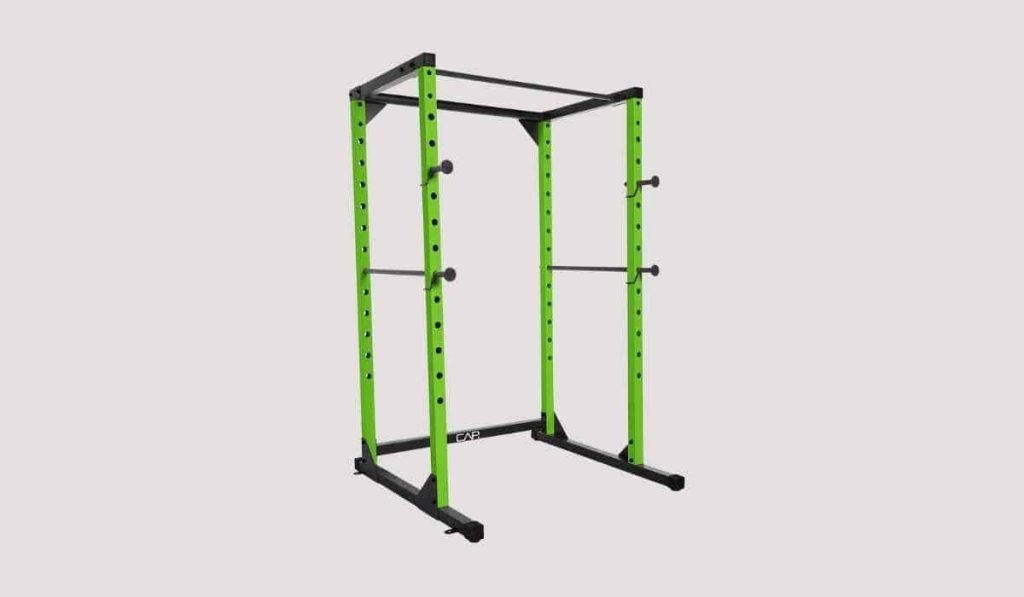 Titan Fitness T-2 Series Power Rack
⭐ Best alternative if you want a slightly stronger rack
Available in two height options (71-inches or 83-inches)
Flat-foot design
Rack capacity of 850lb
Includes J-cups, safety pins, and weight plate storage pins
Priced at around $350-399 depending on height
See our full review of the Titan T-2 Series Power Rack here.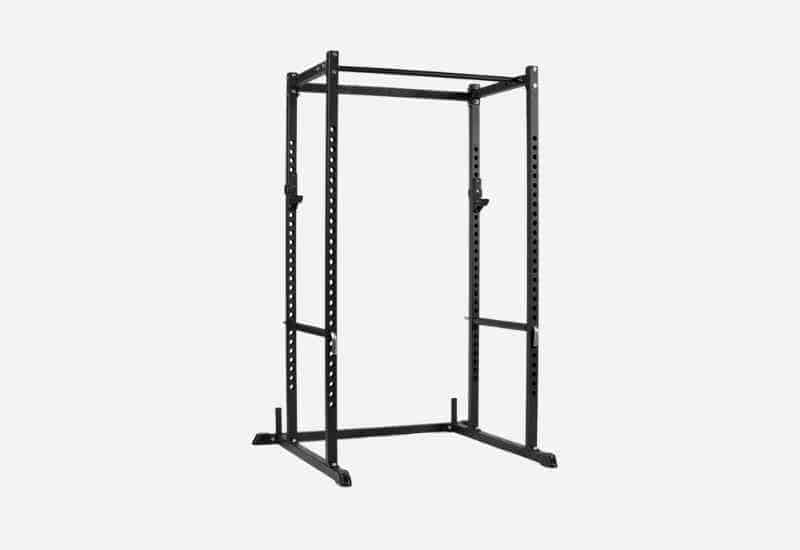 REP Fitness PR-1050
⭐ Best alternative if you want the PR-1100 but shorter
The "shorty" version of the 1100 – 72" tall instead of 83"
Rack capacity of 700lbs
Dual pull-up bars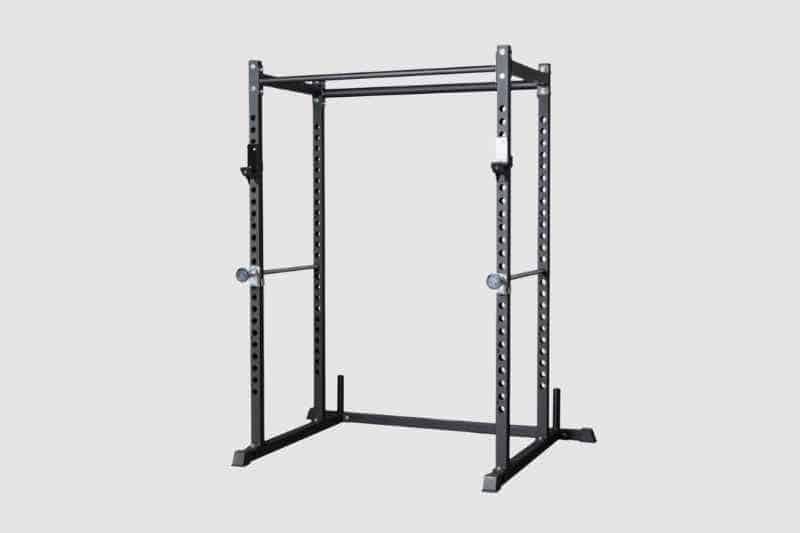 The Bottom Line
The REP Fitness PR-1100 squat rack is an excellent rack for entry-level lifters who want a rack in their home that can handle significant weight, doesn't need to be bolted down, and won't damage your barbell.
Built by a reputable company (ha–REP…reputable…okay, I'll stop now), the PR-1100 is a killer option for people who want a quality rack that can handle decent weight with a fair amount of customization options.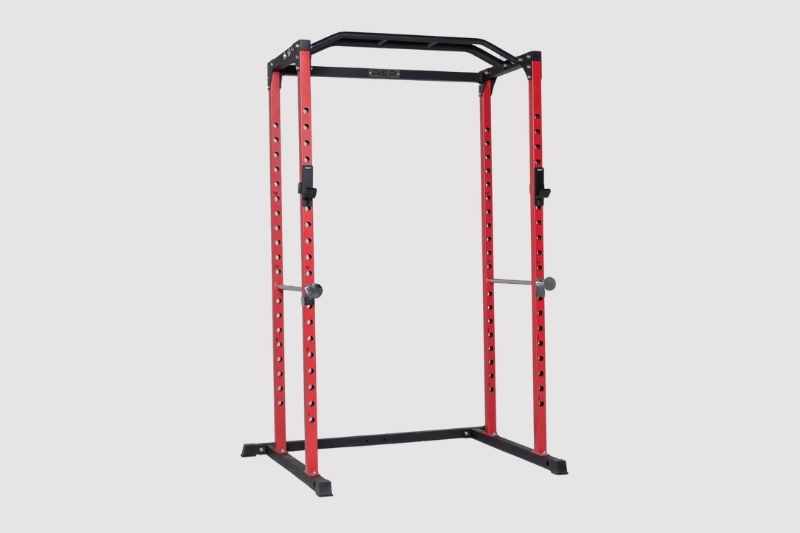 More Squat Rack Guides and Reviews
10 Best Squat Racks for Home and Garage Gyms. A squat rack is the best purchase you can make for your workout goals. Here's a detailed buyer's guide and the best squat racks on the market right now for home gyms.
How Much Space Do You Need for a Power Rack? Wondering how much space you should set aside for a power rack? Here are the key things to focus on to get it right the first time.