The Rogue R-4 is an excellent squat rack for experienced lifters looking to build a beefy, durable, and versatile home gym. Here is a full look at the rack, including, pros, cons, and alternatives, and who it is for.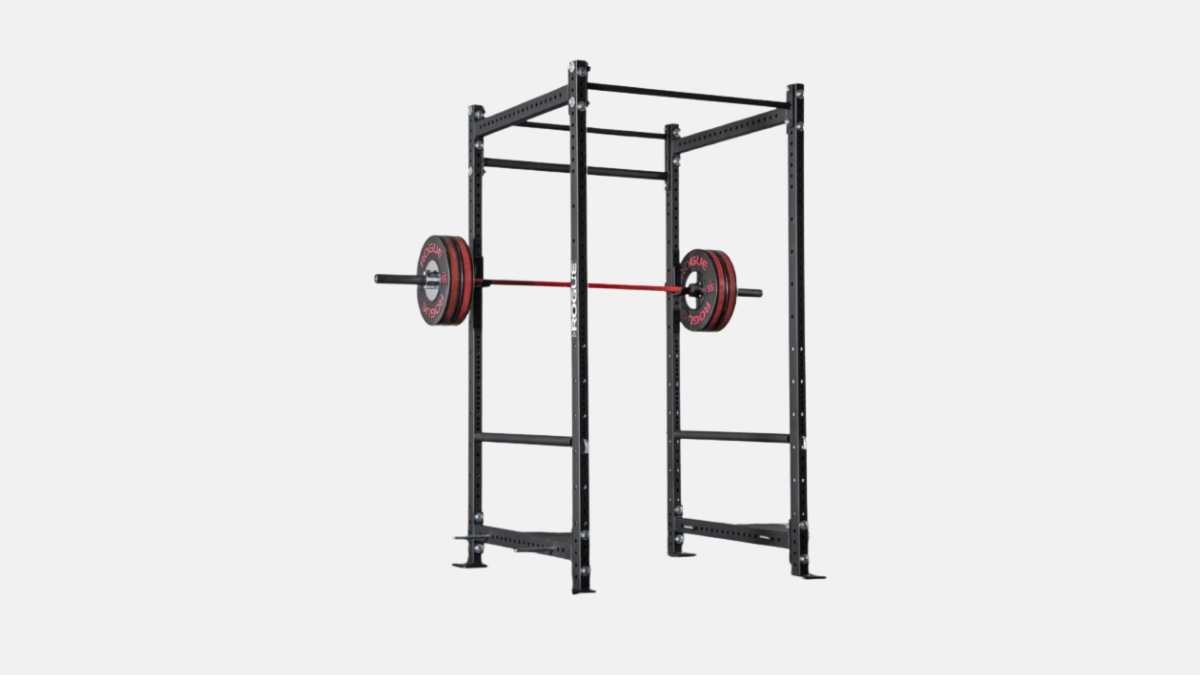 The Rogue R-4 Power Rack is one of the middle siblings of the full-size racks that Rogue Fitness offers.
Starting at $1,120, it features a 2" x 3" frame, added depth inside the cage, and nearly unlimited customization through Rogue's line of rack accessories and attachments.
The balance of thick steel construction, versatility for attachments, and the reasonable price tag make it an excellent first rack for experienced lifters—those who want a beefy and sturdy rack without spending a metric butt-ton of money.
In this hands-on review, we are going to take a detailed look at the Rogue R-4 Power Rack, including the things we love about the rack, things that could be improved, how it compares to other Rogue racks, and even offer some alternative racks from other brands.
Let's jump right in.
Why You Should Trust Us
Squat racks and gym gear are what we live for. We've stepped into more racks than we can count (plus half racks, squat stands, wall-mounted racks, folding racks…) and have lifted, done pull-ups, and put up and tore down just about every squat rack on the market.
We combine a hands-on "real world" lifting experience with the commentary of our social communities and discussion and debate within our staff to give you a clear review and concept of how a power rack will perform.
---
Key Specs of the Rogue R-4 Power Rack
Height: 90.375"
Base: 53" x 53"
Frame: 11-gauge, 2x 3"
Compatible with Infinity line of attachments and accessories
Made in the USA
---
Rogue R-4 Power Rack – The Pros
Here are the things that I really, really like about the Rogue R-4 Power Rack, the things that make it stick out compared to other racks, and why you should invest in the R-4 rack:
1. Built with Rogue's legendary commitment to manufacturing excellence
Long-time readers know that I am a huge fanboy of Rogue. They are uniquely positioned in the strength training equipment game, with their gear being used (and thereby tested in real life) by countless athletes in pro sport team facilities, CrossFit boxes, and home gyms.
Combine this with the fact that they are one of the few rack companies that produce their racks in the United States with American (and sometimes Canadian) steel.
This unique comb puts them at the top of the heap when it comes to build quality, and the R-4 lives up to this standard, with an American steel 2" x 3" 11-gauge steel frame that is built extremely durable.
2. Added depth for more room inside the cage
The R-4 is designed to be a beefier alternative to the Rogue R-3 Power Rack, with added depth and a wider footprint for more stability.
The added depth (the inside of the R-4 has 43" of workable space for lifting compared to the R-3's 24" of depth) means you have more flexibility in terms of space for lifting.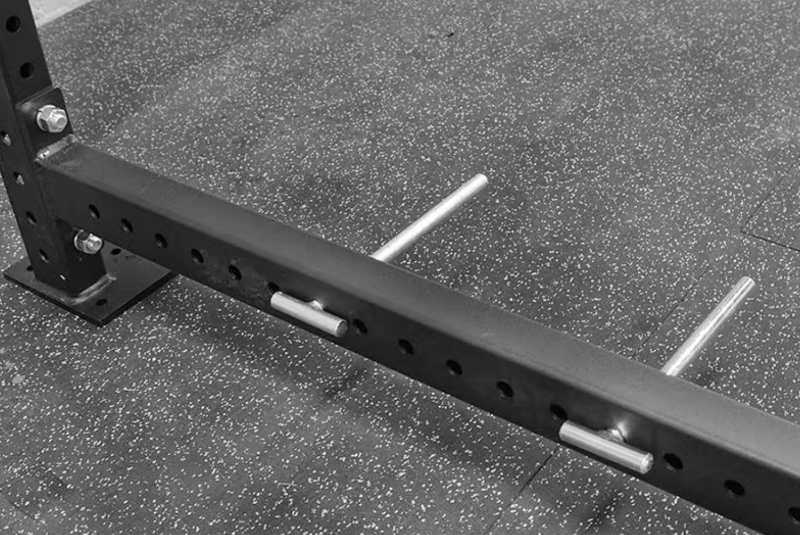 While I love the R-3 for its price point and build quality, it can feel a little restrictive when lifting inside the cage.
For those who want a little more space in the rack, the R-4 is a perfect candidate for your next home power rack.
3. Huge line of additional attachments
Home gym enthusiasts quickly come to realize that the power rack is just the beginning of building out an awesome home gym. The rack is the foundation, but it's the power rack attachments that make your home gym truly yours.
The R-4 is compatible with the Infinity line of rack attachments (almost 50 in all). Attachments include a landmine attachment, dip station, vertical bar holder, speed bag, band pegs, and even a kid's pull up bar.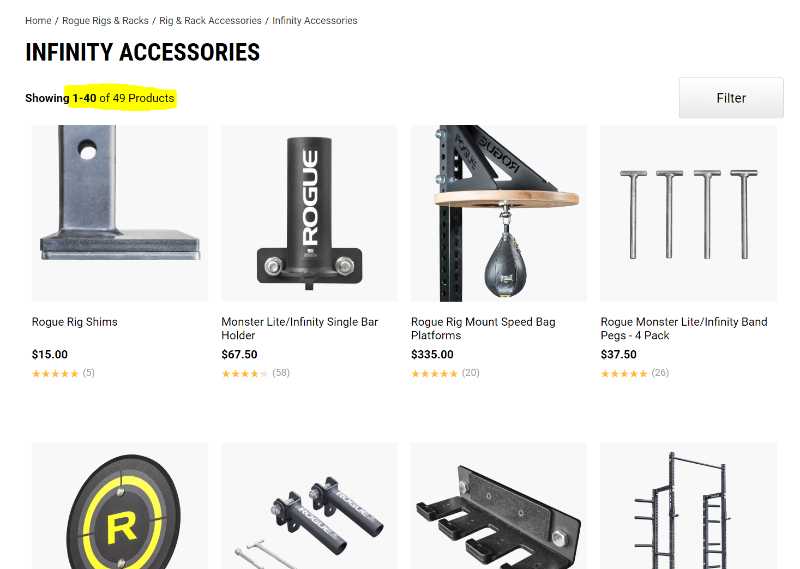 With the wide-ranging number of accessories, the R-4 can be personalized into something that matches your training program and workout goals.
4. Doesn't have to be bolted down
One of the most common questions I get from people in the home gym community is clarification on whether a squat rack should be bolted down.
With some racks—like the R-3—it's almost mandatory to do so because of its thin profile. Power racks with more depth, as with the R-4 *could* be bolted down, but if you are lifting inside the cage, and not pushing hard horizontally on the cage, it's not as necessary.
There are also some alternatives to bolting it down—like using your weight plates as a way to "weigh down" the rack by storing them on the back of the rack—but while Rogue recommends doing so (fairly standard disclaimer) you don't have to drill into your floor to secure the rack.
5. Westside hole spacing
Like the R-3 Power Rack, the R-4 has Westside hole spacing along the push-pull area of the uprights.
Westside hole spacing is awesome for lifters who want maximum flexibility in where they place the J-hooks and barbell.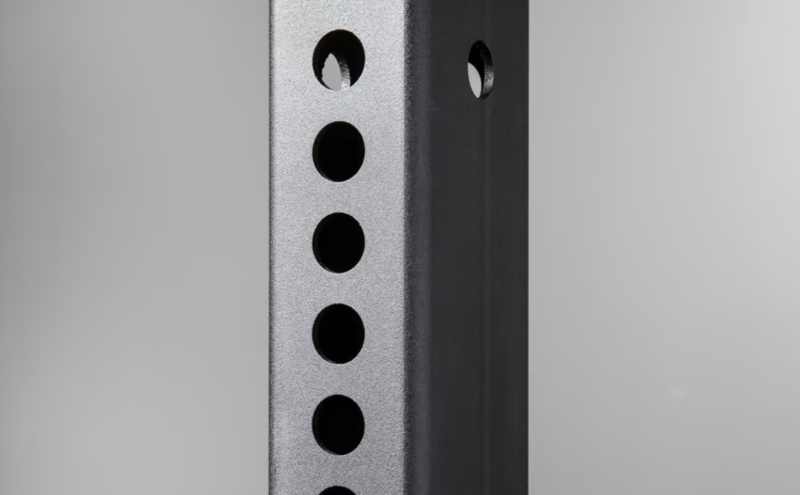 Standard power rack spacing is two inches (some budget squat racks have 3" hole spacing).
Westside hole spacing reduces the space between holes, down to one inch, giving you more options for selecting bar height on the rack.
6. All the safety gear to get you started
The big perk of a squat rack is being able to lift more safely thanks to attachments like pins, J-cups, safety straps, and so on.
The Rogue R-4 is shipped with a full set of safety attachments, including Rogue's premium J-cups, a pair of safety pins for spotting you inside the cage, a pair of pull-up bars (fat and skinny bars), and also band pegs for banded lifts.
The R-4 comes with everything you need to get started lifting safely in the comfort of your own home.
See also: Squat Rack Spotter Pins vs. Safety Straps: Pros, Cons, and Which One is Best
---
Rogue R-4 Power Rack – The Cons
Concrete anchors are sold separately.
Rogue is quite adamant about bolting down this particular squat rack. If you are looking for a free-standing squat rack, check out this list of flat-footed squat racks.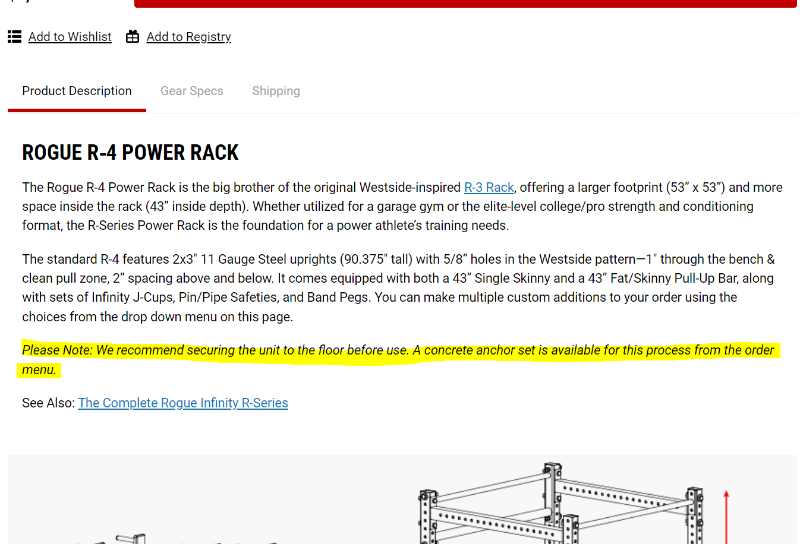 The anchor kit that Rogue offers for this rack is sold separately ($27). This is something that should be included, in my opinion, as Rogue is so clear about bolting the rack down.
Uprights are not numbered.
While this rack has Westside hole spacing, the uprights are not numbered, which can make setting the J-hooks evenly a little more challenging.
You can alleviate this problem by adding chalk marks to your squat and bench press starting points, but it would be nice if Rogue had lasered numbers on the upright. Not a deal-breaker, but something to be aware of.
---
How Does the R-4 Compare to Other Rogue Racks?
The R-4 is a beefier version of the Rogue R-3 Power Rack, which is my favorite power rack for most home and garage gyms.
It features the same 2" x 3" 11-gauge steel frame as the R-3, and the Westside hole spacing, but has a deeper depth and a larger base.
How much is the Rogue R-4 Power Rack?
The R-4 starts at $1,120 and goes up from there depending on the attachments you include with the rack. Things like a stabilizer bar, multi-grip pull-up bar, and even the concrete anchor set are sold separately.
What are some racks comparable to the Rogue R-4?
REP Fitness PR-4000
Wildly customizable (colors, height, everything)
3" x 3" steel frame
1" hole spacing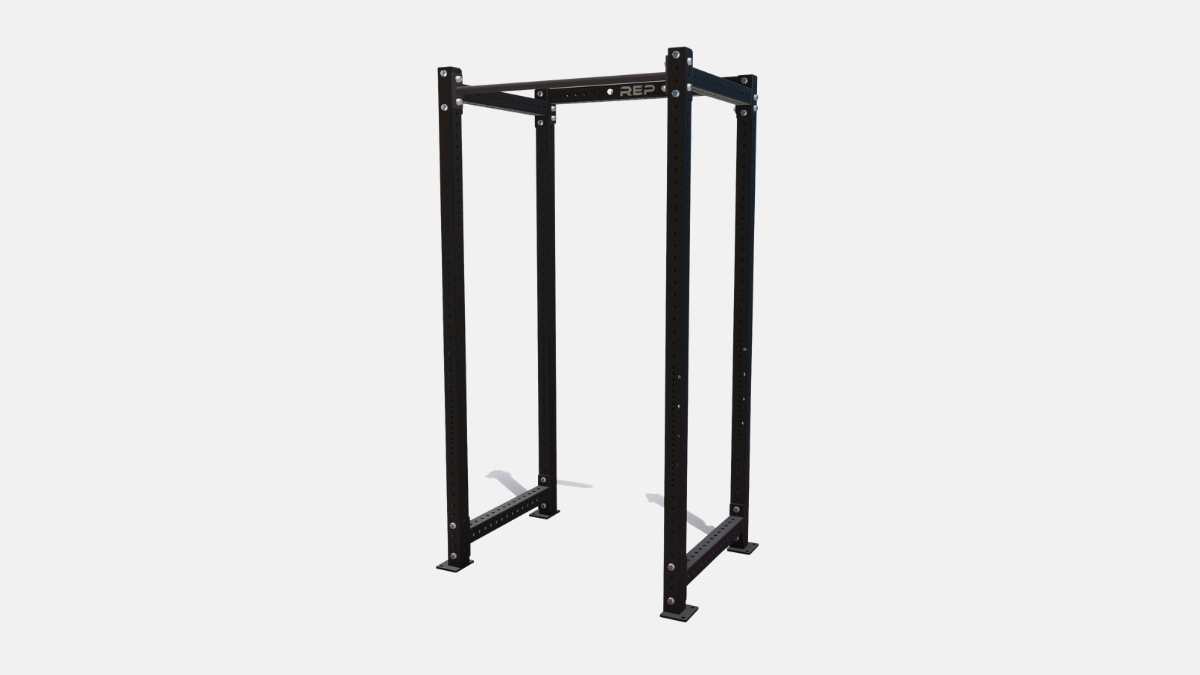 ---
Rogue RML-490 Power Rack
3" x 3" steel frame
53" x 53" footprint
Compatible with the Monster Lite attachments
Westside hole spacing
Numbered uprights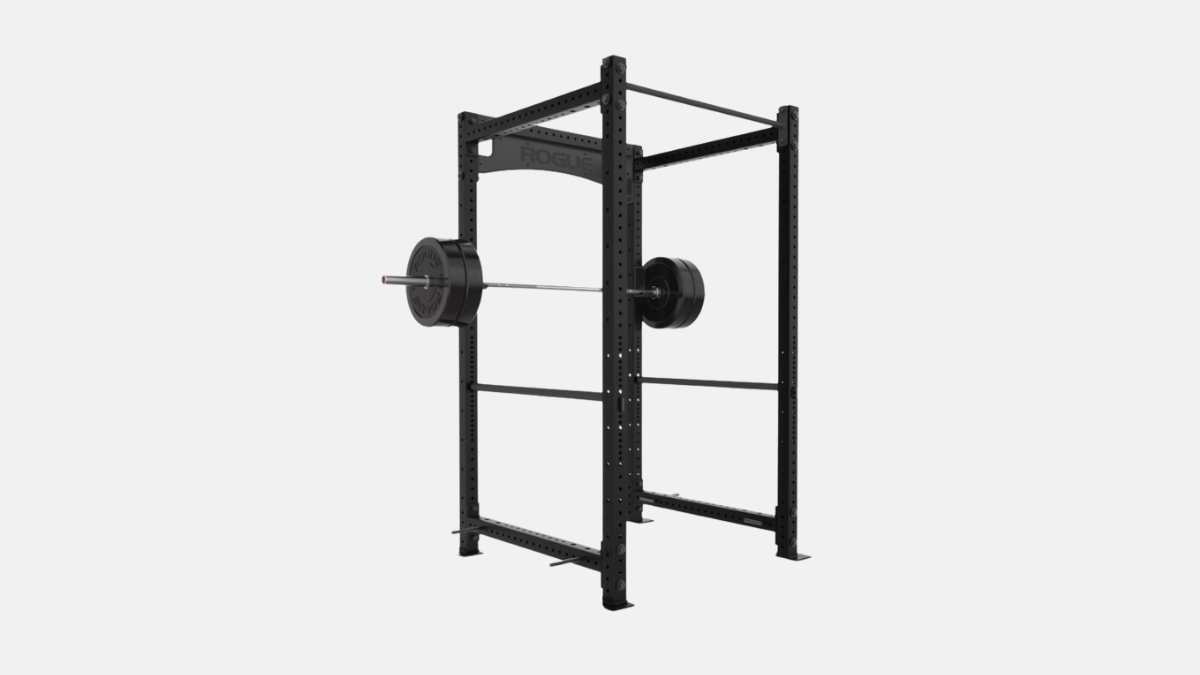 ---
The Bottom Line
The Rogue R-4 Power Rack is an excellent option for more experienced lifters who are ready to take their strength training to the next level in the comfort of their home or garage.
Built with Rogue's legendary commitment to manufacturing excellence, and with a huge array of optional attachments, the R-4 is a killer rack at an affordable price-point.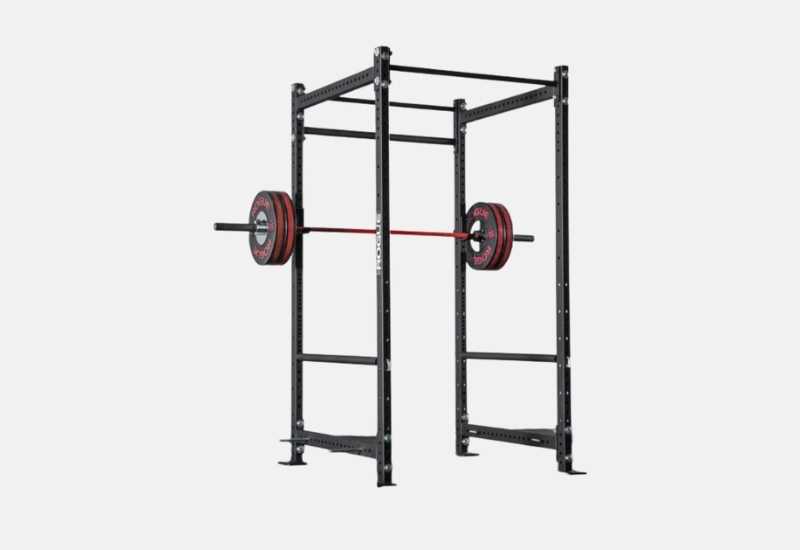 ---
More Power Rack Reviews
6 Best Power Racks for Your Home Gym. This list of the best power racks offers the best value and will take your home workouts to the next level. Let's do this.
How Much Space Do You Need for a Power Rack? Wondering how much space you should set aside for a power rack? Here are the key things to focus on to get it right the first time.