Looking for the best dip bar stations for your home gym? Go to work on your upper body with my favorite dip bars and stations.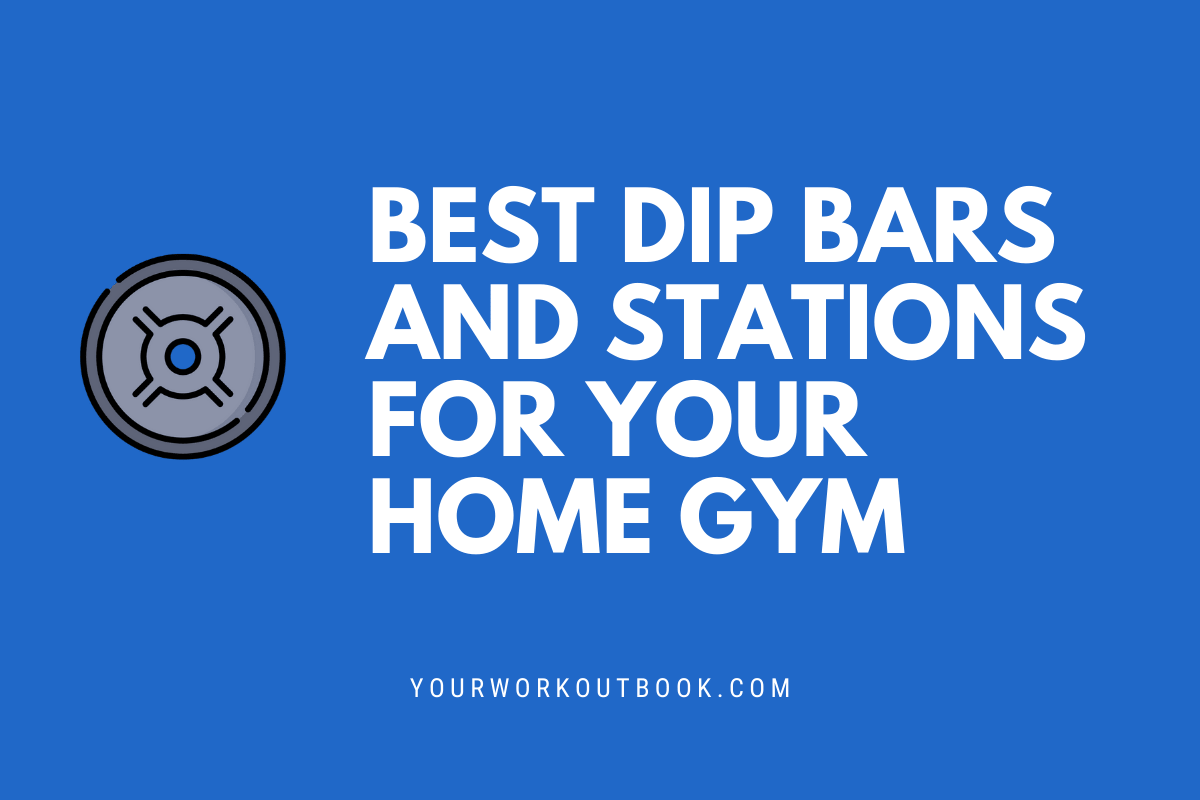 Dips are a killer way to target your upper body and one of the best ways to build muscle in your shoulders, chest, and forearms.
The best part about this popular exercise?
You don't need a gym membership or access to overly expensive home fitness equipment to reap the benefits of hammering out reps of dips.
With the right dip stand, you can unleash this powerful bodyweight exercise in the comfort of your garage or home gym.
Most power towers and free-standing pull-up bars come packed with dip bars, but for the gym-goer or athlete who wants to work specifically on their dips, and wants to be able to do in a portable manner, these dip stands and stations will have you wailing away on your triceps, chest, and shoulders in no time.
Below is a breakdown of my favorite dip bars and stations, for every kind of lifter and athlete and for all kinds of budgets.
BalanceForm Multi-Function Dip Stand
Best overall pick for dip stations
My favorite dip stand for power use is the BalanceForm Multi-Function Dip Stand.
Made with high-grade steel, and relatively easy to put together, the exceptionally well-reviewed BalanceForm Multi-Function Dip Stand has several key features that make it stand above the rest.
First, it can handle a high amount of weight, with the dip station being rated as having a 500-lb maximum weight limit.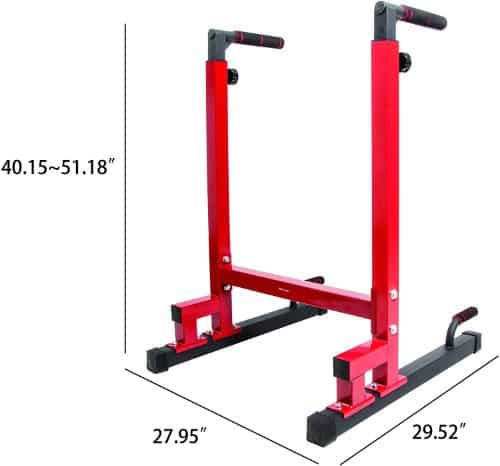 Second, the unit can be adjusted easily for height, accommodating users of all heights, which means you don't have to jump up on the bars if you are short, or scrape your knees at the bottom of the rep if you are on the taller side of life.
Third, the dip station comes in a variety of colors, including grey, red and yellow.
And fourth, the unit is versatile and sturdy, with rubber-tipped base frame that prevents slipping and sliding around the floor and handles for push-ups.
In terms of budget, the BalanceForm is a clear winner, coming in at a fraction of the cost of the XMark (rated below) and with almost all of the same features (and then some).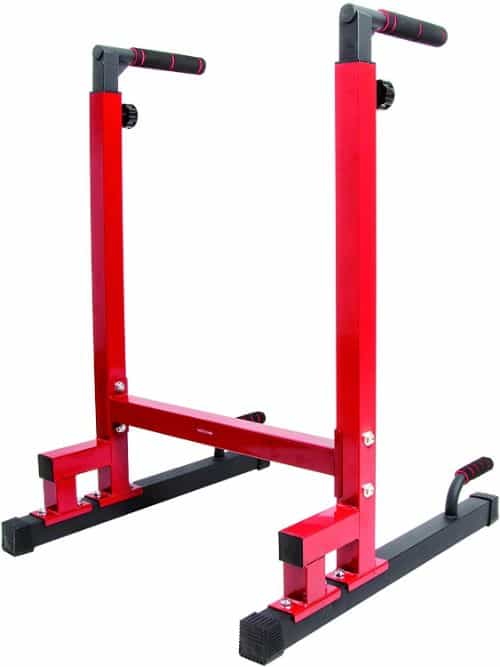 XMark Dip Station
Best for serious home gyms and heavy-duty use
For bigger users, and for home-based athletes who perform dips with added weight dangling from a dip belt, the XMark is a heavy-duty dip station that can handle up to 500-pounds.
The XMark is made with heavy-duty steel and is built on an H-frame base that won't wobble under your weight. One of the big issues lifters have with dip stations is an inability to change the grip width.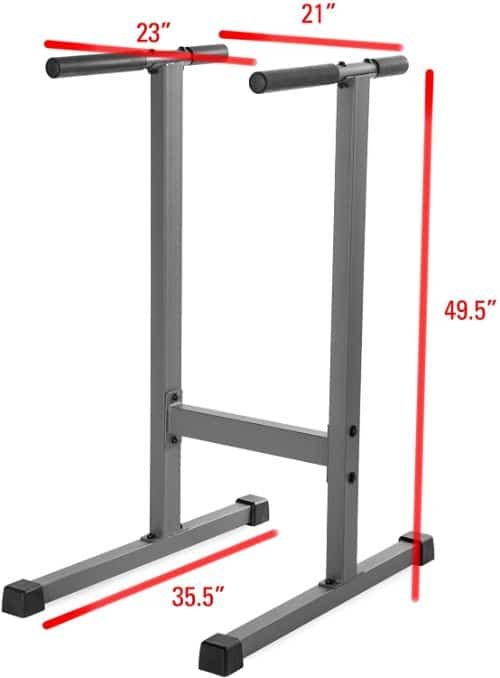 While this dip station doesn't give you a full range of grip widths, you do get two of them, with the handles gently sloping to both 21 and 23 inches. The grip is thicker than usual, making it handy (haha, hand pun!) for larger folk.
See also: Want to add some weight and extra resistance to your dips? Check out my breakdown of the best dip belts for weighted dips.
I've always struggled with dumbbell and barbell bars that are too thin, meaning I have to use weight lifting straps to make the bar thicker, which is one of the reasons I absolutely love the two-inch grip on the XMark.
With the heavy-duty construction, you do get a higher price tag. I was able to pick one up for around $475 on Amazon, making it more ideal for the serious lifter.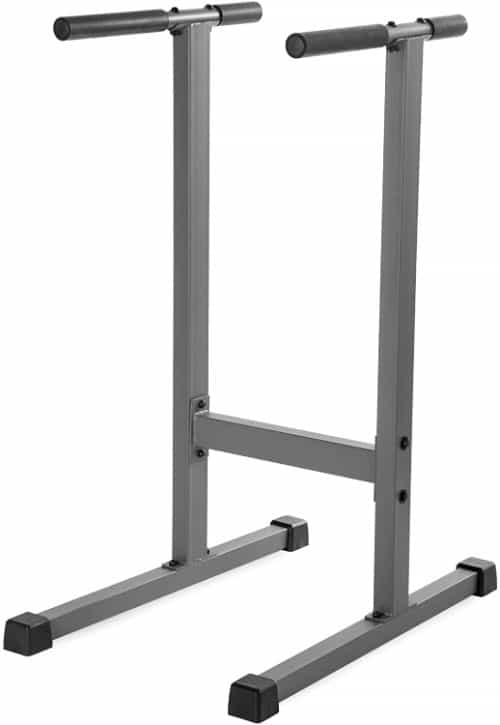 ProsourceFit Dip Stand Station
Best portable dip station
Looking for more portability with your training? Want to be able to change rooms so that you can watch the game while you workout or take advantage of the cooler air in the garage?
The ProsourceFit Dip Stand Station has got you covered.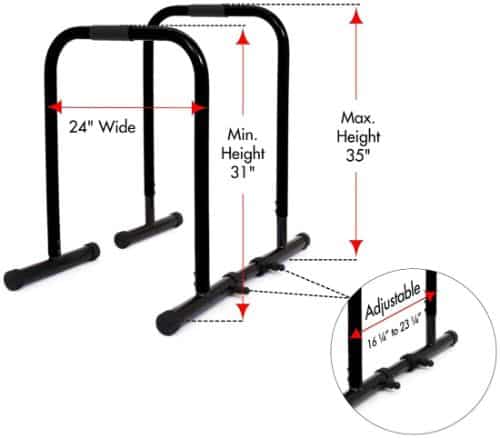 Made with sturdy, powder-coated iron tubes, this particular dip stand combines the weight capacity of immobile dip stands (you can put up to 400-pounds of weight on this bad boy) with the portability that we expect with home gym essentials.
Having two unconnected handles opens up a world of versatility with your training. The obvious one should be that you can quickly vary the width of your dips, alternating between narrow and wider grips. You can also escalate the difficulty by staggering the heights for more variety. The options are endless.
Available in three different colors, and adjustable in height up to 35", the ProsourceFit Dip Stand Station is a perfect option for the home-based athlete looking for portability and versatility with their training.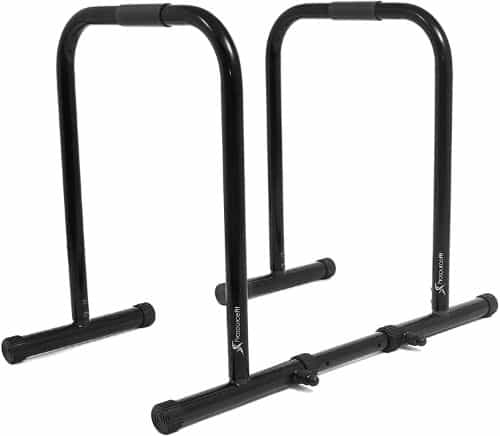 KFK Dip Station
Is a 500-pound capacity not enough? Welp, the KFK Dip Stand Station can take up to 700-pounds of weight.
The adjustable parallel bars are perfect for those of us who want maximum weight combined with a thicker grip. The soft foam handles provide an anti-slip dipping experience, and the two H-base stands don't rock or slip under use.
The KFK Dip Stand Station is another excellent choice for the home-gym user who wants to be able to take their workouts on the go. The station is also handy for doing inverted rows or can be used as hurdles of plyometric training.
I love this dip stand for its versatility and durability (and the look of it makes it one of my favorites, too), and you can adjust the height from 30" to 38".
Altogether, the KFK Dip Stand is easy to assemble, can be moved in a pinch, and looks great in your home workout gear collection.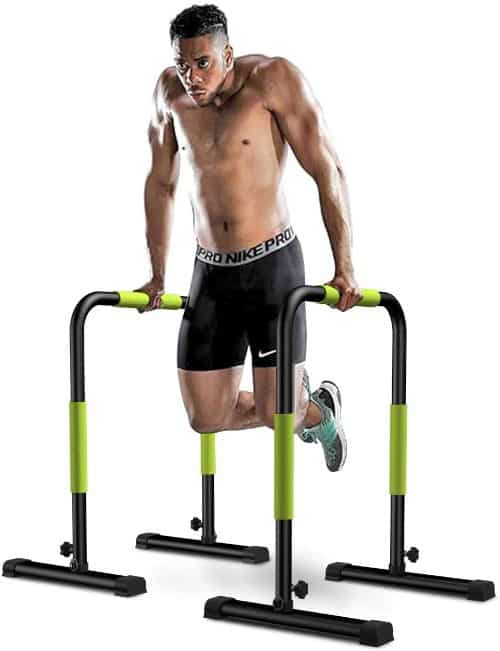 Amazon Basics Dip Fitness Bar
Amazon has slowly spread out into the fitness equipment industry (and with the explosion of home-based workouts since the start of the Covid pandemic, who can blame them), and one of their gym equipment additions within their "Basics" line is a dip bar.
Made of steel, and with foam, slip-free handles, the Amazon Basics Dip Fitness Bar is an affordable dip bar that helps you target those dips, do inverted rows, knee raises, and anything else you can dream up. Four pads on the bottom of the unit help keep it in place while you exercise on it.
While affordably priced, the Amazon Basics Dip Fitness Bar is one of the only dip bars on this list that are not adjustable in height.
For most gym-goers and exercisers, this isn't really an issue or a consideration, but if you are tall (I'm 6'4" and my knees bounced off the floor while doing dips with this unit) the 38" won't do much for you.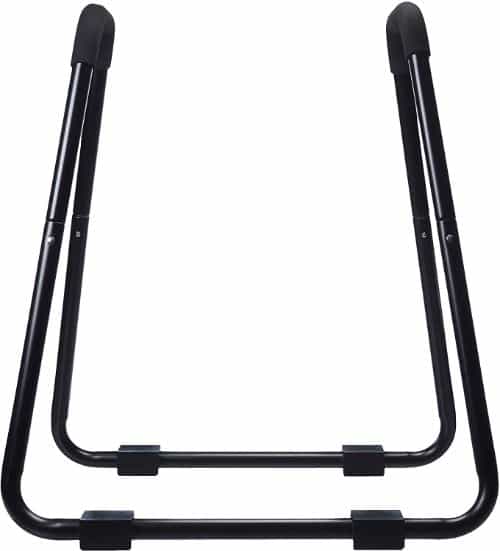 Fuel Performance Deluxe Dip Station
Another dip bar station that looks like it could belong in your local gym, the Fuel Performance Deluxe Dip Station is a sturdy and surprisingly light dip station for the home-based athlete.
Made with heavy-duty, 14-gauge steel, the dip stand is powder-coated for added durability and aesthetics. The foam handles help you maintain a steady grip while you exercise and when fully assembled, the unit is just under 36" in height.
As you can tell from the picture, the Fuel Performance Deluxe Dip Stand is "one size fits all" and you cannot adjust the height of the stand or the width of the handles. (Take that as a positive if you are looking for a dip stand with minimal parts and easy assembly.)
While there is no weight limit found on the product's page on Fuel Performance's website or on Amazon, a user of 300+ pounds reported being able to use the station without any issue.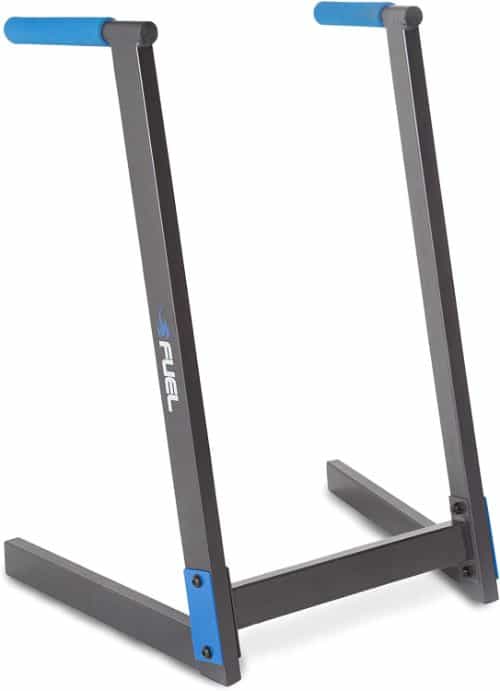 More Stuff Like This
5 Best Power Towers with a Bench. Take your home workouts to the next level with this buyer's guide to the best power towers with benches.