The Bells of Steel Light Commercial Power Rack 5.1 is built like a tank, has tons of accessories, and doesn't break the bank. Here is a detailed review of this power rack.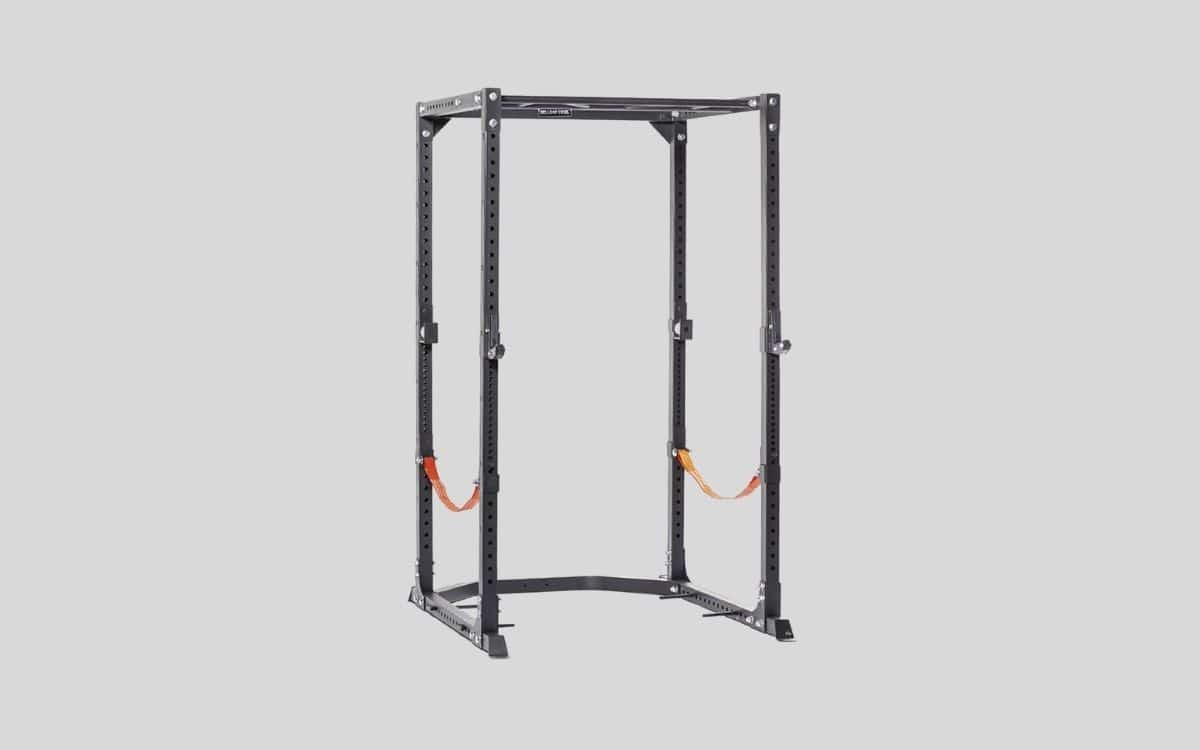 Looking for a power rack that is easy on the wallet and heavy-duty in the gym?
You are not alone!
There is a heap of power racks on the market nowadays, from your $200 cheapo racks sold by Amazon third-party sellers to the $10,000 rigs that litter the athletic facilities of professional sports teams.
But it can be tricky for the people in the middle of those two price points to find something that is extremely durable without nuking your checking account.
Fortunately, there is the Bells of Steel Light Commercial Rack 5.1.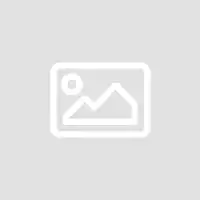 It's built like a tank, has tons of accessories, and will handle everything you can throw at it and more.
Here's why I consider Bells of Steel's Light Commercial Power Rack 5.1 one of the best power racks available.
Let's jump right in!
1. It's available in a shorty version!
One of the tough things about setting up a home gym is maximizing the space you have for all of your workout gear.
The power rack takes up the most room of anything, with a footprint that can take up 7.5-feet of height and at least 40" of width and depth.
Fortunately, for people building out a home gym that is short on space, the Power Rack 5.1 comes in the standard 84.5" height or an optional 72" height for spaces with short ceilings.
2. Multi-Grip pull-up bar included
Long-time readers of the blog know that I am relatively obsessed with pull-ups. Every power rack I've owned over the years has featured a multi-grip bar for chins and pull-ups.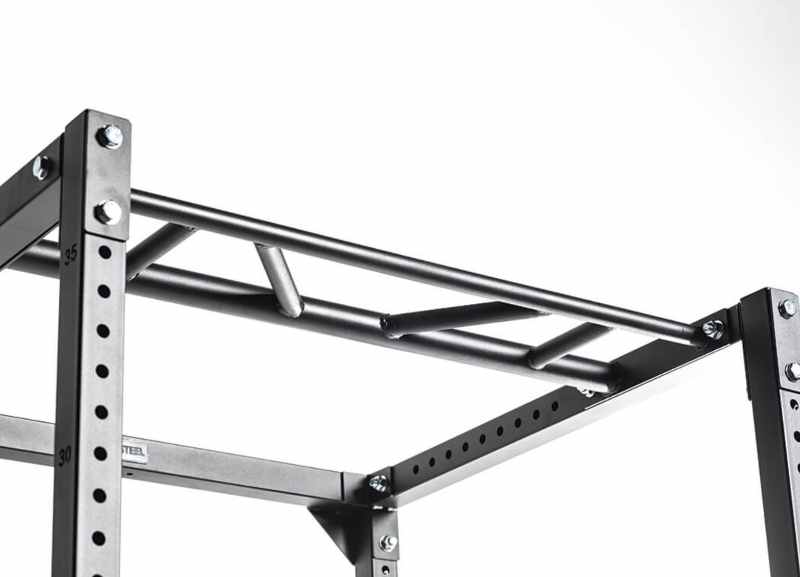 Unlike some other rack makers, who feature this as a paid upgrade, Bells of Steel ships the 5.1 with a super fat/skinny bar that gives all the grip options you could hope for when doing pull-ups.
3. Ships with some other excellent accessories
Most experienced home gym aficionados know that the rack is just the foundation.
It's in the bars, plates, and accessories where it becomes a true home gym.
Some of the key rack accessories included:
? Spotter straps.
One of the benefits of a power rack is that you can step inside the cage and lift with a spotter in place. In this case, the spotter is a pair of safety bars or suspension spotter straps.
Bells of Steel includes heavy-duty straps with each rack.
How heavy-duty?
They are rated for up to 4,400lbs.
That heavy-duty.
Spotter straps are an excellent alternative to spotter bars as they greatly reduce the clanging and banging from dropping weights.
Related: How Much Space Do You Need for a Power Rack?
You can lift confidently knowing that if you miss a rep you aren't going to shake the house and wake up the neighbors.
? Resistance band pegs.
Banded lifts are an absolutely killer way to crank up your squat, bench and deadlift.
Each Light Commercial 5.1 Rack comes with four pegs that can be inserted at your place of choosing along the bottom columns of the rack.
? Cups
And of course, you need somewhere to rack the barbells between sets, when you are loading the barbell.
The 5.1 ships with four tools for racking the barbell, including two J-cups and two roller J-cups.
4. A huge assortment of other optional add-ons.
If that wasn't enough to get your attention, the 5.1 Rack comes with a huge list of other optional accessories to turn the power rack into a one-stop shop for your workouts.
Some of the optional add-ons include:
? Vertical bar mount. Barbells are clunky and take up a ton of space. If you don't want to use a wall-mounted barbell rack, this rack comes with an optional vertical barbell holder that can be added to one of the columns of the rack, freeing up space and keeping things organized.
? Plate pegs for storage. Plate pegs are a no-brainer upgrade to your rack. They do a killer job of keeping the gym floor clean, protect cast iron plates from getting banged around, and the weight of the plates adds more stability to the rack.
? Y Dip Bar attachment. Like my best buddy, old pal the almighty pull-up, dips are a killer exercise for developing upper body strength and muscle. Dip stations are bulky as hell, which is why you should just tack it onto your power rack. Bells of Steel offers an attachment that does just this for about $100.
Other accessories include a cable pulley, landmine attachment, leg roller attachment, cable crossover attachment, lat pulldown rack attachment, and much more.
5. Westside spacing on the columns
A few years, Rogue partnered up with Westside Barbell to create a rack that had one-inch spacing. This increased the flexibility of the barbell position on the rack.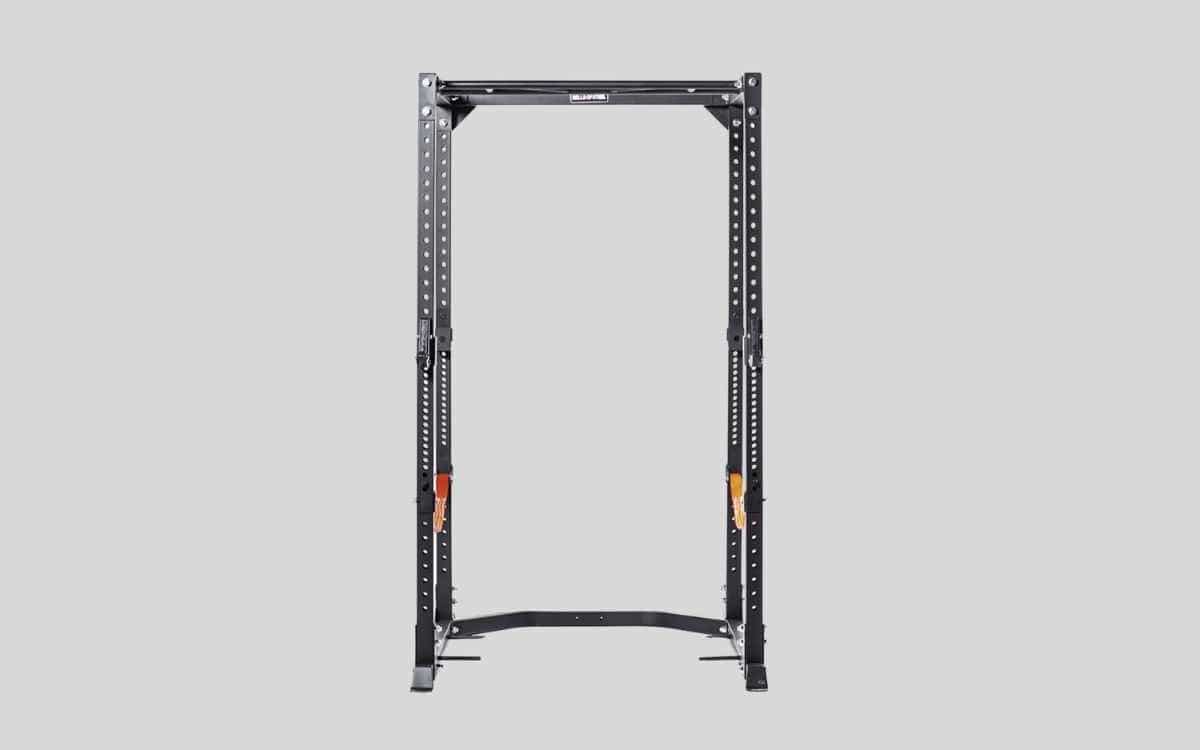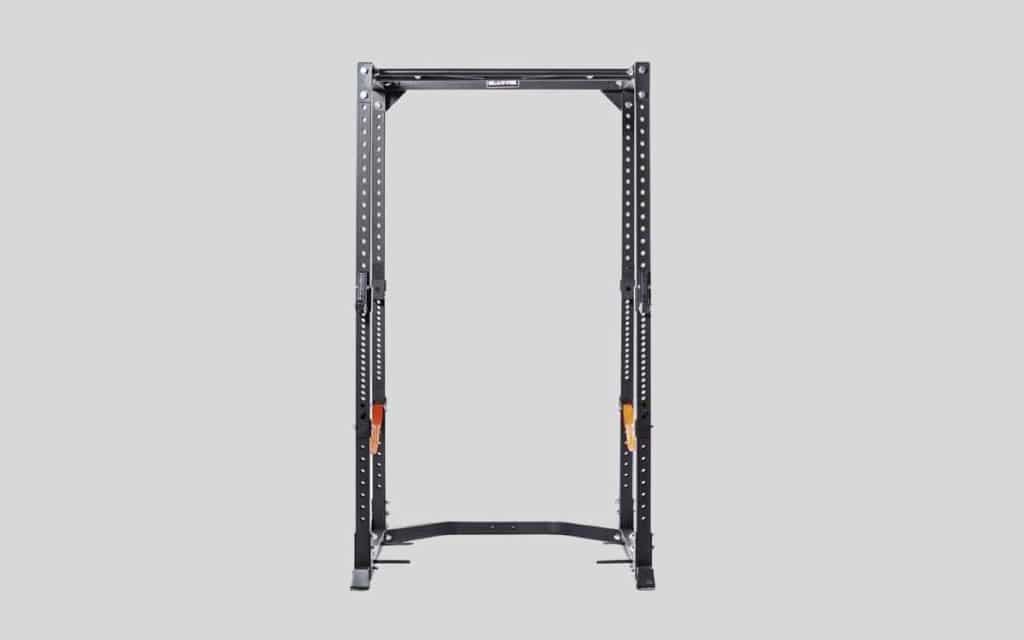 This concept, known as Westside Spacing, has caught on, with other major rack makers including this feature.
The 5.1 has one-inch spacing through the bench and pulling areas and two-inch spacing everywhere else.
6. Laser cut numbers for even cup and barbell placement.
One of the real first world problems of having a power rack is lining up the J-hooks or cups evenly.
This problem does get more annoying with westside spacing, which doubles the number of holes and makes it harder to line up the J-cups or spotter straps. One solution is to use chalk to denote where you want to set up for bench press, squat, and so on.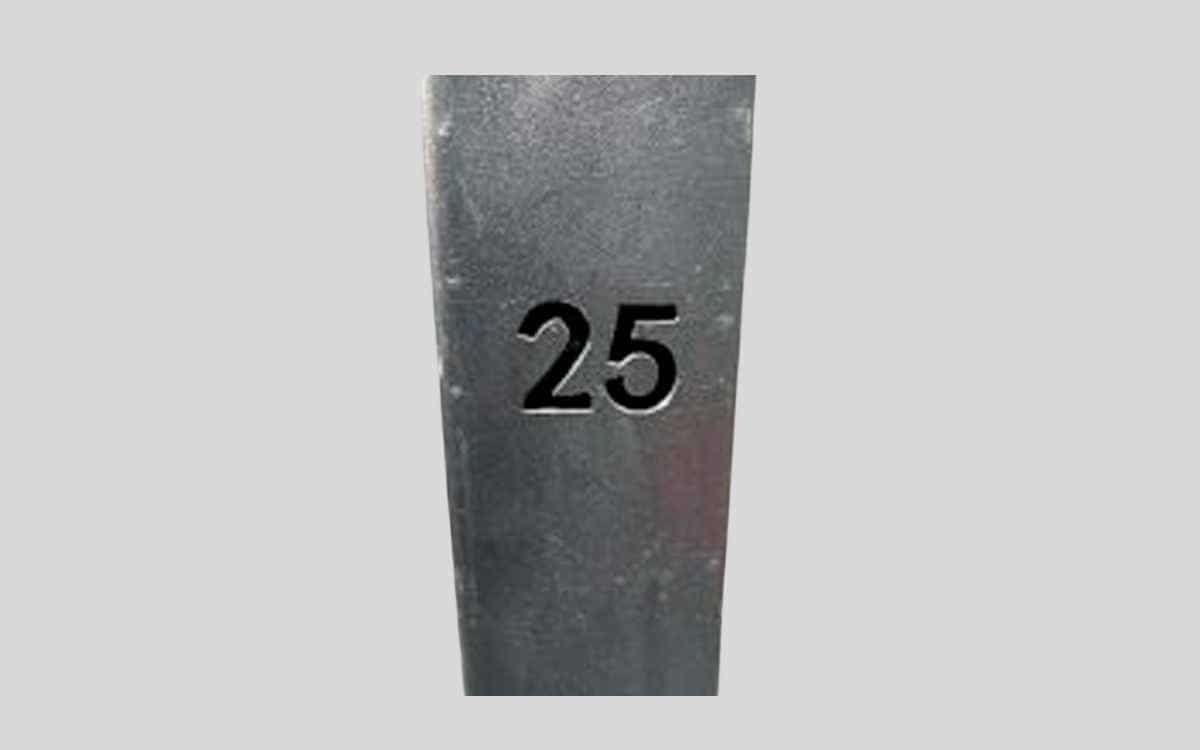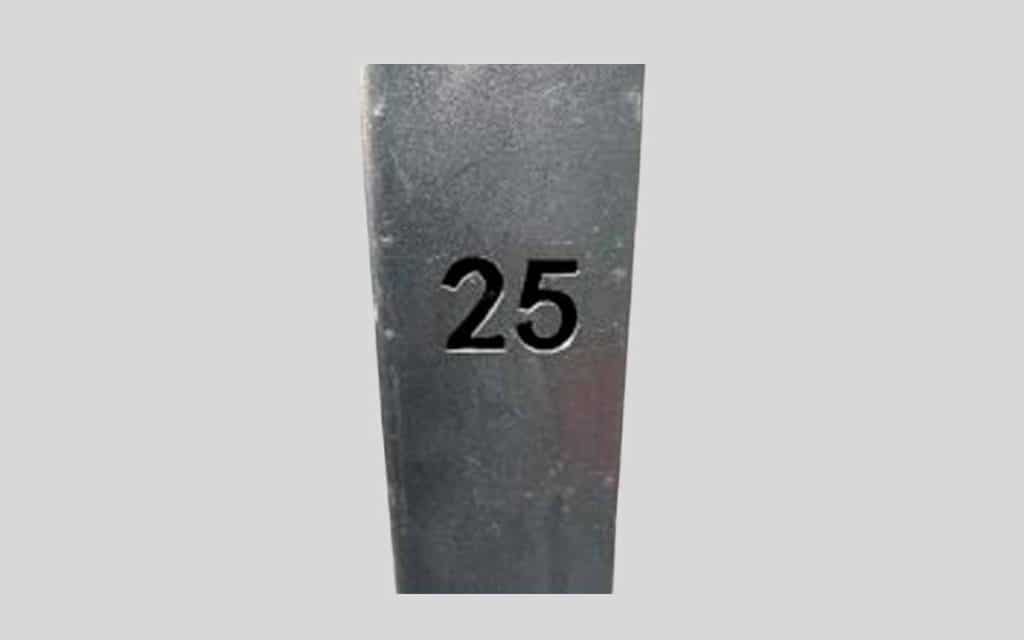 Another is what Bells of Steel added to these racks, which are laser cut numbers that mark out in multiples of five (5, 10, 15, 20, etc).
This is especially crucial when you are trying to power through a workout with multiple exercises and want a reliable and immediate way to make sure the barbell is going to be even when you step up.
7. Flat foot design for added stability
The rack uses a base that is referred to as flat-footed, which means that it is designed to be stable on its own.
Each 5.1 rack does come with an anchor kit and it can be bolted down if so desired, but I found that the design of the rack, and inverted U at the top of the rack that creates more floor contact and stability, is fine for most people.
See also: What Should I Put Under My Power Rack?
While the flat foot design gives the rack an extra couple inches of length, it more than makes up for it with added stability.
8. It's a premium rack at an inexpensive price
Finally, we have one of the key benefits that anyone can appreciate about this rack.
It is not expensive.
The rack ships for $799, which kind of doesn't make sense to me given it has a heavy-duty steel frame that rivals much pricier racks from popular rack makers like Rogue and REP Fitness.
The frame of the rack is 2.3" x 2.3", 12-gauge steel.
(Other racks in this price range are typically 2" x 2" and made with 11-gauge steel, which is less thick.)
In other words, this is a heavy-duty rack that is priced super competitively.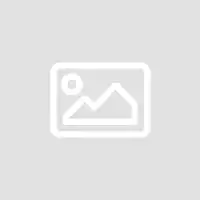 Bells of Steel Commercial Power Rack 5.1 – Key Specs
Rack dimensions: 62 (length) x 49 (width) x 84.5 (height) inches
Lifetime warranty on the steel frame and all welds
Powder-coated for maximum resistance against corrosion
2.3" by 2.3", 12-gauge steel frame
200lb total weight
Westside Spacing on pull and bench areas.
Bells of Steel Light Commercial 5.1 Power Rack – Where to Buy
In sum, the 5.1 power rack is a total cage that can handle tons of weight, has excellent accessories for exercise versatility, and its intelligently designed base makes it wobble-free.
Given Bells of Steel's history in powerlifting and weightlifting (founder Kaevon Khoozani, a former competitive powerlifter, personally designed this monster), you know you are getting an excellent rack.
The Bells of Steel Light Commerical 5.1 Power Rack is available exclusively at the BoS website. Check here for current pricing and shipping options.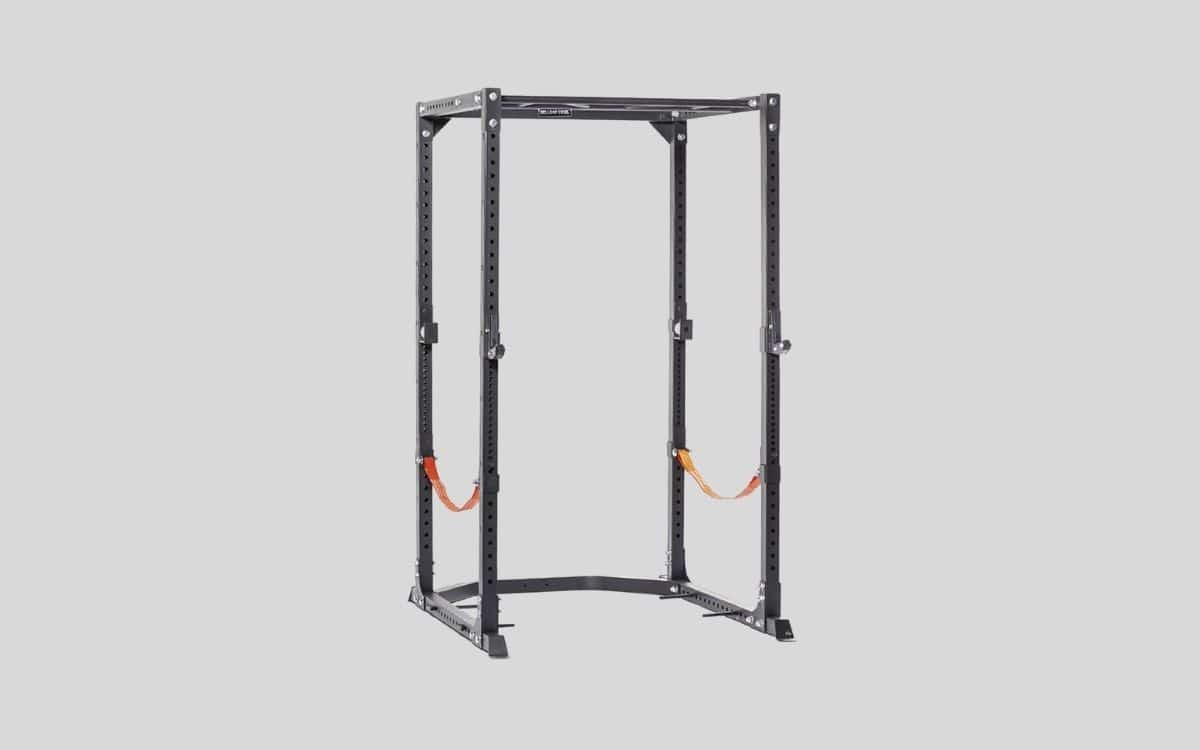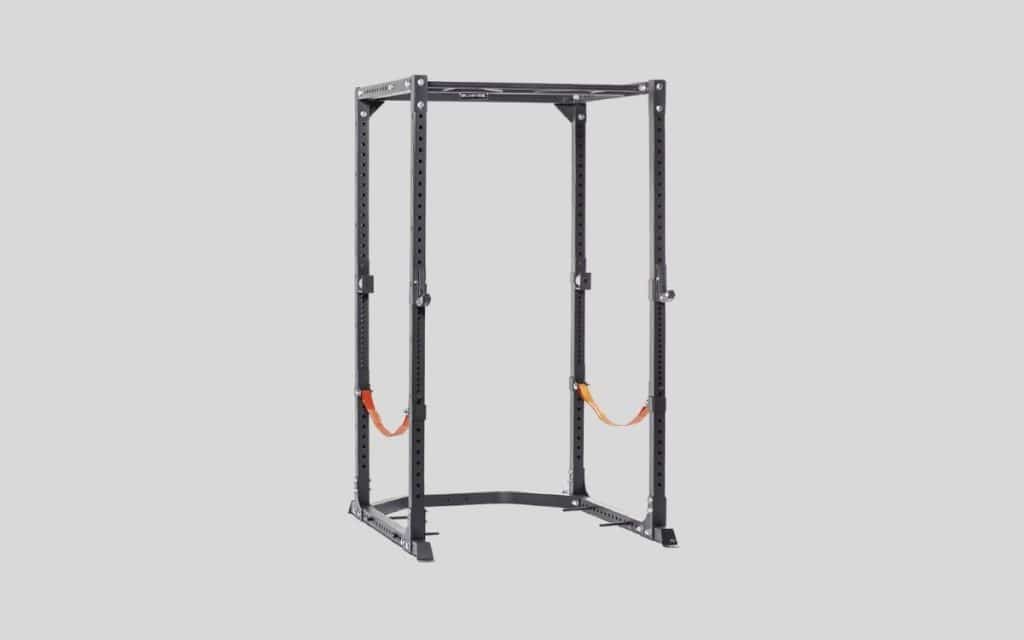 ---
More Power Rack Guides:
The Ultimate Buyer's Guide to Power Racks. We've created this power rack buyer's guide so you can learn everything you ever wanted to know about buying a power rack. If you are looking for the information to choose the perfect power rack, you've come to the right place.
6 Best Power Racks for Your Home Gym. This list of the best power racks offers the best value and will take your home workouts to the next level. Let's do this.