The Rogue RM-6 is an absolute tank of a squat rack. In this review, we look at the pros, cons, and some alternative racks to the RM-6.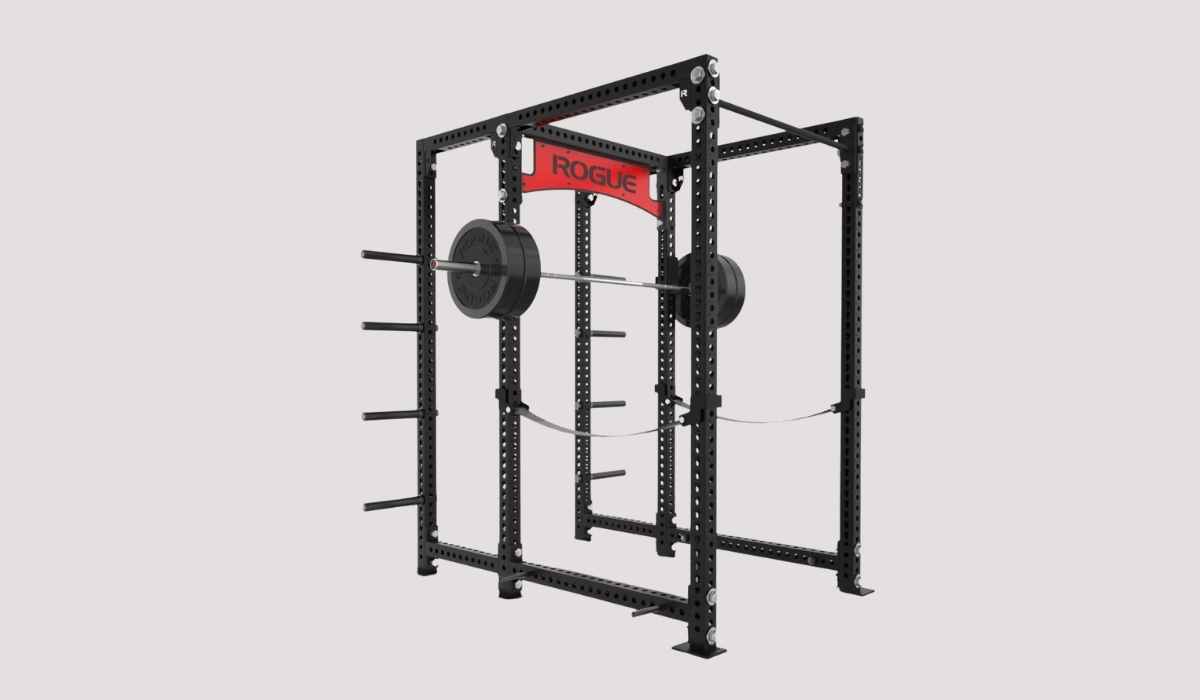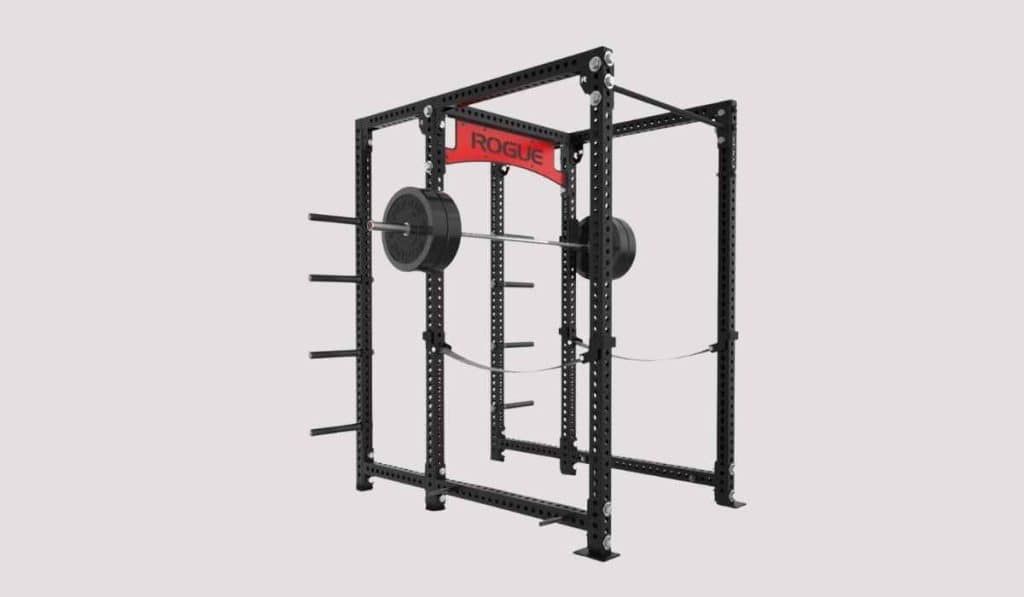 The Rogue RM-6 Monster 2.0 Squat Rack is one of the strongest and snazziest squat racks that Rogue makes.
Part of the Monster line of Rogue racks and rigs, the RM-6 features a TON of attachment options, it's built hilariously strong (probably overbuilt for many lifters…), and in my opinion has the best finish and aesthetics compared to other racks.
In this review, we will do a deep dive on the Rogue RM-6.
Including the things we love about it, some areas for improvement, how it compares to other Rogue racks, and even offer some alternative power racks by other brands.
Let's jump right in.
The Rogue RM-6 Monster Rack 2.0 — The Good Stuff
Part of the Monster line of squat racks by Rogue, the RM-6 was originally designed for high-performance athletic facilities like collegiate weight rooms and commercial gyms.
Here are the things that make this rack stick out amongst its peers:
1. 3" x 3" Steel Frame.
One of the primary things people want to know when hunting for a squat rack is how strong and durable it is going to be.
Rogue, which uses American steel and manufactures its racks at their factory in Ohio, uses 3" x 3" 11-gauge steel with the RM-6, which is about as strong as it is going to get.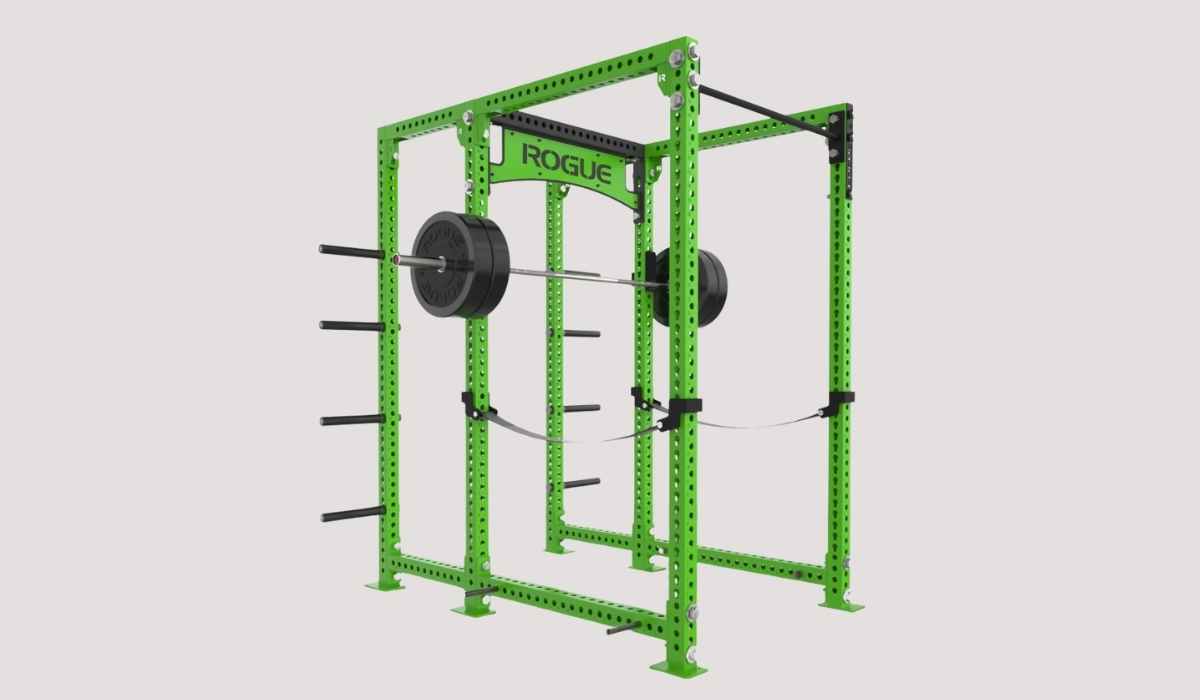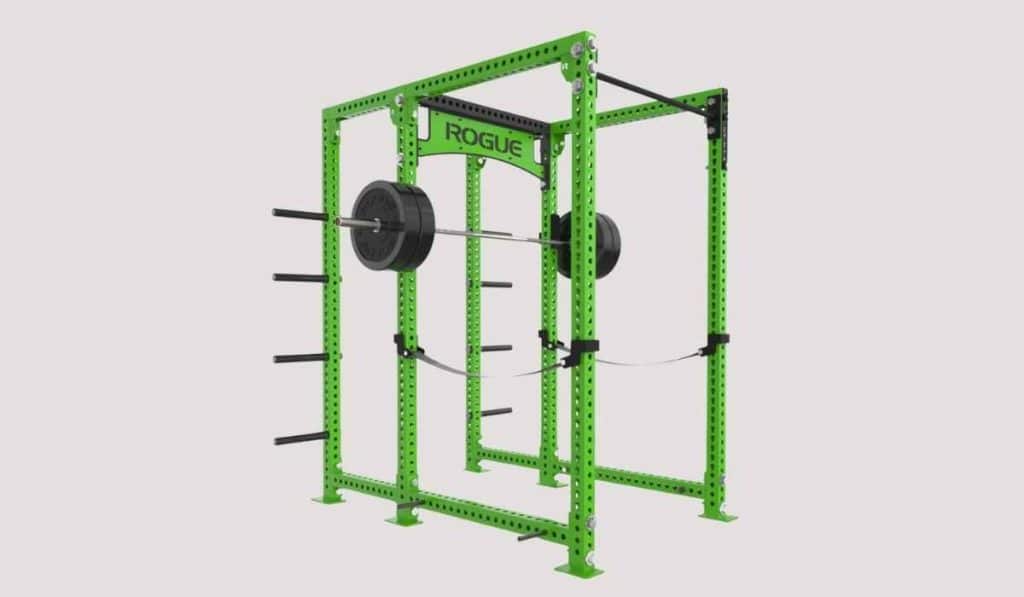 (The only stronger rack is a combo rack designed for powerlifting competitions which uses 7-gauge steel.)
Most of the inexpensive squat racks made overseas are made with 2" x 2" steel uprights, and the difference between that and the RM-6's frame is worlds apart.
Beefy, bombproof, and hilariously stable are the words that come to mind with the RM-6.
2. The RM-6 is a storage unit for lifting gear
The back of the rack is designed to hold up to 8 plate storage pegs for storing your bumper plates.
While I like my plate storage rack (it's got wheels on one end so I can quickly wheel all of the plates across my garage), there are some serious benefits to storing plates on your rack.
For starters, it gets them off the floor, removing a tripping hazard.
Second, it makes loading and unloading the plates onto the barbell way faster.
And finally, the added weight of the plates serves to "weigh down" the rack, giving you even more stability.
Of course, there are heaps of other power rack attachments you can use for storing your gear, from chain and band holders to vertical barbell holders.
3. Endlessly customizable
Rogue is legendary for customization when it comes to their racks and rigs, and the RM-6 takes this to another level.
Customizations include:
Variable heights. The RM-6 comes in 90", 100" and 108" heights. (If you are looking for a short squat rack, this guide is where you want to look.)
Color options. Rogue offers 13 different color combinations for the rack, from black Cerakote to bright green.
Pull-up bar options. Straight bar, a fat/skinny bar combo, socket pull-up bar or Monster skinny bar.
And of course, we haven't even talking about the inventory of accessories and attachments…
4. Tons of optional attachments
This is where the individualization of your squat rack really happens—in choosing which additional attachments you want to use with the RM-6.
Rogue has so many attachments and accessories for their racks that it is kind of overwhelming (120 the last time I checked).
Some of the more basic stuff include band pegs, J-cups, spotter arms, safety straps, landmine attachment, and storage pins.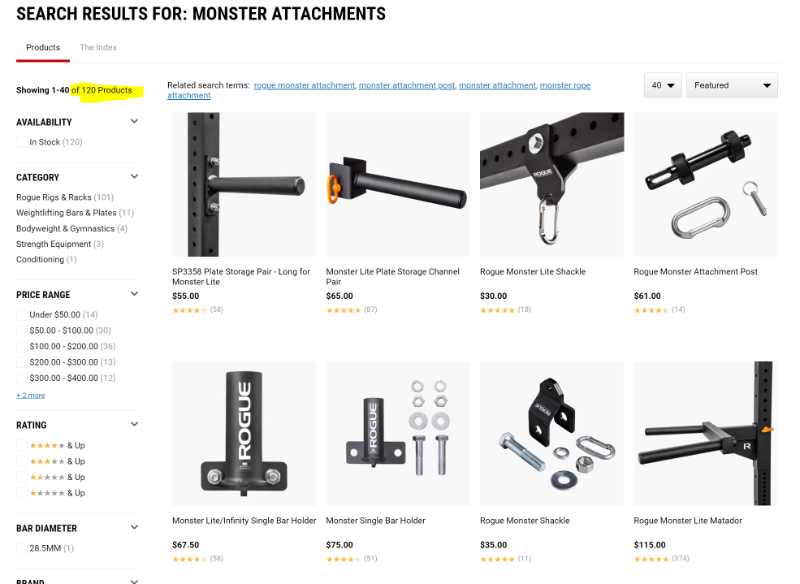 More advanced attachments include arm levers, Monolift. Matador (dip station), lat pulldown attachment, leg roller, hip thrust bench, and more.
With the RM-6, you have the opportunity to turn your squat rack into a legit one-stop shop for all of your exercises and workouts.
5. The finish of the RM-6 is a head turner
Compared to other racks with similar build dimensions, the Rogue stands head and above when it comes to the finish of the powder-coating.
If aesthetics are important (and let's not kid ourselves, they are to a degree!), the RM-6 gets bonus points for good looks.
6. Rogue's customer service is A-1
When dropping a couple of thousand dollars on a squat rack—or any other kind of fitness and strength training equipment—you want to make sure you are getting what you paid for.
Rogue quells this uncertainty (that is warranted when dealing with dicey third-party sellers that litter Amazon nowadays) with the best customer service of any company I've dealt with over the years.
Whether it's asking questions about products or dealing with the occasional manufacturing defect, Rogue's team has always been Johnny-on-the-spot.
Emails are always returned within 24 hours, even when I am asking them about silly stuff like the max weight rating on a folding squat rack or whether their racks can be installed outside (yes, they can, but be weary if you live near the ocean as salt air will corrode and rust the steel on the rack faster).  
7. One-inch hole spacing through the WHOLE rack
With all of those attachments, you are going to need lots of placement options on the rack.
The RM-6 fills this need with one-inch holes ALL OVER the rack.
Whether you are hooking up band pegs along the bottom of the rack, multiple J-cups, safety straps or bigger attachments like a Monolift or lever arms, the RM-6 has plenty of holes to accommodate your add-ons.
Additionally, the sides of the uprights use a keyhole design that makes ther ack compatible with more attachments and accessories.
8. Doesn't need to be bolted down
One of the main concerns of any power rack owner is stabilizing the rack so that it doesn't wobble or worse, tip over.
The design of the RM-6, with six columns and an extended depth, gives excellent stability. So much so, that you don't need to bolt the rack to the floor or your lifting platform. (Although it's never a bad idea to do this.)
See also: Do You Have to Bolt Down a Squat Rack?
The six-column design, plus storing your weight plates on the back part of the rack, means you can get by without drilling into your floor or platform.
Things that Could Be Improved with the Rogue RM-6
Alrighty, so it's not all puppies and rainbows.
There are a couple of things that will give some lifters pause when it comes to this rack.
A little pricey compared to competitors.
Rogue racks are built to a superior standard, and because of that, you are going to pay a little more compared to other similar racks, most of whom are manufactured overseas.
The build difference is noticeable, but for the more recreational lifter, probably not necessary.
No Westside hole spacing.
Again, this probably applies to the more serious lifters reading this, but there is no Westside hole spacing on this rack.
The added holes in the push-pull area on the rack is nice to have but not an essential.
What Other Squat Racks are Like the Rogue RM-6?
While the RM-6 is hands-down the best of its kind because of its increased quality control during manufacture and because it is built like a tank (perhaps overbuilt for some home gym users), there are some comparable squat racks to the RM-6 on the market.
Here are three other squat racks that are comparable to the RM-6, including price:
Iron Bull Fitness PRM2-RXT-B Power Rack
3″ x 3″ frame
Westside hole spacing
Safety straps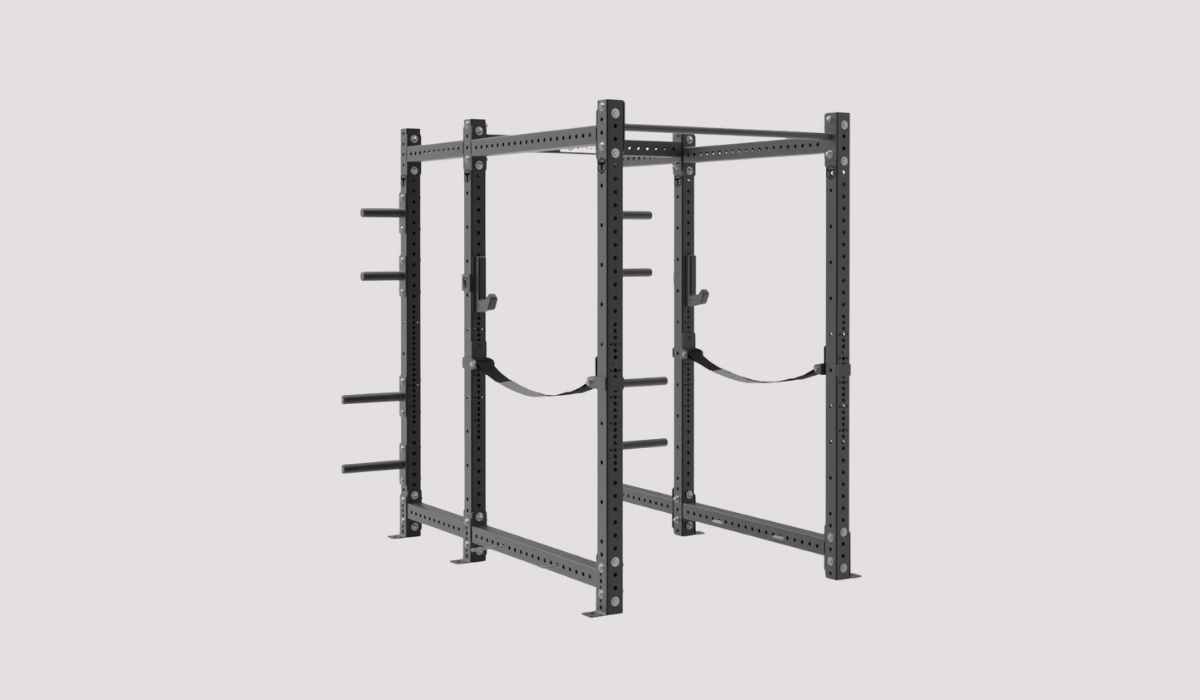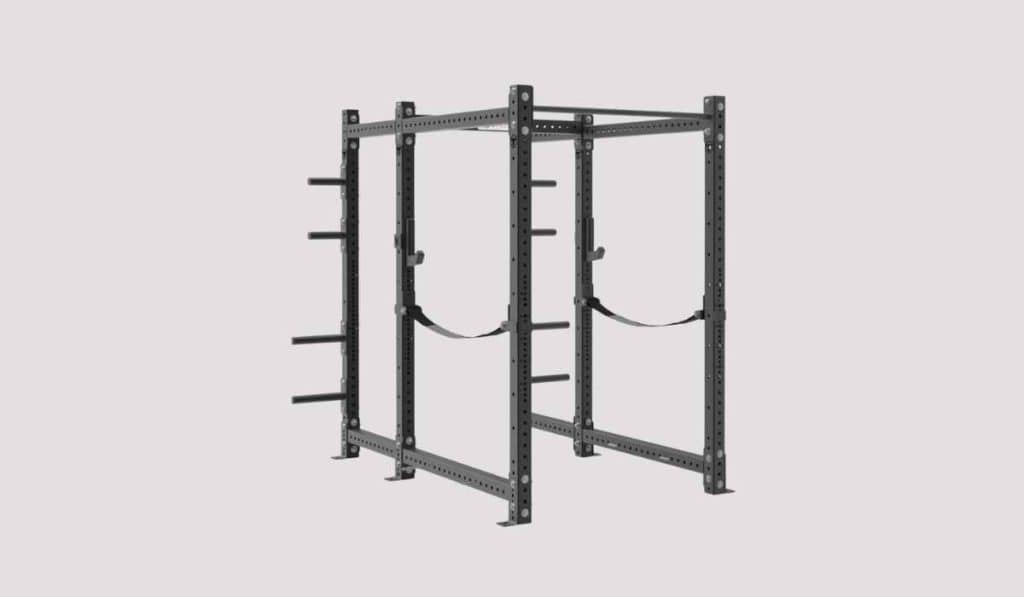 REP Fitness – PR-5000 Squat Rack
3″ x 3″ steel frame
NUmbered uprights with 1″ hole spacing
Fully customizable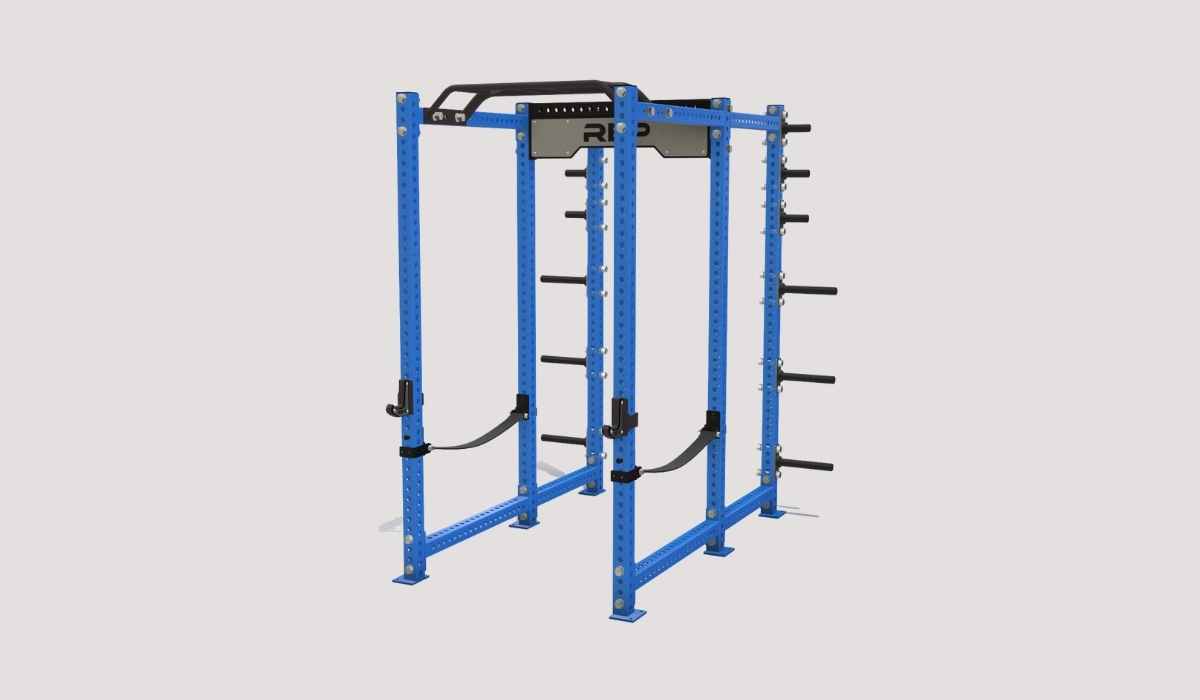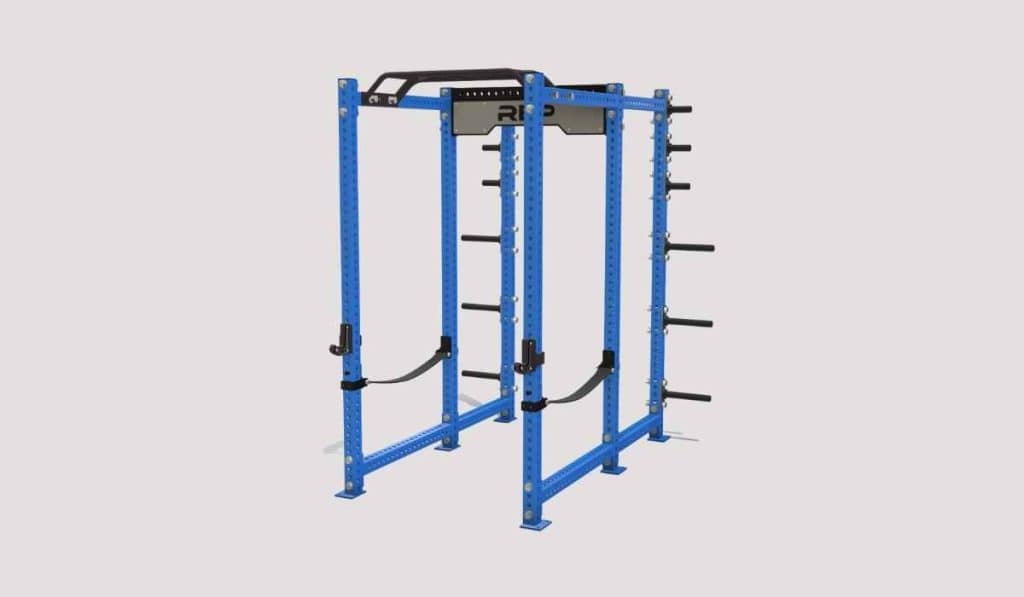 Titan Fitness T-3 Power Series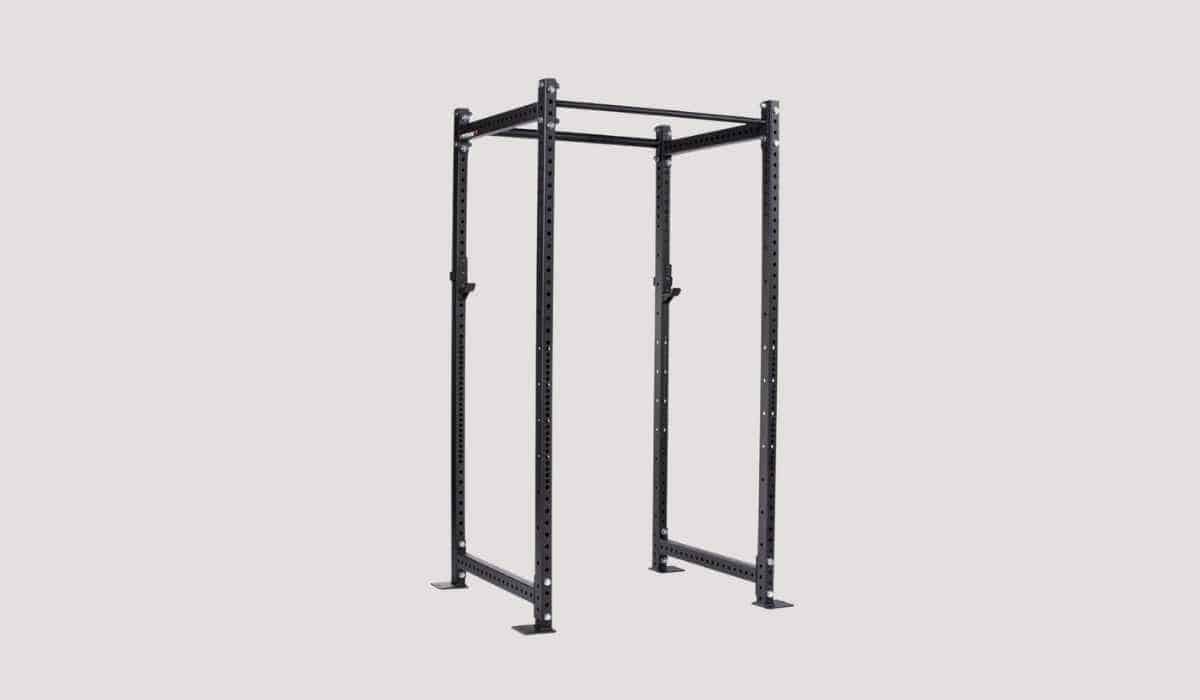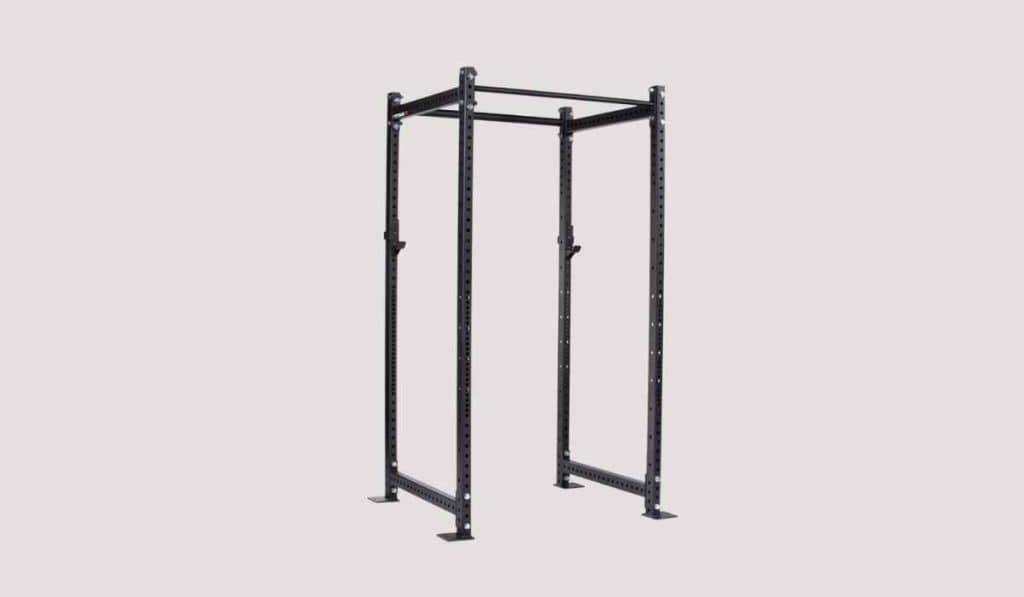 2″ x 3″ steel frame
Westside hole spacing
Lots of customization options
Rogue RM-6 – Final Verdict
At the end of the day, the RM-6 is one of the best squat racks on the market.
It's overbuilt (which I am a fan of, not gonna lie!), has endless customization options, and is backed by Rogue's legendary commitment to creating epic strength training gear.
Starts at $2,625
120 optional attachment and accessories
3" x 3" 11-gauge steel frame
Best-looking finish for squat racks on the market
Made in USA with American steel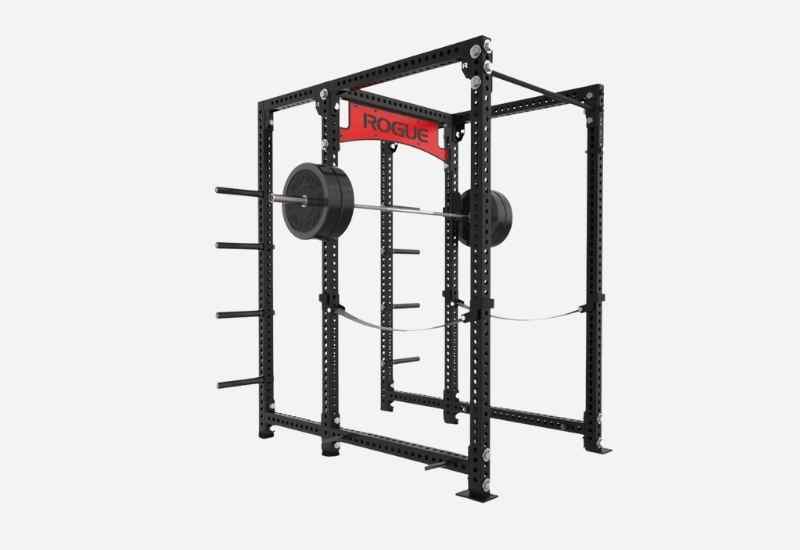 More Power Rack Reviews and Guides
Rogue R-3 Rack Review: The Ultimate Everyman Rack for Home Gyms. Rogue's R-3 Power Rack is one of the best racks on the market. From affordability to Rogue's legendary durability, the R-3 is a killer choice for your home gym. Here's why.
7 Reasons the Rogue HR-2 Half Squat Rack Kicks Butt [Review]. Looking for an awesome half rack for your home gym? Here's a full review of the Rogue HR-2, my favorite half-rack on the planet.
7 Reasons the Rogue RML-3W Folding Squat Rack is Awesome (Review). Looking for a fold back rack that is durable and keeps a low profile? Here's why the Rogue RML-3W is the top fold back squat rack on the market right now.