Ready to stock up your home gym with some bumper plates? Here is a breakdown of the best bumper plates for training at home.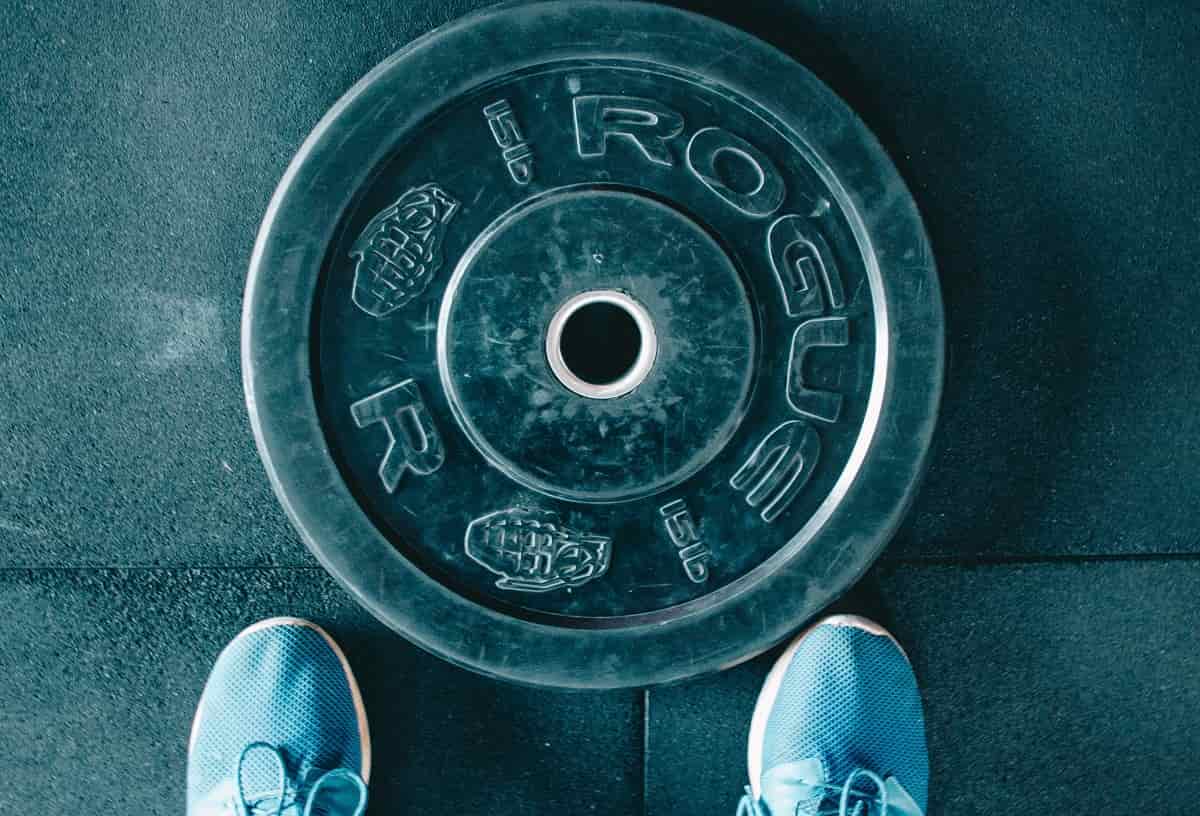 When it comes to picking weight plates for your barbell and home workouts, bumper plates are an excellent option.
Compared to your traditional iron plates, bumper plates protect your floors, are quieter, and are safer to drop.
Bumper plates are Olympic size plates (450mm or 17.7" diameter) with a two-inch insert designed specifically for Olympic barbells.
Bumper plates are typically all black, but many bumper plate sets come in different colors.
But bumper plates are not all made the same.
Over a training history of a couple of decades, spanning a national-level athletic career, and now training others (and myself in the comfort of my home gym), I've had the chance to drop, lift, and try countless bumper plates.
Some great, some good, some real, real sucky.
Whether you are buying your first set or are looking to upgrade, below is a breakdown of the best training bumper plates including my top recommendations.
Let's get into it!
Rogue HG 2.0 Bumper Plates
Rogue is well-known in the fitness and athletic industry for making exceptional gear. Their adjustable weight bench is my go-to for all things seated or bench, if their leg press machine, the Rogue Iso Leg Press, sounds like a tank, it's because it absolutely is.
Rogue's commitment to making bombproof training gear extends to their range of bumper plates, which are exceptionally durable, have that preferred "dead bounce" and are economical for their performance.
While Rogue produces a wide range of bumper plates, from MIL-SPEC to Olympic to Hi-Temp (a type of bumper plate reviewed later in this guide), the Rogue HG 2.0 are their best multi-purpose bumper plates for general use.
Available in pairs or in sets (all the way up to a 1,000lb set for around $1,500), the HG 2.0 are perfect for home gyms and garages and are ready for use whether it's doing deadlifts, overhead squats, or whatever other exercises comprise today's workout routine.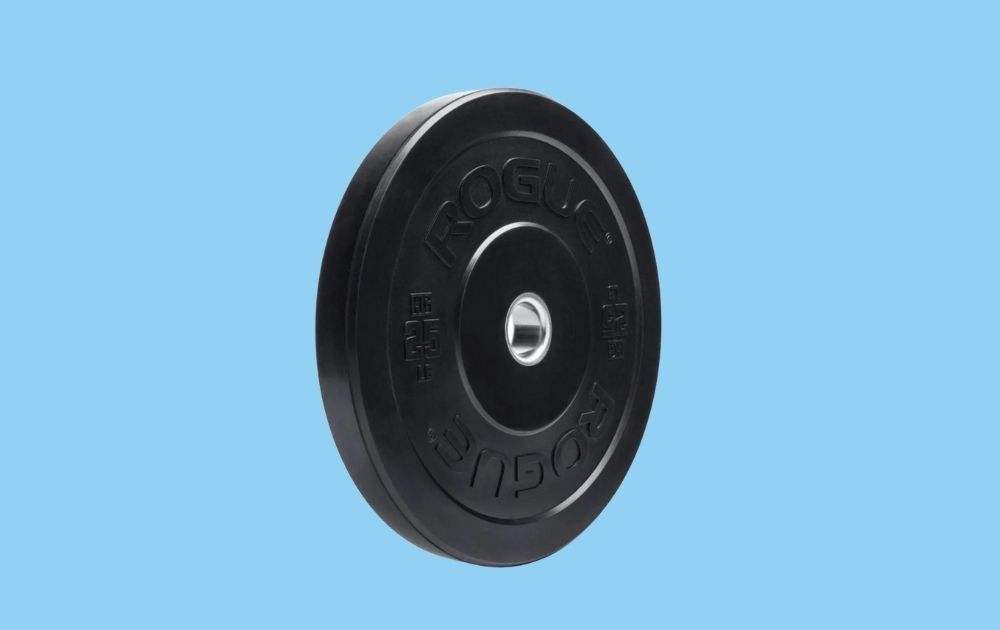 Rep Fitness Bumper Plates
Affordably priced, durable, and ready to do battle in your gym, Rep Fitness' Bumper Plates are an easy and excellent choice for the home gym enthusiast.
Built to slide onto the 2" sleeves of Olympic barbells, the Rep Fitness Bumper Plates lead the pack when it comes to affordable and high-quality plates.
Factory tested to be dropped over 15,000 times from an overhead position, Rep Fitness backs their plates with a three year warranty.
Properly sized and weighted, the Rep Fitness Bumper Plate is a killer plate for the home gym beginner and intermediate who wants to build affordably.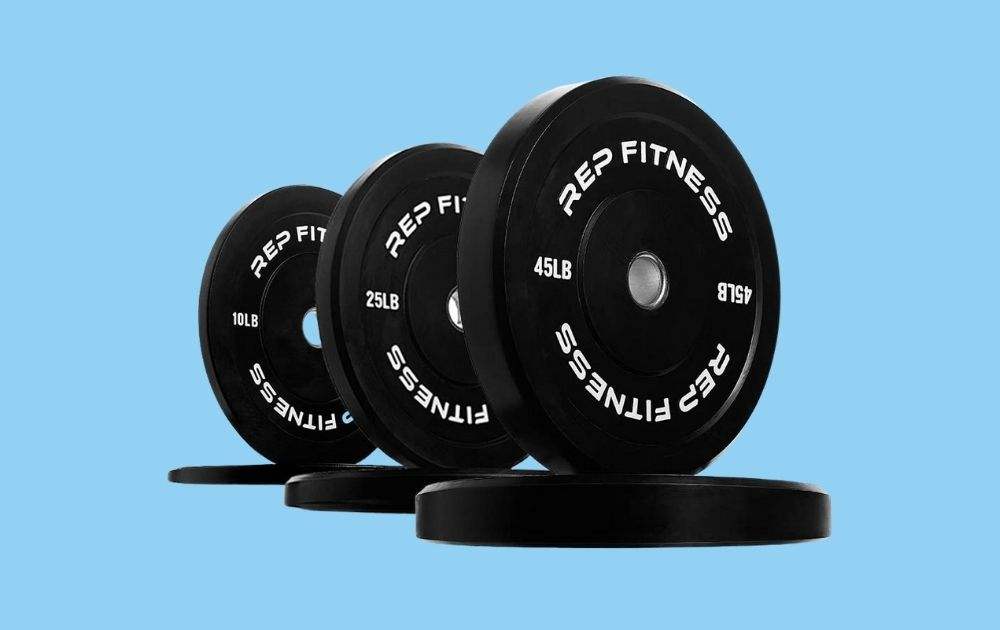 AMGYM Bumper Plates
One of the pains-in-the-butts with bumper plates is that sometimes, especially with the more affordably-priced options, the plates aren't measured or weighted properly.
The AMGYM Bumper Plates are an exception to this generalized rule, with plates that are a little thinner compared to other plates on the market, while also nailing the IWF's standard of 450mm diameter.
Available in a range of sizes and sets, as high as a pair of 55lb plates, AMGYM's bumper plates are an excellent option for lifters who want to outfit their home or garage gym with properly designed AND affordable plates.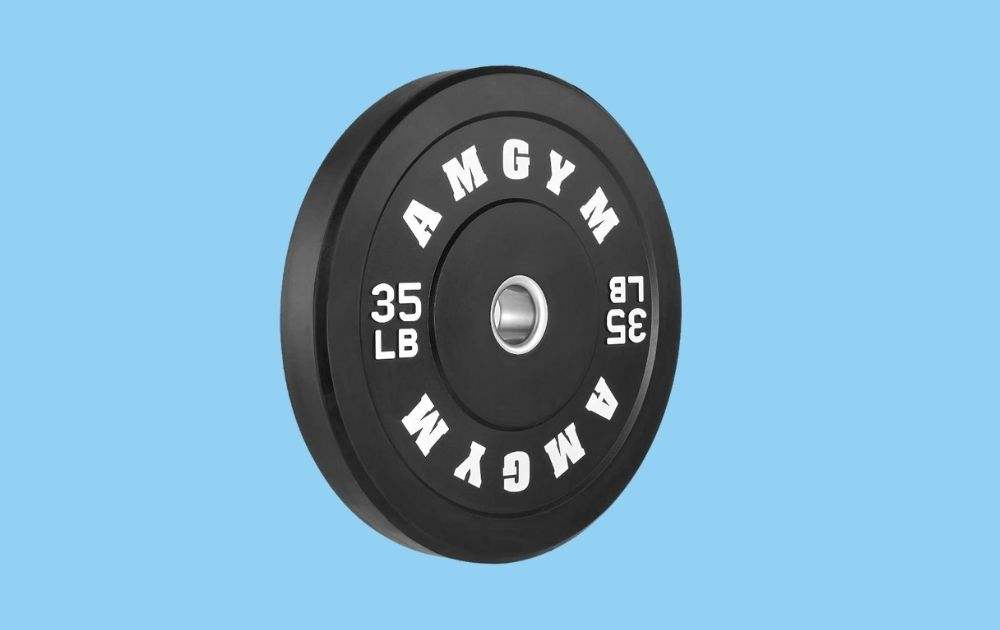 Iron Bull Strength Bumper Plates
Iron Bull is another one of my preferred manufacturers of training equipment.
Their hip thrust pad helped me add nearly 100 pounds to my hip thrust, and their elbow compression sleeves are a fixture of heavy upper body lift days.
Iron Bull's bumper plates, brightly colored and designed for training, are another in a long line of gear that I love from them. With an insert that is made of stainless steel, the plates are easyish to slide on and off the bar. The Iron Bull Bumper Plates are the current bumpers I am using in my garage gym.
(Iron Bull is also one of the best bumper plates for people who live in Canada.)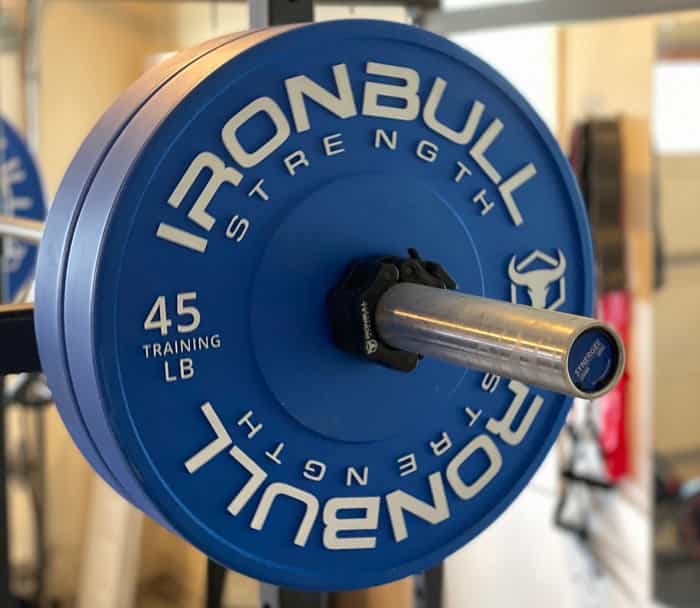 The shell of the plates is made of a soft and durable virgin rubber that absorbs contact and looks great. And unlike some rubber-coated plates, they don't smell obnoxious when you unwrap them.
Made to IWF diameter ratings, the plates range in weight from 10 to 55lbs and are sold in pairs. While availability has been limited (like just about every other piece of workout gear since 2020, you can check prices and what plates they have in stock at their website by clicking here).
In sum: Love the colors, love supporting these guys as they make awesome stuff, and love the overall functionality and durability.
All the wins.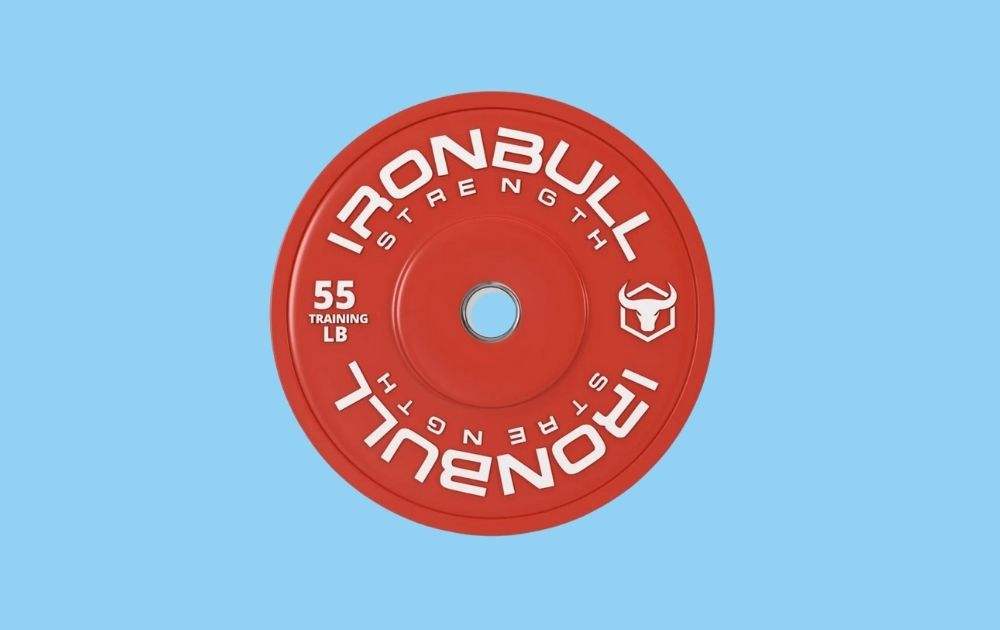 Everyday Essentials Bumper Plates
One of the key things to look for when choosing the right bumper plates is an insert that is shaped properly to Olympic bars.
Too much of an insert and the plates are going to rattle and bounce all over the barbell, damaging both.
The Everyday Essentials Bumper Plates, cut with a 2" diameter stainless steel insert, sits comfortably on Olympic barbells, cutting down the plate rattling so that you can focus on crushing PRs.
Ranging in weight from 55lbs to 10lbs, the high-density rubber shell makes those power lifts safer and protects your gym floor at the same time.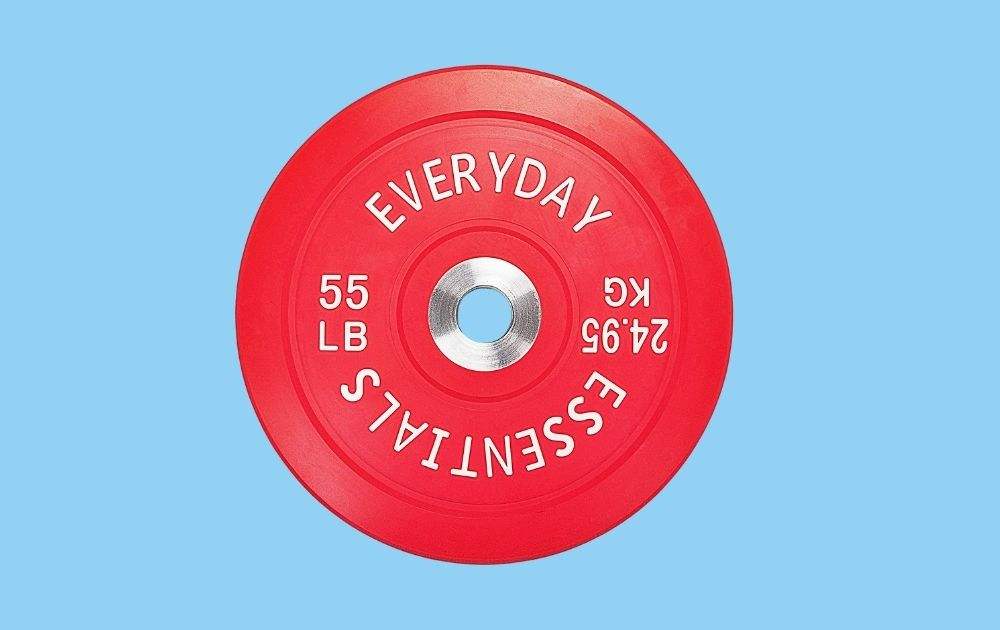 Synergee Bumper Plates
Synergee is another brand that I trust and regularly use. Currently I have a pair of their Olympic barbells hanging in my power rack.
Synergee's Bumper Plates are specifically constructed to not bounce very much when they are dropped, protecting both barbell and the center ring on the plates, extending the life of both.
Designed to slide easily on any Olympic barbell, trap bar, or even an E-Z curl bar, Synergee's bumper plates are extremely well constructed, sized properly (450mm in diameter, conforming with IWF standards), and will have you donkey kicking PRs in the comfort of your home gym.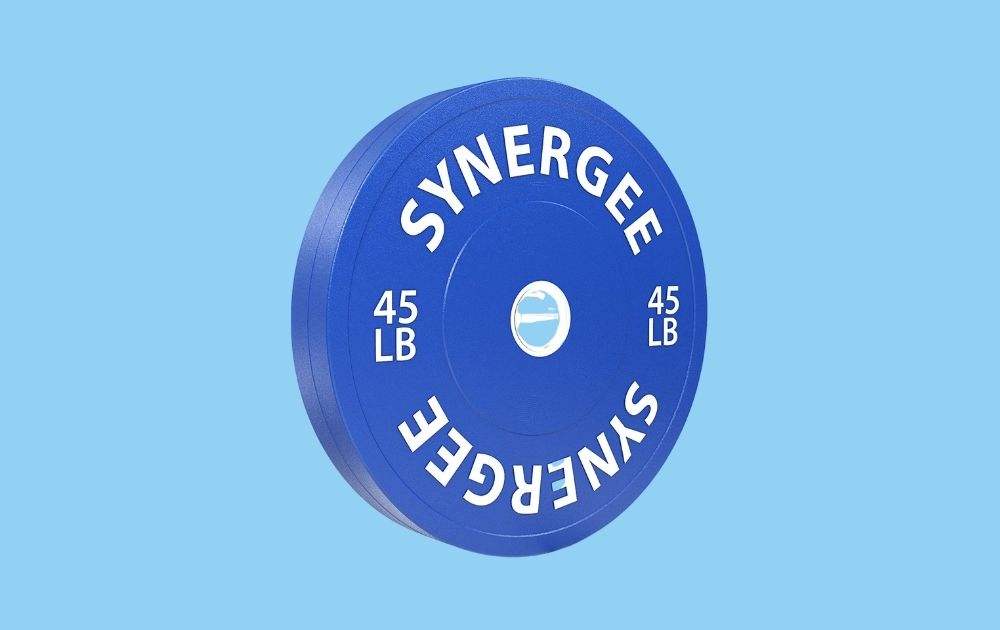 Rogue Hi-Temp Bumper Plates
If you've tried out a few different bumper plates, you will notice that the exterior shell varies.
The best bumper plates—including the Rogue and Iron Bull plates reviewed earlier—are finished with high-grade virgin rubber, which is exceptionally durable.
Other bumper plates you have likely come across, especially if you have spent time in a CrossFit gym, are what are known as Hi-Temp Bumper Plates.
They have a rougher exterior, are thicker, and bounce. Hi-temp bumper plates are your best choice if you are working out outside as they are more long-lasting to extreme conditions than rubber shelled plates.
But there are some legit reasons for why they are fading in popularity—the steel inserts aren't as resilient, they are thicker than other bumper plates (i.e. they take up more room on sleeves and weight storage racks), and they bounce way more than newer plates.
Additionally, you get diminished function for generally a higher price tag. For example, the 1,000lb HI-Temp set costs $1,875, compared to $1,500 for the Rogue HG bumpers.
That said, if you simply prefer this form of bumper, and plan on lifting outdoors, Rogue makes an excellent set in a variety of weights and sets.