Powerlifting bars are a must for lifters who are looking to push a metric ton of weight in the gym. Here's a breakdown of the best power bars on the market for every budget and training ability.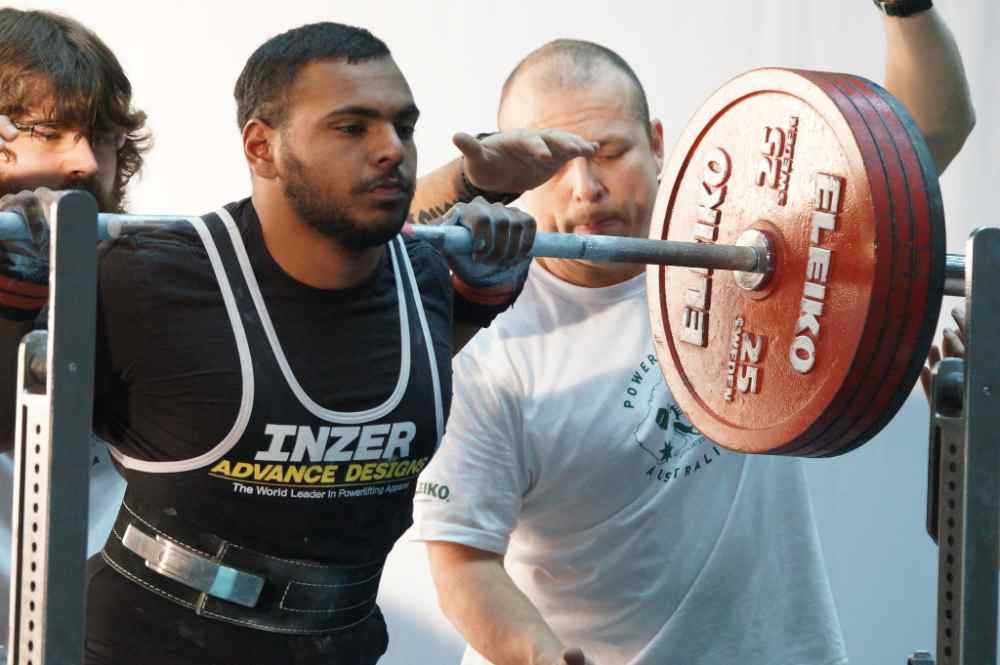 When you've got the right power bar in your hands:
? The bar doesn't bend or wilt. While some types of barbells are designed to have a little flex, power bars are made to be stiff and not yield under heavy load.
? Has high tensile strength. Power bars are made of steel, and tensile rating (measured in pounds per square inch) is a way to judge how strong the power bar actually is.
? Knurled up. The knurling on power bars—the grippy texture on the bar where you rest your hands—is deeper to give you more grip during max weight lifts.
? Is affordable. Barbells—and power bars are no different—can get very expensive, very quickly. Fortunately, there are lots on the market right now, with some excellent bars in the $300-400 range.
Best Overall Pick: Rogue Ohio Power Bar. This bar kills it when it comes to overall strength, reliability, and it's even easy on the wallet. Shop the Ohio Power Bar at Rogue's website.
Choosing the best powerlifting bar for your big lifts
With all of the bars that are there, it can quickly get frustrating sorting through them, trying to make sense of the terms and jargon that gets thrown at you.
Yield. Tensile strength. Knurls. Bushings. F-Ratings. PSI.
And so on.
With over 30 years of experience in the weight room training, powerlifting, and coaching countless athletes, I've had a chance to try just about every bar under the halogen lights.
In this simple guide to the best powerlifting bars, I will take you step-by-step through the top picks available right now.
We'll look at key features of each, including strength, grip, price, and much more.
Pour yourself a shaker cup of pre-workout, read on, and let's get to finding the right powerlifting barbell for you.
Rogue Ohio Power Bar
⭐ Best overall pick for powerlifting barbell
Rogue leads the pack when it comes to powerlifting barbells (and Olympic barbells, whether competitive or for training). The combination of durability, precision construction, affordability, and strength make it a clear winner for the best powerlifting bar for most home and commercial gym users.
The Ohio Power Bar, long a leader in powerlifting bars and a favorite at competitions and gyms, is an absolute beast that exceeds expectations, especially given its reasonable price point.
For starters, it's strong as hell, rated at 205,000 psi—tied the highest on this list. The knurling is aggressive, making it perfect for tackling aggressive 1RM on your deads.
More like this: 5 Best Rogue Barbells for Every Kind of Lifter
The shaft has a diameter of 29mm. Bar spin comes your way through bronze bushings, which are highly durable. The sleeves have 16.5" of space, more than enough for most of us to load our cast-iron plates and bumper plates.
The Ohio Power Bar comes in a variety of finishes (pictured below is the Cerakote) and color options (gotta go with the black and blue for the win). You don't need to stress about breaking the bank either—the Ohio Power Bar costs around $340, making it an absolutely hilarious combination of sheer strength, durability and affordability.
You can pick up your Ohio Power Bar over at Rogue's website today.

Eleiko IPF Powerlifting Competition Bar
⭐ Best "money ain't a thang" powerlifting bar
Eleiko, the Swedish company known for making competitive weightlifting gear, makes an absolutely stellar powerlifting bar. This thing is awesome—but it's also handily the most expensive bar on this list, at over $1,050.
Made of Swedish steel, their IPF-certified bar has an aggressive knurl that is untreated and deep. Strips for grip are centered between the side knurls. The shaft diameter is 29mm and you've got your standard power bar loading sleeve that is surfaced with chrome. Eleiko is really well known for the precision with which they produce their bars.
In terms of steel strength, Eleiko doesn't publish an exact figure for this bar on their website, elsewhere on the web I've found ratings of 215,000psi (they do rate their Competition Olympic bar at 215,000psi, so I would imagine that the Powerlifting Bar is in the same neighborhood—at least it better be for the price).
Additionally, because this is naked steel and not stainless steel, you will want to stay on top of maintenance with this thing to prevent corrosion and rust as time goes on.
Eleiko is one of the big names in lifting sports and they back this power bar with a lifetime warranty. While the price tag is exorbitant for your everyday user, for high-level lifters, gyms, and competitions there are lots to love with the Eleiko IPF Powerlifting Competition Bar.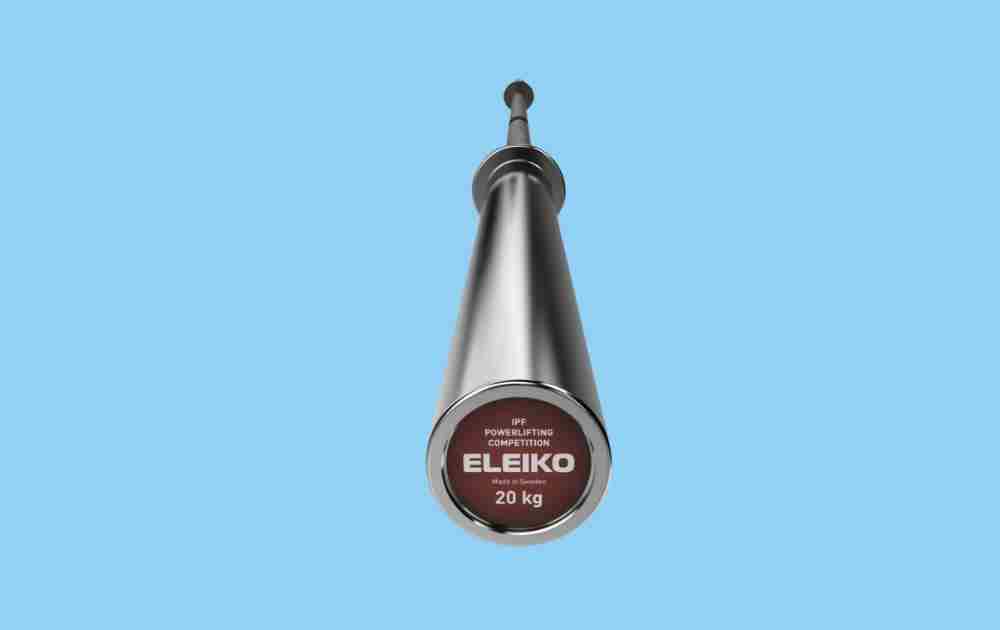 Rogue Ohio Power Bar 2.0S
⭐ Best "silent" powerlifting bar
Dropping weights makes a hell of a racket. There's some satisfaction to be found in the clanging and banging from dropping weights after a successful lift.
But there are times where a quieter touch is called for: for example, a gym full of clanky bars, or when you have a garage gym and the kiddos are napping.
The sound of sleeves hitting the shaft can be loud, so Rogue tackled this problem by making a power bar that is about half as loud as a standard bar when dropped. They did this by buffering the metal contacts between the shaft and sleeves.
The construction of the bar does sacrifice a little bit of tensile strength (190,000psi compared to 205,000psi for the regular Ohio bar), but honestly, this is such a minor drop. There are few very lifters on the planet who would need that slight boost.
Other key features include a standard diamond-shaped knurl, 28.5mm diameter shaft, no center knurl, and dual strips for matching hand placement on the bar.
Cost-wise, the Ohio Power Bar 2.0S is a little pricier than its louder and older brother, costing just under $400.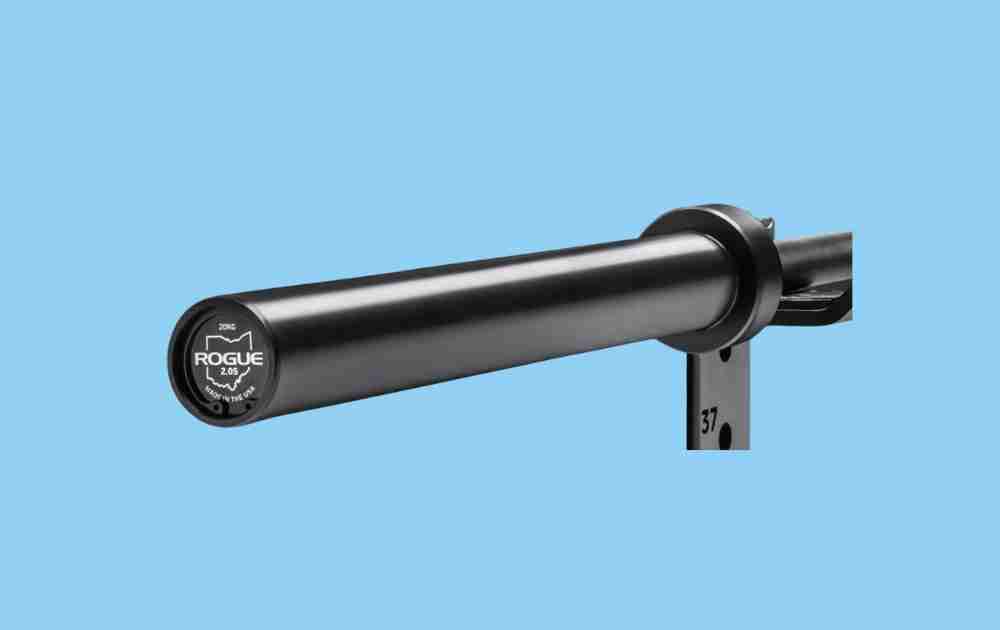 Bells of Steel Barenaked Powerlifting Bar 2.0
The founder of Bells of Steel, Kaevon Khoozani, is a powerlifting and strongman athlete. He's also a great dude—we worked together at a nightclub back in the day.
Bells of Steel is a Canadian-based company (they also ship within the United States) that produces excellent gear at a reasonable price. A large portion of my garage gym is outfitted with Bells of Steel, including their weightlifting drop pads, medicine wall ball, adjustable weight bench, and more.
The Bells of Steel Barenaked Powerlifting Bar 2.0 was built specifically for powerlifting and it meets the specification set by the International Powerlifting Federation.
If you want to squat, deadlift and bench like a champion and want a bar an excellent power bar for less than $300, you can't go wrong with the Barenaked Powerlifting Bar 2.0.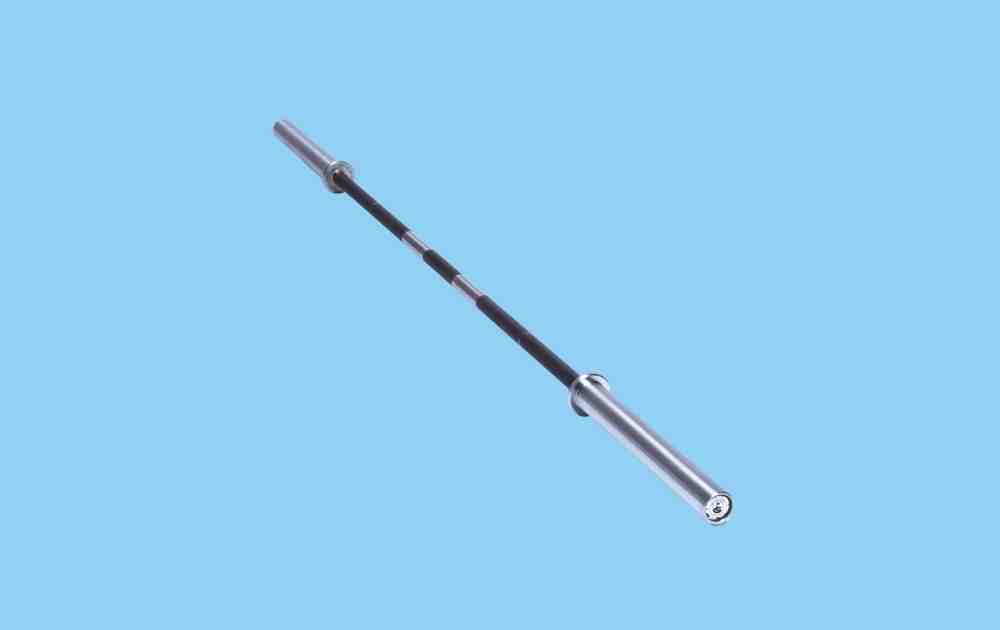 CAP Barbell Powerlifting Bar – The Boss
⭐ Best budget power bar
There aren't a lot of quality power bars on Amazon, but one of the very few, and what I would consider the best option, is "The Boss," made by CAP Barbell, who makes a lot of my favorite workout equipment, including barbell collars, plate storage racks, cast iron dumbbells, and more.
The function and the look of this bar are both a hit for me. I love the all-black phosphate finish with the bright blue cap. Constructed of Japanese steel, the sleeves have a generous 15" loadable sleeve and the bar has a 132,000psi tensile strength. The Boss has the usual features you want from a power bar, including center knurling, 28.5mm diameter for grip, and plenty of knurling along the sides.
While not as strong as the premium bars, it's much more affordable, with The Boss costing around $170, making it an excellent bargain powerlifting barbell for intermediate lifters.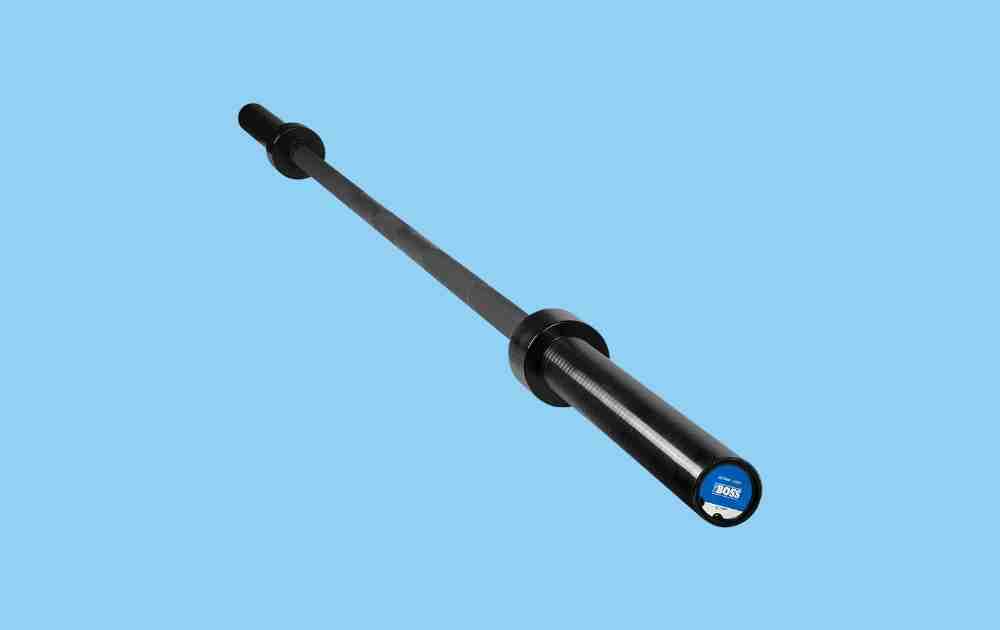 Things to look for when buying a powerlifting bar
Power bars are a little different than your regular old barbell.
Power bars are designed for tackling the big three lifts: bench press, squat, and deadlift. As a result, they need to be strong as hell, not only for weight-bearing reasons, but they need to be able to be dropped repeatedly without damaging the shaft or sleeves.
Here's what to look for when looking for the right powerlifting bar for you:
✔️ Overall strength
Barbell makers tend to throw a lot of numbers at you in their product descriptions in order to impress you.
The most frequent one I see (especially on Amazon product pages) is "max weight load." This number is fairly meaningless, and it's more marketing than anything.
The real number you want to look for is tensile strength, a measurement of how strong the steel is. Quality powerlifting bars tend to be in the 150,000-215,000psi range, while most of the powerlifting bars you will find on Amazon are in the low 100k's, which can be absolutely suitable for beginner and intermediate lifters.
Rogue has its own rating system, the F-Rating, that determines how many times weight sleeves can be stressed. The higher the F-Rating, the stronger the bar and sleeves.
✔️ Knurling depth
The knurling is an afterthought for most beginner and novice lifters. They are more focused on how much weight they are loading on the bar. Which is fair!
But as you get stronger, you will notice that the knurling can make an impact on your lifts.
A medium knurl is best for daily use and higher volume sets and training, while a more aggressive knurl is better suited for 1RM lifts and competition (or training like it's competition).
An aggressive knurl gives you a better grip, but for newbies it will also give you more callouses and rip your skin with extended use.
✔️ Spin
While most powerlifting bars have bearing systems, whether it's a bronze or composite setup, with these kinds of bars you don't want too much spin.
Watching plates spin while doing a slow lift like bench, squat or deadlift can be distracting and create unnecessary momentum shifts.
This is one of the big differences between power bars and Olympic barbells, which have much more spin because they are designed for explosive and dynamic movement patterns.
✔️ Stiffness
While Olympic barbells are designed to have a little bit of flex in them—this "bounce" is a way to generate more speed and explosiveness through cleans and jerks—powerlifting bars are stiffer so that they can take on the increased weight loads.
A heavy deadlift, squat, or bench requires a rigid bar that won't bend and flex under load.
Recommended Resources
5 Best Weightlifting Chains for Faster, Stronger Lifts. Besides making you look like a total badass, weightlifting chains are a way to improve bar speed, stability, and strength. Here is a breakdown of the best weightlifting chains for crushing your lifts.
5 Best Wrist Wraps for Powerlifters, Weightlifters, and More. Strengthen and protect your wrists and you will live to lift another day. Here's a breakdown of the best wrist wraps for powerlifting and weightlifting.
8 Best Olympic Barbells for Explosive Lifts. Want help finding the right Olympic barbell? Here's a detailed look at the best Olympic barbells for every kind of lifter and budget.
5 Best Olympic Barbells for Women. Take your strength training to the next level with a look at the best Olympic barbells for women for every budget and type of workout.